Winter Color + How I'm Styling Suede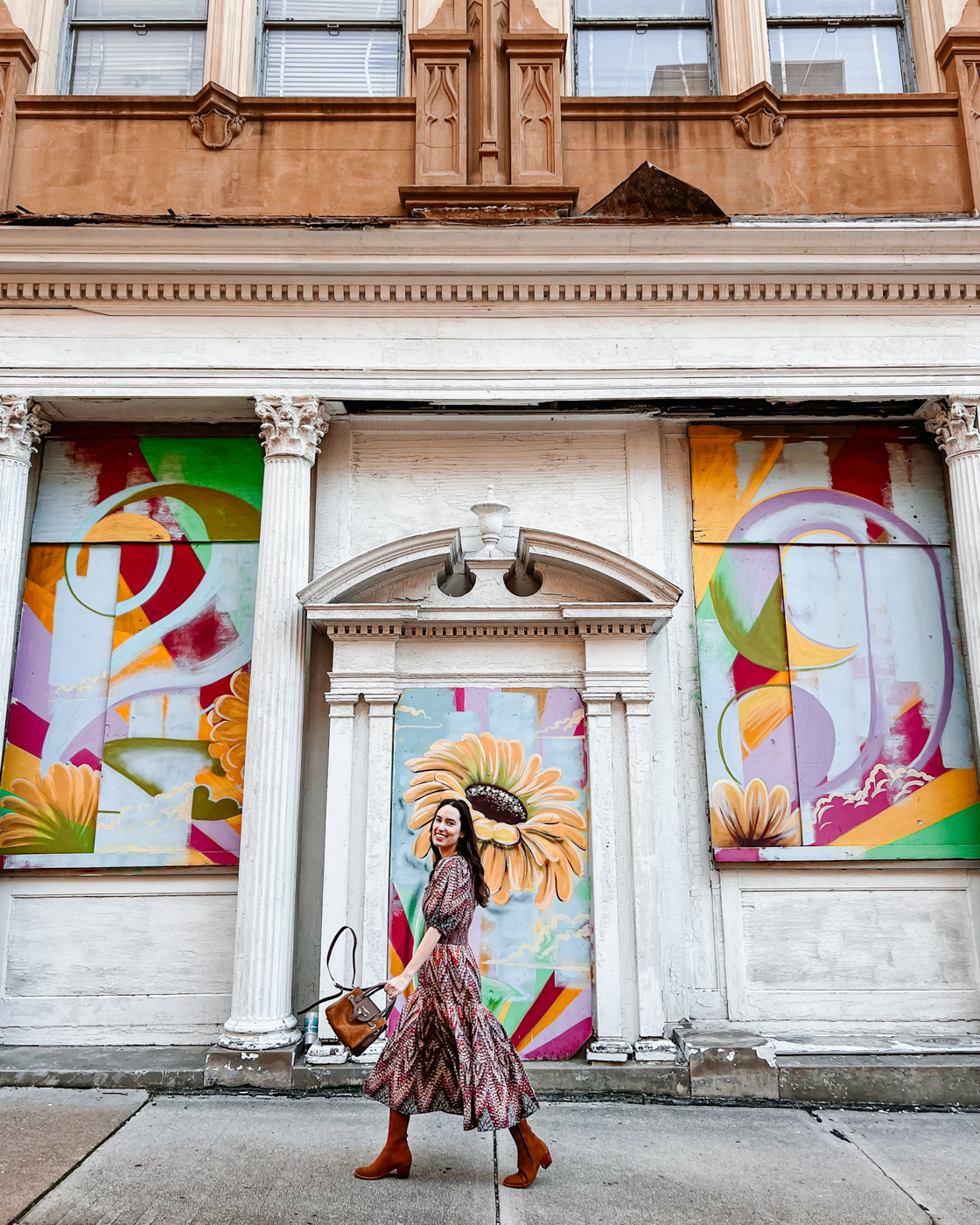 Turn on your JavaScript to view content
Every other week or so, I'll load the trunk of my SUV with clothing and accessories – styled in advance to create looks from head to toe. I meet up with my younger brother Tom (my photographer / one of the behind the scenes faces of this blog of mine) to scout locations & shoot my outfits.
We are both very go-with-the-flow spontaneous people. I wish I could say I have these shoots planned to a T in advance, but I most certainly do not. I most often gravitate towards nature – visiting parks in search of flowers for backdrops. During the winter months, interesting architecture is what strikes my fancy. Downtown Memphis is dripping with beautiful architectural elements, ornate buildings and scenic skylines. We love hopping along South Main and grabbing coffee or lunch in between looks.
You never know what you'll stumble upon in Downtown Memphis. We took a wrong turn while exploring and spotted this floral mural embedded in a crumbling yet stunning Georgian-style facade. We immediately stopped the car to investigate further – taking the opportunity to capture this colorful Conditions Apply dress too.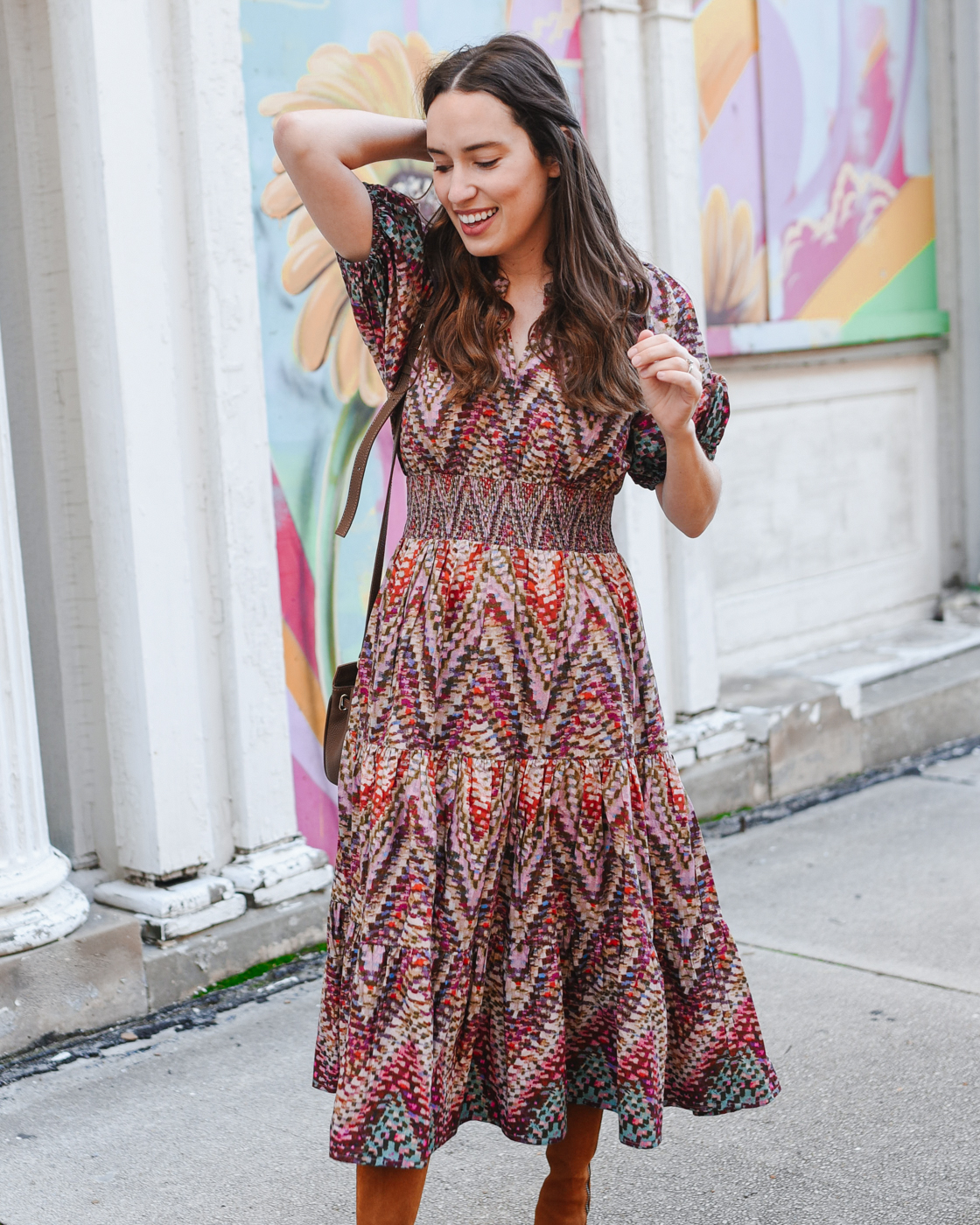 A Year-Round Dress
Conditions Apply is a British-based brand dishing out the most delightful boho-feminine pieces. You can often find their styles available at Anthropologie – like this puff-sleeve midi-dress of mine. (It comes in a different print also currently available.)

Turn on your JavaScript to view content
I love that this style dress works year-round. You can pair it with suede shoes and accessories to winterize it or style this frock with a straw handbag and espadrilles come spring.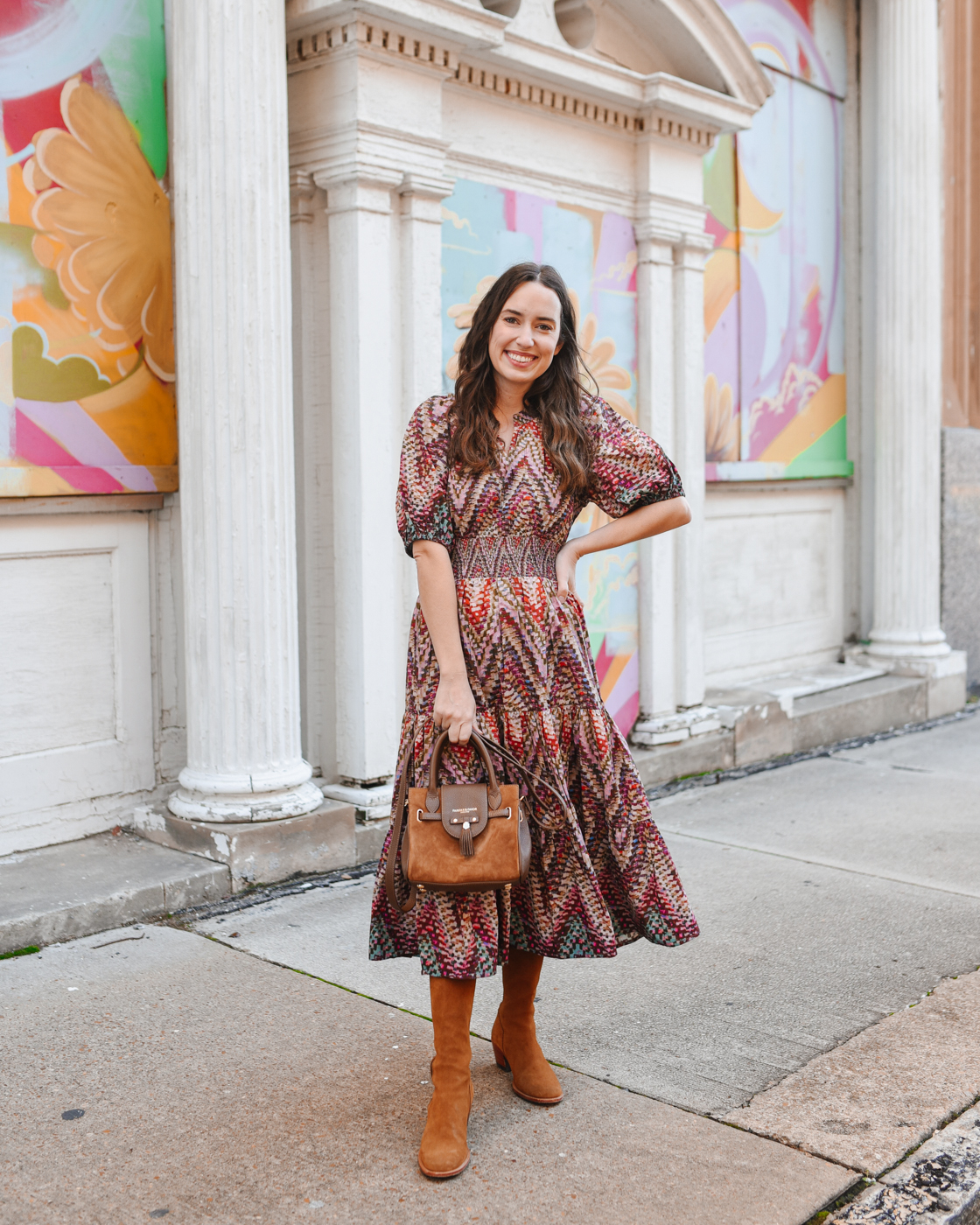 It may look like spring with this dress paired against the bright vibrant flowers behind it. But social media is never really what it seems is it? My coat was waiting for me in the car on the 32 degree day we snapped these shots.
The street art's bright vibrant flowers definitely helped to perk up the frigid winter's day!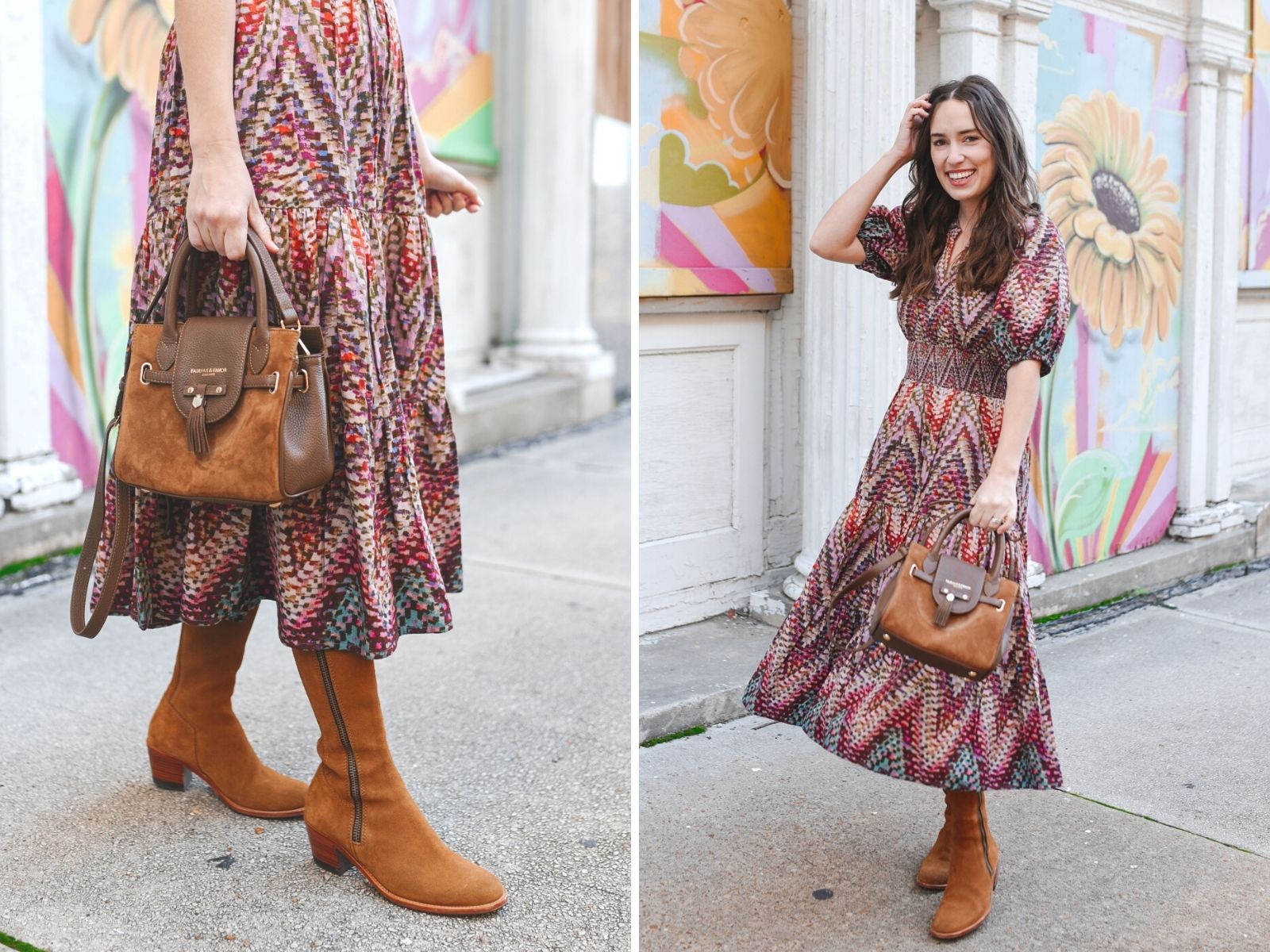 Double up on Suede
Until spring arrives, I'll be slipping on my favorite suede pieces from Fairfax and Favor. Another British-based brand! (Surely y'all know by now I am a major Anglophile, right?!)
My suede boots are The Heeled Regina in tan. This pair is the "narrow fit." My matching Mini Windsor handbag has been the perfect size to carry on everyday errands these last few months too.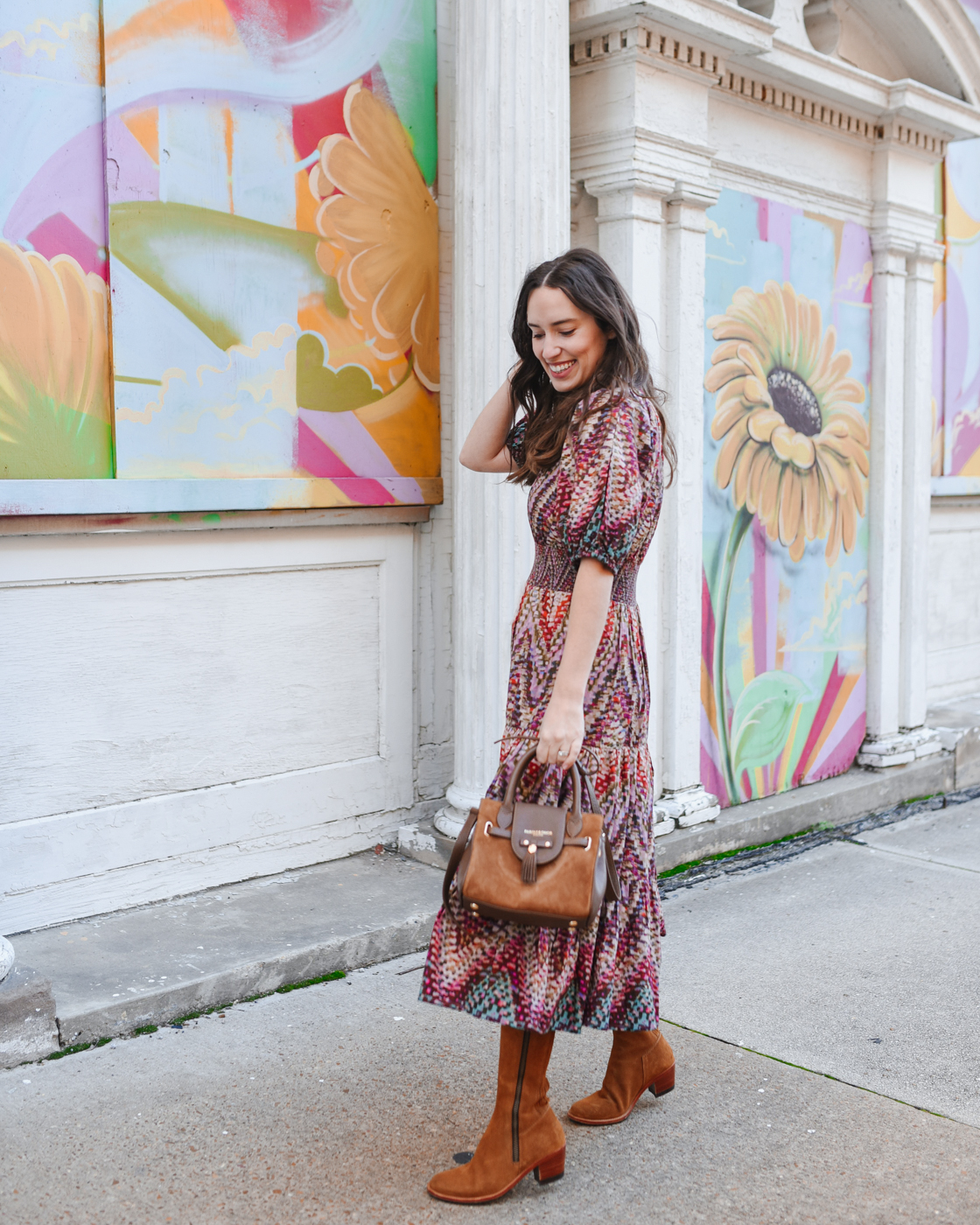 Are you already gravitating towards pieces you can wear both now and later too!?
—
xo, alice
The post Winter Color + How I'm Styling Suede appeared first on Lone Star Looking Glass.
What does naughty but nice mean
. xoxo.