Where to Stay in Savannah with Kids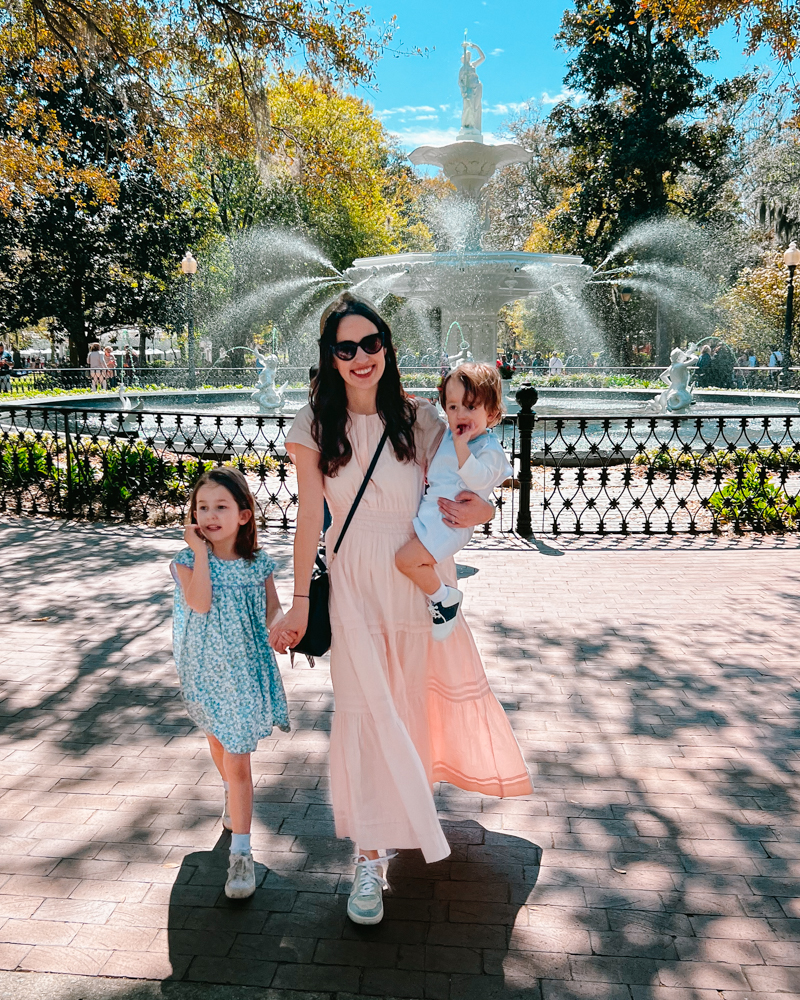 Turn on your JavaScript to view content
Savannah is one of my absolute favorite Southern destinations! It boasts an old-world charm with a laid back coastal elegance. I like to come here for the history, the architecture, the food and the strolls underneath the oak trees dripping in Spanish moss. There is so much to see and do here and plenty for families to do with their younger children too.
We visited Savannah for spring break just a couple of weeks ago. The road trip from Memphis was quite the trek – but worth every single mile we put on our SUV! Annie and Bennett loved the trolly tour, exploring all of the park playground scattered throughout the historic district and trying new foods too.
I think the best thing about our stay in Savannah was definitely posting up at the JW Marriott Savannah Plant Riverside District. This downtown waterfront hotel was walking distance from just about everything we wanted to see & do. Which most parents know, this is a big deal when you're traveling with small children and strollers!
I'm giving y'all a peek into our stay at Savannah's JW Marriott along with what stood out to us the most all the reasons why it's the BEST place to stay with kids in Savannah.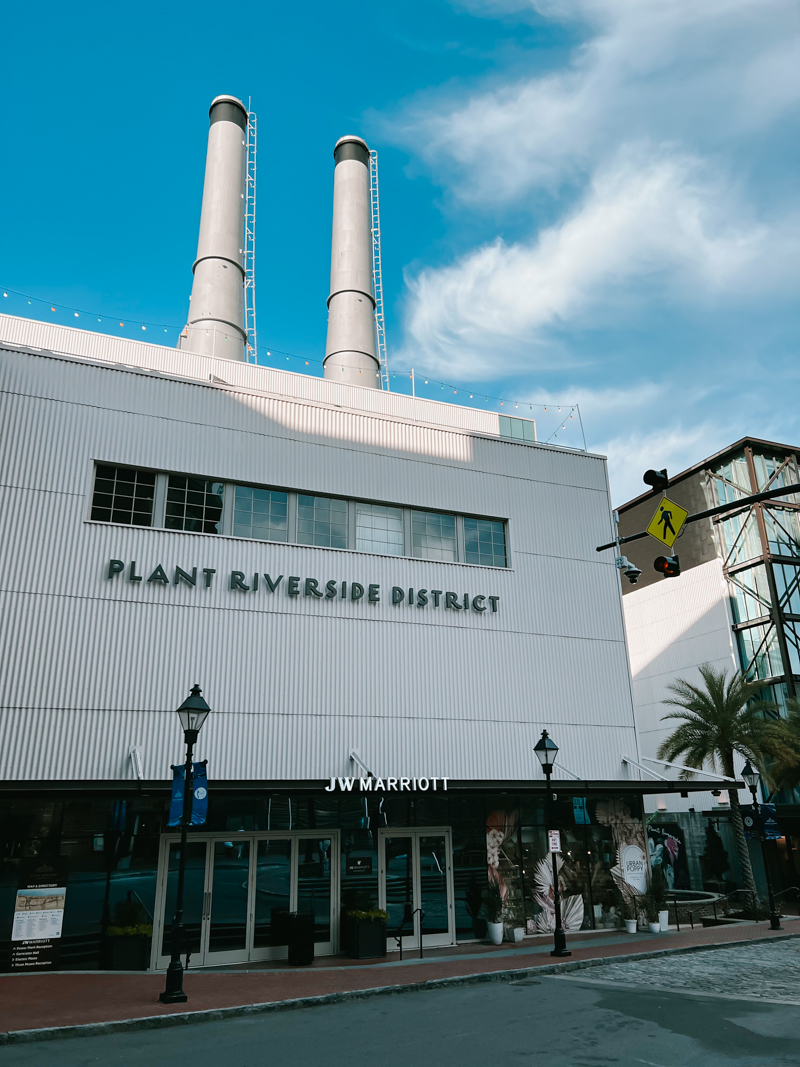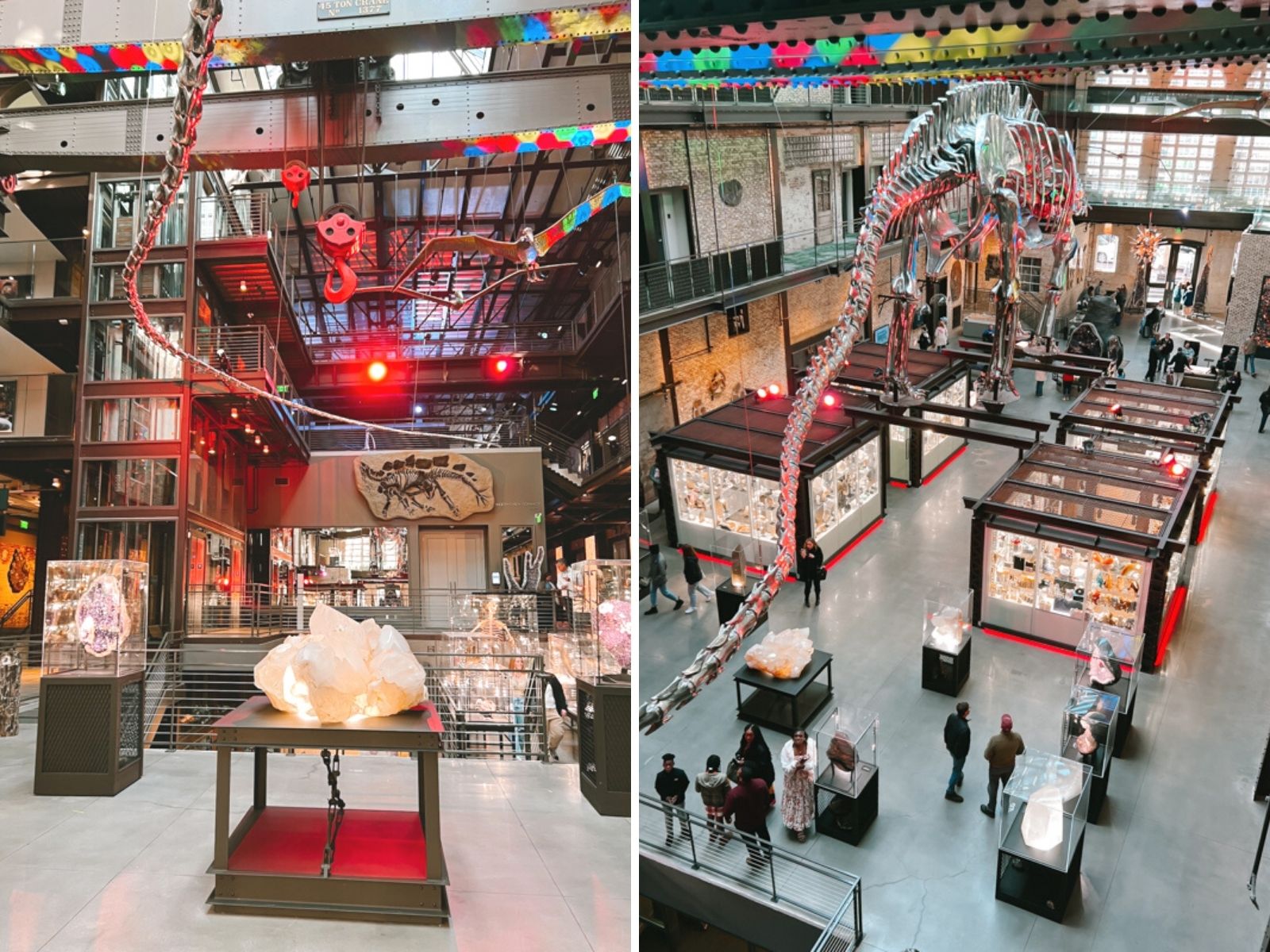 The JW Marriott sits inside what was once a working power plant right on the river.
The hotel pays a nod to the energy drummed up at this former power plant with a geode and dinosaur theme throughout. A chrome-dipped dinosaur fossil greets guests upon arrival in the JW Marriott's grand lobby. Annie was ecstatic when was first walked inside! (I, personally, was too when our check-in reception included a glass of champagne!)
Famous hotelier Richard Kessler took on this project and even included many artifacts and art he has collected over the years in the hotel's public spaces for guests to enjoy. (Like the giant geodes pictured above and below.) An overnight stay here is not only comfortable and convenient, but it kinda feels like you're sneaking into an art gallery to sleep over too!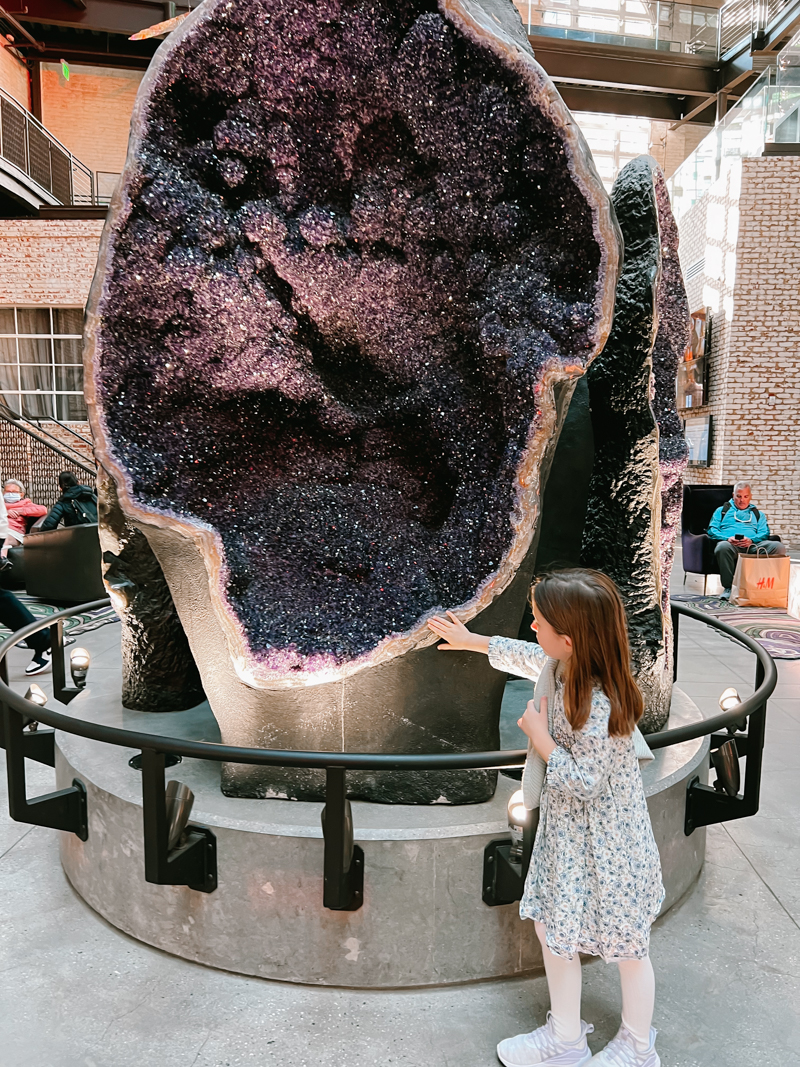 Be sure to ask guest services for a kid's scavenger hunt. Annie carried hers around and checked her findings off throughout our stay here. It was fun for everyone!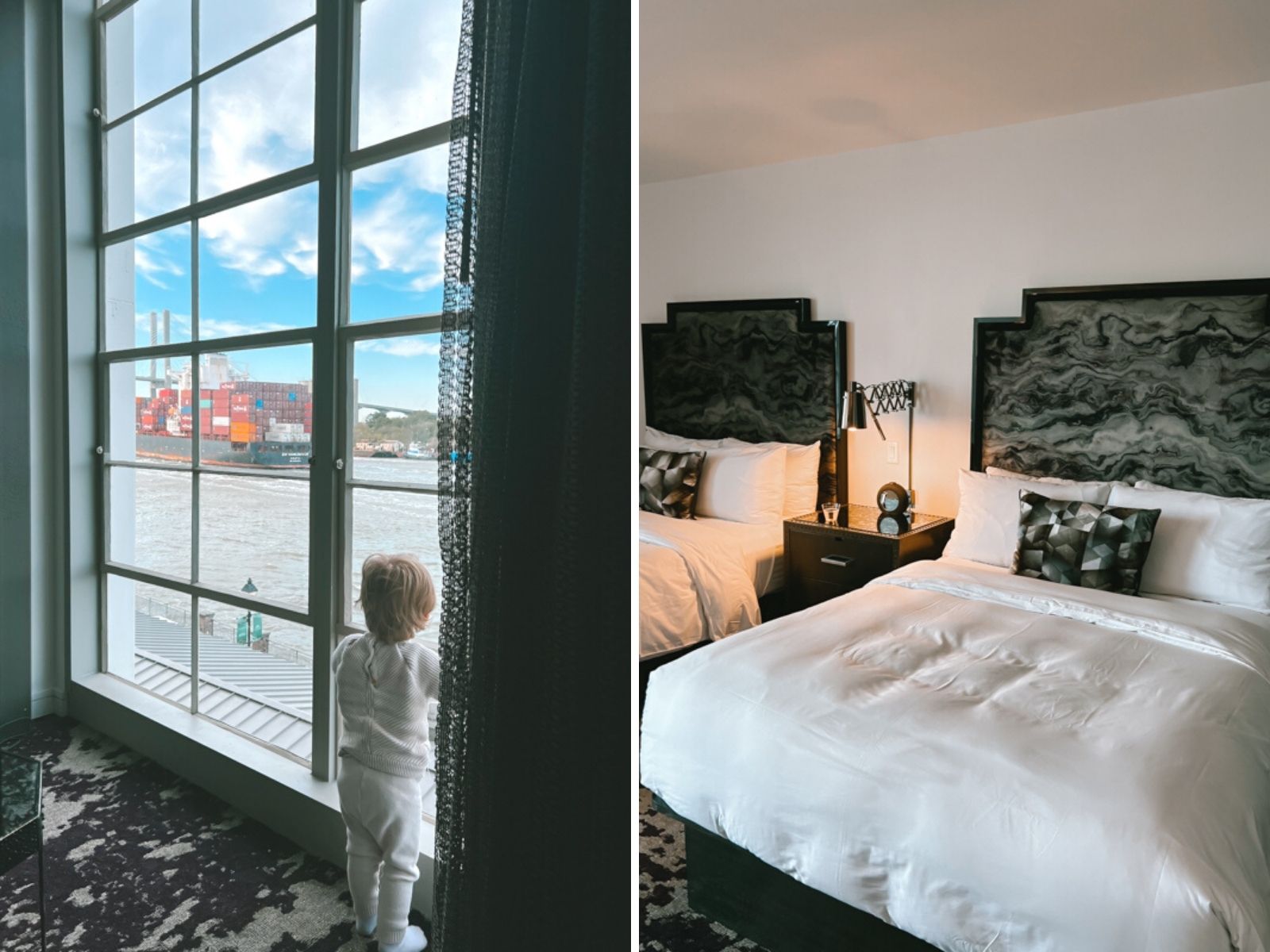 A Modern Room with a View
The JW Marriott's spread in Savannah includes 419 guest rooms in the three properties. (The Atlantic Building and the Three Muses are separate buildings but all connect along the waterfront.) We stayed in the main JW Marriott's power plant building. Guest beds were complete with geode-inspired headboards and and pillows. The massive walk-in shower was just lovely after a day spent exploring the streets of Savannah.
I think our favorite part of the room (especially Bennett's) was the view of Savannah River out our window. We had such fun watching tugboats and cargo ships sail by morning, noon and night!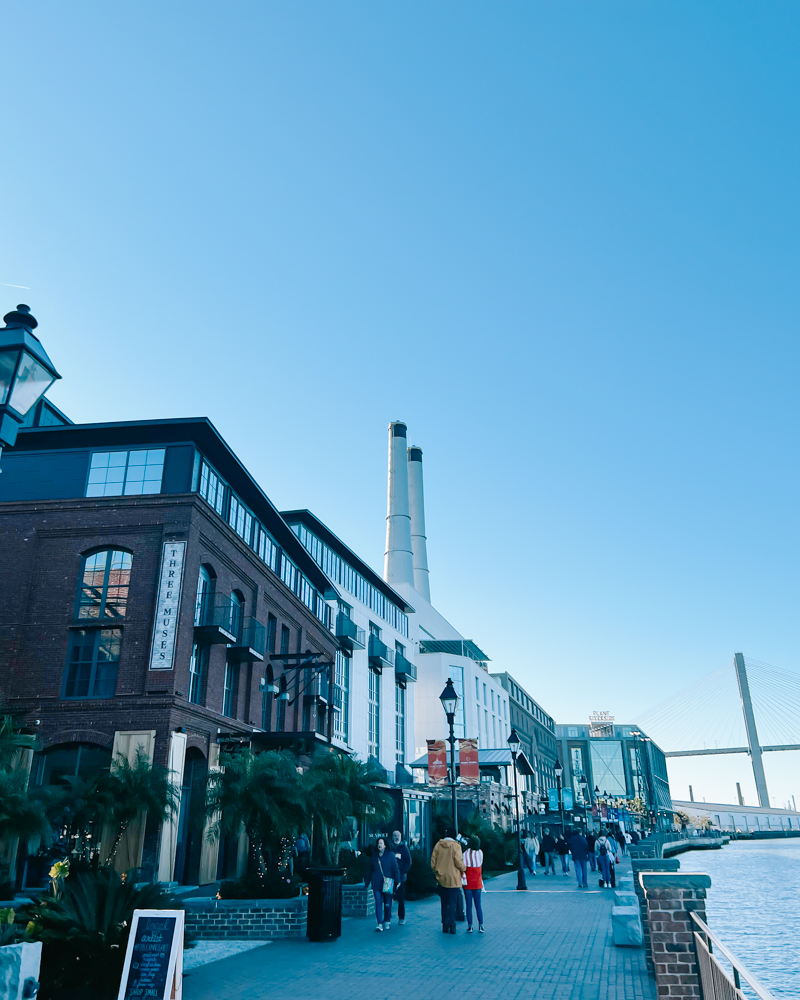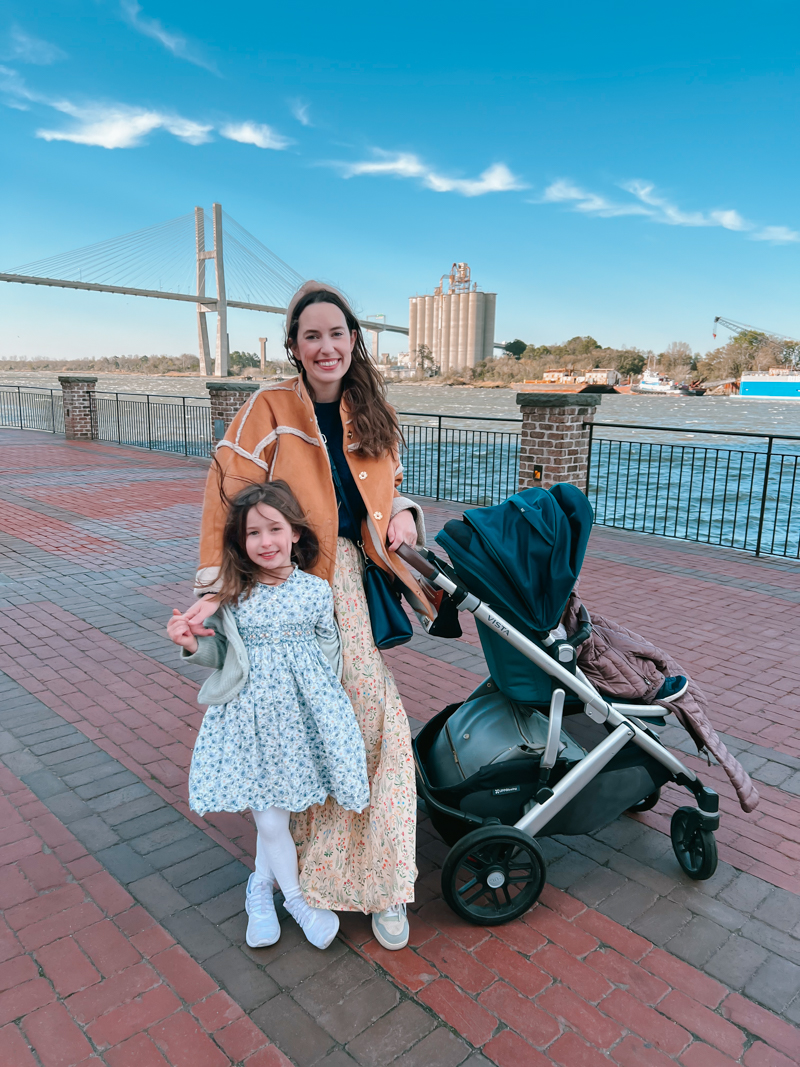 Turn on your JavaScript to view content
Location Location Location
I mentioned already JW Marriott Savannah Plant Riverside District was in a most convenient location. Just a block or two away, you'll find the historic district, popular restaurants, one-of-a-kind shopping and more.  If you're looking for something even closer, only a couple of steps away you'll find dozens of restaurants, shops, and even nightlife venues.
One night during our trip, we had dinner just below our room at Savannah Tequila Company. (The tacos were tasty and the spicy margaritas even tastier.) Traveling with a toddler and a preschooler, having dinner just a couple minutes walk from our hotel room after a very long day was the icing on the cake to our wonderful stay here.
And even if you aren't traveling with children, you still have to check out Electric Moon Skytop Lounge + Moon Deck. This eater turns 21 & up at 6pm, but prior to that families can enjoy the lawn games and rooftop slide that takes guests from the top floor to the deck below. I'm pretty sure Annie ran up the full flight of stairs and slid back down that slide 1,000 times during our visit. But seriously, where do these kids get all of that energy!??!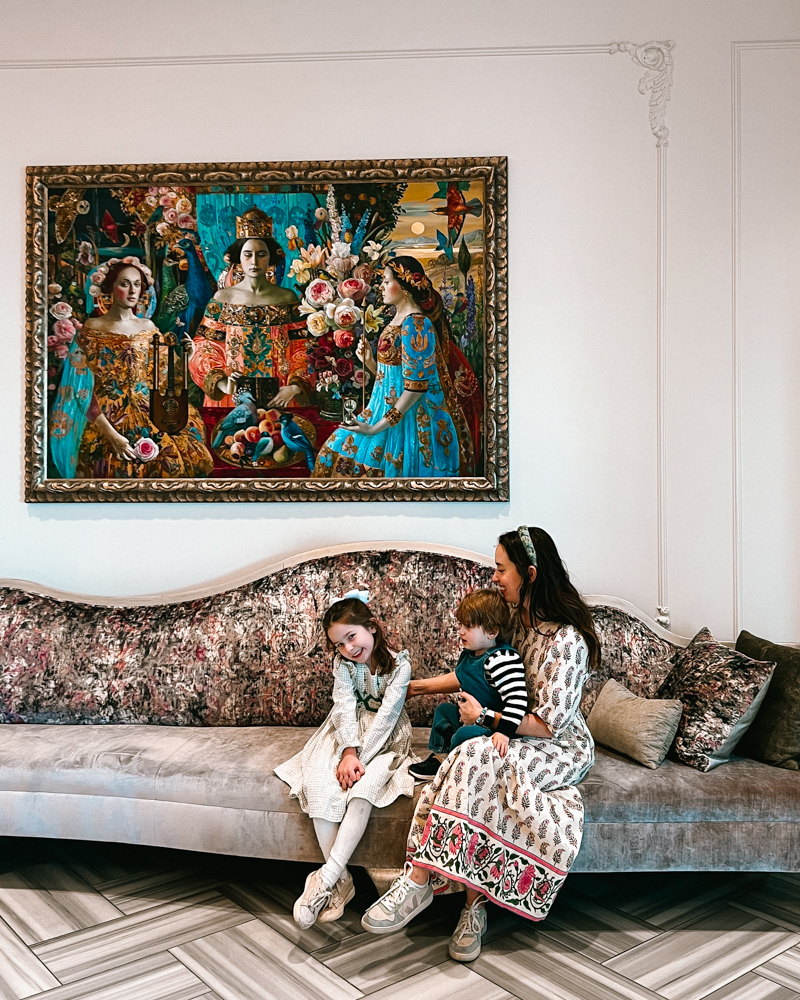 Turn on your JavaScript to view content
I personally love staying in unique resorts or boutique hotels with personality. My little ones are almost always along for the ride and when a fabulous hotel can cater them too – it makes the experience all the sweeter for everyone.
—
Thank you so much to JW Marriott Savannah Plant Riverside District for hosting our stay in Savannah. It truly was a treat and I can't recommend this spot enough! As always, all opinions are my own. Thank you for following along and supporting the brands that make Lone Star Looking Glass possible.
—
xo, alice
The post Where to Stay in Savannah with Kids appeared first on Lone Star Looking Glass.
What does naughty but nice mean
. xoxo.