What to Wear Hiking in the Fall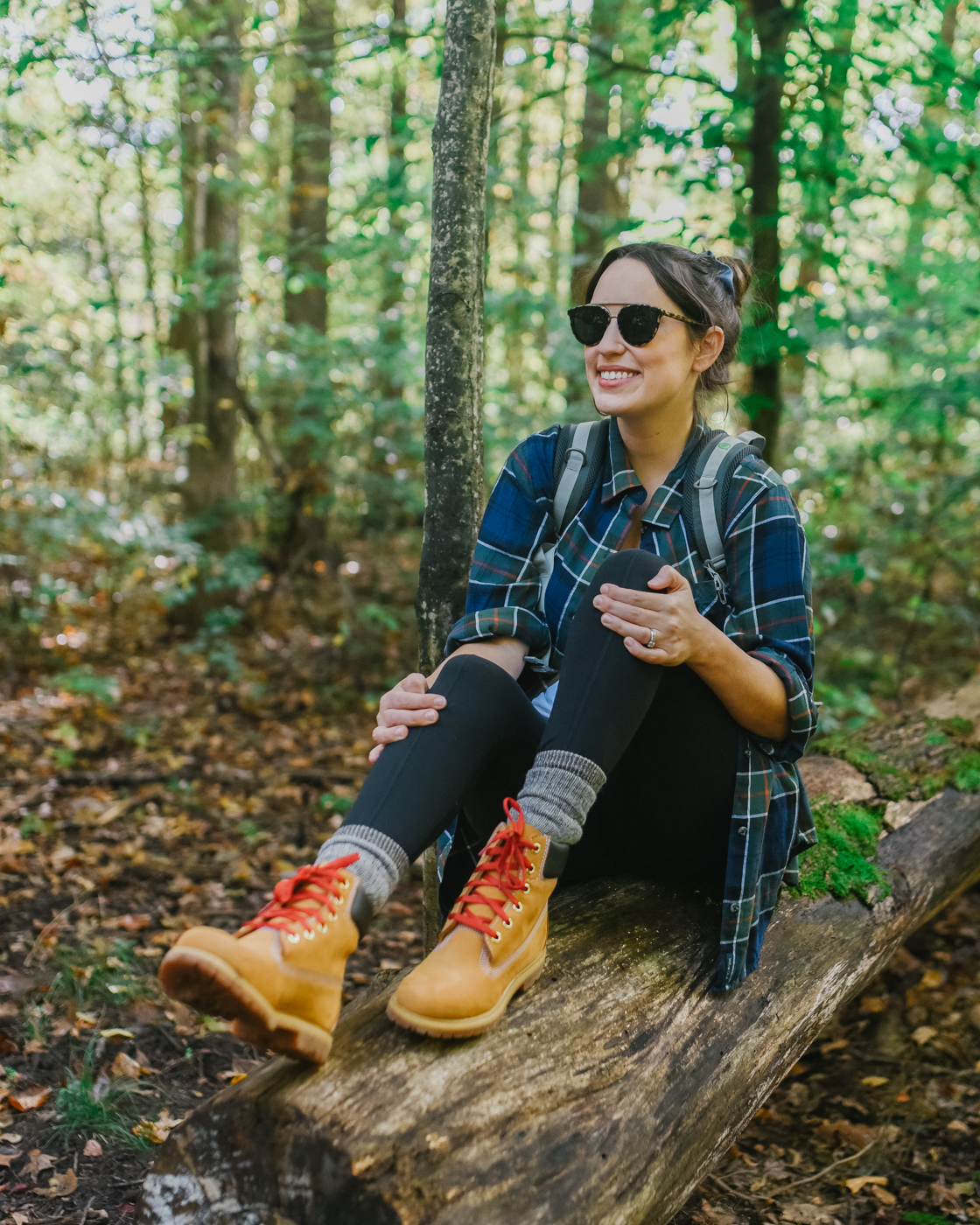 Turn on your JavaScript to view content
Fall marks my favorite time of the year to get out, explore and enjoy the great outdoors. There's nothing quite like the crisp smell of fresh air and autumn leaves whether you're roaming the wilderness or strolling the sidewalks in your neighborhood.
At three weeks in, we're still definitely adjusting to life with a newborn but it's proving to be much easier than we expected. Never in my wildest dreams would I have headed out on a 3.5 mile hike three weeks after having Annie, but with Bennett, I was all for it! And the rest of the family was so thankful for an opportunity to get out of the house and explore nature for the afternoon too.
Today, I'm sharing a peek into our recent family day hike, where we went, a few details on how we managed the afternoon with a newborn, and my take on fall hiking fashion with Academy. (Yes, you really can be both fashionable and practical when hitting the trail!) Head on down for more!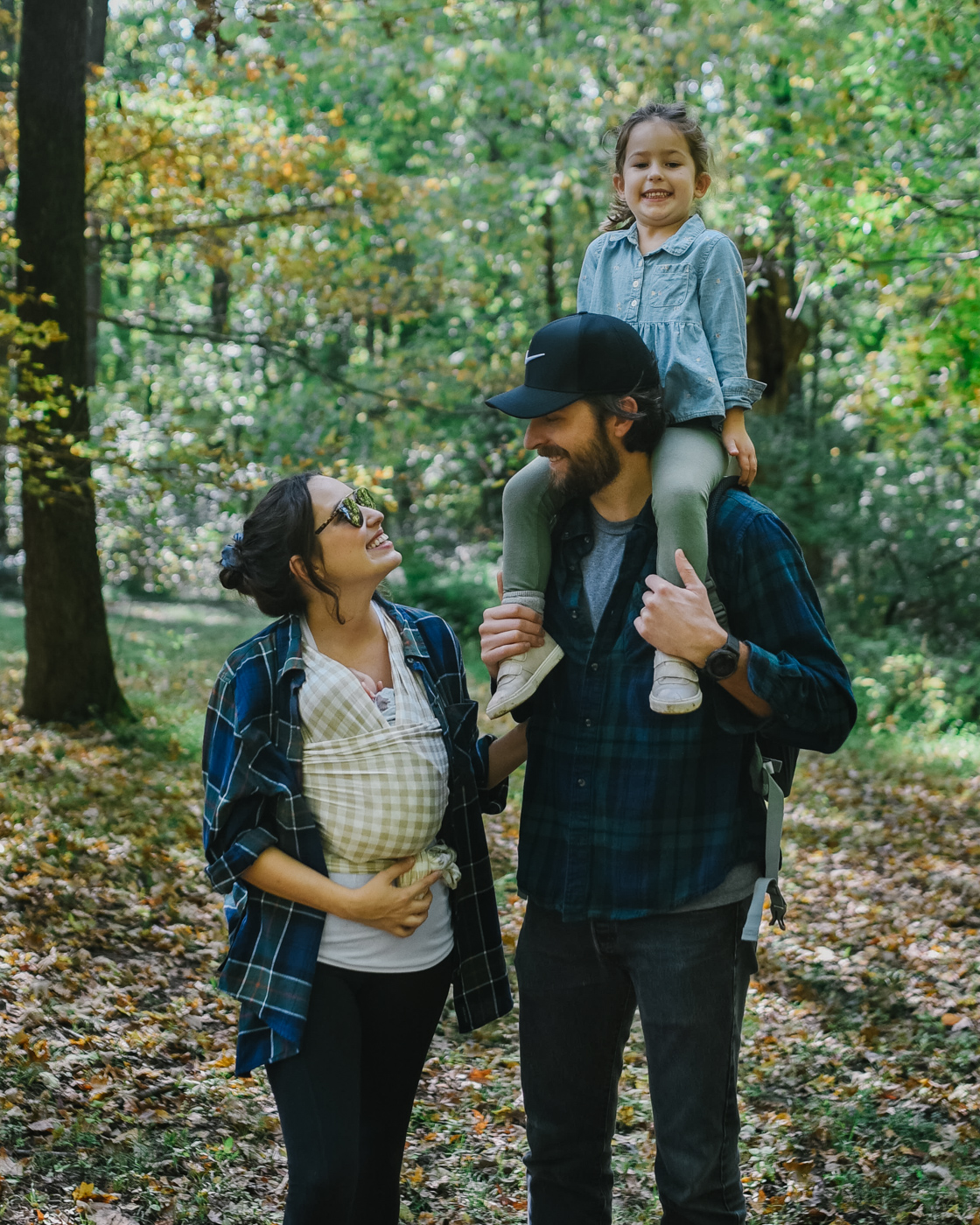 Side note, still can't believe that this is my little family of four! I guess we aren't so little anymore, now that we've added another one to the mix, huh?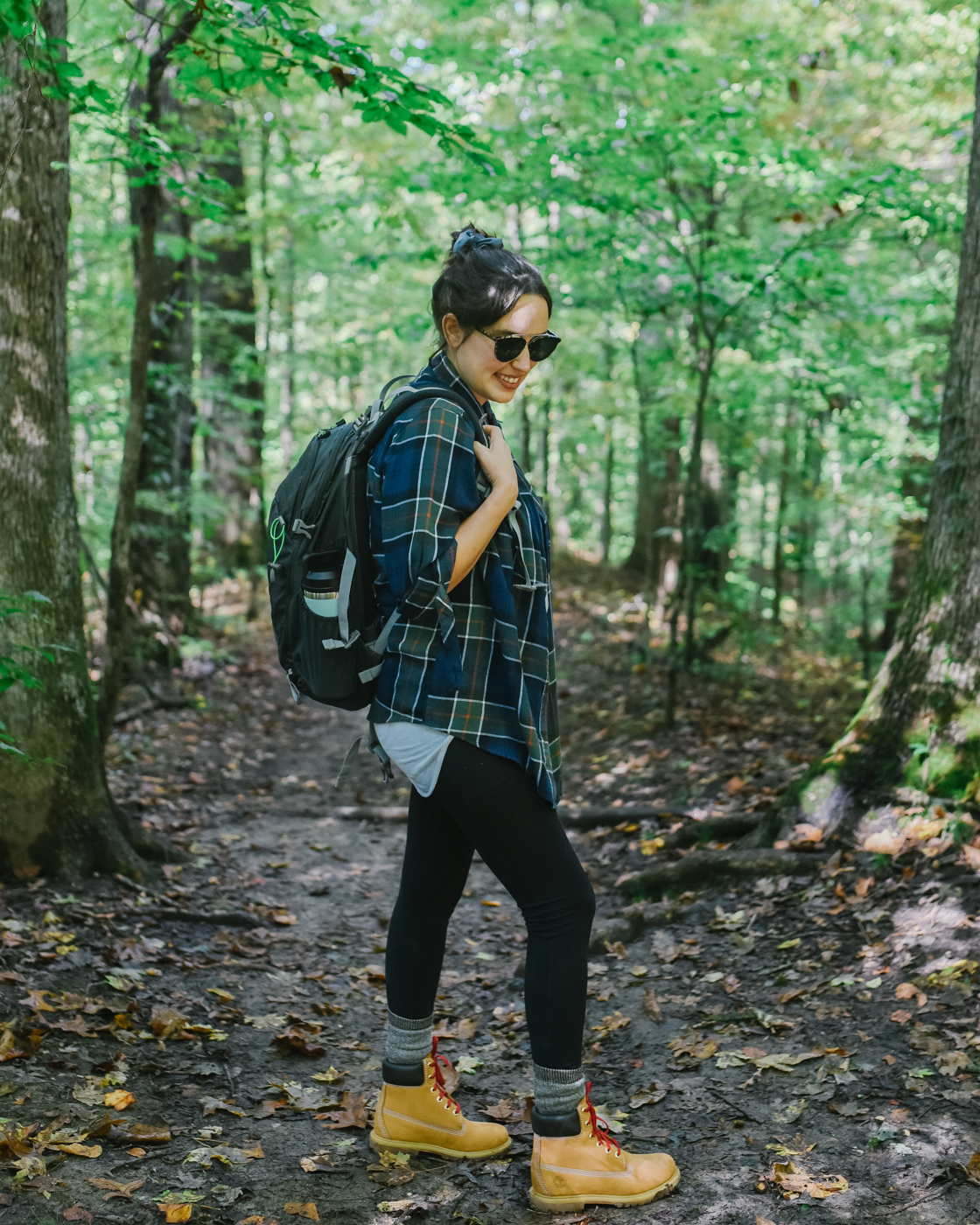 Hiking in Style
If you're like me, when you're out on an adventure you're going to snap a picture (or seven) to share. Pictures or it didn't happen, right?! But really, even the style blogger that I am, there are many occasions I'm out and about doing things and not snapping photos. Whether or not I plan to snap something "for the gram" I always enjoy putting care and attention to whatever I wear no matter the occasion. Outdoor adventures included!
Academy has been our family's go-to when it comes to gear and clothing for our many adventures. They carry everything we've needed and more to camp comfortably and explore in style. Our (not so little) family absolutely loves to go camping and can't resist heading out on a hike or two whenever we do so. You can check out a few of my recent camping posts, including tips & tricks for family camping both at home and away here.)

Turn on your JavaScript to view content
My recipe for a fabulous fall hiking outfit is always a pair of sturdy ankle support boots, sweat wicking wool socks, a cozy lightweight flannel for layering, a simple tee and compression leggings.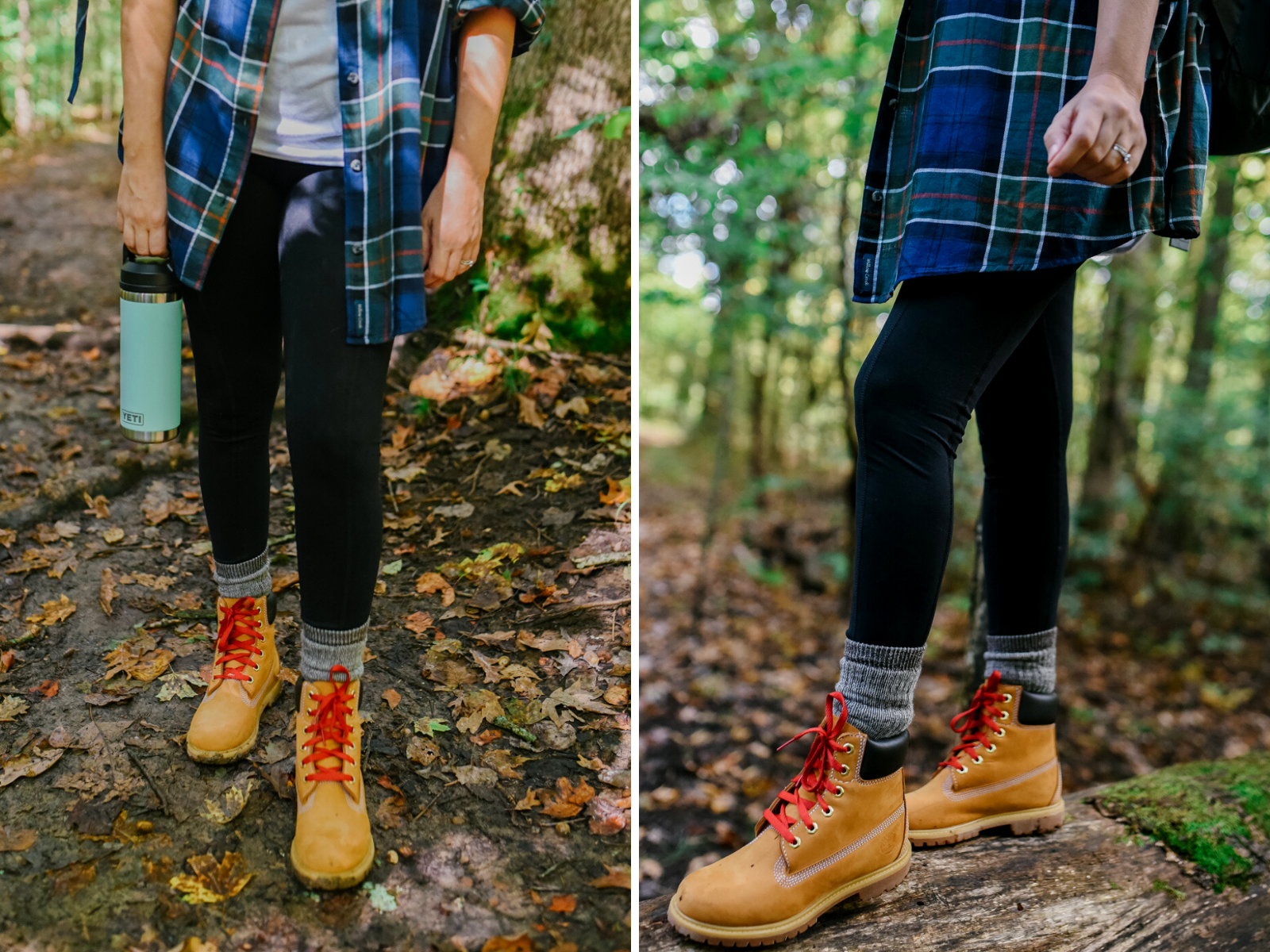 Red Laced Boots Made for Walking
I have several pairs of heavy duty hiking boots in my closet, some that I'll pull out for really adventurous trails (like these Magellan Outdoor Harper Boots).  For more moderate terrain, I've been liking these Timberland Lace Up Boots from Academy. I even swapped the laces they came with out for these red ones, also from Academy. Red laced Timberland boots have been trending on Pinterest lately and I couldn't wait to try the trend out for myself.
The fashionista in me also loves how the red laces make the red lines in my oversized plaid flannel shirt POP! I actually sized up to the 1X version of this button down, knowing I wanted to wear it open as a layering piece. This Magellan Willow Creek Flannel Top from Academy is a really great lightweight flannel that keeps out the chill but also doesn't' feel too hot and heavy when you're out adventuring. Paired with these BCG High Rise Compression Leggings and SmartWool Socks, this outfit has me comfortable-as-can-be and ready for anything the great outdoors has to offer me!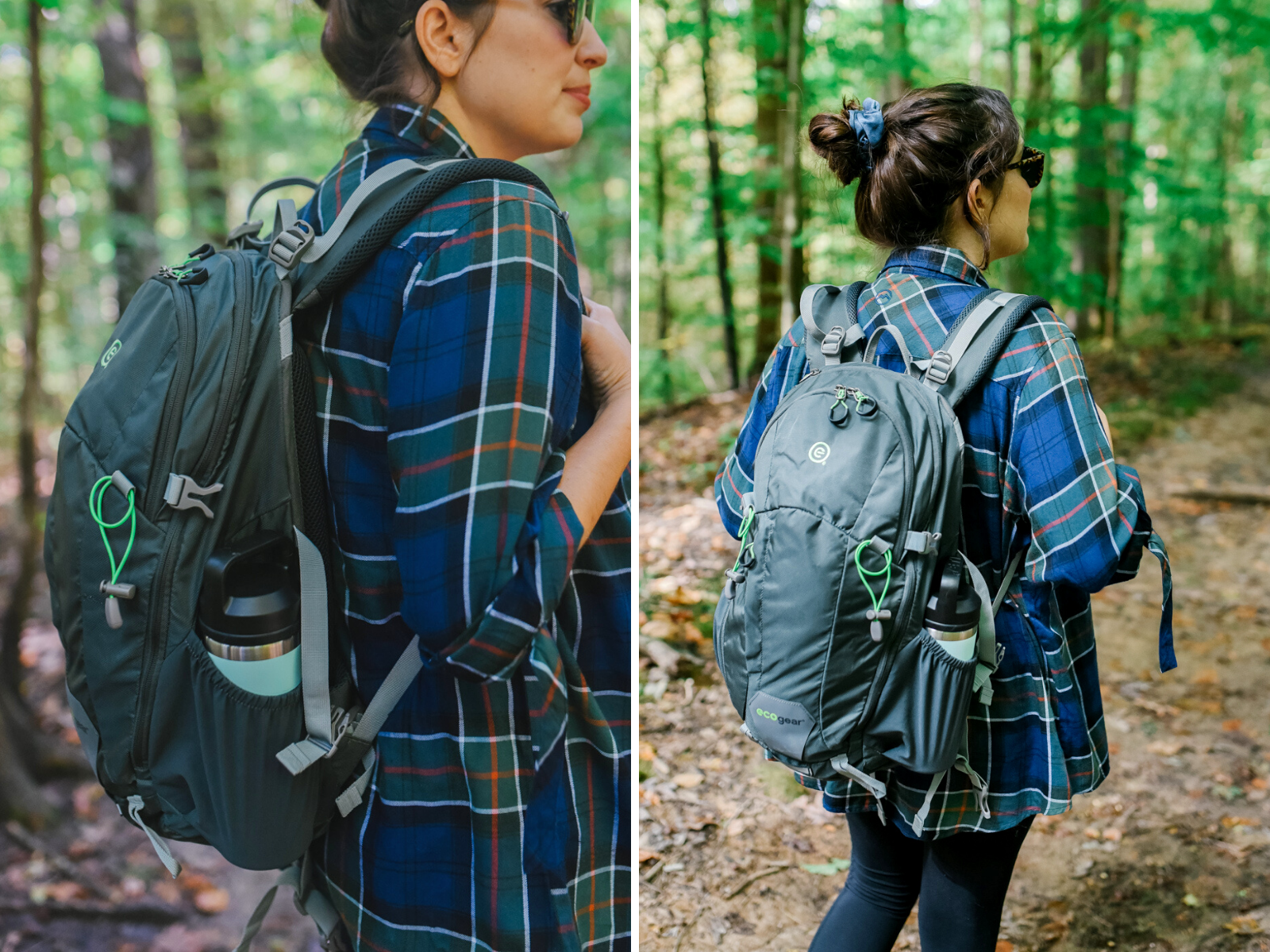 Great Gear for On the Go
Whether you're spending a spell at the gym 0r becoming one with nature, Academy has such a wonderful selection of athletic wear to keep you comfortable and stylish. Not only that, but their gear is so great too!
We've been sporting this Ecogear Hawskbill Hiking Backpack on a few recent trips and I could rave all day about it! Honestly, after going on so many trips with simple backpacks we had lying about the house, having one designed specifically for hiking is a game changer. It has one big roomy compartment and several more zippered-off spaces for smaller accessories. The vented back is such a benefit on hot days – or after breaking a sweat. There is even a space to put in your own hydration pouch, which Patrick just ordered for our next outdoor adventure.
Speaking of hydration, I'm also loving this Yeti Rambler Water Bottle. It comes in nine different colors, holds 26 ounces and keeps drinks cool or hot for hours on end.

Exploring Our Nearby State Parks
Both in Houston and Memphis, we've been fortunate enough to have fabulous state parks scattered around our cities within a short drive from our home. I'm sure wherever you live, you do too! We've made it our mission since moving back to Tennessee to explore all the state and local parks as close to us as we can. With so many COVID restrictions in place this season, safely getting a taste of the great outdoors has felt more important to us than ever.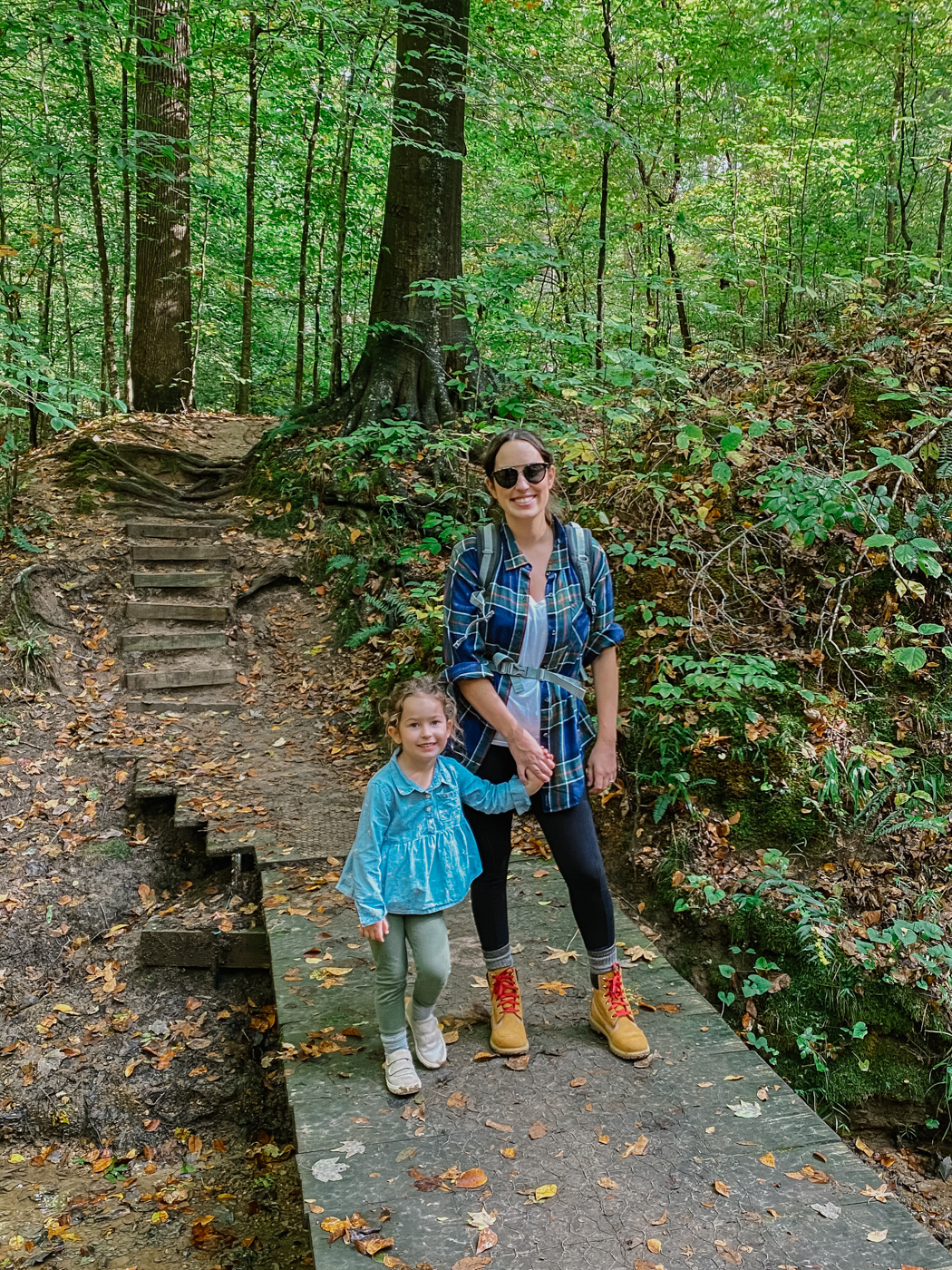 This past weekend we drove 25 minutes outside of town to Meeman-Shelby Forest State Park. The fall foliage was just starting to turn and the hiking trail we chose was more beautiful than ever. The Woodland Trail included a 3.5 mile loop with moderate hilly terrain. There was a gentle stream running nearby with several small wooden bridges Annie thoroughly enjoyed crossing!  I can only imagine how stunning the fall colors are going to be along this trail a few weeks from now too.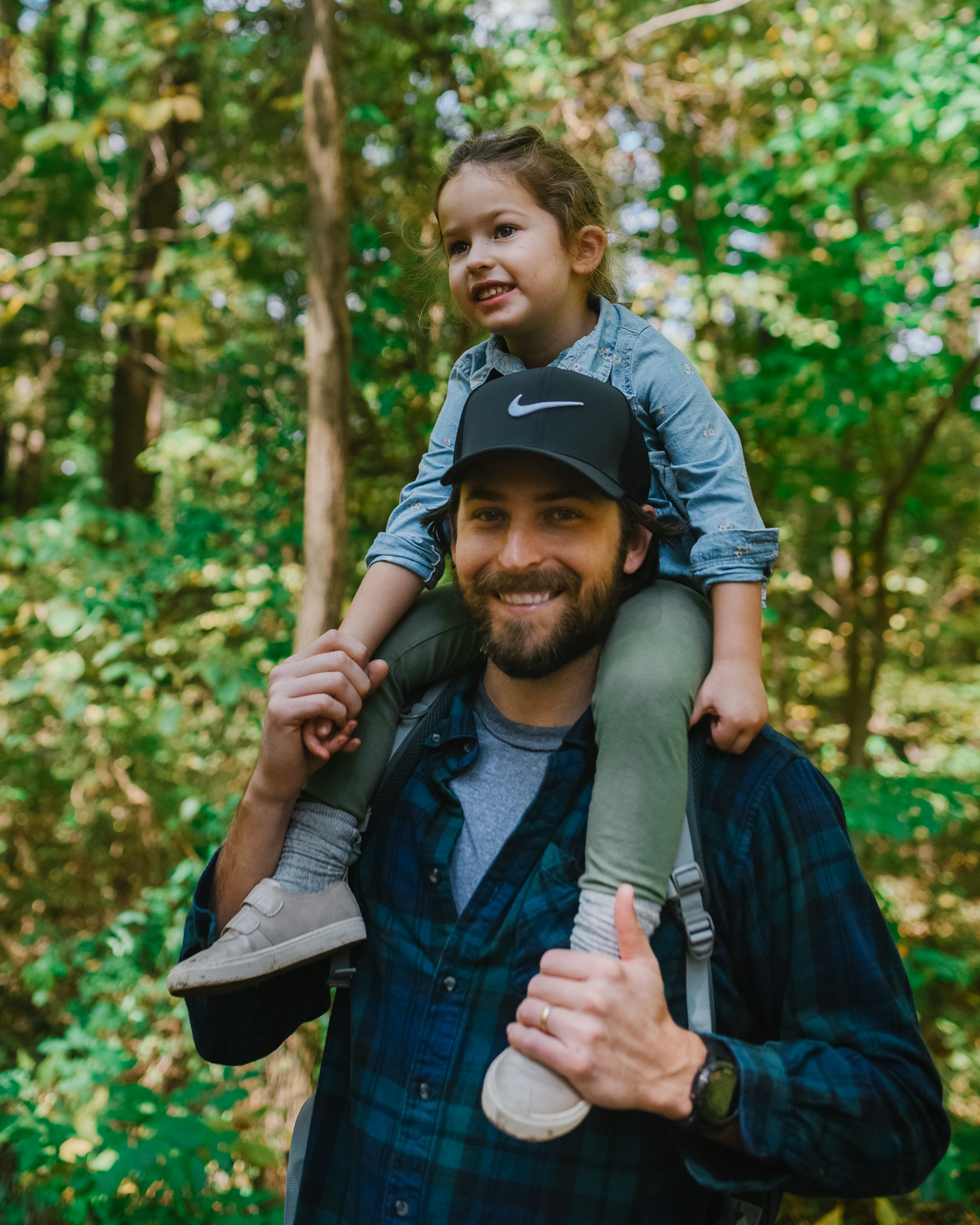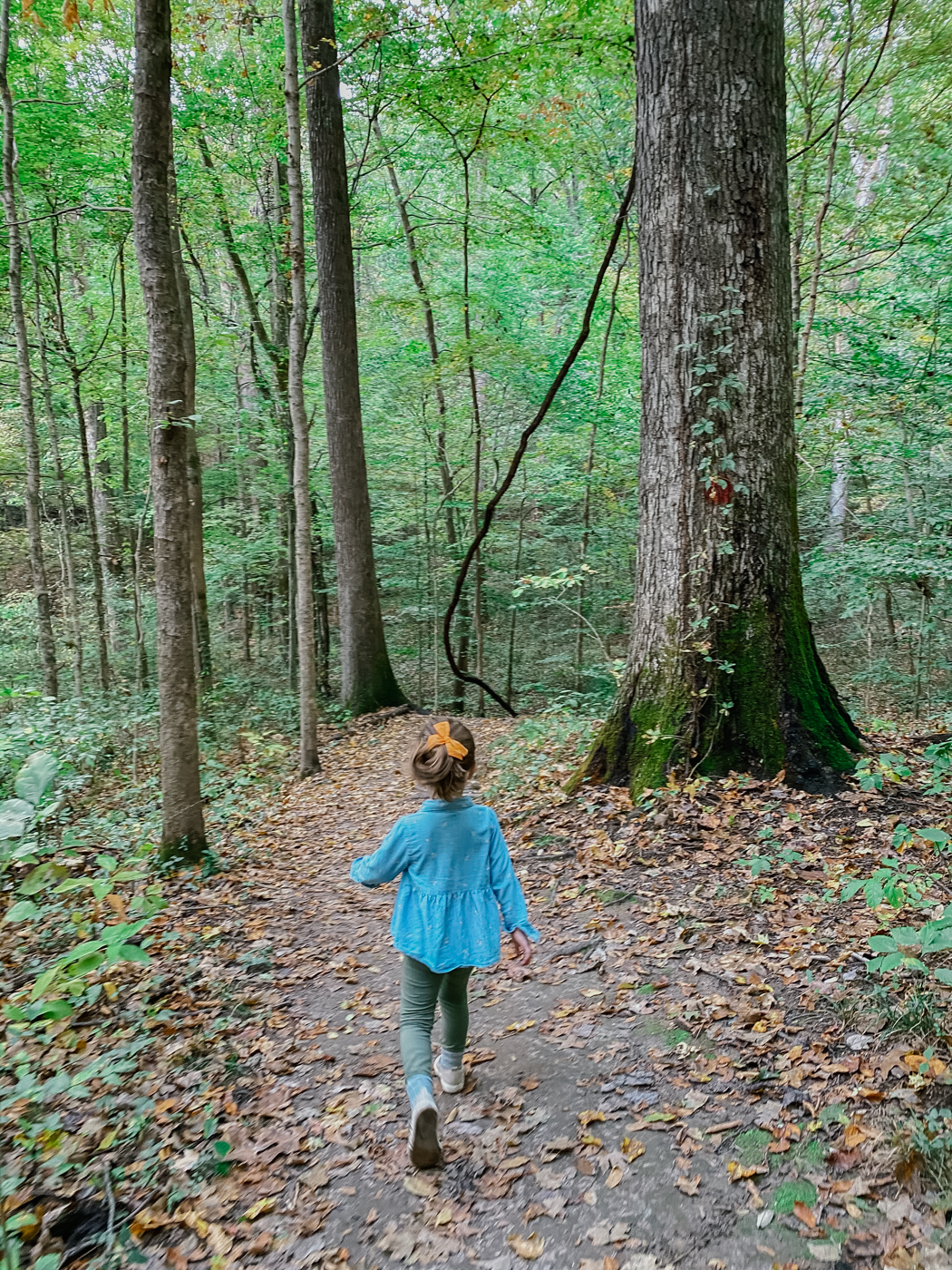 She always wants to be the line leader!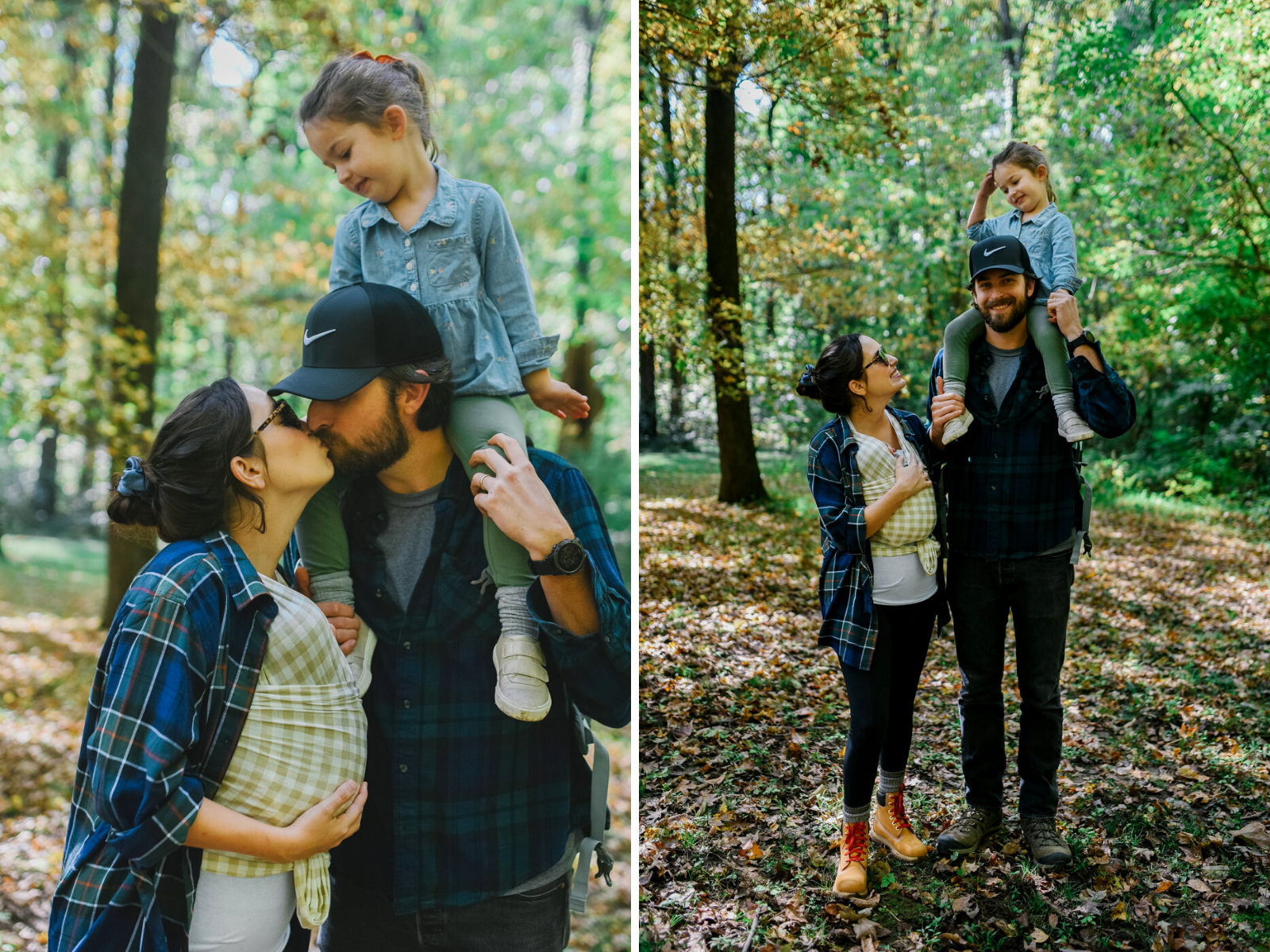 Tips on Adventuring with a Newborn & Toddler
While we probably wouldn't take Bennett out and about to a crowded restaurant or even the grocery store at such a young age (regardless of there being a pandemic right now) we felt very comfortable heading out into the wilderness with him for a short afternoon hike.
We filled our hiking bag with diaper bag essentials such as a changing mat, extra diapers and wipes, disposable bags for dirty diapers, snacks for Annie, extra bottles of water for the whole family and a change of clothes for Bennett. A baby carrier was also a must! It certainly felt like we packed a lot for such a short hike but … we ended up using everything we brought with us!
One thing that is key for adventuring with little ones is to be able to have a flexible "go with the flow" mentality. You never know when you're going to have to change a diaper on the fly (on the side of trail no less) or when your toddler is going to decide he or she is hungry AND over walking, preferring to be carried home. (For us this was about a mile in!!) Thankfully, we were expecting the unexpected and prepared for anything!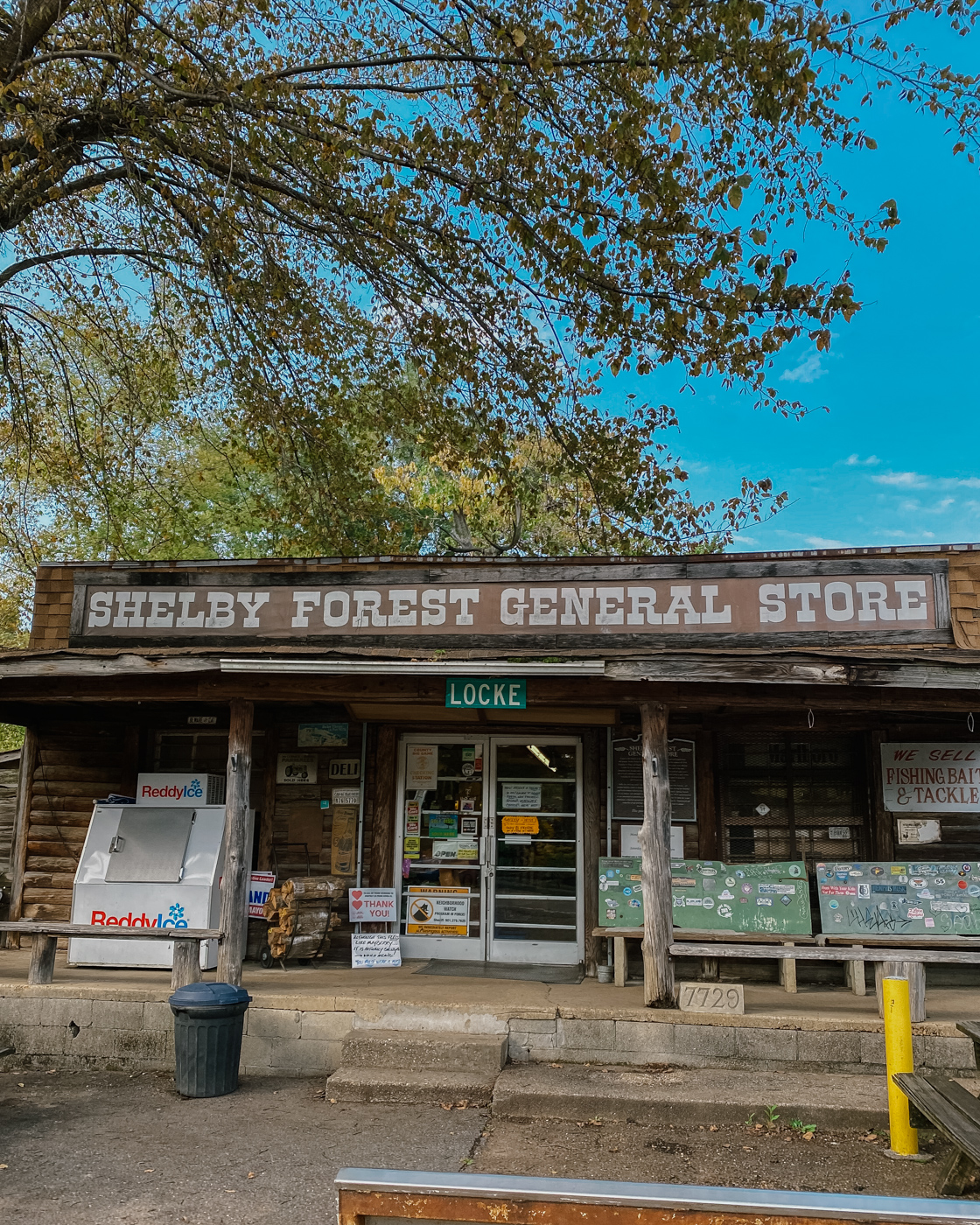 Fuel Up on Food For the Ride Home
If you're local and find yourself heading out to Meeman-Shelby Forest State Park, I can't recommend making a stop at the Shelby Forest General Store for their famous cheeseburgers on your way home! We actually had burgers before our hike … and while they were absolutely delicious … I'd definitely suggest dining on them after you've exercised your legs instead of before, ha. This famous general store is actually a favorite of Justin Timberlake's too! He grew up not too far from the area in Millington, TN.
—
Have you and your family been on any outdoor fall adventures yet this season? We may already be a few weeks into fall but I feel like the season only just started now that we're finally starting to feel settled at home with our newest addition.
—
Big thank you to Academy for sponsoring this blog post. It is such a treat when I am able to partner with brands that I love to create content to share in this space. Thank you to you all for following along and supporting the brands that make Lone Star Looking Glass possible.
—
xo, alice
The post What to Wear Hiking in the Fall appeared first on Lone Star Looking Glass.
What does naughty but nice mean
. xoxo.