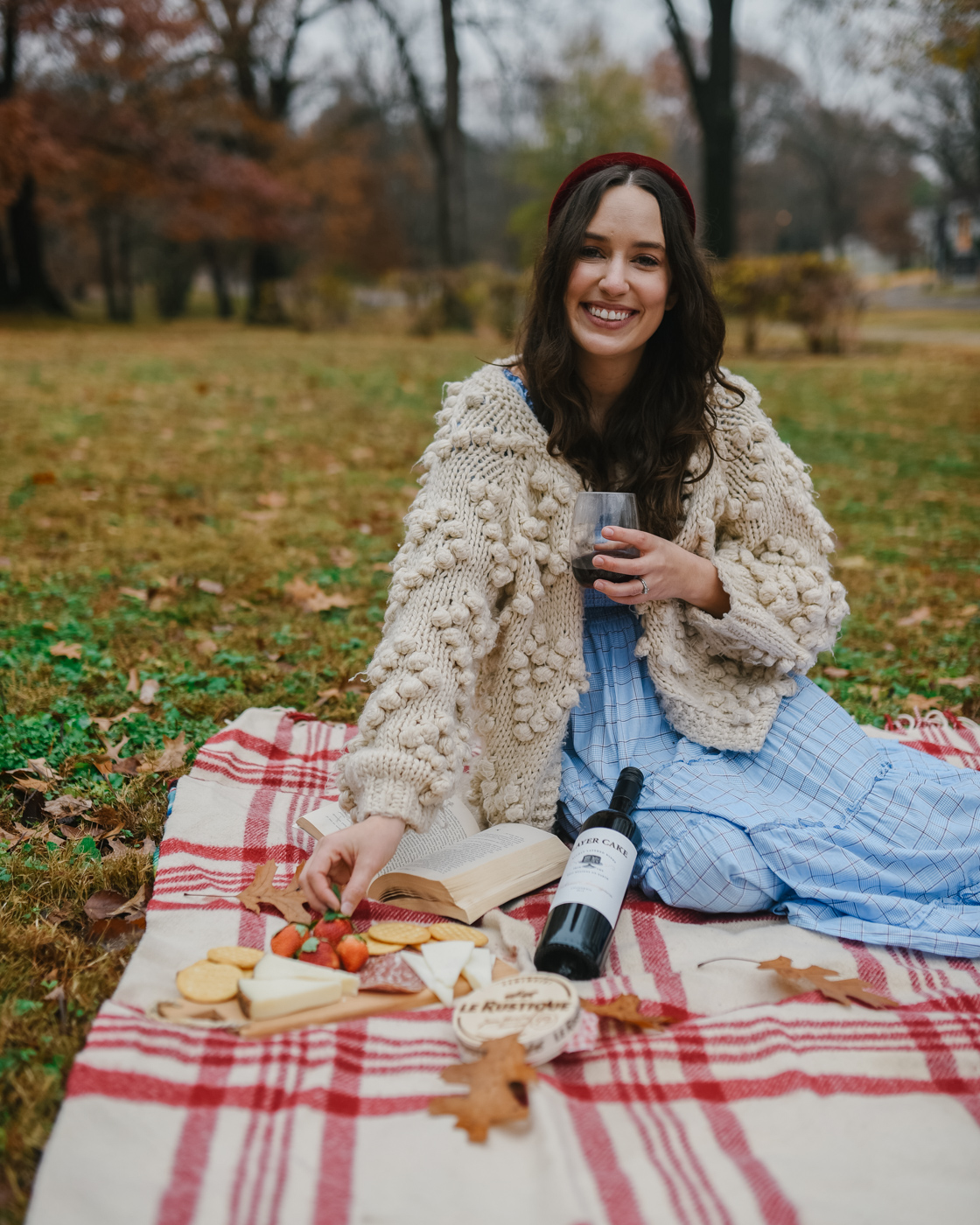 I'll never take for granted the changing of the autumn leaves this time of year. After living in Texas for almost a decade and missing out on the season almost completely, I now cherish fall more than ever before.
The best way to experience this crisp season is outdoors. What better way to taste the outdoors than by setting up a simple afternoon picnic? I'm quite the picnic person – I typically go on one once a week or so if the weather is nice enough to enjoy it! Most of the time, I bring the kids along and its a picnic lunch before a trip to the zoo or botanic garden. But sometimes I just prefer a more "grown up" picnic, if you know what I mean.
Aka one that involves a bottle of wine, and what better choice to bring along than Layer Cake! Click here to learn more about Layer Cake Wines and find them at a store near you.
I'm so excited to be teaming up with Layer Cake Wines today to share my must haves for a perfectly pretty fall picnic! More below …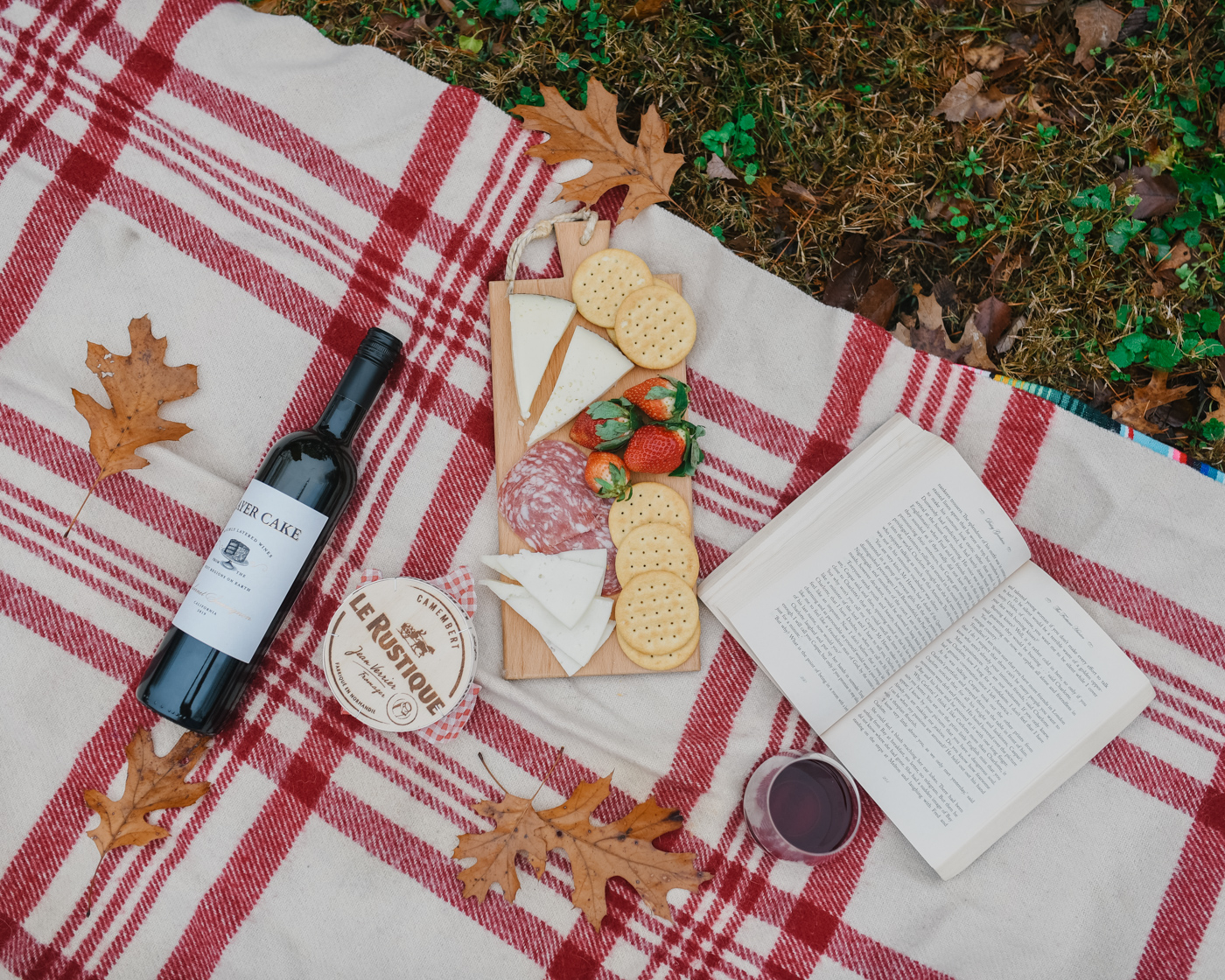 The Perfect Wine & Cheese Pairing for Fall
Wine and cheese will always make for the most decadent treat, in my opinion. It's the perfect combination to liven up any occasion – especially a picnic. I'm partial to dry red wines – Cabernet Sauvignon being my variety of choice. Layer Cake's Cabernet Sauvignon is a rich wine with notes of wild berries and violets. It has long coffee chocolate finish to it that takes quite frankly … like heaven in a bottle!
Luckily Layer Cake has plenty of options for all the wine lovers out there. I brought along the perfect selection of reds for this picnic including Layer Cake Malbec, Layer Cake Cabernet Sauvignon (of course,) Layer Cake Pinot Noir, Layer Cake Bourbon Barrel Aged Cabernet Sauvignon.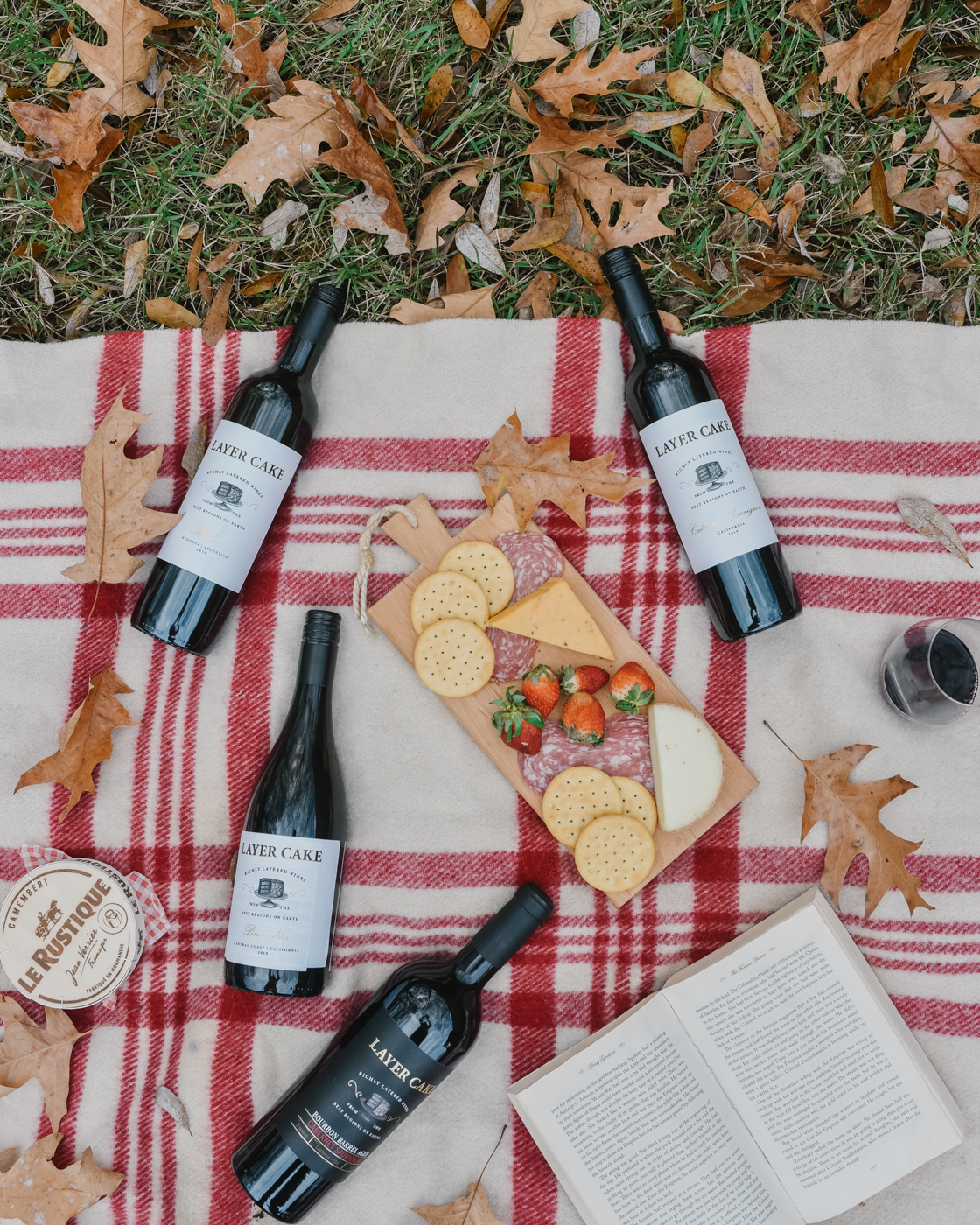 Cabernet Sauvignon pairs nicely with aged cheddar (surprise surprise that's my favorite cheese too!) The fat in this particular cheese pairs well with the dry tannins you'll find in a glass of Cabernet. This rich combination is bold in flavor just like the fall season.

Simple Serving Pieces + Everyday Picnic Essentials
You don't have to haul heavy, clunky or breakable dishes to the park for "aesthetically pleasing" picnic. These stemless plastic wineglass are easy to pack and reuse again and again. A lightweight wooden cheeseboard, like this one, is easy to slip in a tote bag to spruce up the setting.
It's easy to always remember to bring along the fun stuff but don't forget napkins and a designated bag for any trash you accumulate too! No need to pack along a corkscrew because Layer Cake's bottles twist off in a pinch!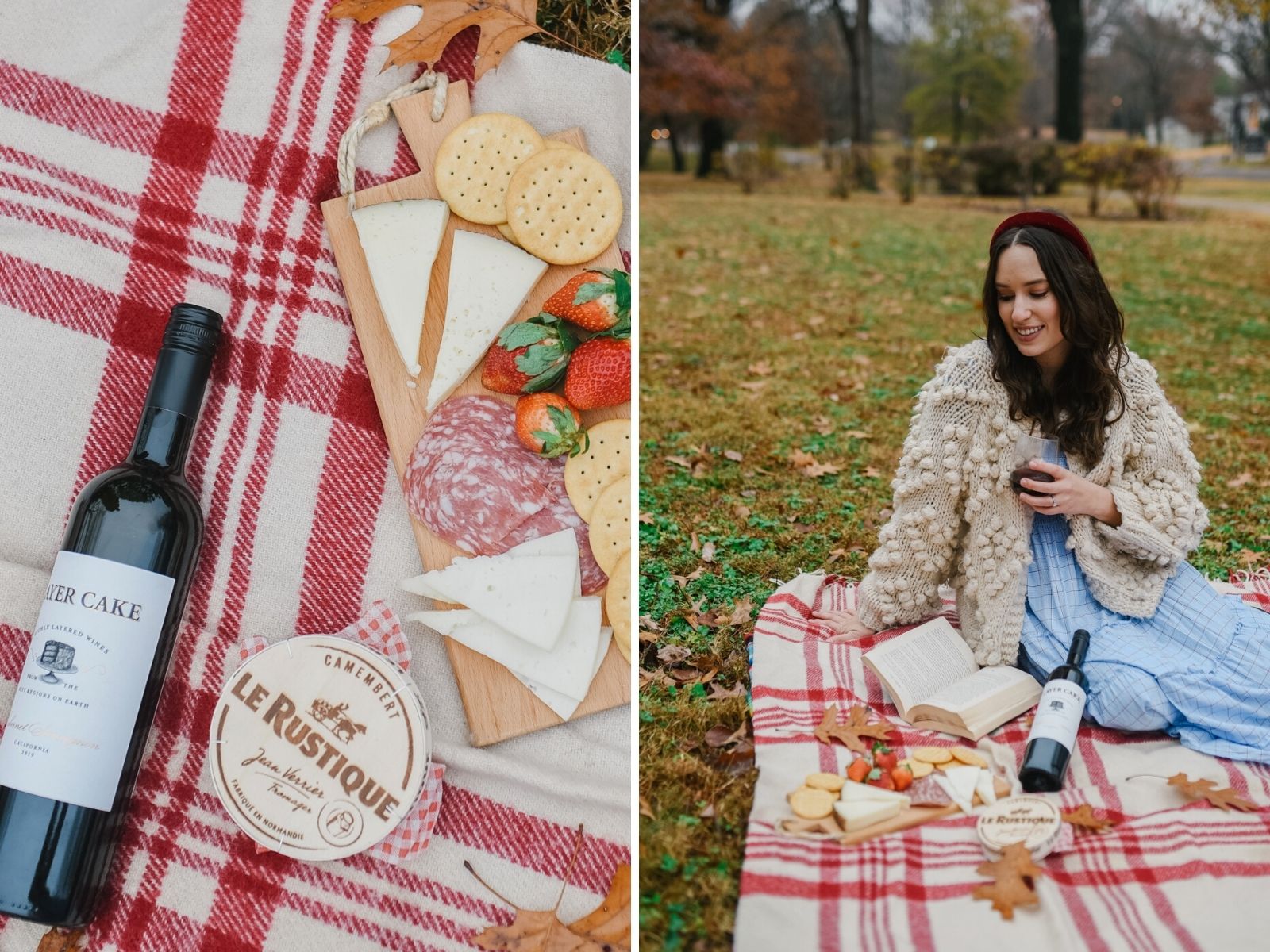 A Deliciously Good Book
Speaking of great combinations, can you think of anything better than diving into a good book on a crisp fall day!? Find yourself a friend you can sip on with in silence – as you both sink into a different story. A few books I've got on my "To Read List" this season are: "The Seven Brides of Evelyn Hugo," "It Ends with Us," and "The Song of Achilles"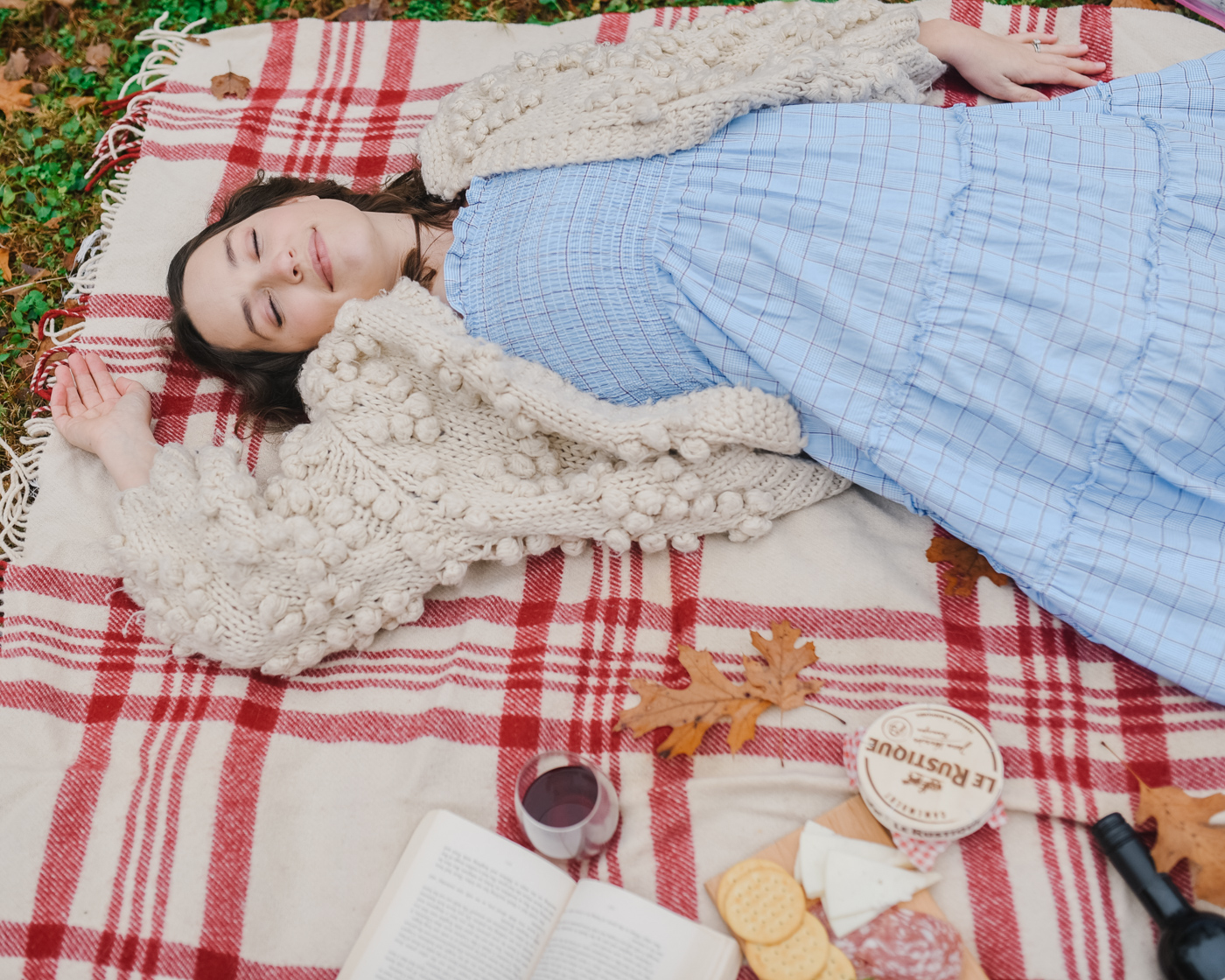 A Quilt to Cozy Up Upon
Step your pretty picnic up a notch with a cute quilt (and a cozy outfit to match.) I picked up this plaid wool blanket when I studied abroad in Wales my senior year of college. This quilt holds such a special place in my heart as it brings up sweet memories every time I see it – making picnics upon it all the more satisfying!
I have another more traditional patchwork quilt I found at an antique shop that I leave in my car 24/7 incase an impromptu picnic arises. You can find super cute quilts vintage on Etsy, at your local antique shop or even shop new quilts made to "look old" from popular retailers like Target too. My advice would be to find something that is easy to toss in the wash. Eating outside is bound to be a little messy!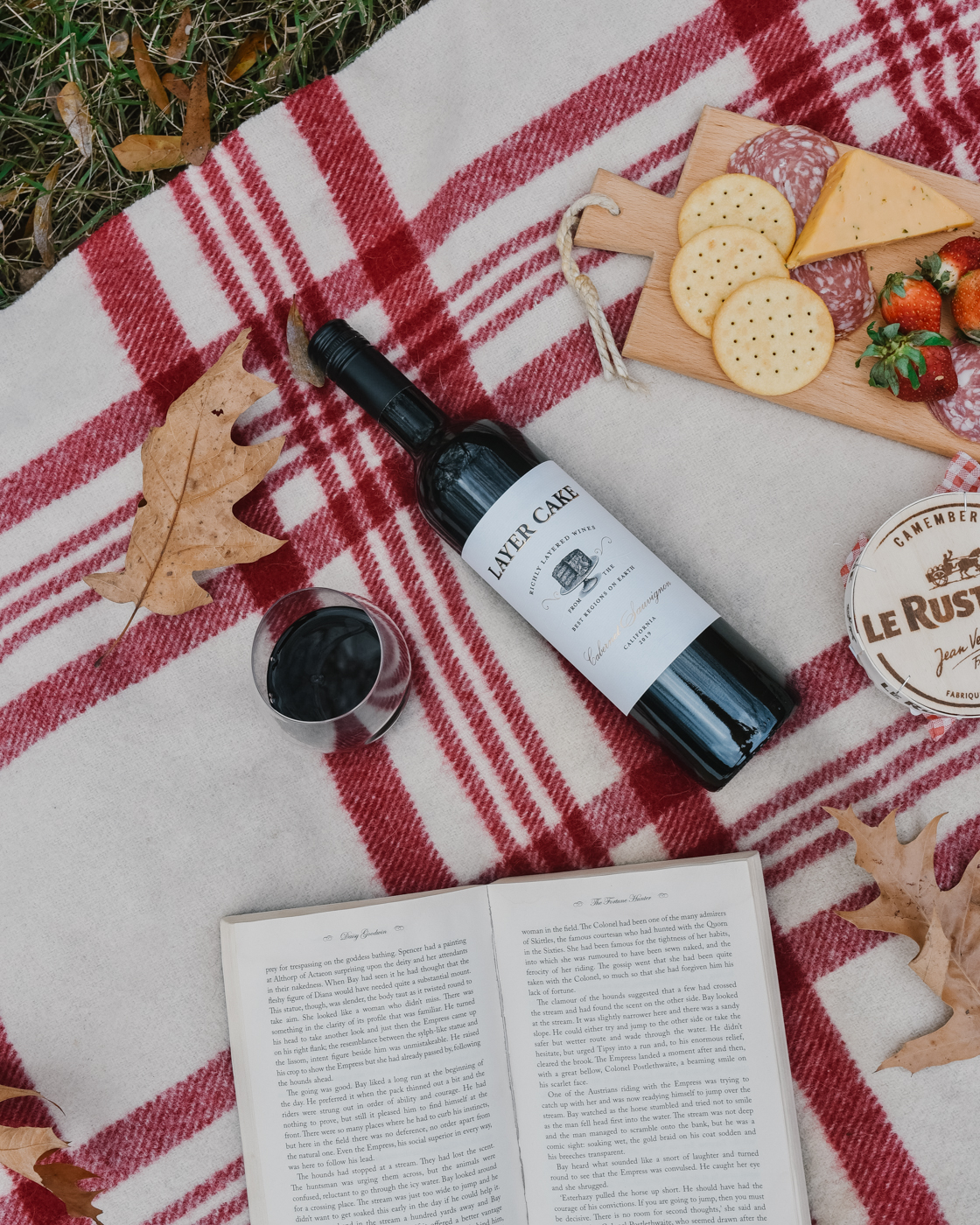 Picnicking with my girlfriends (and a bottle of Layer Cake Cabernet Sauvignon) is at the top of my bucket list this fall. Have you made a seasonal bucket list before?! I like to do them just for fun as a little push to get myself out of the house soaking in the season the best way I know how. If you made a fall bucket list, what would be at the top of yours?!
—
Big thank you to Layer Cake for sponsoring this blog post. And as always, thanks for stopping by the blog and supporting the brands that make Lone Star Looking Glass possible.
 —
xo, alice
The post What to Pack for the Perfect Fall Picnic appeared first on Lone Star Looking Glass.
What does naughty but nice mean
. xoxo.