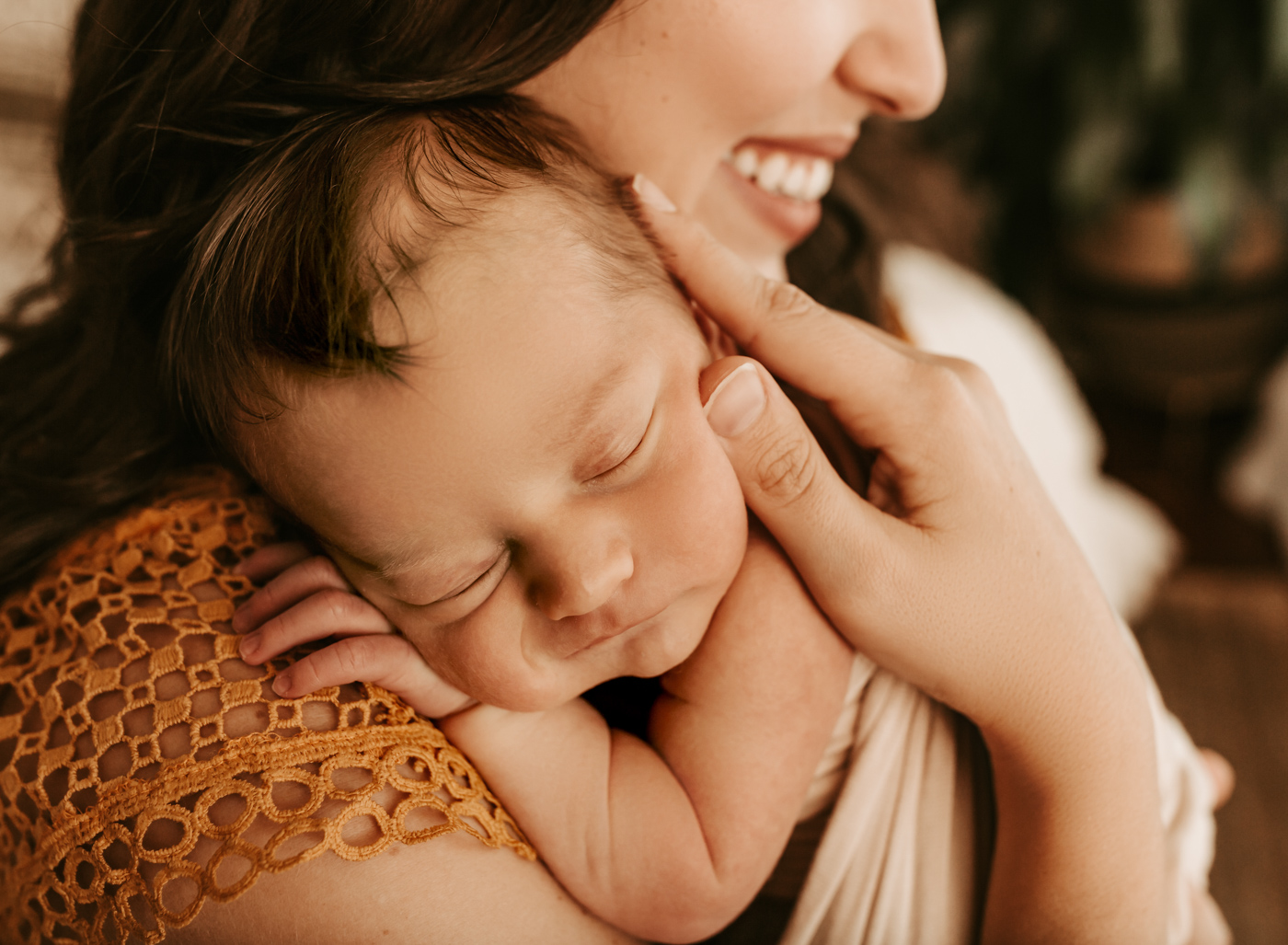 On September 26, 2020 at 8:55 am, our lives changed forever. We welcomed our second child, and first little boy, Bennett Michael Kerley into the world and our family. Meeting all 7 lb. 11 oz of this sweet baby for the first time was the most incredible feeling I've ever experienced! I always imagined what it would be like to have two children and wondered to myself, how could I love them both so much and so equally!? Well, now I know. My heart has grown immensely and the love and joy my two children bring me almost feels indescribable. It's insurmountable! (I'm having too much fun with adjectives this morning, ha.)
Bennett's birth story is something I'm saving to share for another post. It was quite the experience. I think in one day I had my highest of highs and lowest of lows just hours apart from each other. Let me just say the VBAC birth was amazing but Bennett's infection diagnosis and NICU stay news shortly to follow was tough to swallow. We got through it though and are happy, healthy and HOME. Bennett has been free of infection and out of the NICU for a little over a week now. We've enjoyed every single second of having him home with us. Sleepless nights are much easier to swallow when you have to go 10 days without them after the arrival of your new baby, that's for sure.
So without further ado, let me introduce you to my newest little love, Bennett.
I'm chatting a bit about Bennett, his personality, how things are going at home and sharing more details on our newborn shoot with Karen Waits Photography below! 

He Has Big Blue (or Green) Eyes
There aren't enough words to describe how much I love this photo! Bennett's eyes right now are a darkish blue and we're still so curious as to which color they're going to finally settle on permanently. It typically takes a few months for the pigment to show up and stick I've read. We're so curious if they will stay blue like his Daddy's or fade to green like mine and Annie's.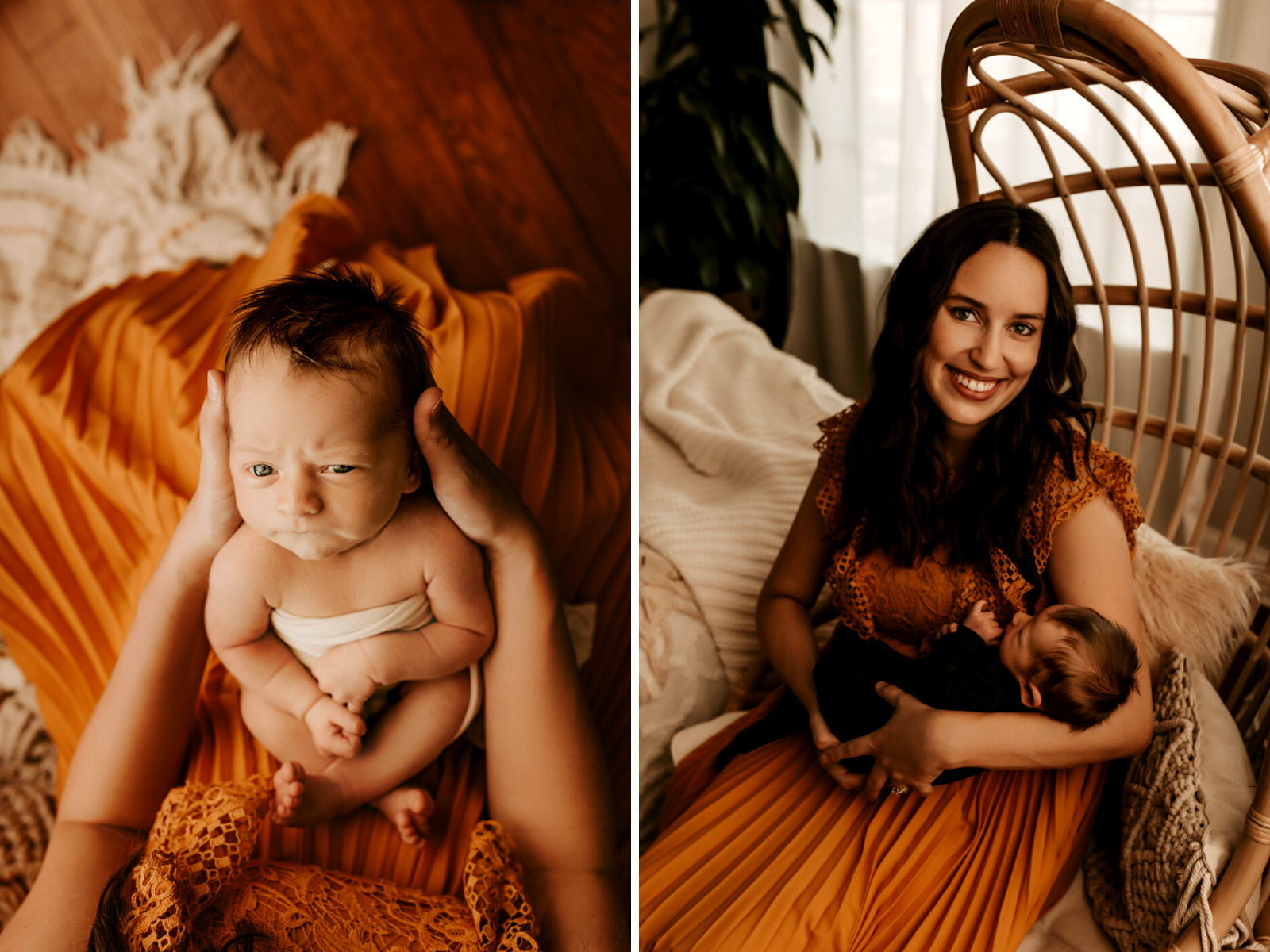 Turn on your JavaScript to view content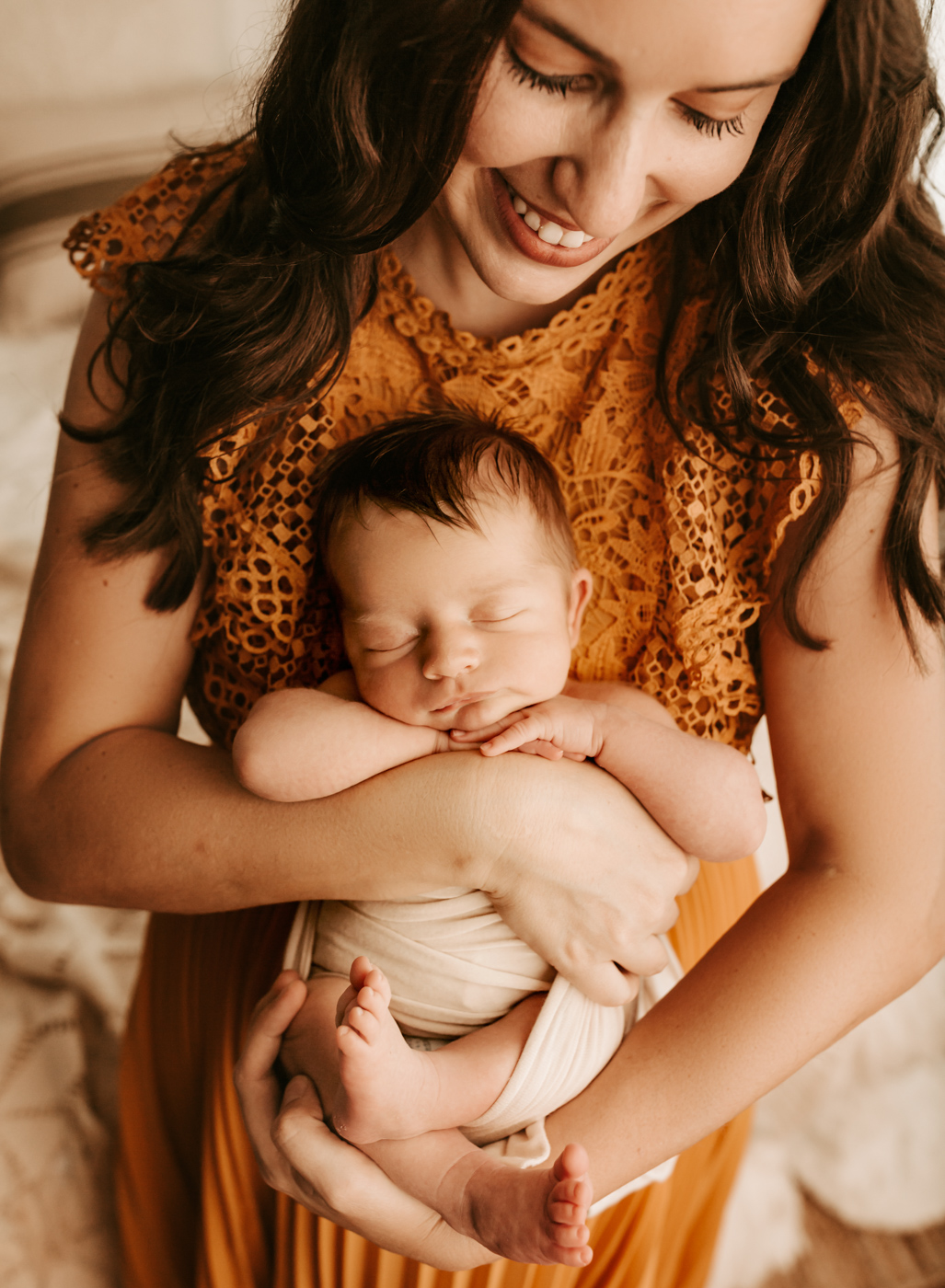 A Bit About His Personality
I still can't believe Bennett slept through most of this shoot! He sure loves to sleep and his favorite spot to snooze is right on my lap. His demeanor seems to be so much calmer and "chill" compared to his sister's at this age. Not that I'm comparing the two … we just really expected another colicky baby and have been so surprised by the lack of constant tears. I was a colicky baby myself (as my mom reminds me frequently) and both of my brother's weren't. She assured me for years not all baby's are fussy and we could have a super calm second child. We'll see if this sweet relaxed personality of Bennett's sticks around a bit longer. Colic shows up usually around week three so only time will tell. Did any of your little ones experience colic?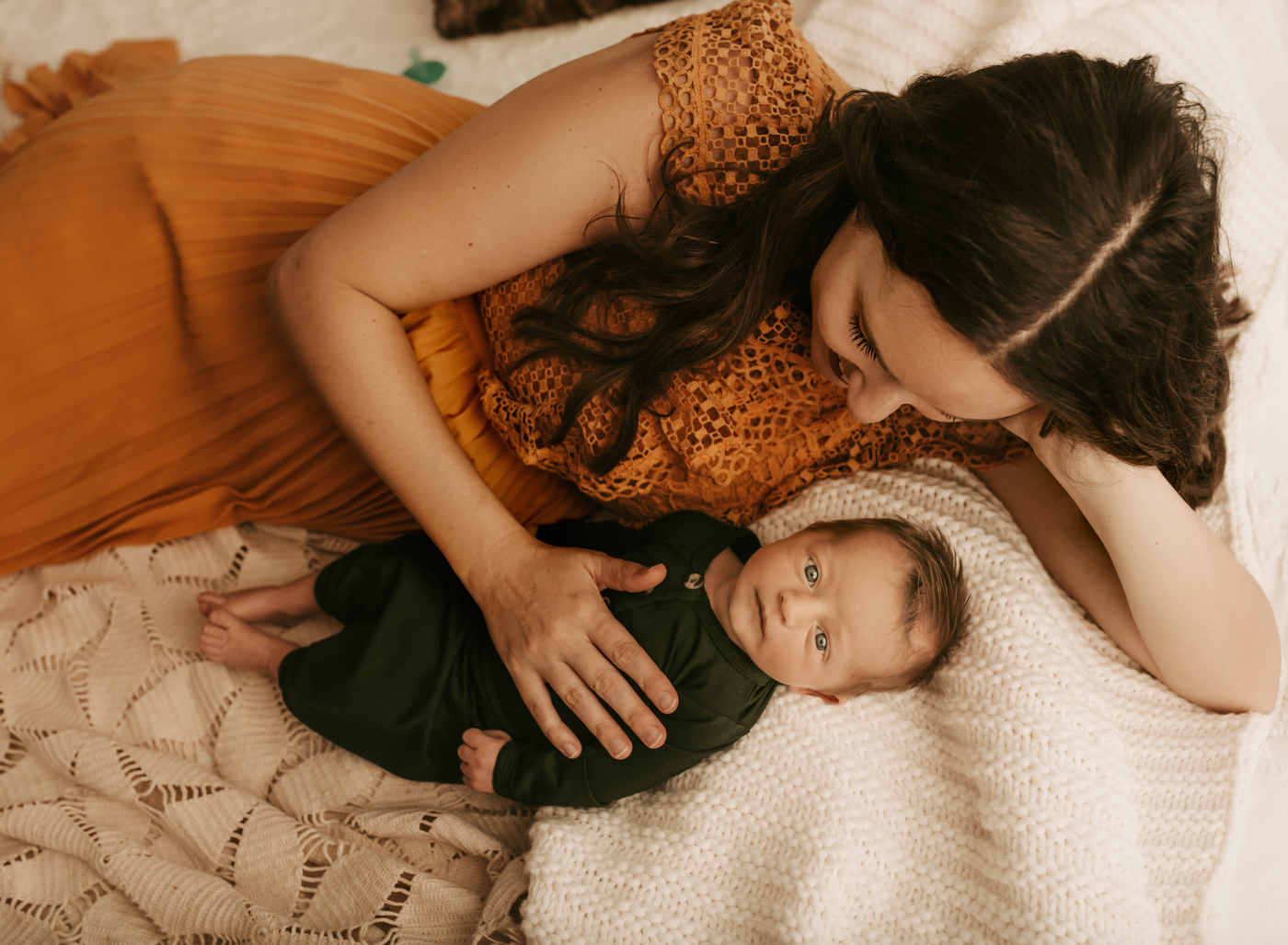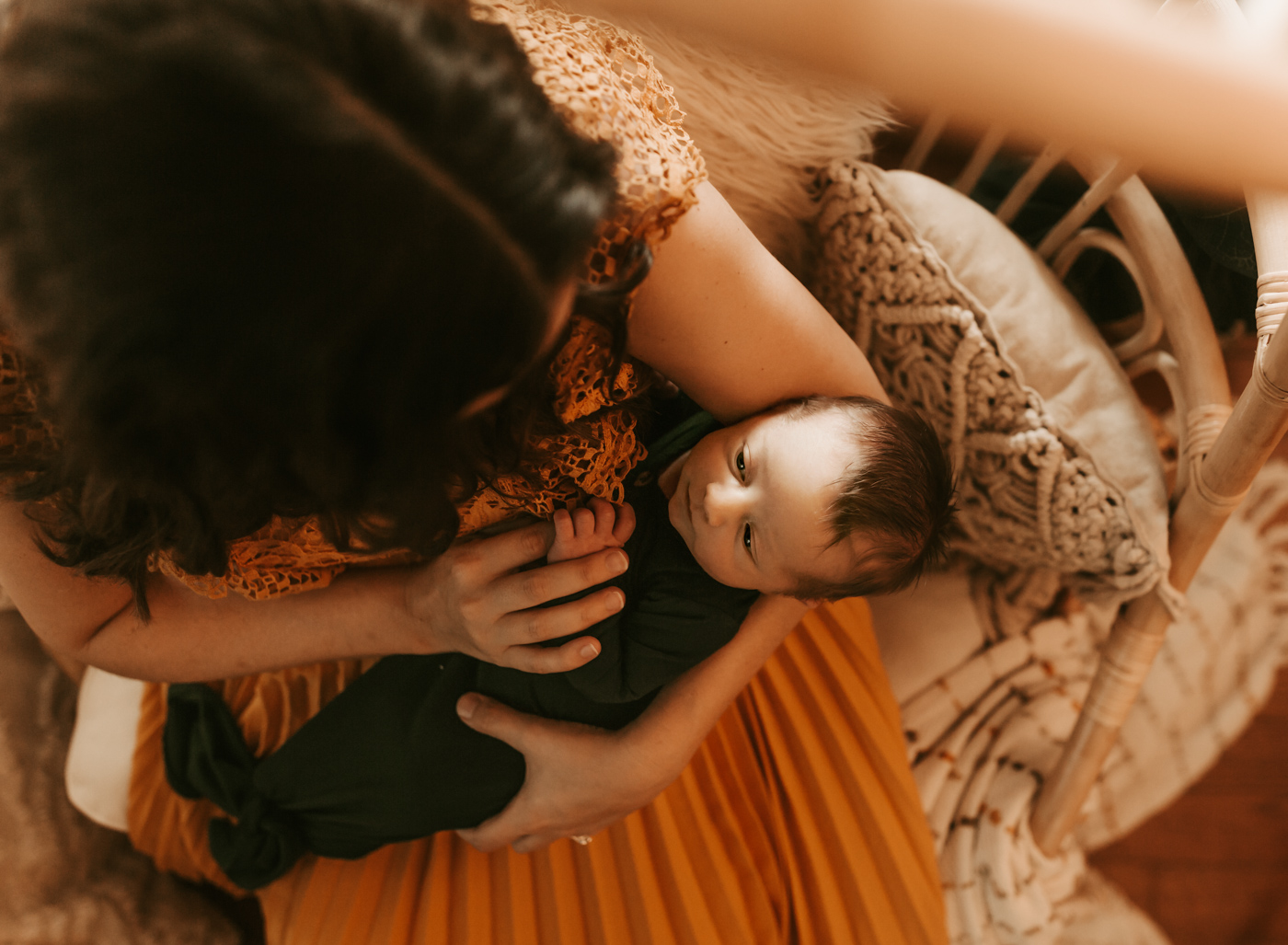 Bonding with Our New Baby
One thing I was really focused on during Bennett's NICU stay was establishing breastfeeding and bonding with our new baby. I naturally instantly bonded with him but breastfeeding initially was pretty difficult considering we only were able to see him for about 5ish hours a day. During our visits he would nurse from me a few times and then the rest of his feedings were from a bottle. I was so nervous he'd prefer bottles over nursing, which wouldn't be a bad thing – I just had an amazing breastfeeding experience with Annie and hoped for the same with Bennett. Thankfully, somehow breastfeeding stuck and by the time he was discharged we had established a good latch and connection with one another.
Since we've been home, I've almost been like his personal buffet, ha! He is probably going through a little growth spurt and seems constantly hungry. I don't mind one single bit and am so thankful I get to provide for him in this special way. Every time he coos or looks into my eyes while I nurse him, I feel more and more bonded to this little guy of mine. To say I feel so blessed he is ours is an understatement.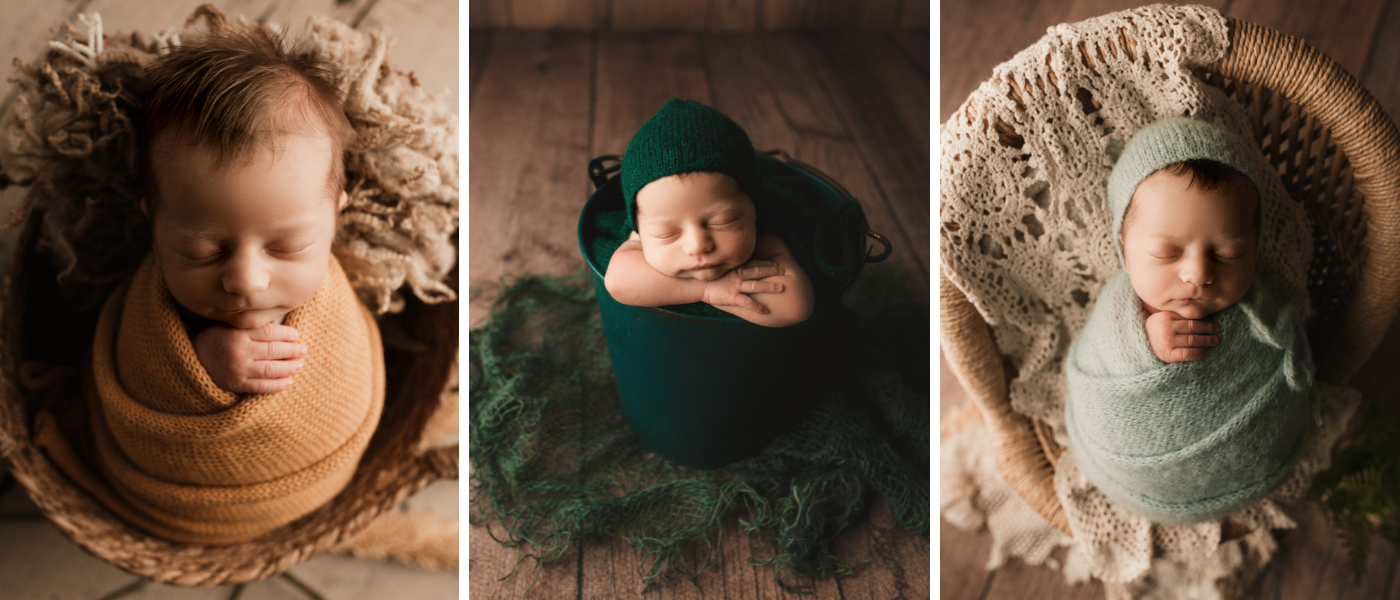 Details on Our Oh-So-Sweet Newborn Baby Photos
Karen Waits Photography really knocked our newborn session out of the park! We were blown away by every prop, backdrop and amenity Karen had to offer to make the photoshoot experience smooth and special. Her studio in downtown Arlington sits inside a several hundred year old home and is equipped with literally any and everything both mama and baby would need to look and feel fabulous in photos. (This gold dress I'm rocking was from her studio too!) She had oodles of hand knit woven blankets, hats, swaddles, bows, baby flower crowns and more for little baby girls and boys to wear during a shoot. The colors Karen chose for Bennett were inspired by his nursery color scheme and I was blown away with how perfect they were!
Karen also takes the utmost care in keeping little ones comfortable during a newborn photoshoot. She had a tiny space heater, baby shusher and all sorts of pillows and wraps to snuggle and support Bennett during each and every pose. As you can see from the above snaps, he was quite content and slept through the majority of the shoot. Karen also sent us a prep guide prior to the shoot with helpful tidbits to follow to ensure a calm and relaxing experience for everyone. I honestly can't recommend her enough for both newborn and maternity photos. Even family photos!! You can check out my post sharing snaps from our family maternity session with Karen here. Photos from both of these shoots  are some of the most special snaps we've ever received and I'm sure they will be cherishes by us for years and years to come!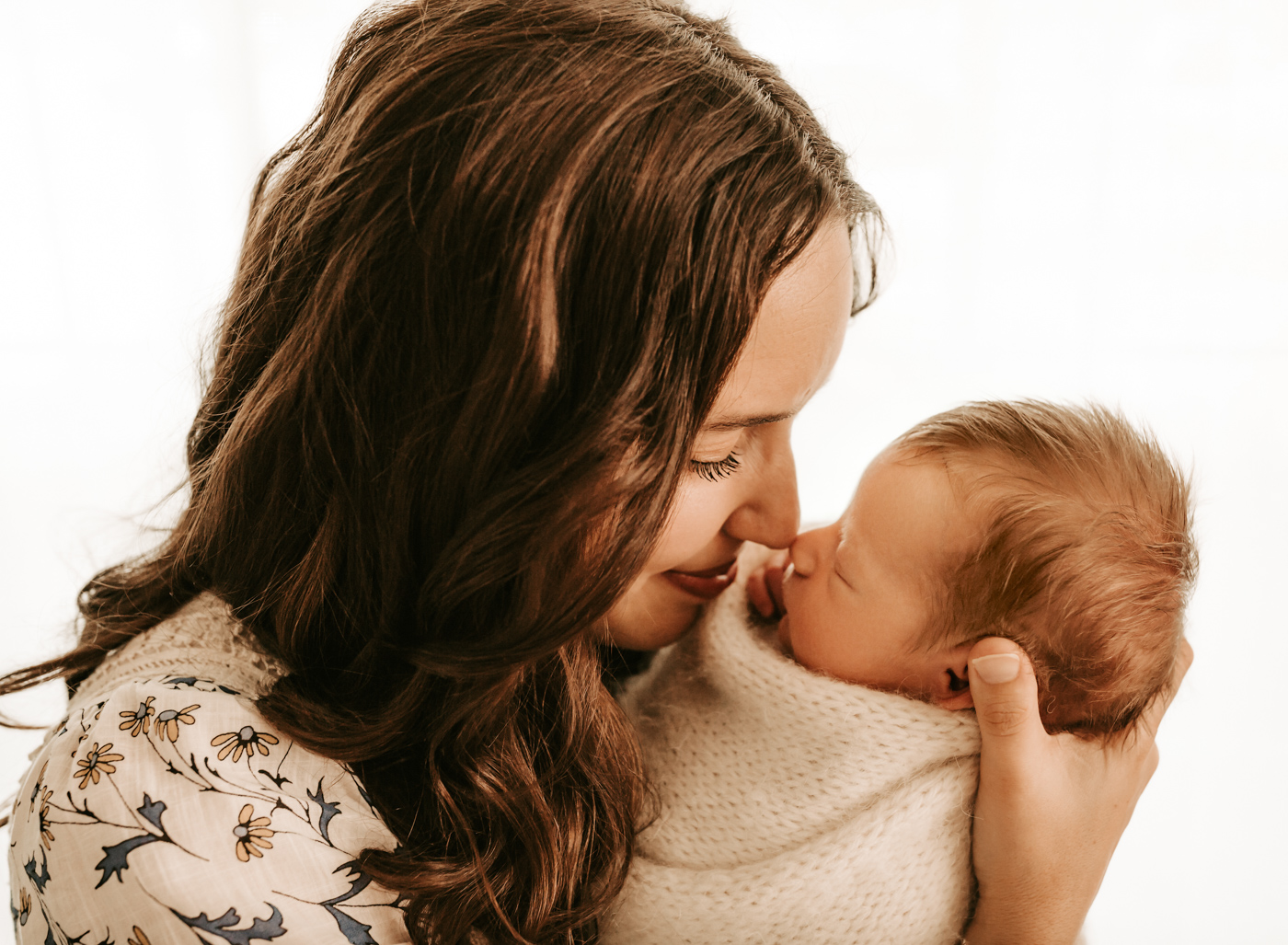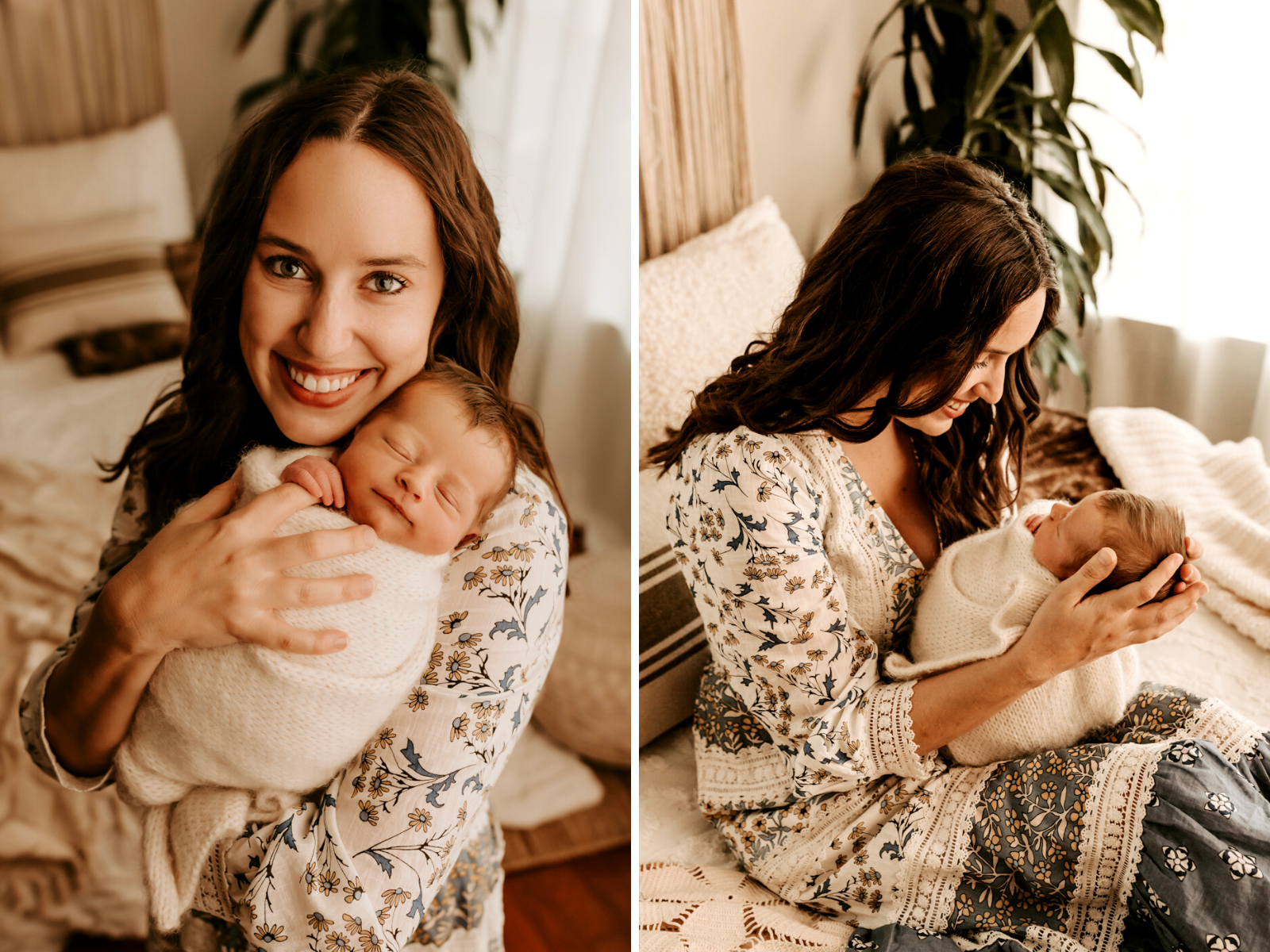 Turn on your JavaScript to view content
Life with a Family of Four
We're only two and a half weeks in, but I have to say going from 1 child to 2 is SO MUCH EASIER than going from zero to one. We feel much more relaxed, knowing what to expect and do for the most part. Annie has also adjusted so well to having her new brother here. The first few days there were a few epic meltdowns (as to be expected) but she hasn't had another one in a solid week now … which I think is promising? She's been so helpful fetching things for us like diapers, Bennett's paci and even filling up cups of water for me from the fridge. (Isn't it wild how thirsty breastfeeding can make you!?) Annie will also come sit on my lap and cuddle both me and Bennett at the same time. She's so loving and sweet towards him and it's simply wonderful!!
The days have felt to go by quicker since Bennett has been home as we've felt busier than ever with two kids under our roof. Entertaining Annie and keeping Bennett happy has been a bit challenging at times but we're rolling with it and having fun. I think I'm only able to carve out enough time to write this post as one child is sleeping on my lap right now and the other is playing three feet away with her toy puppy dog. Oh and coffee has certainly helped too!!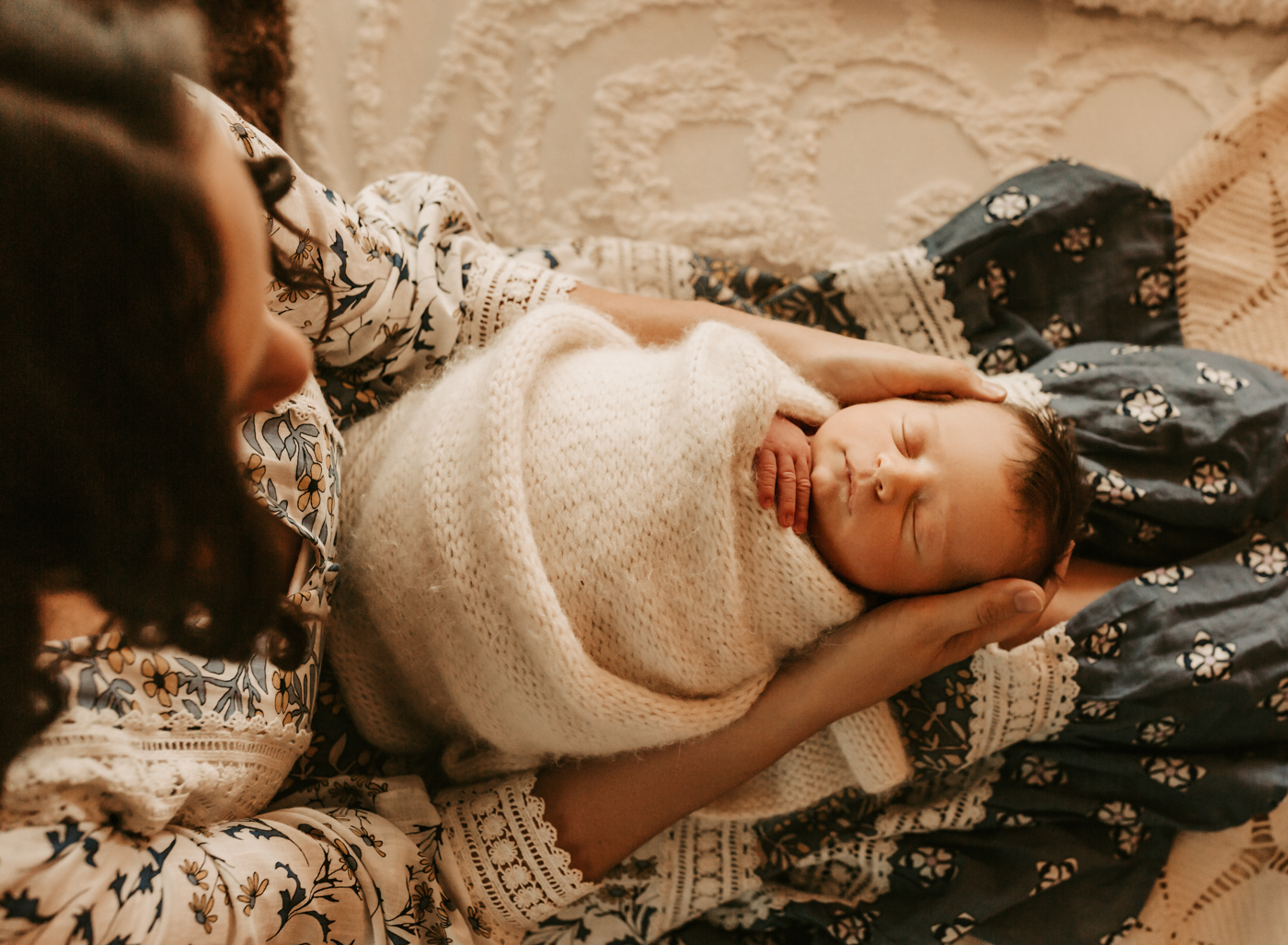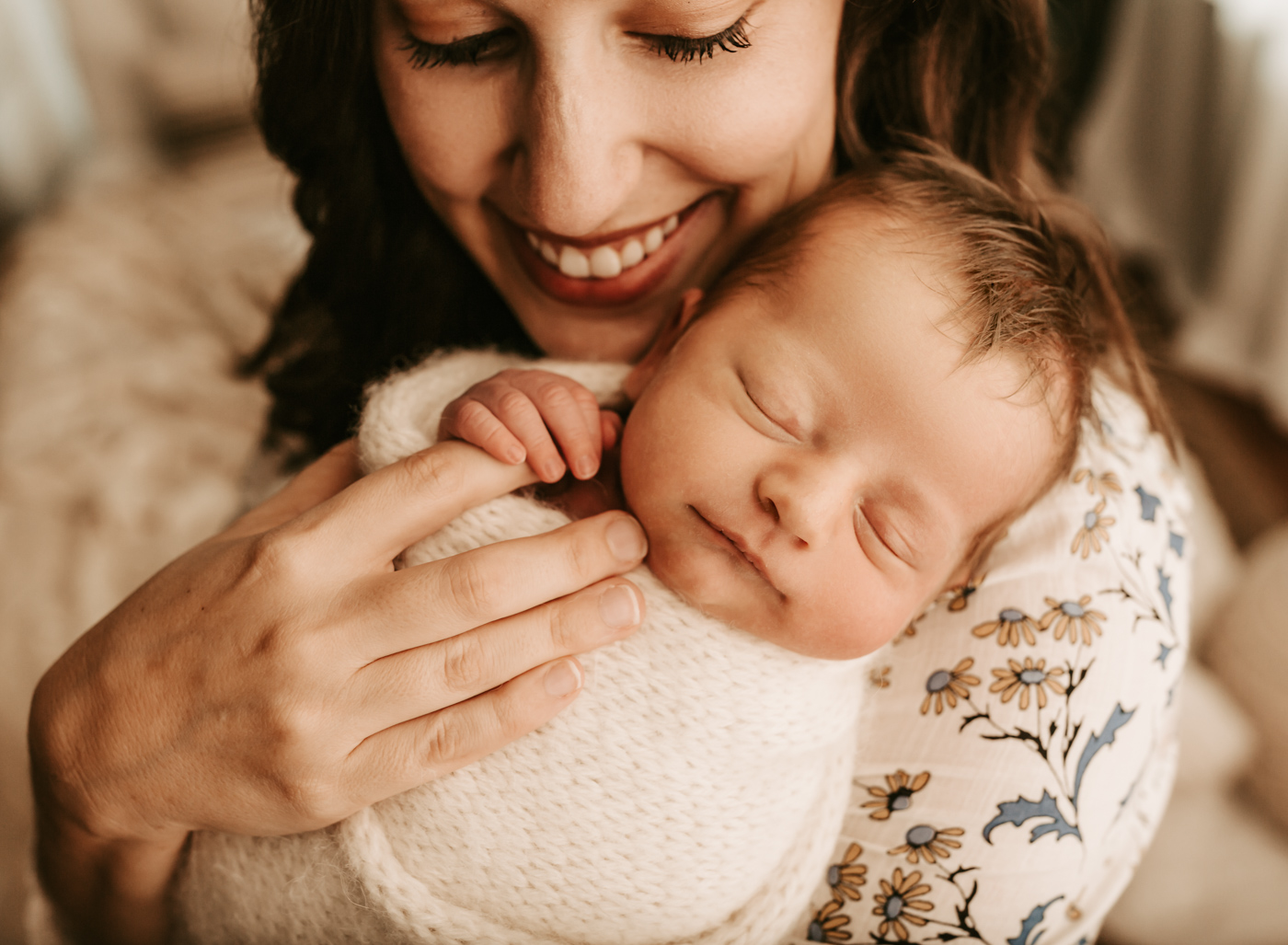 Stay Tuned for Upcoming Content on Lone Star Looking Glass
In the coming weeks, I'll be sharing a few more motherhood related posts like, what we packed (and actually used) in our hospital bags, Bennett's Birth Story, How We Navigated our NICU experience and my Post Partum Must Haves. I've also got plans for quite a bit more fall style to be sprinkled in there too. I'm feeling a big burst of energy lately and I'm hoping I can channel that into this creative space of mine. As always, thank you all so much for following along and celebrating this special season of life with me and my family. Your sweet messages these last few weeks have meant the world!
xo, alice
The post Welcome to the World Bennett Michael appeared first on Lone Star Looking Glass.
What does naughty but nice mean
. xoxo.