The Ultimate Gift Guide For Plant Enthusiasts
The plant community is thriving in 2020 mainly due to the fact we're all spending more time at home. 
For me anyway, I can't think of a more therapeutic activity (okay, other than meditation) than looking after my plants. It's a rewarding hobby where I'm constantly learning about each plant variety and their different levels of care.
In fact, my appreciation for plants has grown so much this year that I launched an online plant shop. If you haven't already, make sure you check me out on Etsy, at WoahPlants. 
And with that, WoahStyle's first gift guide this year is dedicated to the plant person in your life.
Below you'll find an array of gifts and stocking stuffers, from $8 - $230 that plant enthusiasts will enjoy. 
Happy gift giving!
---
GIFT GUIDE FOR THE PLANT ENTHUSIAST
This Monstera species t-shirt is the first piece of clothing on my plant shop, WoahPlants, and is sure to be a hit with plant enthusiasts or just fashion enthusiasts in general. I had my favourite Saint Laurent and Balenciaga pieces in mind when I designed this shirt and approached Toronto tattoo artist German Shible (aka, brother) with the idea.
The t-shirt features an original illustration of ten monstera species from common, uncommon, to rare: Monstera Deliciosa, Monstera Siltepecana, Monstera Thai Constellation, Monstera Dubia, Monstera sp. Peru, Monstera Obliqua, Monstera Pinnatipartita, Monstera Deliciosa Variegata, Monstera Adansonii, and Monstera Esqueleto.
This minimalist pot from Areaware feels like a work of art with its curvy stacked shape. The design discretely integrates both a planter and saucer into one form. Lift out the bottom ring to reveal a hidden saucer.
Granted, it's expensive for a planter pot so this particular piece is for the person who appreciates home decor and likes to burn bougie candles if you catch my drift.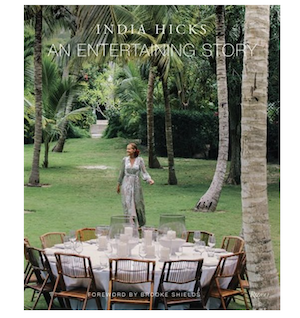 An Entertaining Story by India Hicks, Indigo $67.50
While technically note a plant book, and actually a book on the fine art of entertaining, the latest release from India Hicks features plenty of jaw-dropping photos from the author's Bahamas estate. Island living means that beautiful tropical plants play a huge role in bringing her dinner parties to life (just look at the cover). Plant enthusiasts will be inclined to step up their dining room with plenty of plants after reading this book.
If the person you're gifting to is into home decor then this book might be their jam. Featuring stories from others in the plant community as well as beautiful photos of their homes, this book is jam-packed with inspiration on how to display indoor plants.
This book by Toronto-based author, Darryl Cheng, dives into the science of plants and plant care from lighting to watering, nutrients, and propagation. I highly recommend this book to all plant enthusiasts, whether blessed with a green thumb or not. Even for someone such as myself who grew up around plants and started collecting plants over a decade ago, I find this book to be a wealth of knowledge and has helped me understand plant care on a broader level.
If the plant person in your life also likes candles, this might be the gift for them. Inspired by seven National Parks in the U.S., Paddywax has captured the essence of each park with its own unique scent featuring- Yosemite, Olympic, Acadia, Great Smoky Mountains, Glacier, Yellowstone, and Grand Canyon. 
Best of all, Paddywax supports the National Parks Foundation with a minimum donation of $25,000 to help protect more than 84 million acres of national parks through conservation and preservation. 
Once the candle is done, the vessel can be cleaned out and reused as a planter pot. Perfect.
Monstera Wooden Serving Board, Urban Outfitters $64
This wooden serving board in the shape of Monstera Deliciosa leaf makes an excellent gift for those who love to cook and entertain. The stem of this serving board is actually a knife, making it easy to put together a spread of cheese and crackers.
6.75" Planter Pot with Stand, H&M $30
This matte black planter pot from H&M is as affordable as it is chic and comes with a sleek stand. It's excellent for displaying trees like fiddle leaf figs or rubber tree plants.
Pruning shears are a must in every plant collector's toolbox but the truth is, not all of them aesthetic enough to keep on display. These black stainless steel pruning scissors are precise and feature a fine tip - perfect for pruning bonsai trees. They also fit into dense foliage or hard to reach foliage without damaging plants.
This nifty gadget is a digital illuminance/light meter that can come in very handy when determining proper placement for indoor plants. As we all know, plants need light to survive, and sometimes we think our indoor plants are receiving plenty of ample natural sunlight when they might not be. This light meter is the perfect thing to help find the right spot for our plants so they can thrive and grow, grow, grow.
These LED grow lights by Feit Electric happen to be a favourite of mine (trust me, I have five of them). They come with a variety of fasteners to help you mount them on either your bookshelf, ceiling, or Ikea glass cabinet (aka, makeshift greenhouse). They provide plants with a full spectrum of light that they need to keep thriving in the winter. Best of all, they don't run very hot.
Some tropical plants thrive in high humidity conditions. Depending on where in the world you're located, high humidity can sometimes be a challenge, especially during the winter months. That's why many collectors of tropical plants will run a humidifier for their plants a couple of hours a day. If the person you're gifting to doesn't already have one, this could be a nifty gift for them.
This IKEA glass cabinet creates an ideal condition for plants and mimics that of a greenhouse - excellent for people who collect rare plants. If the budget allows, include a couple of grow lights with this gift, and the person receiving it will be over the moon.
If an Ikea glass cabinet isn't their thing, perhaps this multi-tier plant stand is. Plants usually look better when grouped together making this gift like a functional piece of decor.
STOCKING STUFFERS UNDER $15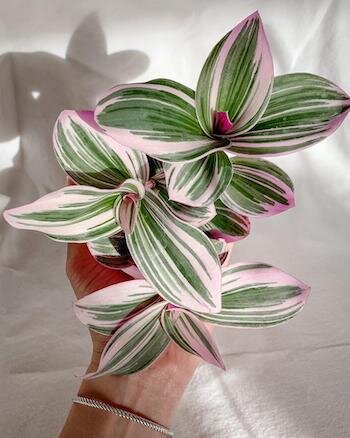 Tradescentia Nanouk 2.5" Live Plant, Woah Plants $10
Vattenkrasse Watering Can, IKEA $15
Moisture Meter, Amazon $15
2.5" Small Planter Pot, Woah Plants $8
Plant Identification Tags, Amazon $12
This post features affiliate links. If you choose to buy something, I will get a small commission from the sale. This doesn't impact the price you pay. Affiliate links are just another way to monetize my blog.
---
---
LATEST VIDEOS FROM WOAHSTYLE
---
---
LATEST VIDEOS FROM LIPSICK.ME
Thanks for reading
too chic and cute
post. xoxo.