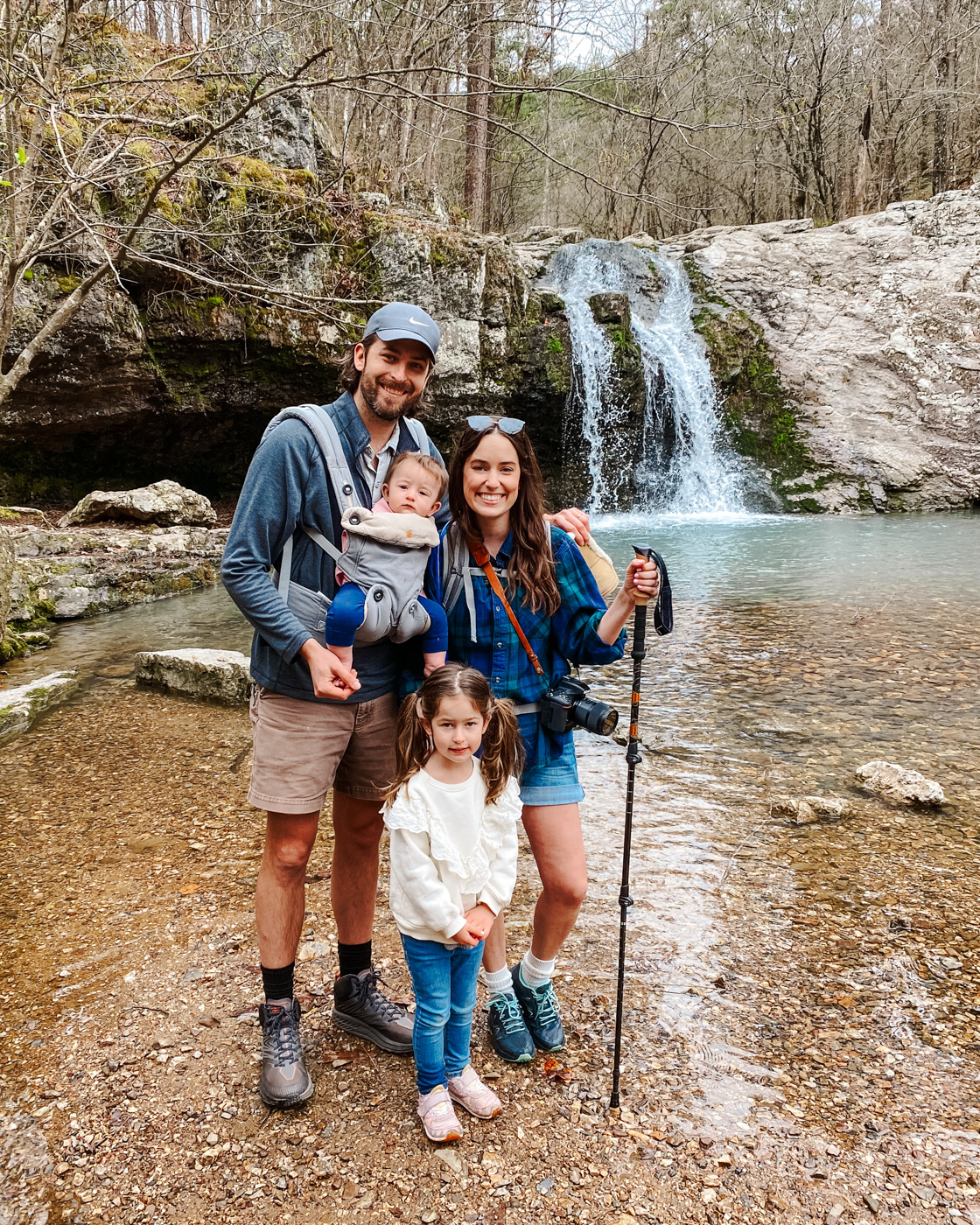 My nature-loving heart feels so full after our recent hiking trip in Hot Springs, Arkansas. We spent the weekend in Hot Springs playing tourist and seeing the sights, but the highlight of our entire trip was our hike to the Falls Creek Waterfall at Lake Catherine State Park. This is the PERFECT trail for families – especially those with novice little hikers.
I'm sharing a peek into our adventure, everything you need to know about the Falls Branch Trail & what made our hiking trip the best it could be in partnership with Academy Sports + Outdoors today.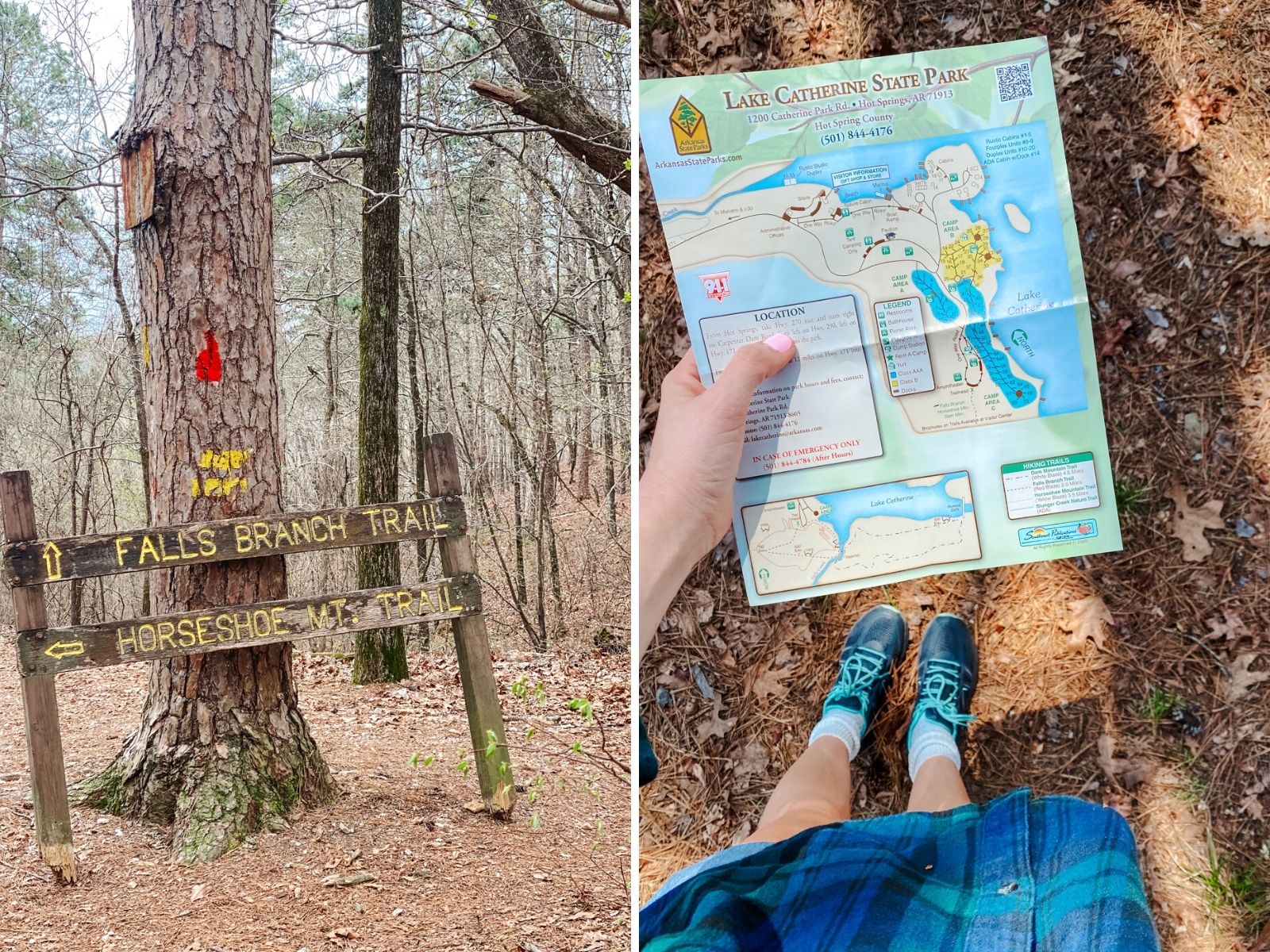 Take a Hike: Falls Branch Trail
Falls Branch Trail is a two mile loop in Lake Catherine State Park, a little less than a half hour's drive from Hot Springs Arkansas. The trail takes about two hours to hike, longer if you plan to sit and soak in the waterfall for a while (which I highly recommend!) It winds along a burbling stream and has a change of elevation just large enough that you can get a good view from the hilltop top but not too intense to make you winded.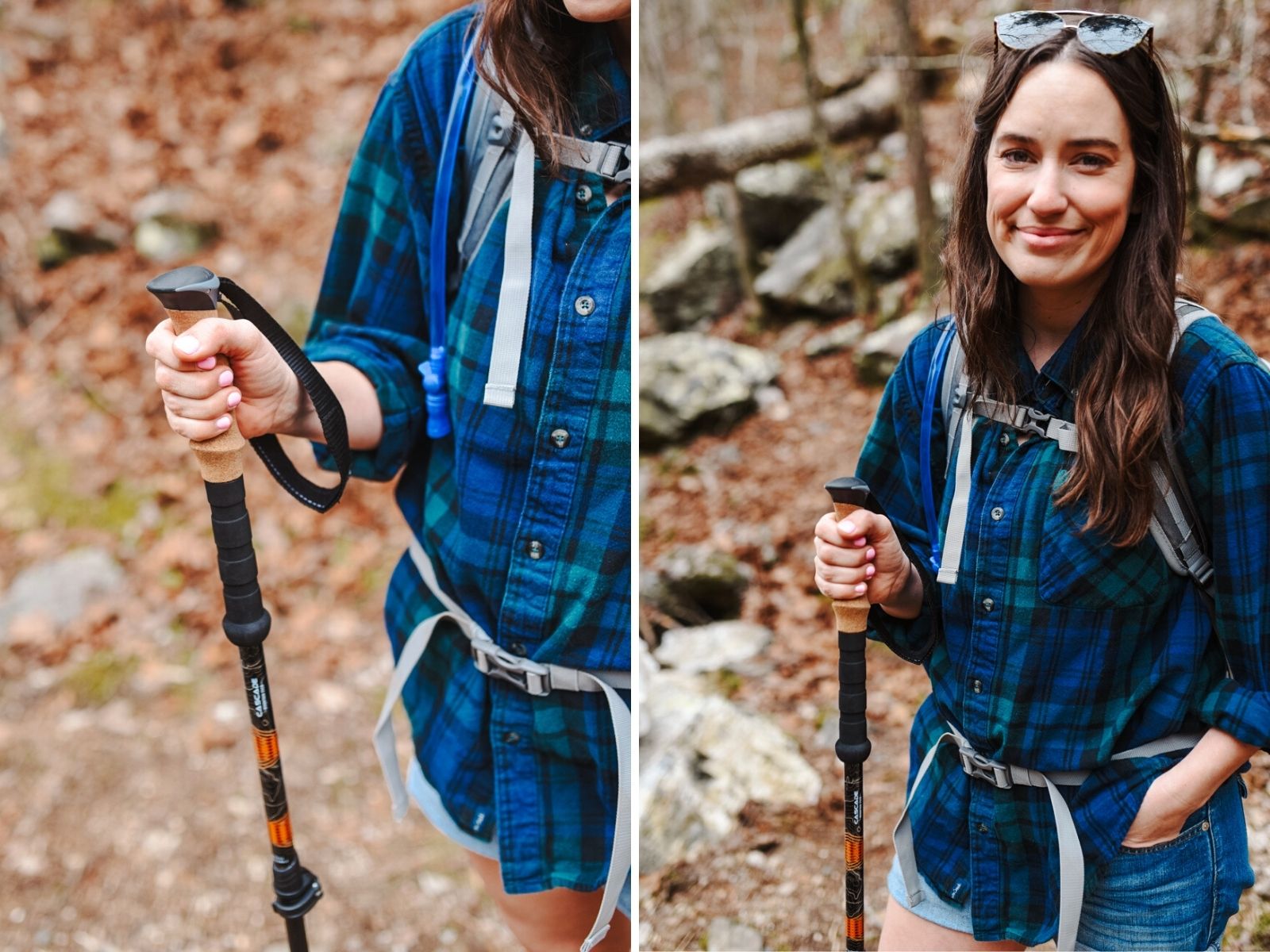 Tip: You'll Want to Bring Trekking Poles Along
There are quite a bit of changes in elevation, rocky boulders to climb over and steep slopes to navigate along the trail. We packed along a set of Cascade Aluminum Quick Lock Trekking Poles with Cork Grips from Academy which made the hike all the easier.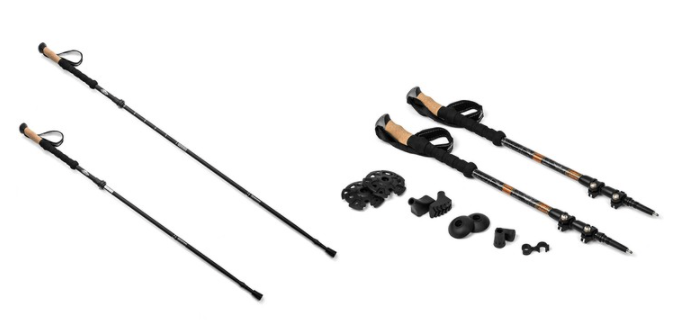 ps: my flannel shirt was "borrowed' from Patrick's closet. It was a bit chillier than we expected when we set out on our hike. Don't tell Patrick, but I ended up liking his flannel shirt more than a few of my own so it might just stay in my closet from now on, ha! It's so soft and I loved the oversized men's fit – by Magellan from Academy.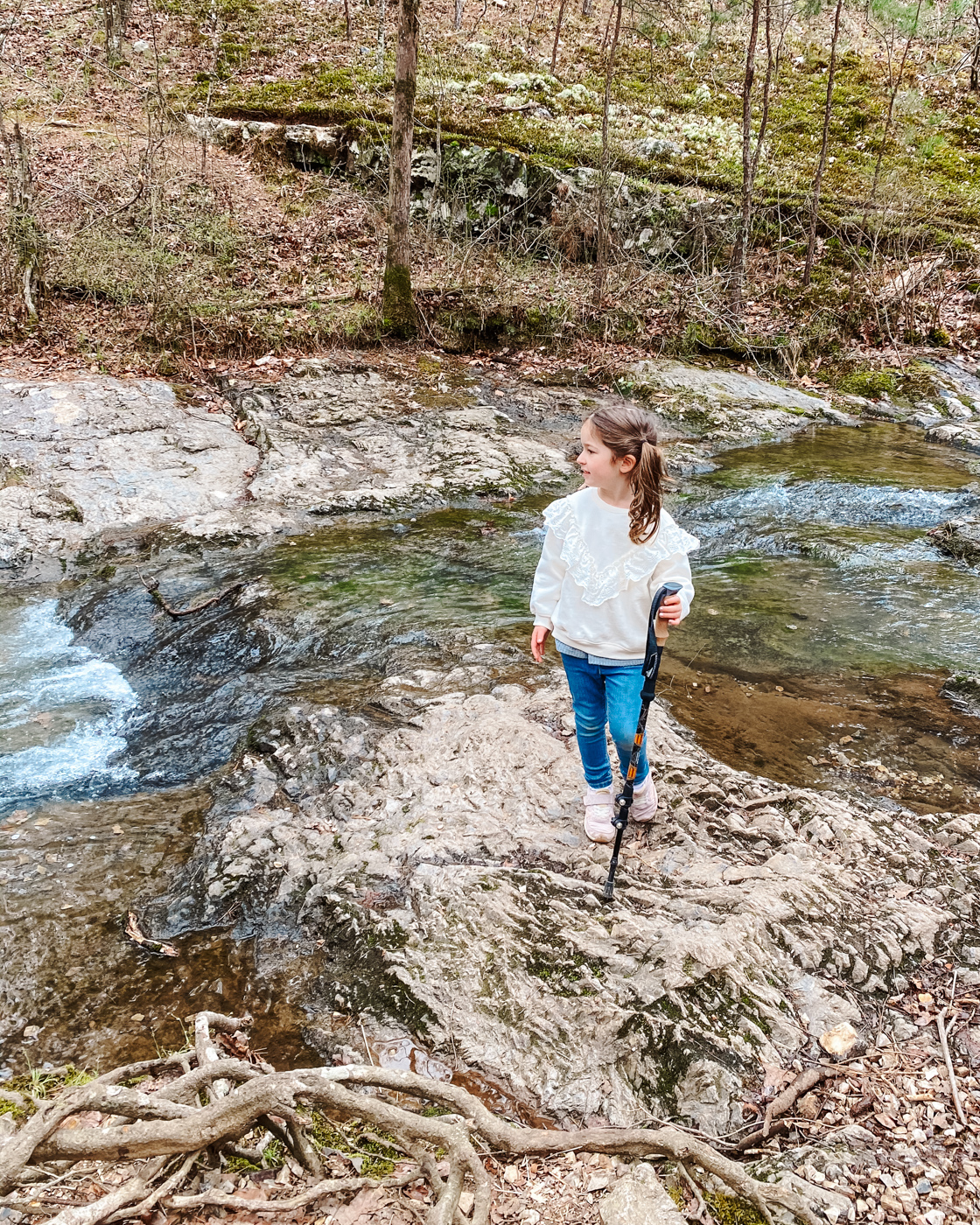 The trekking poles are adjustable and even compacted down to a height appropriate enough for Annie. I used one throughout the duration and she used to the other! (She's also at the age that she wants to be doing whatever Mama is doing … so should I have really been surprised she scooped up my second trekking pole as soon as our hike started, ha?!)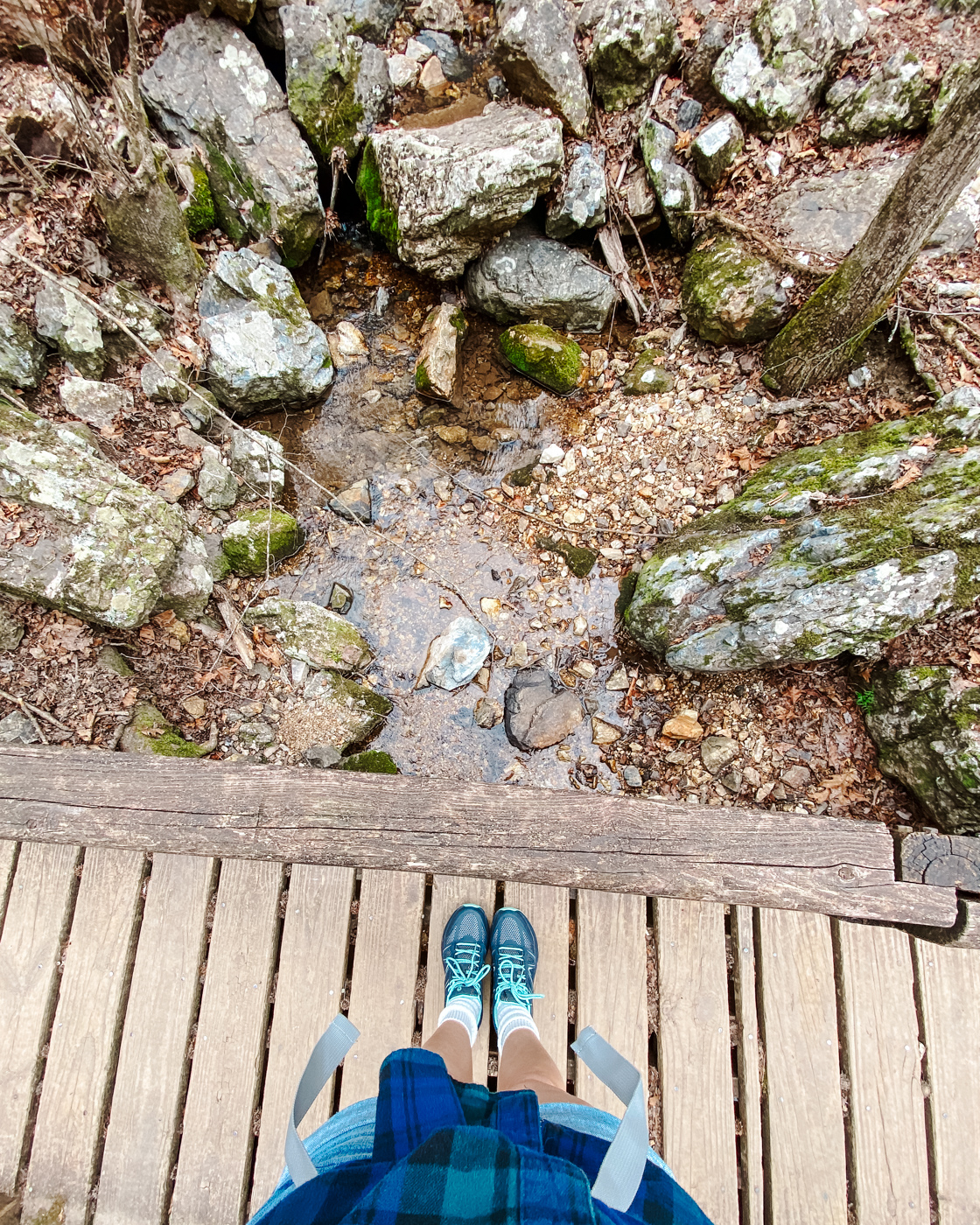 Tip: Sport Supportive Shoes
A good pair of hiking boots makes ALL the difference in how enjoyable your hike will be! I almost always wear ankle support when I go hiking – this style is a good one! But for this trip, I tried out a new trail running shoe for the first time. And y'all, I fell in love! These Rollingwood Trail Running Shoes by Magellan for Academy were so lightweight and what they lacked in ankle support they totally made up for in grip and comfort. (Might I add, they were also much easier to pack too!?)

I also soaked my shoe in the chilly waters while exploring the waterfall and was pleased to see that these dried out soon afternoon.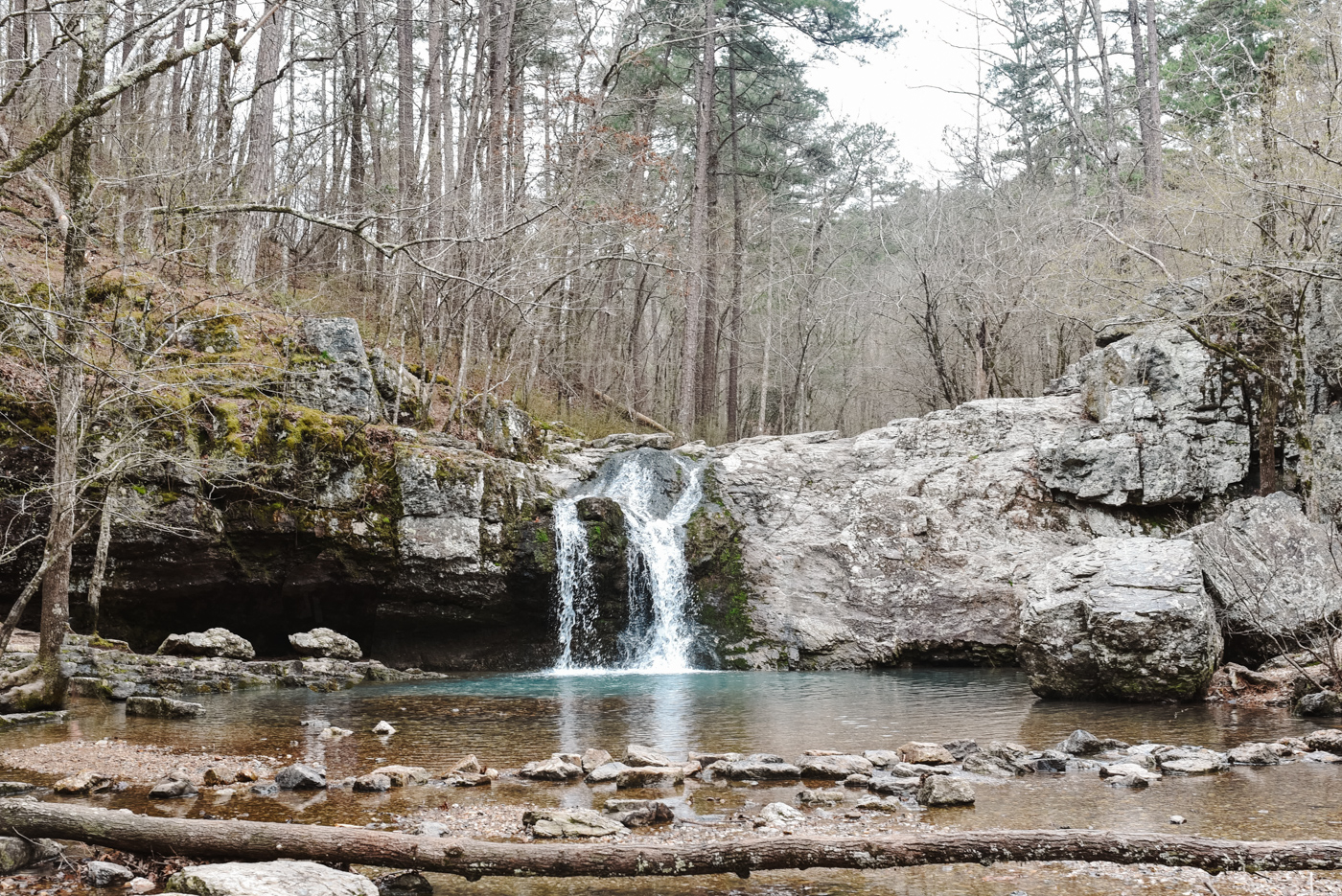 Speaking of the waterfall. Here she is in all her beauty!
It took us about an hour-ish to reach the waterfall and once we did, we sat down on a nearby rock to admire its splendor. This would be a great time on this trail to plan for family snacks – and photos too! Our favorite snacks to pack on a hike are trail mix, granola bars, goldfish – Annie's #1, and beef jerky.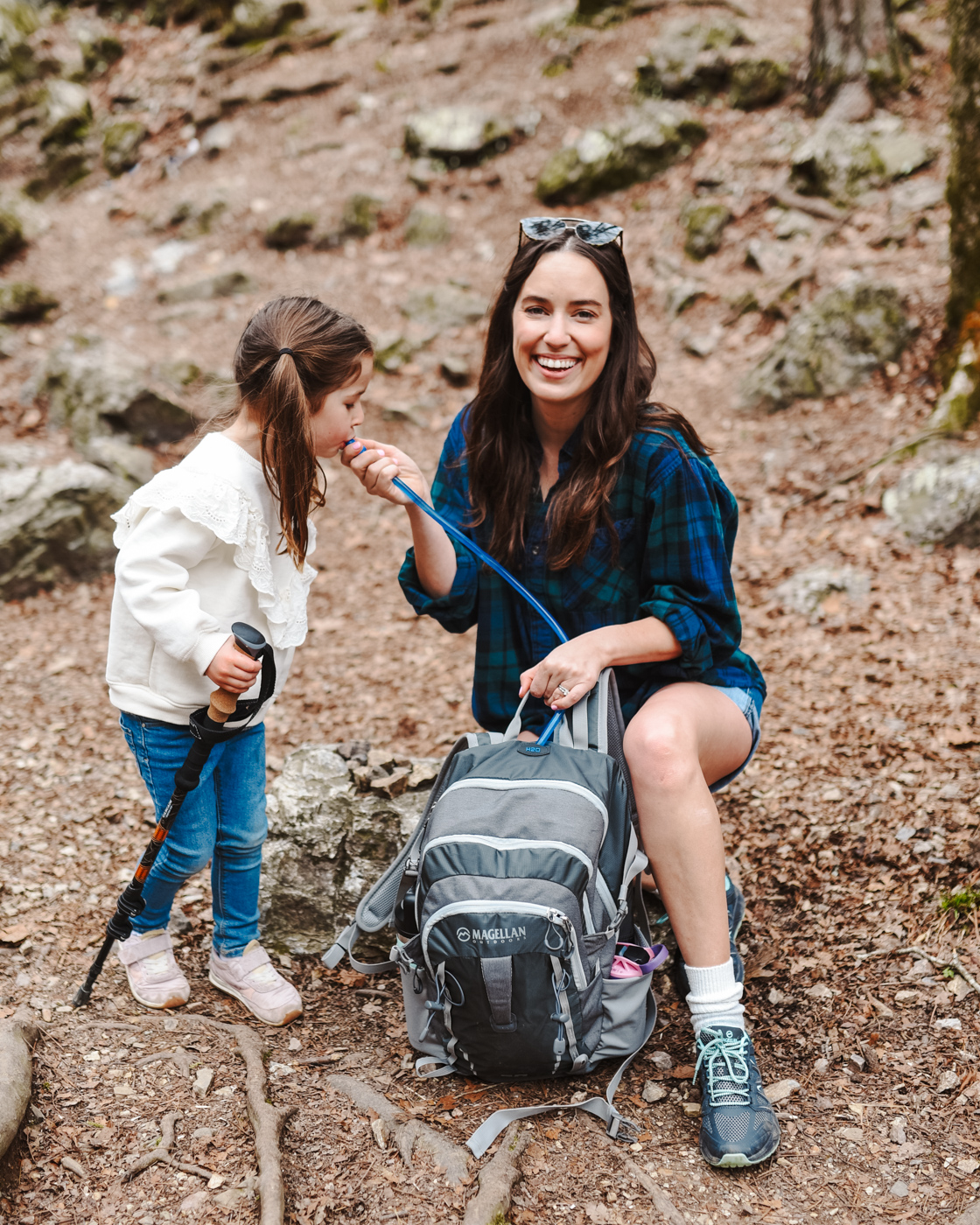 Don't Forget to Hydrate
Now that there are four of us, it has started to feel pretty heavy toting so many water bottles along whenever we go hiking. This Outdoors Technical Frame Pack by Magellan has a built in 2-liter hydration reservoir and pockets for water bottles on the side. The pack has a foam back to keep you comfortable and makes carrying the extra weight a breeze. Nobody is going to be thirsty on my watch!!

Turn on your JavaScript to view content
We filled our spare water bottles and the hydration reservoir with water straight from the hot springs before we hit the trail. You can access the hot springs from the fountain just outside the Visitor's Center in Downtown Hot Springs.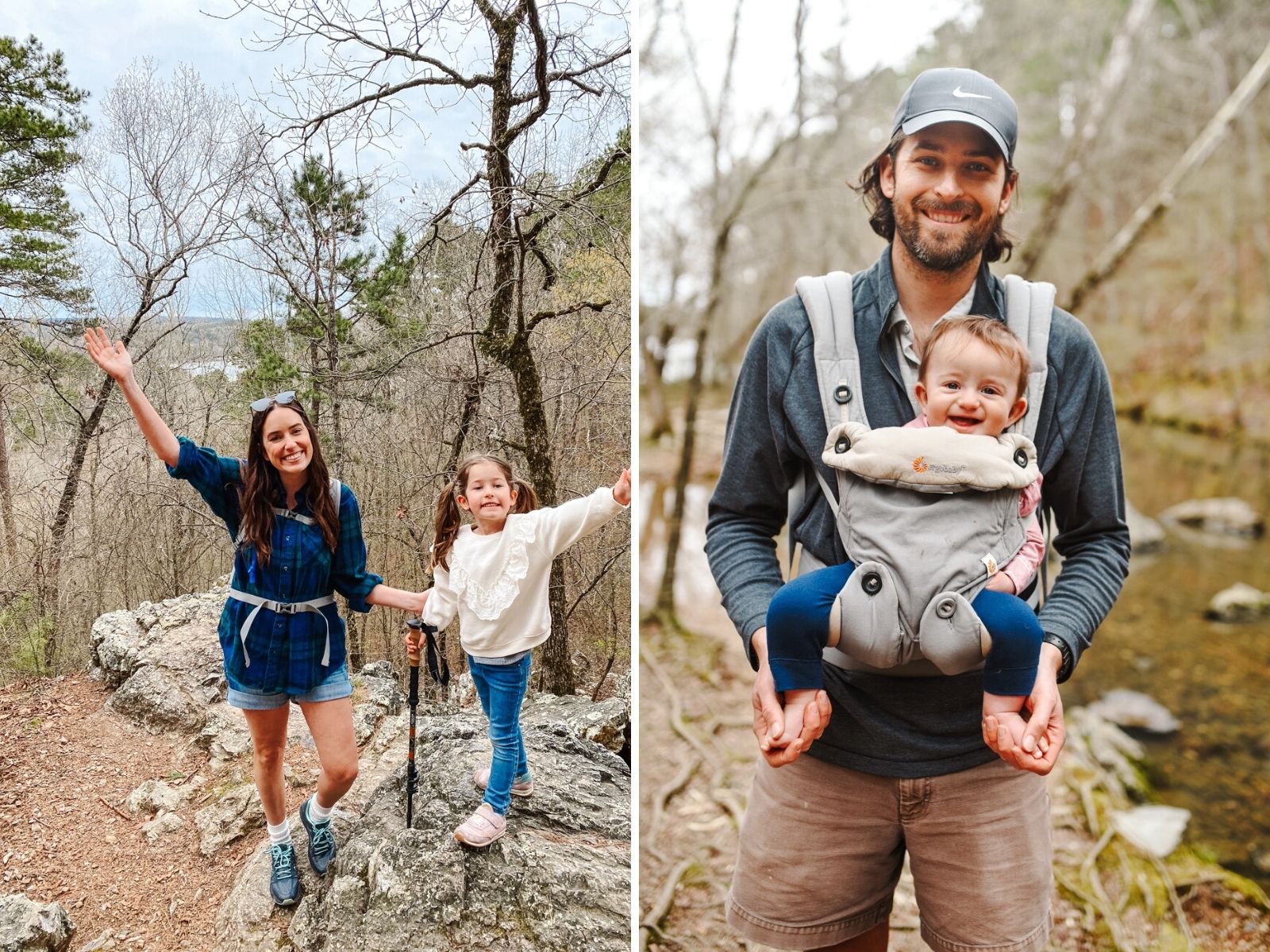 Now to get sappy for a minute.

Patrick and I fell in love with each other over camping & hiking trips in the Smokey Mountains in college. It warms my heart SO very much that we get to carry our love of outdoor adventuring to our children. Our trip to Hot Springs and day hike at Lake Catherine was just the most fun. I can't wait to see the many different trails we experience together now that we're the four of us in the coming months & years!
—
Big thank you to Academy for sponsoring this blog post & keeping us stylish and supported during our hiking trips. I had such fun on our hike and creating this content for Lone Star Looking Glass. Thank you to you all for supporting the brands that make this blog possible.
xo, Alice
The post The Best Family Hiking Trail in Hot Springs, AR appeared first on Lone Star Looking Glass.
What does naughty but nice mean
. xoxo.