Fenty Beauty's latest product is everything you need right now. The Eaze Drop Blurry Skin Tint is a light coverage tinted moisturizer that leaves your skin looking natural - but like a better version of your skin.
It's perfect for those days when you have to jump on Zoom meetings but you don't want to put on a full face of foundation.
Eaze Drop's liquid formulation blends like a dream with a makeup sponge, brush, or fingers and leaves the skin looking dewy and radiant. In a nutshell, it's a minimalist makeup dream come true.
Available in 25 shades from Light to Deep, Fenty's Eaze Drop Blurry Skin Tint is available at Sephora for $39 CAD.
---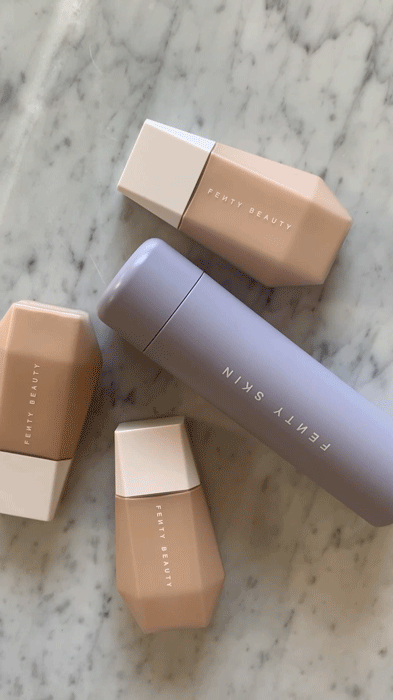 THE REVIEW
For starters, I'm a big fan of tinted moisturizers and light coverage makeup. Typically I only wear foundation if I'm in front of the camera or if I have an event, which are all now being conducted virtually these days due to the pandemic.
The packaging for Eaze Drop has a cute shape and the plastic squeezable bottle is similar to that of my other favourite tinted moisturizer from Chanel's Les Beiges line.
The liquid formula from Eaze Drop is sheer enough so there's a little bit of flexibility with the 25 available shades. (For reference, I'm shade 5, a light-medium shade with warm undertones.)
I love how the texture feels light and smoothes over my skin easily. It also doesn't enhance pores, fine lines, or textures.
Due to the sheer nature of Eaze Drop, I like to use a medium coverage concealer like Fenty's Pro Filt'r Instant Retouch Concealer around my under eyes and dark spots to cover up blemishes. That way I get coverage where I need it and the rest of my skin looks natural.
Considering I have combination skin (oily t-zone, normal cheeks), I have to set Eaze Drop with powder otherwise my natural face oils will just melt my makeup away. Sometimes I'll use a setting spray, but I find the makeup stays put either way as long as I set it with powder.
Other than the long-lasting formula, I like that this makeup doesn't settle into my pores, fine lines, nor does it enhance dry patches on my skin.
Overall, this is a brilliant tinted moisturizer that will be replacing my Chanel Les Beiges Tint this summer.
If you're looking for a quick and easy to apply makeup with a natural finish you'll probably want to check out Fenty's Eaze Drop. If you prefer a medium-full coverage makeup, skip it and try Fenty's Pro Filt'r Soft Matte Longwear Foundation instead and you won't be disappointed.
---
Fenty Beauty Favourites
Fenty Beauty Eaze Drop Blurring Skin Tint, $39 sephora.com
Pro Filt'r Instant Retouch Concealer, $35 sephora.com
Fenty Beauty Gloss Bomb Universal Lip Luminizer, $25 sephora.com
Fenty Beauty Cheeks Out Freestyle Cream Blush, $26 sephora.com
Fenty Beauty CFL Makeup Bag Set, Limited Edition, $58 sephora.com exclusive
---
Disclaimer: This post contains affiliate links. If you choose to buy something, I will get a small commission from the sale. This doesn't impact the price you pay. Affiliate links are just another way to monetize my blog.

Photos via Pinterest.com
---
---
LATEST VIDEOS FROM WOAHSTYLE
---
---
LATEST VIDEOS FROM LIPSICK.ME
Thanks for reading
too chic and cute
post. xoxo.