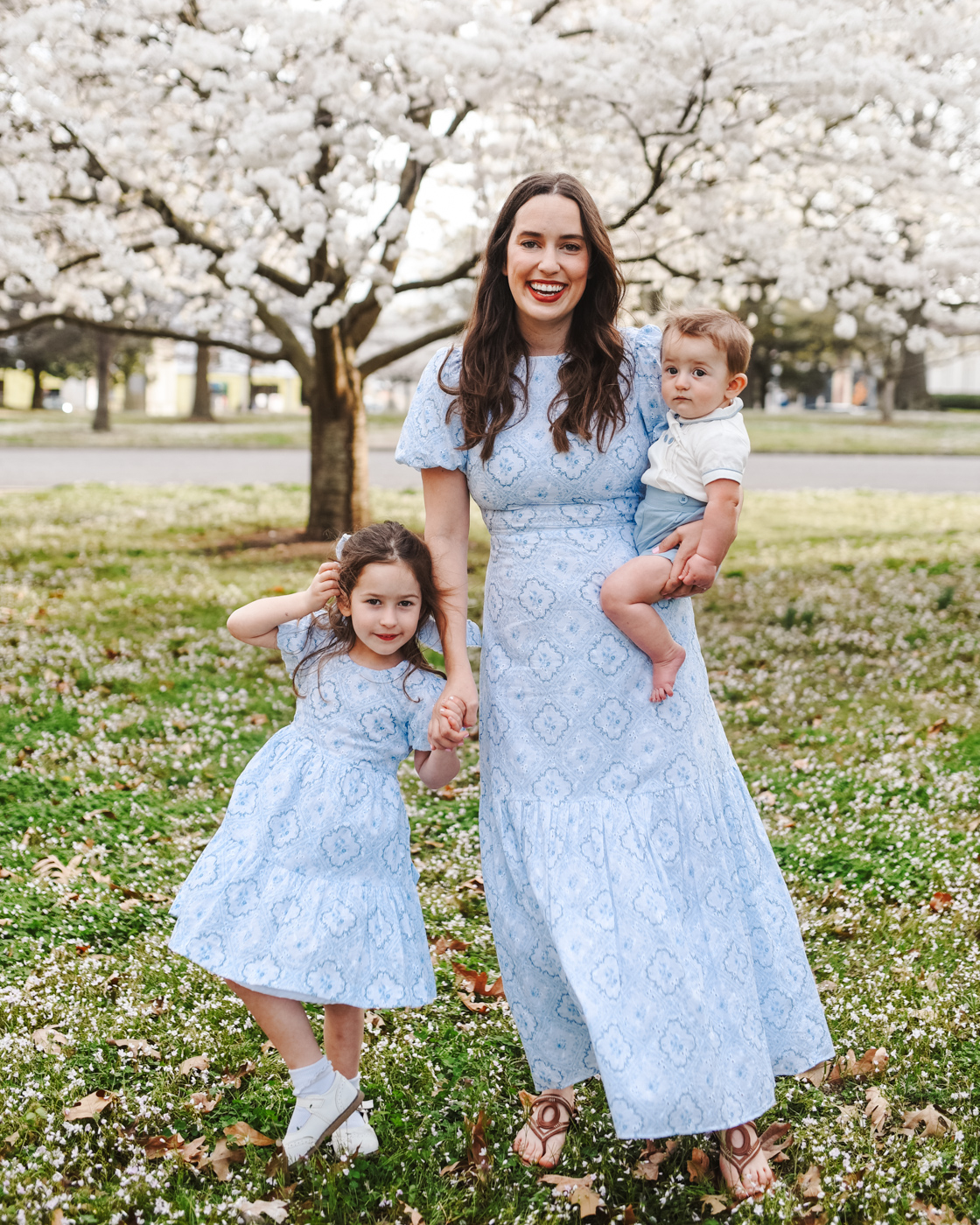 Turn on your JavaScript to view content
Happy SPRING! I have officially decided spring is my favorite season. I've never appreciated the beautiful blooms and warmer weather more than I have since moving back to Tennessee. Now that our family is vaccinated and most of the people we see regularly, it's like life is starting again. Our family calendar is filling up and I'm just so thankful for all of the new opportunities headed our way.
This past weekend we celebrated Easter in style with a festive brunch, egg hunt and then by spending the day on the farm with the ones we love. You know I had to dress myself and the little ones for the occasion too! I'm sharing our "Spring Best" and chatting a bit about what we've been up to lately below.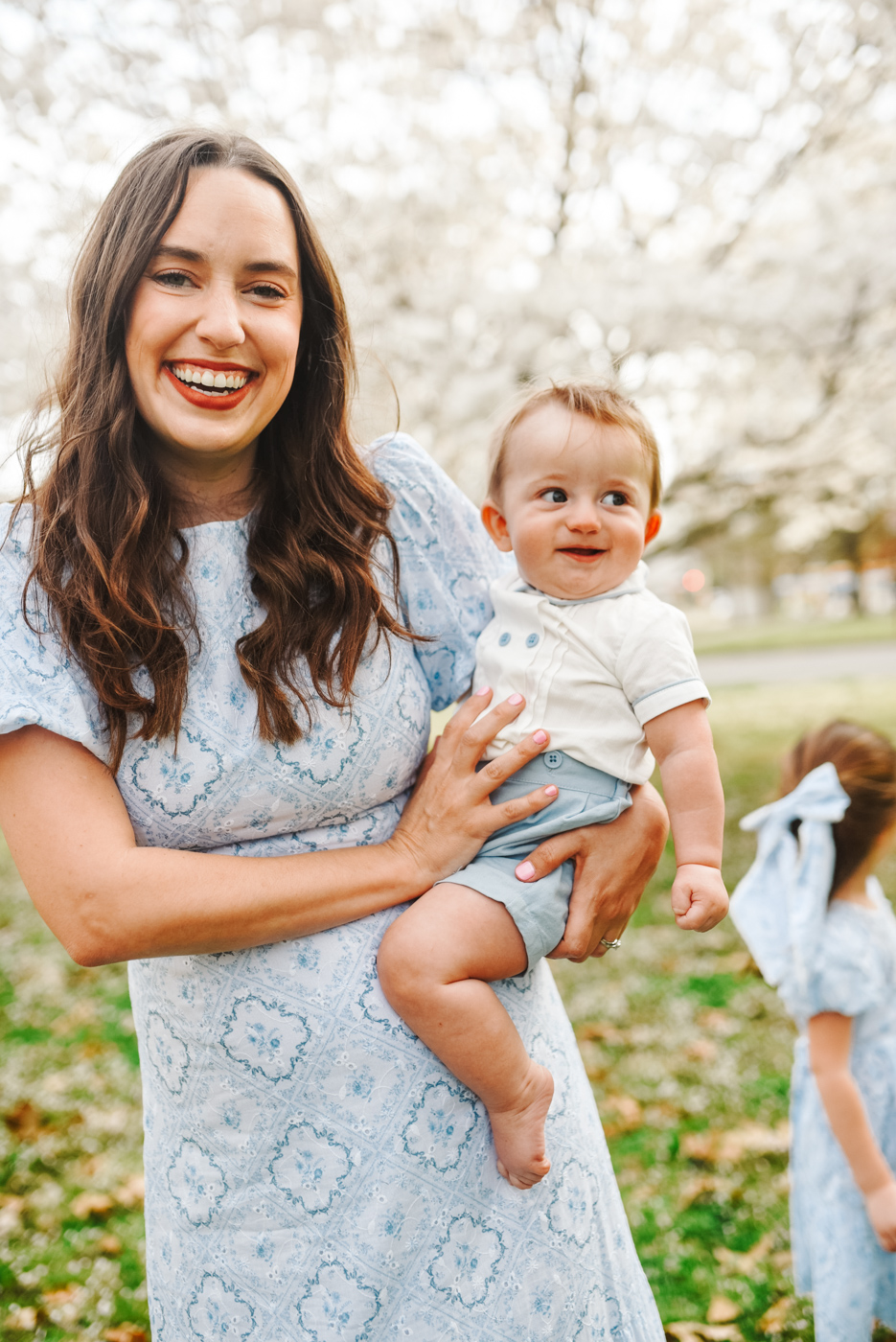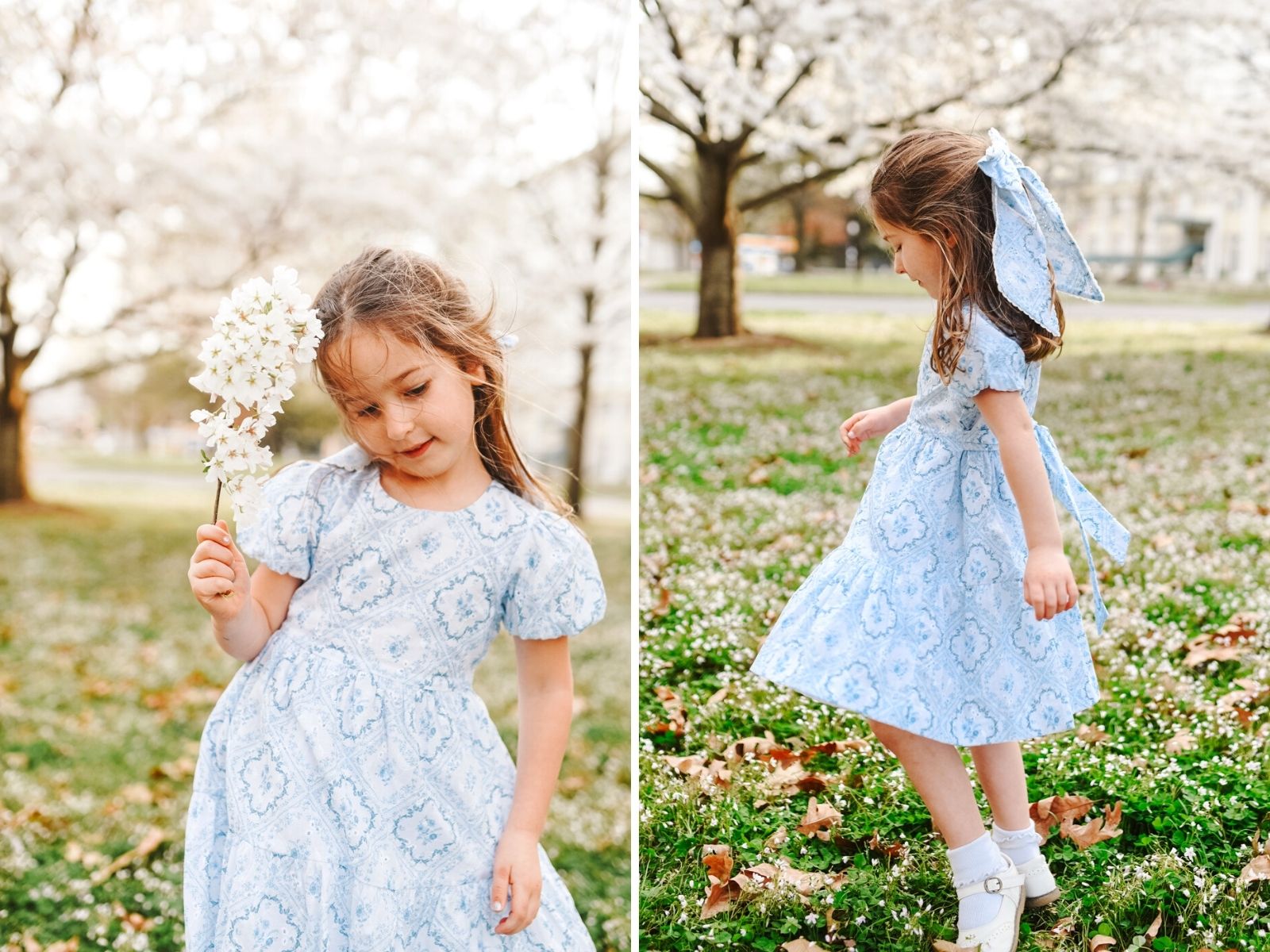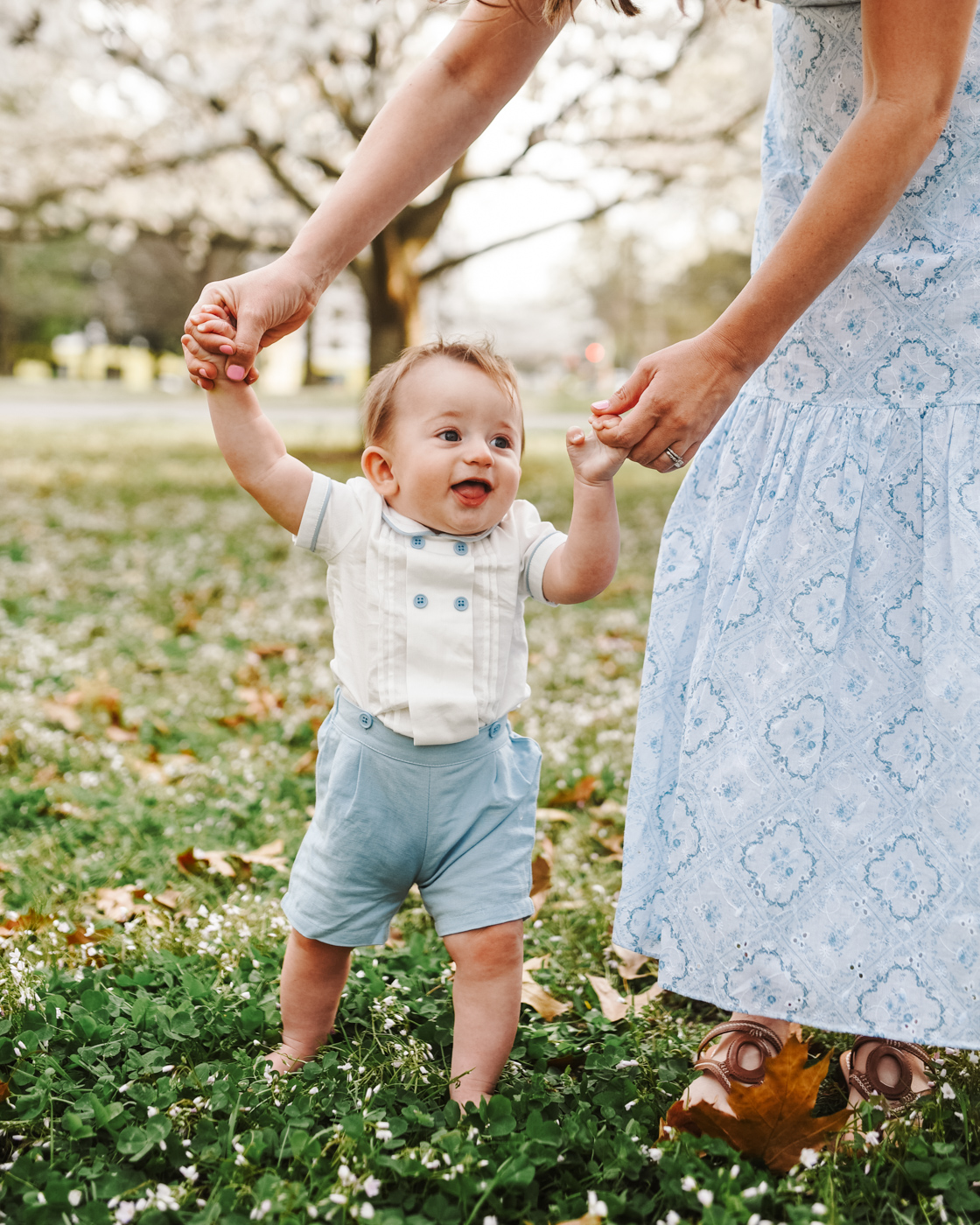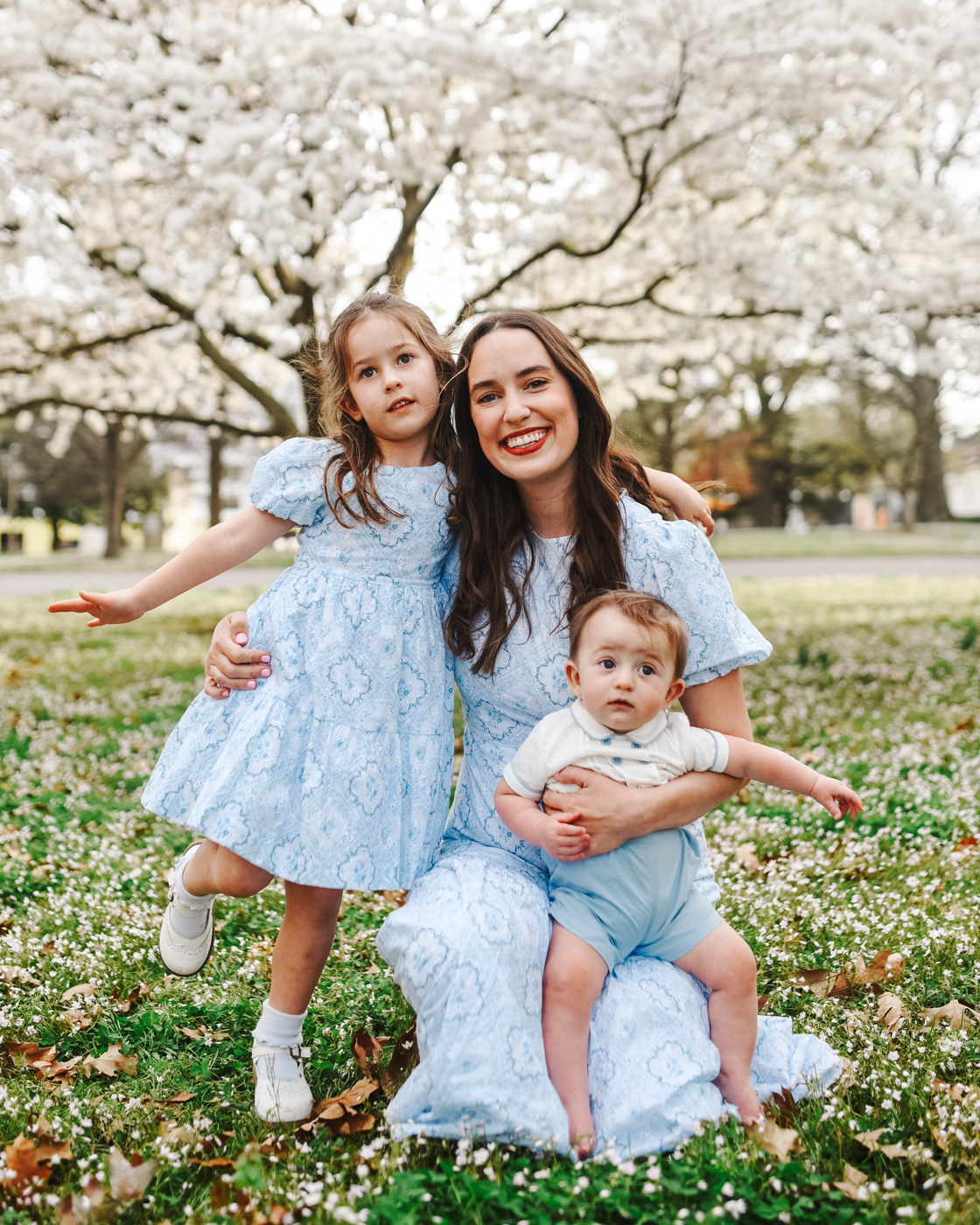 What We're Wearing

Turn on your JavaScript to view content
I couldn't resist Emily from Born on Fifth's new collection with Antonio Melani when it was launched last month. The blue and white prints are oh-so-swoon-worthy and the fact that the line comes with a matching dress for little girls had me saying YES right away.
The line is now available at Dillards. I tried on several of the pieces and the quality and fit were all amazing. The sweet women helping me in the fitting room even ran down to the baby boy's section to find this matching outfit for Bennett too!
I paired Puff Sleeve Maxi Dress with simple sandals from Bernado (chasing kids is MUCH easier in flats) and Annie's precious Mary Janes are actually an Amazon find and linked here. I also think my dress would look gorgeous with a pair of white espadrille wedges too!
What We've Been Up To Lately
It feels SO strange to be "busy" again. We've had a jam packed schedule lately with school, various doctor appointments/check ups, ballet lessons and social activities. I don't think we've had a full day at home to just breathe in ages. Definitely different from this time last year.
—
Bennett is six months old and starting to sit up on his own! He is SO active and his personality seems night and day different than Annie's was at his age. I don't know why I ever expected them to be similar, ha. He's incredibly smiley and into absolutely everything. He's "All Boy" as they say! (& I'm thinking we're going to need  to baby proof the house ASAP).
—
One thing we are really excited about this spring is our garden. We planted dozens of gladiola bulbs in one section and have a little seed pod filled with tomatoes, carrots, and peppers starting to bud. Sprucing up our backyard and gardening was one of the things that really lifted our spirits during quarantine last year. We're so happy to keep at it again this spring too.
—
One thing that has been a surprise is that Patrick has gotten very involved with Tennis this past year. I can't even remember the last time he or I picked up a racket prior to last summer. And now he's on a team with weekly tournaments too. I'm hoping I can catch the next one with the kids and see him play! What has definitely not been a surprise is that my tennis progress hasn't excelled as fast as Patrick's has. lol.
—
Other than that, we've been spending a lot of time with family and friends. Who else is making up for lost time in 2020? I feel like spring brings a sense of "promise" along with it and I've got a hunch that this season is promising to be a great one. Wishing you a great start to this lovely season too!
—
xo, alice
The post Spring Style Best + Life Lately appeared first on Lone Star Looking Glass.
What does naughty but nice mean
. xoxo.