Some of my favorite spots in California!
¡Feliz domingo, mis amores! Hoy les escribo sobre algunos lugares nuevos que conocí hace poquito en California, un destino perfecto para las personas que aman la comida, el ejercicio, la moda y el lujo. Estos son mis temas favoritos, así que me emociona mucho poder compartirles esta lista. Recibí varios DM pidiendo recomendaciones de spots en Cali, ¡así que, espero que esto sea muy útil tanto para los locales como para cualquiera que planee visitar pronto este lugar!
Happy Sunday, my loves! Today I'm writing about some of my favorite spots in California. This is the perfect destination for people who love food, exercise, fashion and luxury. These are my favorite topics, so I'm very excited to share this list with you. I received several DM asking for recommendations in Cali, so I hope you find this post is very useful for both locals and anyone who plans to visit this place soon!
ACCOMODATION
Pelican Hill
Me gustó muchísimo este hotel cuyo arquitecto fue el italiano Andrea Palladio, quien también es conocido por ser uno de los grandes creadores de las casas de campo en Italia. Algunos de los detalles que amé de los cuartos fueron las chimeneas de piedra, terrazas privadas con vista al mar, los techos de madera y el mármol.
I really liked this hotel that has Italian vibe because it was created by Andrea Palladio, who was one of the great creators of the country houses in Italy. Some of the details I loved about the rooms were the stone fireplaces, private terraces overlooking the sea, the wooden ceilings and the marble.
Los días que estuvimos aquí, pudimos visitar el Spa en Pelican Hill y es un refugio dentro de un retiro, un lugar para el bienestar, la curación y la inspiración. En este espacio dedicado a la personalización probamos el Blissful Stone Massage y estuvo delicioso.
We had the opportunity to visit The Spa at Pelican Hill and it's a haven within a retreat—a place for wellness, for healing, and for inspiration in a setting of Pacific splendor. In an atmosphere of serene, classic refinement that pleases the eye and centers you from the moment you enter, you find a culture dedicated to personalization. We took the Blissful Stone Massage and it was amazing.
BREAKFAST
Ivory on Sunset
Inspirado en la edad de oro de Hollywood y su glamour eterno, este lugar celebra el espíritu y la esencia de este emblemático vecindario de Los Ángeles. Aquí puedes disfrutar de un menú de comida italiana, creado por el chef Neil O'Connell con ingredientes locales.
Inspired by the restless creativity of Hollywood's golden age and its eternal, timeless glamour, this spot celebrates the spirit and essence of this iconic Los Angeles neighborhood. Here you can enjoy a menu featuring Italian-inspired cuisine by Chef Neil O'Connell featuring local ingredients.
EAT & DINE
1 Kitchen
El chef ejecutivo Chris Crary sirve cocina fresca, local y de origen sostenible del sur de California. Un jardín 100% orgánico en el lugar y una colmena, proporcionan ingredientes frescos que Crary combina para crear platillos sin desperdicios que destacan su compromiso de preservar la belleza y la naturaleza.
Executive Chef Chris Crary serves up fresh, local, and sustainably sourced farm-to-table Southern California cuisine. An on-site, 100% organic garden and beehive provide fresh, robust ingredients that Crary blends into meals, from morning to night. A number of zero-waste dishes spotlight the restaurant's commitment to preserving the beauty and bounty of nature.
Conservatory West Hollywood
Conservatory es de esos lugares que tiene algo para todos: una cafetería a nivel de la calle, un restaurante / bar completo en el piso de arriba y Society Room, que es un espacio en la parte de atrás, ideal para un drink.
With something for everyone, Conservatory is a multi tiered space with a street level café, a full restaurant / bar on the main floor, and Society Room, a back room offering an elevated cocktail program.
Fable & Spirit
Este restaurante tiene diferentes platillos americanos deliciosos como el típico pan recién horneado, pulpo a la leña y pastas.
The menu is mostly American/Californian with dishes like loaf of freshly baked brown bread, rabbit, pork belly, wood-fired octopus or pasta.
Pink Cabana
Diseñado por Martyn Lawrence Bullard, es una versión fresca y moderna de los grandes clubes de tenis y raquetas de los años 50 y 60 en Palm Springs. Es un restaurante de cocina mediterránea con influencia marroquí.
Designed by Martyn Lawrence Bullard, is a fresh, modern take on the great Tennis and Racquet Clubs of the 50's and 60's in Palm Springs. It is an ingredient-driven restaurant featuring Mediterranean cuisine with a Moroccan influence.
Workshop Kitchen & Bar
Este lugar antes era una sala de cine y ahora es un espacio dedicado a la comida, la bebida, el diseño y la comunidad.
This place has retrofitted a 90-year old movie theater into a James Beard Award winning restaurant design that is dedicated to food, drink, design, and community.
WELLNESS & FITNESS SPOTS
Shape House
No saben lo mucho que sudas en este lugar (literalmente jaja). Aquí se usa la tecnología de infrarrojos FAR, que mejora la capacidad del cuerpo para liberarse de sustancias químicas tóxicas y patógenos, limpiando de adentro hacia afuera.
It's amazing how much you sweat in this place (literally haha). Here FAR infrared technology is used, which improves the body's ability to free itself of toxic chemicals and pathogens, cleaning from the inside out.
Unplug Meditation
Este es un estudio que da clases presenciales u online de meditación para disminuir los niveles de estrés, la tensión, desconectarte y para mejorar la claridad o enfoque, entre muchas otras cosas más.
This is a place that gives face-to-face or online meditation classes to reduce stress levels, tension, disconnect and improve clarity or focus, among many other things.
Two Bunch Palms Spa
Este spa ha sido reconocido por sus tratamientos curativos realizados por profesionales experimentados. Es un entorno para reponer, reconectar y revivir. Tomamos el tratamiento Himalayan Salt Glow y me encantó.
This spa has long been renowned for its healing treatments performed by experienced practitioners. It is an environment to replenish, reconnect, and revive. We took the Himalayan Salt Glow treatment and I loved it!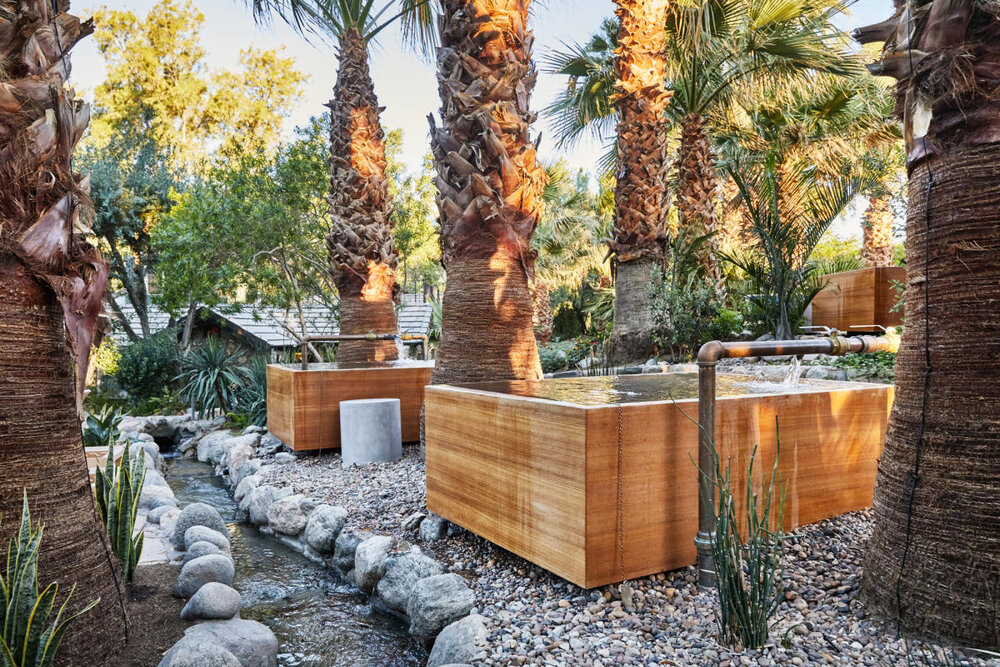 LUXURY SPOTS
Isla Santa Catalina
Es un refugio con hoteles bonitos, buenos restaurantes y hasta la historia Marilyn Monroe, quien vivió aquí en una época de su vida.
It is a refuge with beautiful hotels, good restaurants and even history Marilyn Monroe, who lived here at a time of her life.
SHOPPING HOTSPOTS
El Paseo: En esta calle está el mall 'Gardens', con las mejores tiendas y restaurantes.
El Paseo: On this street is the 'Gardens' mall, with the best shops and restaurants.
Uptown Design District: En esta parte de la ciudad se pueden encontrar tesoros antiguos y contemporáneos en edificios modernos de mediados de siglo que son tan retro-chic como los artículos que se venden en ellos.
Uptown Design District: In this part of the city you can find ancient and contemporary treasures in mid-century modern buildings that are as retro-chic as the items sold in them.
Para más información sobre este destino, les recomiendo visitar Visit California
For more information about this destination go to Visit California
Con amor,
Sending you all my love,
PAM
Why do I stain my underwear?
. xoxo.