Outdoor Thanksgiving Hosting Tips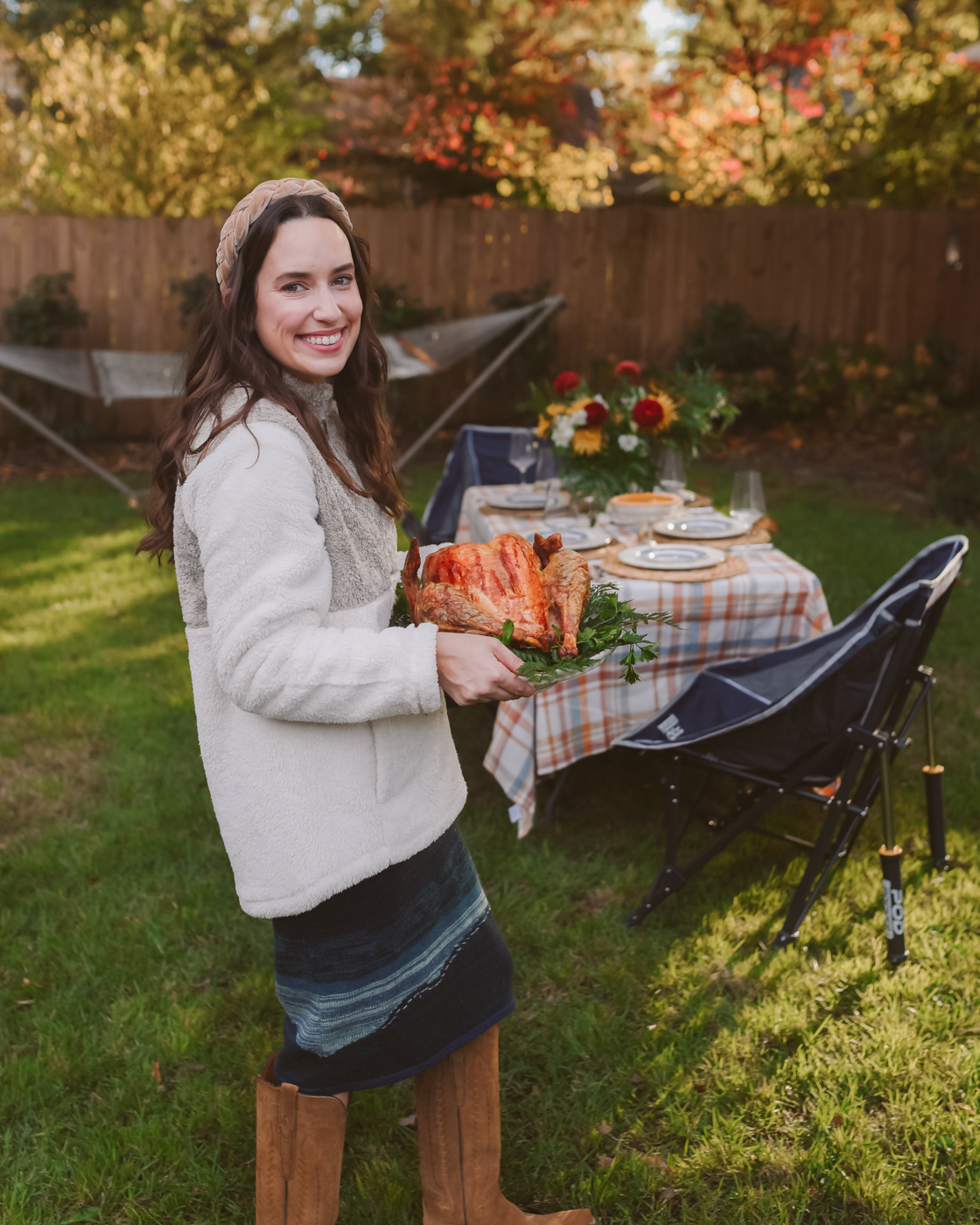 Did anybody else host an outdoor Thanksgiving last year? We certainly had to shift the way we've entertained, haven't we? My family celebrated Turkey Day al fresco last November and we had such fun dining under the sun we decided maybe we should make it a tradition.
Another new tradition we decided upon last Thanksgiving was to use an air fryer for our turkey instead of roasting it in the oven. The turkey cooked in significantly less time, tasted amazing AND saved space for casseroles to bake away in our kitchen.
Today, I'm so excited to be teaming up with Academy to give y'all a peek into our Outdoor Dining Setup. I'm also taking y'all along for the ride on how we cook, fry, season & serve our Thanksgiving turkey. Head on down for more!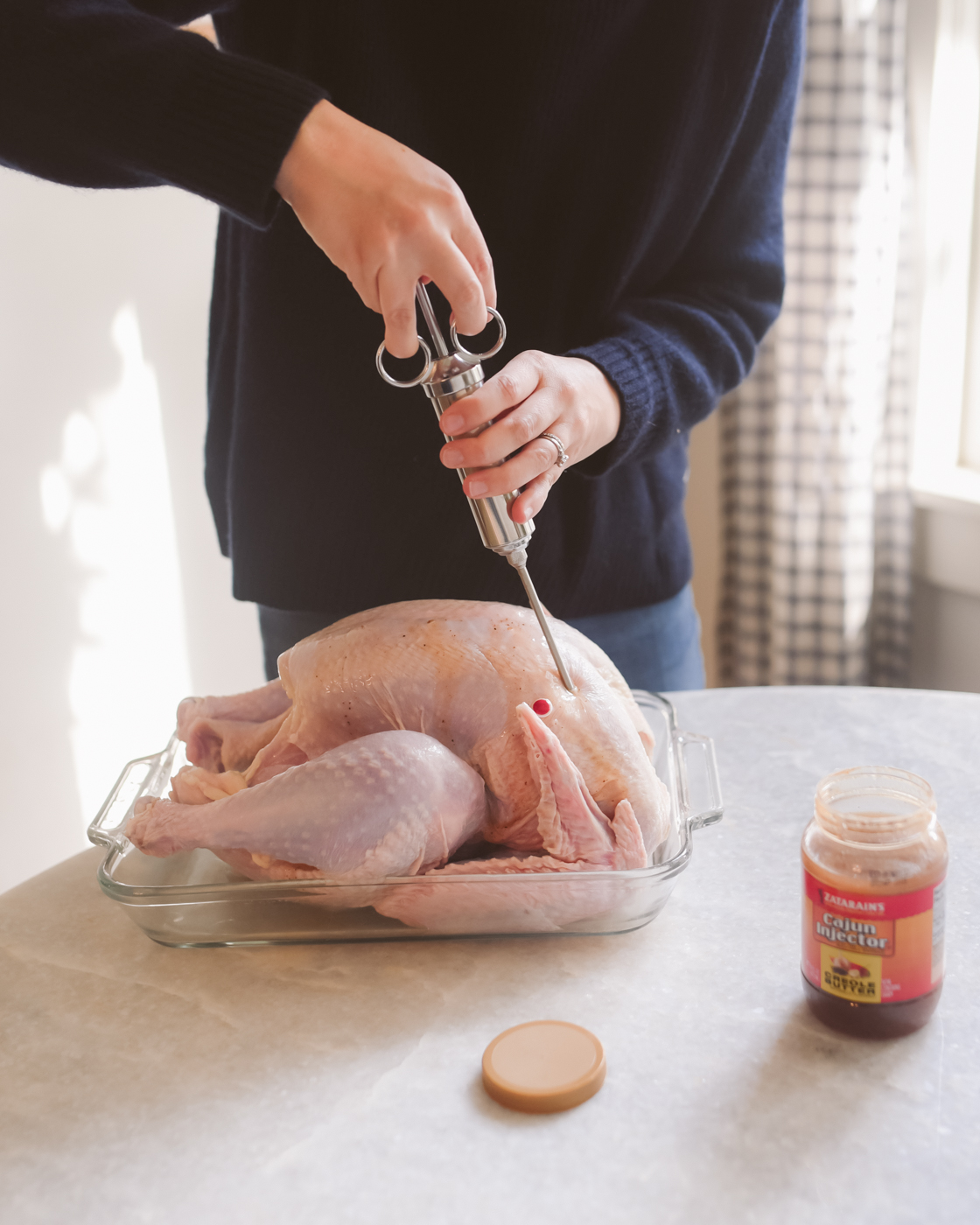 Butter Up the Turkey
Did you know Academy has everything and anything you'd ever need for grilling? That includes seasonings, sauces & more. We scooped up this Creole-Style Butter – perfect for injecting into meat, poultry or any other protein. I used an injector from this kit to fill our Thanksgiving turkey with the most delicious Southern-style flavor.
If you've never injected a turkey before, the best way to go about it is start at the breast and inject every half inch or so down until you get to the bottom. You can also inject butter (or whatever else you choose) into the wings and thighs as well.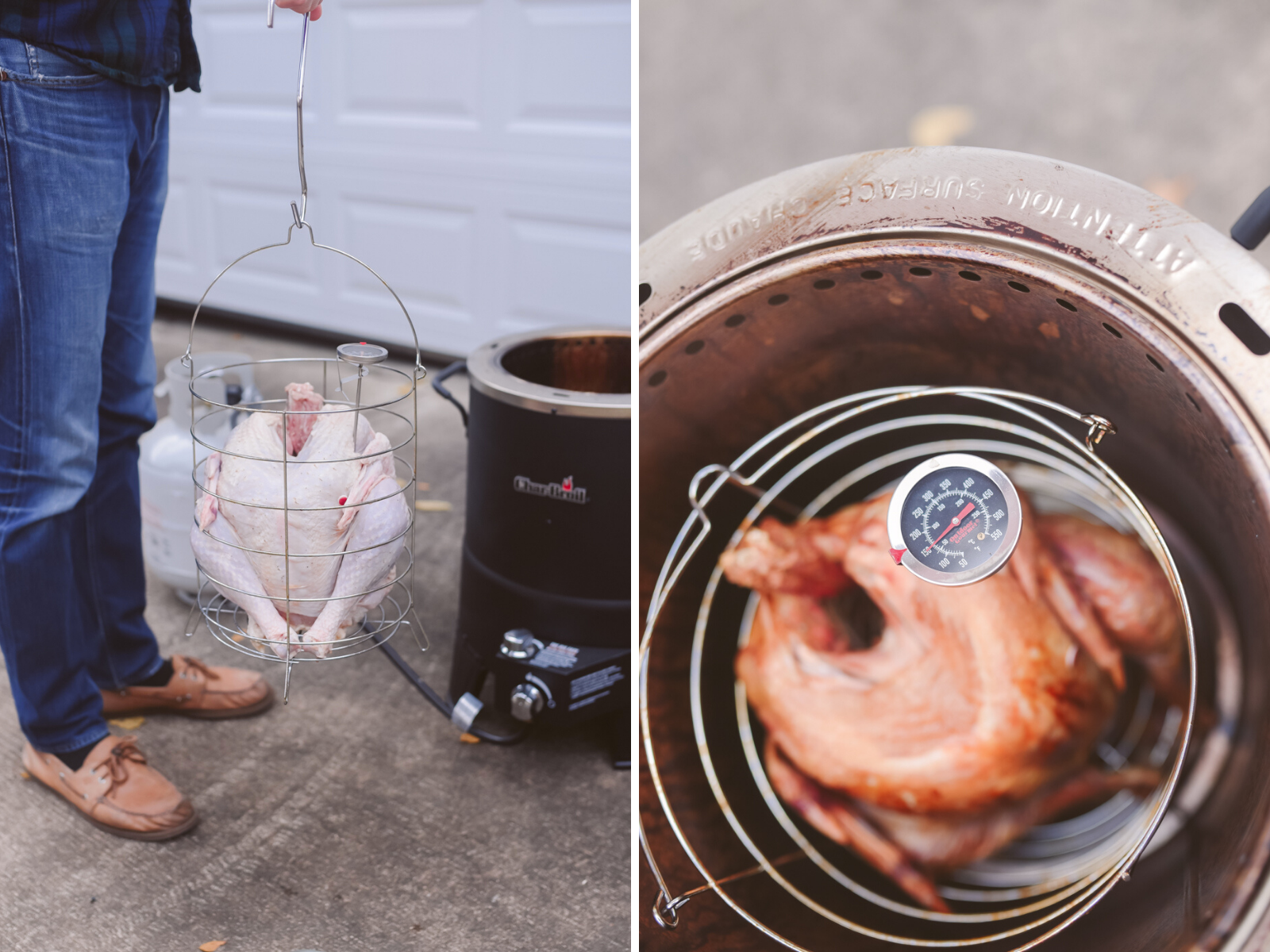 Get to Frying
As I said earlier, there are numerous benefits to frying your Thanksgiving turkey as opposed to roasting it in the oven. It saves time, opens up space in the kitchen and gives your turkey a flavor profile you wouldn't have otherwise.
We love our Char-Broil® The Big Easy

Oil-less Propane Turkey Fryer also from Academy. The fryer uses infrared heat to cook foods thoroughly – giving you a moist, tasty turkey with a crispy exterior. It's great that all you have to do is grease the basket the turkey fries in – making your prep all the easier.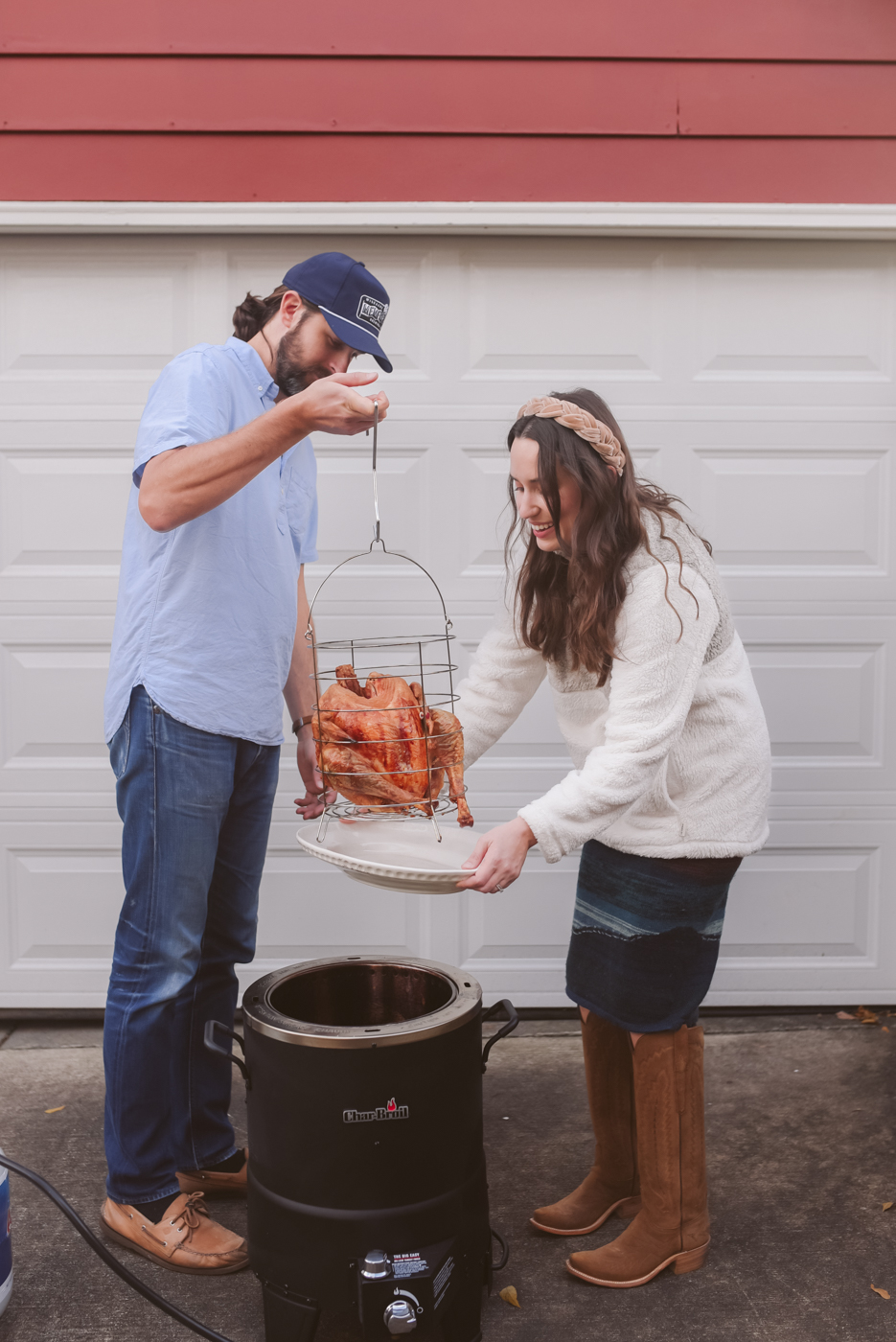 Once our long-stem thermometer reached 170 degrees, it was time to pull out our turkey and feast!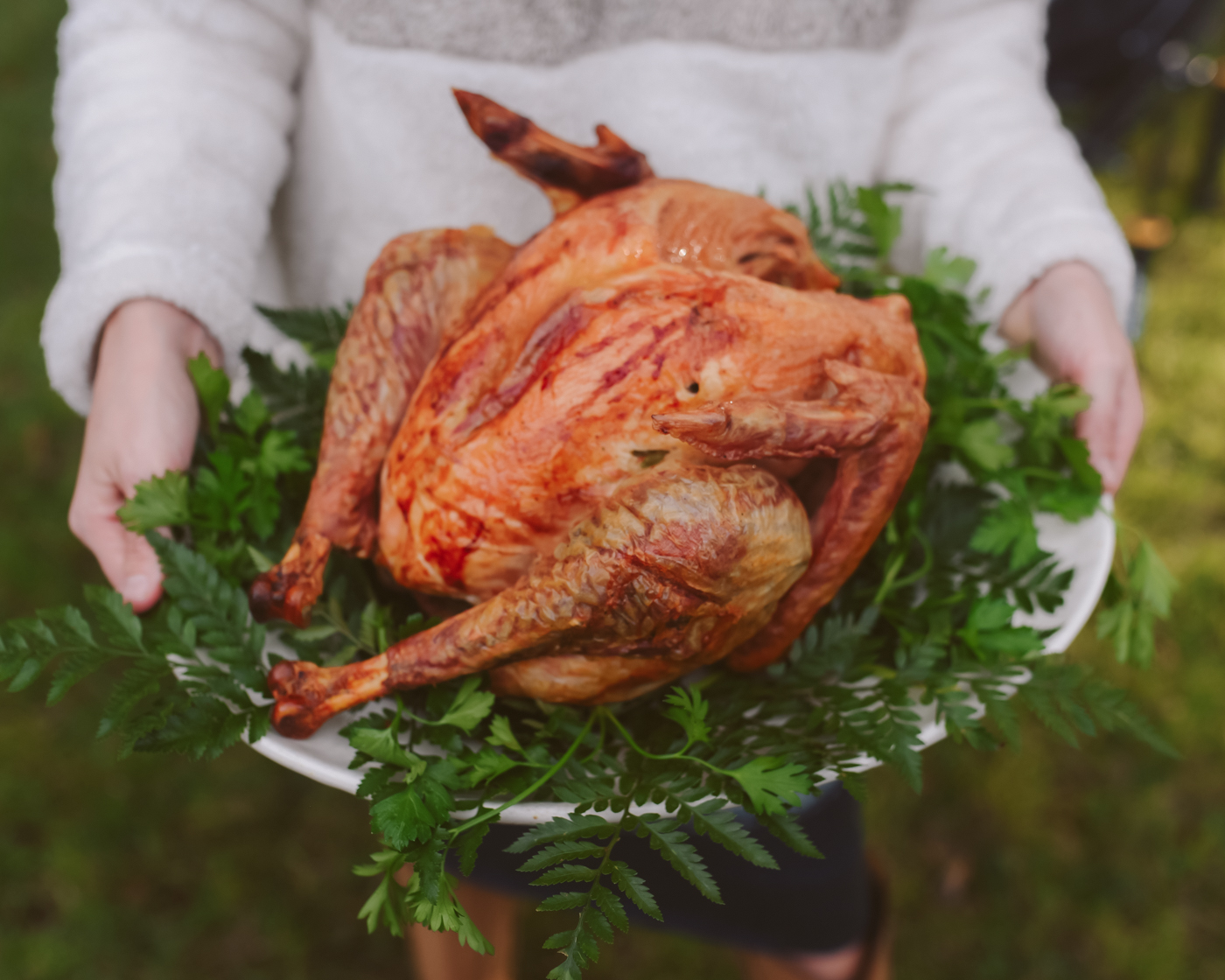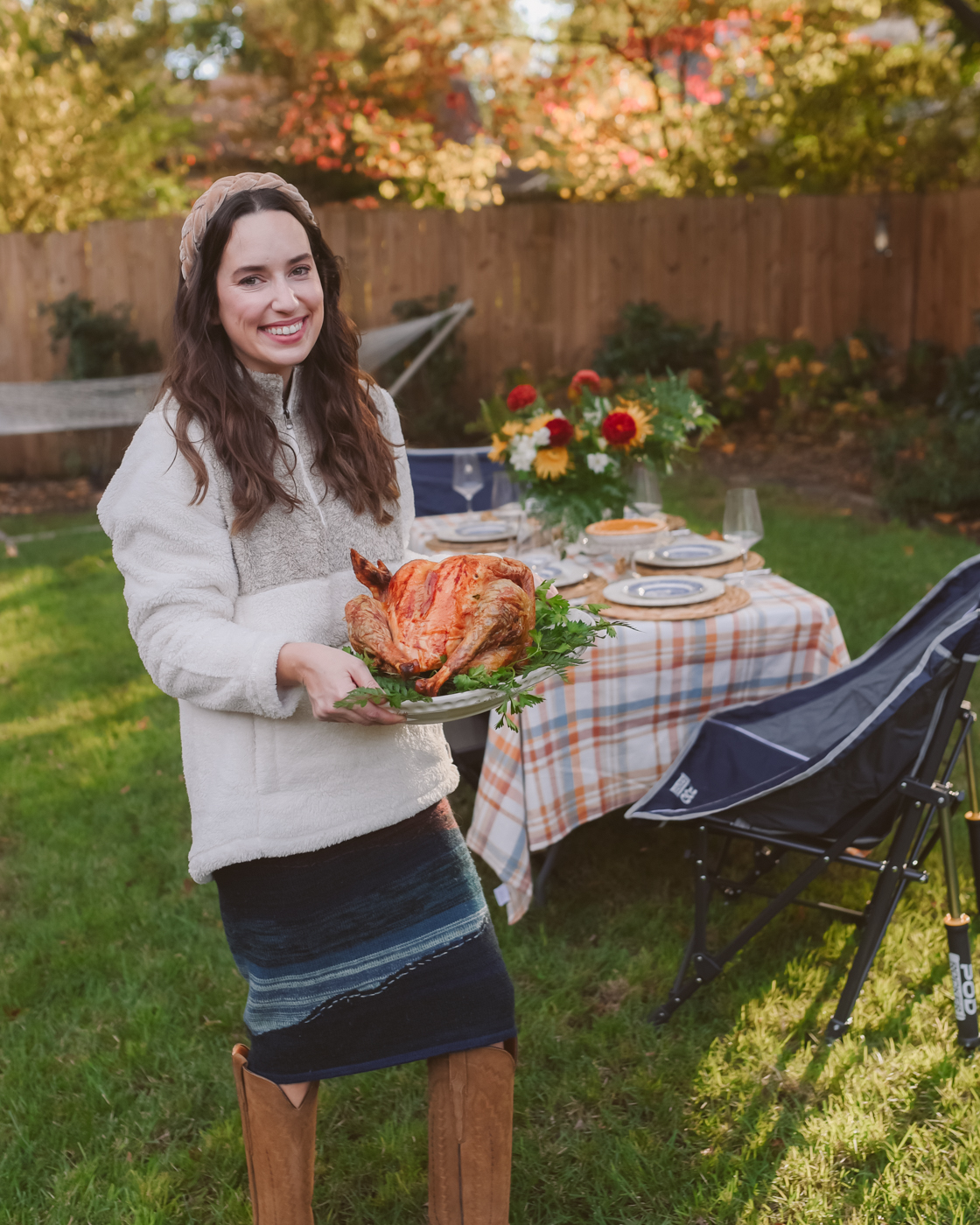 It's All About the Presentation
I plated our freshly fried turkey on a bed of herbs and greenery prior to serving. Carrying it to the table in style in my Fuzzy Fleece Magellan Pullover, of course.
Outdoor dining is by nature (see what I did there) more casual. So I paired a wool skirt with this cozy fleece for a dressed up yet laid-back look.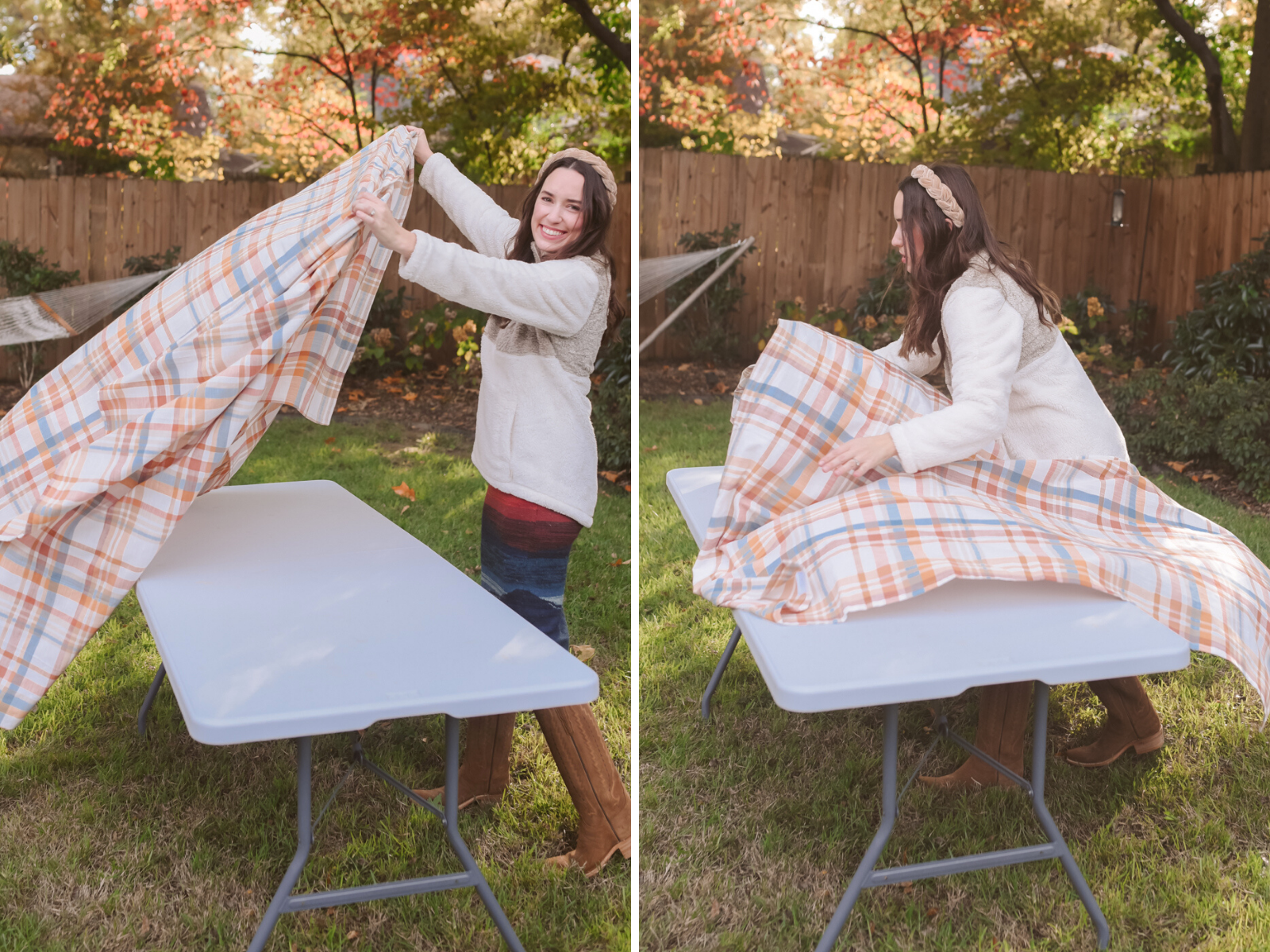 Setting Your Outdoor Table
Speaking of presentation, I firmly believe the Thanksgiving table setting is just as important as the taste of the food!
We keep this 5-foot folding table from Academy on hand for impromptu parties & more. But may favorite way to use it is for dining outdoors. Our camp chairs (these GCI Portable Rocking Chairs) make a comfortable addition to our table too.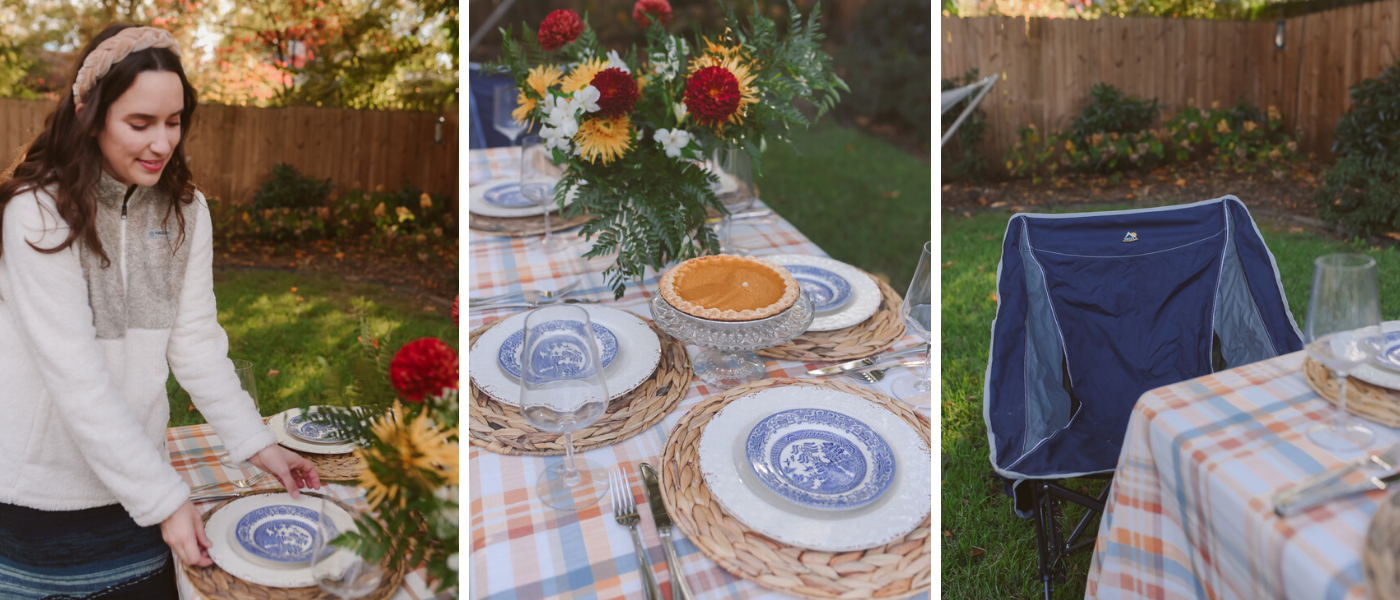 I threw a cheery plaid tablecloth over top and spruced up the setting with a mixture of casual outdoor entertaining pieces (like melamine plates) and cherished china pieces (like my blue & white salad plates).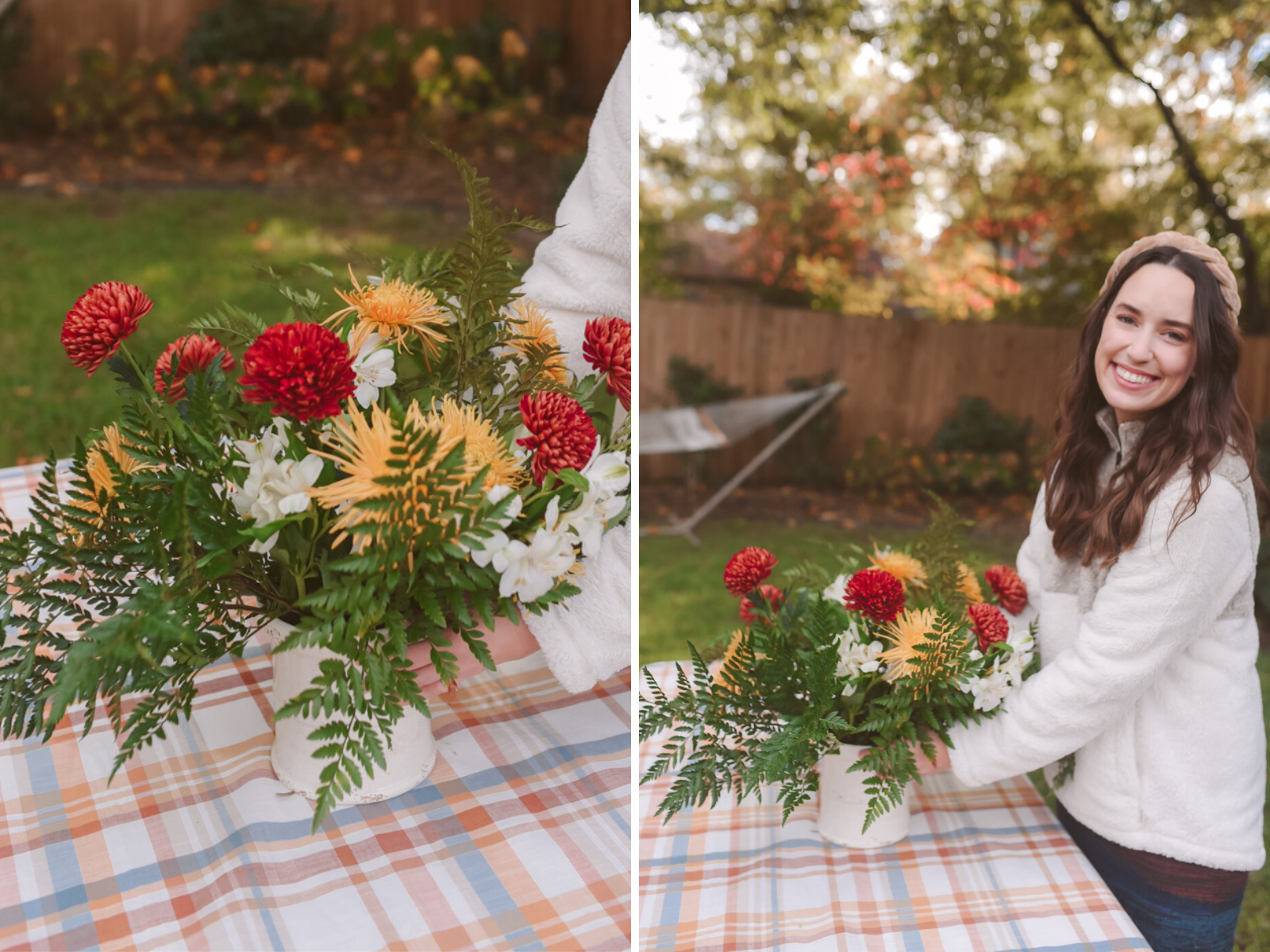 Fresh Flowers Front and Center
A beautiful bouquet makes is the finishing piece to any table setting – and it doesn't have to break the bank either. I went to my local grocery store and picked up a mix of greenery and cut flowers in different colors and textures to display. The best tip on building your own bouquet is to start with your layer of greenery first and build around it with large flowers in the center and smaller stems dotted throughout.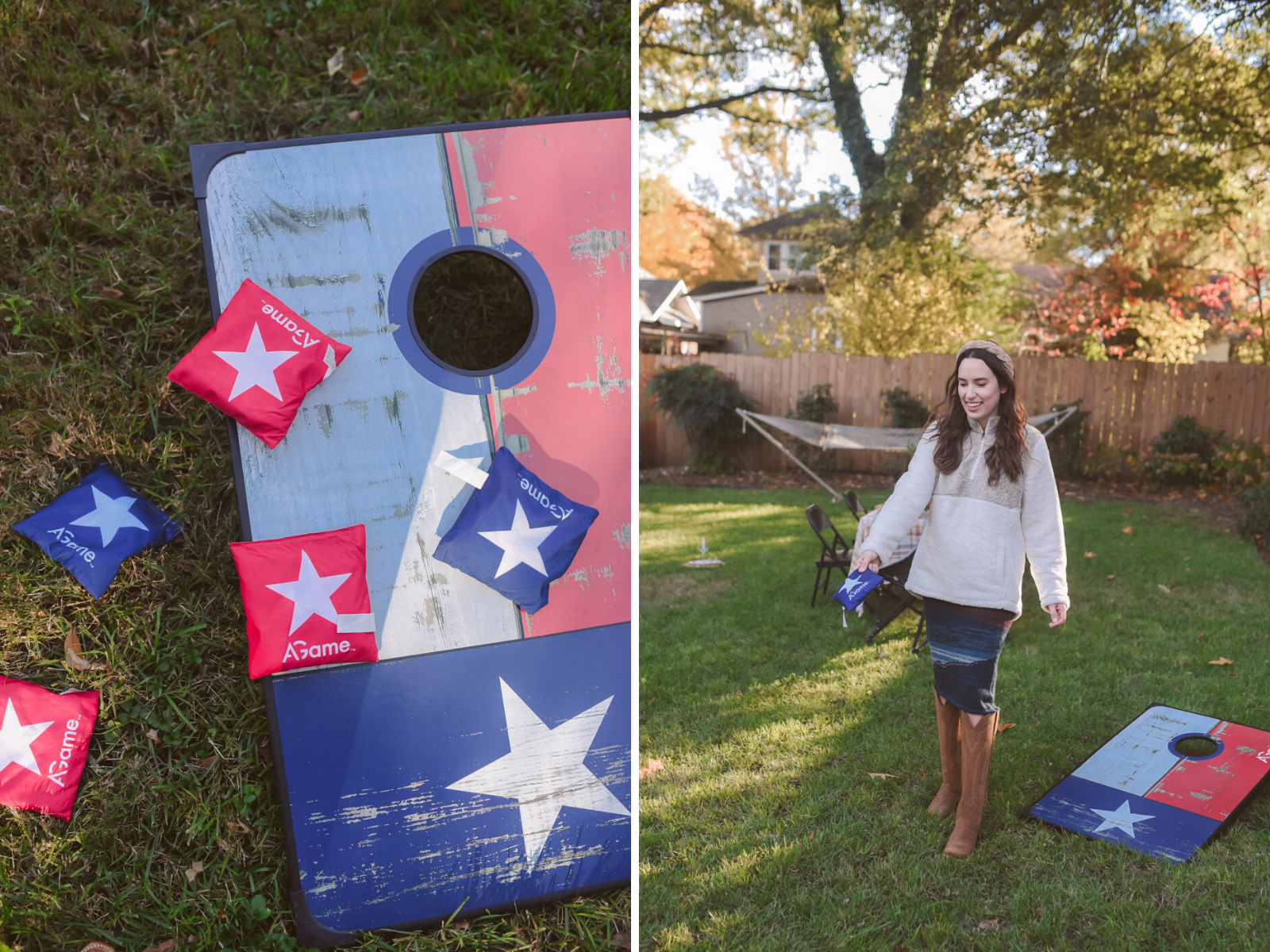 Don't Forget the Yard Games
Having games and activities on hand are a great way to keep the entire family entertained while the turkey fries and the pies bake nearby. They also make for easy icebreakers and get people talking too. We love pulling out our corn hole set whenever we have friends over. The Texas flag design is a nod to our time in the lone star state too.
Academy also offers badmitton sets, horse shoes, ladderball sets, croquet mallets & more encourage your family & friends to get active on Thanksgiving Day.
How are you planning on celebrating Thanksgiving this year? Are you hosting, traveling, or dining someplace brand new?!
—
Big thank you to Academy for sponsoring this blog post. As always, all opinions are my own. Thank you so much for supporting the brands that make Lone Star Looking Glass possible.
The post Outdoor Thanksgiving Hosting Tips appeared first on Lone Star Looking Glass.
What does naughty but nice mean
. xoxo.