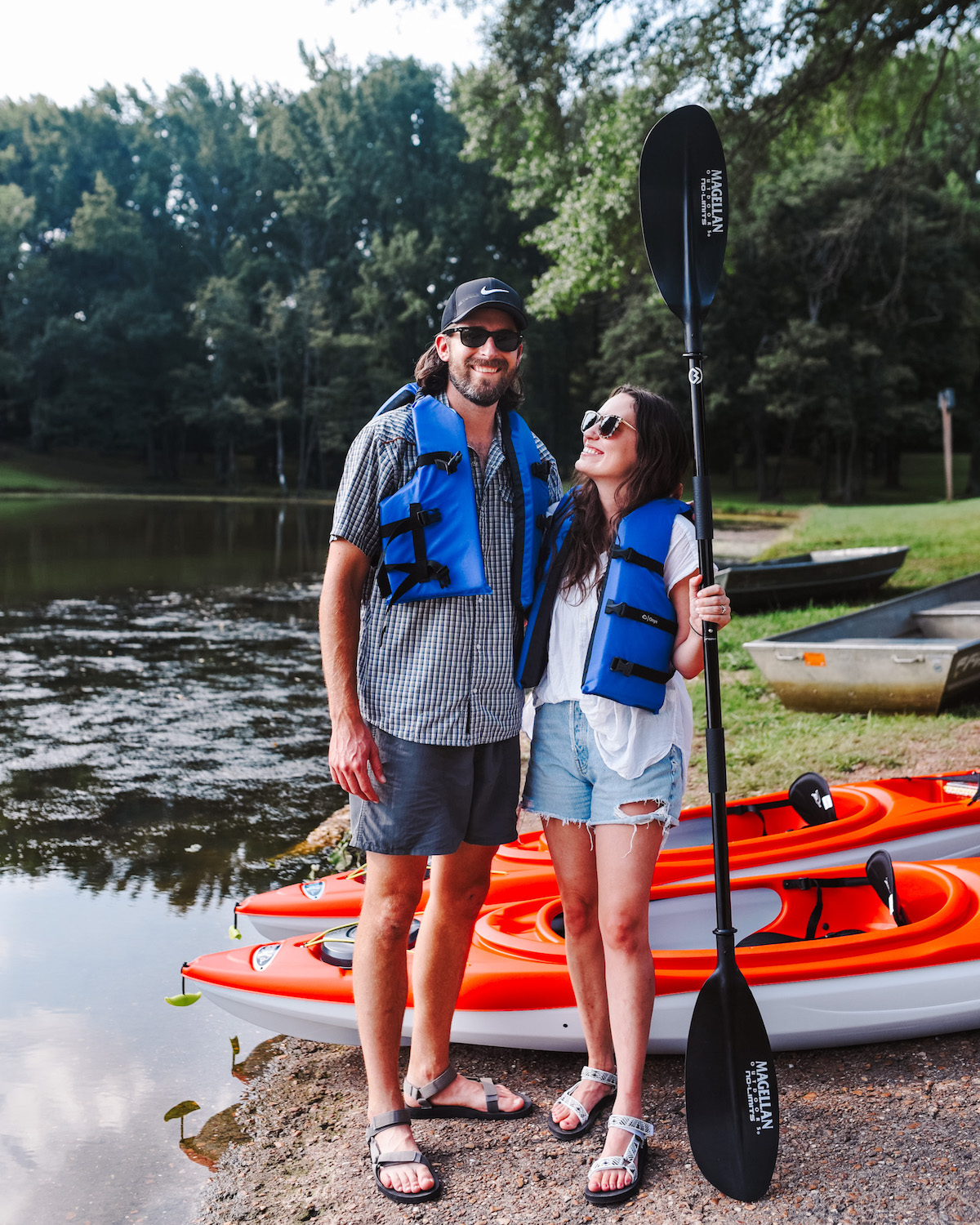 Today, I'm so excited to be sharing with y'all our new (but also not-so-new) hobby: kayaking. It's been a good while since I've had the free time to get away for an afternoon spent paddling under the sun. But now that Bennett is a little older (and we're slowly climbing out of the baby stage), Patrick and I have made a pact to incorporate more daytime dates into our lives – doing the things we love most.
I grew up taking any opportunity I could to canoe or kayak – first falling in love with this water sport at summer camp as a kid. We then moved to a house on a residential lake while I was in high school that allowed for small pontoon boats, canoes & kayaks! Friends would come over after school and we'd kayak out to the middle of the lake & go for a swim.
Through adulthood, it's been so rare to get an opportunity to paddle again without making big plans to do so. This past year has really taught us that there is no time like the present – so we've made an effort to squeeze in the activities we love most whenever we can. Kayaking included.
I'm thrilled to be sharing with y'all how we're taking on our love for kayaking in a new way – by investing in all of the basic gear to make sure we get out on the water more frequently. In today's post, I'm rounding up our must haves when it comes to what you need as a beginner kayaker too – in partnership with Academy Sports + Outdoors! Head on down for more!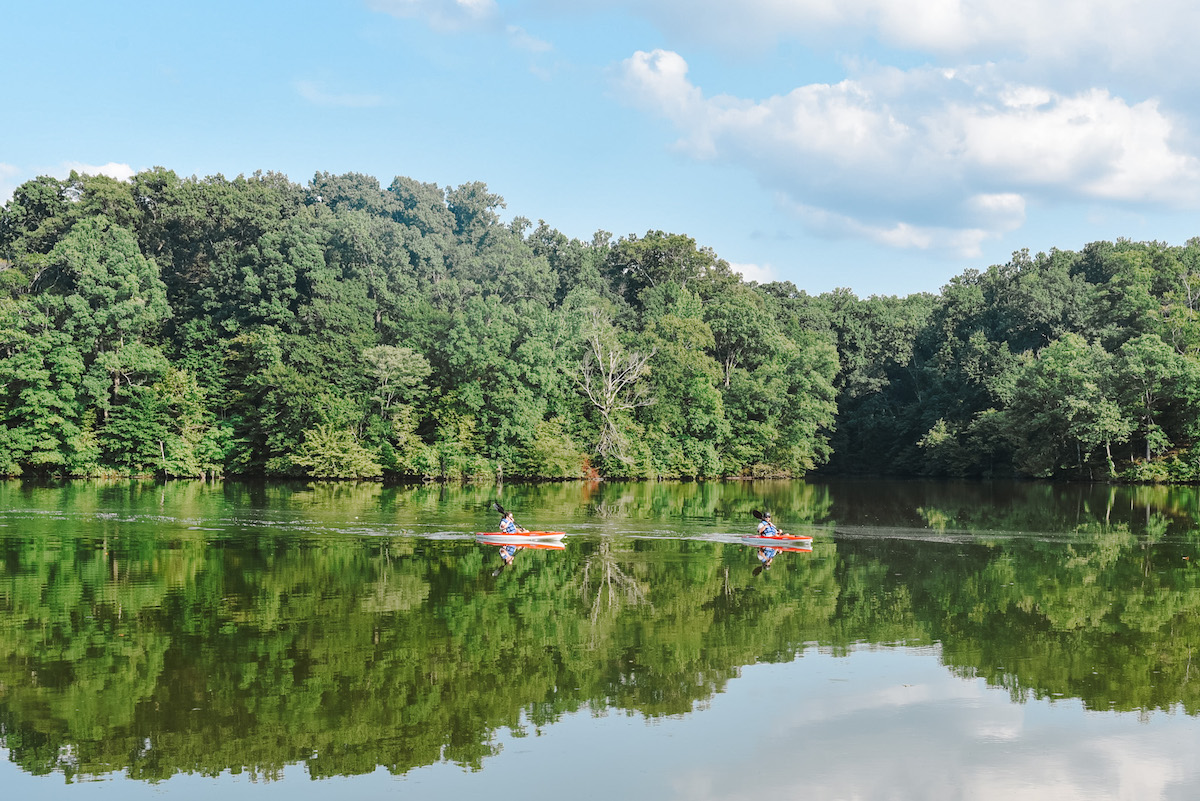 Let's Get Paddling
If you've followed along with me for a while now, you might have noticed that I'm a very spontaneous go-with-the-flow type of person. (No surprise, that I am an Enneagram 7!) Most often when it comes to kayaking, you need to rent a boat, life jacket & paddles with an outfitter and then arrange for travel & transport, planning pretty far in advance.
Memphis has oodles of lakes, ponds and rivers prime for paddling. Patrick and I have talked about getting our own gear for ages now and we decided this summer was the perfect opportunity to do so.  We know we will save money not having to rent over & over in the long run – and it will give us more of an incentive to get out and adventure too.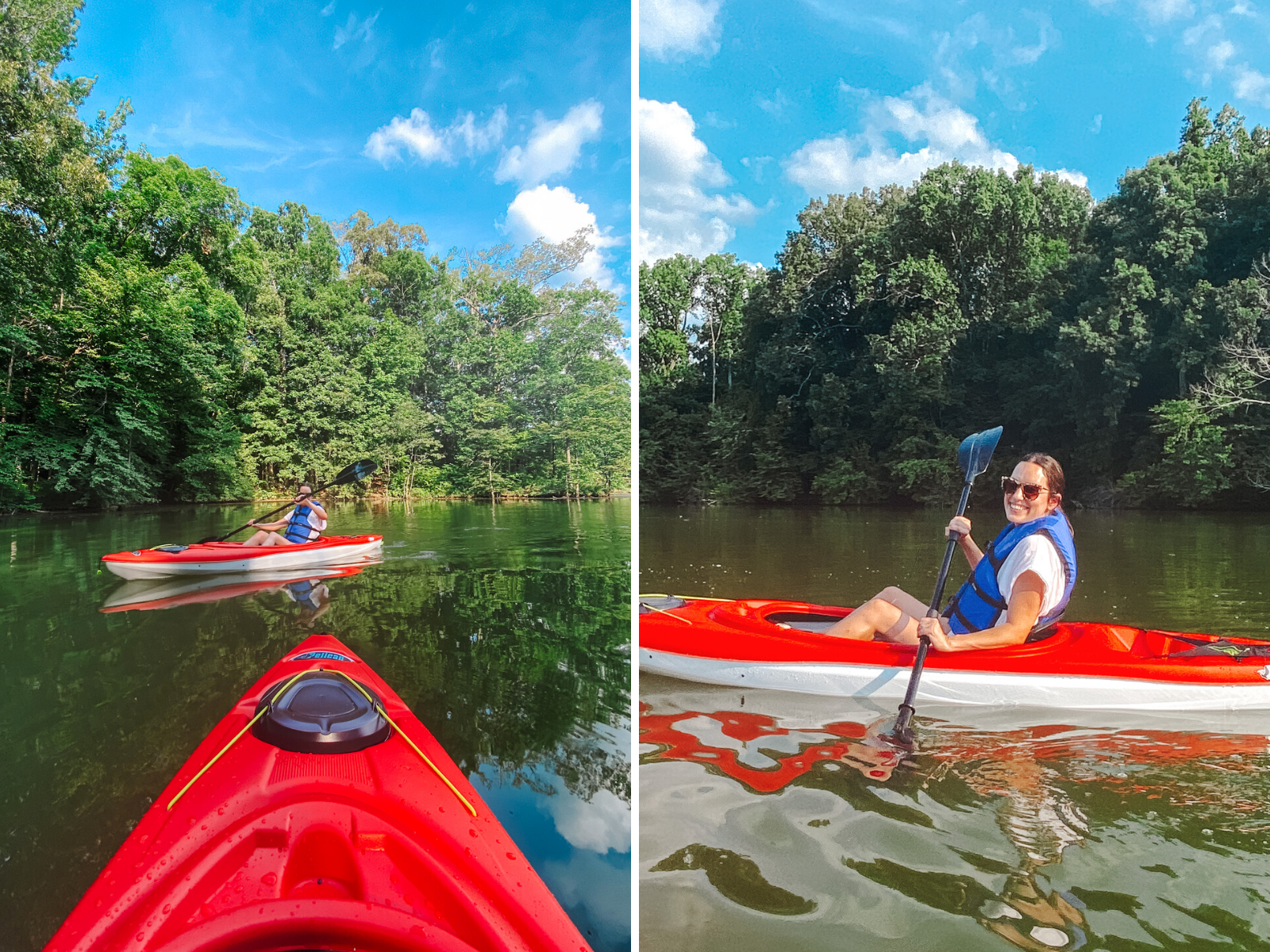 Picking Out Your Kayak
There are many different types of kayaks: sit inside, sit-on-top, single, double & even inflatable. A sit-on-top is great for beginners or if your paddling through warm waters and planning to swim. We opted for sit inside kayaks because we knew we would want to take ours out on many long adventures. They're more comfortable and especially great for trips when you want to stay dry.
Our kayaks are both the Pelican Argo 100 10 ft from Academy. They were an affordable option and perfect for what we want out of them – a simple lightweight kayak fit for all kinds of adventure! This particular kayak includes a bow and stern storage (for stowing snacks & lunch on river trips) and bungee ties to keep things secure.
The seat and cushion are SO comfortable too! We have rented so many kayaks before and I have never sat in one as comfortable is this. We have big plans to kayak the Ghost River in Memphis in a few weeks and I can't wait to test our kayaks out on this long-haul adventure soon.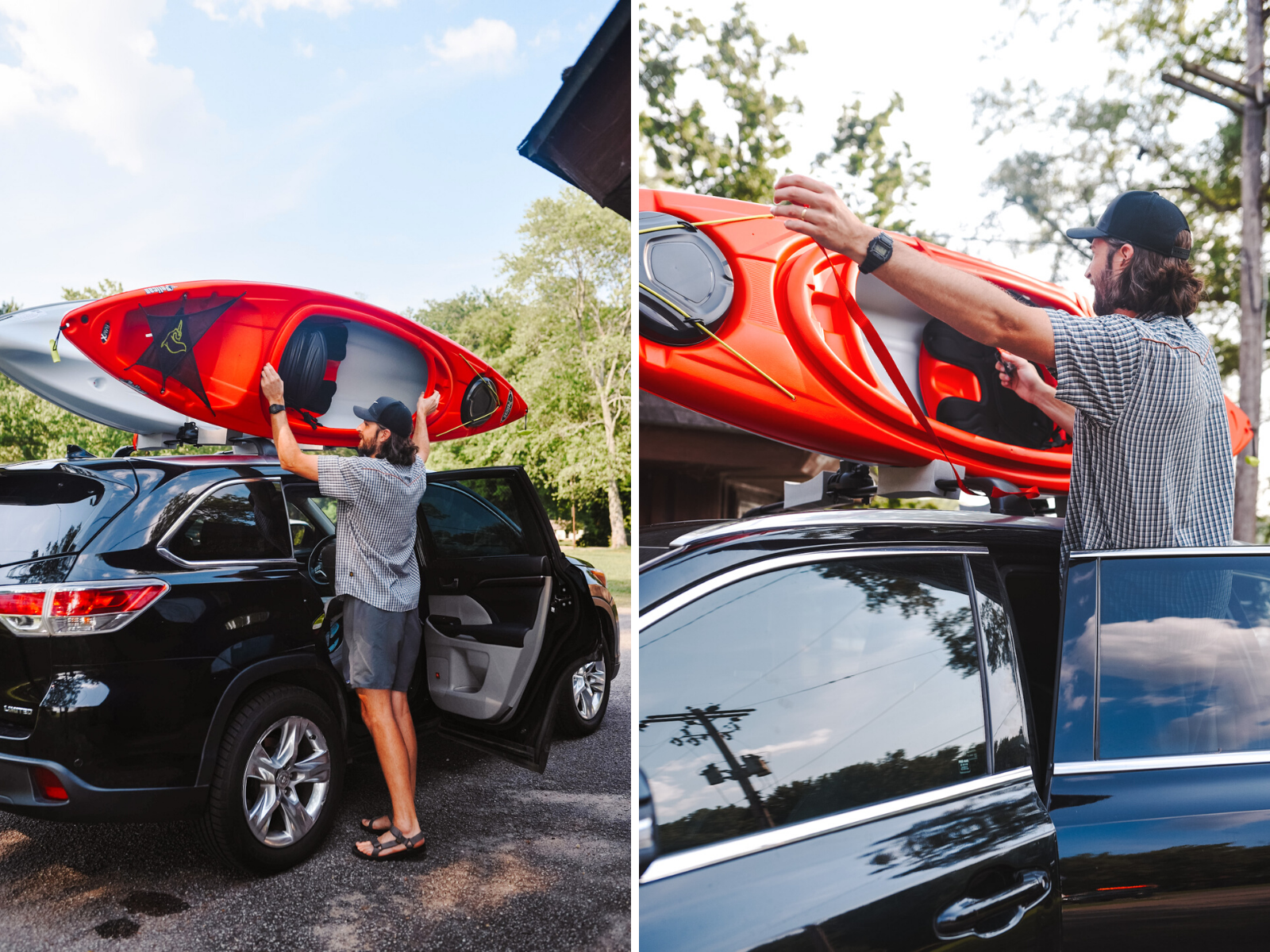 Speaking of Hauling
We attached the Malone Auto Racks Stax Pro 2

Kayak Carrier to the top of our Highlander to get our boats from point A to point B. Patrick said it was super simple to install and it kept both of our boats locked in & secure all the way to the lake.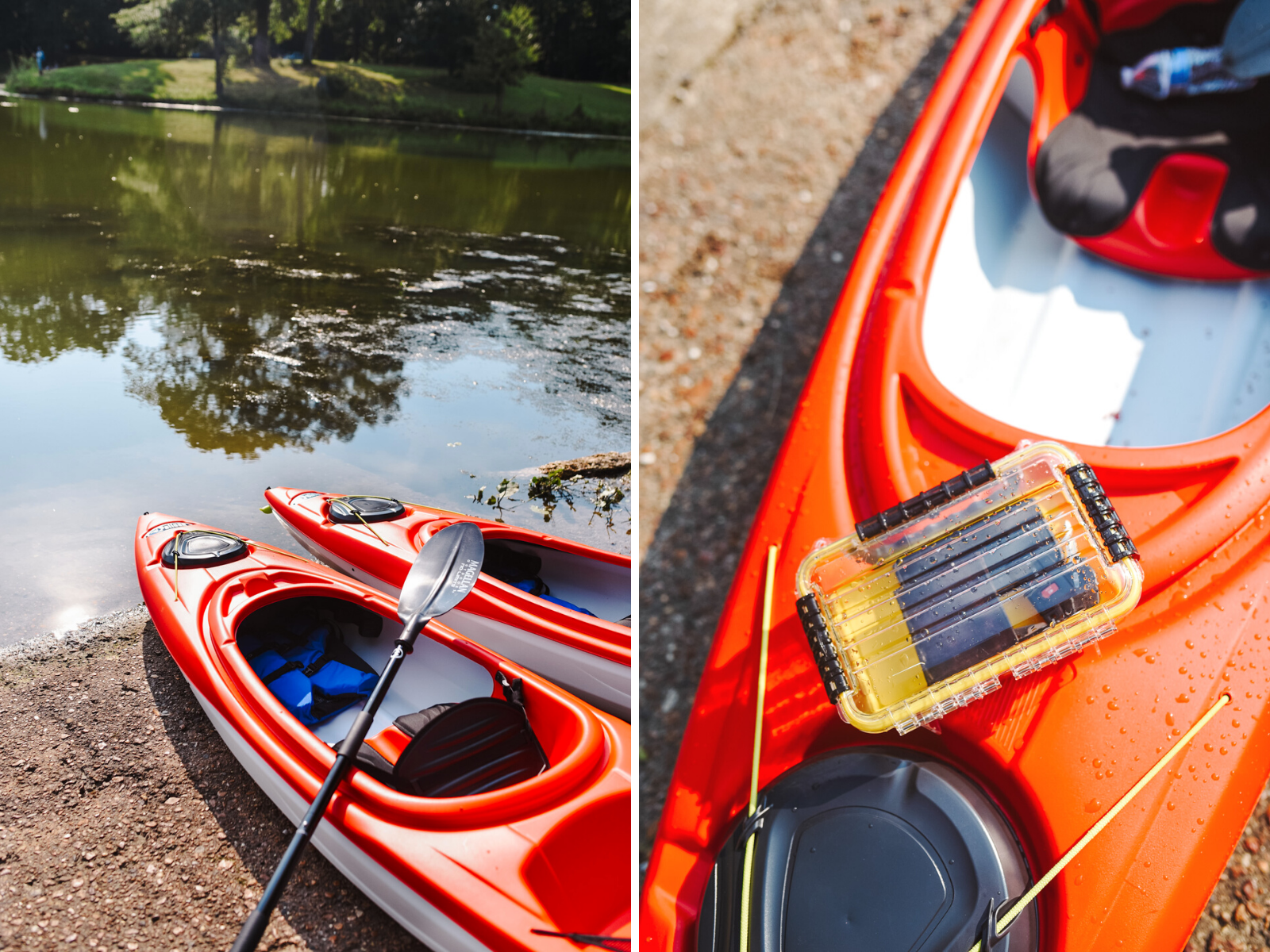 Must Have Extras
What's a kayak without a paddle?! We chose Magellan Outdoors No Limits Kayak Paddles and love that the height can be adjusted and that they come apart for travel. The grip is SO comfortable too! For life jackets, we went with these simple universal boating life vests.
We also decided to take a waterproof stowaway box along for our rides to keep phones, keys & wallets safe & secure. Academy has several in all different sizes linked here.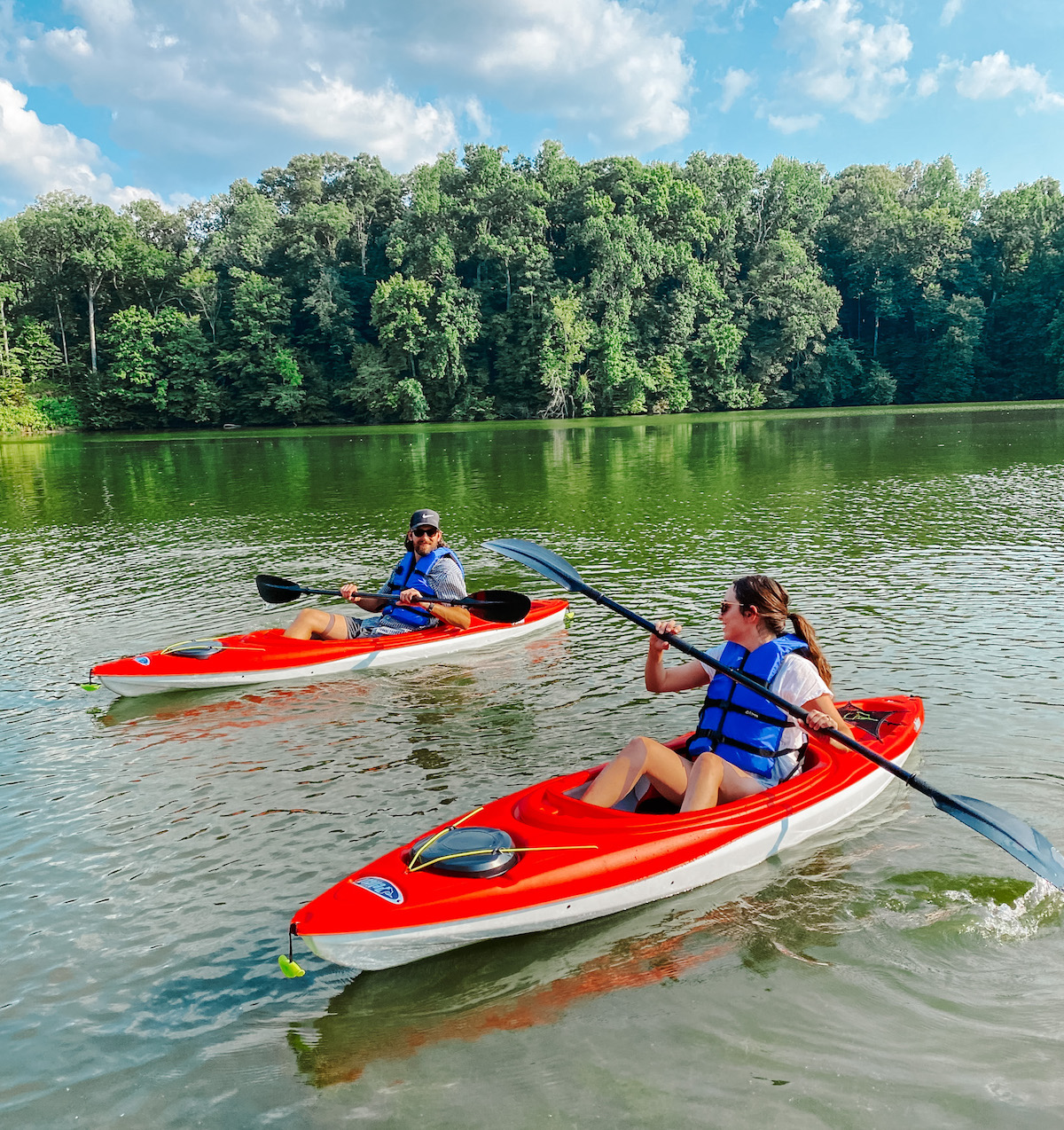 Where to Paddle in Memphis
Poplar Tree Lake at Meeman-Shelby Forest State Park is the perfect place for a relaxing adventure on the water. It's about half an hour from downtown but feels like a world away. The water here was super calm and the scenery was just breathtaking! The lake had all kinds of little inlets we could paddle through and explore.
Shelby Farms Park boasts Hyde Lake – it's on the smaller side but smack dab in the middle of town making it an easy destination.
Wolf River & Ghost River offer miles upon miles to explore in addition to changing scenery and diverse wildlife.
Experienced paddlers can even hit up the section on the Mississippi River along the harbor where paddlers will be treated to up close & personal views of the bridges and the city skyline.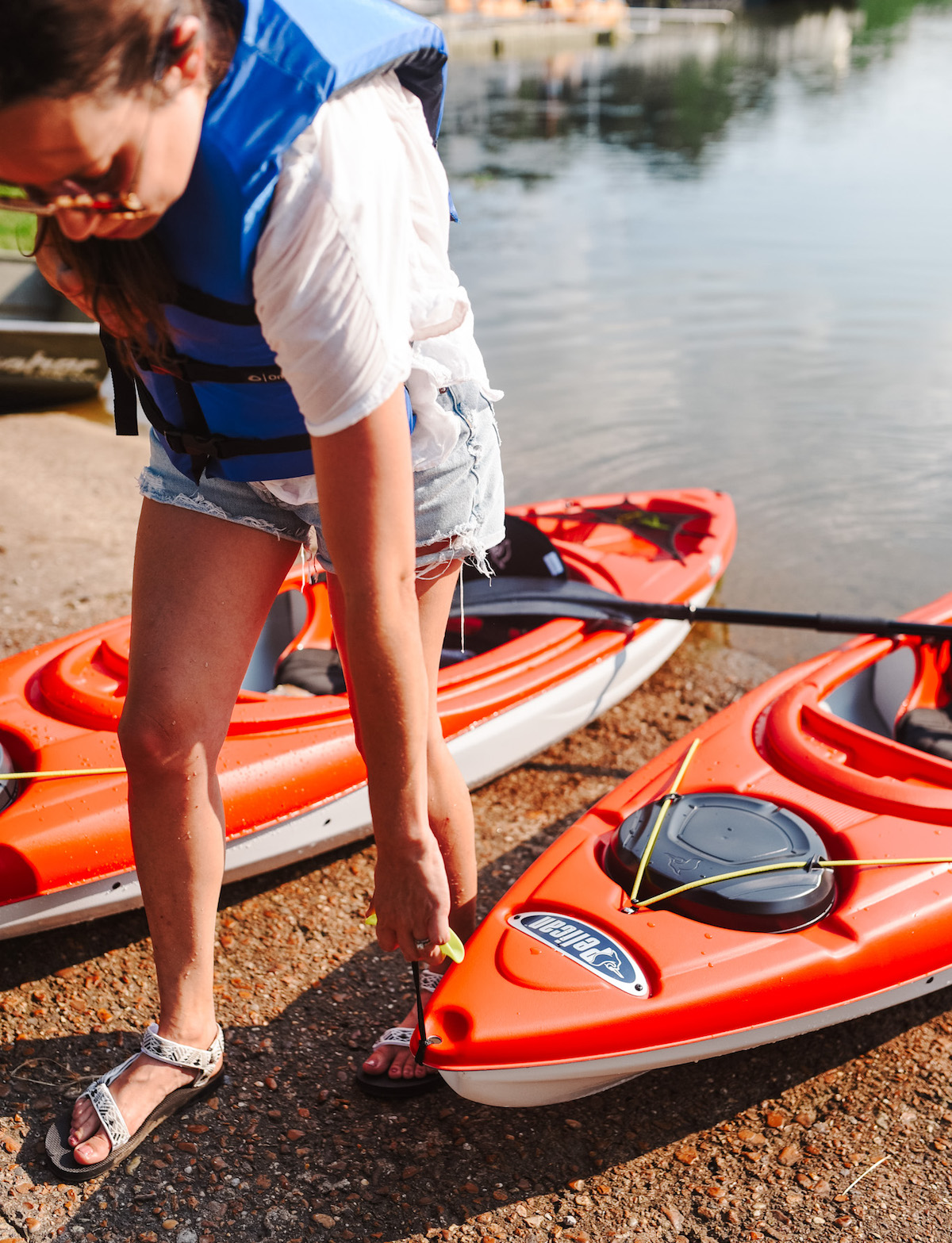 PS: my water shoes are Tevas, also from Academy. I honestly love them just as much paired with a sundress as I do with denim shorts out on the water.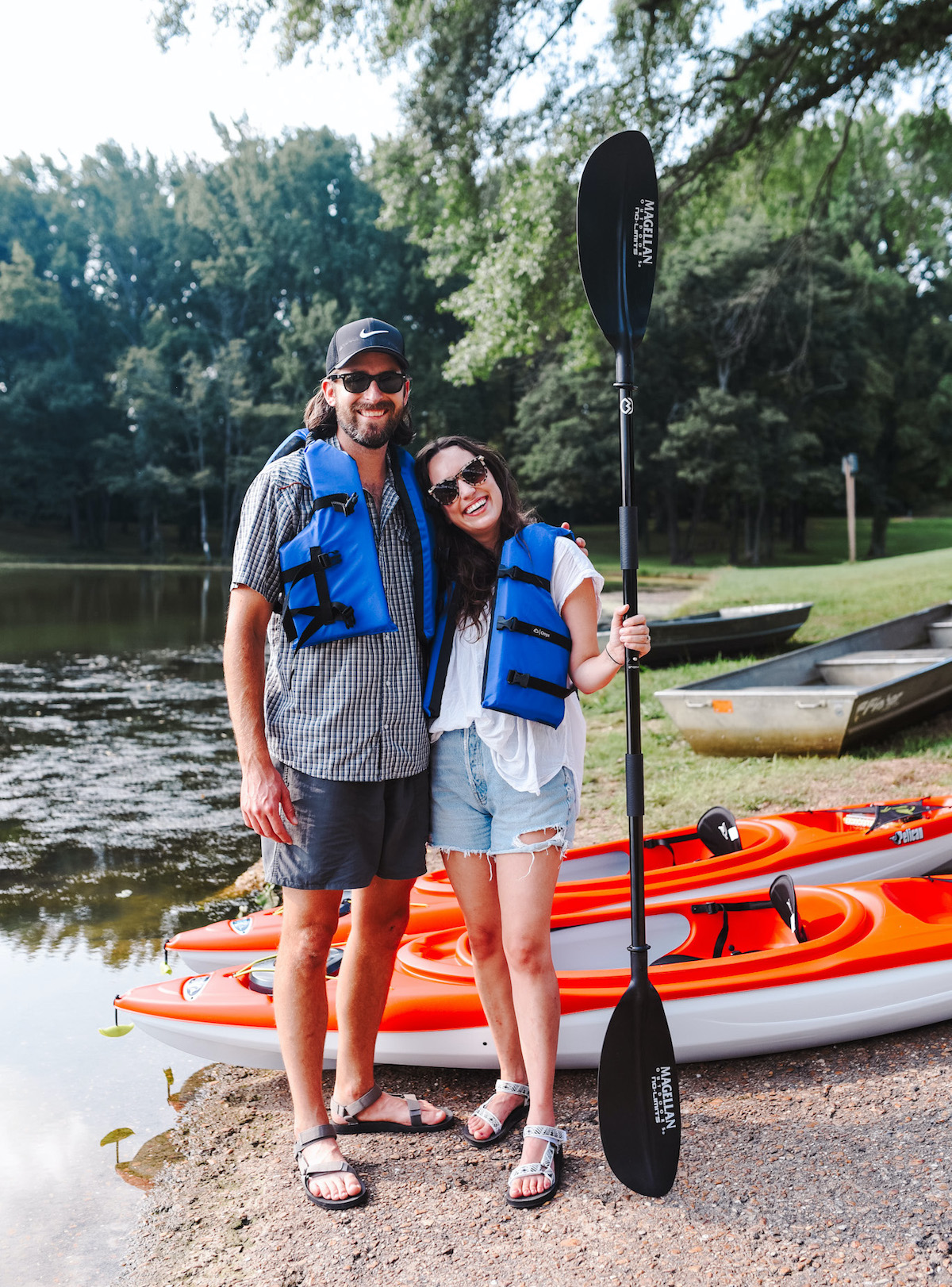 The older we get – and especially the busier life gets with two kids – I am so thankful that Patrick and I have new hobbies to enjoy together. It definitely spices things up and gives us something to look forward to and talk about.
Not going to lie, one of the reasons we didn't get double kayaks was so we could enjoy this hobby together, just the two of us, until our kids are a little bit older. One day, we'll be making room for them on the boat too!
—
Big big thank you to Academy Sports + Outdoors for sponsoring this blog post. As always, all opinions are my own. Thank you to you all for supporting the brands that make Lone Star Looking Glass possible.
—
xo, alice
The post Our Beginner's Guide to Kayaking appeared first on Lone Star Looking Glass.
What does naughty but nice mean
. xoxo.