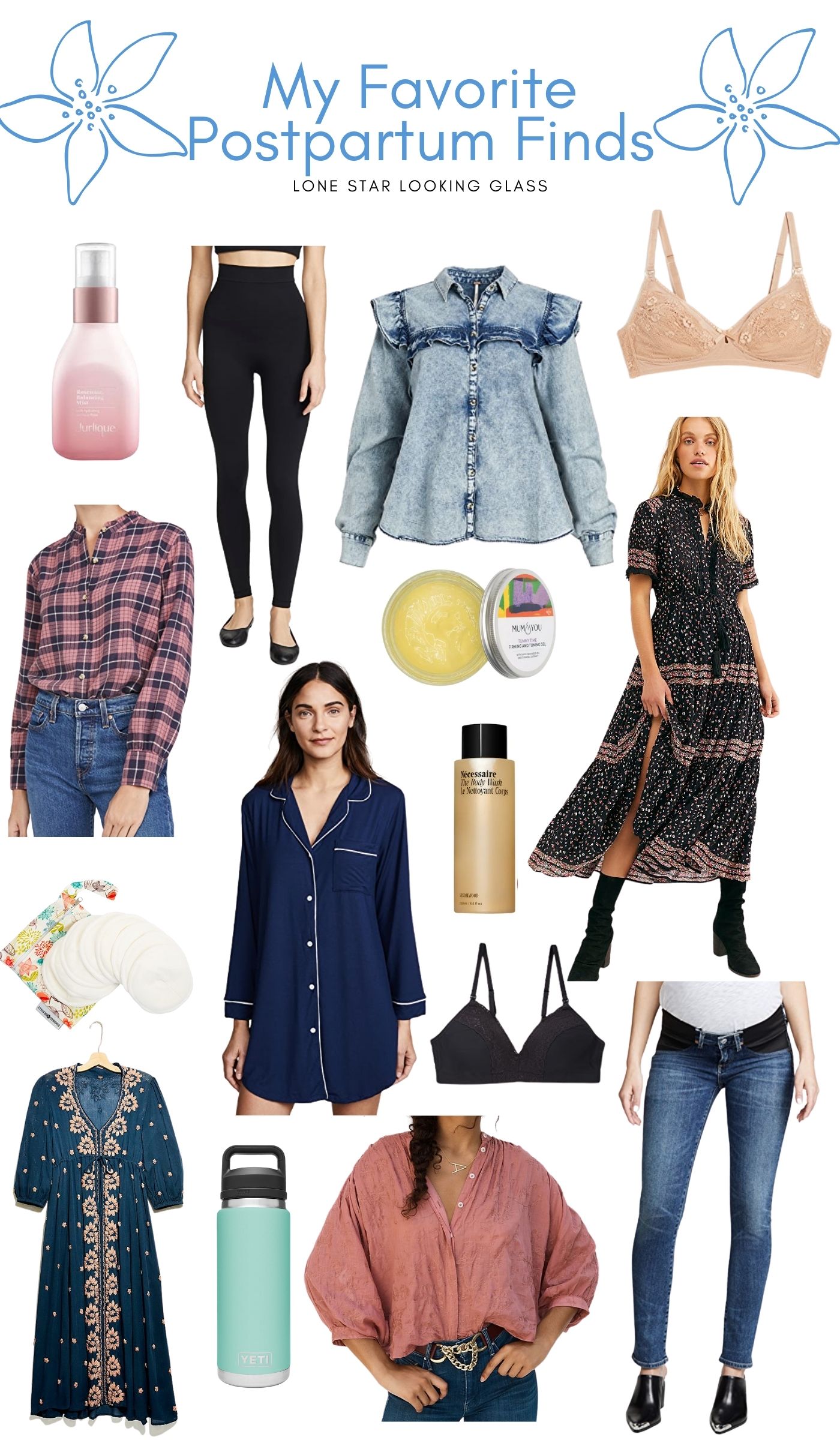 Shop the Post

Turn on your JavaScript to view content
The several months following the birth of a baby, the postpartum period, is often referred to as the fourth trimester. It's a joyous time for sure, newborn baby snuggles and the opportunity to press pause on everything else going on around you so you can soak in this special time with your tiny little one. One thing you can never be fully prepared for though, no matter how much you hear about it beforehand, is how much your body goes through after childbirth. I feel like I've personally been through the ringer these last few weeks! But thankfully, as its my second time around, I was a bit more prepared for postpartum life both mentally and physically.
Physically … as in I did a little postpartum prep shopping before Bennett arrived so I could be as comfortable as I could upon his arrival. I could go on all day about the different toiletries needed to alleviate the um … postpartum pain that I experienced. But I don't think I could cover the topic any better than my friend Amanda did over at The Miller Affect. (Check out her post on all the nitty gritty postpartum must haves for healing here!)
In this post, I'm sharing a bit about the little extras that have uplifted my spirits and my postpartum experience in general. From oversized button downs to flowy maxi dresses with easy access to your (actually stylish and supportive) nursing bras I'm rounding up a few of my favorite finds from across the web that'll boost your fourth trimester feelings!
My Favorite Postpartum Finds
Button Downs
THE perfect shirt for a nursing mama. You may already have quite a few button downs in your closet and you're thinking … I'm all set in this department. Well, I thought so too. But my postpartum bod is currently not fitting comfortably in hardly any of the button downs hanging in my wardrobe. I have a few oversized ones that I've been rotating on repeat and have snapped up several in larger sizes too. I love this billowy coral one from Anthropologie and this acid wash denim ruffled one from Free People. Their wider silhouettes are flattering too. This Rails button down I stumbled upon on Shopbop has the softest fabric but I'd suggest sizing up for a looser fit for the fourth trimester.

Turn on your JavaScript to view content
Night Gowns
Never have I ever done more laundry than I have during the weeks following the birth of my babies. My coziest nightgowns only get one sleep in them before they need to be wished again – thanks to baby spit up, milk and those lovely postpartum night sweats. A few of my favorites I've been rotating this past month are this navy blue Eberjay gown, this three piece set from Storq, and this gray shirt dress.

Turn on your JavaScript to view content
Nursing Bras
 Your body goes through a lot of changes during pregnancy and postpartum. You thought your boobs were big while you were pregnant … just wait until your baby is here, ha! Now that my milk has come in and things are um … evening out … I've scooped up a few great nursing bras to rotate throughout my breastfeeding journey this next year. My favorite for daytime support is the Simply Sublime Nursing Bra from Kindred Bravely. For nighttime, I love Kindred Bravely's Sublime Adjustable Crossover Nursing Bra. But I do have to admit, this is a lot of fabric and these silhouettes are night and day different from the bras I wore before baby.

Turn on your JavaScript to view content
Thankfully, stylish (& supportive) nursing bras now exist too! I love this nude lacy nursing bra from Rosie Pope on Shopbop. It's something I'd wear for a dressier occasions or if I just want to feel good, you know? I also love the lightweight silhouette of this black one too.
Water Bottle
Nursing moms need about 16 cups of water a day to keep both mama and baby fully hydrated. I've been toting this Yeti Water Bottle around with me practically everywhere! It comes in 9 different colors and holds 26 oz. I remind myself to refill it at least 4 times a day to meet my goal.
Button Down Dresses
Dresses can be tough for breastfeeding mamas. I learned the hard way out and about with Annie that lifting your dress up to nurse was … difficult. This go round, I'm opting for dresses with either button, smocked or lace up details to make my breastfeeding journey all the easier (and stylish!) This Free People one is PERFECT for nursing. I actually have it in two colors too and its drawstring waist & breezy midi skirt are both forgiving and flattering for an ever changing postpartum body.
Skincare Faves
I'll be honest, I can count on one hand how many times I've washed and dried my hair since Bennett has been born. I've squeezed in showers whenever I can fit them in and my skincare routine is all out of whack. It's kind of hard to have a nightly routine when your traditional bedtime has gone out the window. What is sleep even anyway!?

Turn on your JavaScript to view content
There have been a few moments though that I've been able to fit in itsy bitsy skincare indulgences though. Nécessaire' Body Wash is a multi-vitamin cleanser that steps up my shower game big time. The sandalwood scent kind of reminds me of a day at the ritziest spa! My showers may be short and sweet but a scrub of this body wash makes it feel more soothing than ever.
After showering, I've been lathering my belly with Mum & You's Tummy Time Firming and Toning Gel. This sweet smelling gel boosts collagen to firm and tighten that parts of your body that needed it most. On nights where a full facial cleanse doesn't make the cut, I've been opting for Neutrogena's Hydroboost Cleansing Wipes followed by a spritz of Jurlique's Rose Water Spray. It's a super quick way to clean, hydrate and refresh your skin in a pinch!
—
What different things helped you the most (or boosted your spirits the most) throughout your postpartum journey!?
—
xo, alice
The post My Postpartum Must Haves appeared first on Lone Star Looking Glass.
What does naughty but nice mean
. xoxo.