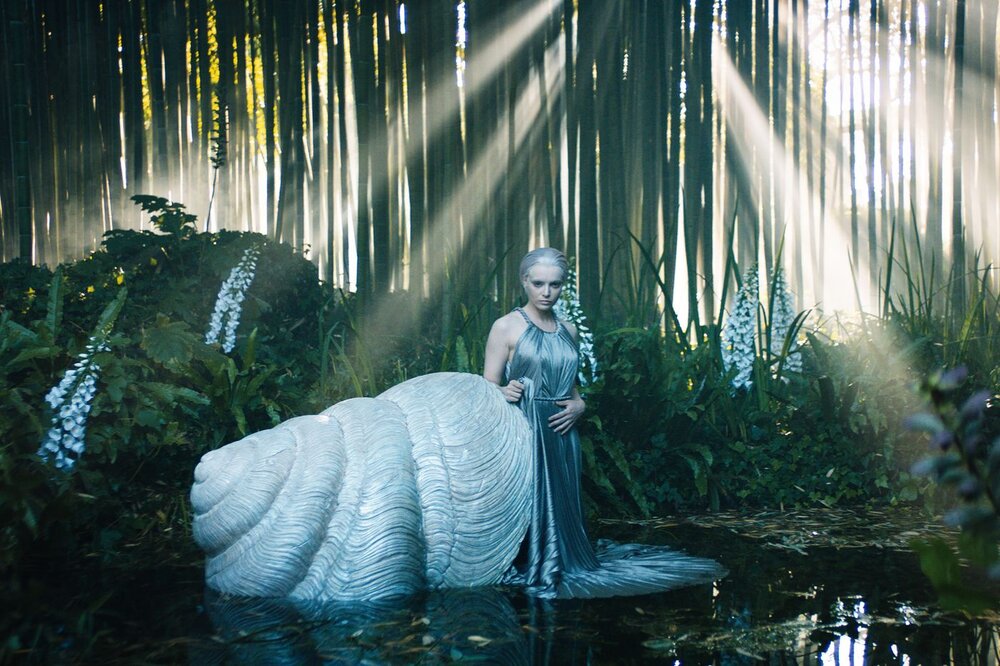 ¡Feliz lunes, mis amores! ¿Qué tienen en común las sirenas, las estatuas que cobran vida, las ninfas y las criaturas maravillosas? Todas usan la colección de alta costura de Dior. Para presentar su nueva propuesta Otoño/Invierno 2020-2021 en medio de la pandemia mundial, la maison optó por hacerlo de una forma súper original. Debido a que no podían hacer una pasarela real, el punto de referencia para la directora creativa, Maria Grazia Chiuri, estuvo siempre vinculado al mundo de los sueños o la fantasía. Además, la diseñadora tomó como inspiración la obra de artistas como Lee Miller, Dora Maar y Jacqueline Lamba, que trascendieron el papel de musas al que, en un principio, las había relegado su belleza, y que defendieron en sus vidas y en sus obras surrealistas un tipo de feminidad diferente. 
Happy Monday, my loves! What do mermaids, statues that come to life, nymphs, and wonderful creatures have in common? They all wear the Dior couture collection. To present his Fall / Winter 2020-2021 collection in the midst of the global pandemic, the maison chose to do it in a super original way. Because they couldn't make a real runway, the benchmark for creative director Maria Grazia Chiuri was always tied to the world of dreams and fantasy. In addition, the designer took as inspiration the work of artists such as Lee Miller, Dora Maar and Jacqueline Lamba, who transcended the role of muses to whom, originally, their beauty had relegated them, and who defended in their lives and in their works surreal a different kind of femininity.
La nueva colección está imbuida de esa actitud de conexión, sincronía con la naturaleza y transformación.
The new collection is fulled with that attitude of connection, synchrony with nature and transformation.
 "La alquimia es una forma de magia, por lo que la transformación de imágenes o cuerpos en arte actúa sobre la sustancia onírica/psíquica. –Leonora Carrington

"Alchemy is a form of magic, so the transformation of images or bodies into art acts on the dream / psychic substance". –Leonora Carrington
Esto se ve claramente en un cortometraje surrealista que comienza en el taller, spot en el que diez minivestidos en muñecas de 16 pulgadas se empaquetan en un baúl con forma de la tienda más icónica de Dior en 30 Avenue Montaigne en París. Todos ellos son transportados a través de un paisaje similar a Narnia por dos botones. Al igual que los vendedores que van de puerta en puerta, estos personajes presentan las miniaturas a seres míticos que sienten felices de ver y usar estas creaciones.
This is seen in a surreal short film that begins in the workshop, a spot in which ten 16-inch doll mini-dresses are packaged in a trunk shaped like the most iconic Dior store at 30 Avenue Montaigne in Paris. All of them are transported through a landscape similar to Narnia by two buttons. Like door-to-door salesmen, these characters present the miniatures to mythical beings who are happy to see and use these creations.
Las ninfas del río se divierten en el agua con las sirenas antes de elegir tímidamente sus vestidos. Un híbrido caracol-mujer de tamaño humano emerge de su enorme caparazón, mientras que una ninfa hace una pausa en una sesión de besos para acariciar delicadamente su selección. Por último, una mujer humana hace su elección, obteniendo una sonrisa de aprobación de su esposo. Después de hacer las rondas, las costureras del taller se ponen a trabajar haciendo versiones de tamaño real para sus clientes.
River nymphs have fun in the water with mermaids before shyly choosing their dresses. A human-sized snail-female hybrid emerges from its massive shell, while a nymph pauses in a kissing session to delicately caress her selection. Finally, a human woman makes her choice, gaining an approving smile from her husband. After making the rounds, the seamstresses in the shop goes to work making life-size versions for their clients.
"Me interesan el misterio y la magia, que son también un modo de exorcizar la incertidumbre sobre el futuro". –Maria Grazia Chiuri

"I am interested in mystery and magic, which are also a way to exorcise uncertainty about the future." –Maria Grazia Chiuri
Entretejido en la fantasía, está una referencia importante de la historia de la moda. Durante la Segunda Guerra Mundial en Francia –para promover la idea de que la alta costura del país todavía estaba muy viva– varios artistas y diseñadores de moda colaboraron en un proyecto llamado Théâtre de la Mode, en el que creaban ropa en miniatura para muñecas. Estas muñecas fueron enviadas a todo el mundo para recordar al público el poder del arte en tiempos difíciles. ¿Lo más impresionante de todo? El vestido que llevó 300 horas confeccionar.
Mixed with fantasy, it is an important reference in fashion history. During World War II in France - to promote the idea that the country's haute couture was still very much alive - various artists and fashion designers collaborated on a project called Théâtre de la Mode, in which they created miniature clothes for dolls. These dolls were sent around the world to remind the public of the power of art in difficult times. Most impressive of all? The dress that took 300 hours to make.
Da clic aquí para ver el video.
Click here to watch the video.
Les escribo pronto para seguir con mi recap de la Semana de alta costura en París.
Los amo,
XOXO,
PAM
Why do I stain my underwear?
. xoxo.