¡Hola, mis amores! Hoy les escribí este post sobre la que es y siempre será una de mis pasarelas favoritas: Dior.
Hi my loves! Today I wrote this post about what it is and always will be one of my favorite shows: Dior.
Como directora creativa de Christian Dior, un papel que ha desempeñado desde 2016, Maria Grazia Chiuri ha promovido constantemente las ideologías feministas. Imposible olvidar su colección inaugural y las t-shirts con la frase "We Should All Be Feminists" . Ella es la primera mujer en tener este puesto en Dior, uno de los trabajos más grandes en la industria, que además tiene muchísima influencia. Creo que es muy interesante ver cómo cada temporada, la firma usa el alcance de sus desfiles en pro de las mujeres.
As the creative director of Christian Dior, a role she has held since 2016, Chiuri has consistently promoted feminist ideologies. Her inaugural collection showed tees with the slogan "We Should All Be Feminists" and she's the first woman to hold the title, one of the biggest jobs in the industry and one that wields important influence. I pray that it is very interesting to see how each season, the brand uses this reach to enforce women's rights.
Sobre la colección
About the collection
"No importa de dónde empecemos ..." Carla Lonzi, Autoritratto, 1969.
Maria Grazia Chiuri tomó su diario de adolescente como fuente de inspiración para crear la colección otoño-invierno 2020-2021 de Dior. Durante la pasarela aparecieron varias imágenes entre las que destacaron fotografías de actrices que sirvieron de inspiración para los clientes del taller de alta costura de su mamá, del estudio de Germana Marucelli en Milán, el de Mila Schön por Ugo Mulas y, por último, retratos de Carla Accardi.
"It doesn't matter where we start from..." Carla Lonzi, Autoritratto, 1969.
Maria Grazia Chiuri took her teenage diary as a source of inspiration to create the Dior fall-winter 2020-2021 ready-to-wear collection. Images appear, including photos of actresses who served as inspiration for clients of her mother's couture atelier, as well as for the Creative Director herself, who used fashion as a way of asserting herself, of rebelling, and communicating to others how she wanted to be perceived. Next came other photos from the past that she revisits with her vision today: Germana Marucelli's studio in Milan, designed by artist Paolo Scheggi; that of Mila Schön by Ugo Mulas and, lastly, portraits of Carla Accardi.
Esta colección me pareció perfectamente equilibrada. Amé absolutamente todo: desde los cuadros en un conjunto diseñado por Marc Bohan, las faldas plisadas y hasta la serie de vestidos de diferentes longitudes con diferentes estampados como puntos o aplicaciones como flecos.
I found this collection perfectly balanced. I loved absolutely everything: from the checks on an ensemble designed by Marc Bohan to the pleated skirts and even the series of dresses of different lengths with different prints as points or fringes which provide mobile ornamentation.
El lugar
The show venue
La pasarela fue en el Jardin des Tuileries en París y el espacio fue diseñado en colaboración con el colectivo Claire Fontaine, que ha expuesto en la Galería Nacional de Arte Moderno y Contemporáneo de Roma. Lo primero que se podía ver al llegar al lugar era la frase "I Say I", que el título de la futura exposición dedicada a mujeres artistas italianas, con el apoyo de Dior.
The show venue was designed in collaboration with the Claire Fontaine collective, which has exhibited at the National Gallery of Modern and Contemporary Art in Rome. The first thing that we saw when arriving at the place was the phrase "I Say I", which is the title of the future exhibition dedicated to women Italian artists, supported by Dior.
Esta poderosa autoafirmación fue el punto de partida para una serie de quotes tipo manifiesto. Creo que es una forma creativa y colectiva de abordar los muchos aspectos de la subjetividad femenina, así como todo lo que representa la feminidad.
This powerful self-affirmation was the starting point for a series of manifest type quotes. I think it is a creative and collective way of addressing the many aspects of female subjectivity, as well as everything that femininity represents.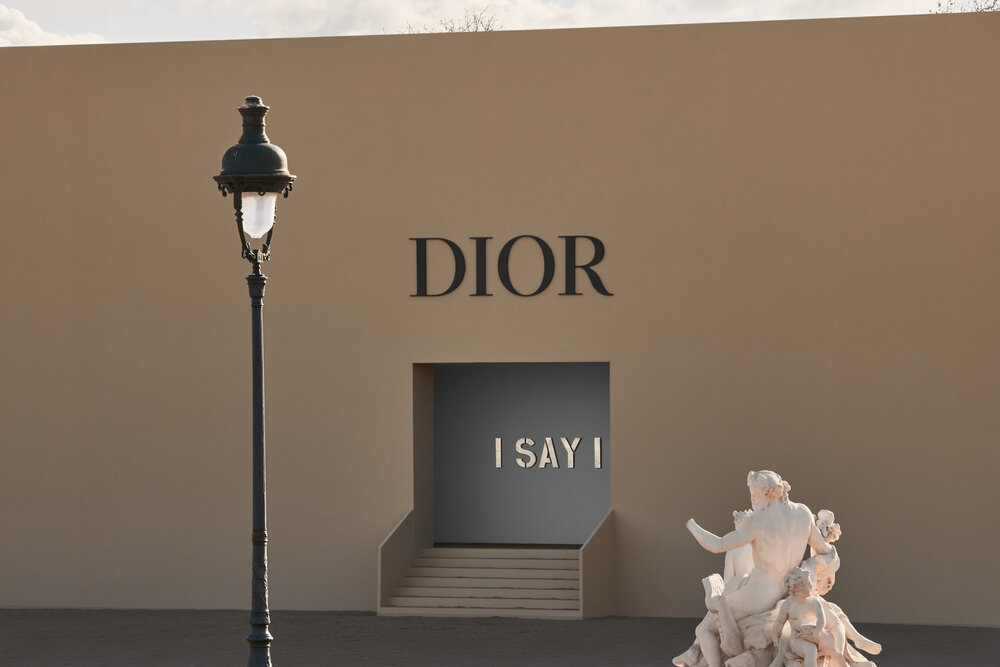 Otra cosa que me pareció impresionante es que el suelo estaba cubierto con 4000 páginas dobles en papel reciclado de Le Monde, un periódico vespertino francés fundado por Hubert Beuve-Méry y publicado en París desde 1944.
Another thing that struck me as impressive is that the floor was covered with 4000 double pages of recycled paper from Le Monde, a French evening newspaper founded by Hubert Beuve-Méry and published in Paris since 1944.
Después del desfile
After the show
Dior Institut
Por fin pude conocer este templo de belleza y relajación. Como era de esperarse, el color beige domina las instalaciones del lugar. En la entrada íconos como las rosas o cuadros, decoran el espacio en honor a Christian Dior. Amé el techo que es un espejo con cristales colgantes y cada una de las salas de relajación y cabinas de tratamientos. ¡No saben la delicia! Lo disfruté muchísimo.
I finally got to know this temple of beauty and relaxation. As expected, the beige color dominates the facilities of the place. At the entrance, icons such as roses or paintings decorate the space in honor of Christian Dior. I loved the ceiling that is a mirror with hanging crystals and each of the relaxation rooms and treatment booths. I really enjoyed this experience!
¡Gracias Dior por todo siempre!
Thanks Dior for everything always!
Con amor,
Sending you all my love,
PAM
Why do I stain my underwear?
. xoxo.