How We Spruced Up Our Hallway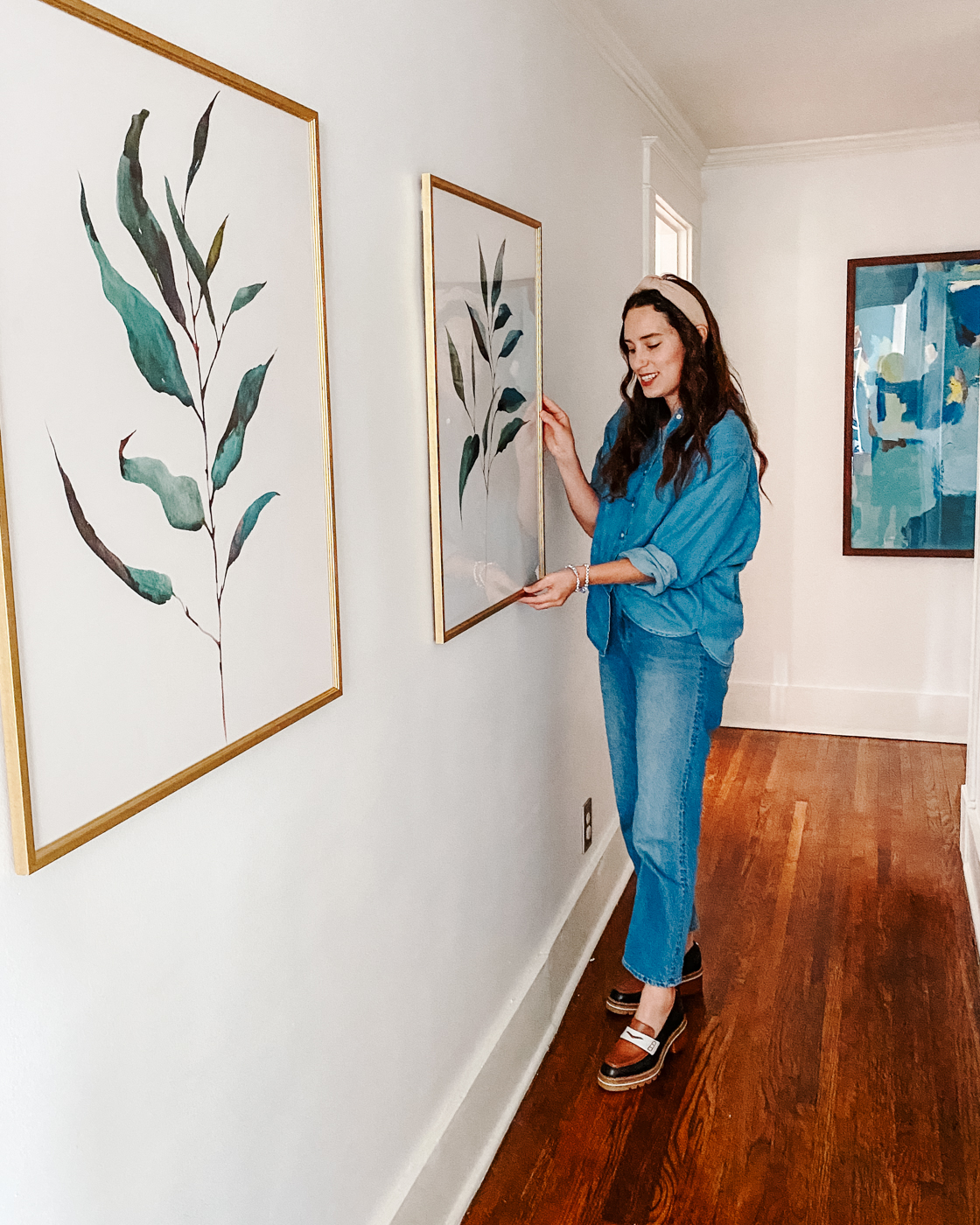 outfit details: chambray top // straight leg jeans // bernardo1946 heeled loafers // lele sadoughi headband

Turn on your JavaScript to view content
We've been in our Memphis home two years now. It still feels like yesterday that we signed our names on the dotted line and were given keys to the "red house." Those first few months – Patrick & I were ALL about home projects. We quickly got our house where we felt comfortable – style wise – knowing there was plenty of time for remaining projects in years to come.
Pregnancy, a new baby and a pandemic don't bode too well for home reno or DIY projects – let me tell ya! But I feel like we are finally in such a great place with the kids, having help, having them both back in school and what not. Bennett is almost one, busy busy busy and full of laughter & so much love. While I can't take my eyes off of him for a second when he's awake & exploring – in a way, things all around have just gotten easier now that he's a bit older.
And with that, I've been so thrilled to be finally taking on new opportunities on the blog, new projects in the home & getting myself back into a "grown up" routine. Finding yourself after the new baby haze is kind of like saying hello to an old friend again, don't you think?
But before I get into a tangent on that, I'm diving into the topic at hand today: how we're sprucing up our home. There are so many nooks in our house that have been overlooked in the craziness of these last 2 years. One being our upstairs hallway. This space took on quite the transformation all thanks to a few new framed fine art prints from Minted. Sharing more below!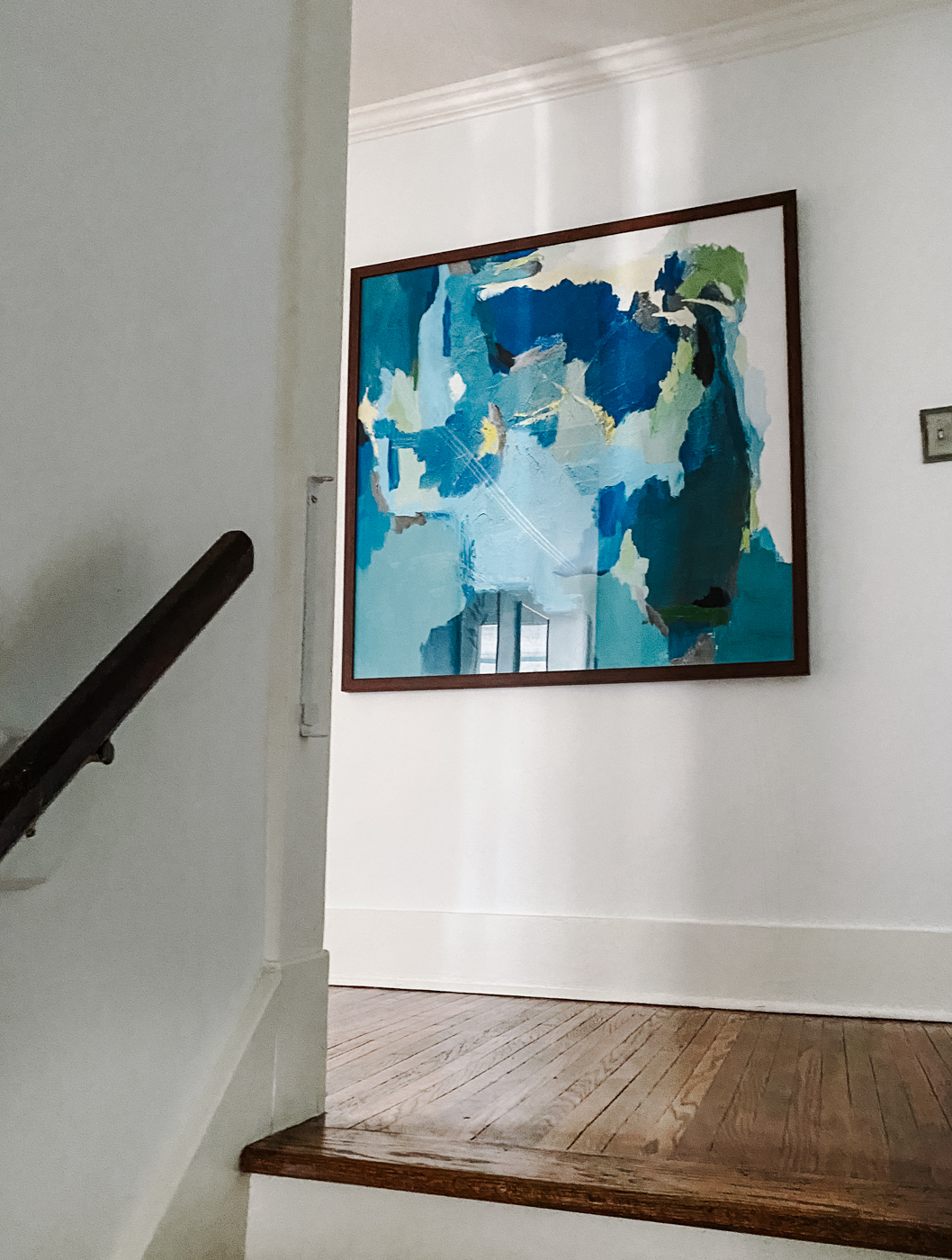 Taking Our Upstairs Hallway from Drab to Fab
Our second floor is home to two bedrooms, two offices and two bathrooms. A long winding hallway connects everything together and honestly for the last couple years it has become a catch all space. Hodge podge pieces of art purchased for specific spots in previous homes lined these walls. Nothing was really cohesive or even matched – but life was so busy we hardly noticed.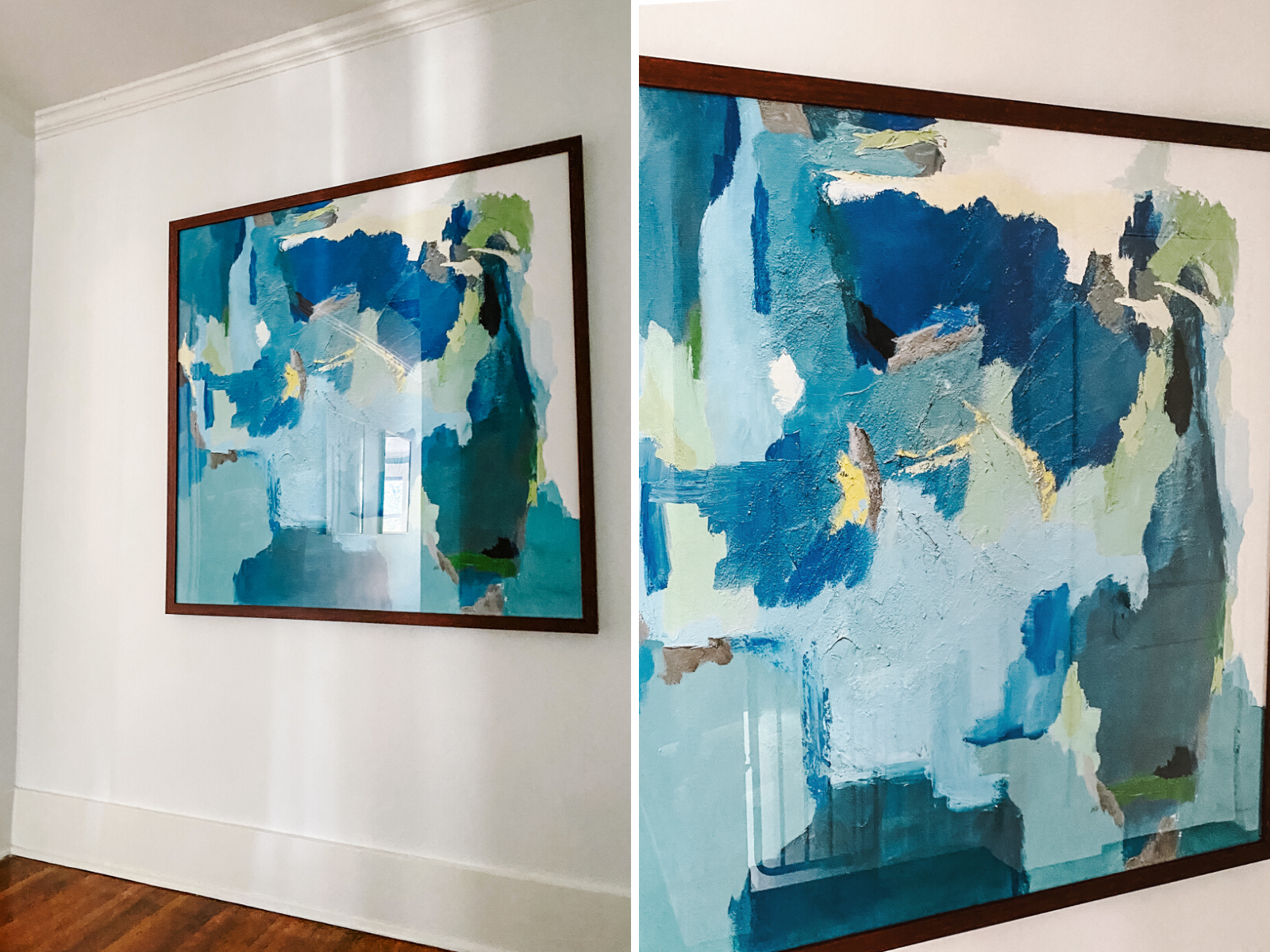 Why We Picked a Big Bold Oversized Piece
Oddly enough, our guest bathroom sits upstairs the top of the steps. We like our visitors to get their steps in when they pay a visit. *wink wink* (100+ year old homes sure have interesting layouts sometimes!) Knowing all of our houseguests frequent this space we wanted to find a larger than life piece of art visitors will see while as soon as they take the first step up.
Minted offers dozens upon dozens of fine art prints in large scale formats. The abstract piece we chose is called "Spring Arrives" and it is a contemporary take on welcoming color and pushing away the grays of winter. (Which speaks to me on so many levels.) You can order this print as small as 8″ x 8″ but we chose "44 x 44" with a walnut wood frame.
This larger than life piece takes ownership of the landing at the top of our hallway. You can see it from the bottom of the stairs and I absolutely love admiring it the whole climb up!
ps: so excited to share the code LONESTARFRAMES with y'all for 20% Framed Art + Free Shipping at Minted until 10/15!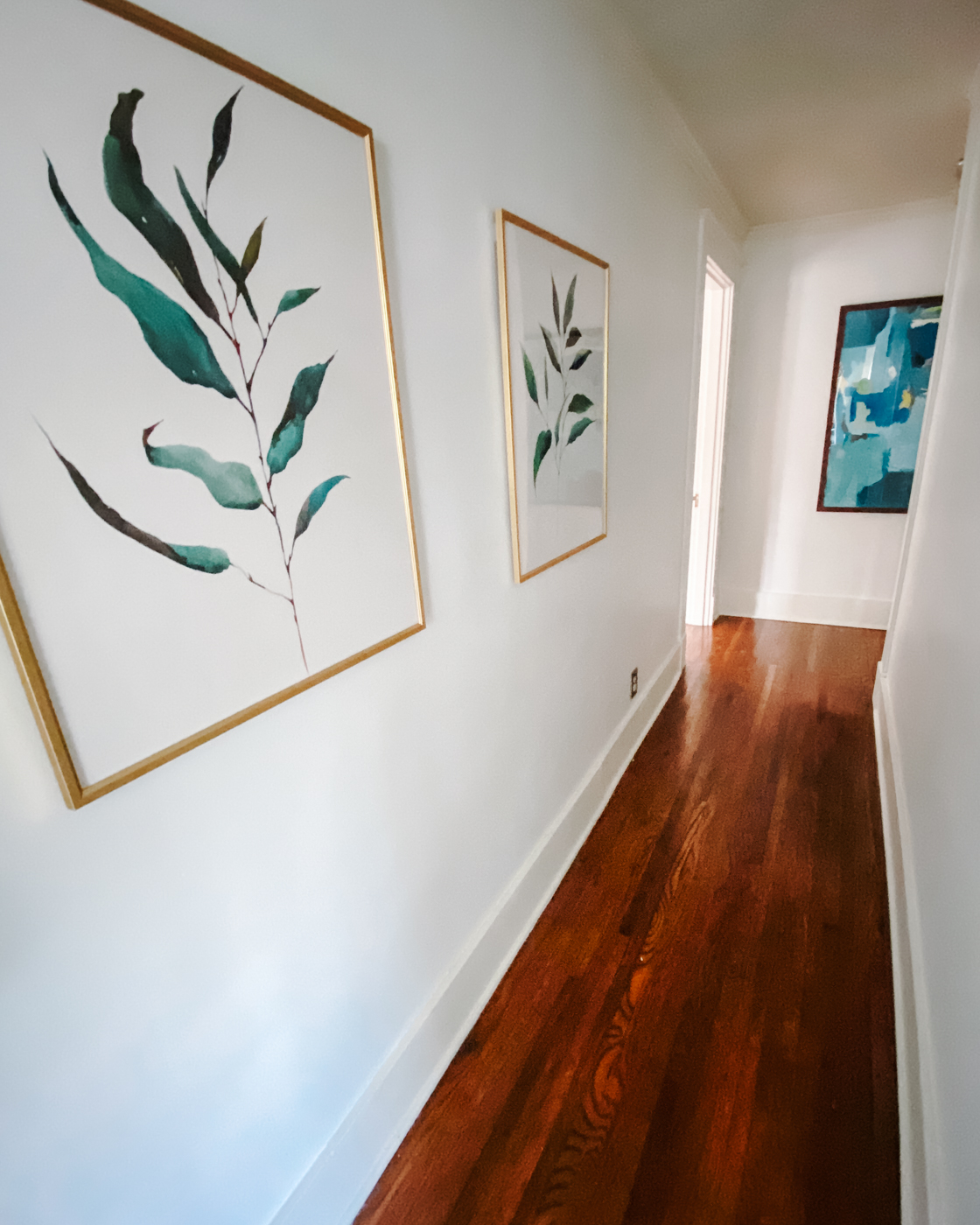 Turn on your JavaScript to view content
Filling a Large Empty Space with a Diptych
At the top of the steps you can go right or turn left … then left again taking yourself down a long hallway to my sunlit office. I frequent this hallway the most and wanted to find something simple, calm and a bit glam to greet me as I made my way to my desk each day.
I loved the idea of finding the perfect pairing – a diptych if you will – of two cohesive pieces. Framed in Gilded Wood, these Magnolia and Eucalyptus Foliage botanical prints fell both whimsical and modern. (Kind of like how I often feel.)  The come in prints as small as "5 x 7" and as large as "48 x 70."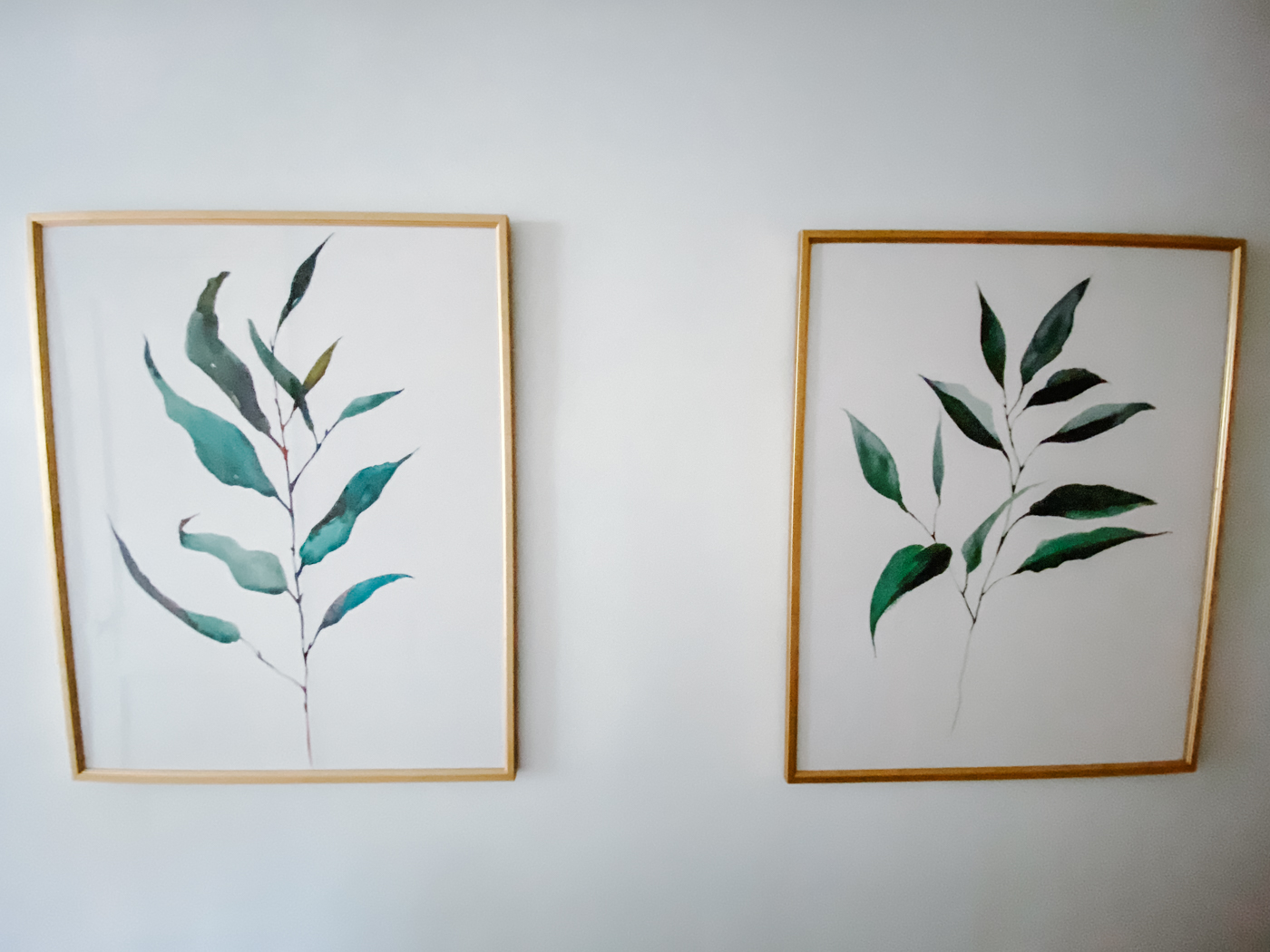 Minted is the perfect place to shop and discover limited edition art by independent artists. When searching for the right piece, you can filter by size, color and general style – making finding the ideal wall mural or accent art all the easier. I also love how each piece of art includes a tidbit about the artist and the story behind the piece. I love interpreting things in my own way but having a special tidbit from the artist automatically gives you a story to tell too.
—
Don't forget to use the code LONESTARFRAMES for 20% Framed Art + Free Shipping until 10/15!
—
Big thank you to Minted for these lovely pieces. They have truly transformed this space! Thank you to you all for stopping by the blog and supporting the brands that make Lone Star Looking Glass possible.
The post How We Spruced Up Our Hallway appeared first on Lone Star Looking Glass.
What does naughty but nice mean
. xoxo.