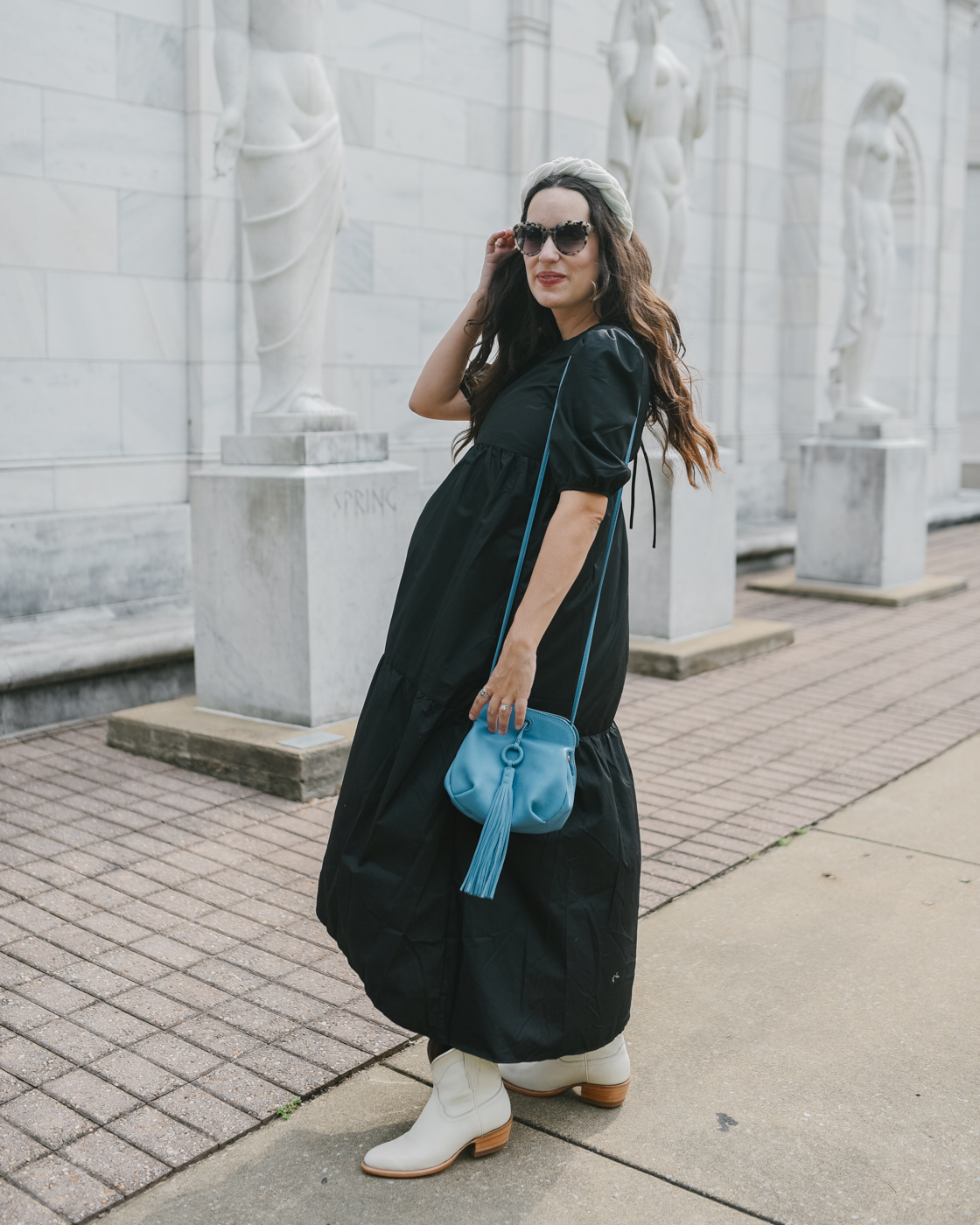 Turn on your JavaScript to view content
I sure do love my cowboy boots! But it's taken me longer than I'd like to admit to "dip my toes into" the white cowboy boot trend. My original thinking was these boots would be harder to style, but now that I've tried them out myself it seems like there's nothing more versatile than a pair of white boots!
I'm sharing my take on "maternity western wear" with a pair of white cowboy boots in today's post. Also chatting about what makes these beautiful boots from Tecovas stand out! More below ….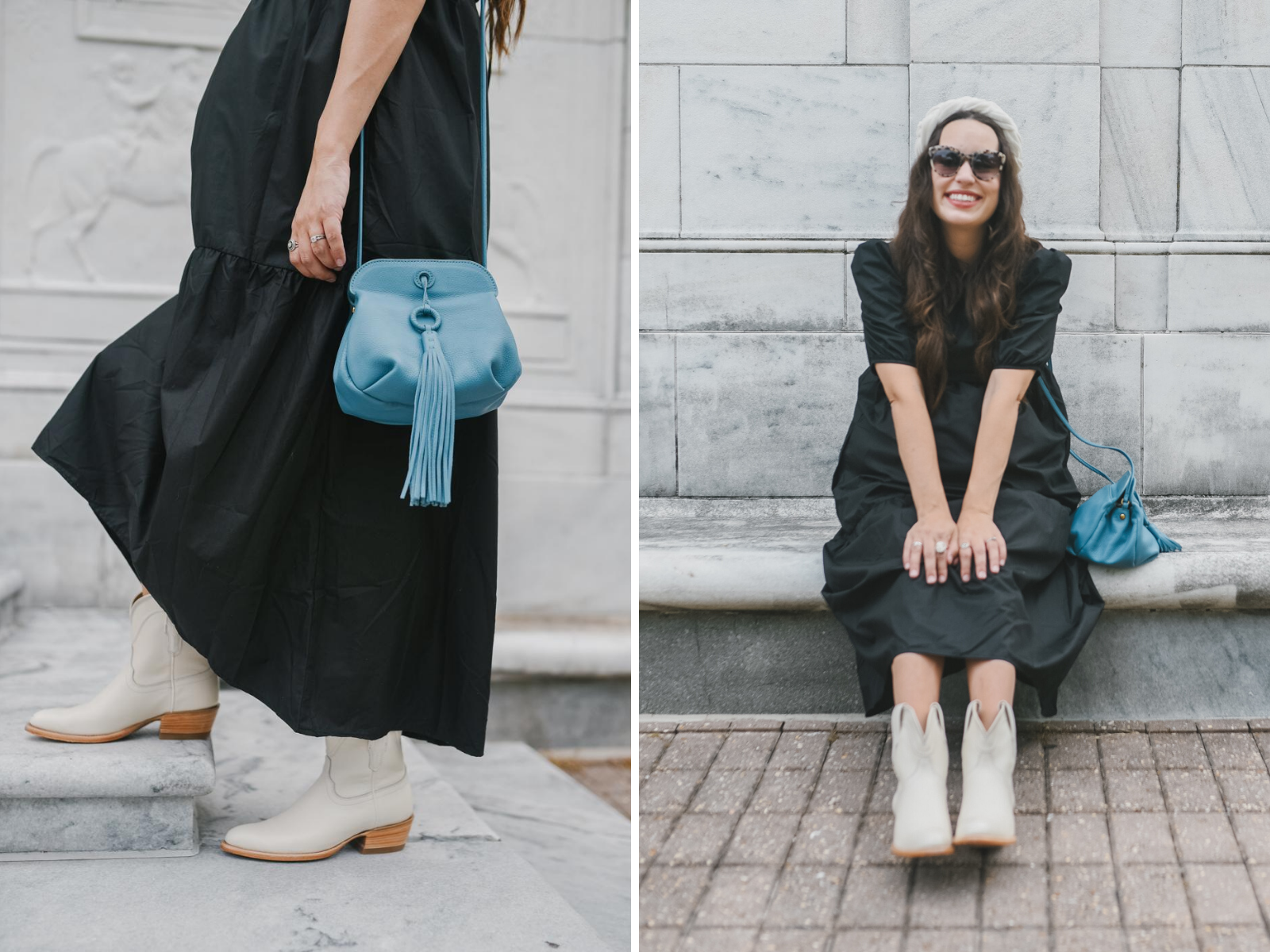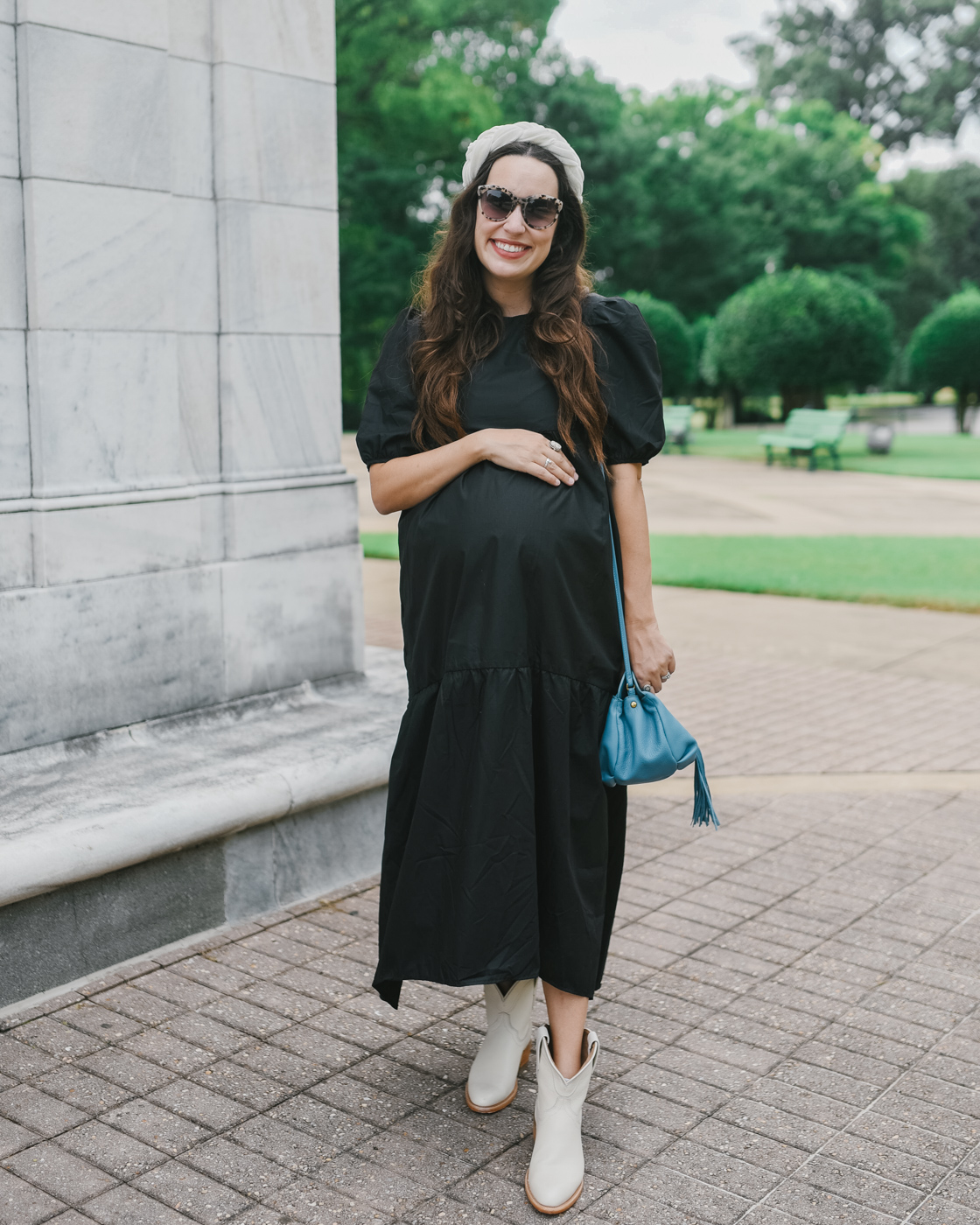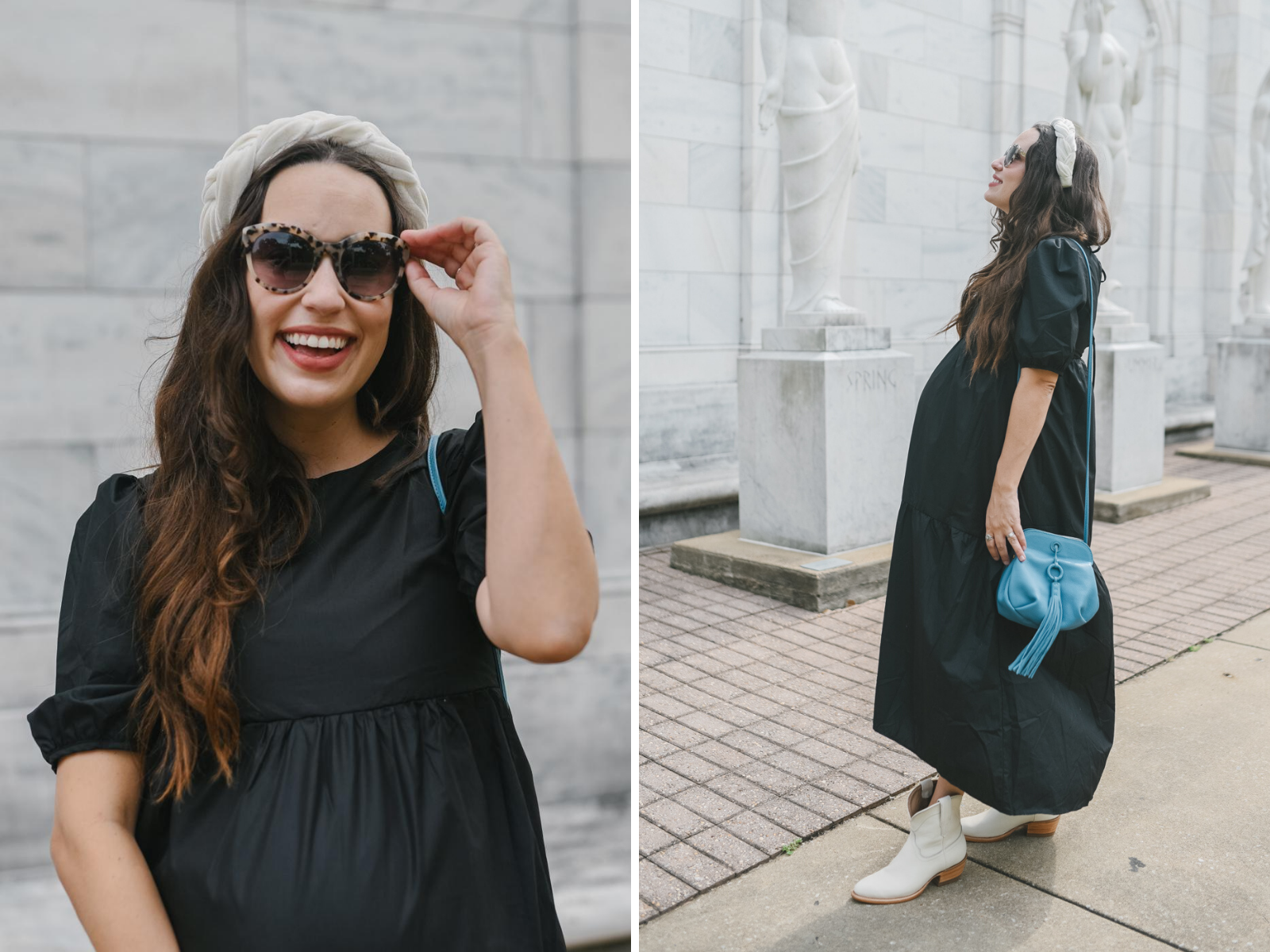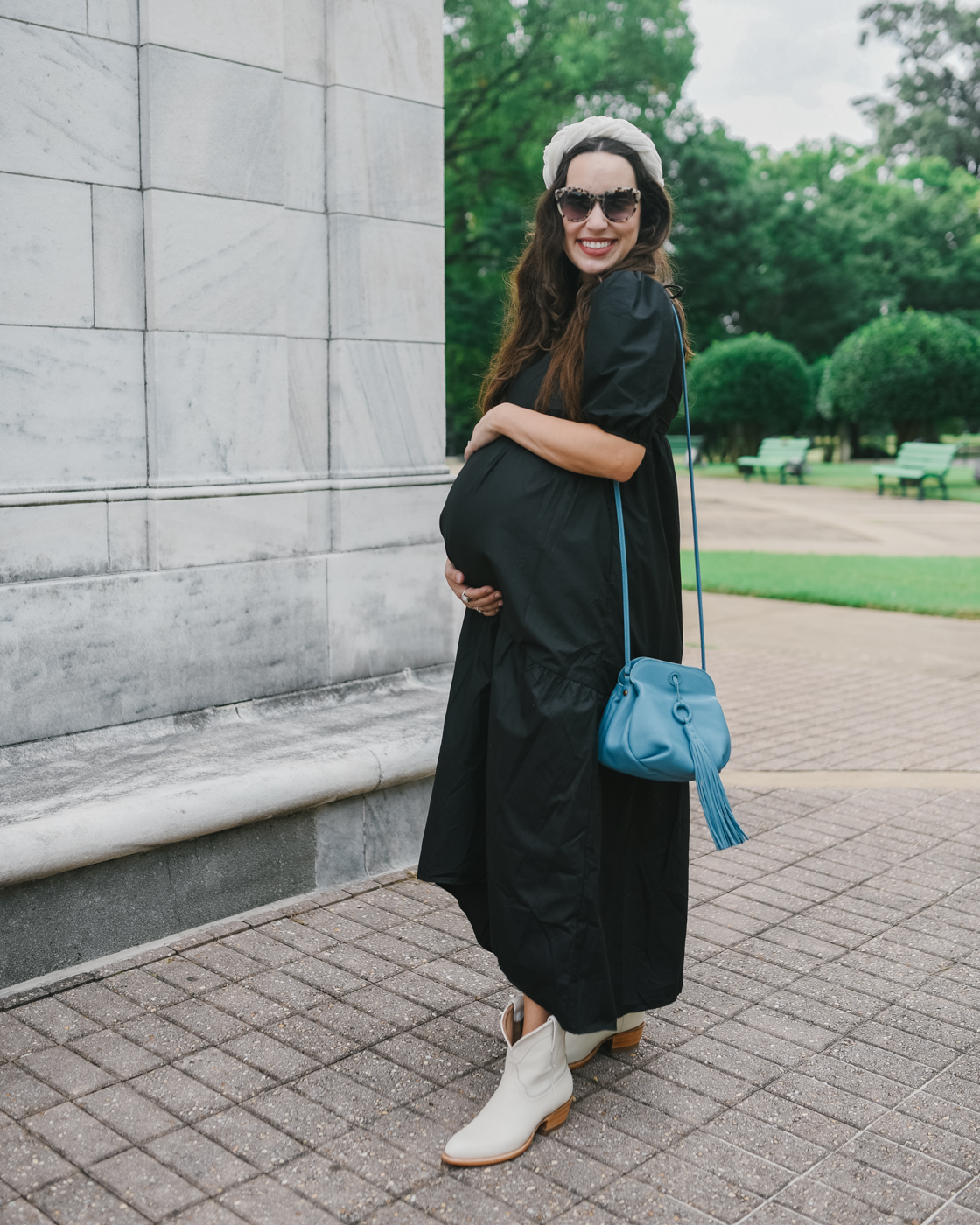 Shop the Look:

Turn on your JavaScript to view content
I'll be honest, when I slipped on these boots for the first time I held my breath, crossing my fingers that my 35-week pregnant feet would fit inside them. Thankfully, my feet haven't swollen past the point of recognition and I can still wear my cowboy boots! I picked this pair out knowing fall weather was on my horizon and I can't possibly resist a quality cowgirl come boot come autumn!
The Best Brands of Boots
I certainly have a lot of favorite boot brands when it comes to cowboy boots. Lucchese, Heritage Boots, and Tecovas are definitely my top three and each offers a completely different quality product. Tecovas Penny Boots are my typically go-to pairs for more casual easy and everyday looks. The leather feels like butter – even from the moment you slip the boots on for the very first time. They're also a pair of boots I can adventure in all day long – in the utmost of comfort too. I have a couple pairs in this Penny silhouette already and am thrilled to be adding white to my rotation!
How to Style White Boots for Fall
The beauty of a white boot is that it goes with any color in your wardrobe. I liked the monochromatic effect of this ensemble and paired them with a billowy black midi dress. To balance out my boots, I added a matching white headband. (This velvet one comes in a 3-pack from Amazon.) If headbands aren't your thing, statement white sunglasses would also be a great accessory to balance out your white boots.
Throw out the notion that you can only wear white after Labor Day, because these boots will look fabulous come fall! They had a touch of softness to any denim ensemble, will look great with tights and even paired with your heavy winter coat.
How would you style a pair of white cowboy boots!?
—
As always, thanks for stopping by the blog! xo, alice
The post How to Wear White Cowboy Boots appeared first on Lone Star Looking Glass.
What does naughty but nice mean
. xoxo.