How To Decorate For The Holidays When You DON'T Have a Christmas Tree
This year we decided to forgo the Christmas tree. The decision is based on the simple facts that 1) it's a pain to set up, and 2) our cats love to chew on the branches. 
Every year it's a battle to keep Marvin and Theo out of the tree. 
Trust me when I say that we've resorted to everything from spraying them with water to wrapping the tree up in a blanket when we're not around to supervise them. 
I'm well aware that wrapping a Christmas tree in a blanket is ridiculous and yes, it's a total eye-sore but what else can we do?
Without fail, they always manage their way under the blanket and it's not until we hear little munching sounds that we realize what they're up to. 
Between the cat's weird fixation on eating plastic trees and our sheer desire not to want to deal with it, I jumped onto Pinterest in search of alternative Holiday decor inspiration that's minimal and chic. 
Sure, it feels a little weird not having a tree this year but the truth is I don't miss it one bit.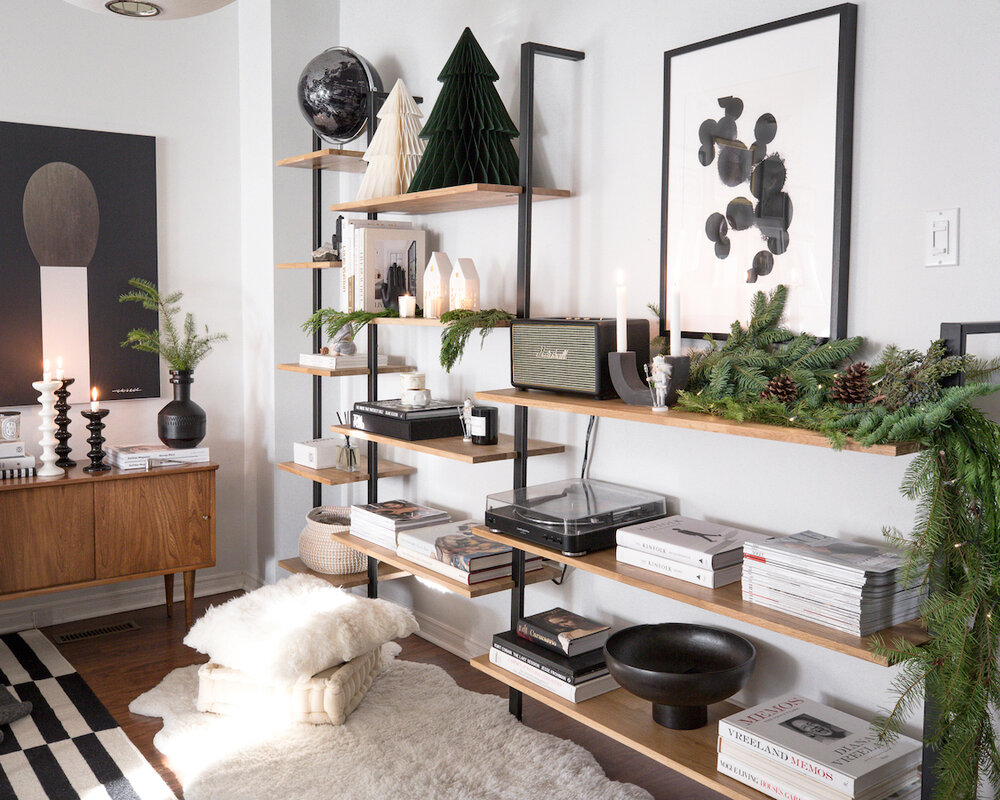 TIPS ON DECORATING WITHOUT A CHRISTMAS TREE

Start by gathering inspiration. I love PINTEREST for this.

Find commonalities in the photos you're drawn to.

Start decorating. Store anything you don't need to make room for anything holiday-themed. 

Keep it simple and minimal. Set up will be easier and so will clean up when the holidays are over.

Have a focal point. Mine is the bookshelf where I put two large paper trees (from INDIGO $28-$33), a couple of cermaic houses (also from INDIGO), some garland, and holiday scented candles.



This leads me to the next tip - incorporating garland, fresh cedar, and spruce branches into your decor will automatically transform your home into the festive spirit. I got mine at my local grocery store for $8/ bundle. Cheap, cheerful, and impactful.



Try incorporating more candles into your decor. My favorites for the holidays are by NEST NEW YORK. They come in amazing scents like HOLIDAY and BIRCHWOOD PINE. 


If candles aren't for your thing but you want to add the scent of the holidays to your home, check out the NEST collaboration with PURA Smart Home Fragrance Diffuser Device ($120 CAD at Sephora). I have one and love being able to control the intensity of the fragrance through my iPhone. 


Finally, if room sprays are more your thing, check out 13 DESSERTS from L'OCCITANE ($34 CAD). It's a warm scent with notes of Sweet Orange, Thyme, Cassia, Cinnamon, Patchouli, and Whisky Accord. Very festive and sophisticated.
This post features affiliate links. f you choose to buy something, I will get a small commission from the sale. This doesn't impact the price you pay. Affiliate links are just another way to monetize my blog.
---
---
LATEST VIDEOS FROM WOAHSTYLE
---
LATEST VIDEOS FROM LIPSICK.ME
Thanks for reading
too chic and cute
post. xoxo.