The bookshelf in my living room has been in desperate need of a makeover for some time now.
Slowly over time, it had turned into a dumping ground for all of my random nicknacks, and, as you can see from the before picture below, it was looking very disorganized and unappealing.
Just like when I need outfit inspiration, I jumped onto Pinterest (@woahstyle) in search of "minimal bookshelf decor ideas" and started putting together a mood board.
Based on the type of photos I was drawn to, I knew I had to scale back the amount of stuff on the shelves in order to achieve a minimal aesthetic.
I had also chosen a black and white color palette which meant I had to scale back color.
This was going to be hard considering, 1) how much stuff I have, and 2) that I'm inherently not a minimalistic type of person.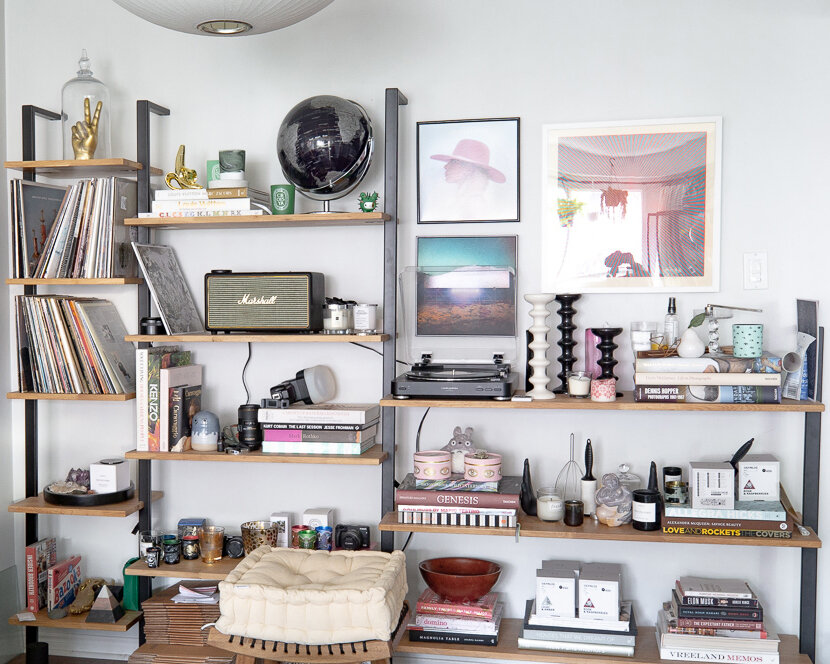 As you can see from the before photo, I already have a lot of stuff so my goal was to work with what I have.
A couple of things I should mention - in this redecorating challenge, I didn't want to go out and unnecessarily buy anything new.
2020 has been my low-buy year and my goal has been to shop more mindfully. It started with my closet but I've since applied the principal to every aspect of my life.
With that in mind, I went around each room of my house and gathered up as many black and white accessories that I could find and started working on my minimal, Scandinavian inspired bookshelf.
Here's how I did it.
HOW TO DECORATE A SCANDINAVIAN INSPIRED BOOKSHELF
MAKE A MOODBOARD - It's no secret that Pinterest is my favorite place to gather inspiration. I pay attention to the commonalities in the types of images that I'm pinning so I can incorporate them into my own space. For my bookshelf, I was drawn to a clean and minimal aesthetic in a monochrome color palette.


START FRESH - With my mood board in tow, the next step would be to tackle the cluttered bookshelf. I started by removing everything, including wall art. This gave me a chance to curate what items would now be living on the shelves, but also to clean and dust.


CREATE A DESIGNATED YES AND NO PILE - When removing everything off the shelf I sorted items into yes and no piles. Colorful items automatically went into the no pile, while all black, white, and neutral decor went into the yes pile.


START DECORATING - Working on one shelf at a time, I laid down a couple of statement pieces and kept the surrounding pieces pretty neutral. I also referred to my mood board along the way, which I found to be incredibly helpful.


STEP BACK & ASSESS - The first few shelves came together surprisingly easily but then I got stuck on the middle shelves. I stepped away from everything and came back to it the next day with a fresh set of eyes, and after tackling it for another hour I realized that I didn't have anything in my collection to create the visual interest I was after. With that, I headed over to Indigo with a budget in mind and ended up finding a couple of vessels and candleholders with interesting shapes (in my monochromatic color palette of course), and go figure, those pieces brought everything together.
Overall I love the finished look of my bookshelf and even Geoff mentioned that he's digging the minimal decor. 
The cohesive black and white color gives the space a more sophisticated air and overall elevates the look of our living room. 
With that done, I think I'm ready to tackle the next project. Decorating for Christmas!
---
SHOP MY FAVES HOME DECOR PIECES & COFFEE TABLE BOOKS
Terracotta Vase with Glaze, Indigo $22.50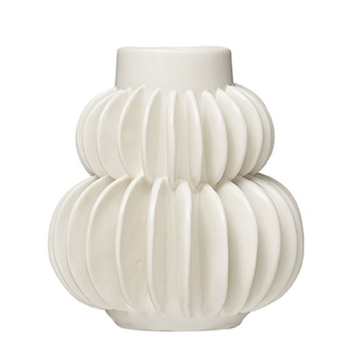 Handmade pleated stoneware vase, Indigo $54.50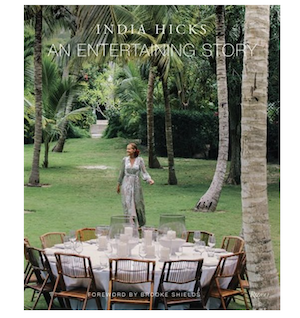 An Entertaining Story by India Hicks, Indigo $67.50
Teak Wood and Black Resin Bowl, CB2 $50
Helix Wall Shelf, CB2 $219
Limestone Knot, Target $20
Pancha Tantra (updated edition) by Walton Ford, Indigo $105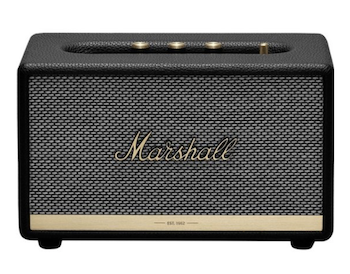 Marshall Bluetooth Speaker, Best Buy $245
Terracotta Vase with White Glaze, Indigo $22.50
Paddywax Tealigh/ Taper Candle Holder, Indigo $12.50
Paddywax U Shaped Candle Holder, Indigo $19.50
Terracotta Vase with Glaze, Indigo $22.50
Terracotta Vase with Glaze, Indigo $22.50
Terracotta Vase with Glaze, Indigo $22.50
Architectural Digest at 100, A Century of Style, Indigo $113
Lula Abstract Print, Minted $197 (framed)
Black Pedestal Bowl, CB2 $60
This post features affiliate links. f you choose to buy something, I will get a small commission from the sale. This doesn't impact the price you pay. Affiliate links are just another way to monetize my blog.
---
---
LATEST VIDEOS FROM WOAHSTYLE
---
---
LATEST VIDEOS FROM LIPSICK.ME
Thanks for reading
too chic and cute
post. xoxo.