Hermès Evelyne PM Bag Review feat. LXRandCo
Over the past couple of years, I've moved away from trendier bags and started collecting more of the classics - Loewe, Chanel, Louis Vuitton, and now, Hermès.
While I hadn't planned on owning an Hermès for another couple of years, I decided to go for it after coming across the beautiful Hermès Evelyne PM bag at LXRandCo.
I had spent years collecting trendy designer bags only to sell them later, so why not invest in a timeless brand like Hermès? 
For those not familiar with LXRandCo, they're a luxury retailer that has an assortment of modern vintage bags and accessories from Balenciaga, Bottega Veneta, Celine, Chanel, Dior, Givenchy, Goyard, Gucci, Hermès, Louis Vuitton, and Saint Laurent to name a few. 
Unlike some other online pre-loved retailers that I've shopped from in the past, LXRandCo has an option to filter the location of where your item is coming from. So for example when I was looking at Hermès bags, I set the filter so that I was only looking at items shipping from Canada, which meant I wouldn't have to worry about customs or duties. 
After setting the filter Location to Canada, a couple of Evelyne bags popped up on my screen. They had a beautiful white canvas Evelyne available but it was in the GM size which probably would have been too big for my liking.
---
Use promo/discount code NATHALIEM20 to receive 20% off any item on lxrco.com. (Does not apply on Hermès Birkin, Chanel, and Home Goods. 1 per customer.)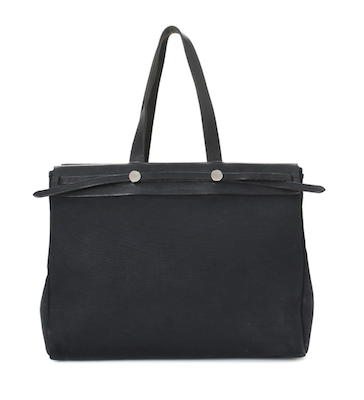 ---
After careful consideration, I decided on the classic Hermès orange in the PM size. Not only is the PM better suited for my petite frame, but the colour is everything that Hermès dreams are made of. 
I've heard so many amazing things about the Hermès Evelyne but it wasn't until I used the bag for the first time that I truly understood it. 
While most of the designer bags in my collection score high on design, the Evelyne bag scores 10/10 for design and function. Here's why:
It's lightweight so that you don't have unnecessary extra weight on your shoulder. 

The cotton strap is sturdy. Even though it's thicker than the strap on my Loewe Puzzle bag, this one stays on my shoulder and doesn't slide off because it's made of webbed cotton versus leather.  

There are no interior or exterior pockets, however, it fits my Louis Vuitton Toiletry 19 pouch perfectly so that I can store small items like lipstick safely in the bag without having to dig around. 

The understated design is elegant which makes it truly versatile, and it suits my personal style perfectly. I can see myself wearing this bag all year long through all four seasons. 
I've been fortunate in collecting various handbags throughout the years and I'd say that the Hermès Evelyne PM is probably the perfect everyday bag. And in case you're curious, mine is in the Evelyne I PM in Orange, Epsom leather with palladium hardware. 
---
DISCLAIMER: Thank you to LXRandCo for sponsoring this post. All opinions are my own.
This post features affiliate links. If you choose to buy something I will get a small commission from the sale. This doesn't impact the price you pay. Affiliate links are just another way to monetize my blog.
---
---
LATEST VIDEOS FROM WOAHSTYLE
---
---
LATEST VIDEOS FROM LIPSICK.ME
Thanks for reading
too chic and cute
post. xoxo.