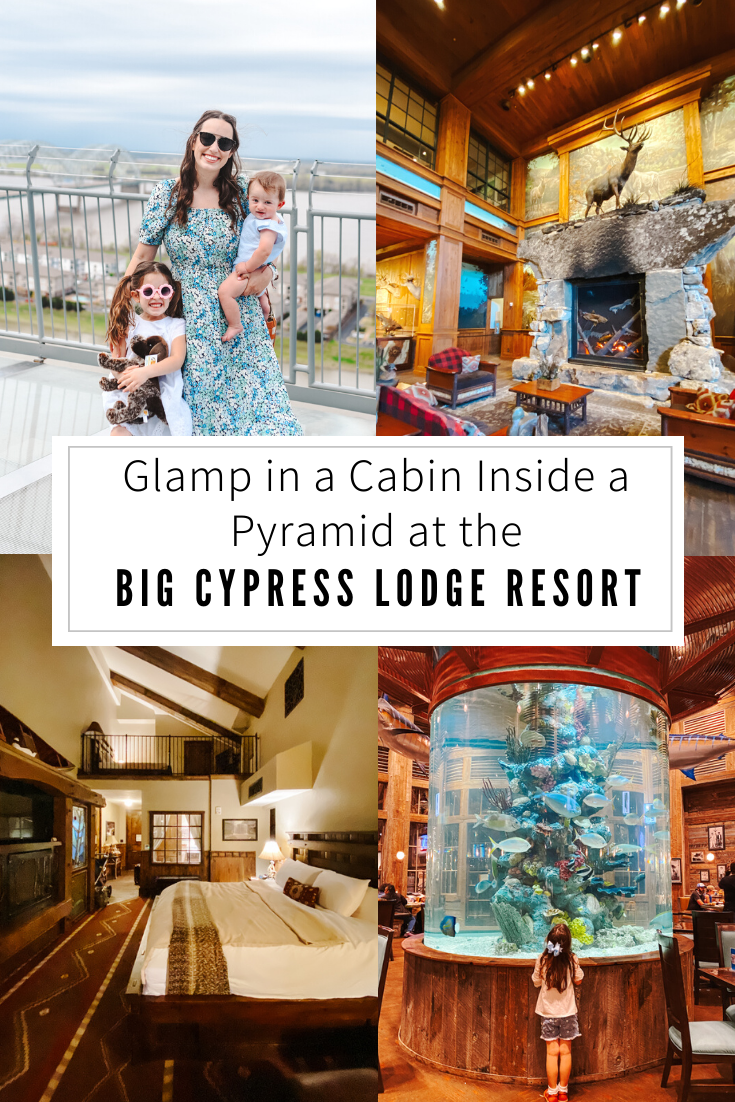 There are many hidden gems in Memphis, Tennessee – and Big Cypress Lodge is one of the shiniest! You would never know just by looking at it that the famous Memphis Pyramid, nestled on the banks of the Mighty Mississippi, is not only home to the biggest Bass Pro Shop in the US, but also an indoor wilderness-inspired resort too.
Tucked away in what once housed spotlights and sound systems (the Pyramid was formerly an arena and live music venue) is now home to a plethora of cozy cabins inviting guests to sit and stay for a while. We spent an evening with the kids at Big Cypress Lodge for the ultimate family-friendly staycation. I'm sharing a look into our recent stay and all the reasons why a night (or two) here makes for the ultimate family getaway!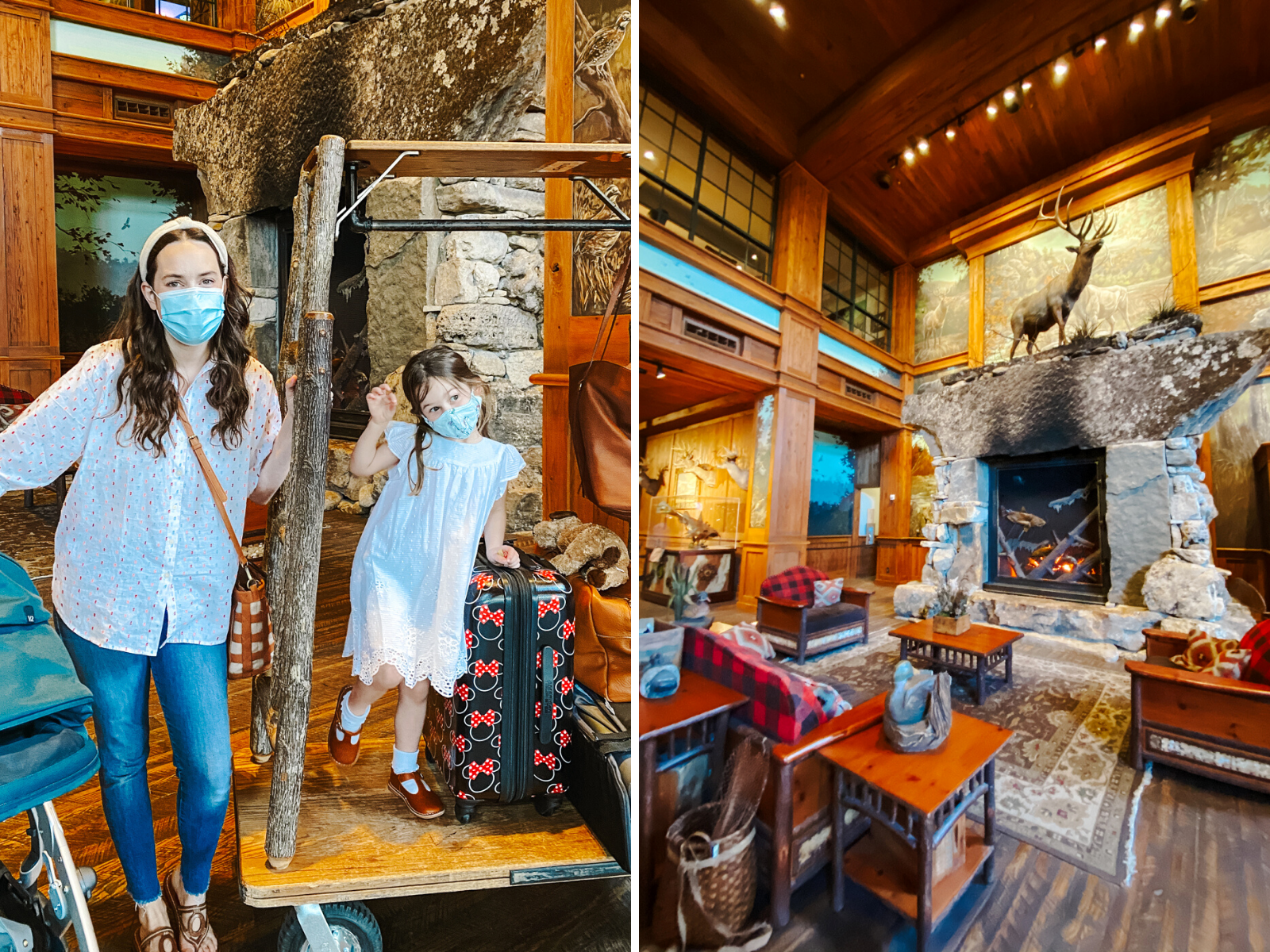 A Nature-Lover's Oasis
If you've followed my family for a while, you know we love the outdoors! We are avid campers and can't resist nature-inspired getaways. As soon as I heard about Big Cypress Lodge, I knew it would be right up our alley.
Taking a step through the pyramid's sliding glass doors is like taking a step into an adventure. Visitor's are whisked away to the great outdoors – but inside where the weather is always perfect.  The ambiance really is so fun! Minutes into checking-in the four of us felt worlds away from bustling downtown Memphis.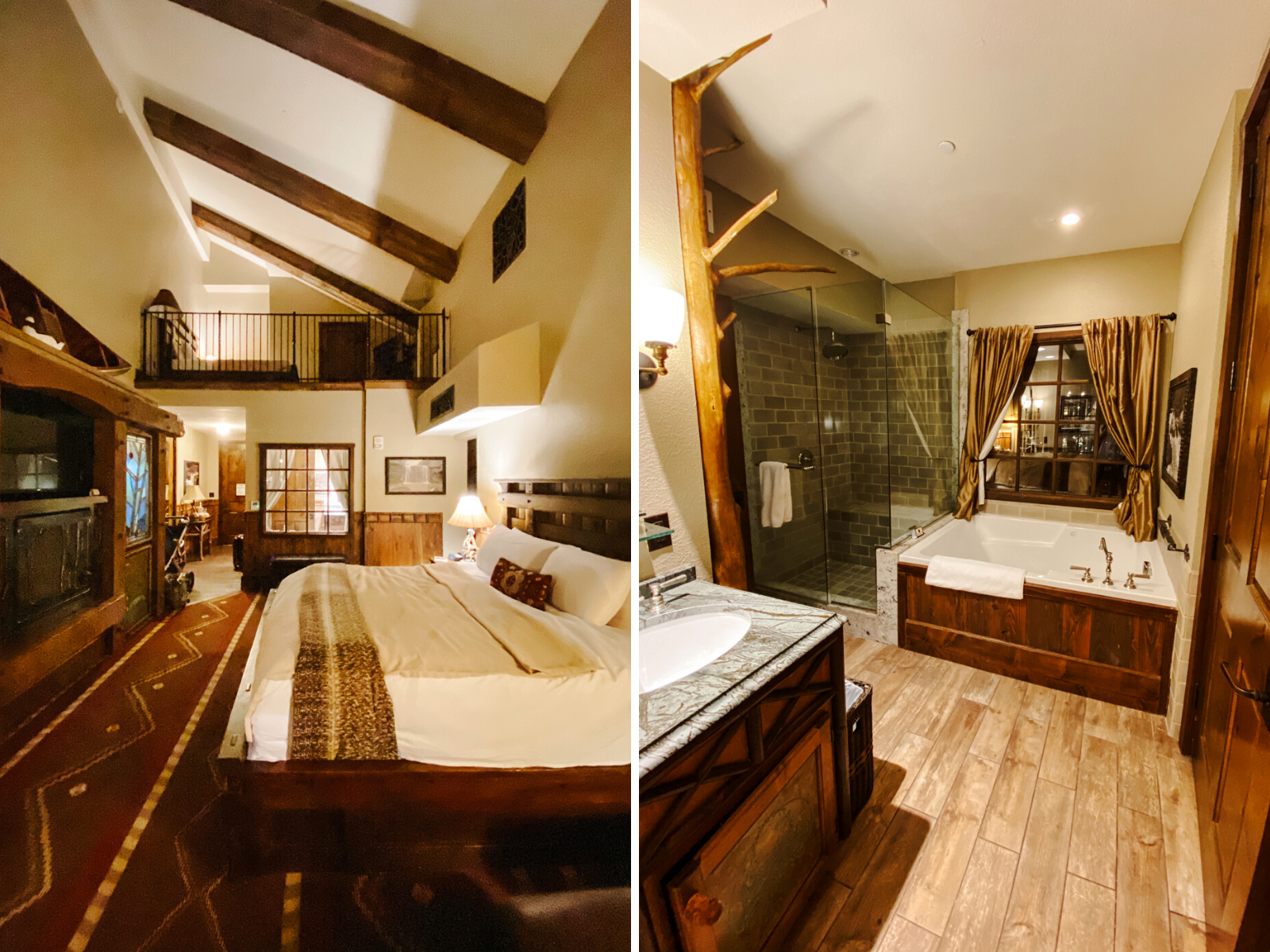 Check into a Cozy Cabin
One of the most fun aspects of the entire resort is the themed rooms. Big Cypress Lodge boasts over 100 rooms all with their own unique spin. You can reserve a private cabin, treehouse retreat or a large lodge fit for a large family.
We stayed in one of the Fly Fishing Lodges which was absolutely perfect for our family of four. The room features a walk-in shower, jacuzzi style tub and a lofted room upstairs accessed by a spiral staircase – which Annie adored. The private balcony came complete with rocking chairs and a dining nook.  We loved cozying up here with our morning coffee and taking in the view!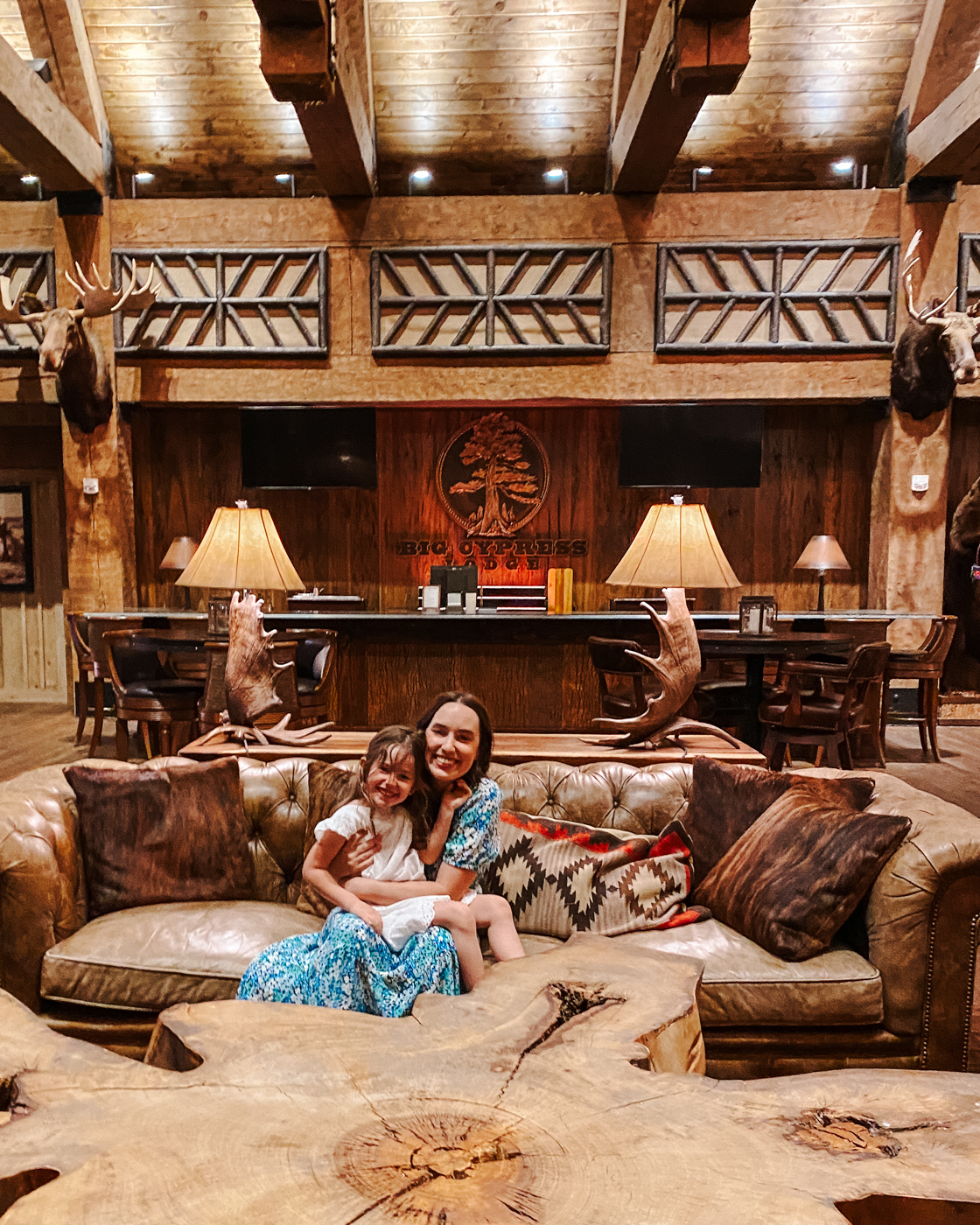 Oodles of Places to Play
The guest room at Big Cypress Lodge are so lovely making it hard to ever want to leave! But there really is SO much to see and do around the resort that you can't miss. The upstairs lobby boasts a bar that is a great place to mingle, order a drink & stay for a while. Patrick and I grabbed a glass of wine after dinner and enjoyed them from the rocking chairs. Annie was content to play steps away with the communal checkerboard set.
There were numerous games and activities scattered about the resort for families with kids to enjoy And let's be honest, when the kids are entertained is when the grown ups get to have their own fun too.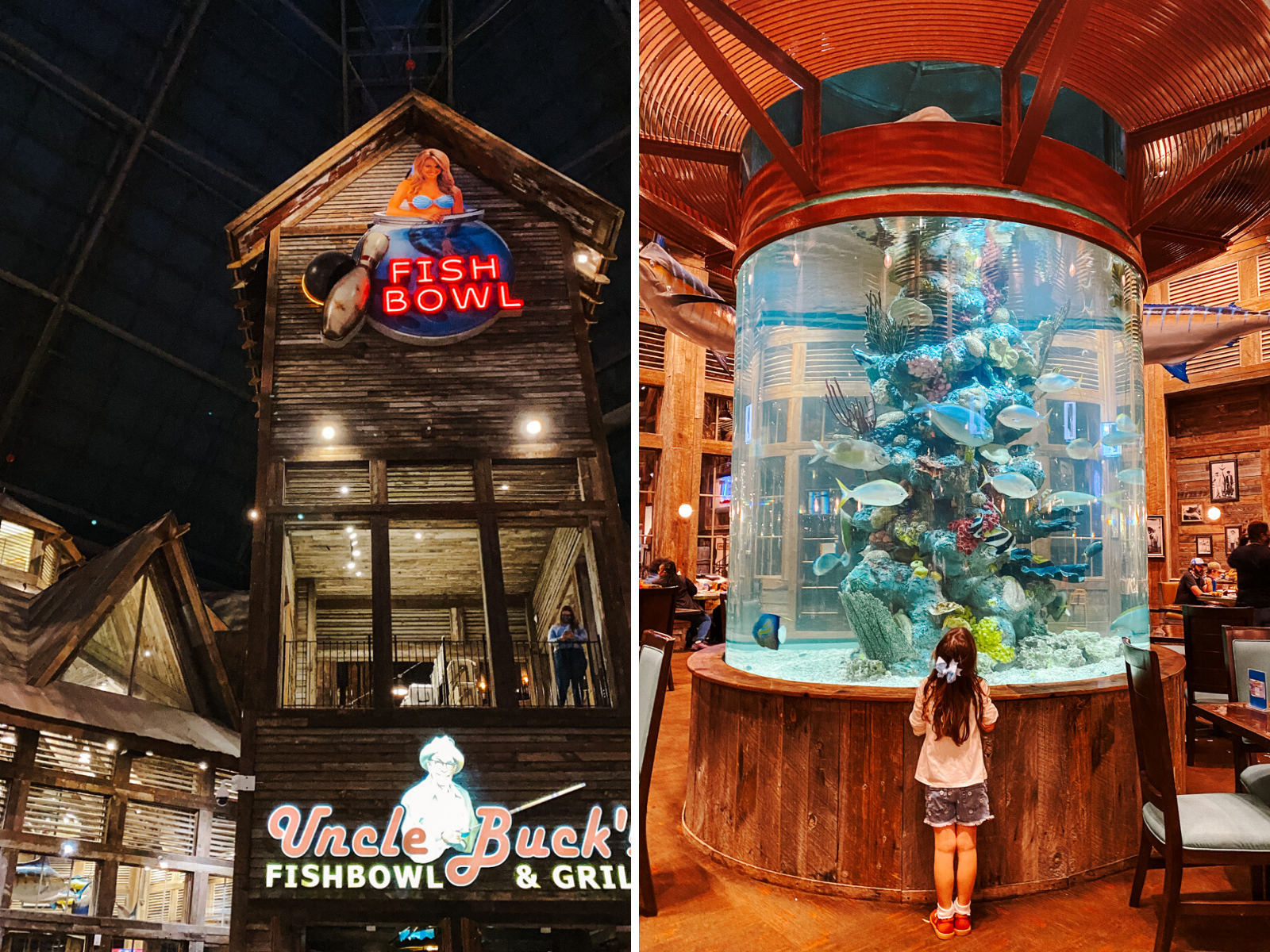 Dinner at Fishbowl
There are a number of different places to dine at Bass Pro Shop and Big Cypress Lodge. Fishbowl is on the lower level and attached to an underwater-themed bowling alley. Dinner out with a preschooler and a 6-month old baby can be a little risky so we were glad to feel all of the good family-friendly vibes at Fishbowl.
The aquarium in the restaurant's center kept Annie entertained while we waited for dinner. She ordered sliders and Patrick and I ordered scrumptious spicy chicken sandwiches.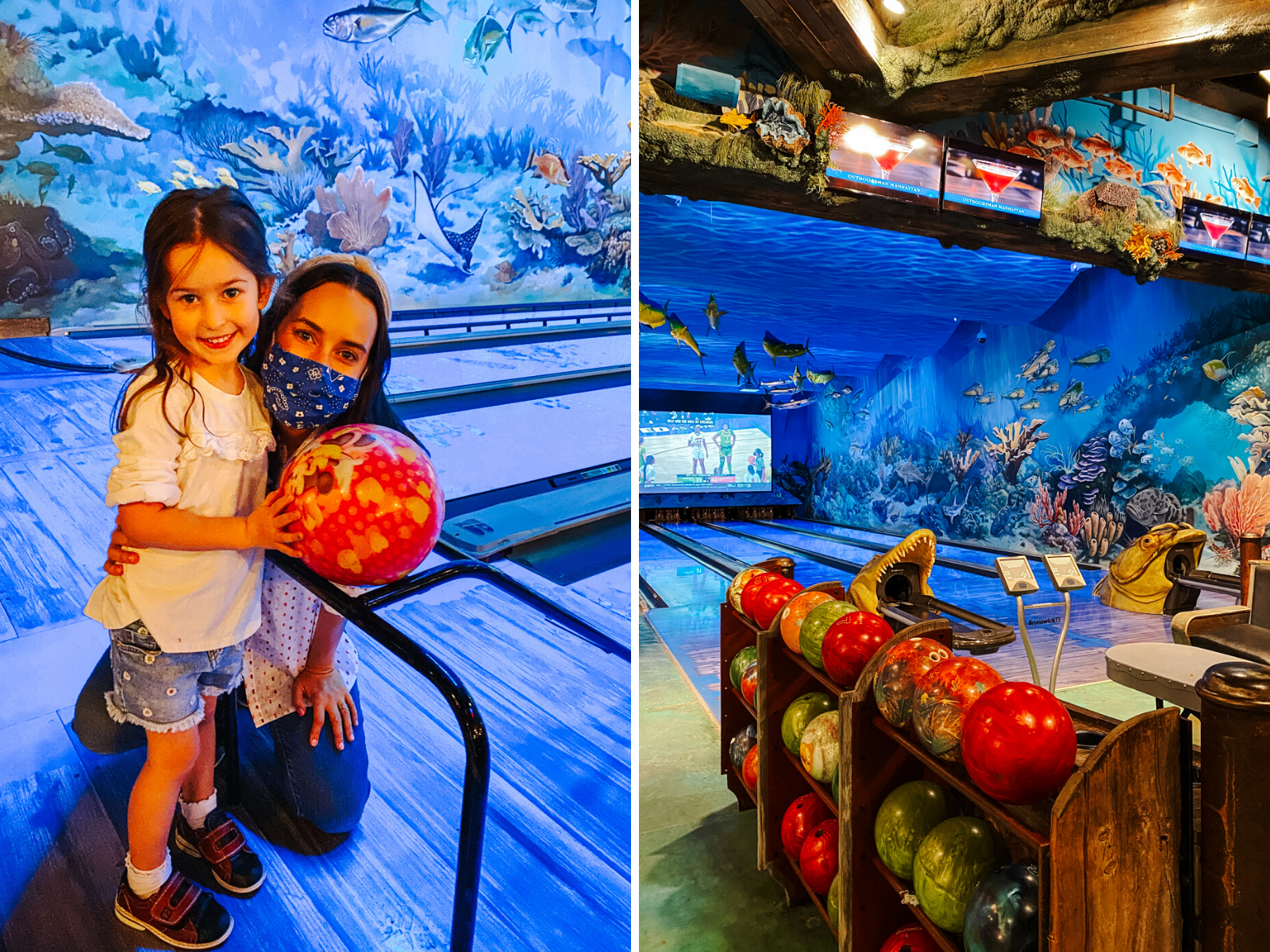 A Bowl of Fun
Fishbowl Bowling Alley has 13 underwater-themed lanes adorned by sea creatures of all sizes. We grabbed a lane before dinner and ordered happy hour drinks & appetizers to munch on while we took turns bowling.
Patrick won the game but it felt fair for everyone thanks to the lane spacers and the kid-sized bowling ramp. Watching Annie giggle with glee when her ball would knock down the pins was too much fun!!
Reservations are first come first serve and a 1-hour lane rental is $32 per lane.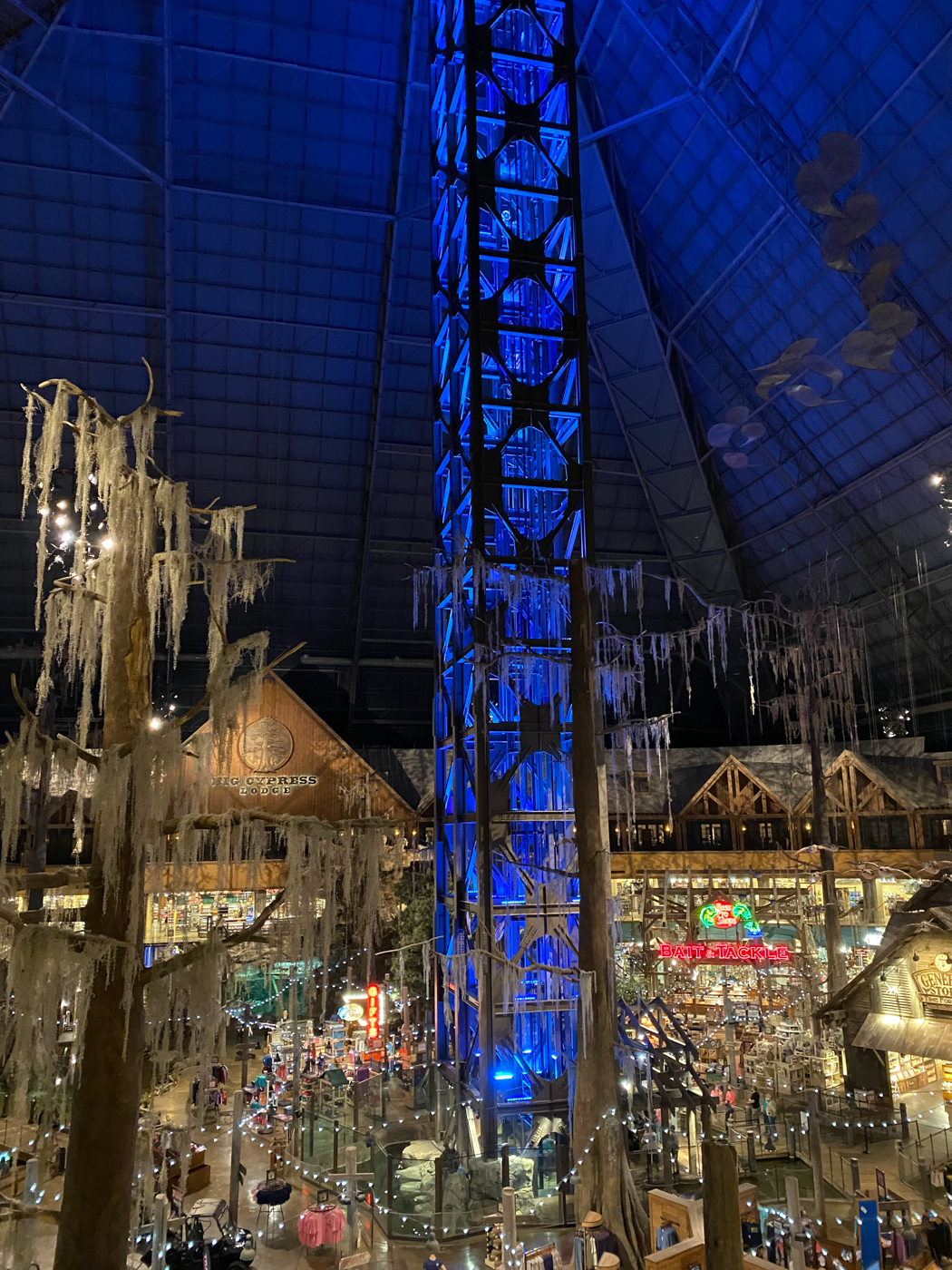 Take a Ride to the Top
Our staycation at Big Cypress Lodge was just for the night but the next morning we found ourselves …. just not wanting to leave! Luckily there was still so much to see, do and explore before we had to hightail it back home.
Bass Pro Shop at the Pyramid is home to the United States' largest free standing elevator. It takes guests 300 feet into the air to a Glass Observation Deck and restaurant at the top of the Pyramid. Complimentary Sky High Ride passes are included with a stay too.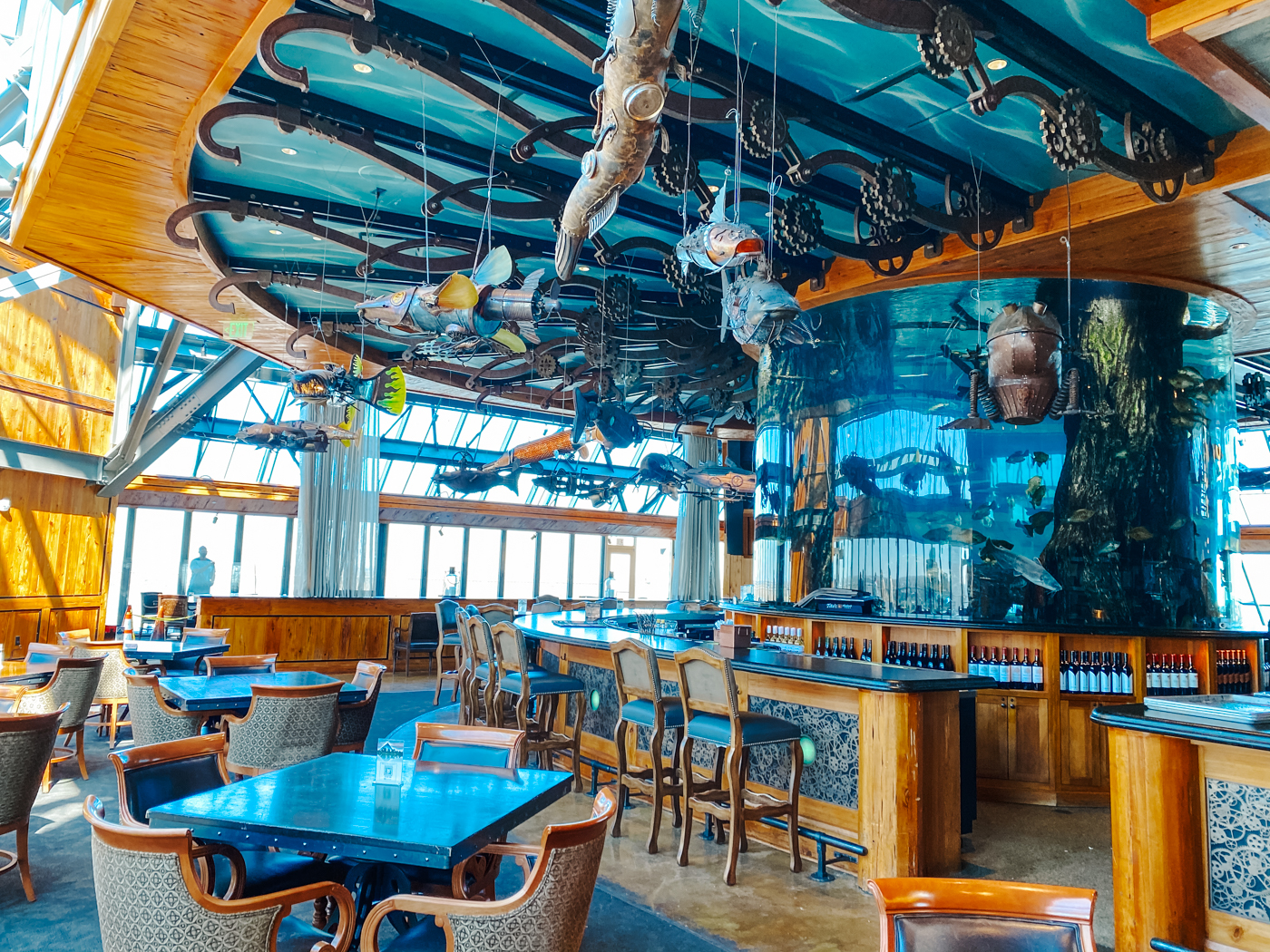 Rooftop Lunch
The restaurant residing high up in the sky is The Lookout at The Pyramid. It boasts beautiful views from every angle and a delicious lunch & dinner menu too. My favorite thing on the menu is the Wild Game Charcuterie Board. Venison and duck sausage is paired with savory cheeses, salami, a pimento cheese spread and the most delicious charred onion jam. You can't miss this dish!!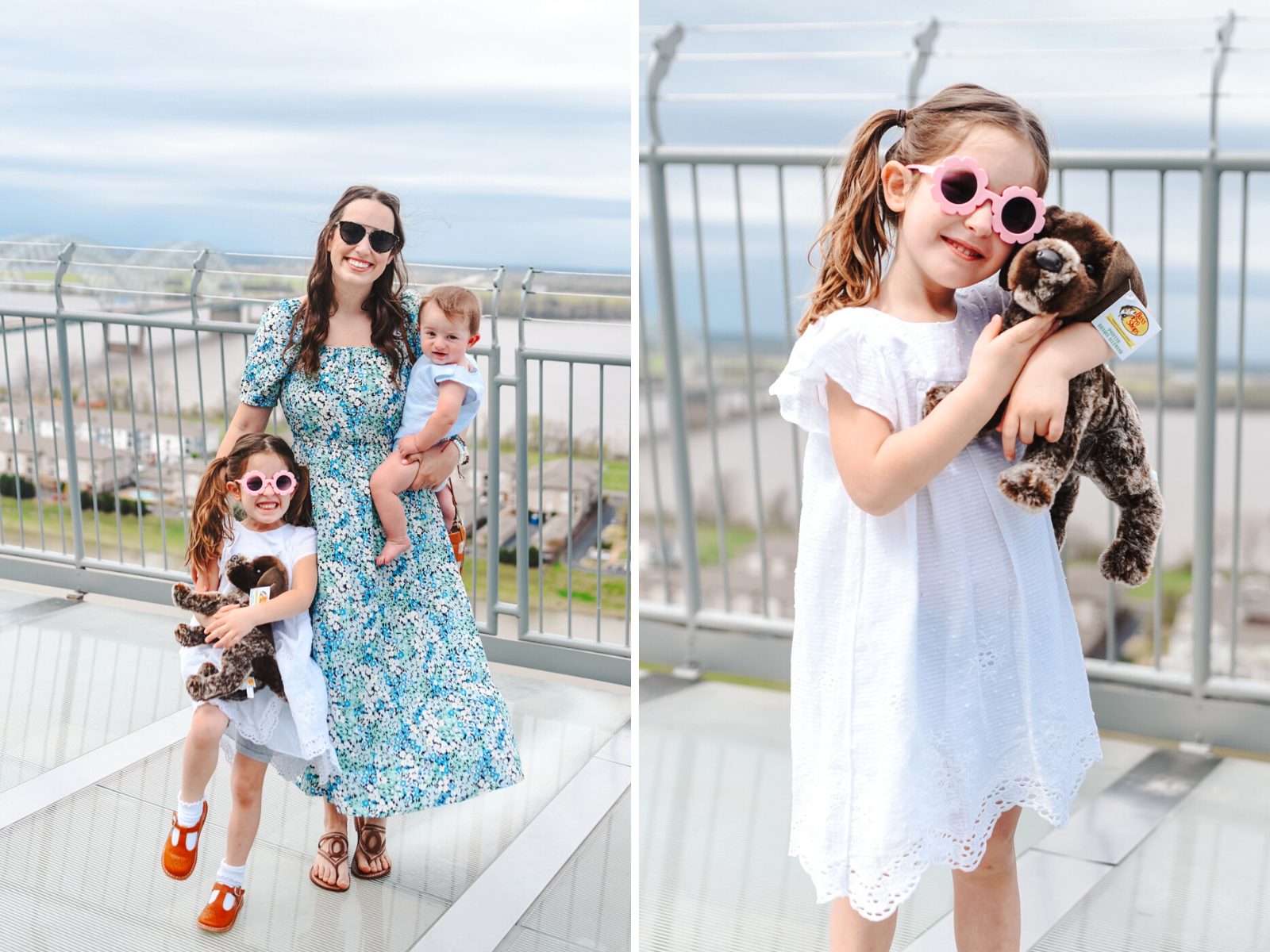 Turn on your JavaScript to view content
Soak in the View from the Sky
Even if you can't stay for a spot to eat, you must step on to the Glass Observation Deck to soak in the view! One deck offer views of Downtown Memphis and the other gives you a great vantage point of the Mighty Mississippi River rushing along below.
There's so much to see from above during the day but be sure to soar on up for a view from above at night too. The Might Lights LED light show illuminates two different bridges crossing the Mississippi River as soon as the sun sets.
—
We feel so fortunate to have this great getaway spot only minutes from our house! Our stay at Big Cypress Lodge made for the most perfect family stay-cation. If you're not from Memphis, the resort makes a great home base for touring the city too. *Thank you so much to Big Cypress Lodge for hosting our family for the night. We had the most wonderful time. As always, all opinion are my own and thank you all for supporting the brands that make Lone Star Looking Glass possible.
—
xo, alice
The post Glamping at the Big Cypress Lodge: Resort Review appeared first on Lone Star Looking Glass.
What does naughty but nice mean
. xoxo.