Gift Guide for the Candle Obsessed
Each holiday season I look forward to festive scented candles from Nest New York, Diptyque, Jo Malone, and yes, even Bath & Body Works. (Cheap and cheerful for the win, am I right?)
I love gifting candles and I love receiving them as gifts. When you're this obsessed with bougie candles, it's the sort of gift that never gets old.
In this post, you'll find some exquisite holiday home fragrances that will wow the candle enthusiast in your life.
And just in case you want to gift a non-holiday scent, I've also included some stunning scents from Tom Ford, YSL, Jo Malone, and Maison Margiela REPLICA that can be enjoyed all year round.
Happy gift-giving! Wishing everyone a safe and happy holiday season!
This post features affiliate links. If you choose to buy something I will get a small commission from the sale. This doesn't impact the price you pay. Affiliate links are just another way to monetize my blog.
---
Holiday Candles by Nest New York, $23 - $184 CAD
Nest New York makes some of my favorite candles and each year I look forward to their limited edition holiday scents. The scent, appropriately named Holiday, is a blend of pomegranate, mandarin orange, pine, and cinnamon alongside a hint of vanilla and amber and comes in a beautiful limited edition vessel. Affordable and high quality, Nest makes candles in a variety of sizes as well as diffusers. The Birchwood Pine scent is an earthy woody scent with notes of White Pine, Fir Balsam, Rich Musk, and Amber and is sure to get your home into the festive spirit.

City Edition Candles by Jo Malone, $94 CAD
It's a given that anyone who collects bougie candles does so because of; a) the scent and b) the packaging so when Jo Malone launches a limited edition illustrated collection, you can bet it's game over. This Holt Renfrew exclusive is part of JM's City Editions collection and features a hand-sketched illustration inspired by London. Trust me when say that I'm tempted to put these on my wish list.
Each year Diptique releases a trio of limited edition holiday scents. This year the French fragrance brand has teamed up with artist Ugo Gattoni to create the illustrated gift box. The limited-edition scents include Moonlit Fir Scented Candle (aromatic woody), Floral Majesty Scented Candle (spicy rose), and Amber Feather Scented Candle (warm amber accord).
With notes of Sweet Orange, Thyme, Cassia, Cinnamon, Patchouli, and Whisky Accord - L'Occitane's cozy new scent Tradition des 13 Desserts is all about warmth and the holiday spirit of generosity. Available in both a candle and room spray, this is the sort of scent you'll want to gift someone, but you'll also want to buy one for yourself too.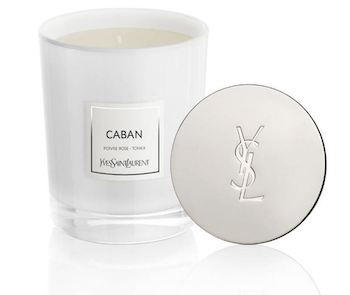 The latest from YSL Beauty caught me by surprise and is something I'm extremely excited about, to say the least. Available in three signature scents, Tuxedo, Caban and Saharienne, the luxury candles are inspired by the Yves Saint Laurent lifestyle and spirit.
Warm & Spicy this Tom Ford scent has notes of Bitter Almond Oil, Leather Accord, Orris Accord.
This beautiful collection from Jo Malone comes in a textured bisque ceramic jar that's so stunning that it feels like a piece of home decor. The scent encapsulates a sunny pathway, the fragrant tapestry of thorny shrubs, brimming with red berries - perfect for gifting that special person you want to impress.
This fresh floral scent from the Margiela REPLICA collection comes with a bonus travel-sized fragrance that's perfect for touch-ups. With notes of Bergamot, Heliotrope, and Coconut Milk, this scent captures salty air and warm, sunkissed skin and evokes the memory of endless summer days.
Armani Privé outdoes themselves with a luxury candle collection that's pure and refined. Each scented candle is poured into an elegantly sculpted glass holder that embodies the Armani Privé brand.
Bois D'Encens is a luxurious woody scent with spicy notes of ginger and Peruvian pepper accentuates the precious Somali frankincense. Its powerful sensuality fuses with ambery woods and cedar.
---
---
LATEST VIDEOS FROM WOAHSTYLE
---
---
LATEST VIDEOS FROM LIPSICK.ME
Thanks for reading
too chic and cute
post. xoxo.