Getting Ready for Little Brother at Home
This post has been sponsored by Aveeno® Baby. All thoughts and opinions are my own.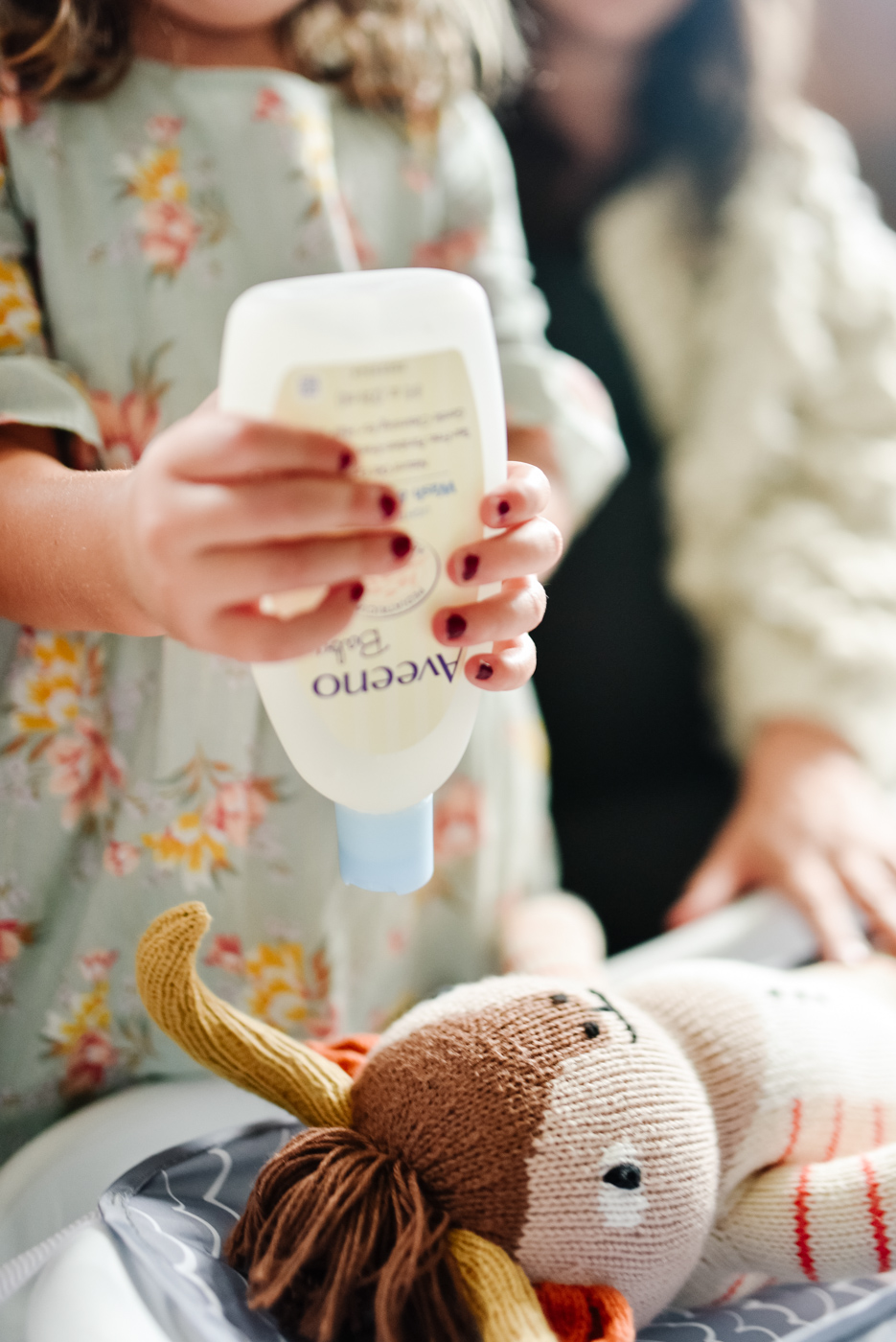 **It's may be early-October right now, but at the time of writing this post we were anxiously awaiting baby brother.** The countdown as I typed this is 13 days and I can't believe it! Conversations of baby brother's arrival fill just about every other discussion with Annie & Patrick lately. The whole family is just so excited!
One thing I've really been focusing on recently is prepping Annie for all of the little things I hope she helps me with when it comes to taking care of her little brother. From diaper changes, rocking him to sleep, feeding him and even bathing him, I have a feeling Annie will want to be as hands on as possible. She's certainly already that way with her baby dolly.

We've been practicing "Mommy's Little Helper" the last few weeks up in the nursery and the other day we pulled out baby's bathtub for a trial run too.
Going into the newborn stage this time around is incredibly less intimidating than it was with Annie. I remember baby bath time used to scare me, Annie seemed so little & fragile I thought the smallest shift could just break her! I know I will be much more confident with baby number two. I'm also feeling more confident in all of the choices we've made when it comes to newborn baby essentials – not only products but toiletries, lotions, creams, diapers and more!
We are big Aveeno fans in this house and used Aveeno® Baby Wash & Shampoo 8oz when Annie was itty bitty! We've stocked up to have soothing wash on hand in anticipation of baby boy's arrival any day now. Naturally, I'm thrilled to be partnering with Aveeno, a brand I've trusted for years, to share a peek into how we're prepping for baby's bath time routine in today's post!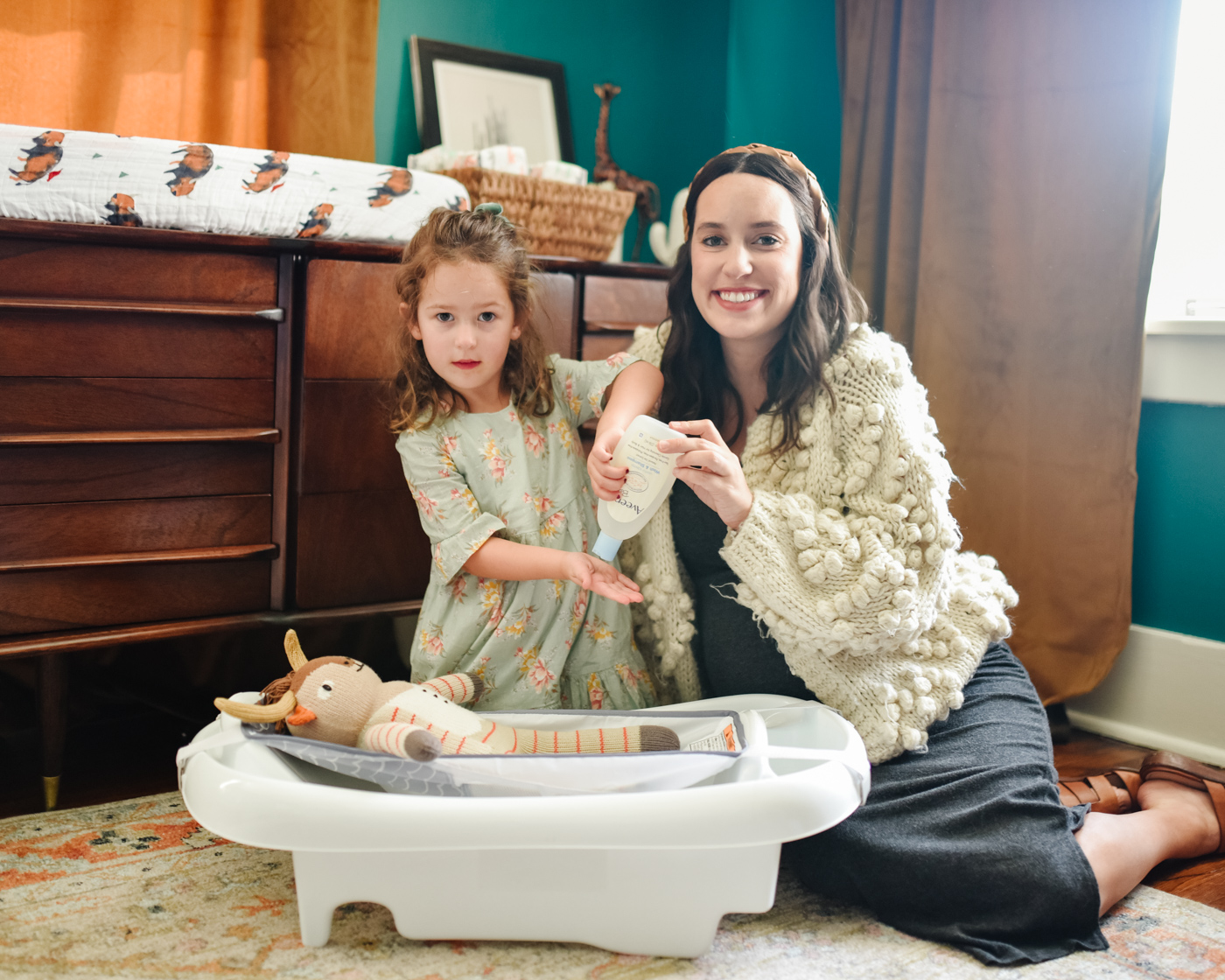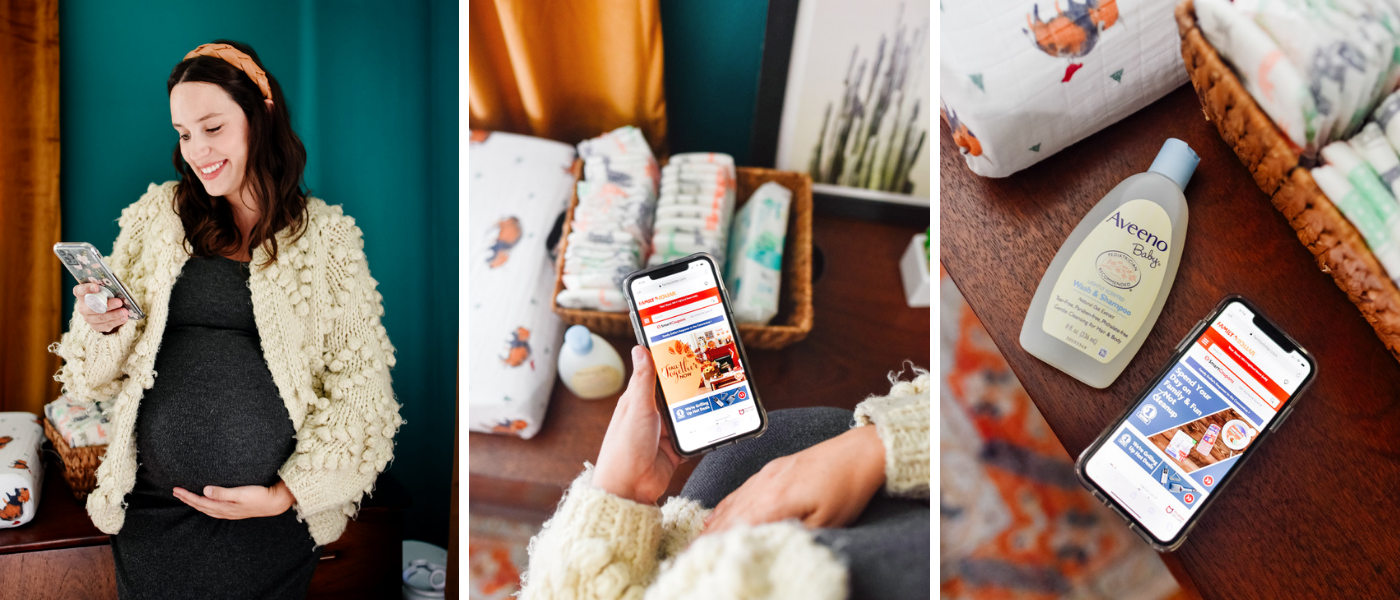 Perusing the Web for Savings & Steals Before Shopping
I feel like we've been shopping so much lately – prepping our home for all things baby. When I head out to the store, I am the type of person that has to have a list of everything I need in my hand … or I get really really carried away! Family Dollar's website highlights deals of the day along with seasonal goodies – which are always irresistible this time of year, making it easier to plan ahead for impulse buys. You can also clip coupons online before heading into the store! Shop now, or starting October 18 you can shop & save $2.00 off any one  Aveeno Baby Product (excluding trial & travel sizes and gift sets).
I also found a few coupons for baby pajamas for less than $10 and a Halloween Haunted Gingerbread House that I'm sure Annie is going to love! I popped up in the other day to pick up a few festive things for fall and scooped up Aveeno bath time essentials for baby while I was at it.
Our local Family Dollar felt safe, spread out and everyone social distanced really well too. I've definitely gotten braver getting out and about in recent weeks and am glad to see others respectfully keeping their distance and wearing masks too.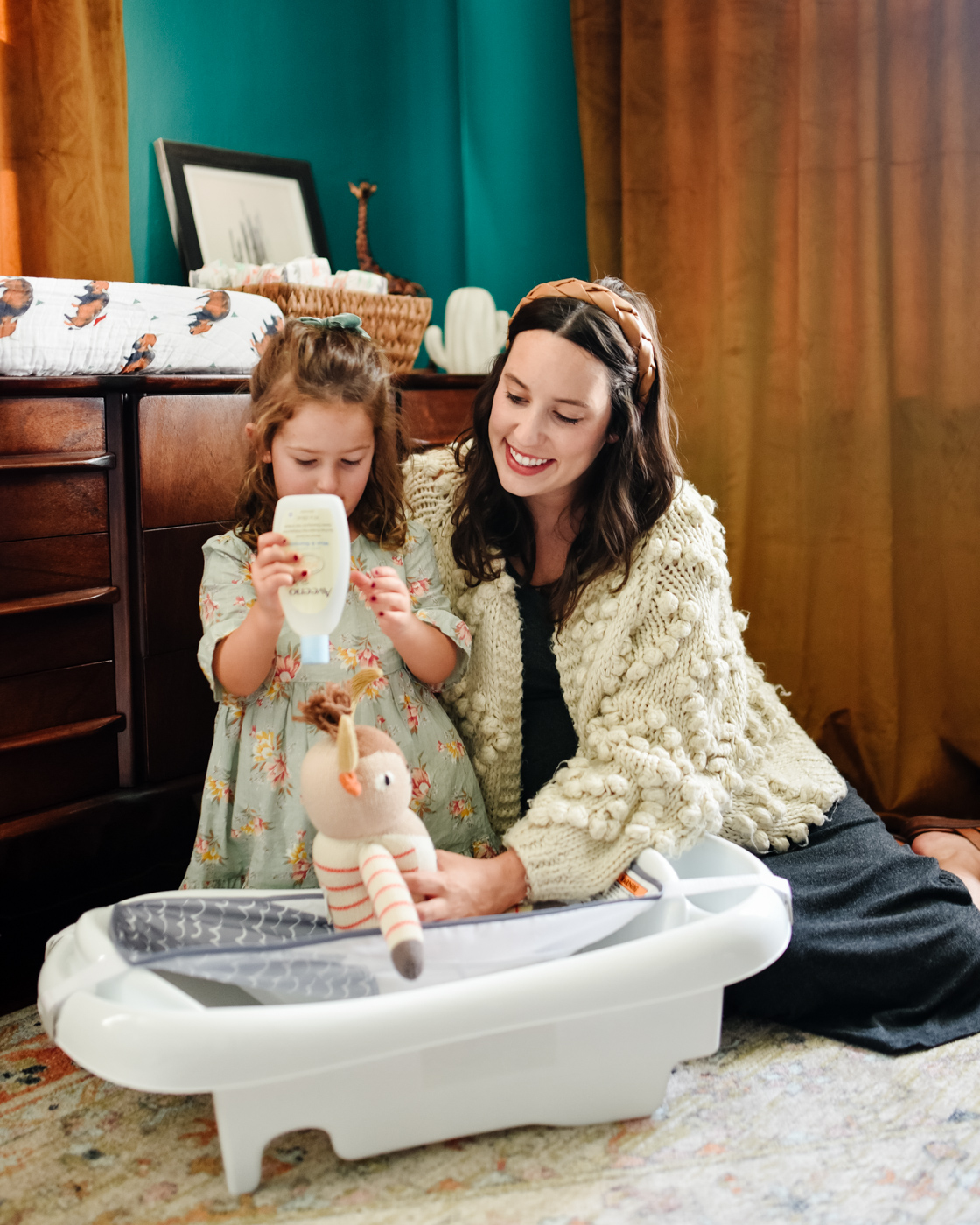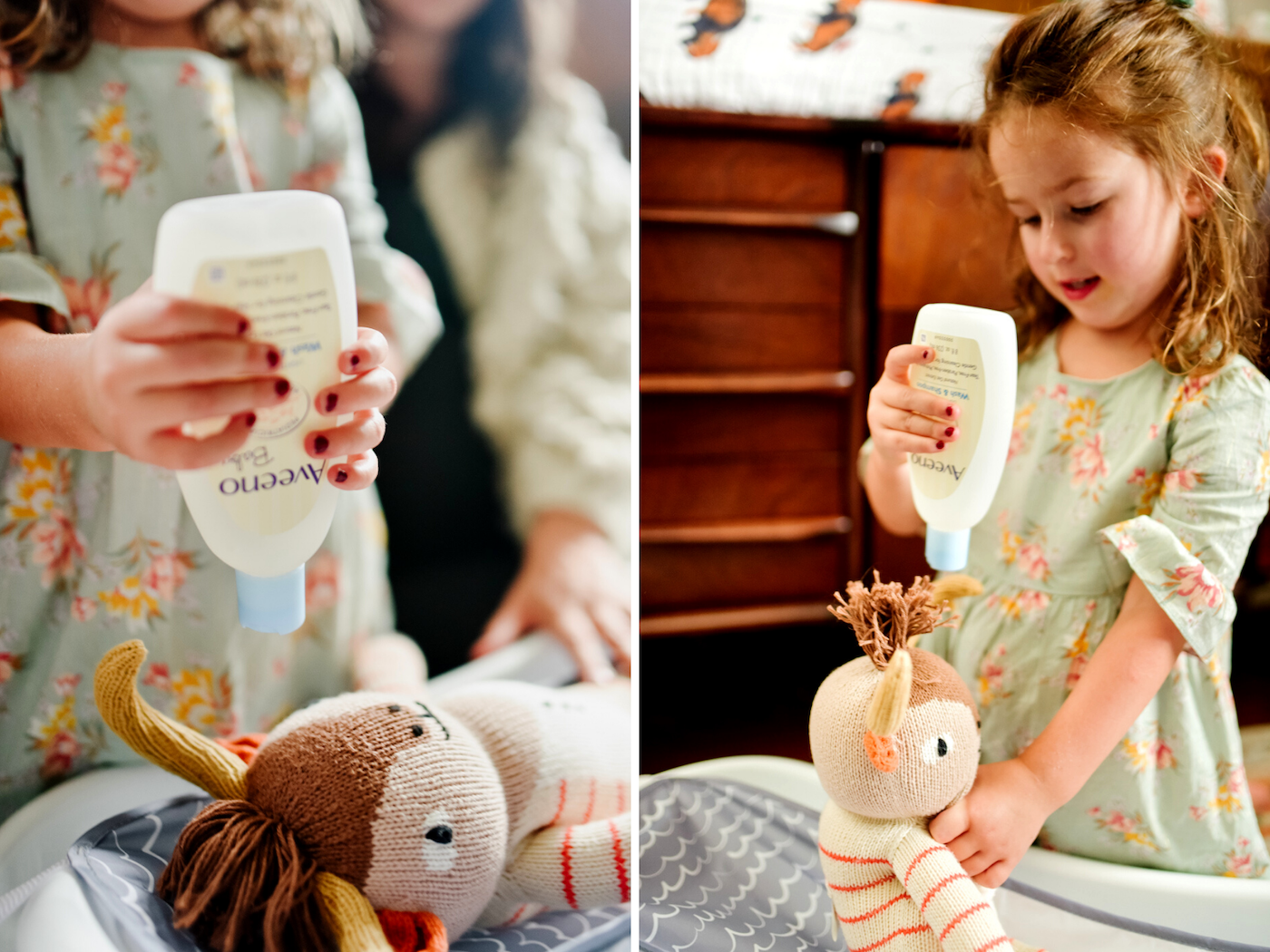 Why We Choose Aveeno® Baby
I found out early on that Annie inherited my oh-so-sensitive skin and I have a feeling that baby brother will probably be the same. We love Aveeno's products because they are hypoallergenic, gentle, and essentially made for little ones with sensitive skin issues. Aveeno's Baby Wash & Shampoo is made with Oat Extract that is known for its soothing and nourishing properties and I love that it doesn't dry out your skin out too.
Annie and I both suffer from very dry skin (winter is especially brutal on us) and we are so thankful Aveeno has great products to remedy this. I personally use their Skin Relief Moisture Repair Cream daily!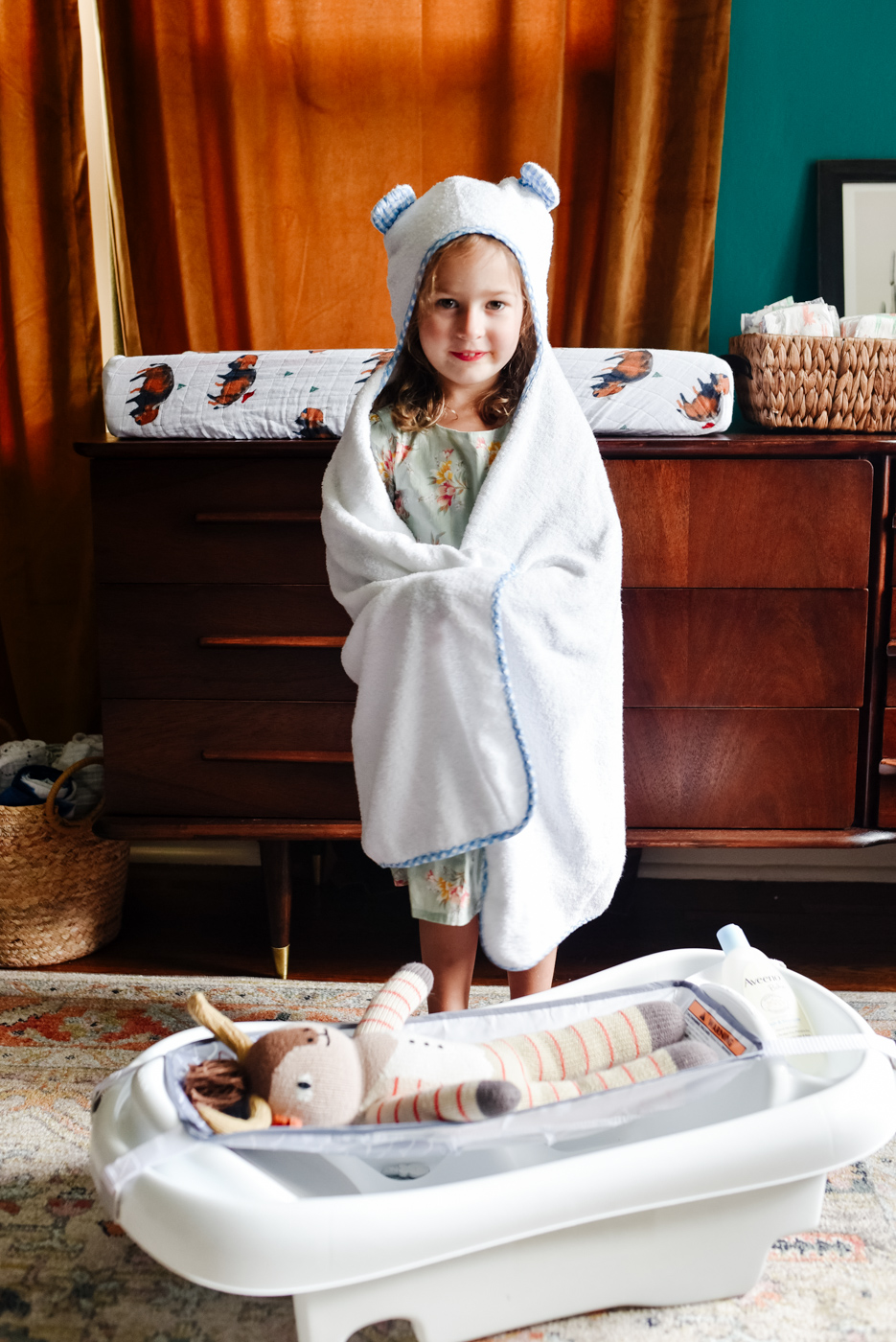 Is there anything cuter than a kiddo in a hooded towel!?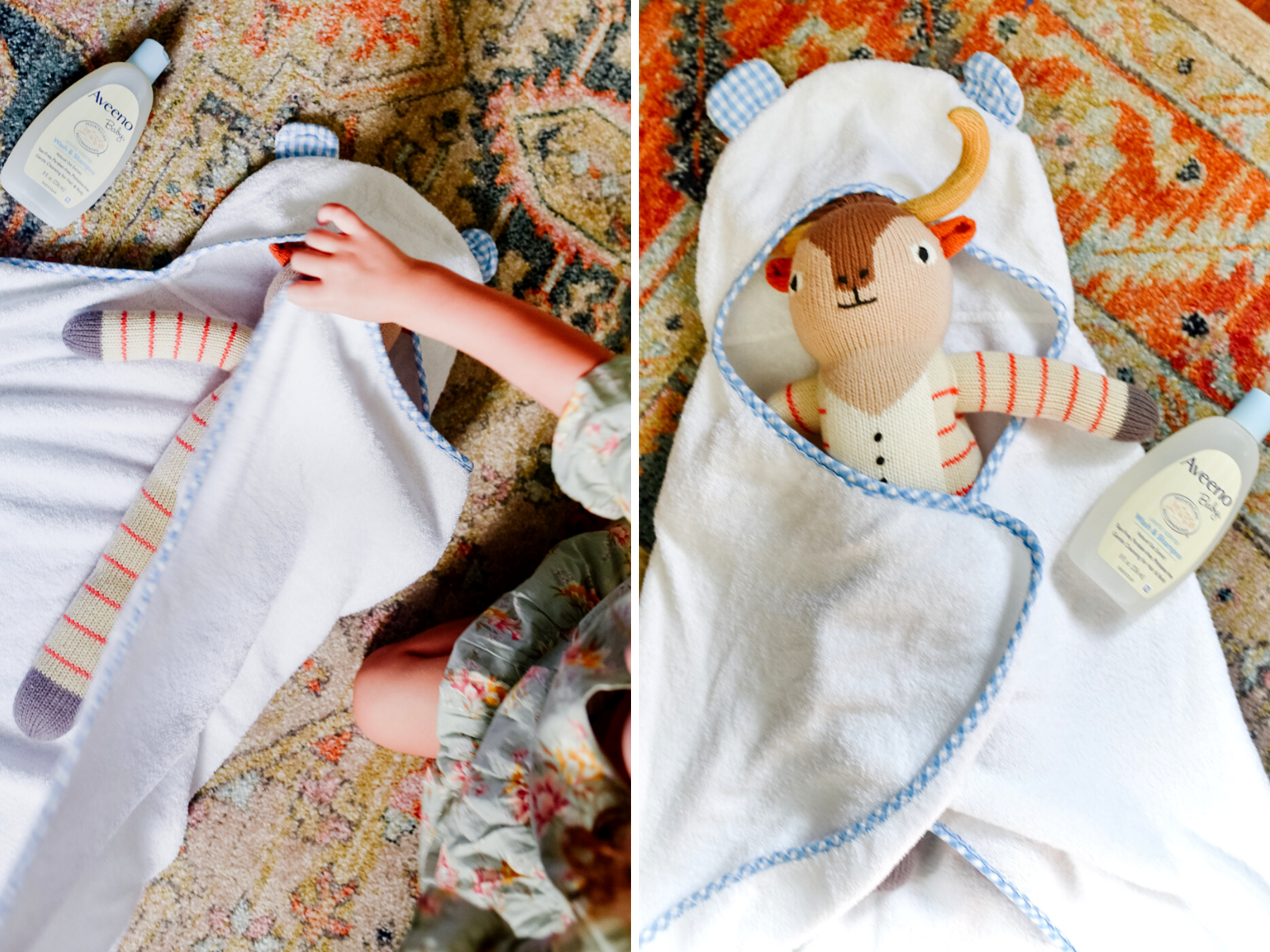 Prepping for Baby's Bath Time
I've let Annie open almost all of the presents and packages that have arrived for baby brother, really trying to get her excited about everything to come. She could not get over his tiny little baby bath! I told her, "We bathed you in one just like this when you were little too!"
Annie now has a leg up on helping mommy with bath time thanks to her trial run with stuffed animal longhorn. (A treasure we picked up while living in Texas!) She even knew just how to wrap her stuffed animal up in its hooded towel after bath too. Counting down the days until we get to do this with her baby brother so very soon!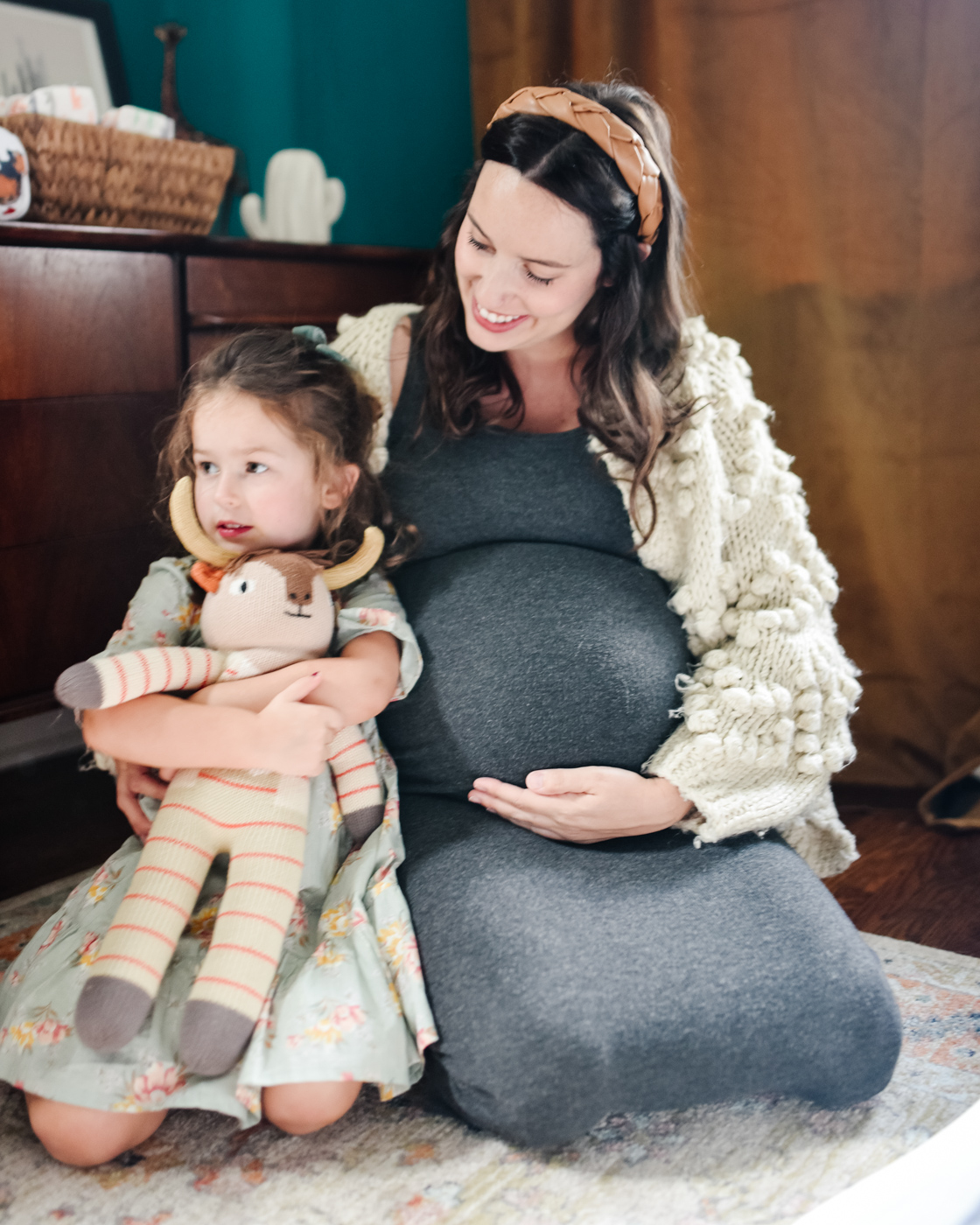 There are going to be so many changes to our family dynamic and routine in the coming weeks. I'm ready for it but also thankful for all the constants we can trust to ensure the shift is as smooth-as-can-be. Having familiar products on hand, like Aveeno, during this transition may be somewhat small when it comes to the big picture but sometimes its the little things you know and trust that are most helpful of all!
—
The post Getting Ready for Little Brother at Home appeared first on Lone Star Looking Glass.
What does naughty but nice mean
. xoxo.