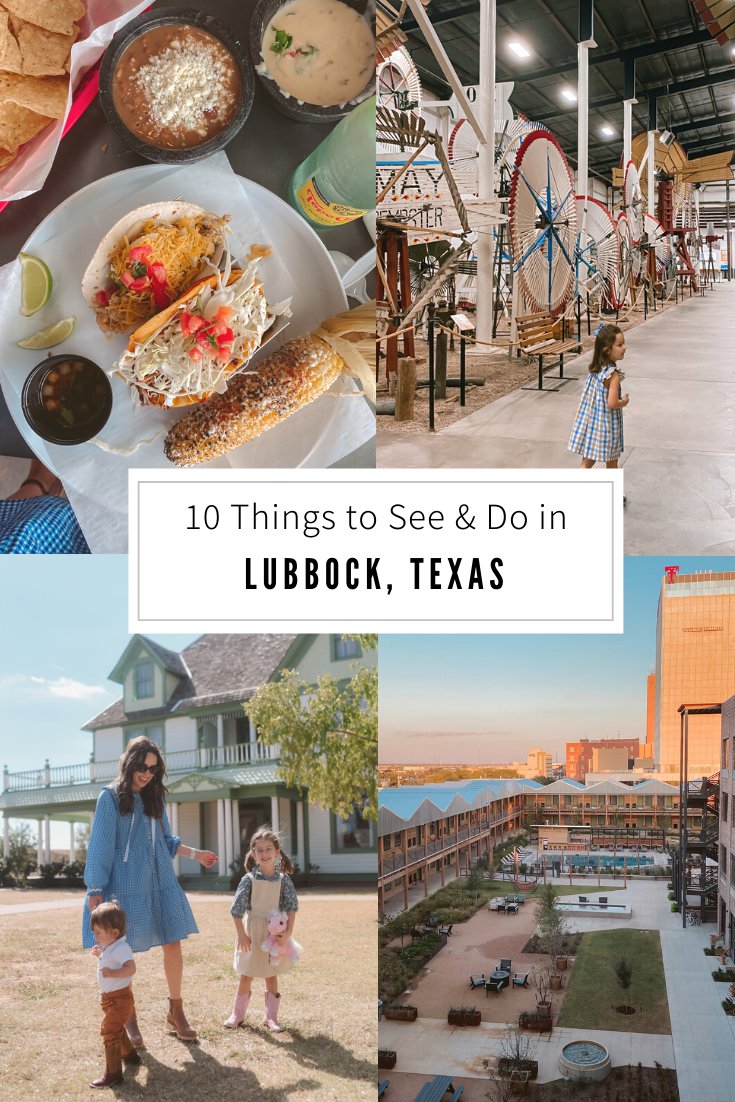 Each visit back to the Lone Star State feels like coming home – even if it's a trip to someplace we've never actually been before. Lubbock is a trek from Houston (totally worth it though) which is why we never paid this West Texas High Plains destination a visit until now.
We were itching to get out West for Fall Break and our Lubbock getaway was just what the doctor ordered! This family-friendly destination had it all – fascinating museums, fabulous dining from casual to upscale, and a bit of adventure and history too. I like my family-travel well rounded with a mix of education thrown into our relaxation. We left Lubbock with trivia tidbits to tuck away and bellies full of delicious Texas BBQ too.
Whether you're visiting your old college stomping grounds or are looking for a different kind of trip for the whole family, Lubbock has oodles to offer new and returning visitors alike. I'm thrilled to be rounding up the highlights of our trip along with where we stayed and played in a travel guide with Visit Lubbock today. Head on down for more …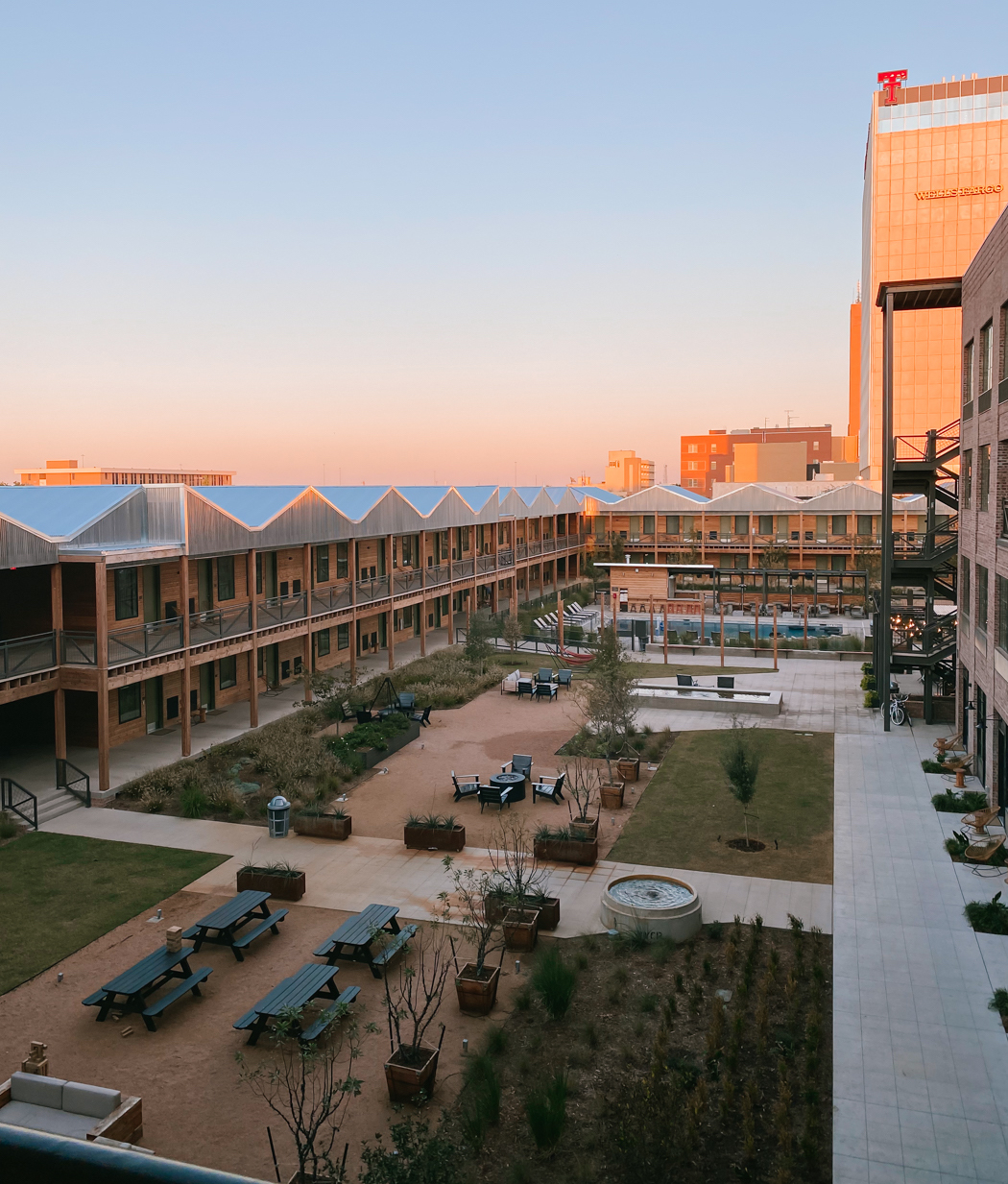 Stay: Cotton Court Hotel
Store your suitcase right in the heart of the Lubbock at the brand new Cotton Court Hotel – a luxury boutique hotel designed to replicate an old cotton gin. The Valencia Group's latest landmark is one-of-a-kind.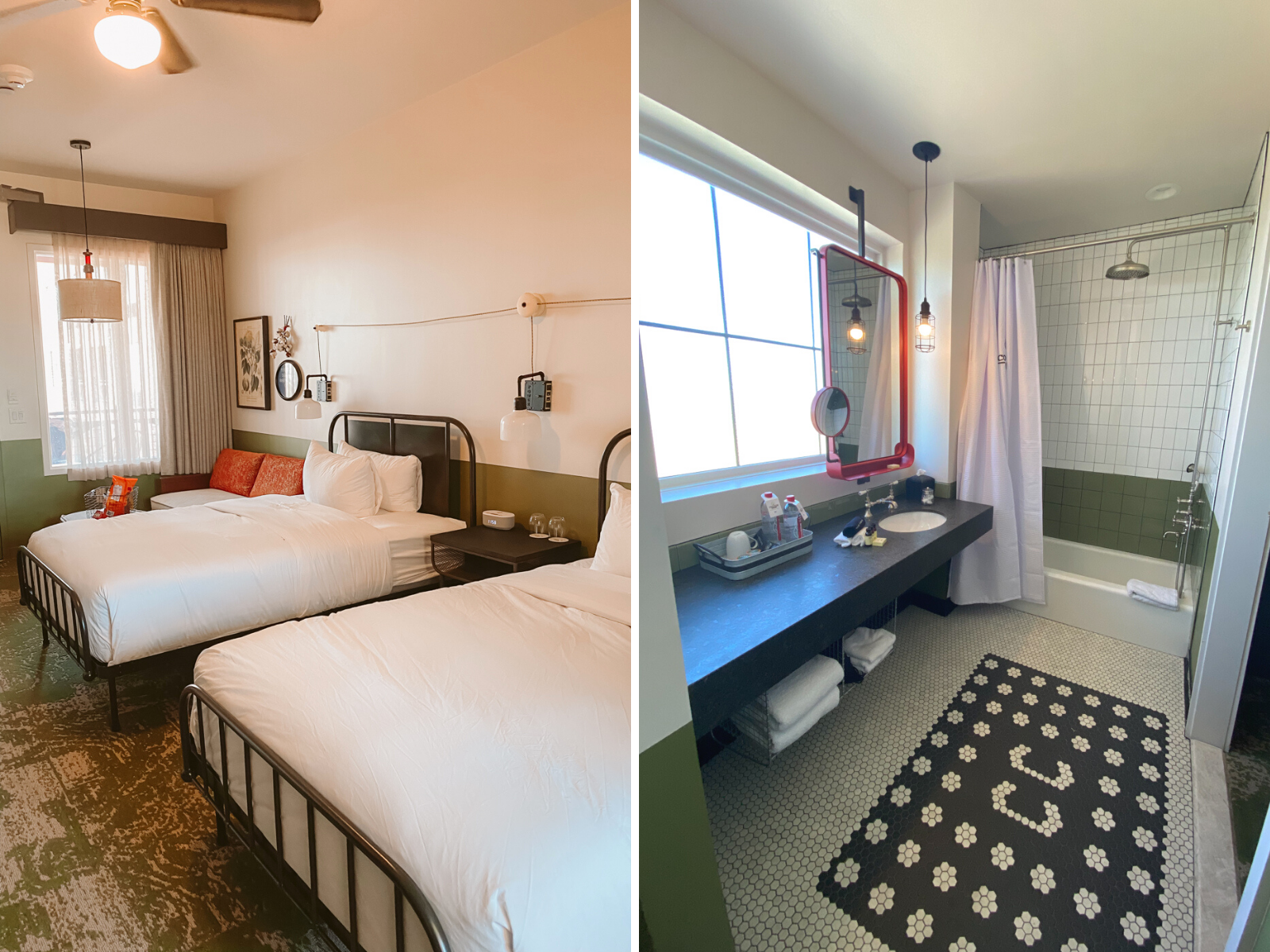 Guest rooms look out onto a common-ground courtyard that boasts roaring fire pits every evening, swinging hammocks, a heated pool and patio play spaces.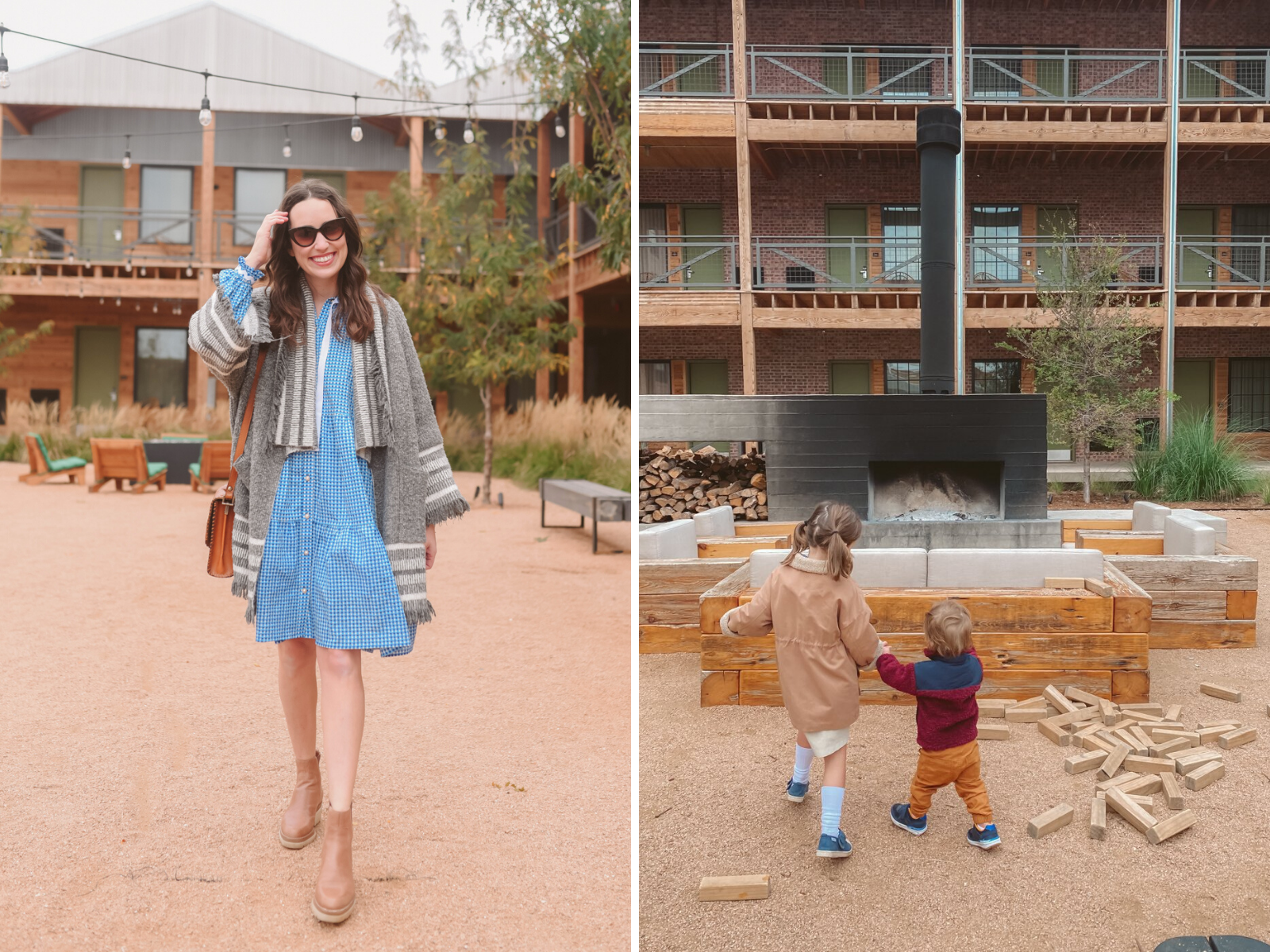 Staying in a family-friendly environment can make a world of a difference when traveling with small children and the thoughtful touches like Jenga blocks, checker sets & corn hole games made happy hour for mom and dad all the more enjoyable.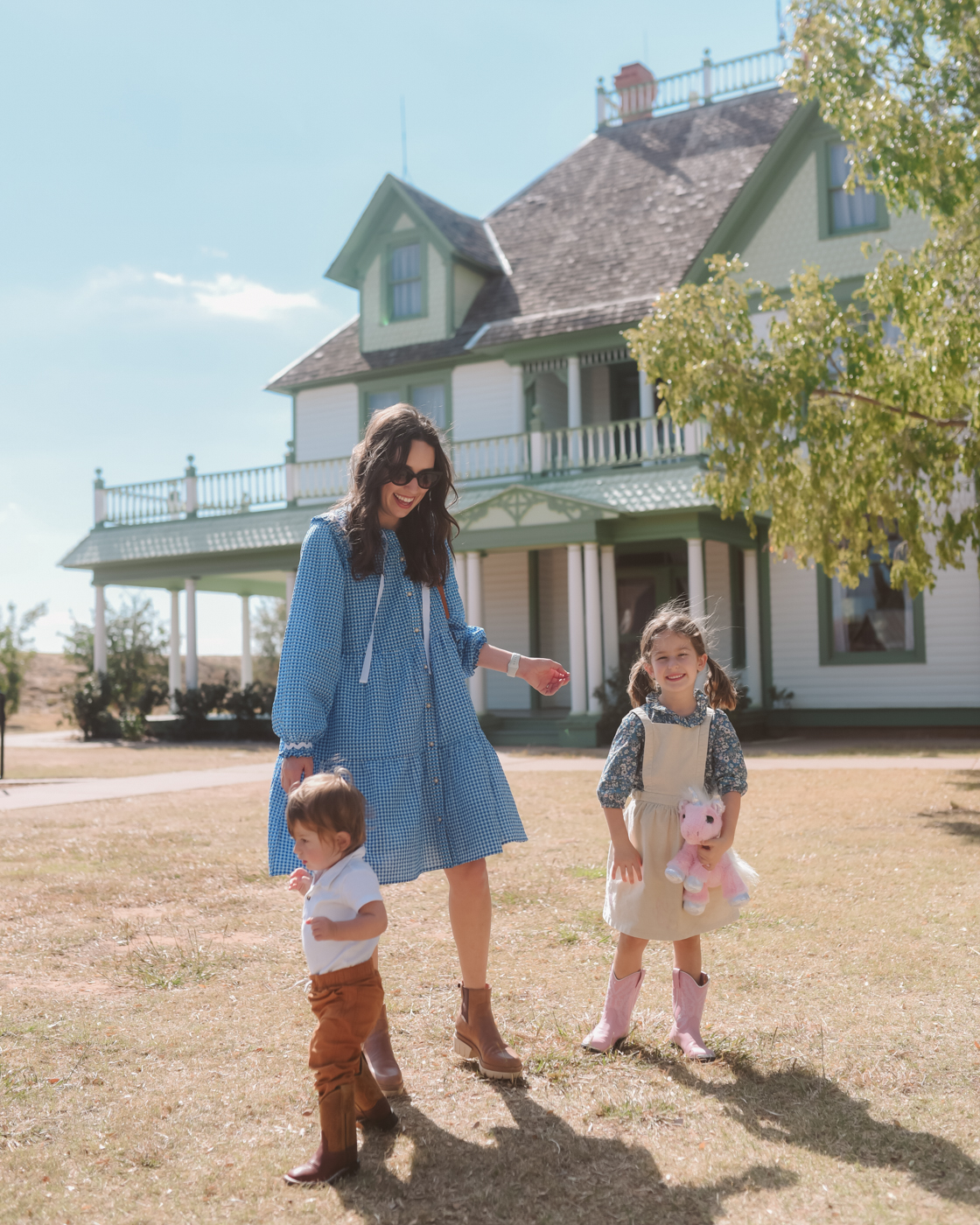 outfit details: my dress + boots // annie's outfit + boots // bennett's boots 
Play: Museums & More
Adventure your way through Lubbock's rich history and heritage at one of the city's many first-class attractions.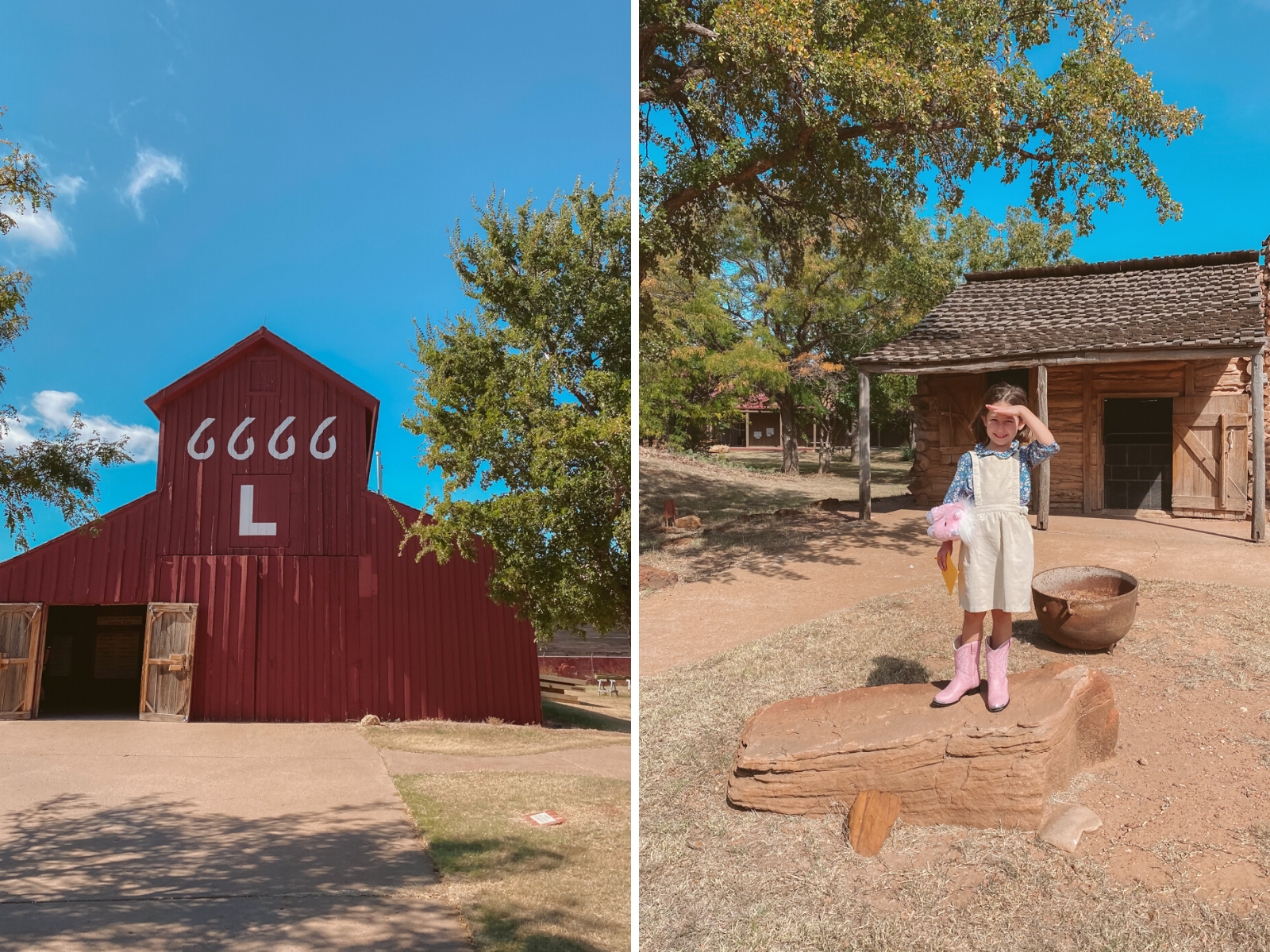 National Ranching Heritage Center
A must-see for the history buff. Children will love peeking into over fifty authentically restored historical structures scattered throughout the National Ranching Heritage Center dating back as far as 1780.
Annie ironically missed "Farm Day" at school during this trip so I thought, what better way to experience our own version of farm day than learning about how real farmers lived and worked hundreds of years ago? She may only be four years old, but I could really see her grasping and understanding these big concepts the museum presented. Made my mama-heart so happy!
*Admission is free with a suggested donation.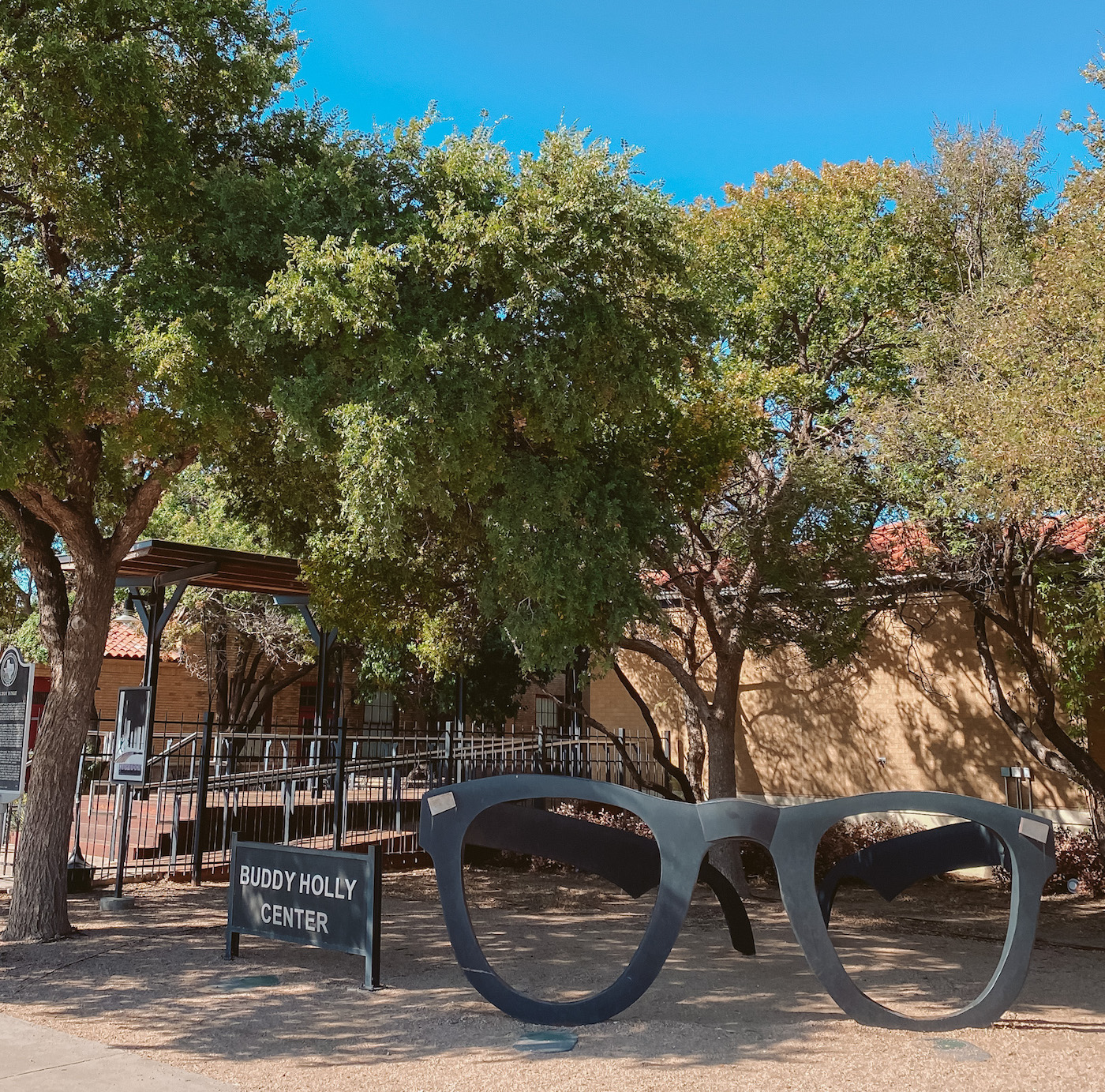 Buddy Holly Center
In Memphis, you can't pay a visit to Bluff City without seeing Elvis' home at Graceland. Same goes for Lubbock. No trip here is complete with out stopping by the Buddy Holly Center. Buddy Holly was a major player in the earlier days of rock 'n' roll,, writing iconic hits such as "Peggy Sue" and "That'll Be the Day." It is astounding how much this artist created and contributed to the music industry before his track death at 22.
You can see Buddy Holly's famous black glasses in person & snap a picture of their larger than life replicas out front. Admission is $10.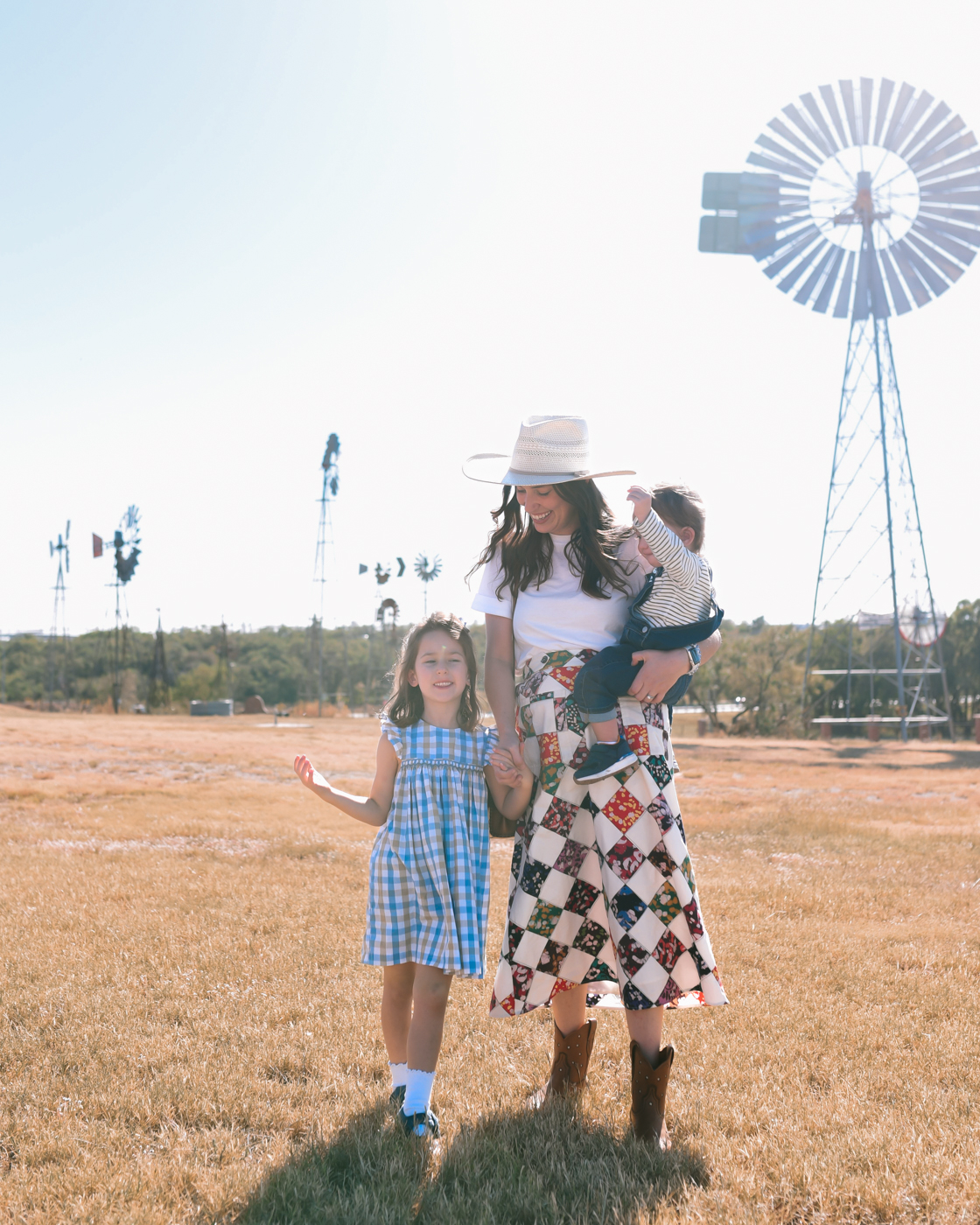 outfit details: my skirt + boots

Turn on your JavaScript to view content

// annie's dress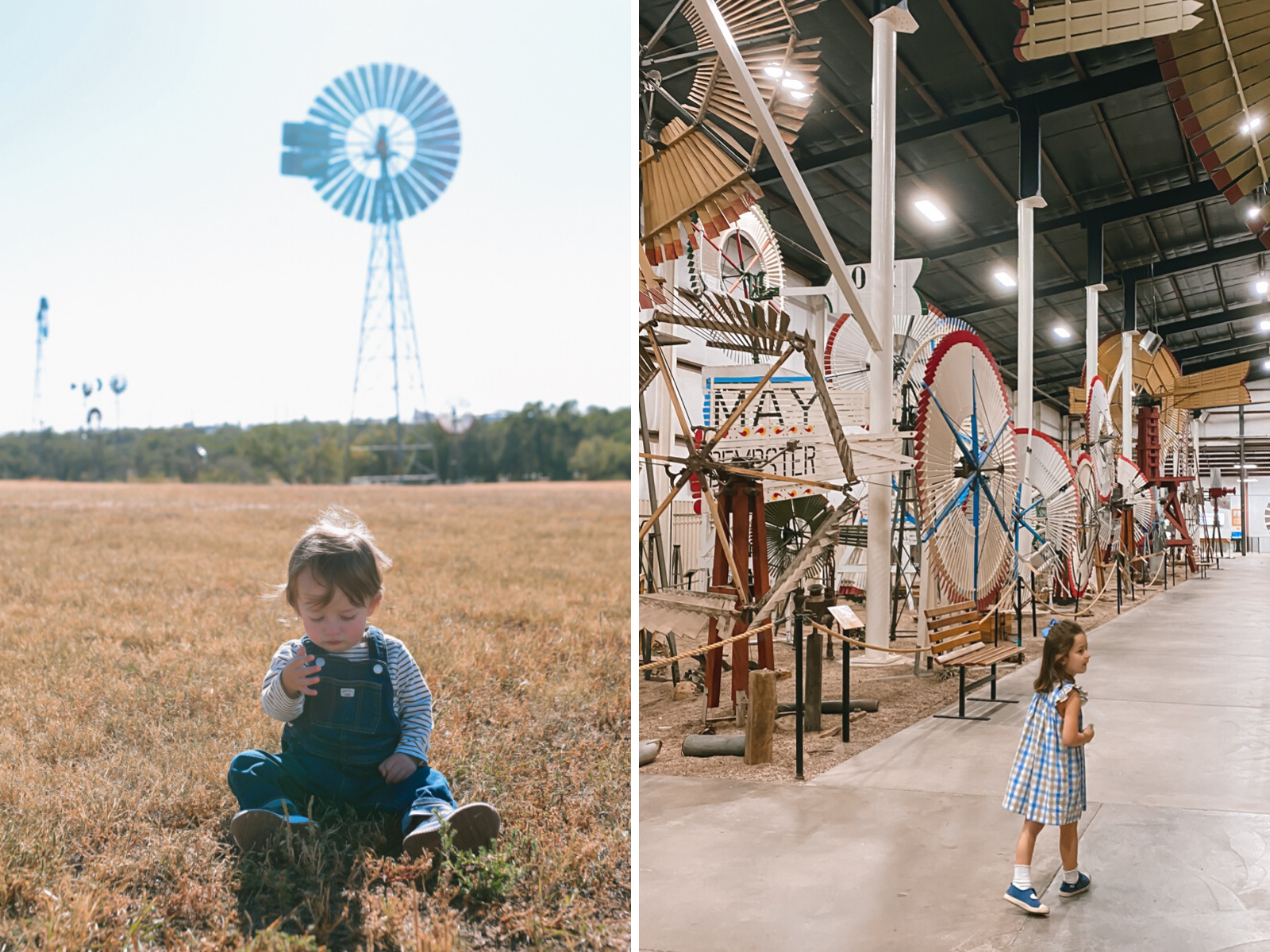 American Windmill Museum
Honestly, we had no idea what to expect prior to our visit to the American Windmill Museum. Sure, we thought we'd see and learn about a few windmills. Did we expect a 4,000 ft train set to be winding its way around the museum? No. Did we expect to see dozens upon dozens of intricate miniature dollhouses on display too? Absolutely not. Needless to say, we were overjoyed with how much this 28-acre museum boasting America's largest collection of windmills had to offer.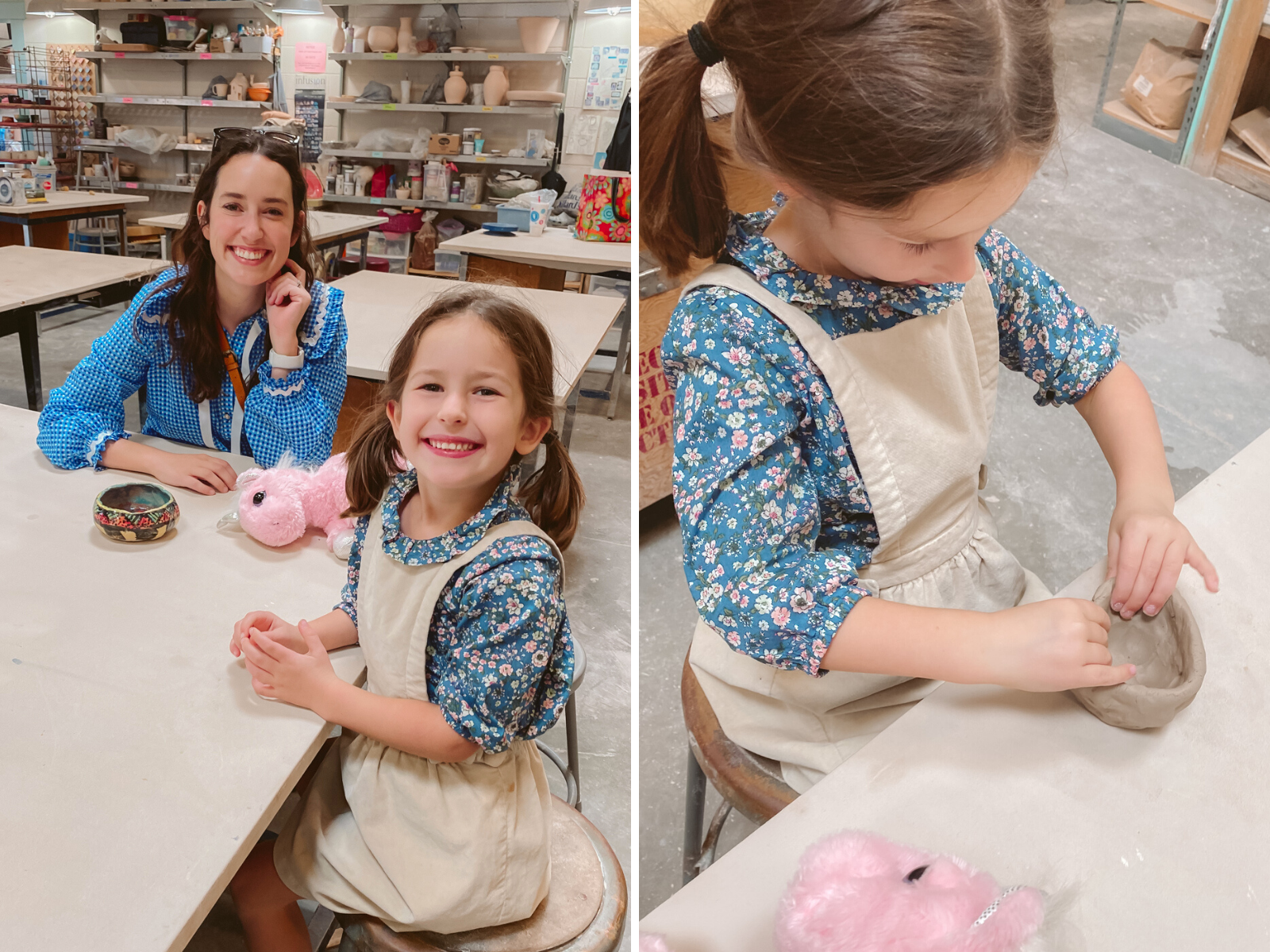 LHUCA Clay Studio
Traveling with small children requires a flexible itinerary with ample opportunities of fun thrown in too. We always try to make time to visit a local park or a playground wherever we travel. There are only so many museums a preschooler and a toddler can handle in one day after all.
When the Visit Lubbock team suggested we check out LHUCA and try our hand at a Pinch Pot Pottery Class, I was just thrilled! This is something I probably wouldn't have thought to do on my own but it ended up being a highlight of our entire trip.
LHUCA, Louise Hopkins Underwood Center for the Arts, is home to a collection of contemporary and visual art with regularly rotating exhibits. We hear the campus and outdoor plaza really comes alive on First Fridays with performances, special events and more.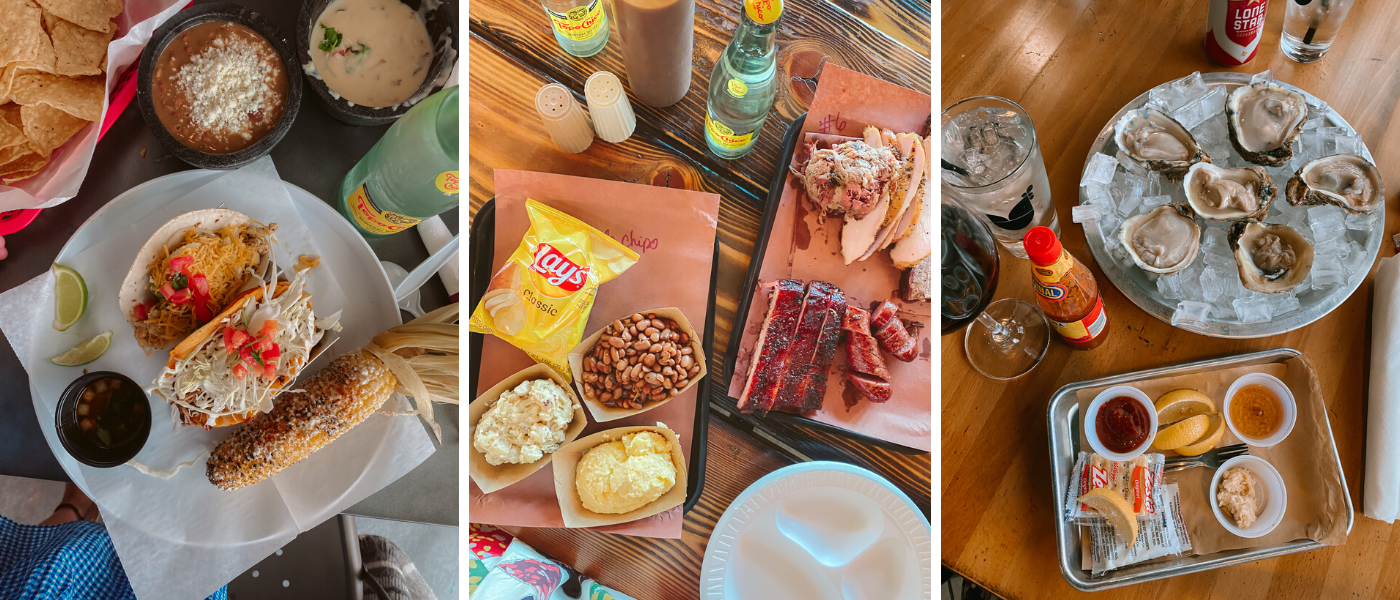 Eat: Tex Mex + BBQ & More 
Dirk's: dine on fried chicken or fresh oysters in this Downtown spot where the walls are adorned with quirky cartoons by legendary cartoonist, Dirk West.
Triple J Chophouse and Brew Co.: Texas-sized sirloins paired with local brews? You don't need to sell me on anything else. This was one of our favorite meals during our trip and we can totally see why the locals love it too.
Evie Mae's: Okay, if you can only eat one meal while in Lubbock, it has got to be Evie Mae's. (I'm half tempted to book a flight to West Texas just for lunch so I can have their BBQ plate again.) We couldn't pick just one so we tried BBQ brisket, chicken, ribs & turkey too. The sides are the real showstopper with the potato salad being my favorite.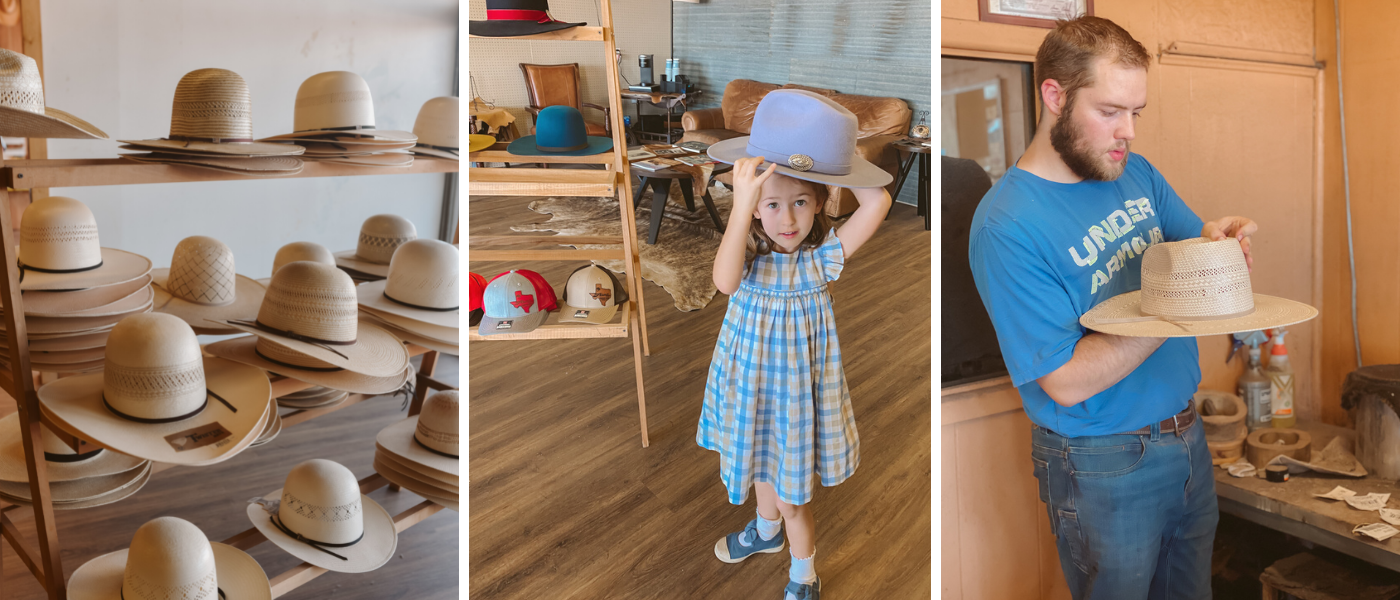 Shop: Flint Custom Hats
Take home a completely custom souvenir at Flint Custom Hat Shop. Shoppers can peruse their gallery of cowboy hats or create your very own custom felt hat with the help from Flint's talented team. I picked up an open crown straw hat and had it creased on-site to my desired look in just a matter of minutes.
Sip: Texas High Plains Wine 
Lubbock is home to many wineries, vineyards and tasting rooms. This trip, we didn't get to make it out to any of those in person – but we made sure to taste the flavor of the region regardless. Llano Estacado Winery produces 1.7 million bottles every year sold to shoppers in Texas and beyond. They offer a tasting room and private tours of the winery taking visitors along each step of the winemaking process.
See: Palo Duro Canyon
I can not express enough how absolutely amazing + awe-inspiring Palo Duro Canyon is! (See snaps from our 2017 visit here.) Just about an hour north of Lubbock, a visit to American's second largest canyon should be on every outdoor enthusiasts list. Visitors will find scenic trails for all skill levels, incredible vistas and a bit of history too at the park's on-site museum.
Caprock Canyon is also about an hour or so north of Lubbock boasting similar vistas and all sorts of adventure. You might even see a herd of bison while you roam! 
—
If a visit to Lubbock is on your horizon soon, I hope you have the most wonderful time! (And be sure to tell me all about it afterwards!) Big thank you to Visit Lubbock for sponsoring this post. As always, all opinions are my own. Thank you for supporting the brands that make Lone Star Looking Glass possible.
The post Family-Friendly Lubbock, Texas Travel Guide appeared first on Lone Star Looking Glass.
What does naughty but nice mean
. xoxo.