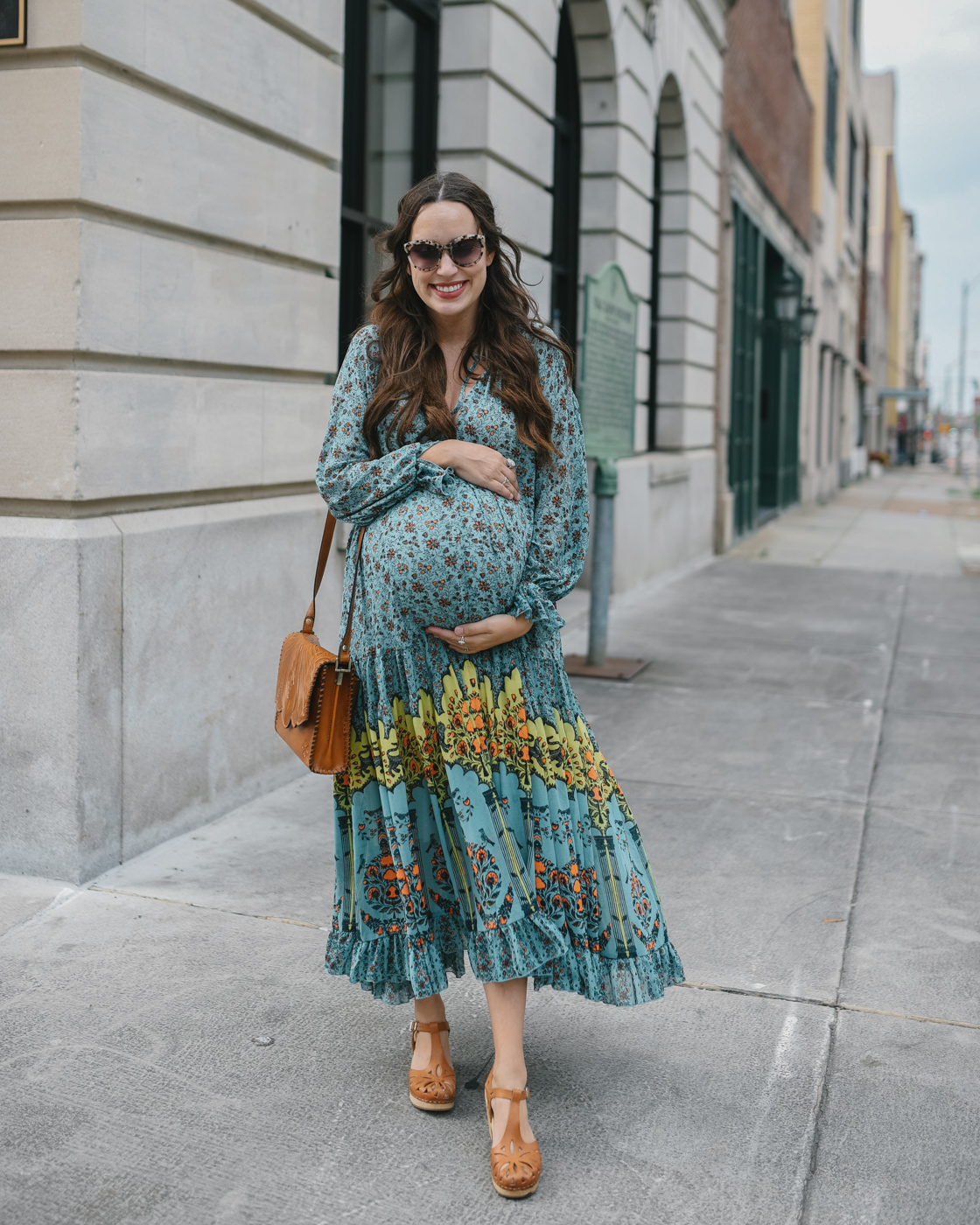 Turn on your JavaScript to view content
Labor Day has come and gone and even though the temps are still in the mid-90s here … it is officially time to welcome fall style! I'm at the tail end of this pregnancy and feeling bigger by the day (or even the minute actually.) It's a bit hard for me to think about fashion right now when for the most part I'm just gravitating towards whatever fits me in my closet. Thankfully, I have found a few pieces of clothing that not only will work with this bump for the next few weeks, but that can also transition into postpartum and the fall season beyond. This beautiful blue boho maxi dress included!
Today, I'm chatting about my take on fall bump style + sharing a 37 week "bumpdate." These last few weeks of my pregnancy already feel night and day different than they did with Annie. Curious what this means for baby boy's arrival! More on this look + my musings below …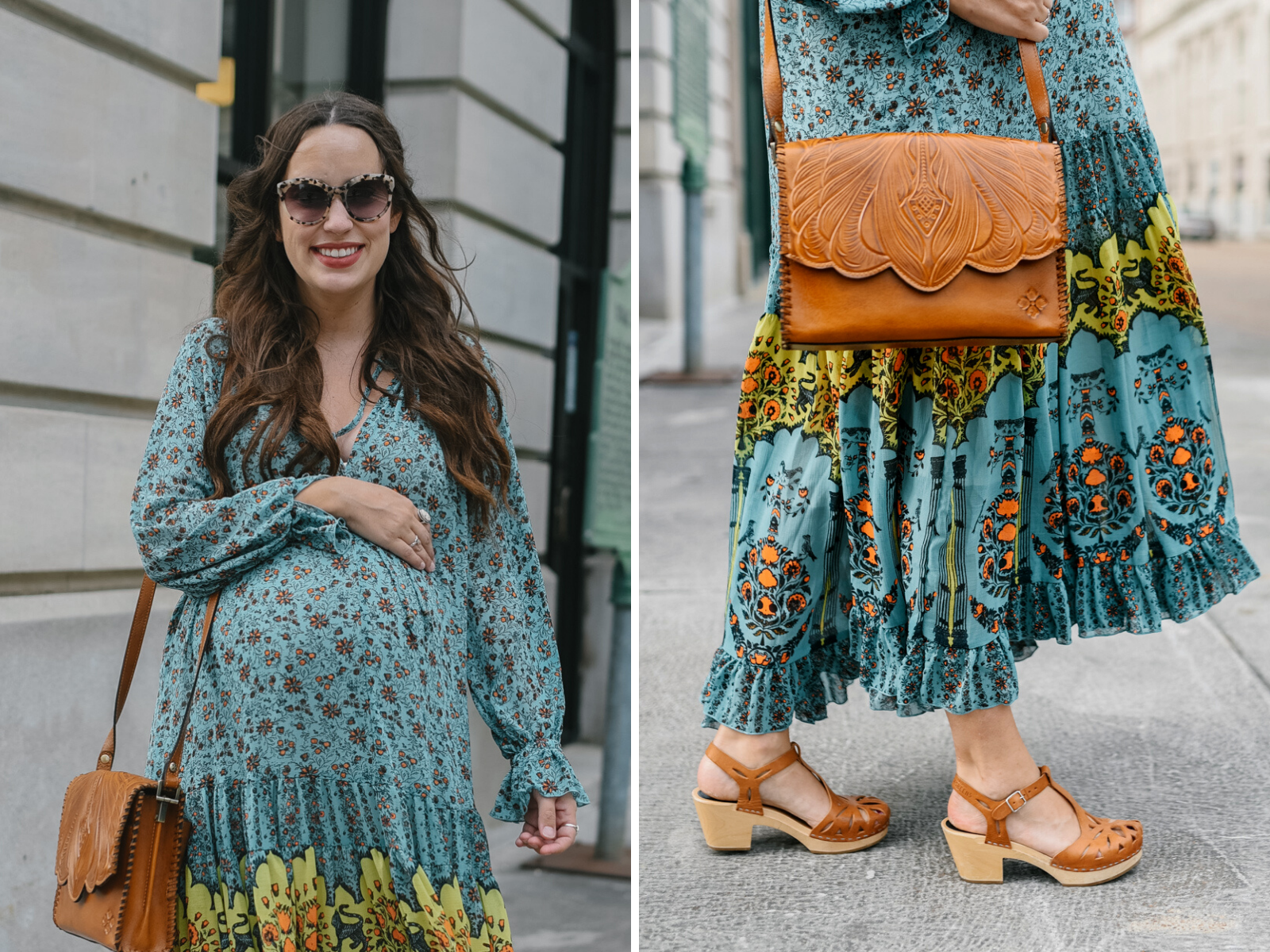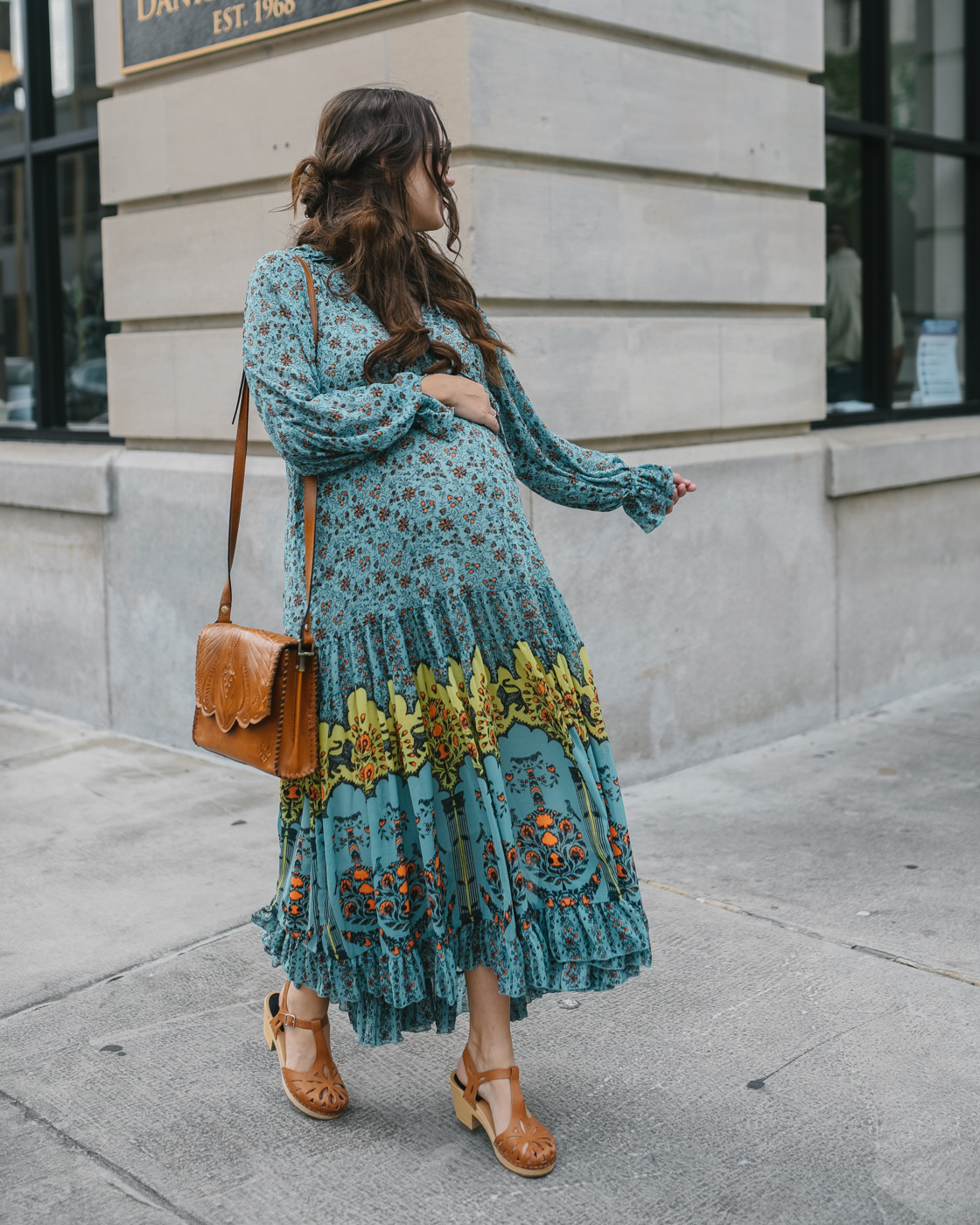 Shop the Look:

Turn on your JavaScript to view content
The relaxed fit of this Free People "Feeling Groovy" Maxi Dress makes it oh-so-maternity friendly. It could also be styled with a belt for a fitted fit for those not expecting (and myself postpartum come fall!) I absolutely adore the pleated details and subtle ruffled skirt. This dress also comes in a creamy shade + a black with blue and ivory accents. I styled it with my Swedish Hasbeens (a pair I've been rocking for years now – they hold up so well!) & this go-with-everything Patricia Nash crossbody.
37 Week Bumpdate
Baby is the Size of: A head of romaine lettuce. But this little guys already feels like he could be the size of a watermelon!
Feeling: Ready to POP! Is it even possible to get bigger at this point? I suppose it is but I can't truly fathom how. I'm at the point where a lot of my maternity basics that I've been wearing throughout my pregnancy are starting to get too snug. I have no idea what baby boy weighs and my doctor probably won't be giving me an update until this time next week. If I could take a gander, it's probably larger than average, ha.
Early Labor Symptoms: It's truly amazing the second time around that I can feel so much more intuitive to my body – realizing, feeling and understanding all of the tiny little twinges and signs of what all is going on in preparation for labor. I've been having Braxton Hicks since 28 weeks or so. Last go round, I thought that feeling was just Annie tightening up into a little ball. (Nope!) Recently, those Braxton Hicks have transformed into full on contractions, feeling stronger and lasting longer. However, they never come at irregular intervals and seem to go away on their own before progressing into the real thing.
Poor Patrick has had a few false alarms from me thinking it was just about time to gear up to leave for the hospital. I seem to have contractions from about 5pm to 11pm each evening lately. It's so frustrating not knowing whether they're "real" or not. It's gotten to the point where I'm doing my best to ignore them for now. But surely I'll realize when they are "real" and its time to head to the hospital … right?! The waiting game this go-round feels much more intense because I never had "prodromal labor" like contractions with Annie. I could tell right away when it was the real deal with her all those years ago. I'll keep y'all updated though!
Food Cravings: Funnily enough those sweet + savory cravings of mine seem to have disappeared altogether. Along with my appetite for the most part. They say this could be another sign labor is near too!
Nesting: We're at the point now where all the baby clothes are washed, our hospital bags are packed and we're just doing a few last minute things to get our lives and home in order for baby's arrival. We've made a big Costco grocery list and are freezing casseroles left and right. I've been squeezing family check ups at the doctor and dentist in this week and I'd even like to fit in a pedicure or hair cut if I can too. Oh yeah … I also need to go to the DMV to officially become a Tennessean again! The urgency I'm feeling inside to "get everything done" is so strong!!! From previous experience, I know that these types of appointments are very difficult to fit in in the first few weeks, months even, after a new baby's arrival. Fingers crossed I finish my to-do list in time.
I'm planning on sharing a "What's in My Hospital Bag" blog post next week! I'll also be highlighting what we're packing for baby boy too. I feel really confident that we're not over or under-packing this go-round, having done this once before. I've also scooped up a few precious mementos we're bringing along to the hospital with us to make those first few photos all the more memorable. This is something I didn't think to do with Annie but wished I had. Can't wait to share more soon!
—
And as always, thanks for stopping by the blog and following along in this latest adventure of mine. Life is going to change so much in the next few weeks and I'm thrilled to take y'all along for the ride!
—
xo, alice
The post Fall Maternity Style + 37 Week Bumpdate appeared first on Lone Star Looking Glass.
What does naughty but nice mean
. xoxo.