.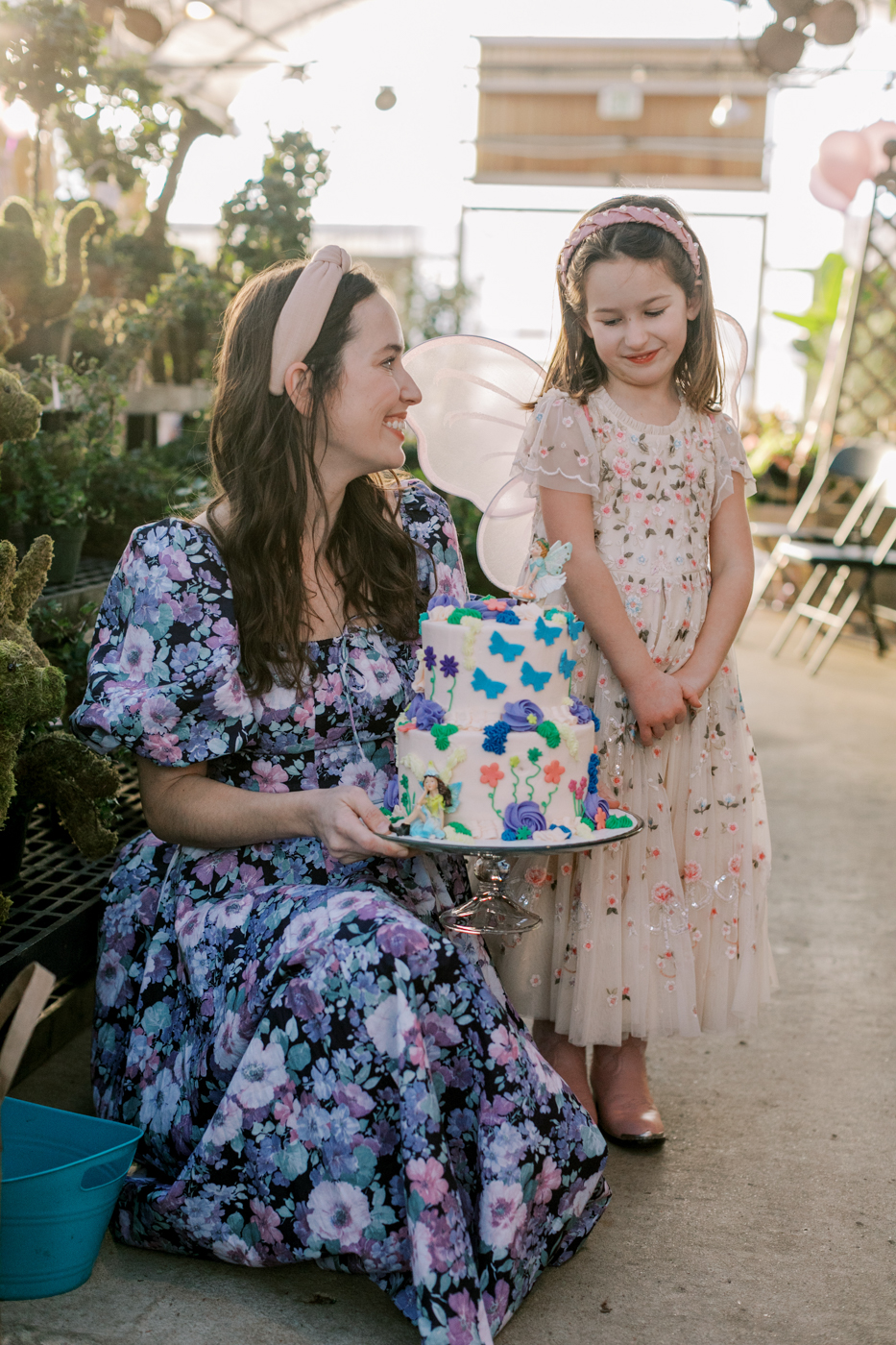 Turn on your JavaScript to view content
Five. Five years!! It feels like Annie is still a baby yet also as if she has been with us since day one at the same time. This birthday felt BIG to us. So we celebrated it for the momentous occasion it was – with a fairy themed garden party fit for our little fairy princess.
I'm inviting y'all to our party today and sharing the tidbits that went on behind the scenes to make this special day happen. If you're planning a party for your little girl, trust me – do it fairy garden themed. It truly was so sweet, special and whimsical all at once.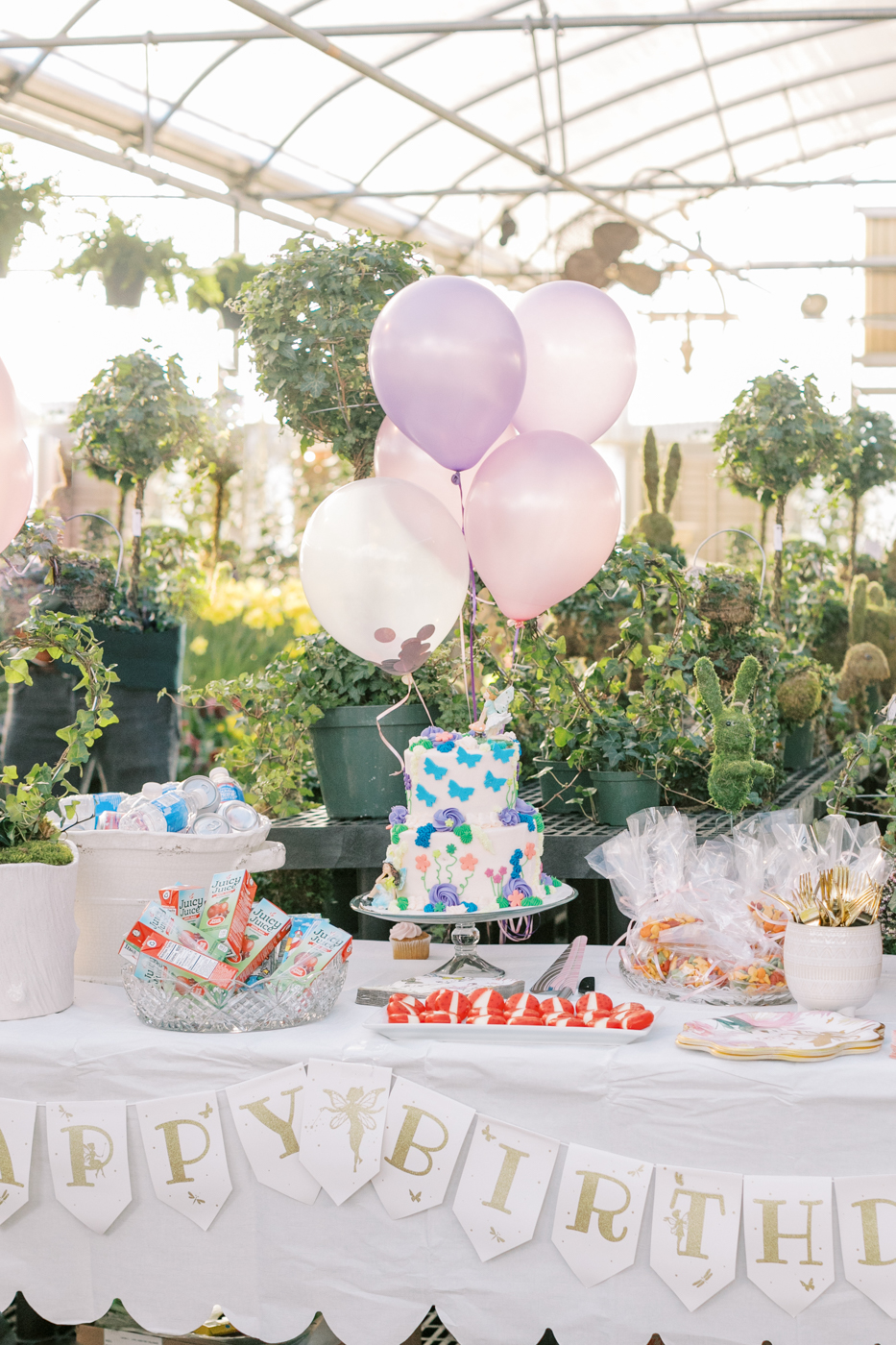 A Greenhouse Garden Venue
Finding a whimsical garden in the middle of January is no easy feat. When I mused these frustrations to a friend over dinner – who quickly recommended we get in touch with Millstone Nursery for the venue – I almost jumped out of my seat!
For my Memphis friends, Millstone Nursery is right on the Memphis/Germantown line and boasts the most beautiful greenhouse. Stepping out of the January cold and straight into spring might have been the most magical moment of the whole party.
Those who aren't local, consider getting in touch with your local nursery to see if they would be interested in turning into a fairy garden for the afternoon!
Our party was priced per guest and included table + chair set up, all the ingredients to create a one-of-a-kind take home fairy garden, and the loveliest host who led our girls through their fairy garden creations.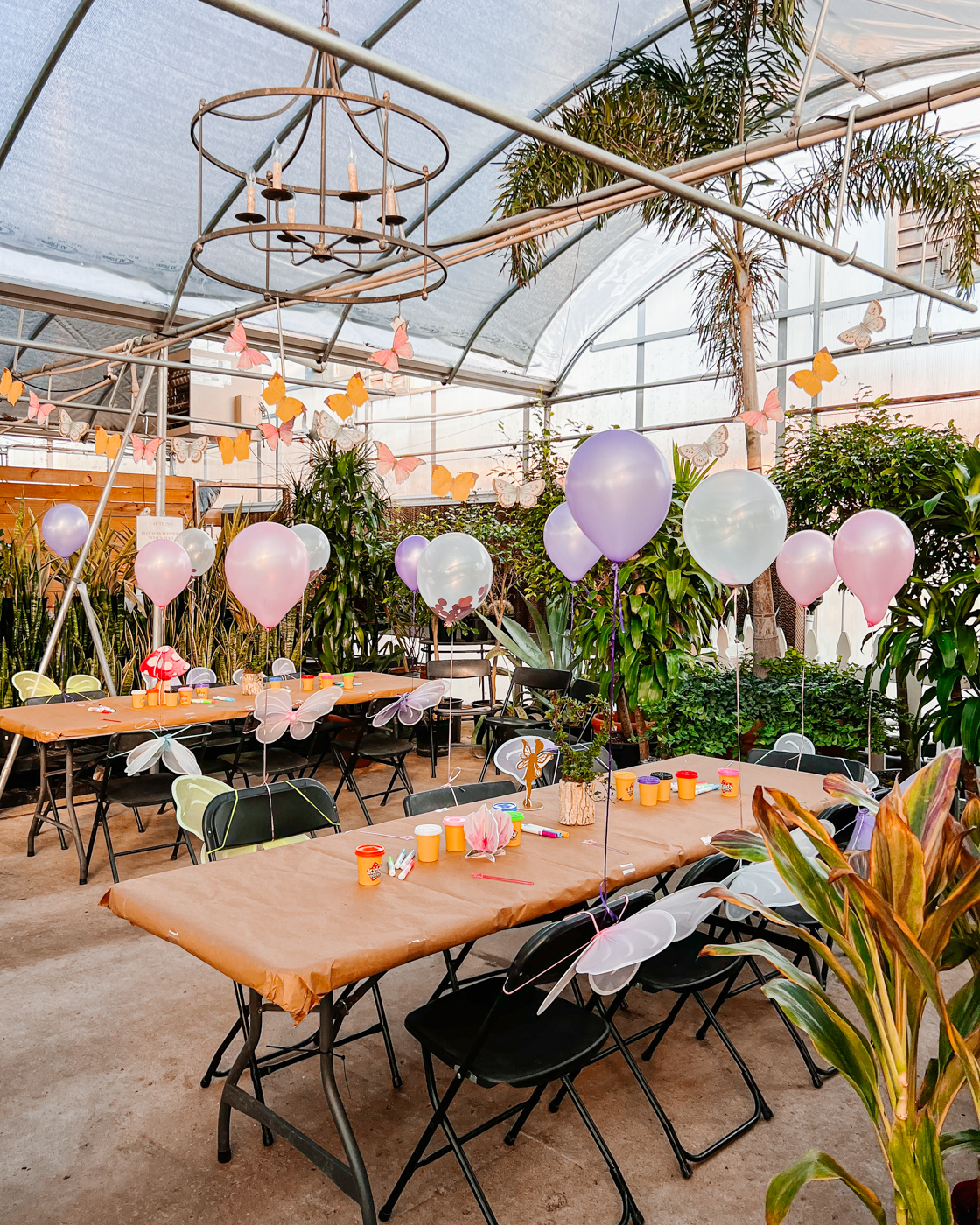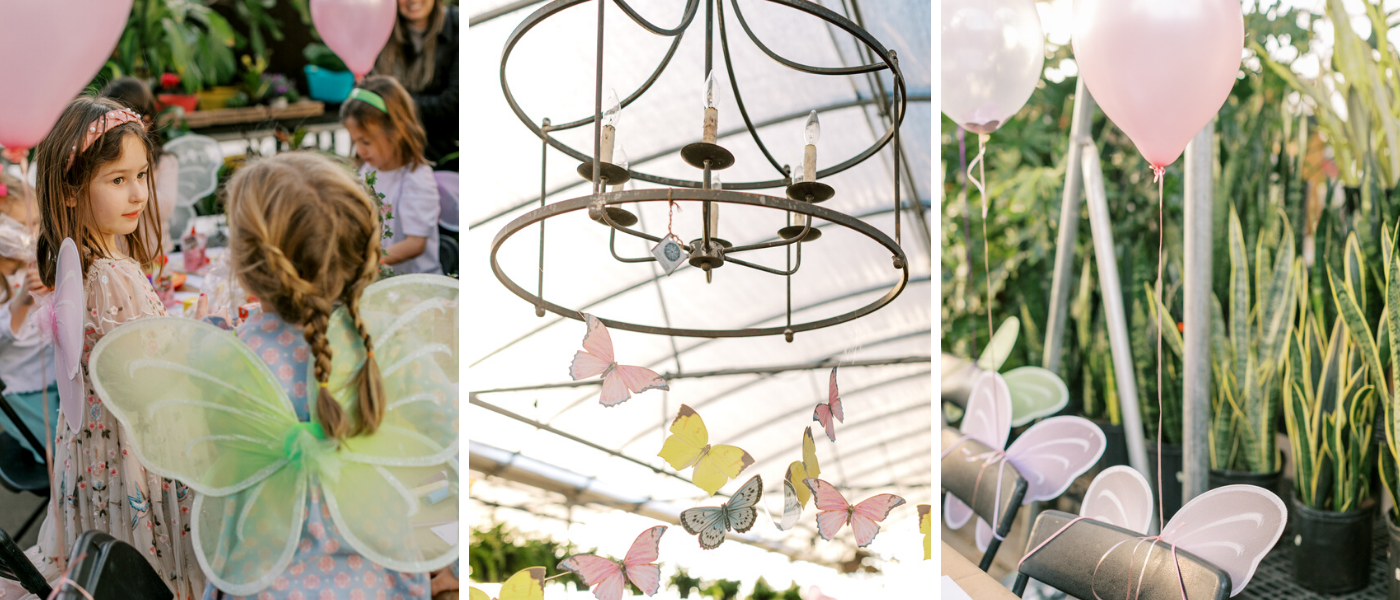 Delicate & Elegant Details
I loved the idea of setting up a space for the girls that looked like it was put together but the fairies themselves. I found butterfly bunting, pink, purple & pearl balloons, and sparkly wings to place on the chairs each guest could take home as a treat too.
Millstone's greenhouse was so gorgeous that I didn't really need to decorate with much of anything at all but I loved how these sweet details stood out.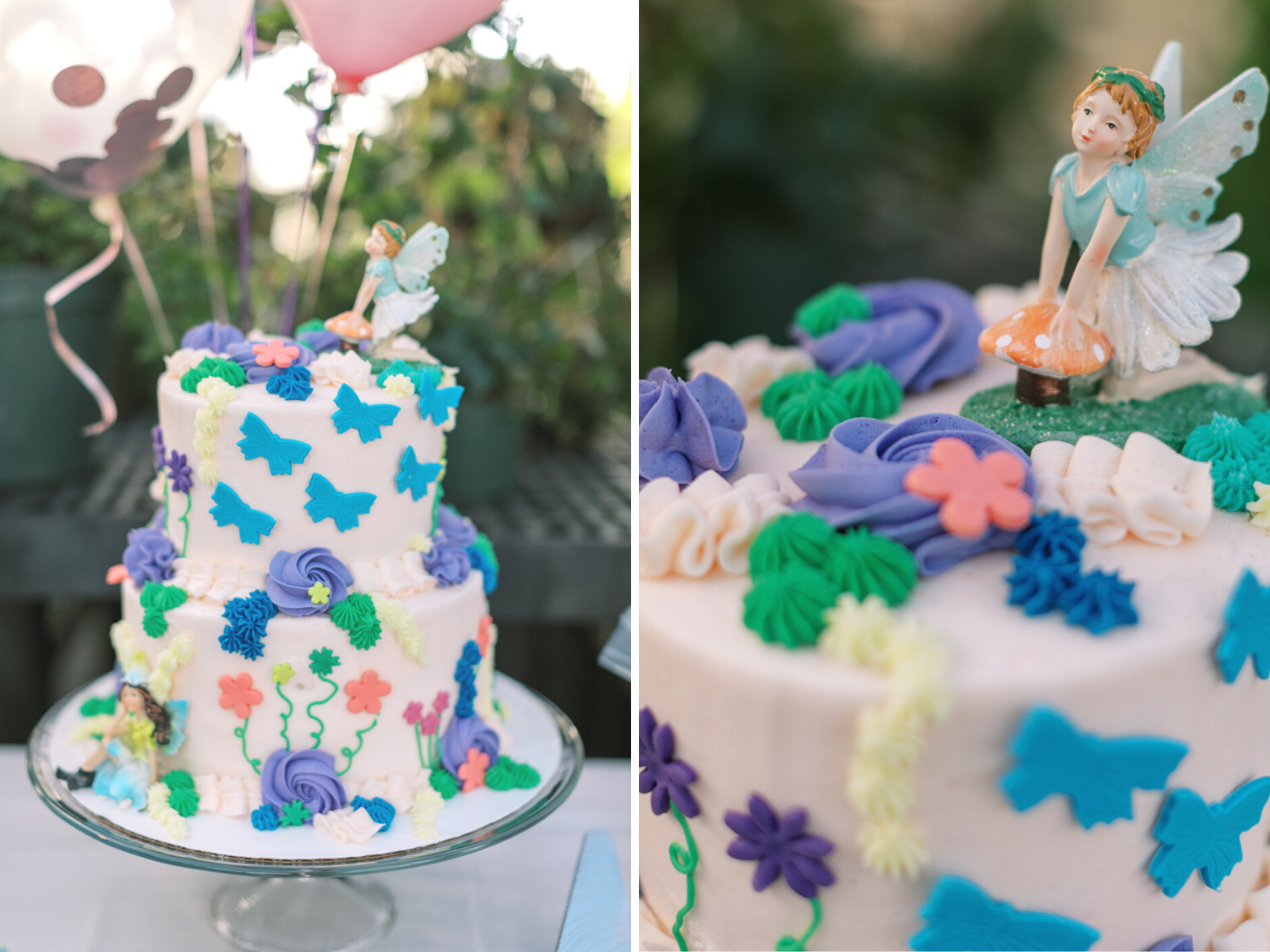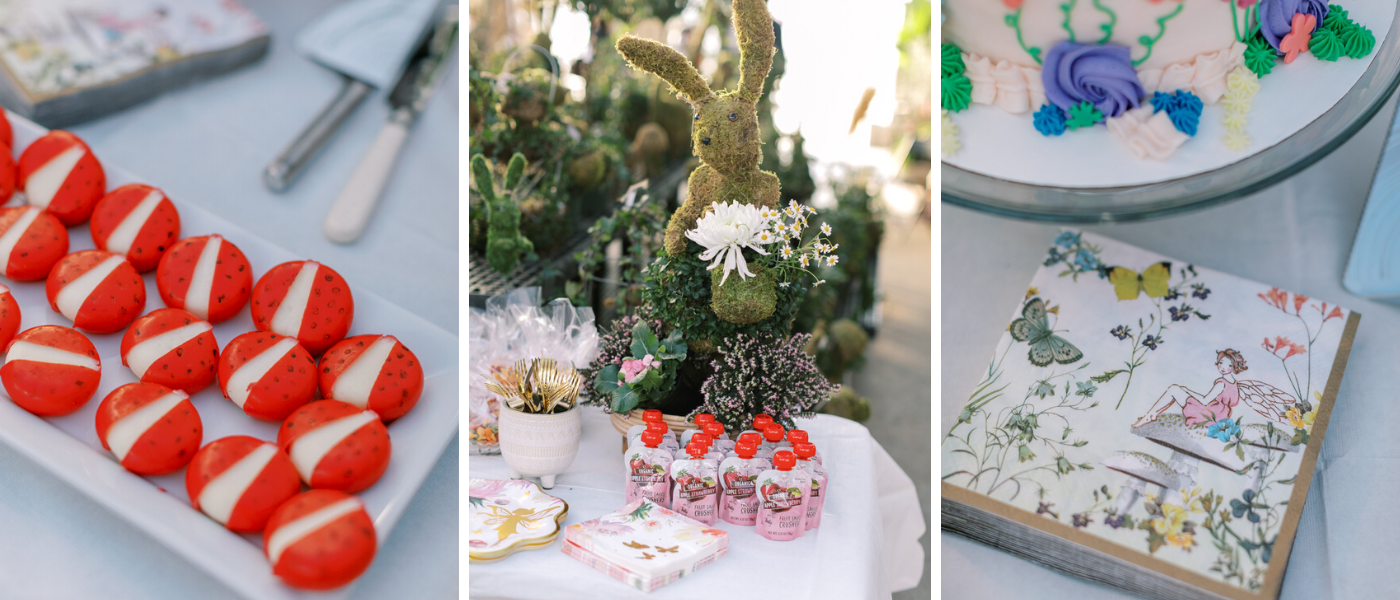 An Ethereal and Enchanting Cake
The tiny flowers, fairy statues & festive details adorning Annie's precious cake had me almost shedding a tear at first sight! Primas Bakery is our favorite place in town for creative birthday cakes. (See Bennett's First Fiesta Cake here). The inside is just as beautiful as the outside – with its rainbow confetti cake + buttercream filling.
Annie's party was held immediately after school let out on a Friday afternoon. We knew these little girls would come hungry so we prepared with Lady Bug – Babybel Bites, Strawberry Apple Sauce Pouches, Gold Fish & Juice.
Our fairy-themed plates, napkins & serving pieces were fun finds linked below: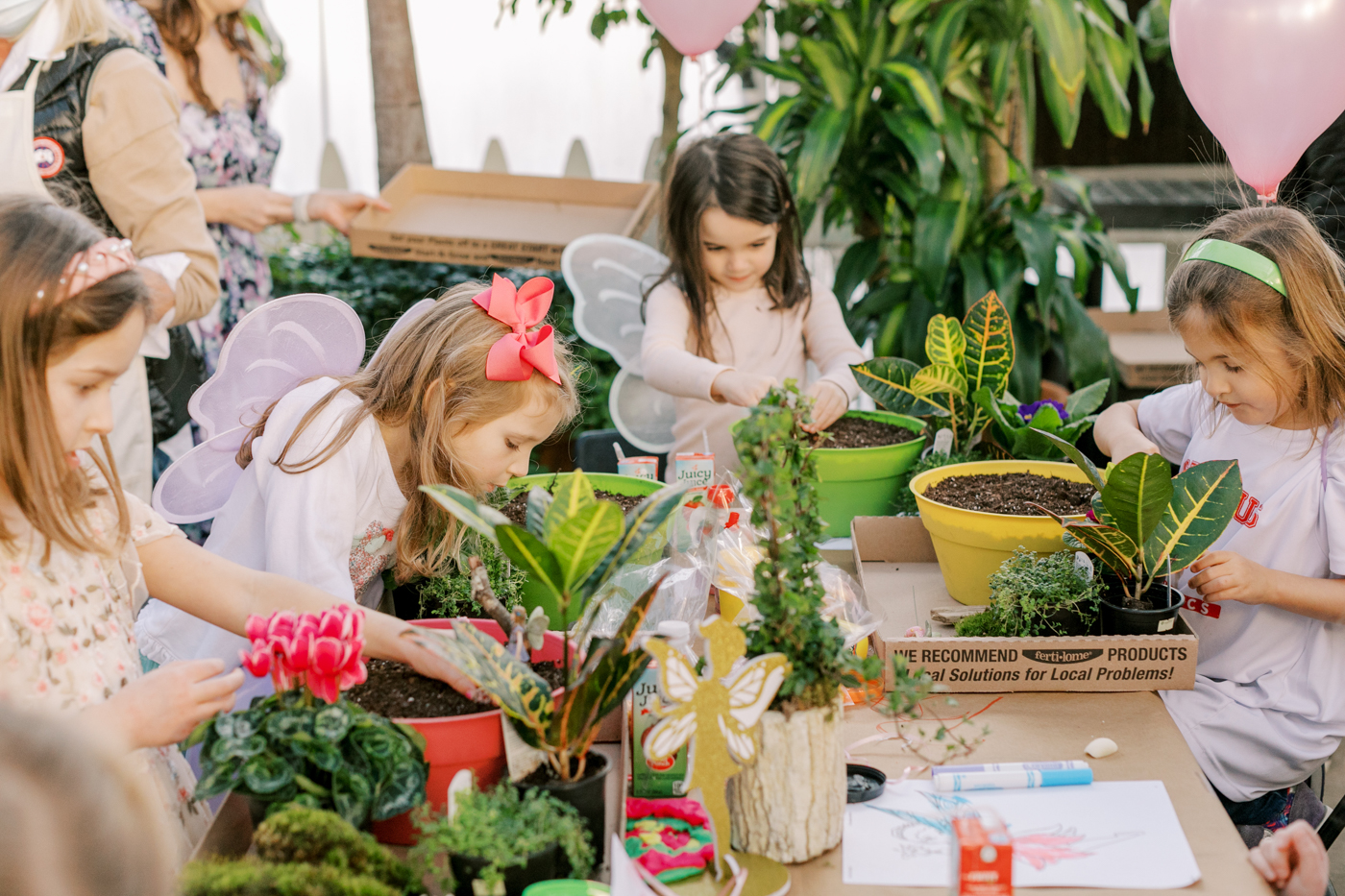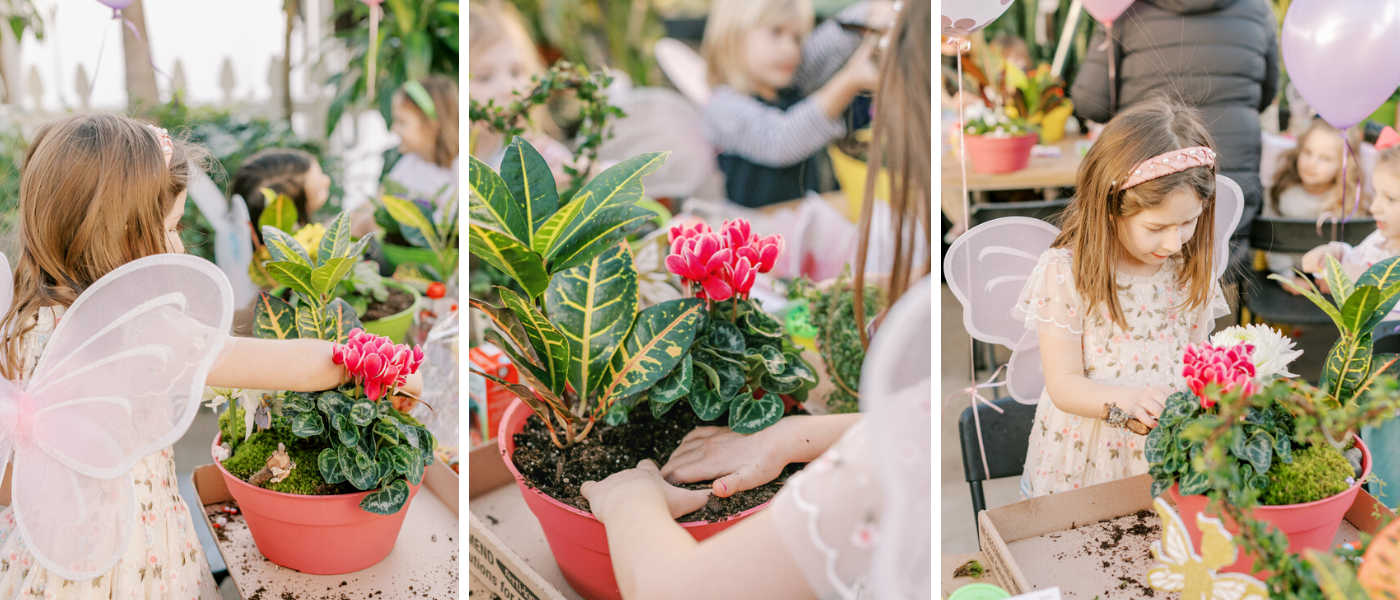 Making Miniature Gardens
The highlight of the party was when each little girl got to sit down and build their own fairy garden. The nursery provided the pot, dirt, plants, moss, and even a little stone or two.
I scooped up tiny little fairy statues and whimsical figurines I found online for the girls to decorate with and put on display.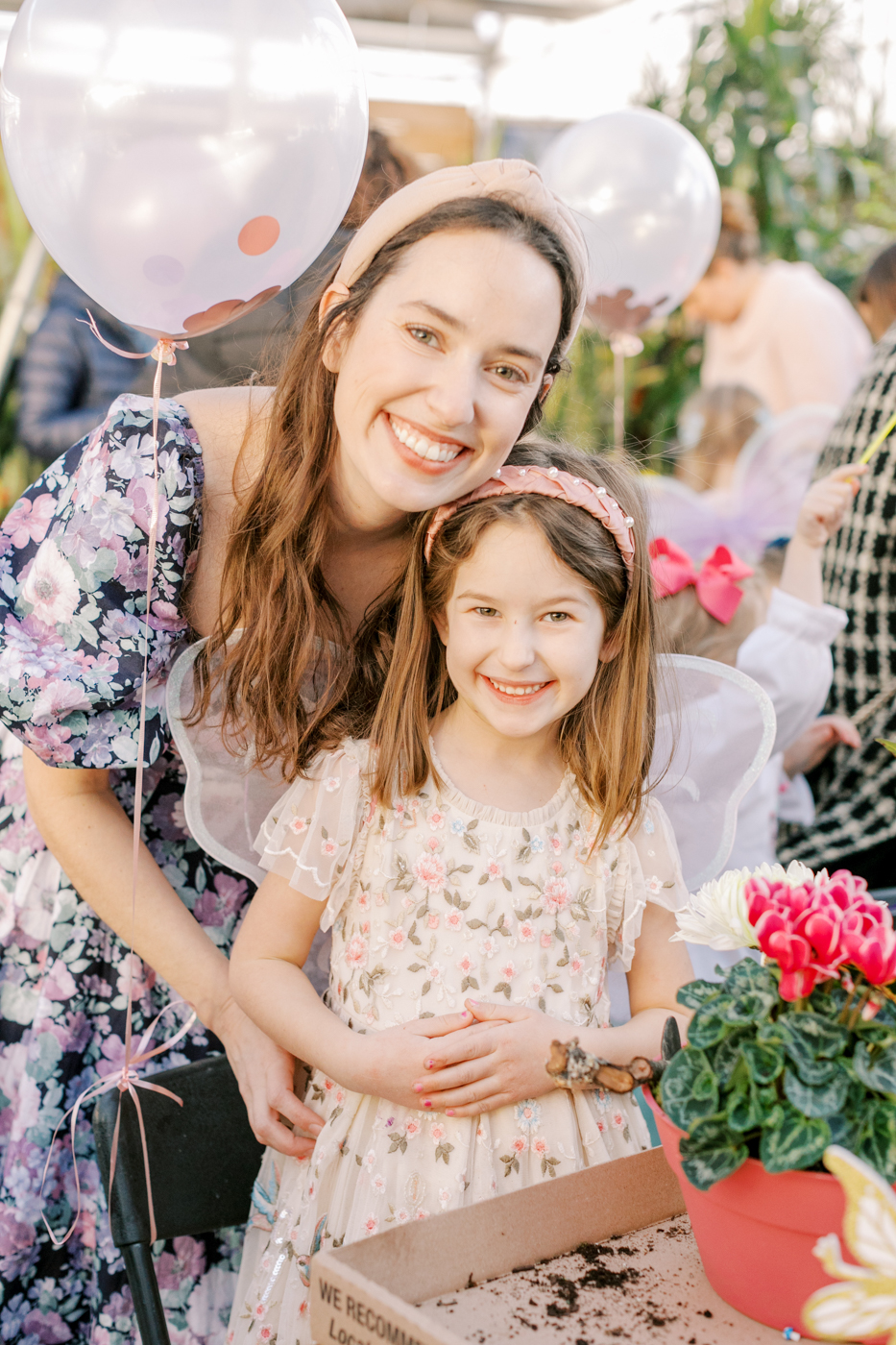 The most special day celebrating my sweet Annie!

Turn on your JavaScript to view content

Turn on your JavaScript to view content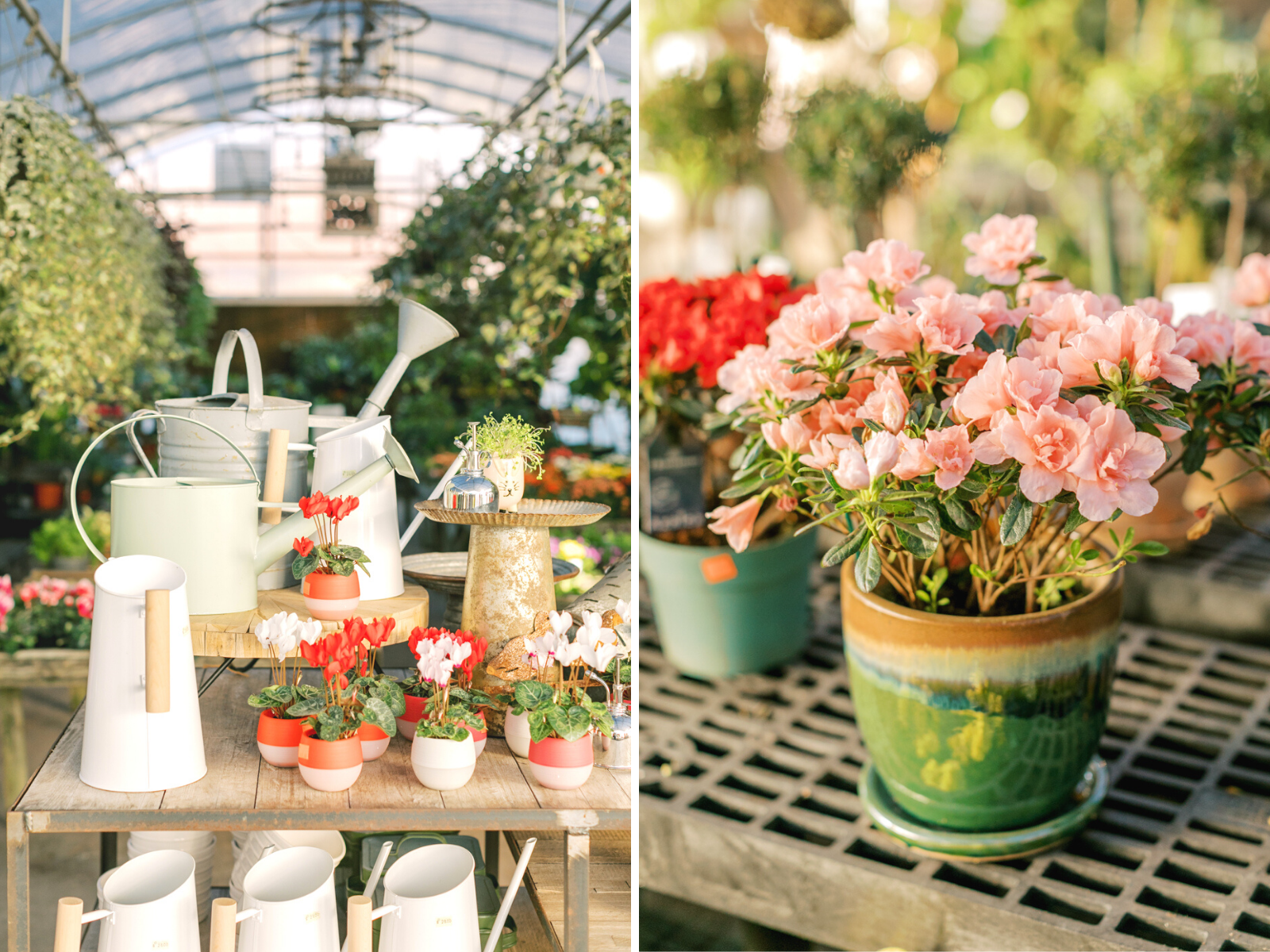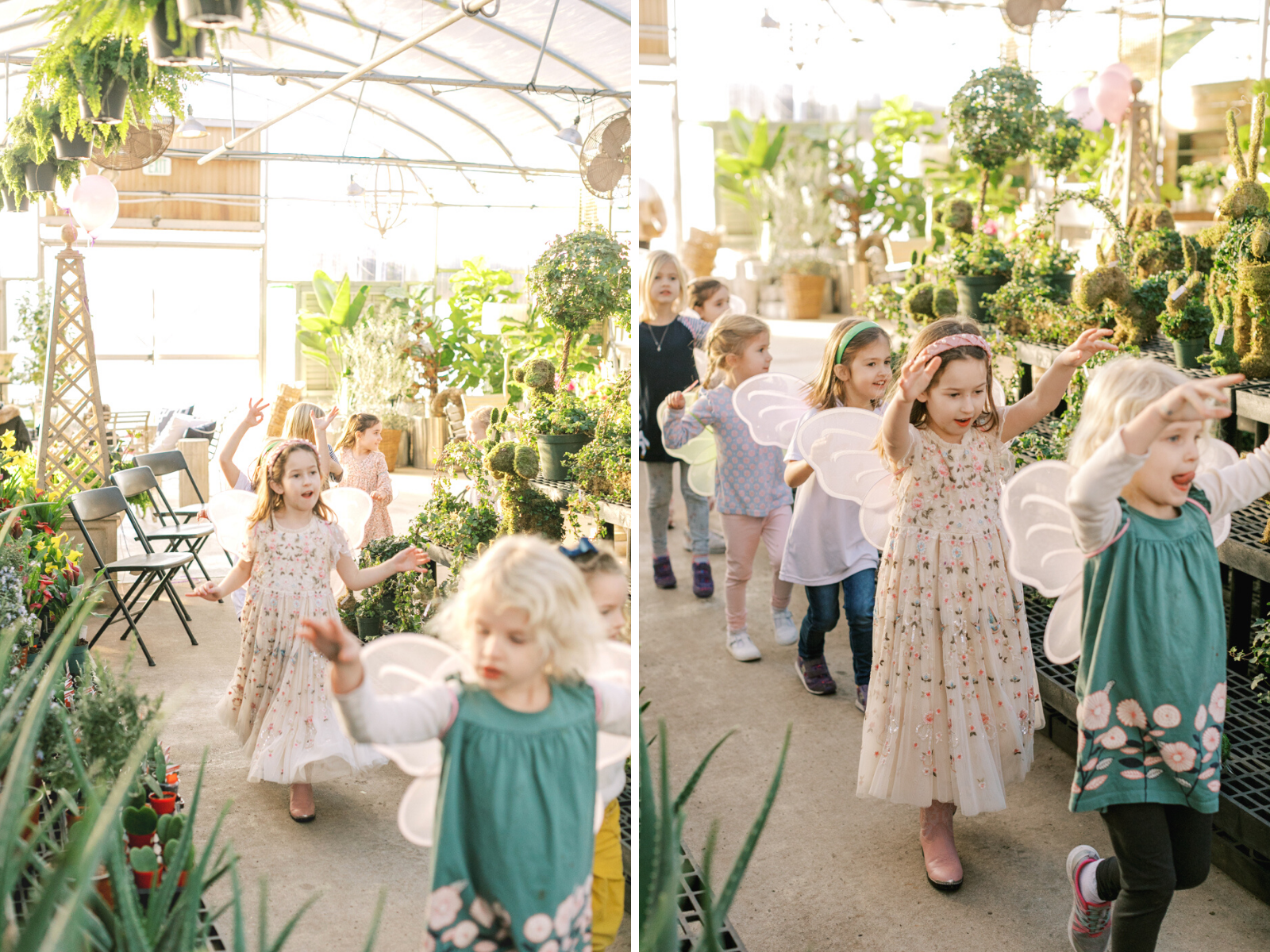 We kept the girls entertained with crafts, games, dance parties, duck duck goose and more! Five is a stimulating age and the girls were busy, busy, busy with a lot of energy. I'd plan more activities than you think you might need for an hour and a half fairy garden soiree!
As a mom, my favorite moment of the party was when all the girls stood up to dance together. A song from one of the recent Tinkerbell movies was playing. At one point, all the little girls were jumping up and down – wings flapping and wands tapping to the beat of the music. Annie was absolutely beside herself! Seeing her surrounded by friends with that sweet smile on her face made all the party planning 100% worth it.
—
Big big thank you to sweet Mary Kate Steele for joining us and taking these oh-so-precious photos. You captured the party in the most wonderful way!! Mary Kate is a Memphis photographer who specializes in weddings. She will also capture birthday parties, family milestones and moments too. 
—
xo, alice
The post Fairy Garden 5th Birthday Party appeared first on Lone Star Looking Glass.
What does naughty but nice mean
. xoxo.