Dior Cruise 2021: El homenaje a Italia de Maria Grazia Chiuri
¡Feliz jueves, mis amores! Hace unas horas tuve la oportunidad de ver en vivo el desfile en el que Dior reveló su colección Cruise 2021. Como muchos otros eventos, la pasarela tuvo que ser pospuesta unas semanas hasta el día de ayer. Esta propuesta que fue semi física y digital, no tuvo audiencia y fue transmitida desde la ciudad de Lecce, Apulia, que está al sur de Italia.
Happy Thursday, my loves! A few hours ago I had the opportunity to see the parade in which Dior revealed its Cruise 2021 collection live. Like many other events, the catwalk had to be postponed a few weeks until yesterday. This proposal, which was semi-physical and digital, had no audience and was broadcasted from the city of Lecce, Apulia, which is in southern Italy.
La inspiración
Me gustó la intención del show en sí, que buscó darle una nueva dimensión al esfuerzo colectivo. Según Maria Grazia Chiuri, a pesar de los inconvenientes de la distancia, el hecho de ver la vida cotidiana desde una perspectiva diferente nos ha aportado fuerza e imaginación. Para crear esta colección, Chiuri decidió conectar su pasión creativa con la región de Apulia, sus raíces y sus energías mágicas como el tarantismo.
Dior Cruise 2021, es un homenaje a la memoria, los valores, la cultura y el futuro de la artesanía excepcional de Italia. Amé los tejidos hechos por la fundación Le Costantine, vistos en chamarras –incluyendo la emblemática Bar, que es una expresión experimental del savoir-faire ancestral–.
I liked the intention of the show itself, which sought to give a new dimension to the collective effort. According to Maria Grazia Chiuri, despite the drawbacks of distance, the fact of seeing everyday life from a different perspective has given us strength and imagination. To create this collection, Chiuri decided to connect her creative passion with the Apulian region, its roots and its magical energies such as tarantism.
La escenografía
Sobre la escenografía, les puedo decir que me encantaron las frases que la artista italiana Marinella Senatore eligió para destacar el empoderamiento feminista. La presentación se llevó a cabo en la Piazza del Duomo, que tardó 12 días en ser transformada en una luminaria tradicional de los festivales de la región. Esta obra fue hecha por artesanos locales.
I loved the phrases that the Italian artist Marinella Senatore chose to highlight feminist empowerment. The presentation took place in the Piazza del Duomo, which took 12 days to be transformed into a traditional fixture for festivals in the region. This work was made by local artisans.
Le désir est révolutionnaire car il cherche ce qui ne se voit pas.

We rise by lifting others.

La différence pour les femmes est des millénaires d'absence de l'histoire.

Be a builder of unguilt.
La colección
La pasarela empezó con una presentación del cantante Guiliano Sangiorgi y un grupo de bailarines de pizzica, que es una danza popular originaria de Salento, Apulia. Las modelos caminaron entre ellos, mostrando una colección llena de artesanía apegada al folclor italiano. Me encanta que siempre usen los símbolos favoritos de Christian Dior como la espiga de trigo, que apareció en diferentes prendas. Otra cosa que me llamó la atención fuero las flores hechas por artista Pietro Ruffo y otros dibujos botánicos del libro "De Florum Cultura". Todos ellos estuvieron en las prendas y accesorios más cool de la colección.
The runway started with a presentation by the singer Guiliano Sangiorgi and a group of pizzica dancers, which is a popular dance originating from Salento, Apulia. The models walked among them, displaying a collection full of crafts attached to Italian folklore. I love that they always wear Christian Dior's favorite symbols like the ear of wheat, which appeared on different garments. Another thing that caught my attention was the flowers made by artist Pietro Ruffo and other botanical drawings from the book "De Florum Cultura". All of them were in the coolest garments and accessories in the collection.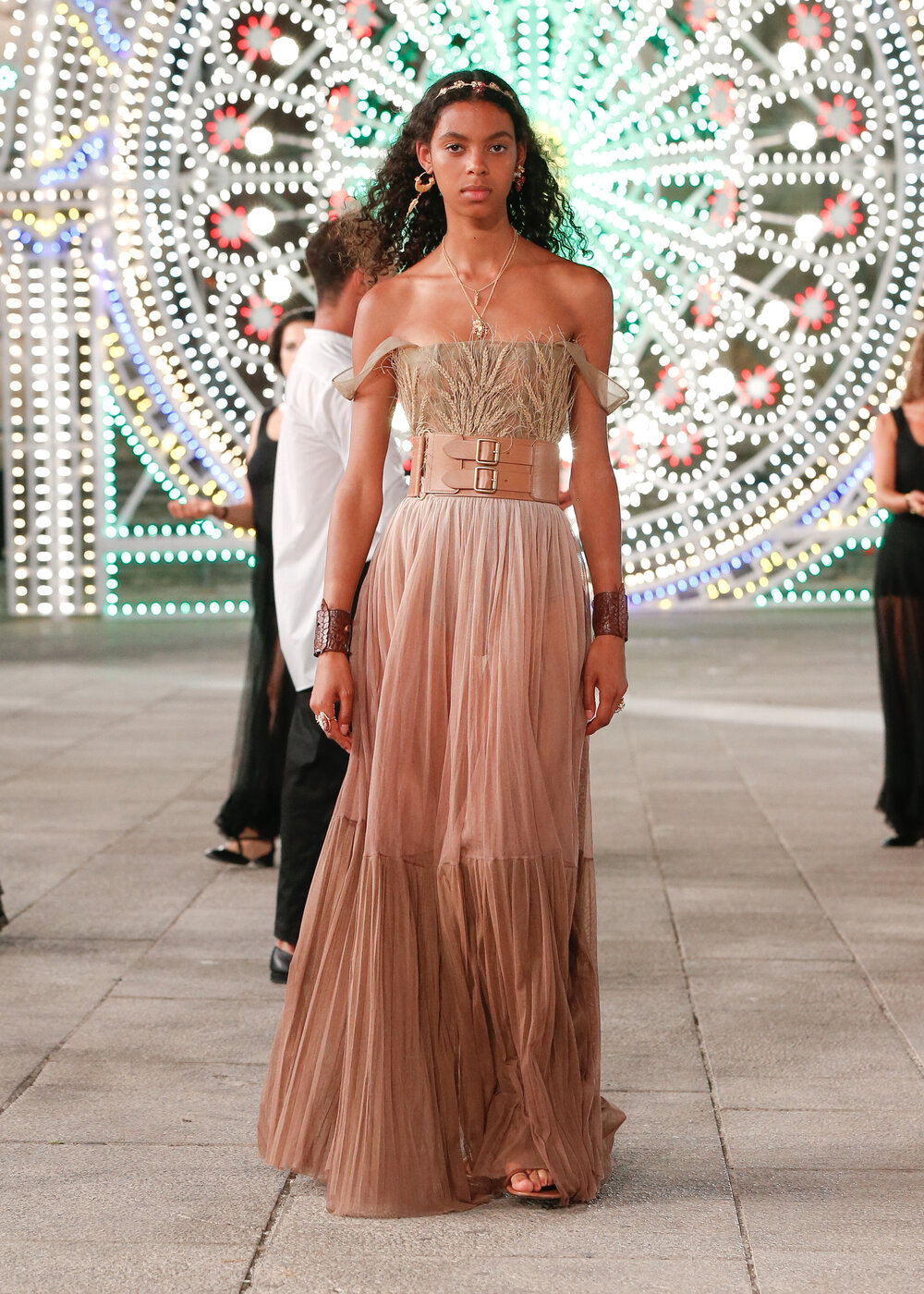 Con amor,
Sending you all my love,
PAM
Why do I stain my underwear?
. xoxo.