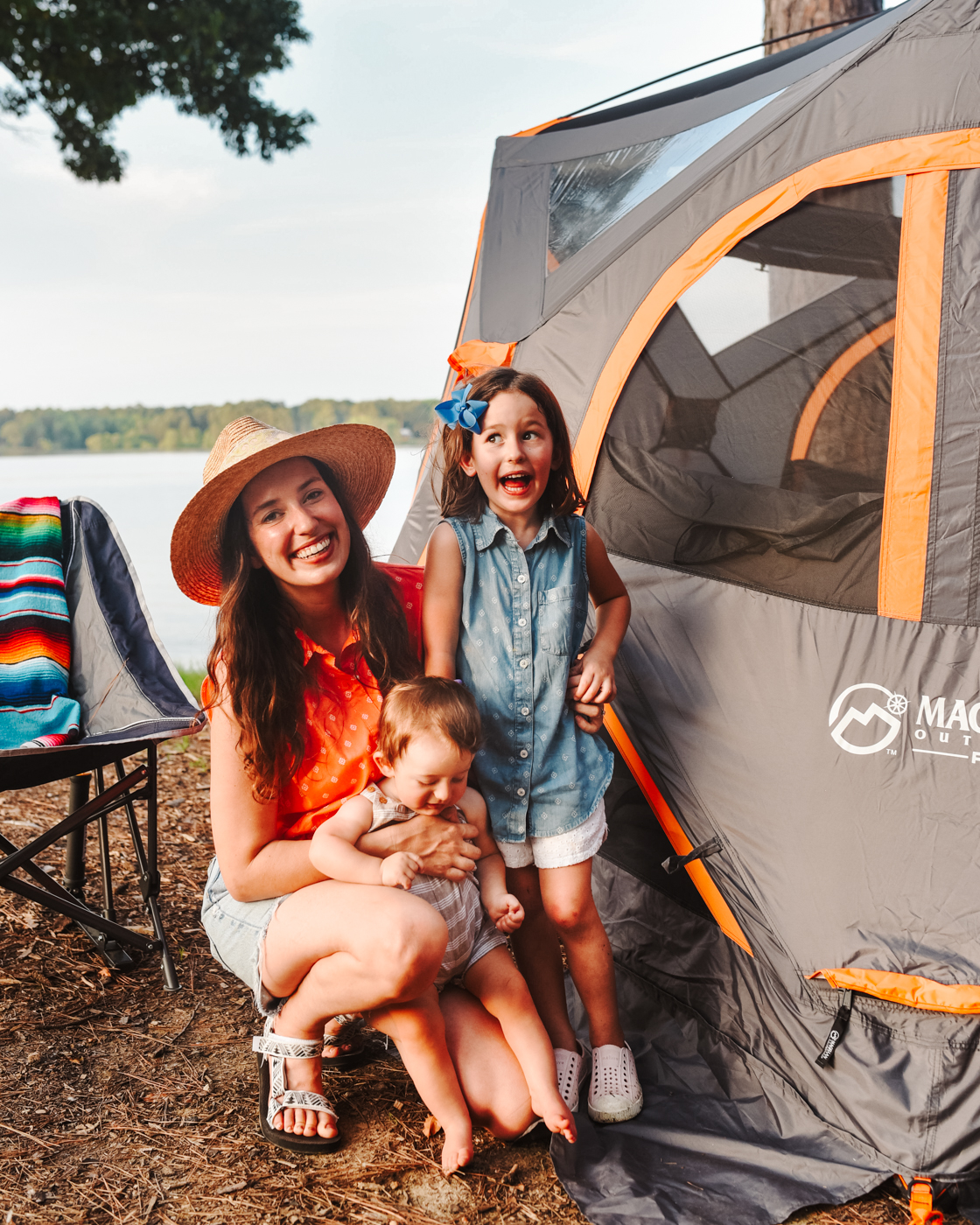 Did you know that June is National Camping Month? Only fitting we celebrate too!
Last weekend we experienced a BIG first in our family. Bennett's first camping trip & our very first time bringing a BABY along for the ride. (We weren't brave enough to take Annie camping for the first time until she was closer to 3!)
We booked this trip months ago, doing diligent research to find the most perfect campsite within an hours drive of Memphis. (We 100% succeeded & I'll tell y'all more about the campsite below!) But when the temperature read a high of 93 degrees on the day of our big adventure – there was a brief moment the trip didn't even happen at all.
Thankfully, we made some last minute adjustments to our trip and we all got to camp in the end. Bennett's first camping trip was surely one to remember and we couldn't have done it without planning ahead and coming prepared.
I'm so excited to share our must have camping gear in a Camping with Kids Packing List along with tips and tricks for a smooth as-can-be camping trip with a baby – in partnership with Academy Sports + Outdoors today.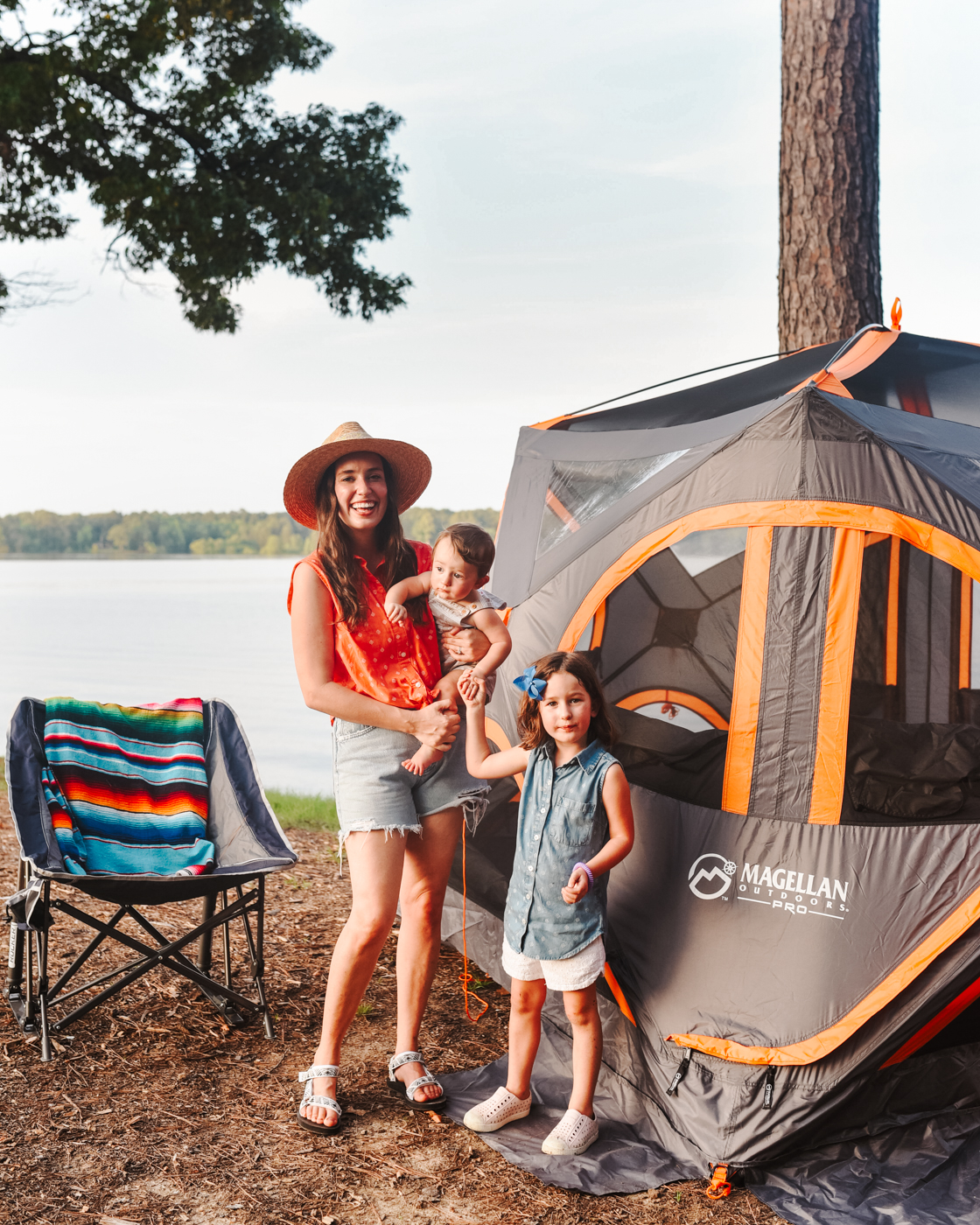 Spilling the Beans on the BEST Campsite South of Memphis
But first things first, let me tell y'all where we pitched our tent last Saturday night. Part of me wants to keep this special spot a secret … but it deserves to be shared and I'd love nothing more for y'all to enjoy this beautiful view just us much as we did!
Dub Patton Recreation Area sits on the shores of Arkabutla Lake in the hills of northwest Mississippi, just about 45 minutes south of Memphis. Like most parks, this one has great hiking trails, a little public beach along the lake, a playground and ample space to drop a line & fish. But the campground is home to sites 9 & 10 – which are unlike any other tent sites I've ever visited.
These two sites are all on their own little peninsula jutting out into the lake. We arrived to a couple of picnic tables & grills surrounded by a sweeping view of the lake. If you plan a stay here, I'd go ahead and reserve both spots for even more privacy and space.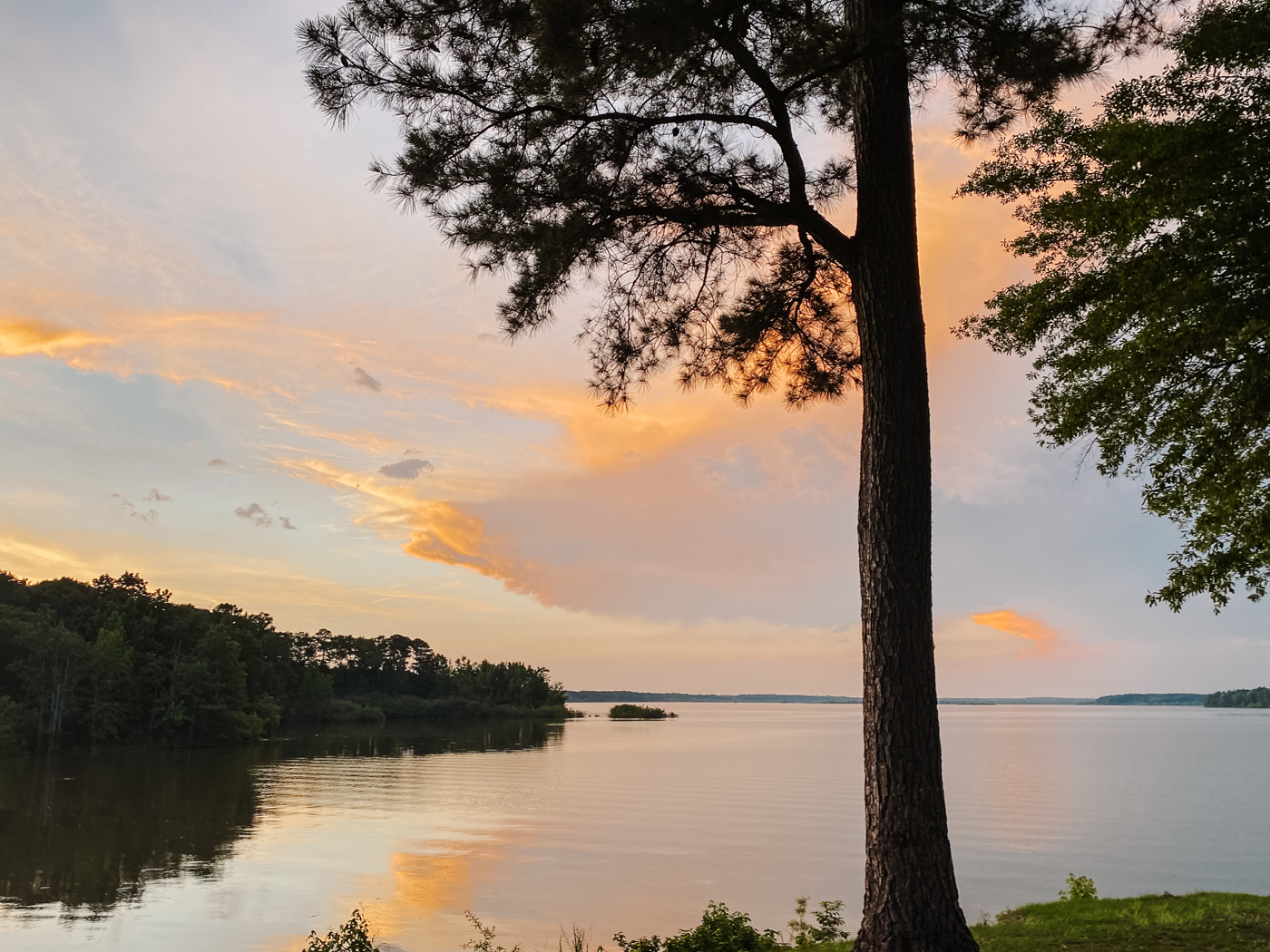 Remember how I mentioned the high was 93 degrees on our camping day? Since baby Bennett was joining us for this big adventure, we were nervous about the Southern summer heat. We kept an eye on the weather and saw that the heat would start to dissipate after 5:30 pm.
This is where the perks of a short drive and summer sunsets come in handy!
We didn't make it to camp until just before dinner time. (Normally, we like to arrive by lunch for a full day of hiking and fun.) But honestly getting there late in the day was PERFECT. We beat the heat and still had several hours of sunshine to enjoy.
My favorite part of camping – especially with kids – is dinner time followed by sunsets and smore's. 

A Tent to Fit a Family of Four
Knowing it was going to be hot, hot, hot we packed along a tent that would keep us cool-as-can-be – with enough space for all four of us too. This SwiftRise 4-person hub tent by Magellan for Academy couldn't have been better for this trip. The best part about it is that the tent takes NO time at all to pop up. There are no poles to assemble & slide through tiny tubes of tarp! We were in awe of how quickly this hub-style tent popped up – almost on its own! When you have your hands full with two little ones, saving time on tent assembly makes a huge difference.
The other pro was that the tent comes with 12 tight-weave mesh windows to keep campers ventilated all night long. This is almost a necessity for camping in the summer – especially in the South. Not only were we able to catch the breezes while we slept, but as we dozed off we could look up at the starry sky twinkling above.
PS: the tent also comes with a built-in lighting system. Say goodbye to fumbling for flashlights in the dark once the sun goes down.
What We Packed for a Cozy Night at Camp
Patrick and I always bring this air mattress. Depending on the weather, we will use our own sheets and bedding or pack separate sleeping bags. Annie loves her child size sleeping bag from Academy. It comes with a matching pillow too!
For Bennett, we brought his portable crib and a clip on fan to keep him cool. He honestly did GREAT all night long. Almost better than he does at home?! I think we definitely have a future camping lover on our hands.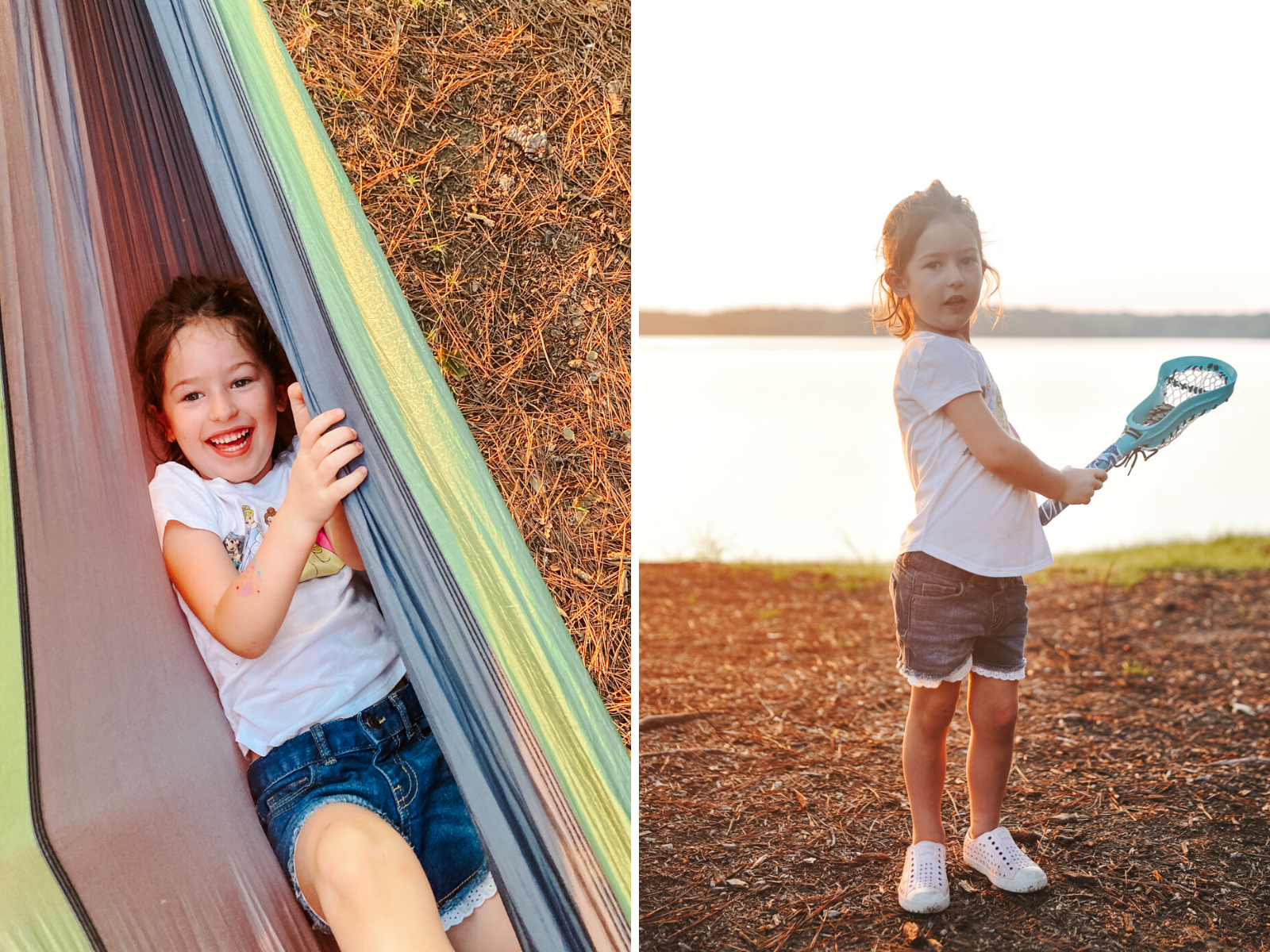 Don't Forget Games & Activities
The little ones are not nearly as content as we are to sit and stare at the view for hours on end. We now know to pack an ample amount of toys, games & activities on each trip. A few of Annie's favorites are bubbles, this kids lacrosse set, our hammock, chalk & horseshoes. We like to bring along a pack of cards and play Go Fish as the sun goes down too!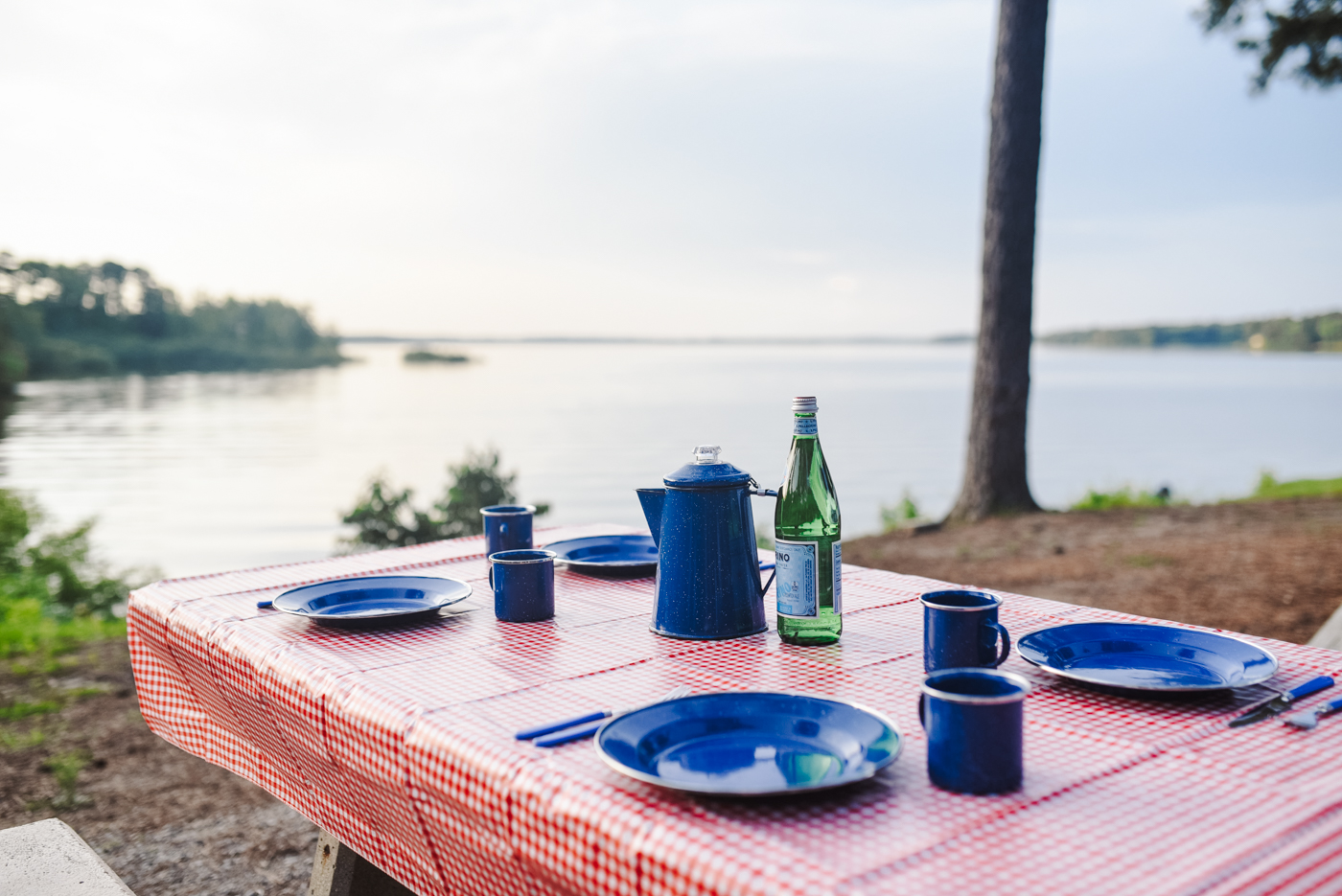 Making Mealtime Memories
The anticipation and preparation of dinner at camp is half the fun of the entire trip, if I do say so. I can't resist setting a table both home and away – and honestly, dinner on our blue enamelware is just as special as dinner on our fine china at home. (Academy has similar dishes in green available too!)
Our vinyl gingham tablecloth is easy to wipe clean (great for messy kiddos) and linked here.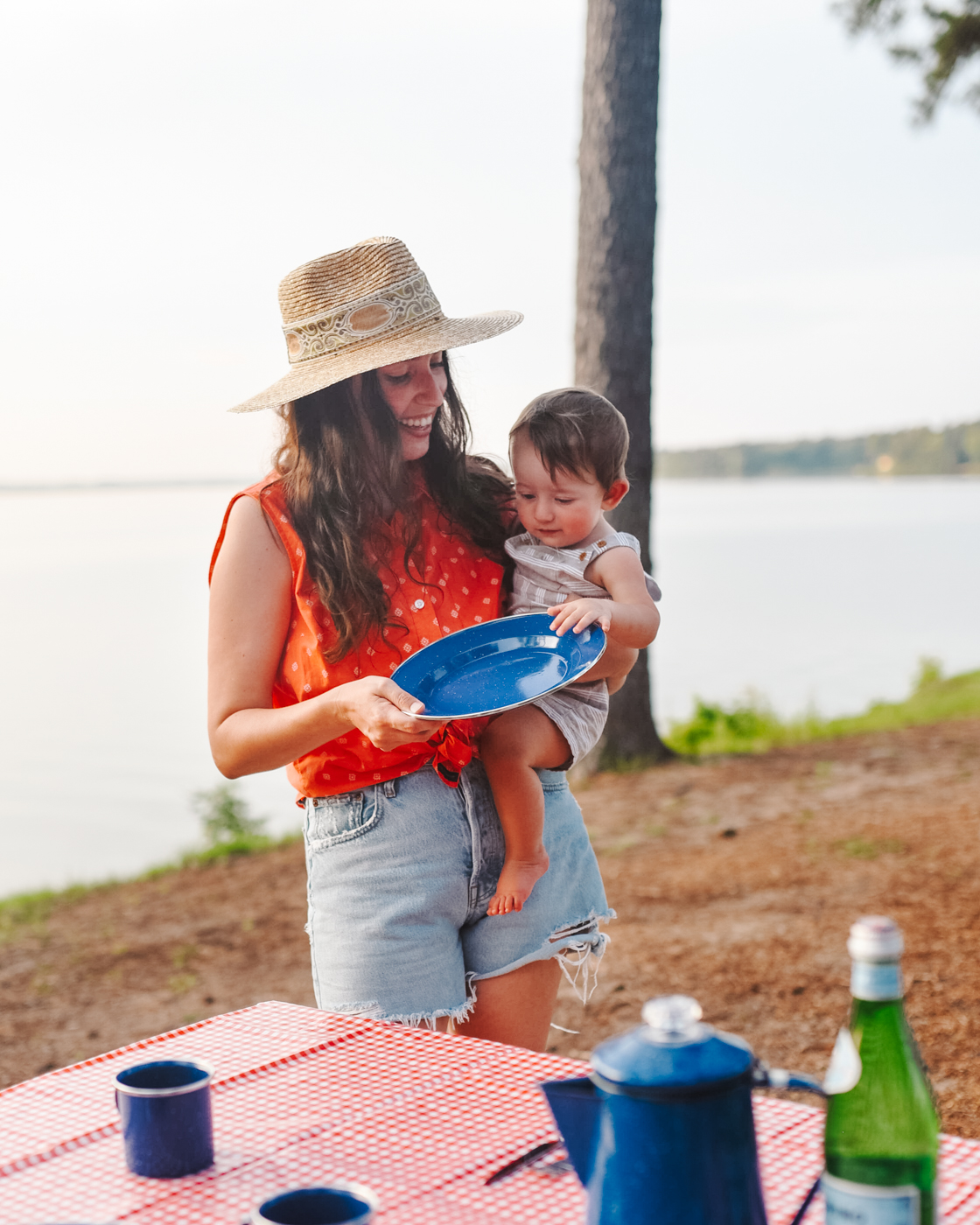 We always plan our camp meals far in advance, packing for recipes that will be easy to prepare outdoors and taste delicious too. Burgers are the easiest and often our go-to. We stepped up our traditional burger recipe this trip with sliced sautéed onions on the camp stove and melted oohey gooey gouda cheese on top.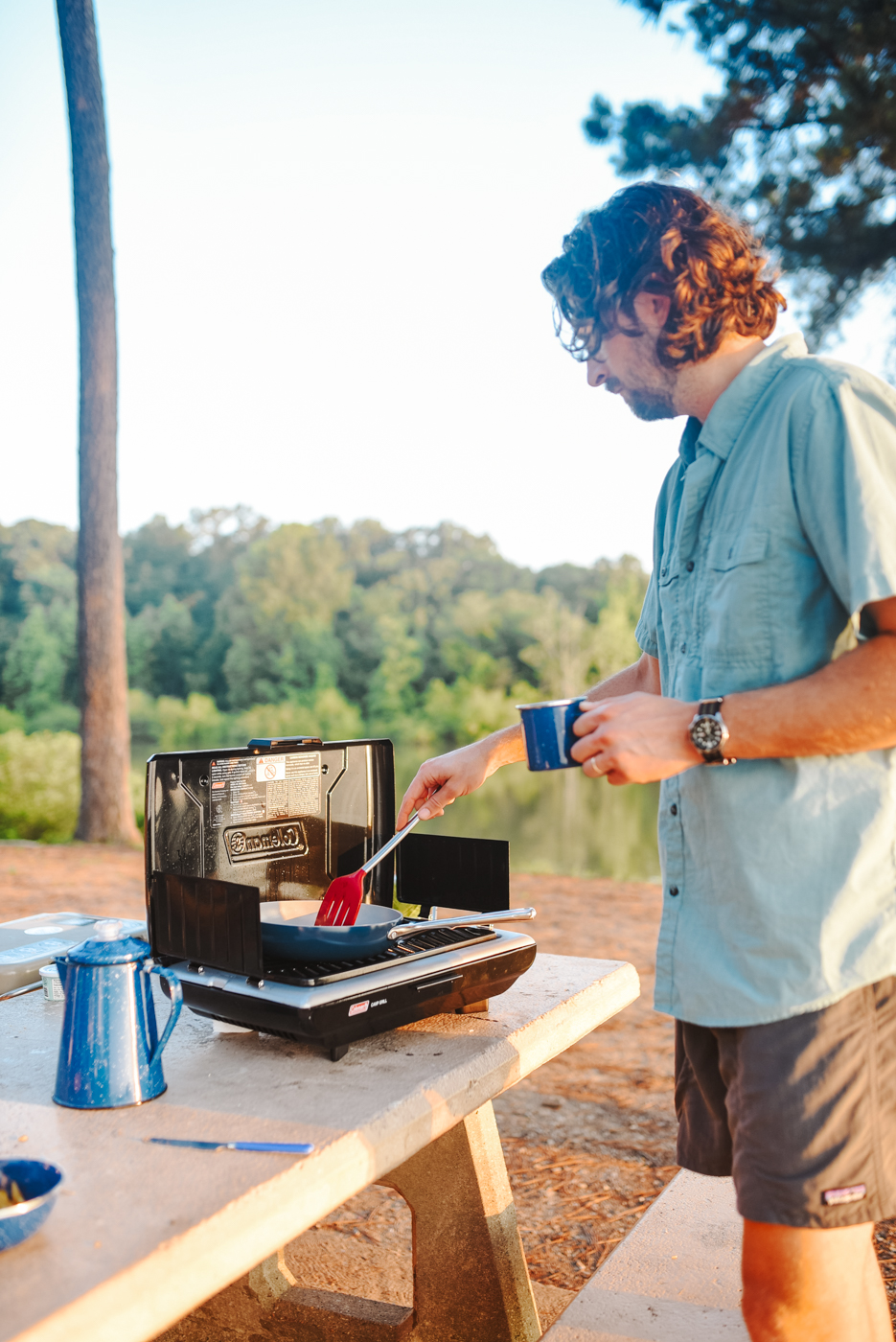 Forget the Charcoal and Use a Camp Stove
Camping with kids is no walk in the park. Anything you can do to make the experience easier on yourself – do it!! Our Coleman camp stove makes outdoor cooking SO much simpler. It is small and compact – easy to pack. The burner heats up in seconds and the whole experience is much less of a mess than trying to cook a dish in foil over an open flame. We've definitely had our fair share of "grilling" partially cooked campfire stews over roaring fires – so it feels like such a luxury whipping up dinner on our camp stove!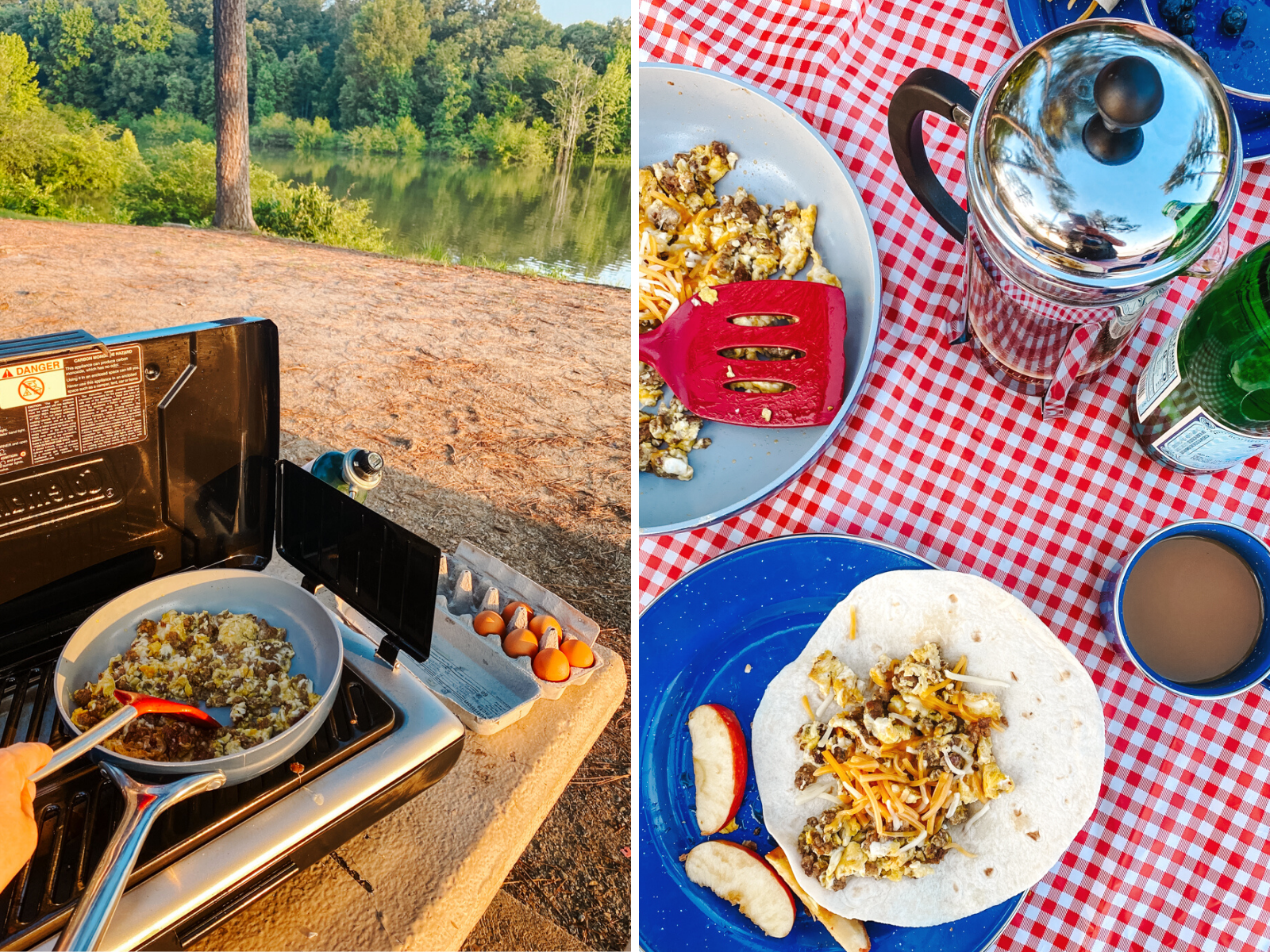 And of course, breakfast too.
It's not a Kerley camping trip without breakfast tacos!
Bennett's first breakfast at camp!
We packed our portable high-chair for baby boy's meals. I also prepped his dishes ahead of time at home, slicing things small for this adventurous new eater.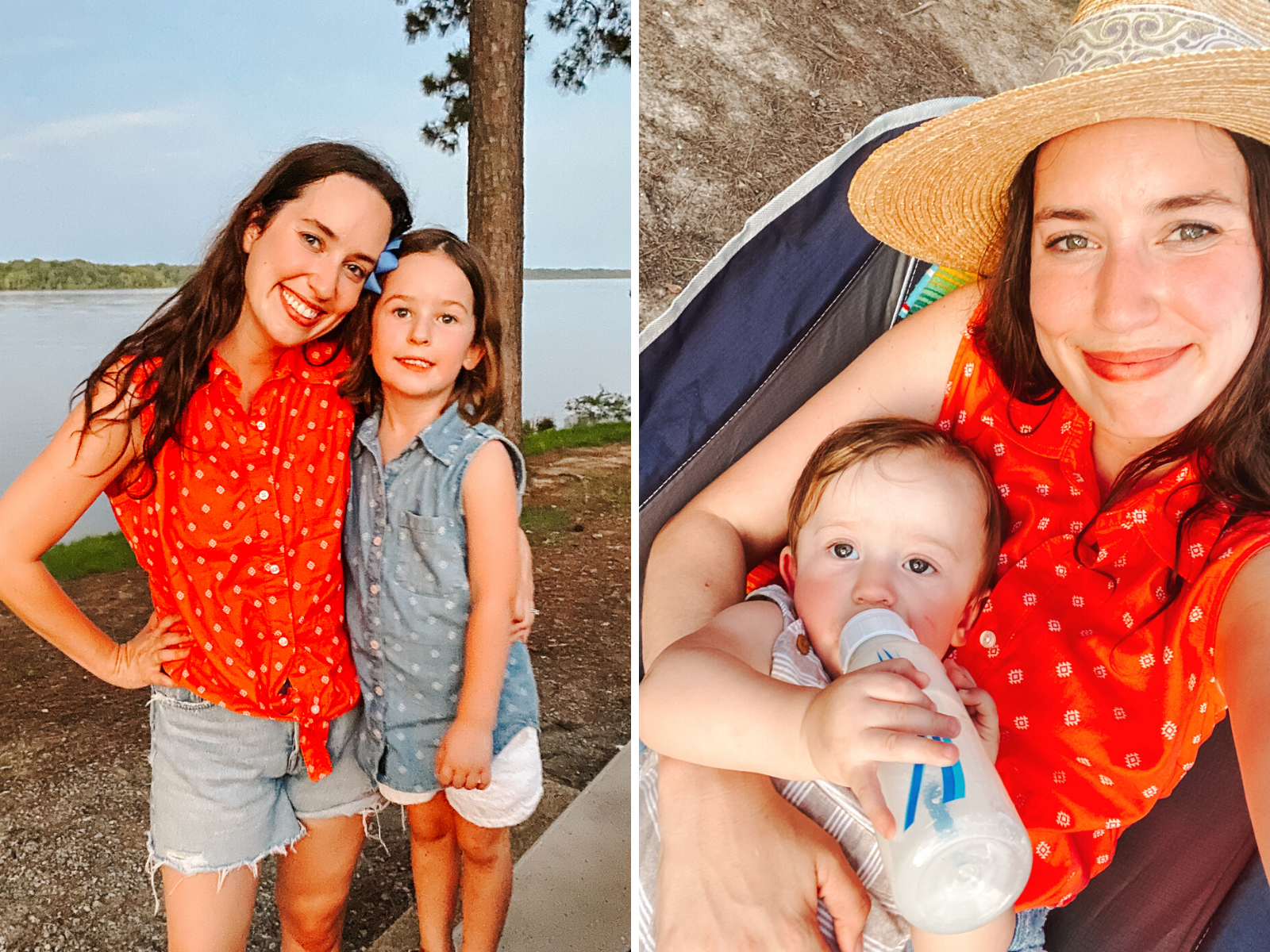 matching with my mini me – Annie's and my coordinating camp shirts are by Magellan for Academy & linked here.
We might have had a bit of a sweaty time camping under the summer sun – but we never stopped smiling! It warms my heart to know Annie and Bennett will get to grow up having these amazing outdoor experiences on the regular. A camping trip with kids (especially a baby) takes preparation and packing – but is worth every minute!
—
Before I go, I want to round up a few of my must have items as a little checklist for a camping trip with kids: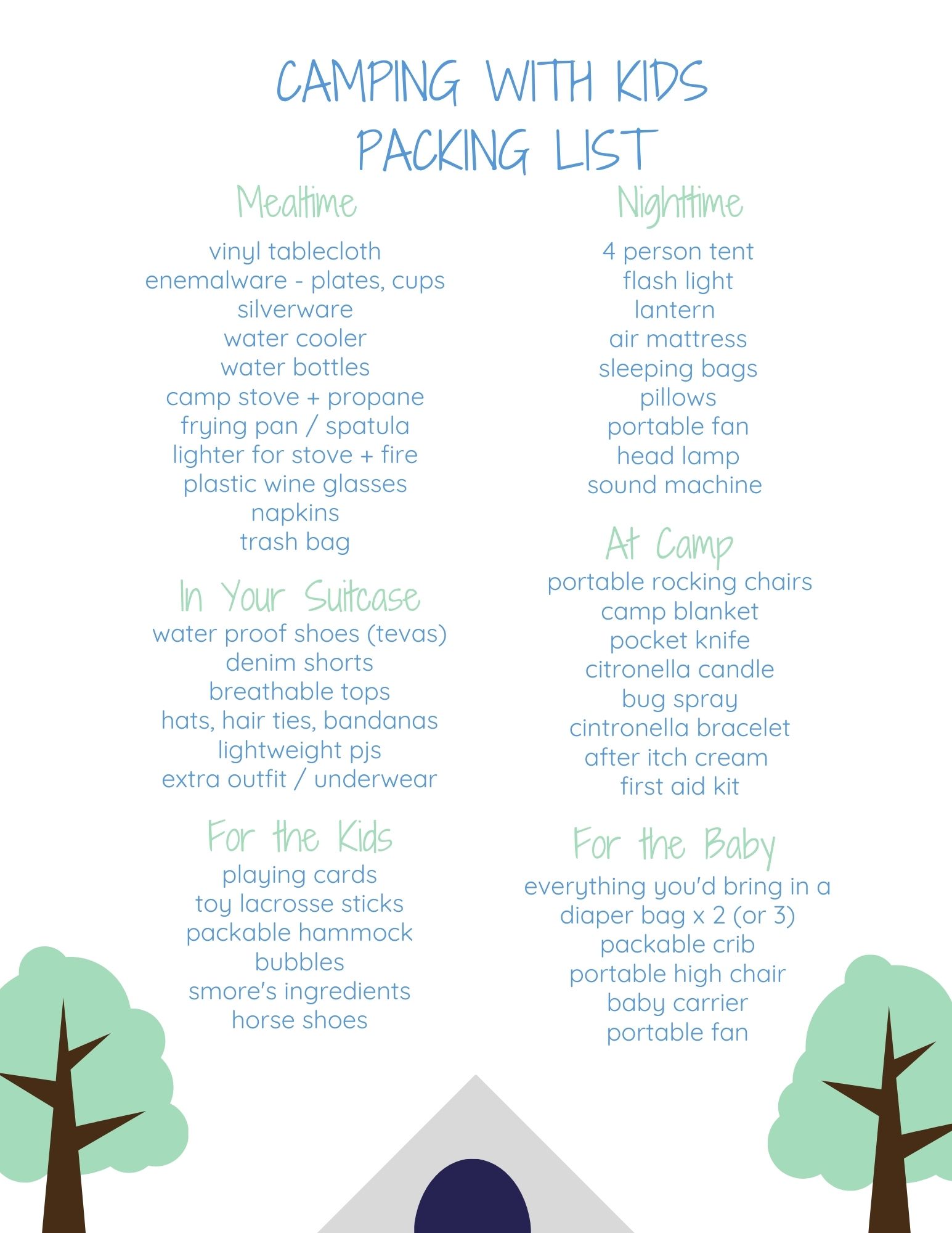 —
Big thank you to Academy for partnering with me on this post. It still feels like a dream I get to partner with a brand that I love so much to share one of my family's favorite pastimes. Thank you to you all for following along and supporting the brands that make Lone Star Looking Glass possible.
—
xo, alice
The post Camping with Kids: Packing List appeared first on Lone Star Looking Glass.
What does naughty but nice mean
. xoxo.