Bunn House, an Asheville Vacation Rental Review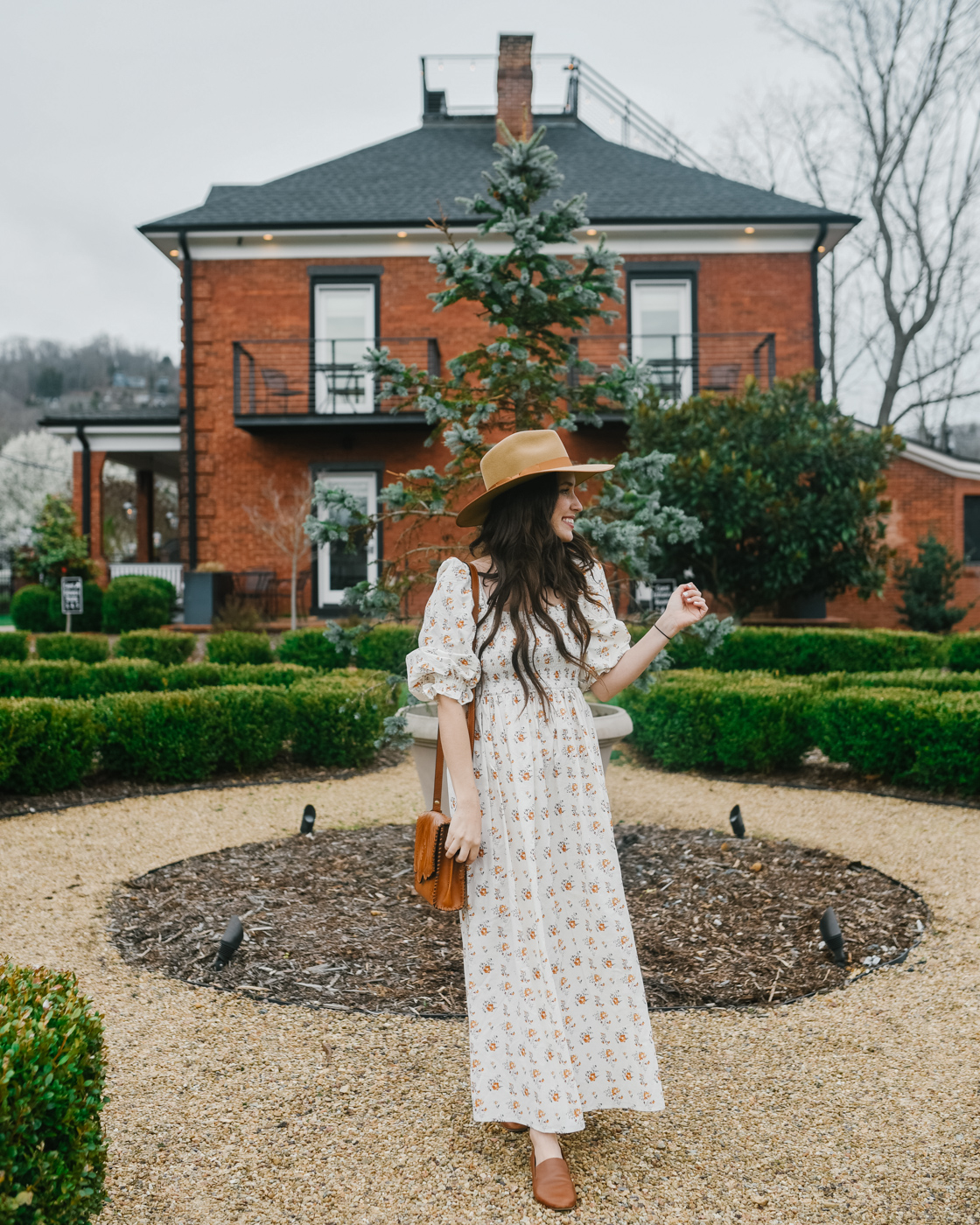 Turn on your JavaScript to view content
Asheville is a charming mountain town nestled within North Carolina's Blue Ridge Mountains. Boasting oodles of outdoor adventure opportunities, the historic Biltmore Estate and a lively downtown filled with hipster coffee shops, award-winning restaurants and cafes, as well as boutiques brimming with vintage finds, Asheville has an endless amount of fun to offer its out of town visitors.
This mountain town is a popular destination for tourists from all over, with many hotels and resorts to retreat to during your stay. I recently paid a visit to Asheville and opted for a something more unique – a vacation rental in a private home that combines the feeling of a boutique hotel and a traditional AirBNB. Bunn House is a secluded sanctuary just minutes away from downtown Asheville. This luxury vacation rental offers every amenity you could desire and more during your Asheville stay. I'm sharing a peek into our recent visit to Bunn House and why a stay here stands out from the rest! More below …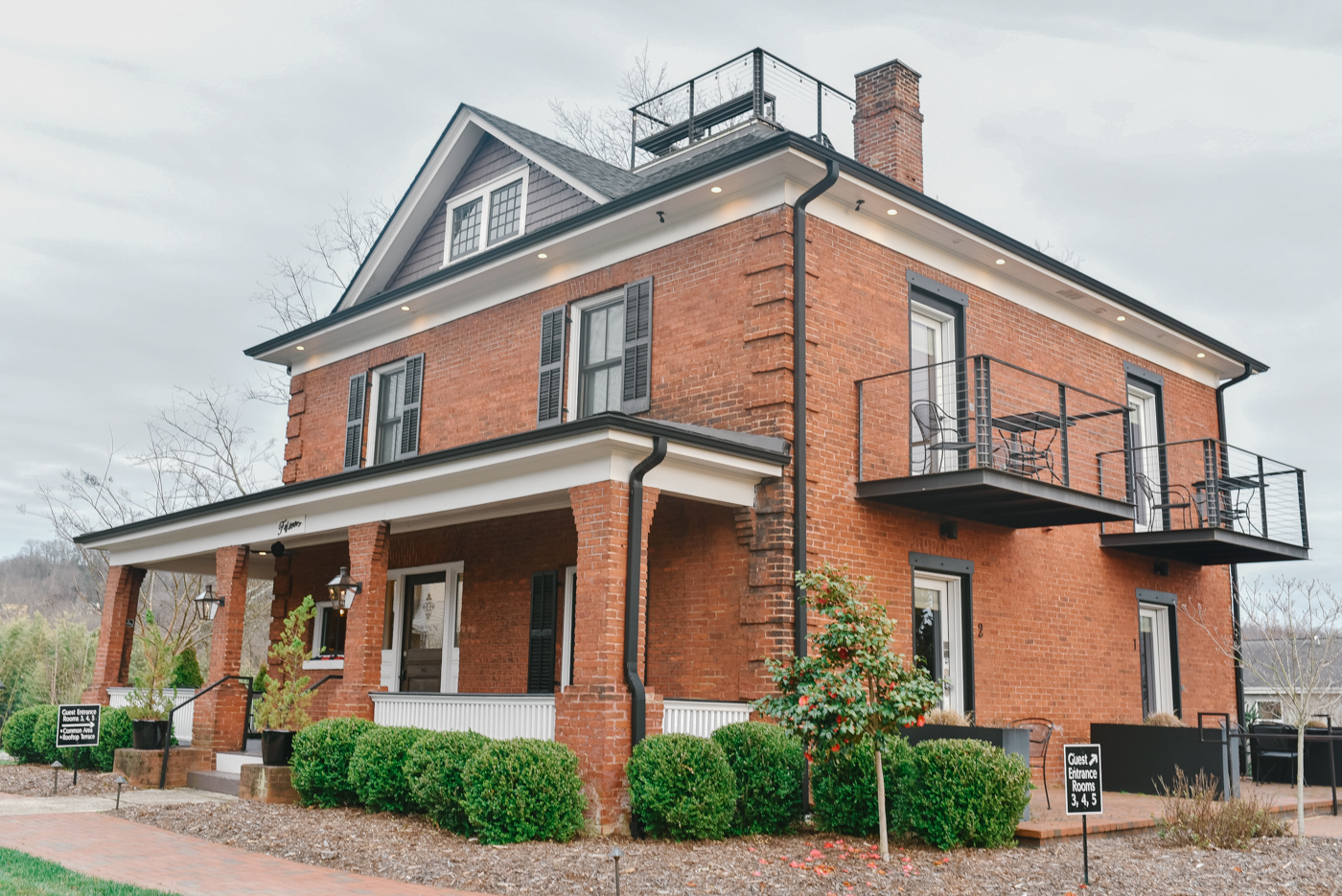 Luxury Lodging
Bunn House, built in 1905, is a historic home that has been transformed into an upscale and luxurious vacation rental only two blocks away from downtown Asheville. There are several guest rooms and suites, each including its own spa-like bath plus a balcony or patio, that can be rented to guests. You can even opt to rent out the entire home for your group if you'd like! Given the current times, entire home rentals here have become popular option for smaller events such as family reunions or intimate weddings in the garden.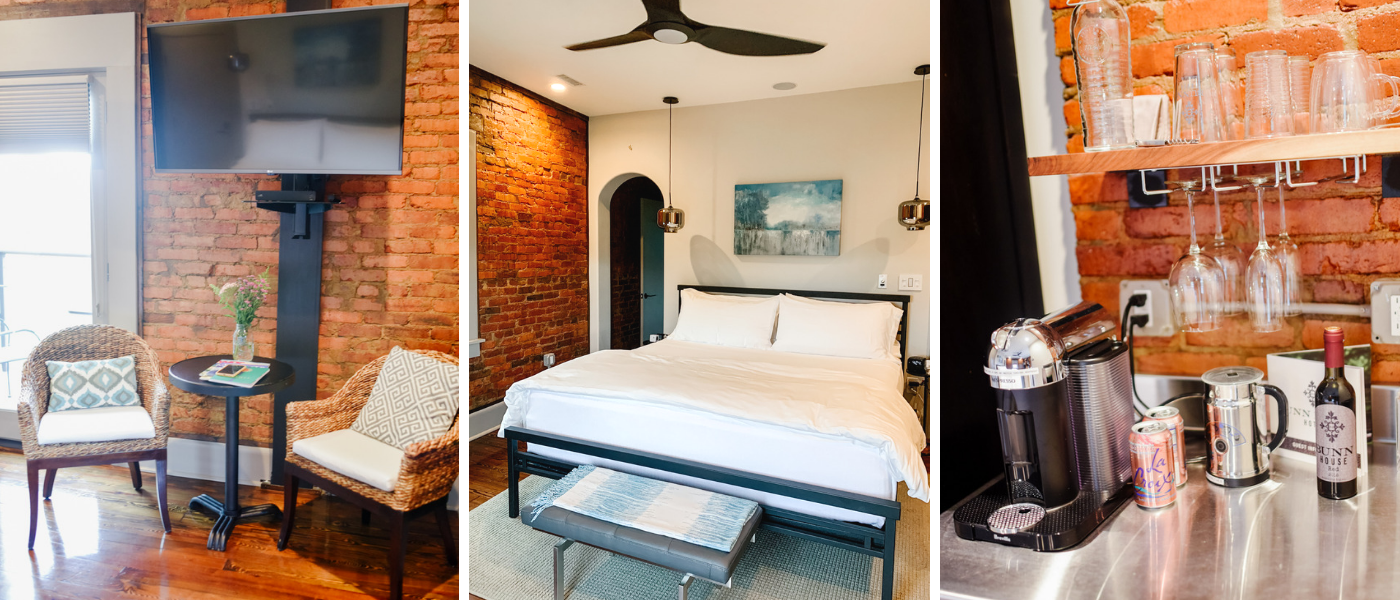 Amazing Amenities
The list of Bunn House's amazing amenities could really be a mile long! We were honestly so impressed by how hospitable this home was during our visit! Each guest room and suite includes a small kitchenette with a coffee bar, stocked mini-fridge and everything you'd need to serve up a glass of something tasty at happy hour. We sipped on a bottle of Bunn House's very own wine during our stay!
The luxurious en-suite bathrooms boasted spacious showers and even heated floors – which were a wonderful addition to our chilly spring stay. I think one of our favorite things about Bunn House (other than the comfortable and stylish lodging) was the array of snacks, drinks and services available to us in the main entrance area. We were able to grab made-from-scratch granola each morning, La Croix and water whenever we wished and even snacked on chex mix during happy hour each evening. I'm a grazer and love to snack in between smaller meals throughout the day and this tasty perk while traveling was much appreciated.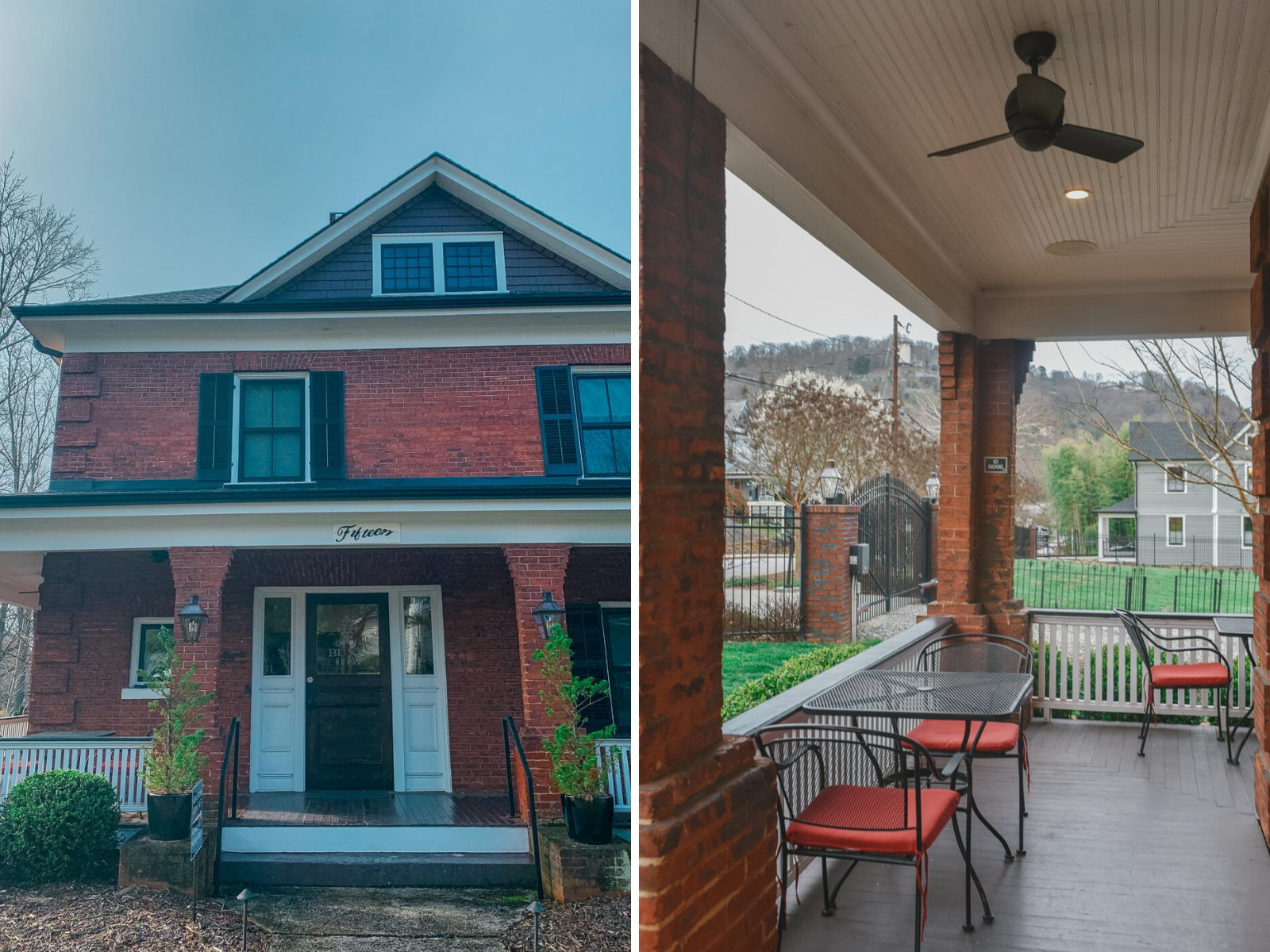 Staying Safe in Times of Covid
The country is just starting to ease up a bit more with their travels and I personally can't wait to hit the road for a getaway again and soon! It's wonderful to hear how the travel industry is adapting and educating visitors on measures put in place to guests safe and healthy in times of Covid-19.
Bunn House uses ActivePure® technology to consistently cleans the air and surfaces in order to maintain our extremely high standards of cleanliness for their guests. This amazing system destroys 99% of all airborne and surface contaminants that include many viruses too.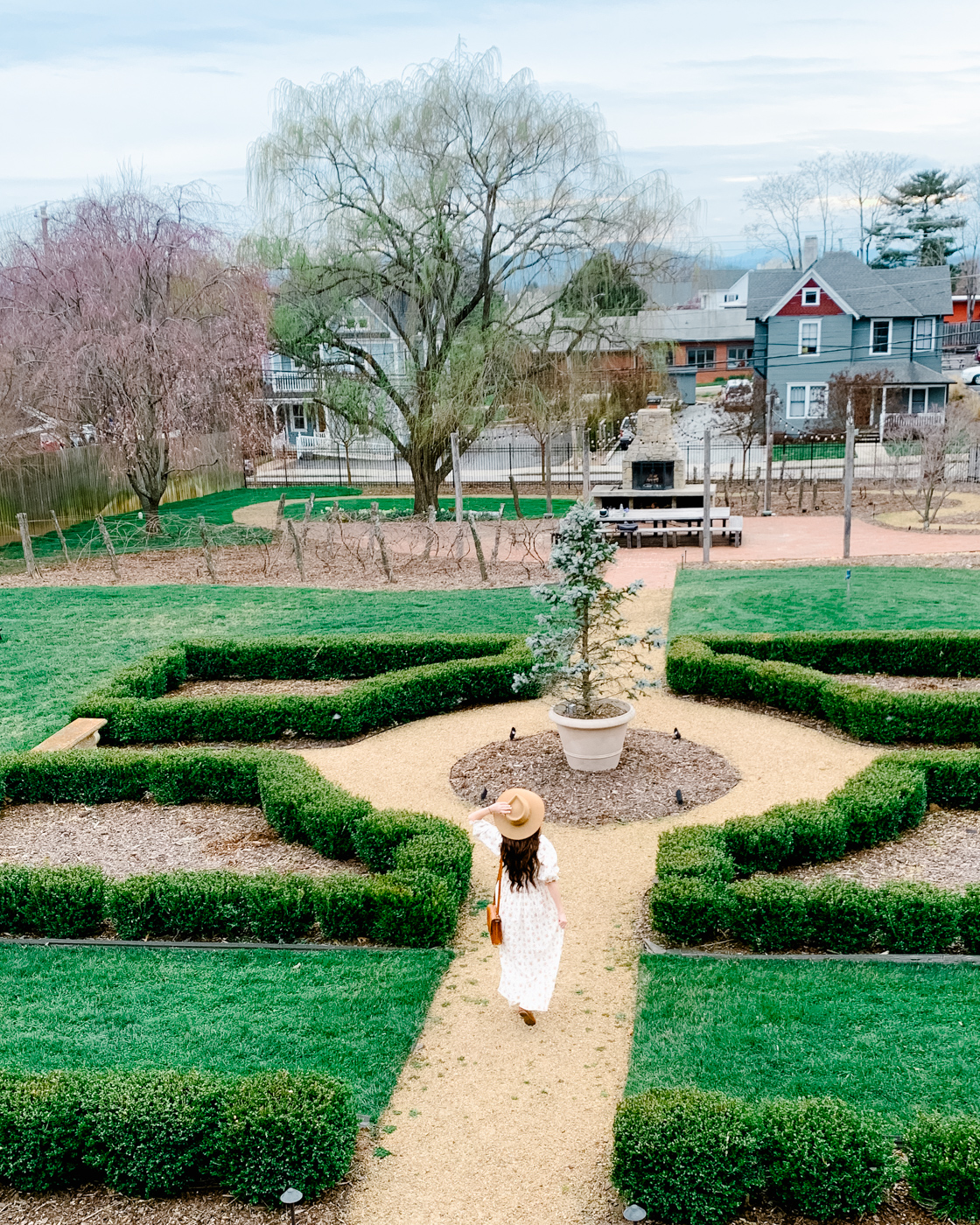 The Gorgeous Grounds
Bunn House itself is beautiful but the private gardens surrounding the property is what really makes this vacation rental stand out from the crowd! Waltzing through the sculpted boxwood garden with my coffee each morning had me feeling like I was back in Europe. Through the trees you could even see the mountains in the distance and strolling here during our stay was pure bliss!
In the evenings, guests can light a crackling fire in the outdoor fireplace to enjoy with dinner or dinner al fresco under the string lights.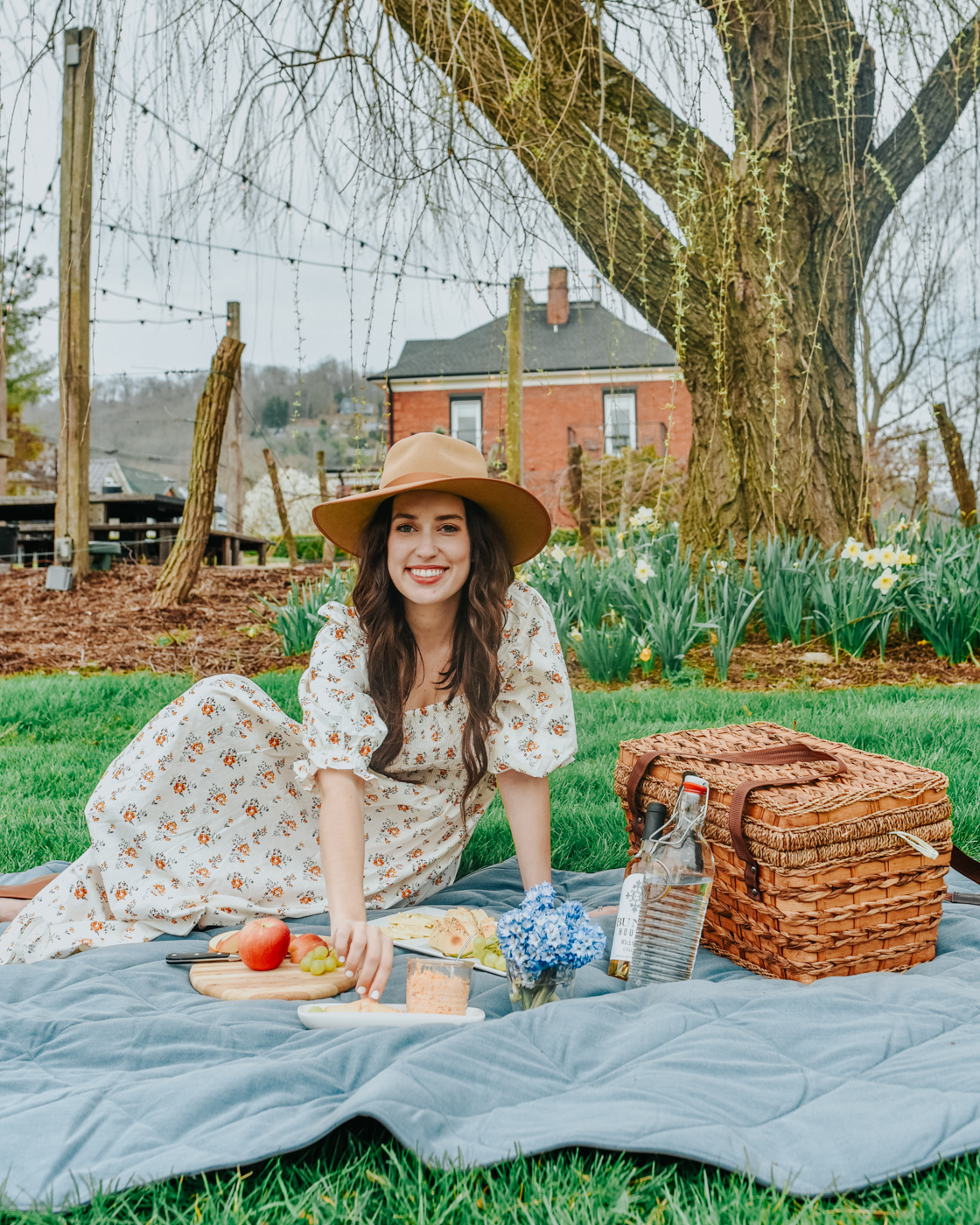 Shop the Look:

Turn on your JavaScript to view content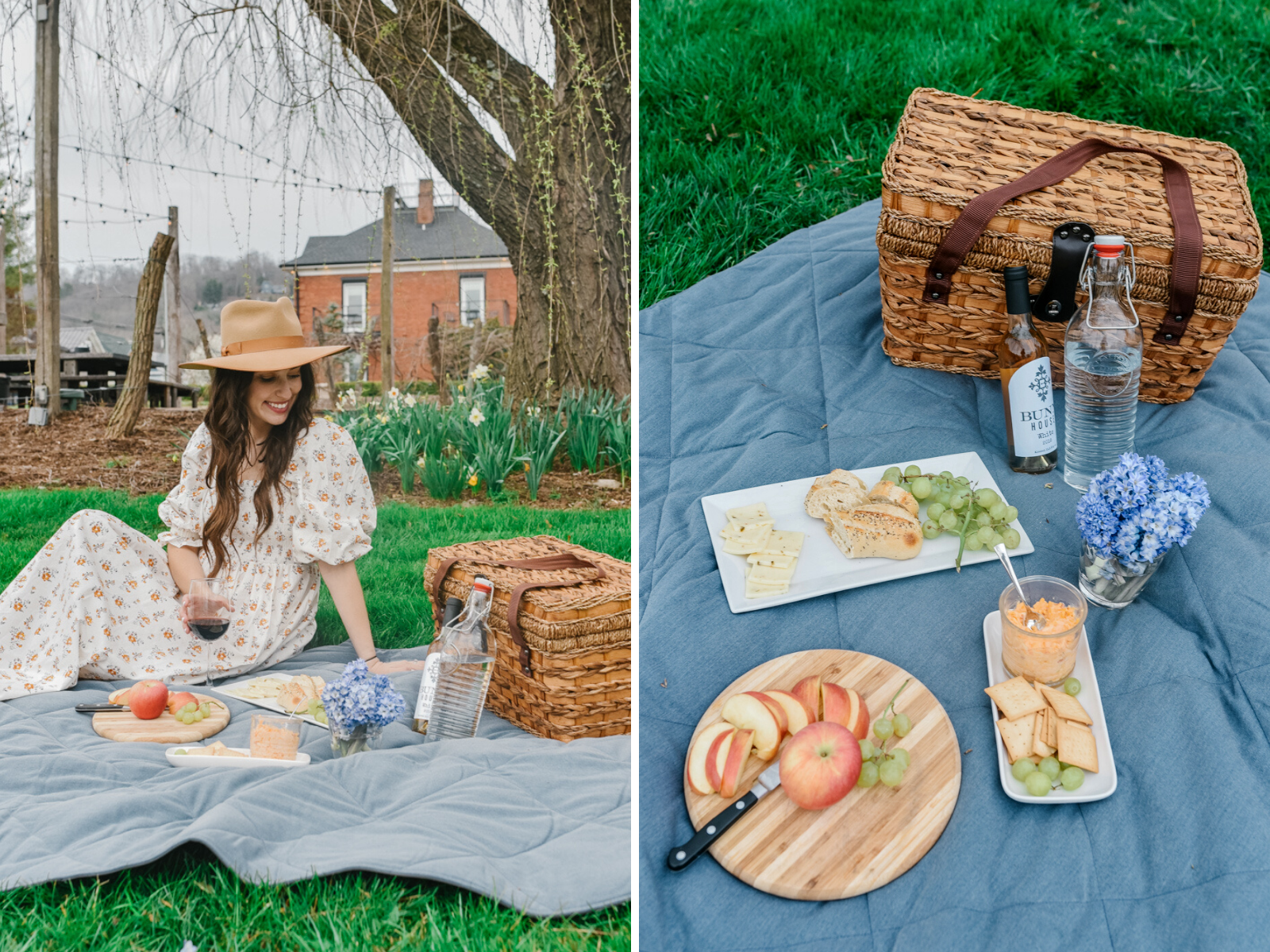 A Pretty Picnic without the Prep
Another fun treat Bunn House offers its guests is the option to order a packed picnic complete with wine, flowers and pimento cheese! We had spent a busy day at the Biltmore Estate and came back to our retreat at Bunn House wanting to relax and enjoy Asheville's lovely spring weather. A picnic on the lawn was the perfect answer.
Booking at Bunn House
You can book at Bunn House directly through their website here. Check-in is contactless and all of the information you would need prior to both your arrival and departure is sent electronically. The property is adults-only making it a quiet, serene, romantic and peaceful retreat!
Stay tuned for more from our Asheville getaway including a look into how to make the most of your day at the Biltmore Estate. And thank you so much to Bunn House for hosting us during our stay. It truly was the loveliest visit! As always, all opinions are my own. Thank you for following along on all of my adventures with Lone Star Looking Glass.
—
xo, alice 
The post Bunn House, an Asheville Vacation Rental Review appeared first on Lone Star Looking Glass.
What does naughty but nice mean
. xoxo.