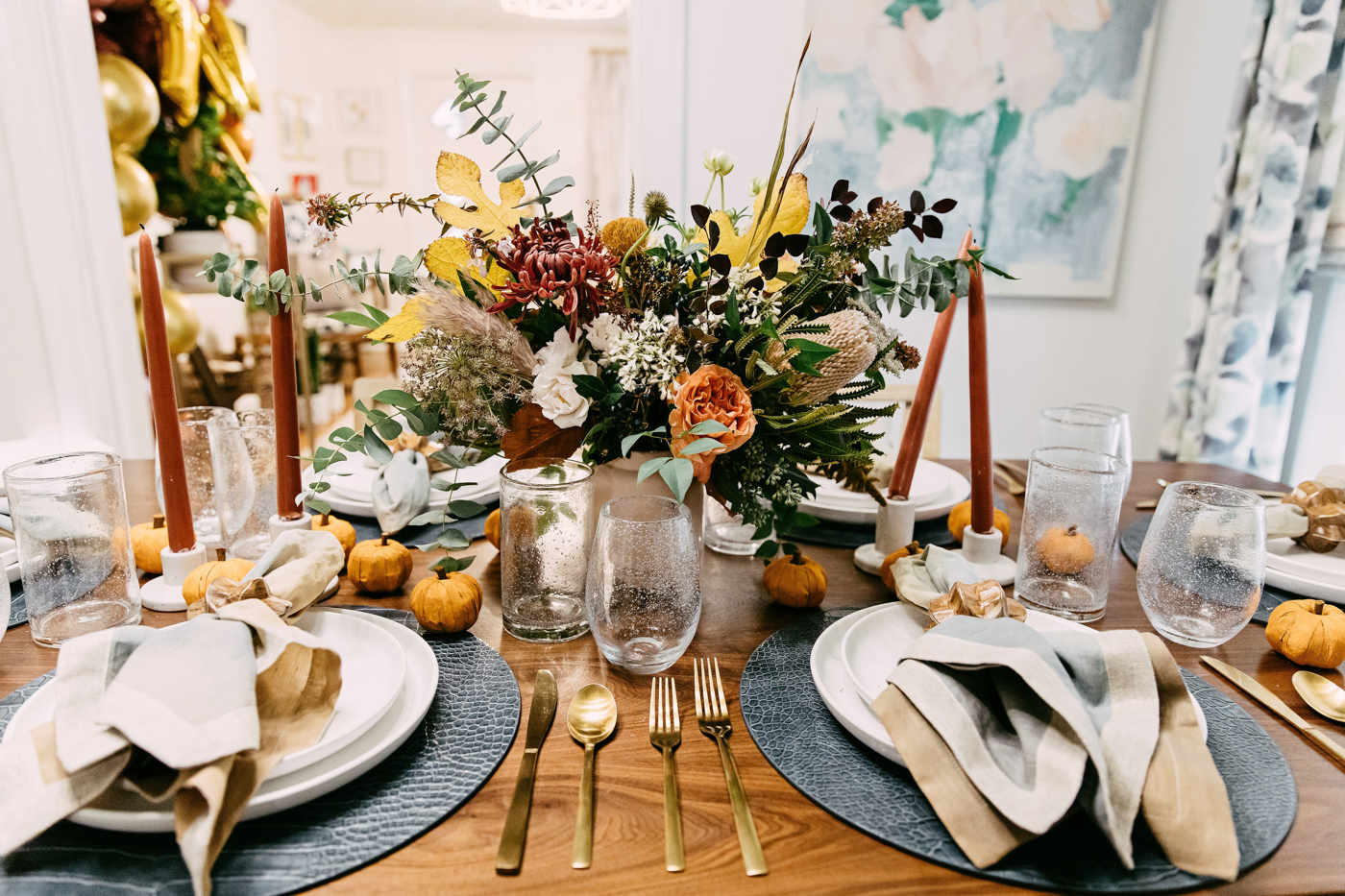 Thanksgiving is going to look a little different this year for many of us. We're going from hosting 30+ people last year to dining with our tiny bubble of 10 this year. I've never been more thankful to live close to my family than I do now. My heart goes out to all of those who have long distance or at risk relatives they aren't able to be with this holiday season.
No matter how you're celebrating, one way we can all spice up our Thanksgiving this year is with food and decor. Even if you're only dining with your immediate family, a delicious dinner with special touches on the table are some of the things that make Thanksgiving day truly feel like a holiday!
Last week, I participated in a small Thanksgiving styled shoot organized by several amazing Memphis vendors. Today, I'm sharing snaps from our shoot along with 3 tips on styling your Thanksgiving table. I'm also "dishing" on the dishes whipped up and served by local food blogger Andrea LeTard of Andrea's Cooktales. Deets on her one-of-a-kind Thanksgiving recipes are down below too!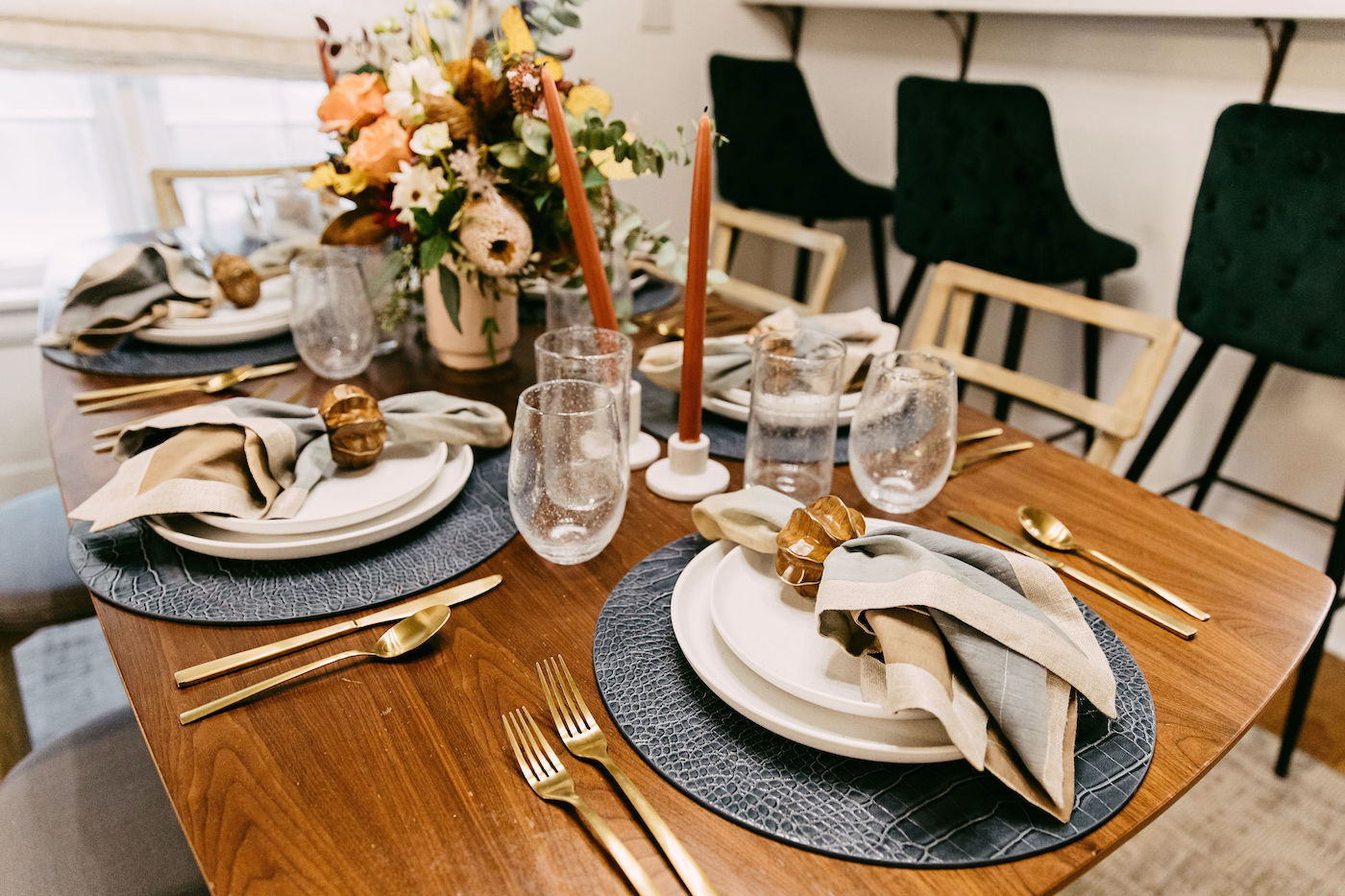 Three Tips to Styling Your Thanksgiving Table
Play with color and texture.
Hone your display in with colors that boast the spirit of fall. Think gemstone shades – deep purples, warm oranges, dark blues, vibrant reds with hints of evergreen. Linen napkins paired with statement silverware can help to dress down your table if your decor personality tends to be more "fun" than formal. Placemats or chargers are another great way to add a pop to your table setting – like these blue faux snake skin mats pictured above.
PS: All of the tableware included in our display can be found at Bella Vita, an adorable home decor and gift shop here in Memphis. For those who aren't local, I've linked similar styles below!

Turn on your JavaScript to view content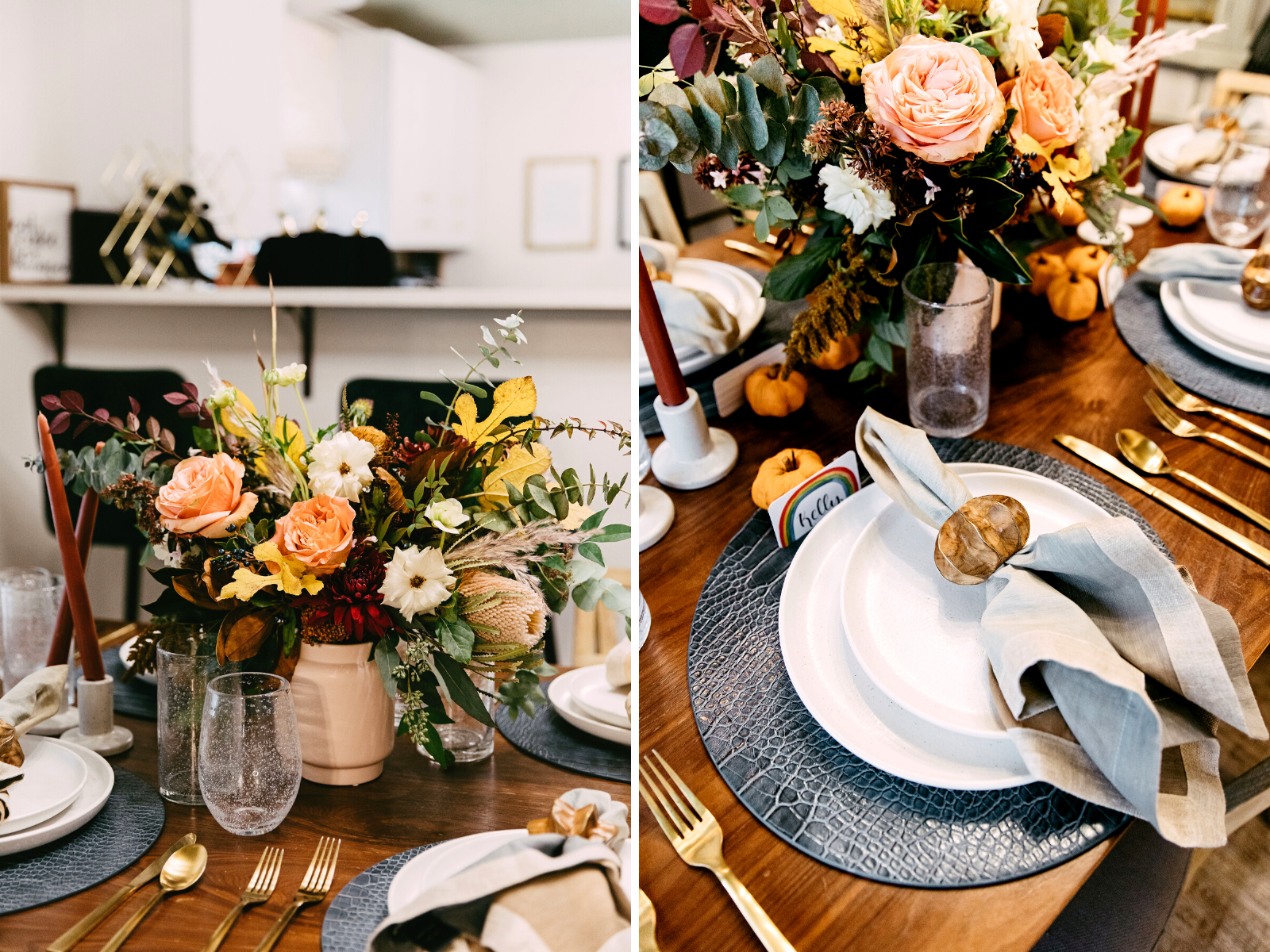 2. Incorporate Natural Elements
Fresh blooms are a timeless centerpiece and will never ever go out of style. Thanksgiving is a great holiday to elaborate on your centerpiece with natural additions like mini pumpkins, stems sporting colorful fall leaves and more. Just be sure to keep your centerpiece low to encourage visibility & lively conversation between your dinner companions.
The flowers from our shoot were absolutely swoon-worthy in person. They were done by local Memphis florist Everbloom Designs & I adored their fun mix of color and variety throughout the bouquet.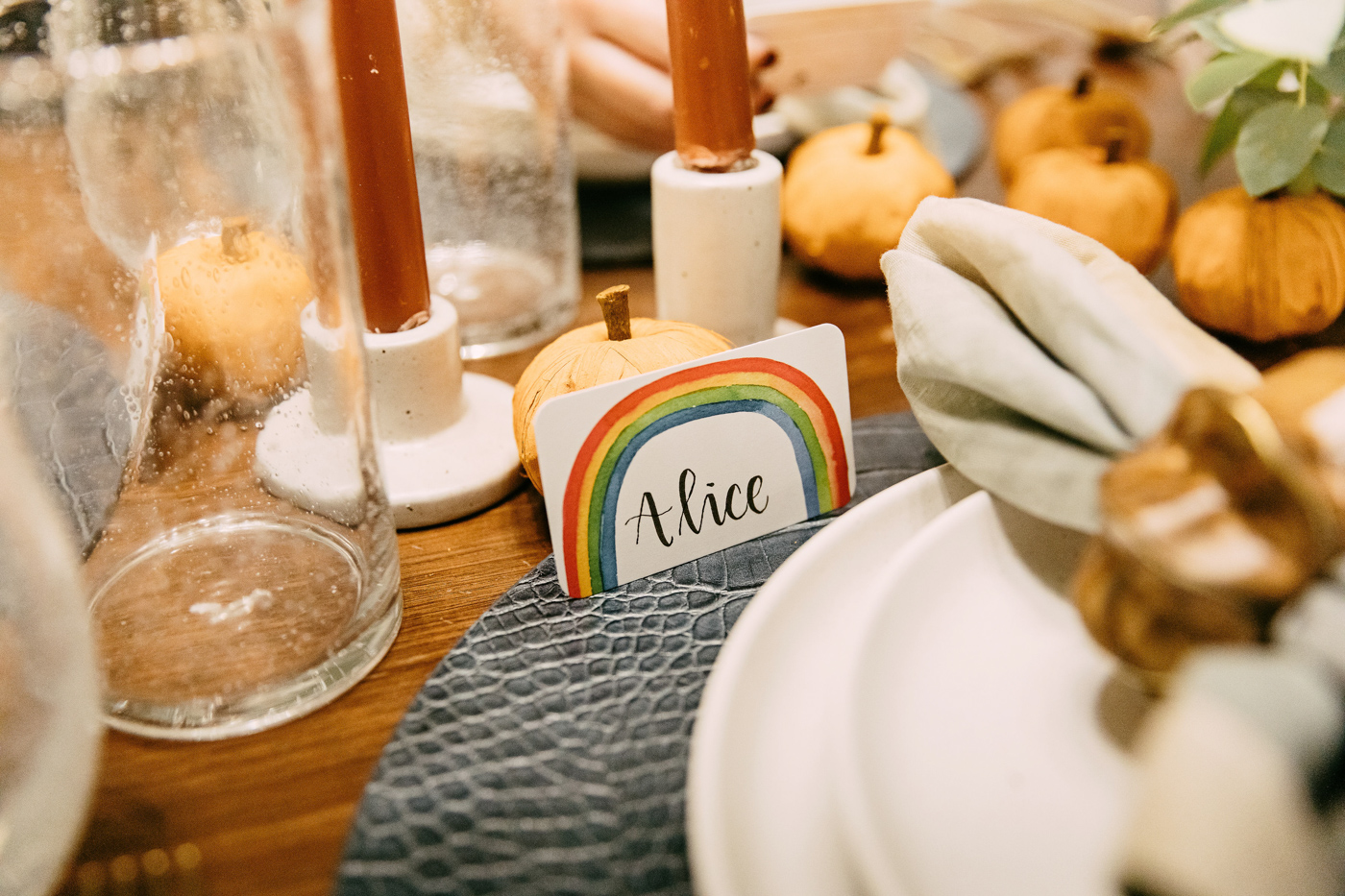 3. Personalize It
Give each guest a personalized place setting with their very own name card. Ours were watercolored and adorned with bright rainbows just for fun. Last year, Annie splatter painted our name cards with watercolor that matched the rest of the decor. They made for a special addition to our dinner and we were able to quickly seat all 30+ guests with no fuss too!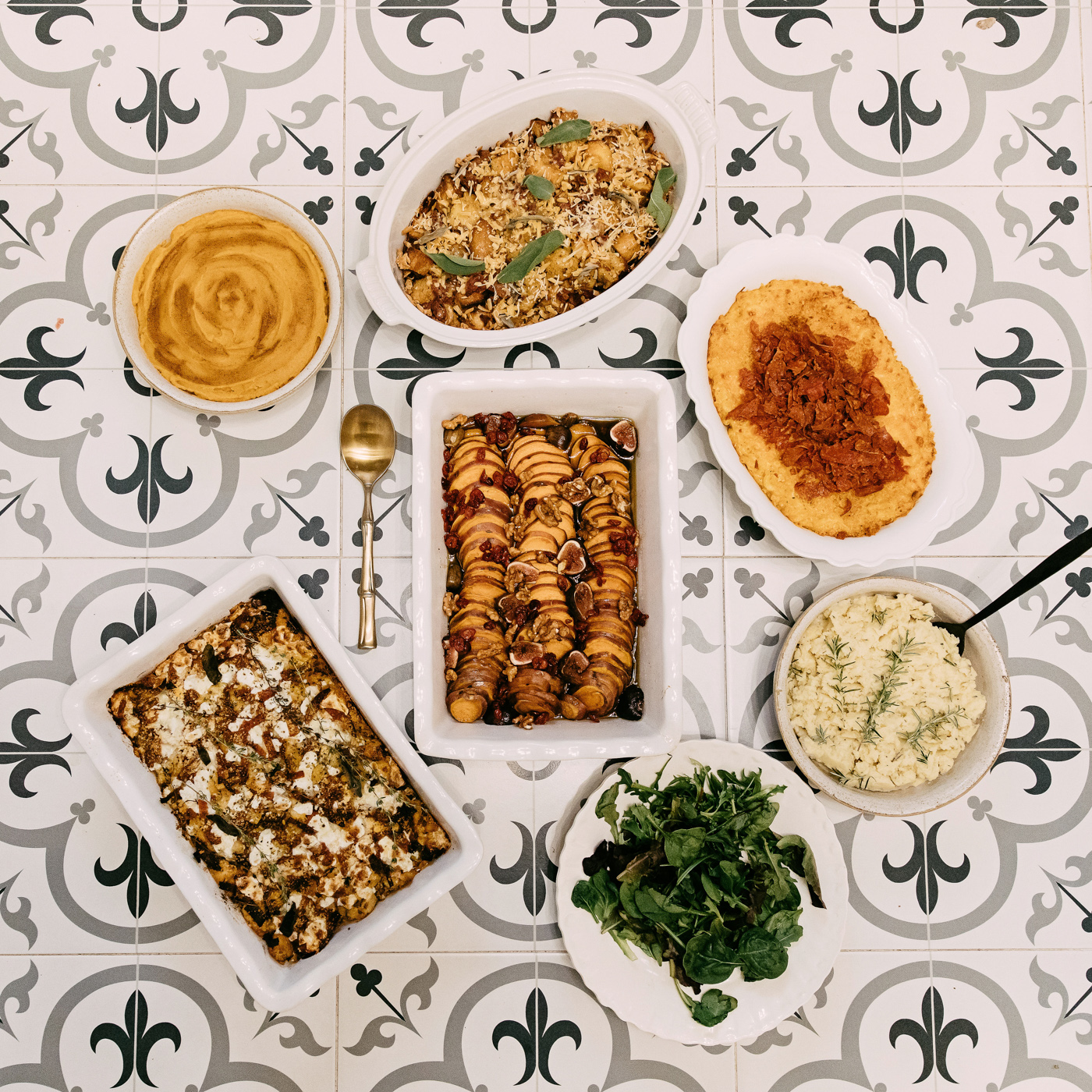 Savory Recipes to Serve on the Side
We all know that the turkey is the showstopper each and every year. My family also sticks to our traditional side dishes too. But in recent years, I've gotten more creative and have enjoyed adding something new to the mix. Last year, I whipped up this Butternut Squash & Crispy Prosciutto Lasagna Dish by Andrea LeTard and it was quite the crowd pleaser! Sometimes putting a fresh take on those traditional dishes can make the holiday all the more memorable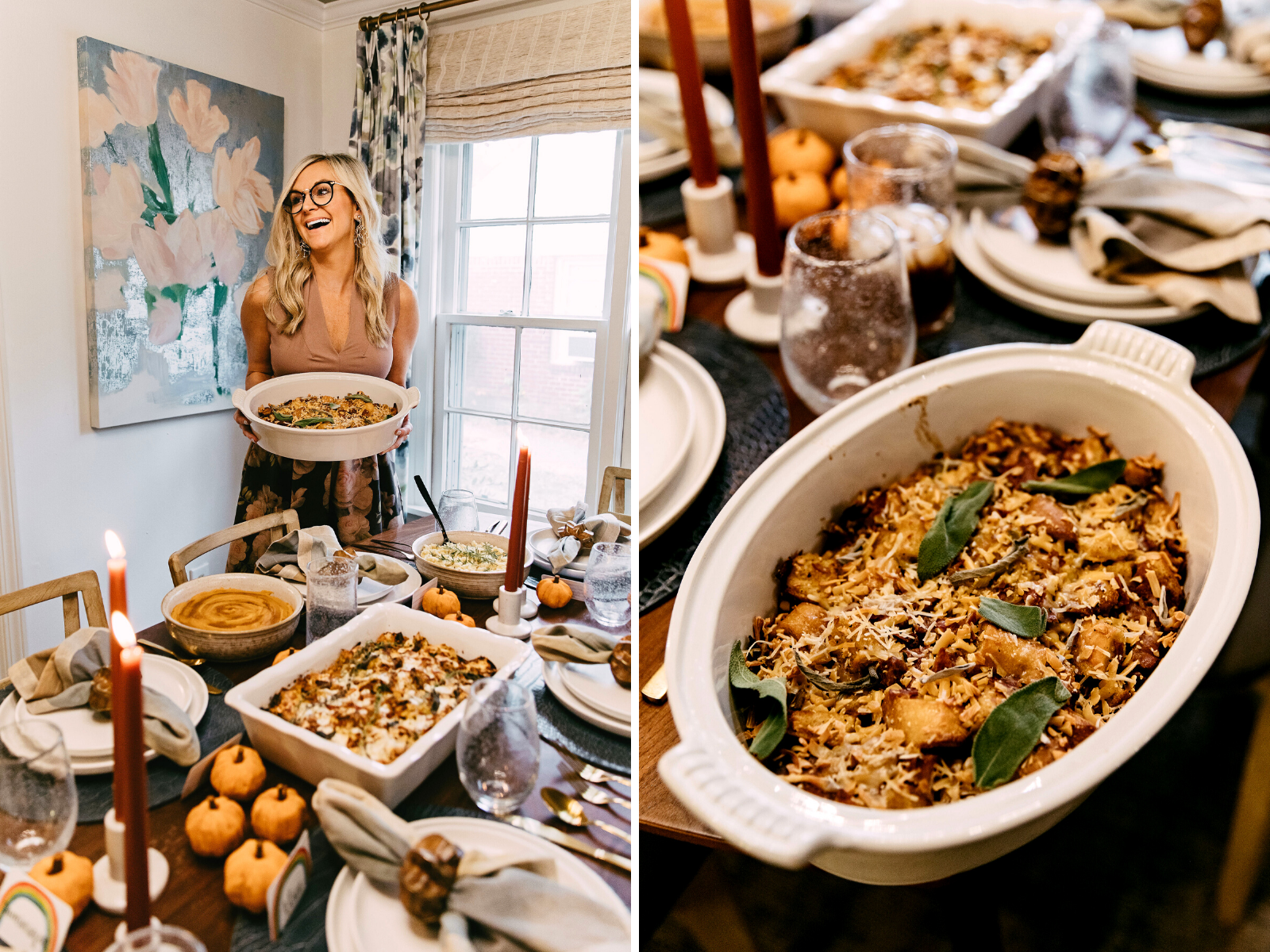 Andrea was so sweet to contribute some of her very own recipes to our styled shoot. And oh-my-goodness we thoroughly enjoyed dining on them after everything was all said and done! You can find her Thanksgiving Side Dish recipes for Baked Macaroni & Cheese with Pork Crunchies and Pizza Stuffing with Fall Herbs and more on her blog.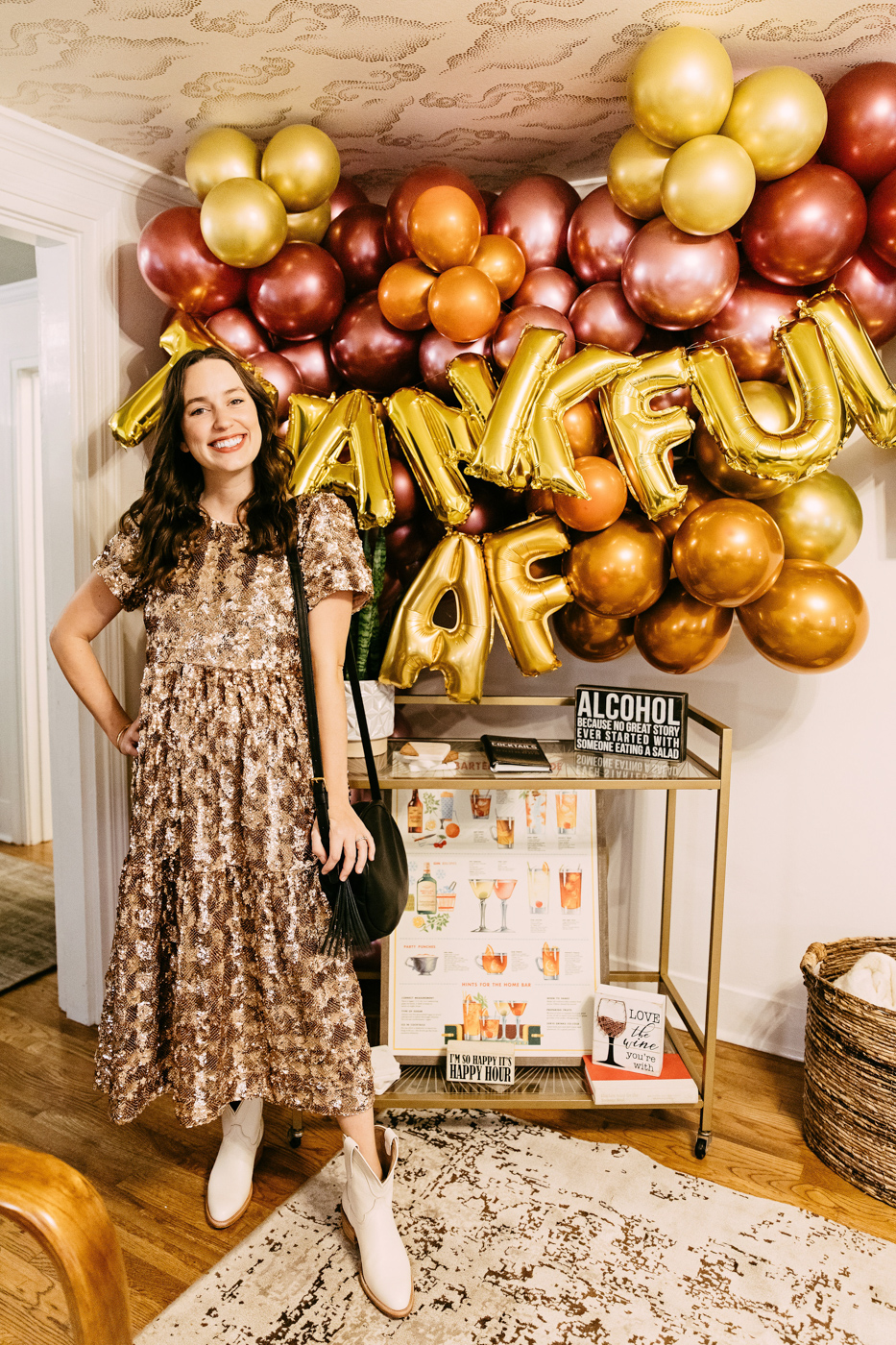 Don't Forget About the Rest of Your Home's Decor
My last tip is to remember to spruce up the rest of your home for the holiday – not just the dining room. Whether you're entertaining down the road for dozens of family and friends or just your immediate family this year, signs of the season throughout the home help to make the Thanksgiving holiday all the more special.
On over the top accent, like this balloon wall by Pop of the Party, will delight the kiddos for sure. I'm definitely saving this idea for a girlfriends Friendsgiving down the road when we're all able to get together again.
ps: my western boots are by Tecovas & I'm linking my festive Thanksgiving frock below!

Turn on your JavaScript to view content
Sequins are always a good idea this time of year, don't you think?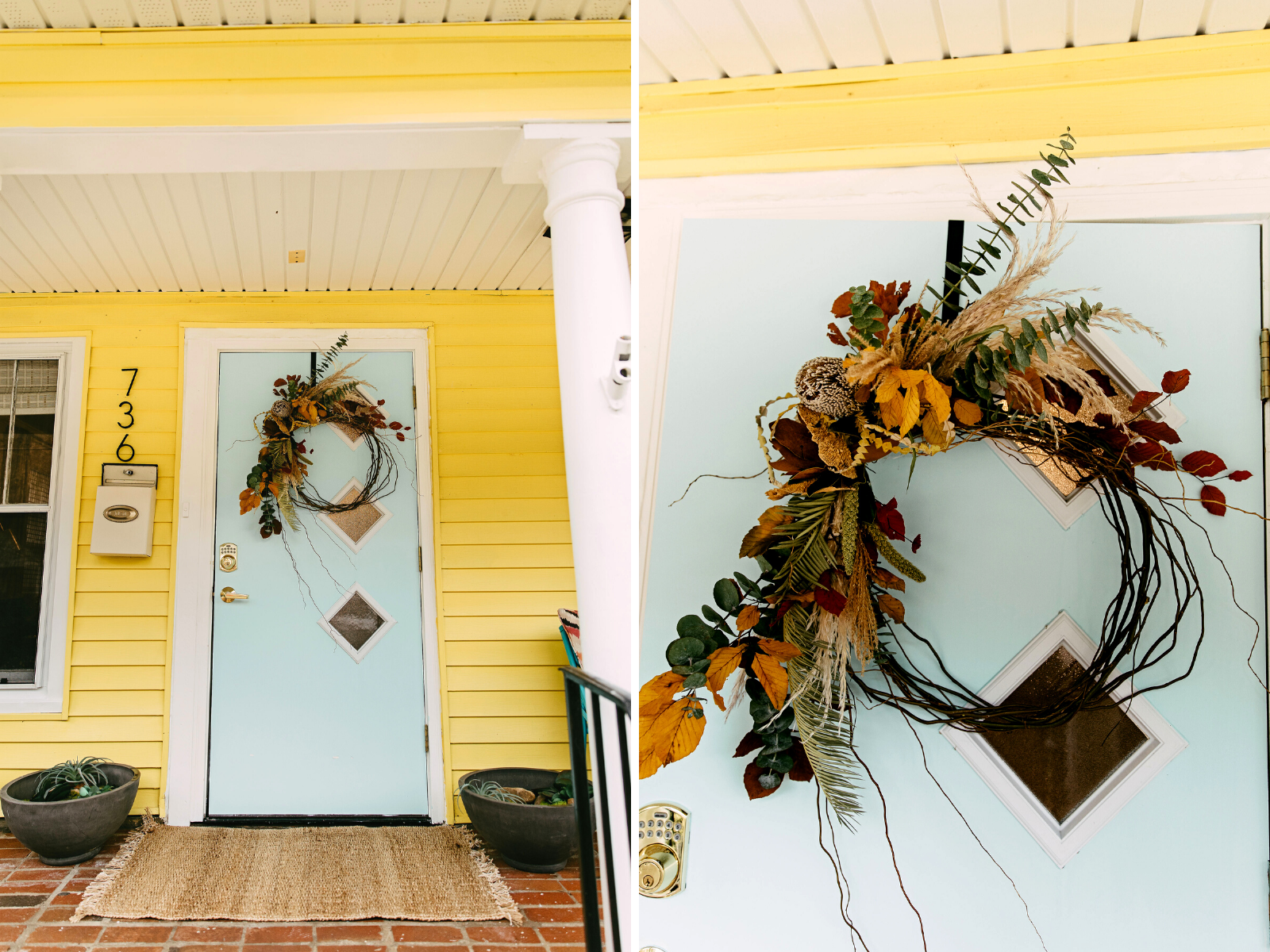 Fresh flowers throughout the house or even on your front door make for a welcoming gesture to friends and family dining with you. This wreath was put together by Everbloom Designs, as well. They also arranged smaller vases with a similar vibe to them to decorate several different surfaces throughout the house – giving the holiday decor a much more cohesive feel.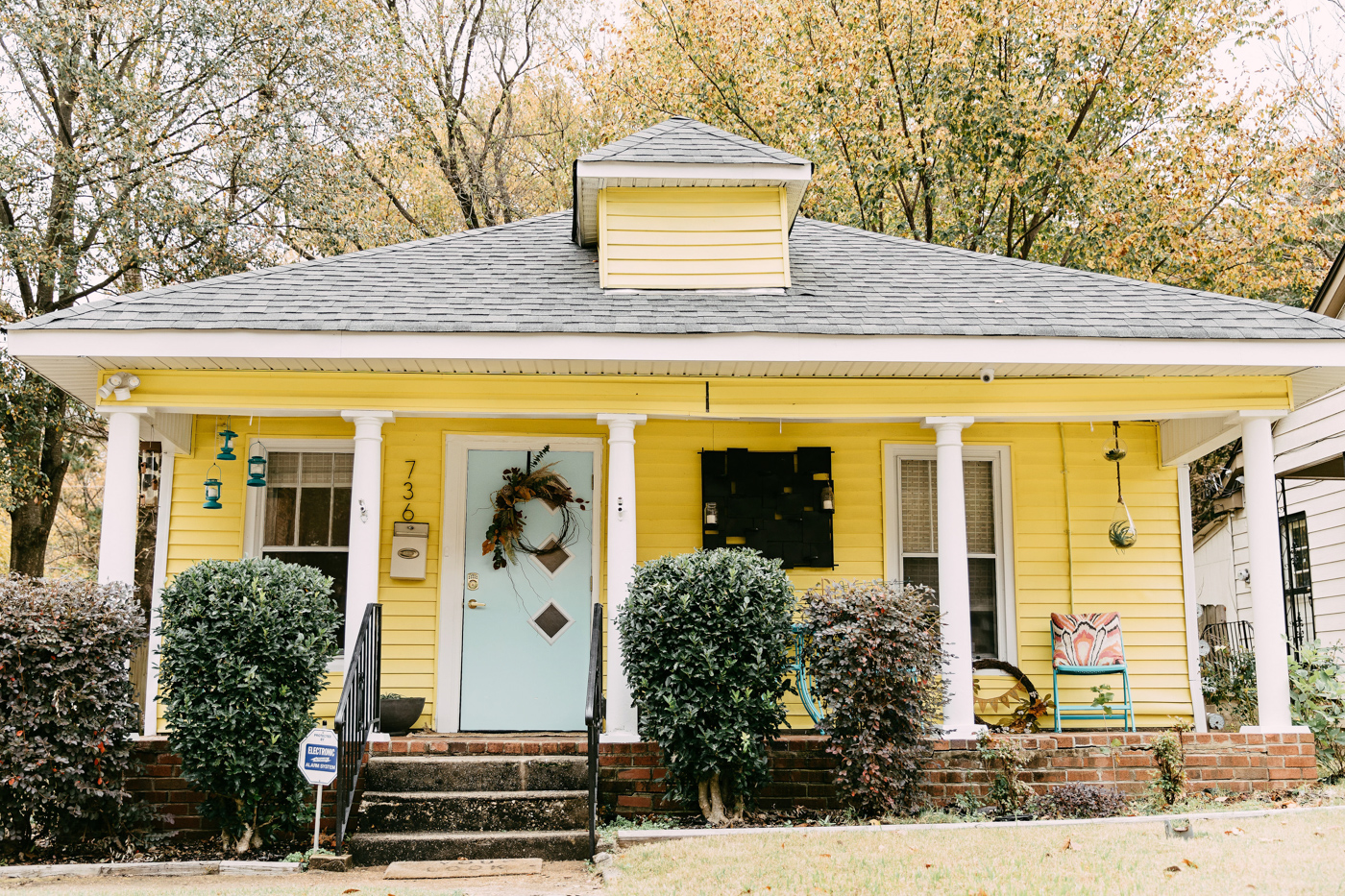 Speaking of house, big thank you to Pettigrew Adventures for hosting this fabulous Thanksgiving styled shoot and including me in the festivities.
Pettigrew Adventures is the team behind a group of stylish luxury vacation rentals in the Memphis area. Every time a friend or reader asks me where they should stay when they visit Memphis, I'm always recommended these adorable homes to them! You can peruse all of the houses here and rent them directly through Airbnb. This yellow bungalow is aptly named "Morgan's Tiger Den" as it sits just a few blocks from The University of Memphis and their fighting "tigers."
—
How have your Thanksgiving plans shifted this year? We are still able to get together with my immediate family but sadly aren't able to be with the extended family we always love to see this time of year. We're keeping things small and safe. If the weather is nice, we may even move the big feast outdoors!
—
As always, thanks for stopping by the blog and following along on our adventures. Wishing you and your family and safe, healthy and happy Thanksgiving!
—
xo, alice
The post Boho Thanksgiving Decor appeared first on Lone Star Looking Glass.
What does naughty but nice mean
. xoxo.