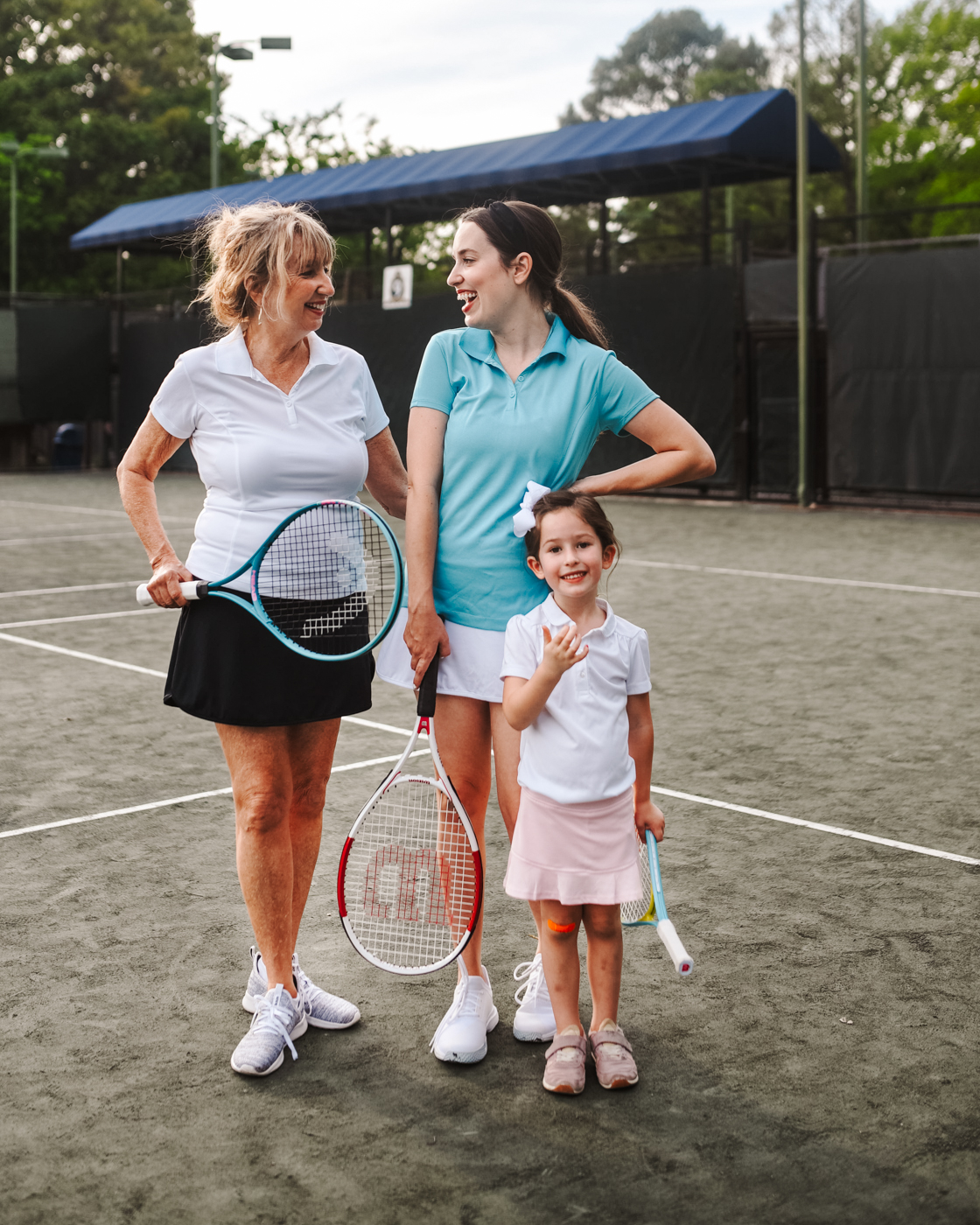 "All that I am or ever hope to be, I owe to my mother." This famous quote rings true to me too. Not a day goes by that I don't call my mom on the phone multiple times … sometimes with nothing to even say at all! Words really can't describe how happy I am to be back in Tennessee, close to my family and my mom, especially.
Mother's Day is such a sweet holiday because it reminds us all to pause and appreciate the moms in our lives. (Patrick usually lets me sleep in on Mother's Day and then delivers me coffee in bed. It's pure bliss!!) I wanted to do something extra special for my mom this year since we couldn't celebrate Mother's Day in person together these last few years. Patrick and I have been really getting into tennis lately and I knew my mom played tennis quite a bit growing up too. So I surprised her with a Mother Daughter Tennis Day complete with matching tennis outfits, a new racquet and an afternoon of fun under the sun.
I'm so excited to share a peek into our early Mother's Day celebration on the court in partnership with Academy Sports & Outdoors today. Join me on the court below where I'm chatting all about the gear we scooped up and dishing on who ended up winning our Mother Daughter tennis match!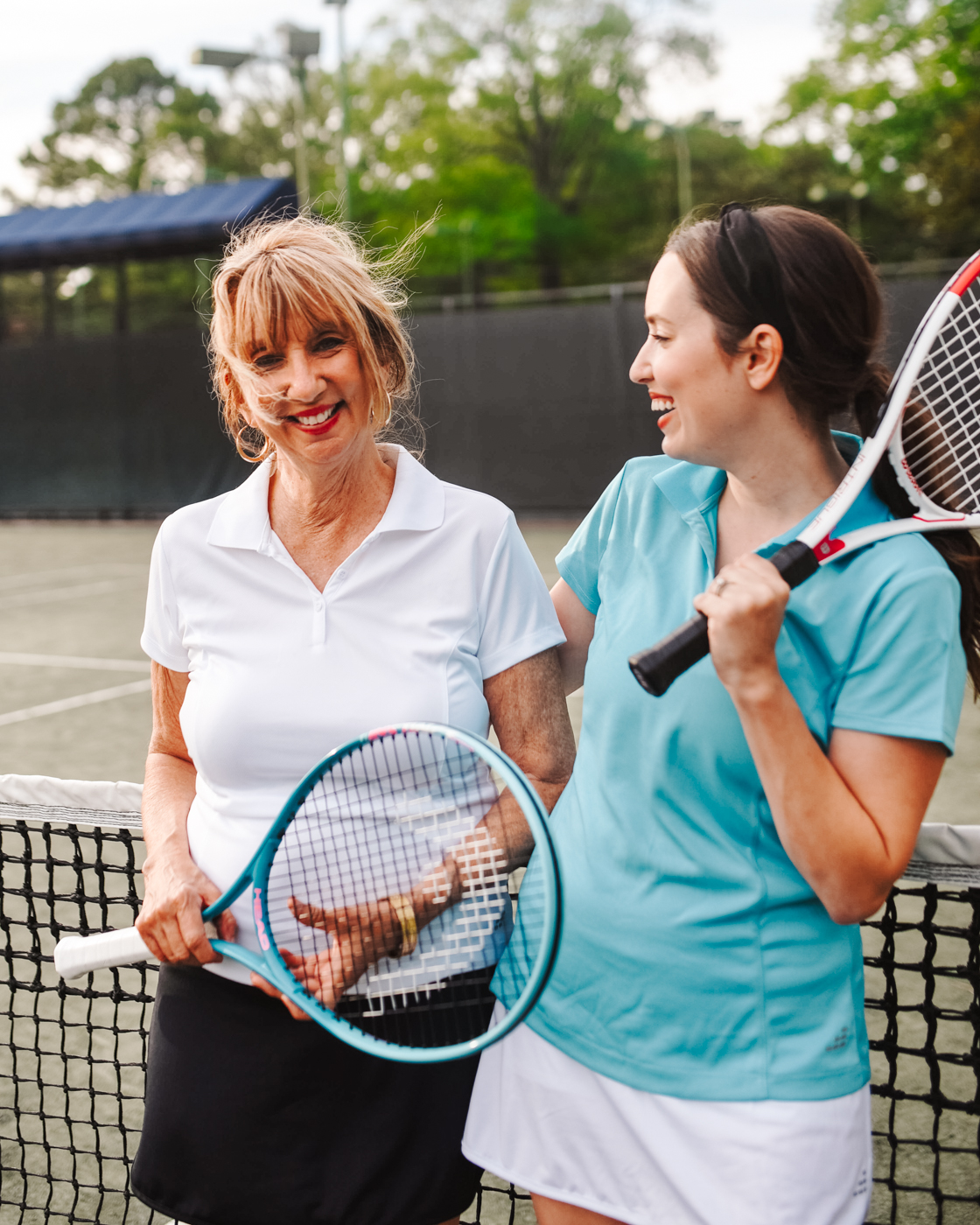 Picking Up A New Pastime
This past summer we joined a tennis club and as soon as I started feeling like myself again after having Bennett, I picked up a racquet and started to play. I'm not going to lie, I'm not really all that great at tennis … just yet. But every time I hit the court I have an absolute blast, which is all that matters – right? Some days, Patrick and I will drop the kids off at child care, play a few games and then grab dinner and drinks afterwards. Tennis has become not only a way to work on my fitness but to socialize and spend quality time with my husband too.
I've been having so much fun with Patrick that I wanted to get my mom in on this new venture of mine! We decided a Mother Daughter tennis day was in order – complete with matching tennis outfits too.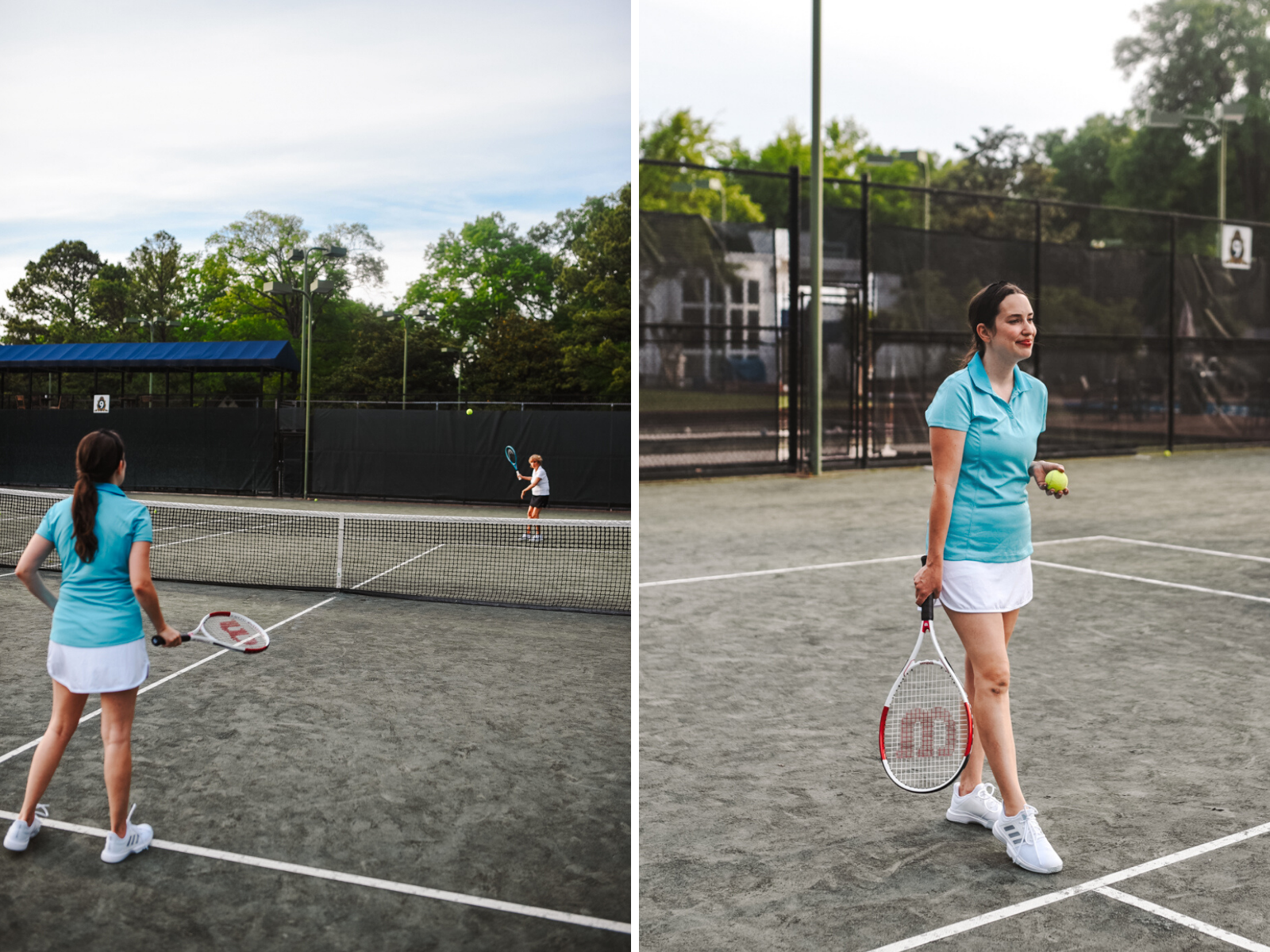 Sporty in Style
Whether I played like a pro or the novice that I am, one thing was for sure, I had to play in style!! Academy's BCG Tennis Skirts boast a flexible, moisture wicking fabric, include a pocket for storing spare tennis balls and come in multiple colors. I paired my skirt with BCG Women's Athletic Polo and surprised my mom with the same set – in different colors.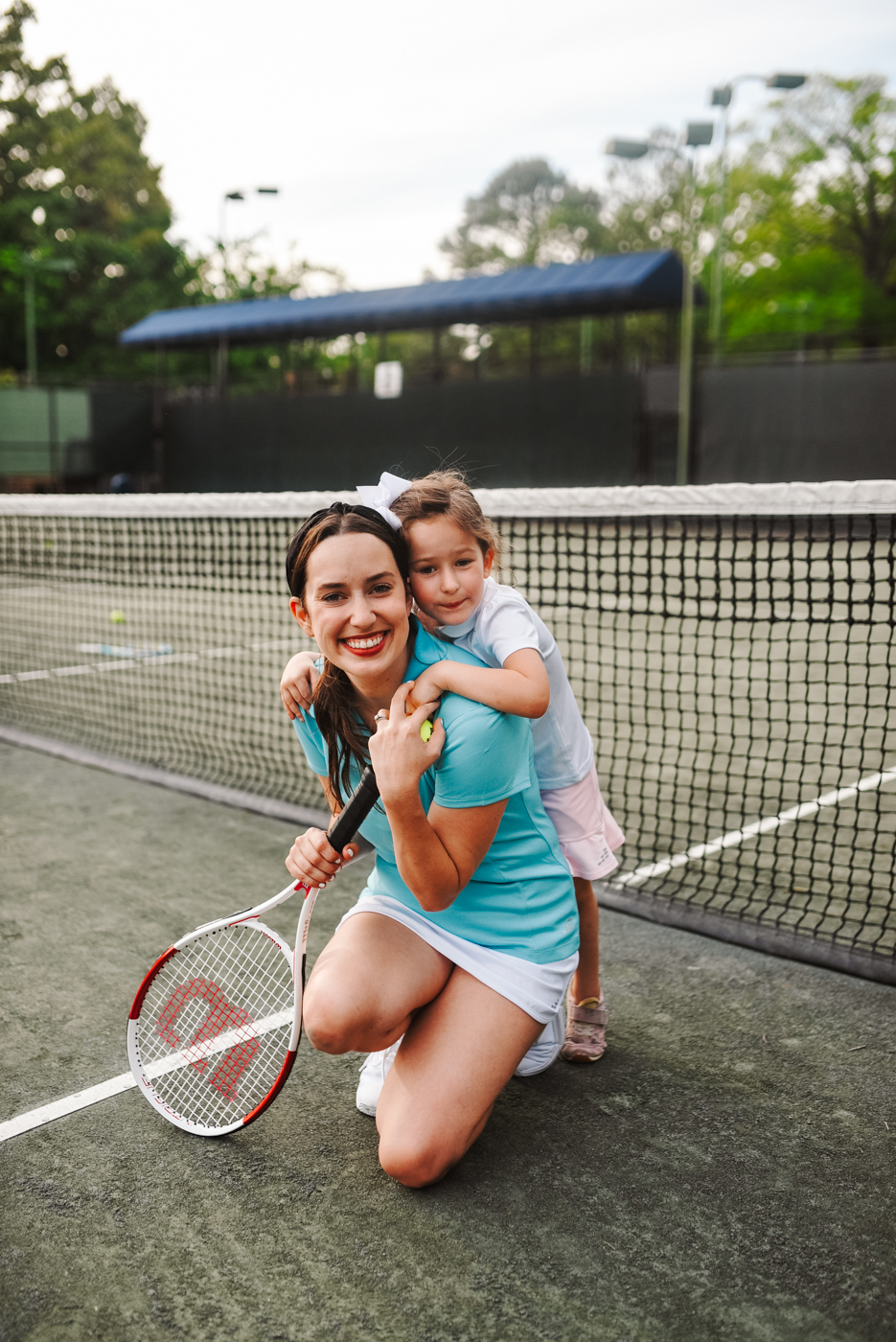 Three Generations of Fun
It wouldn't be a true Mother Daughter day if Annie didn't tag along for the occasion! It's so important for Annie to see us active and having fun with fitness as she grows older. Studies show that a mother's fitness habits can have a direct correlation on their daughter's and of course I would love for her to grow into the best version of herself she can be.
For the most part, Annie ran around bouncing her tennis ball across the court herself while my mom and I actually played. But having her with us and enjoying the experience was oh-so-special. Of course, she had to get all decked out in her tennis best too!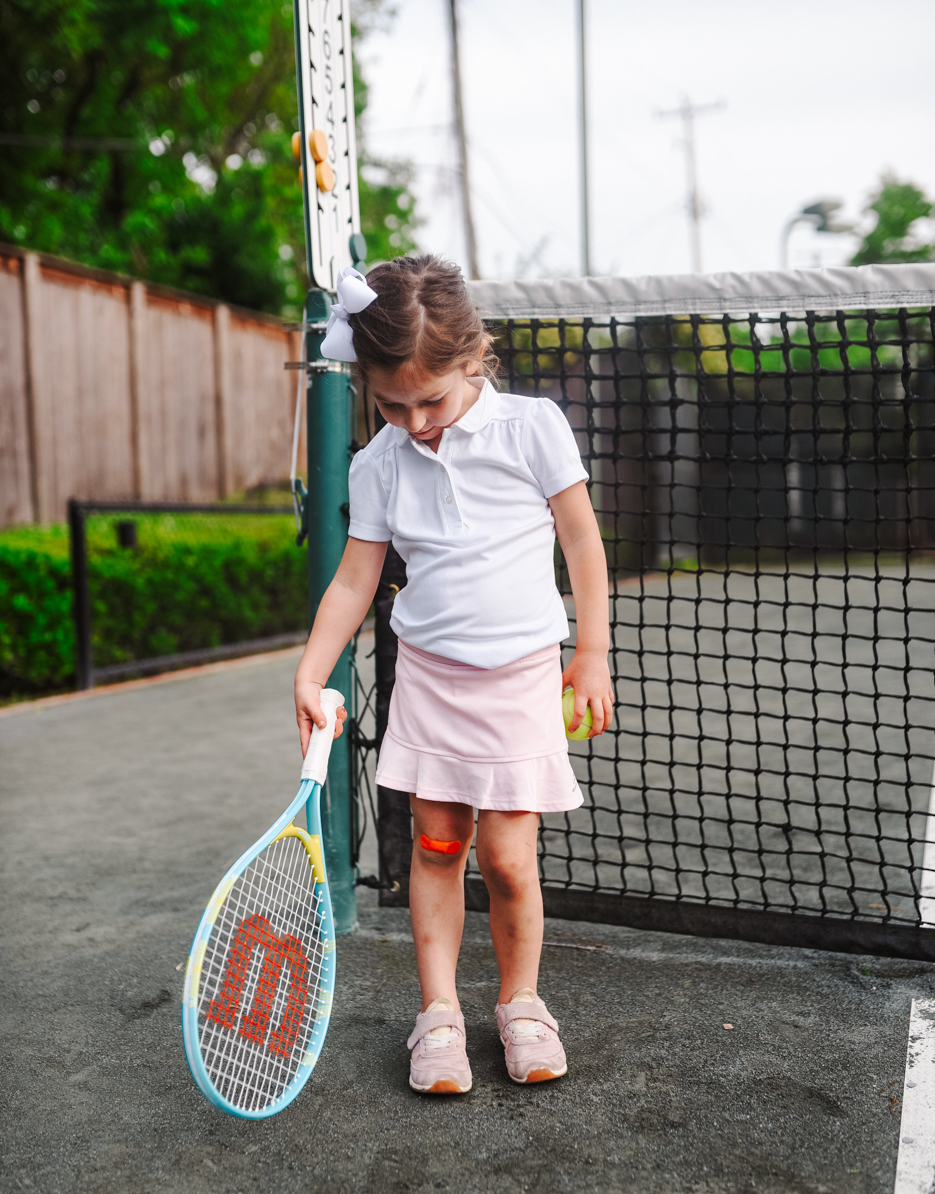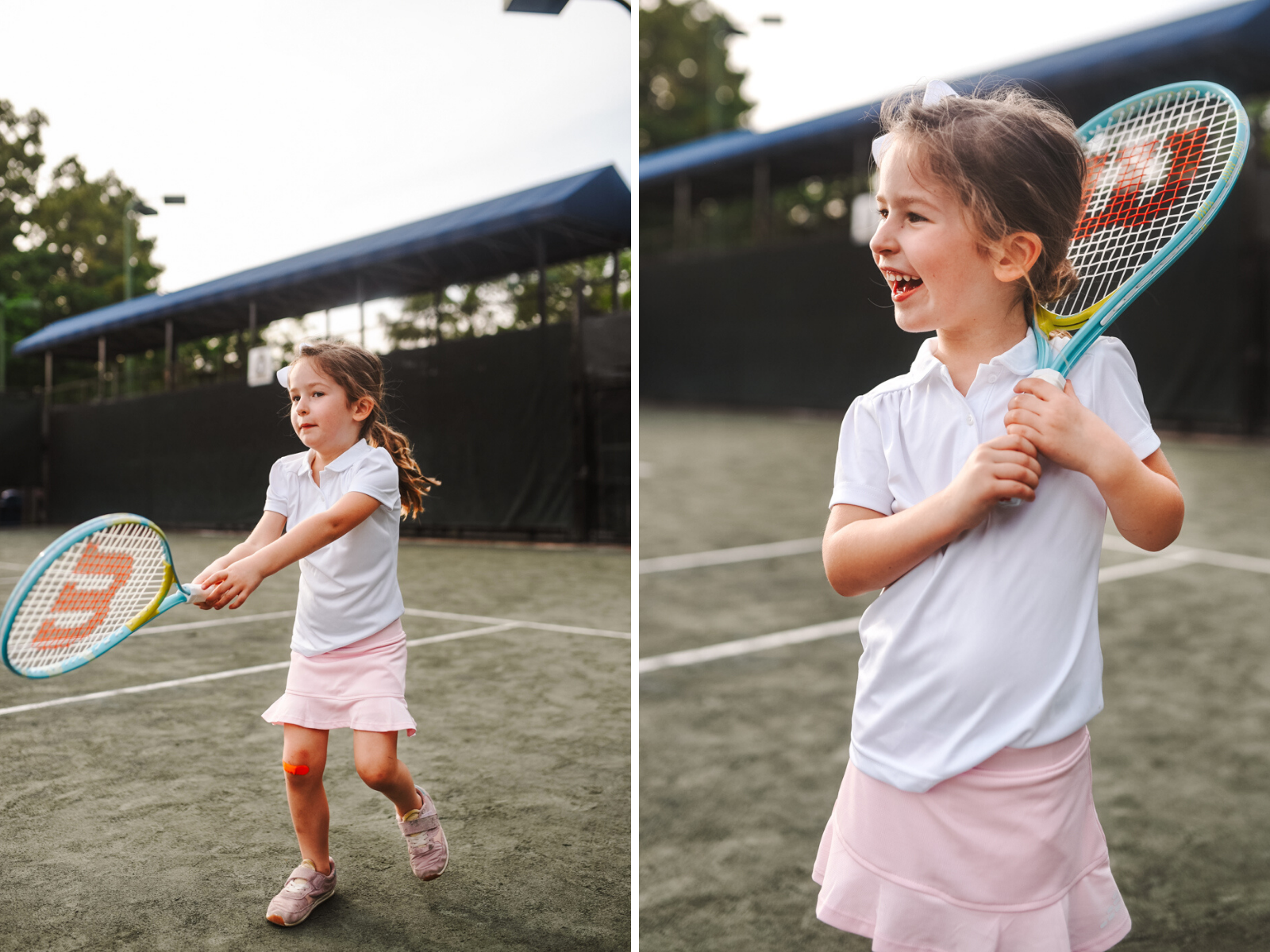 Pretty in Pink
I found Annie's precious little polo and pink tennis skirt from Academy. I know we are biased, but we all could not get over how precious she looked with her racquet in hand – all dressed up and ready to hit the court. Annie's bright blue racquet is by Wilson Serena and is just her size measured for kiddos aged 5-6!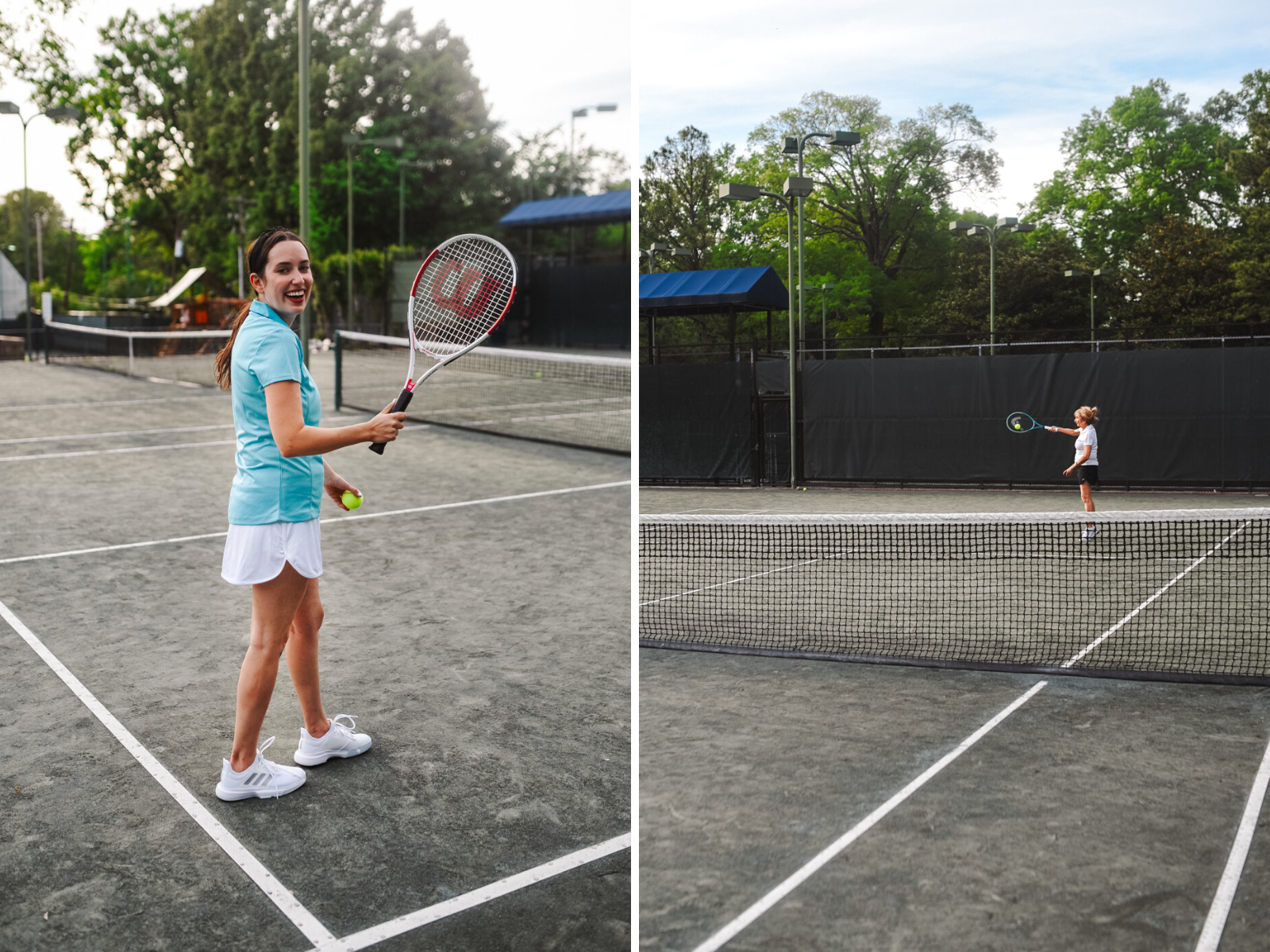 I think we were both grinning from ear to ear the entire time!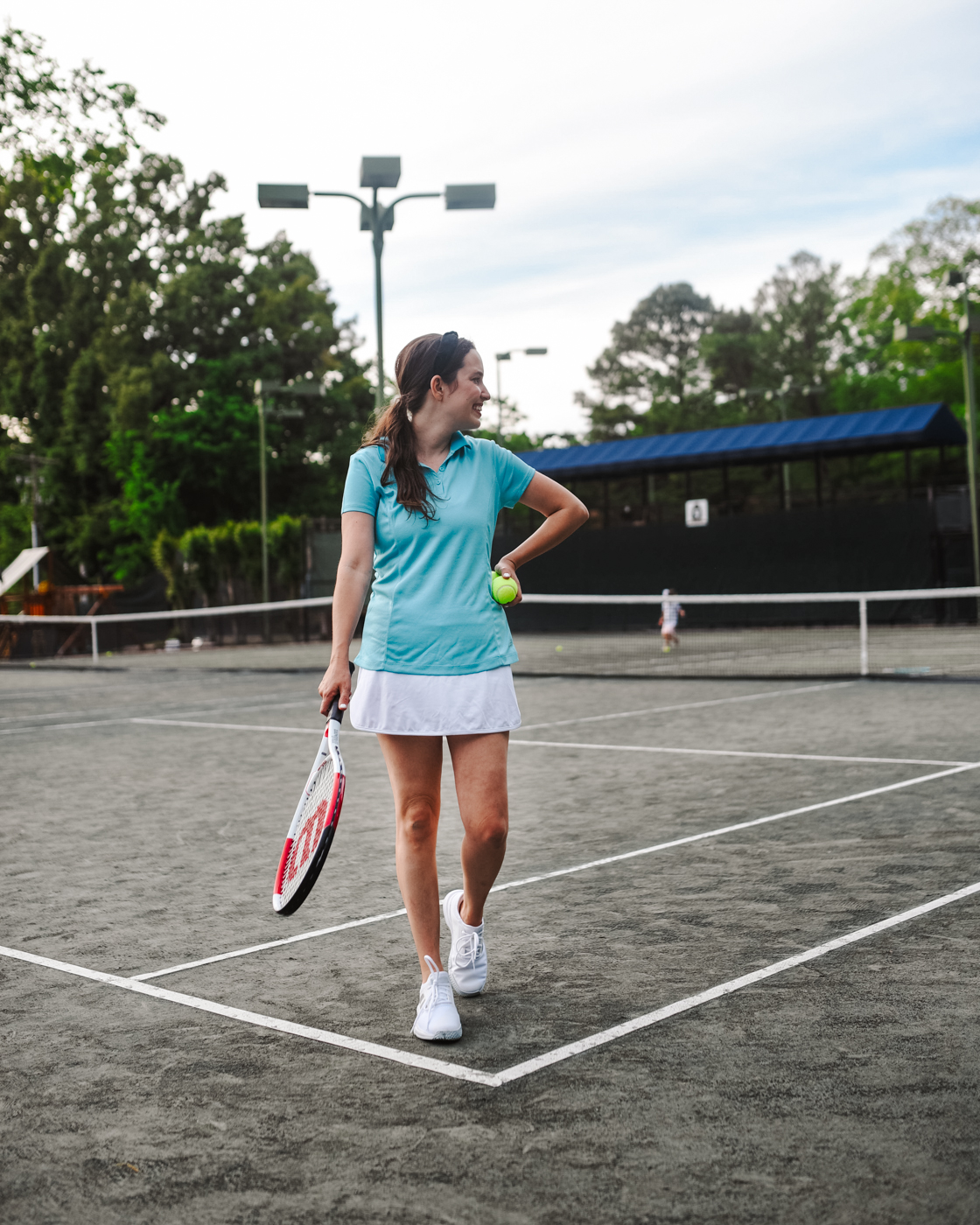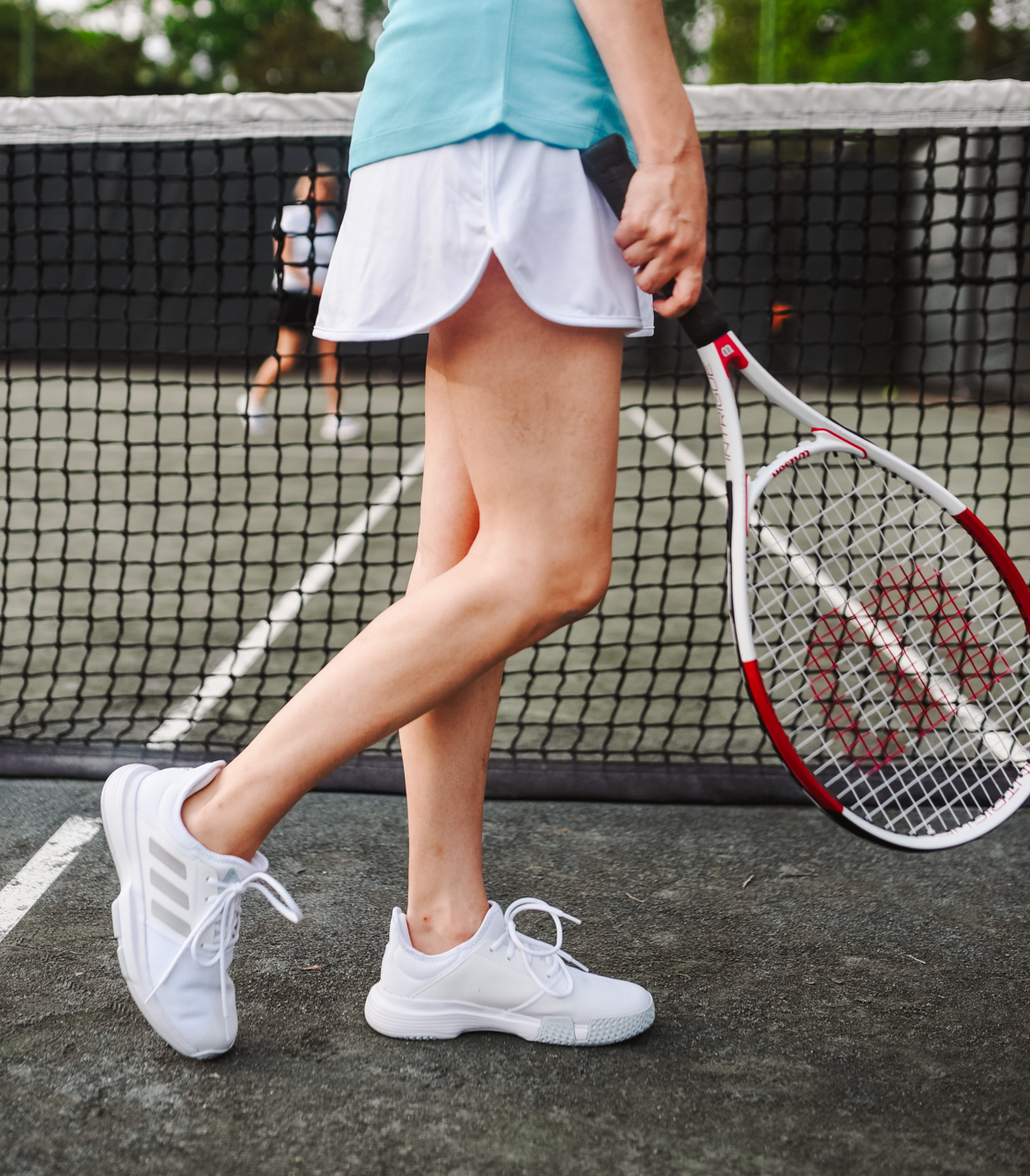 Kick it on the Court
My GameCourt Tennis Shoes by adidas are another great Academy find. They have amazing traction, a Cloudfoam midsole cushion and are super lightweight too. They are linked here & my Wilson racket is linked here.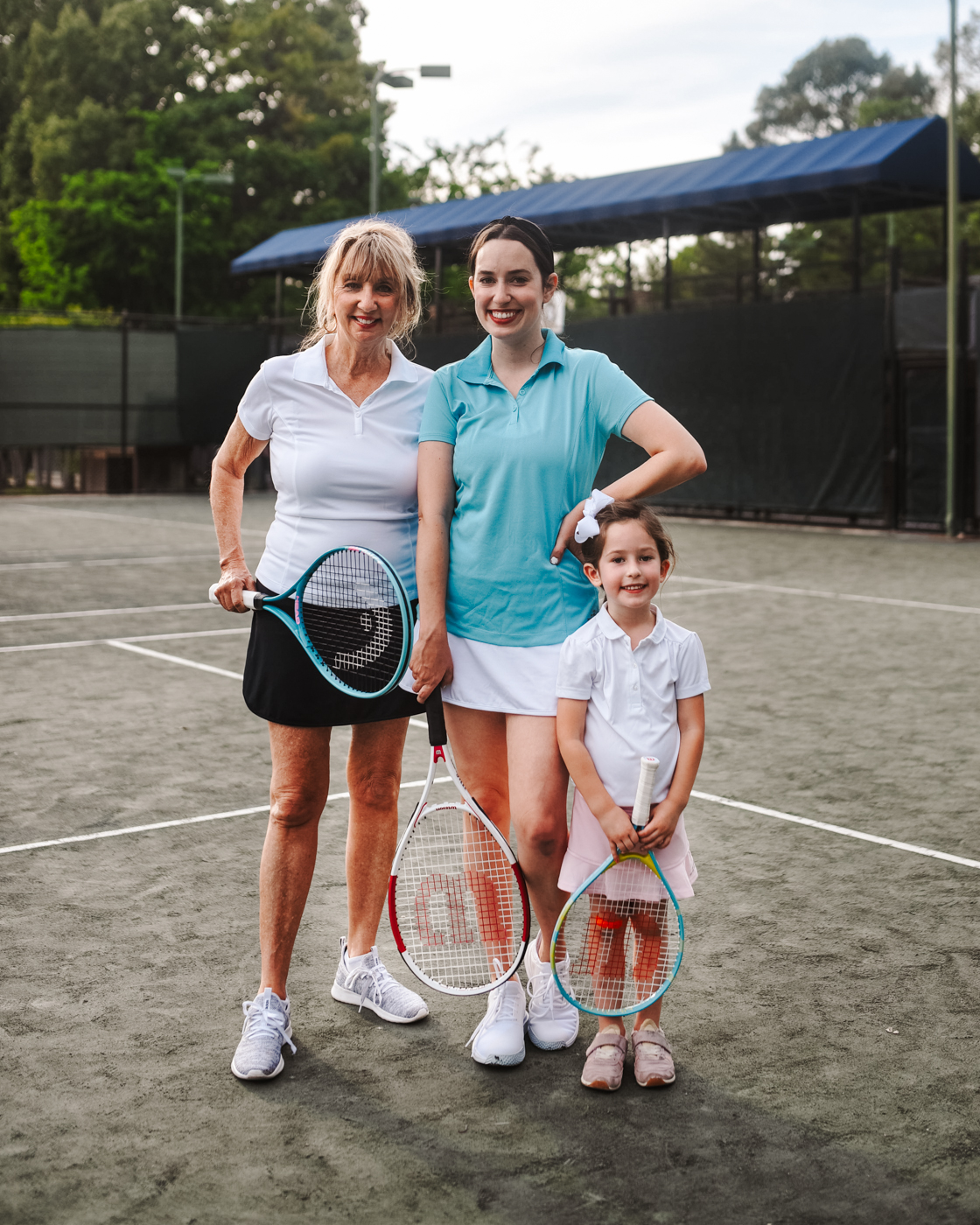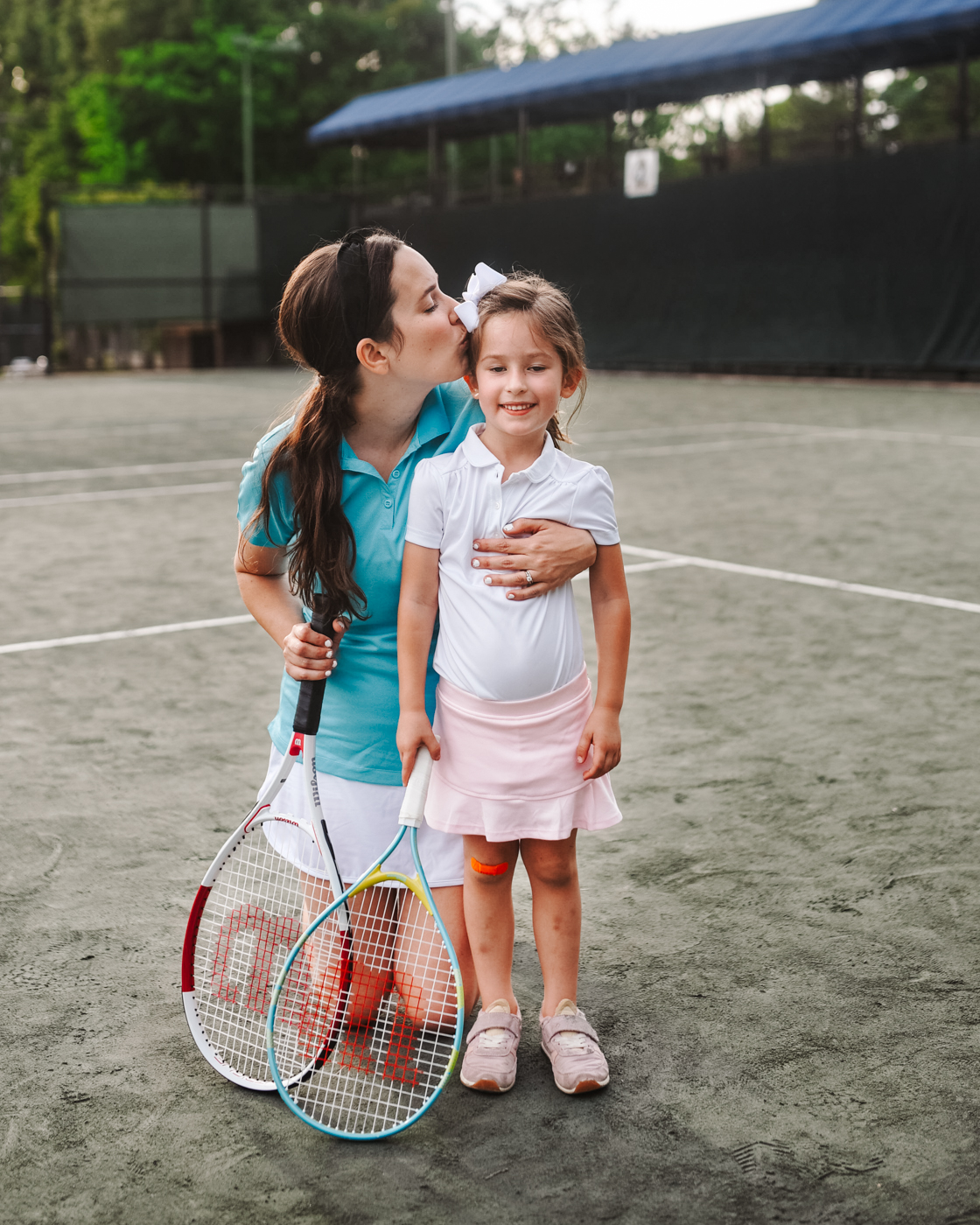 I'm so thankful to have such a wonderful relationship with my mom. Having a daughter of my own made me truly realize just how much my own mother does for us – what all she has given up and the sacrifices she's made for her children. I only hope to be as great as a mom as she is to me to my own little Annie and Bennett!
—
Wishing you all a Happy Mother's Day this week!!
—
Big thank you to Academy Sports + Outdoors for sponsoring this blog post and decking us out in style for an afternoon on the court. It means so much to me to be able to partner with brands that I already know and love. Thank you to you all for supporting the brands that make Lone Star Looking Glass possible.
—
xo, alice
The post A Mother's Day Tennis Match appeared first on Lone Star Looking Glass.
What does naughty but nice mean
. xoxo.