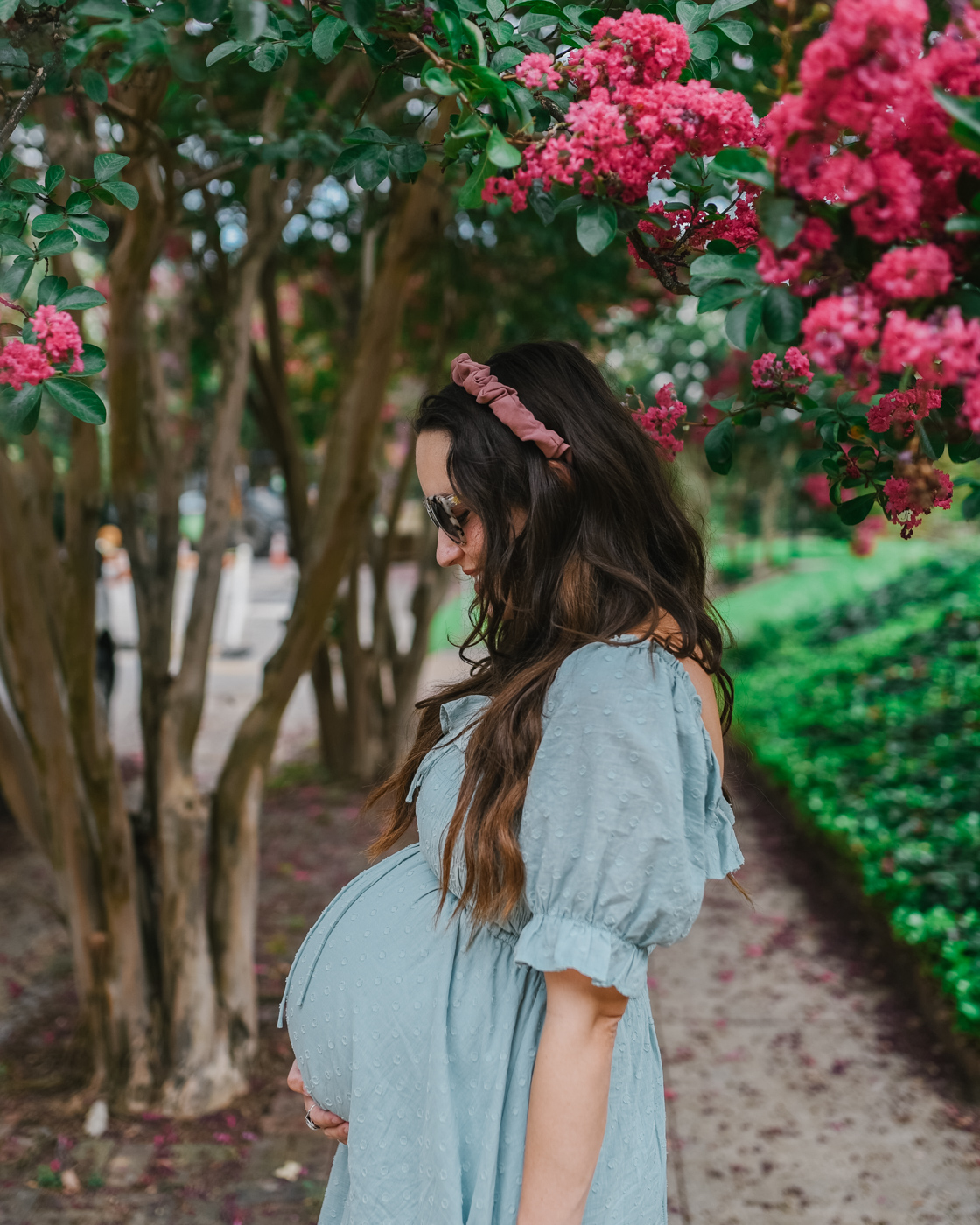 Turn on your JavaScript to view content
Fall outfits, fall foliage, pumpkin spice lattes and even a jack o' lantern or two have been popping up on my instagram feed lately. August is a little bit too early to be inundated by all things fall, don't you think? I've honestly never looked forward to the fall season more in my life! However, I'm still hanging onto summer and all its magic while I can.
Today, I'm styling and sharing a sweet summer dress (chatting about how it will transition easily to fall too!) and giving a little update on all things baby & life at 35-weeks with a "bumpdate." More below!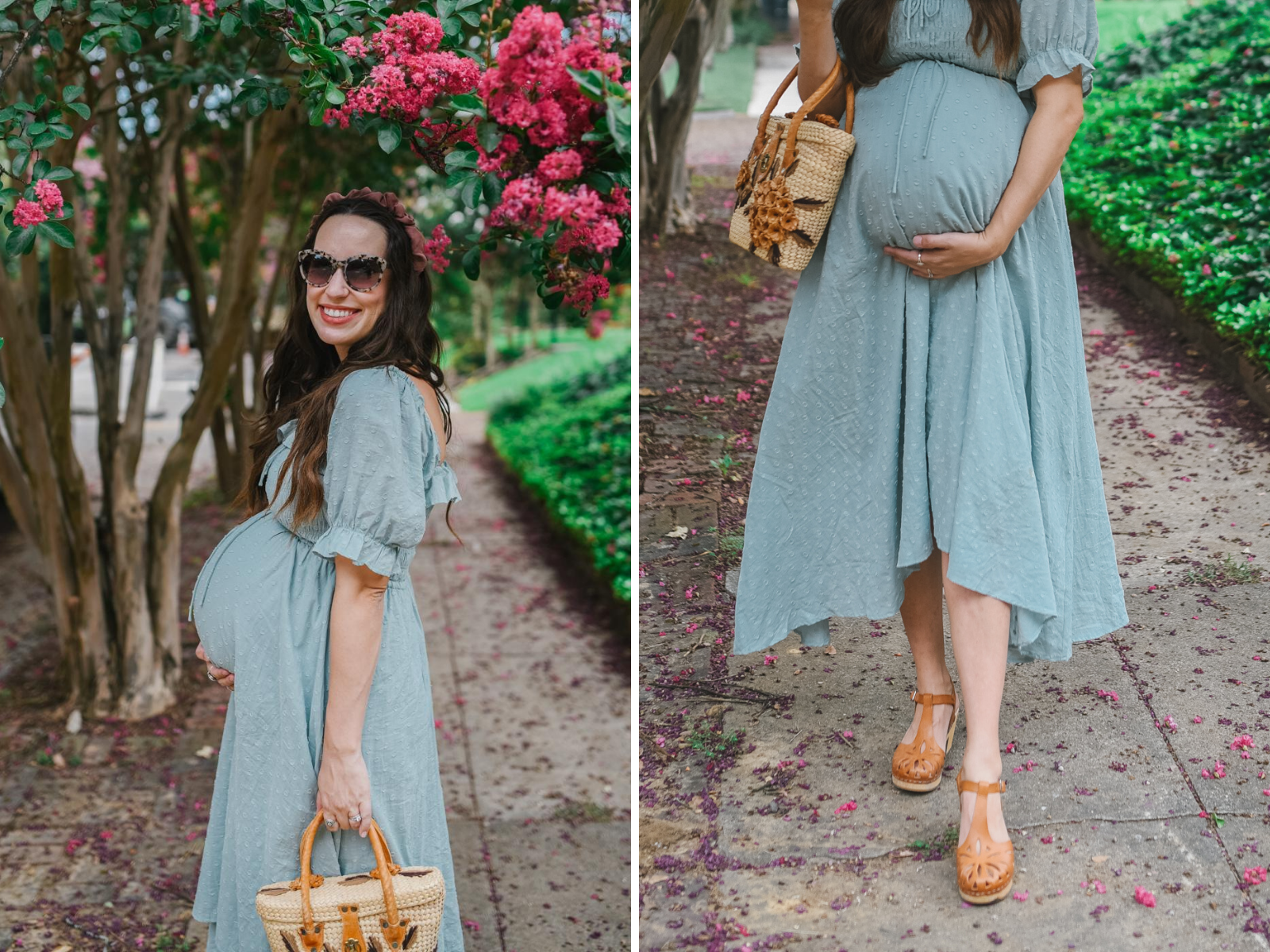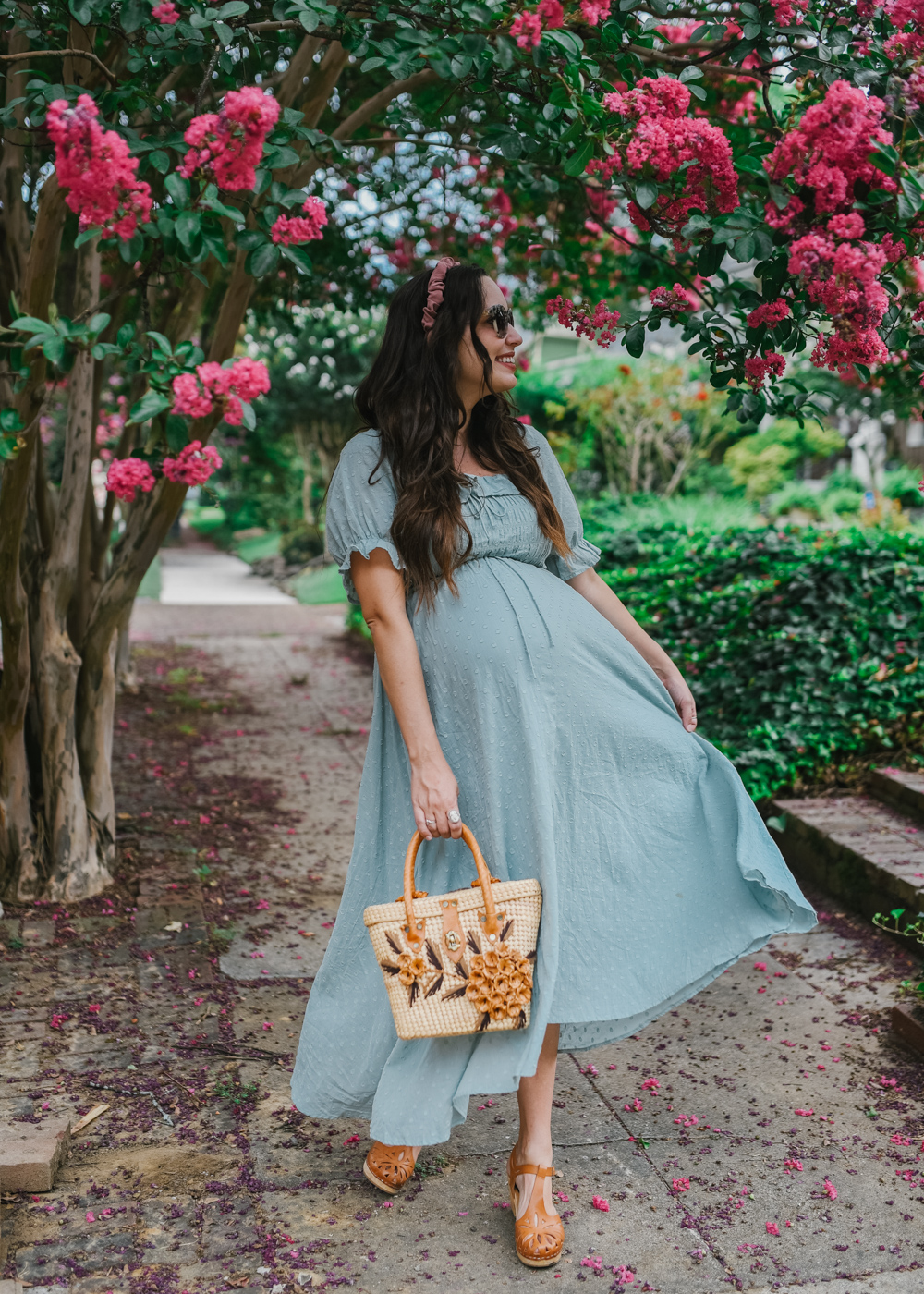 Shop the Look

Turn on your JavaScript to view content
All About the Outfit
When it comes to shopping during this time of year, I choose pieces that will not only work for the remaining hot summer days but will transition well into fall season too. Take this blue smocked midi dress for example. Paired with sandals and a straw tote today it's the epitome of summertime chic. I'm also looking forward to dressing it up with a chunky sweater and brown booties in a few weeks when the weather dips for a fresh fall look.
This dress was a recent Amazon find and comes in at less than $35! You can find it in several different colors too. How gorgeous is the burnt orange version!? Now that would be beautiful come fall! Anotehr perk to this versatile flowy dress is that it has a smocked bodice which will make it a great dress to wear as a postpartum nursing mama. For me, those days will be here any minute!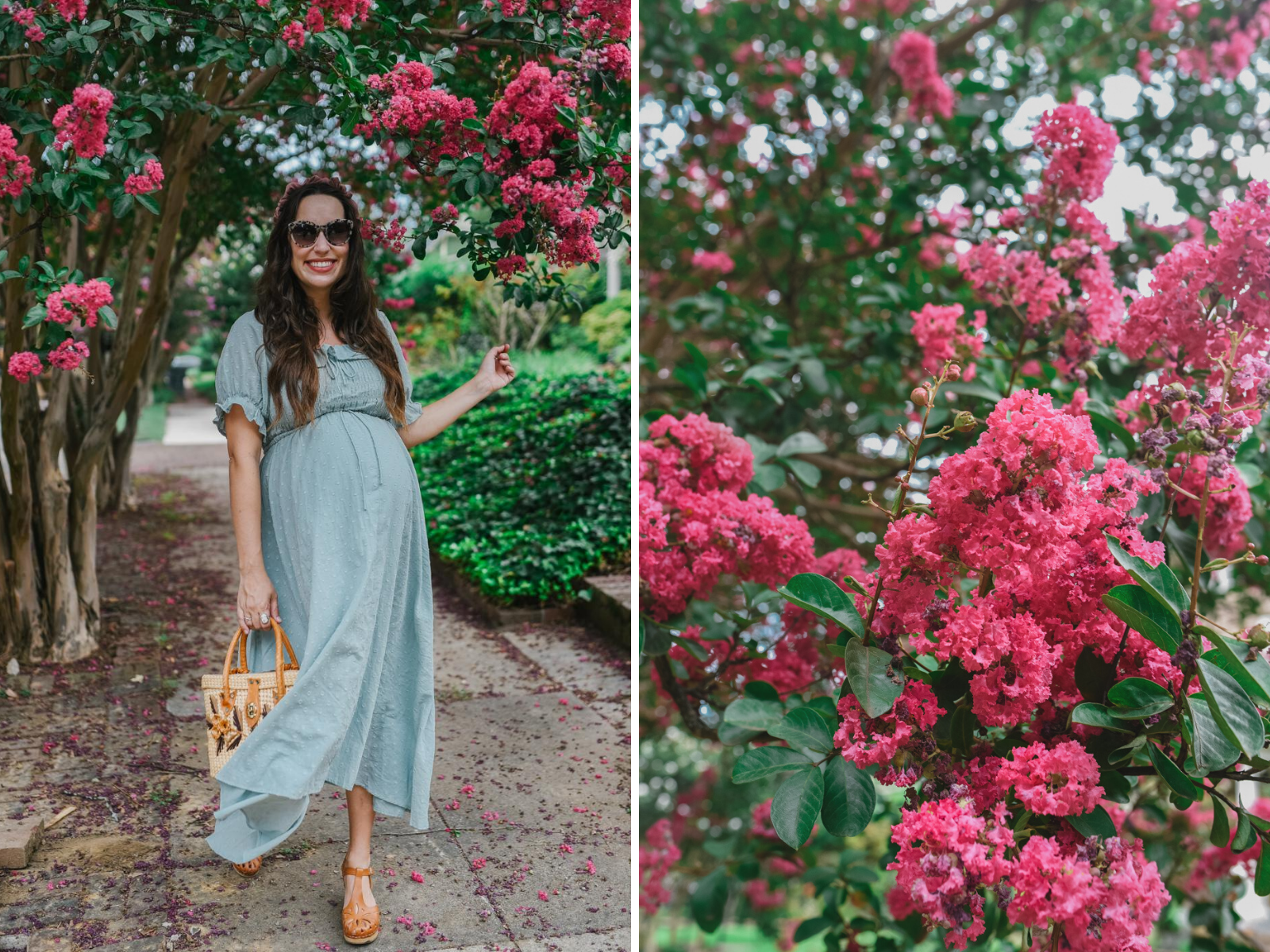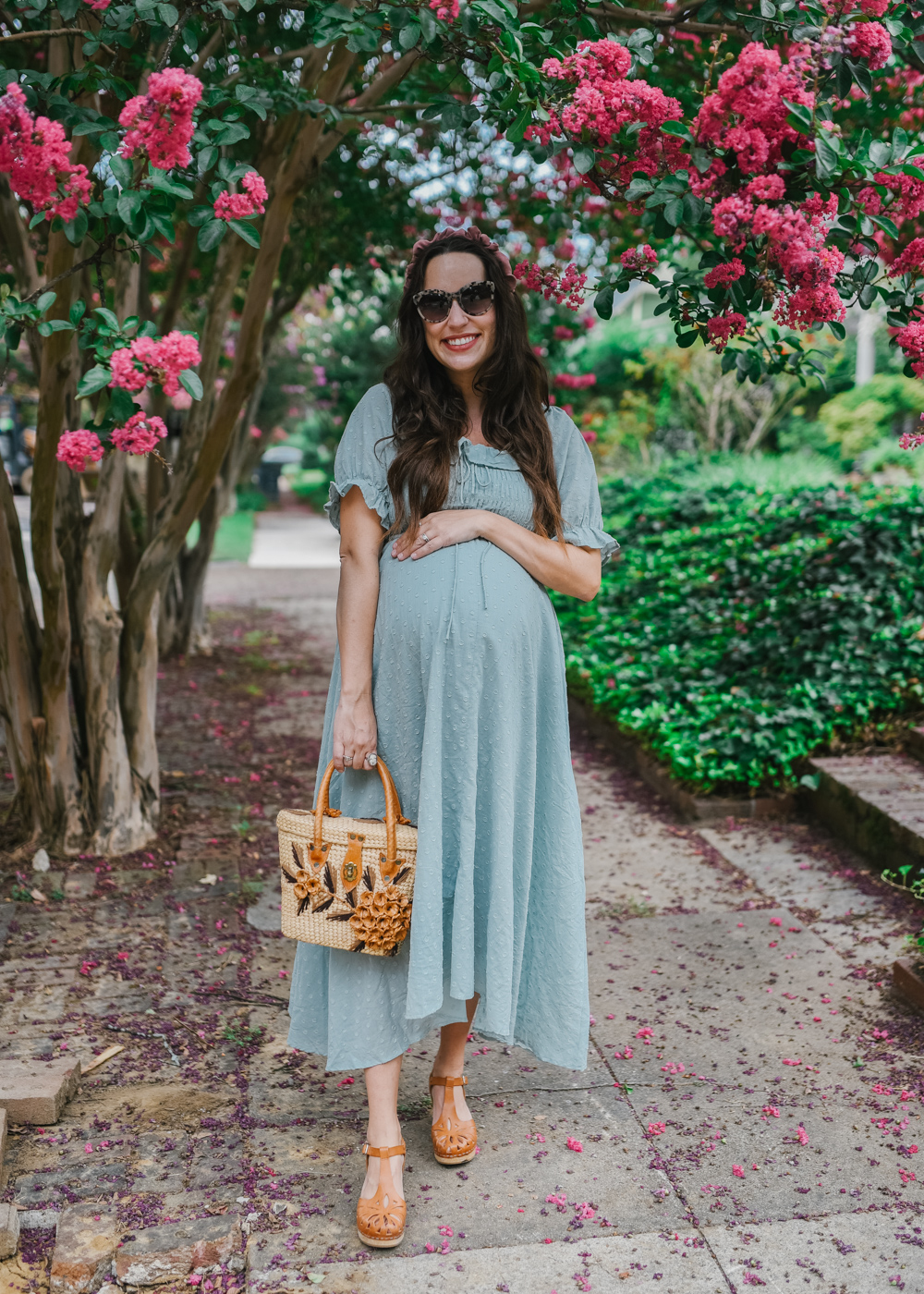 35-Week Bumpdate
My due date is exactly 30 days away and boy oh boy … am I ready to meet this boy! That last month sure is a doozy. Not only do most moms feel oh-so-uncomfortable in those final days but the anticipation of labor announcing itself at any moment can have you feeling like you're on pins and needles 24/7. I certainly am!
Baby is the Size of: A pineapple! He is roughly 5 and a half pounds and could very well be over 18 inches long. I can't believe he is still only going to get bigger inside this belly of mine!!
Feeling: Excited. Anxious. Exhausted. Uncomfortable. Emotional. I'm not sure there are even enough adjectives in the dictionary to describe my current state! It's definitely all over the place. For the most part, I'm honestly doing perfectly fine and I'm so thankful for that. Sure, getting comfortable on the couch, in bed at night and even at the dinner table is quite difficult … but I can't complain because I know baby boy is healthy, happy and content.
Cravings: My appetite is so strange lately! Some days I'm ravenous and could eat 6+ full meals. Other days it is like I've reverted back to my first trimester. Nothing sounds good … not really hungry … and the though of some of the foods I actually love sounds horrifying.  The one thing I can count on always being in the mode for? Chocolate chip cookies, naturally.
Maternity Clothes: While I've been having such fun donning darling sundresses and all kinds of outfits on the blog lately, I'll be honest that many of my go-to pieces from the last several months of my pregnancy don't fit me anymore. I'm now rotating between 3-4 dresses that keep my comfortable and a handful of shirts and leggings. My pajamas are starting to even get a little snug … this belly is so big!! Thankfully, Patrick still has his Lacrosse gym shorts from college and a few extra oversized tees which are currently on loan to me. Now that is a look I should do a blog post on! 
Baby Registry: Since I last chatted with y'all about baby on here, my sweet friends and family threw me a lovely "sprinkle" baby shower! It was such a treat to see so many smiling faces (well … smiling eyes since we were all masked) through their car windows a few weeks ago.
I am so incredibly thankful that our loved ones were able to sprinkle us with everything we will need for this baby boy. At first, I never dreamed we would have to build a registry or would even require much more than a few clothes for a second baby. But after three and a half years, a big move to a different state, a flooded basement and the fact that we were having a completely different gender, we realized we had so much less to prep for his arrival than we ever intended. We used Babylist this go-round and it was such a great experience!
I'm definitely planning to do a roundup in the coming weeks after he is here of "registry must haves" for a second baby along with our favorite gear when it comes to newborns. Stay tuned!
Looking Forward to: Obviously my due date! But for now, my 36-week appointment. Patrick will finally get to meet my doctor at next Thursday's appointment too. I'm hoping she can give us insight into when she thinks he will make his debut and whether "conditions" look good for a possible VBAC. I've mentioned this before, but I'm really hoping and praying we are able to have a successful stress-free VBAC this go-round. I'm still a bit traumatized after Annie's birth and my post operation c-section complications. But I know that whatever my doctor says I will happily go along with – because at the end of the day a healthy baby and mom are all that matters.
Nursery: I would say at this point, we're 85% finished with the space! All that is left to do is decorate really – install art, bookshelves and find a lamp or two. You might have seen on my IG stories, but we put a daybed in his room (this rattan one from World Market) instead of opting for a rocker/glider. This way, we have a cozy spot to lounge and read and Annie also has a space to sleep when her grandparents stay over.

Turn on your JavaScript to view content
What's Left To Do: Really, not too much! We've already washed all of baby boy's precious little laundry and its ready for his arrival. I just pre-registered at the hospital and all we have left is to pack our hospital bags. We've even made arrangements with family for Annie + the dogs during our hospital visit too.
—
Mamas, how were you feeling at the 35-week mark!? For more baby bumpdates and maternity fashion, check out these posts. And as always, thank you guys for following along in all of life's adventures lately. I've had such fun sharing my journey through motherhood with you all.
—
xo, alice
The post A Blue Maternity Midi Dress + 35 Week Bumpdate appeared first on Lone Star Looking Glass.
What does naughty but nice mean
. xoxo.