9 Reasons to Stay at Barnsley Resort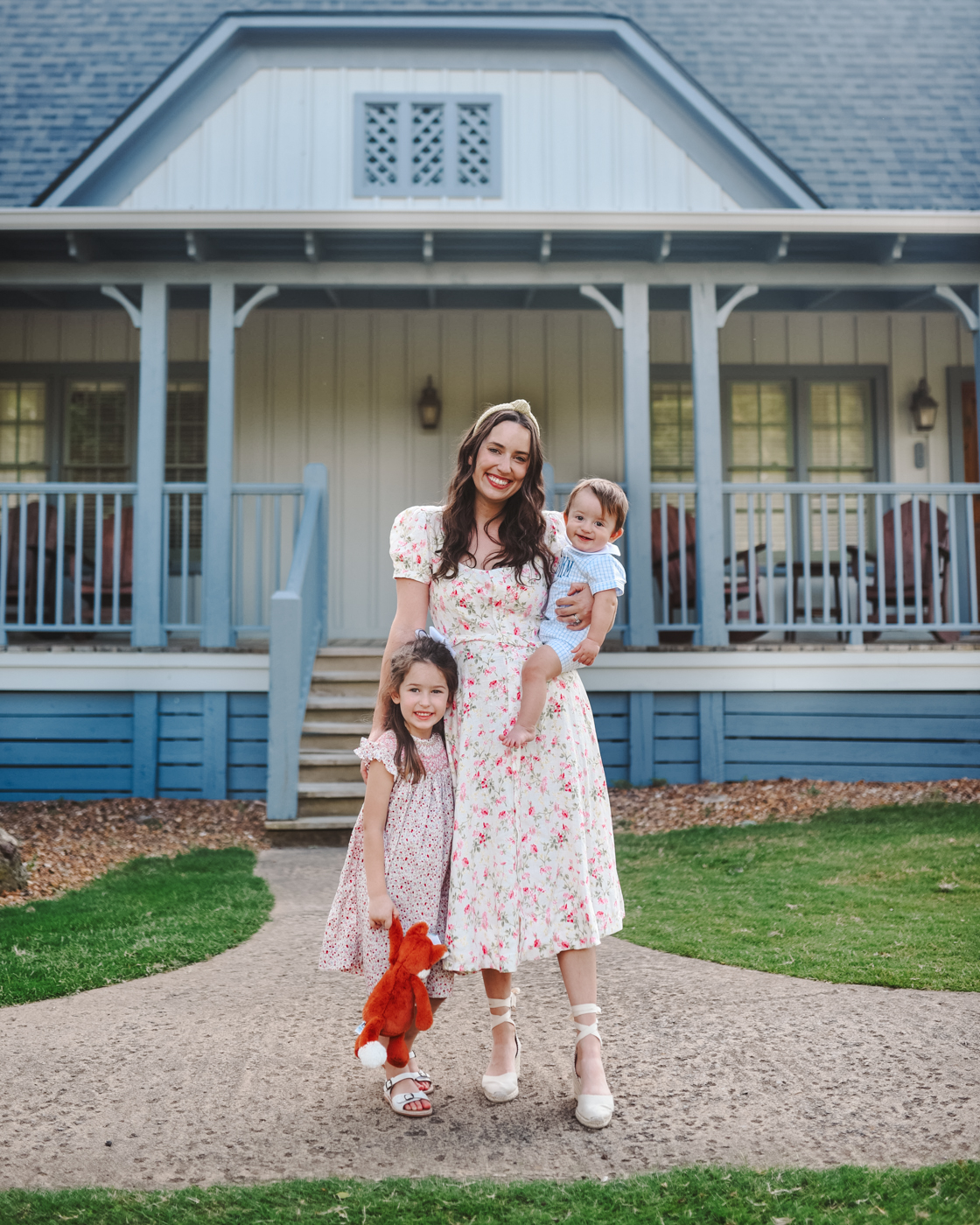 Turn on your JavaScript to view content
Our family kicked off this summer in the best way possible – with a stay at Barnsley Resort in North Georgia. Barnsley sits on over 3,000 acres, part of which is home to a Historic Southern Estate, in a breathtaking countryside setting. This family-friendly resort has  something for everyone – sports, history, outdoor adventure, delicious food & ample opportunities to relax and unwind. Did I mention there are even horses too!? Because there are! 
I'm sharing a peek into our recent stay at Barnsley Resort along with the top 10 reasons you need to experience one of the South's best resorts! More below!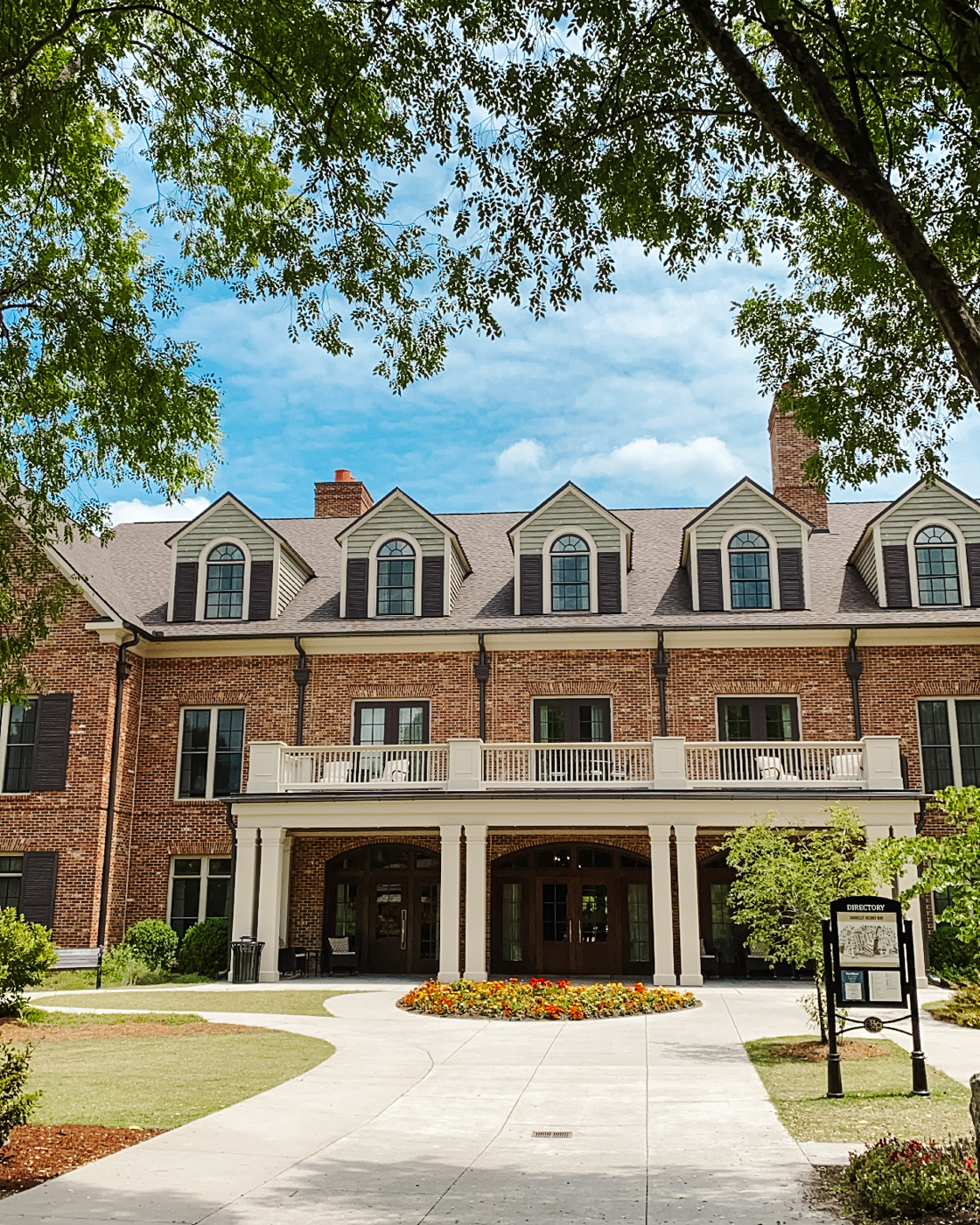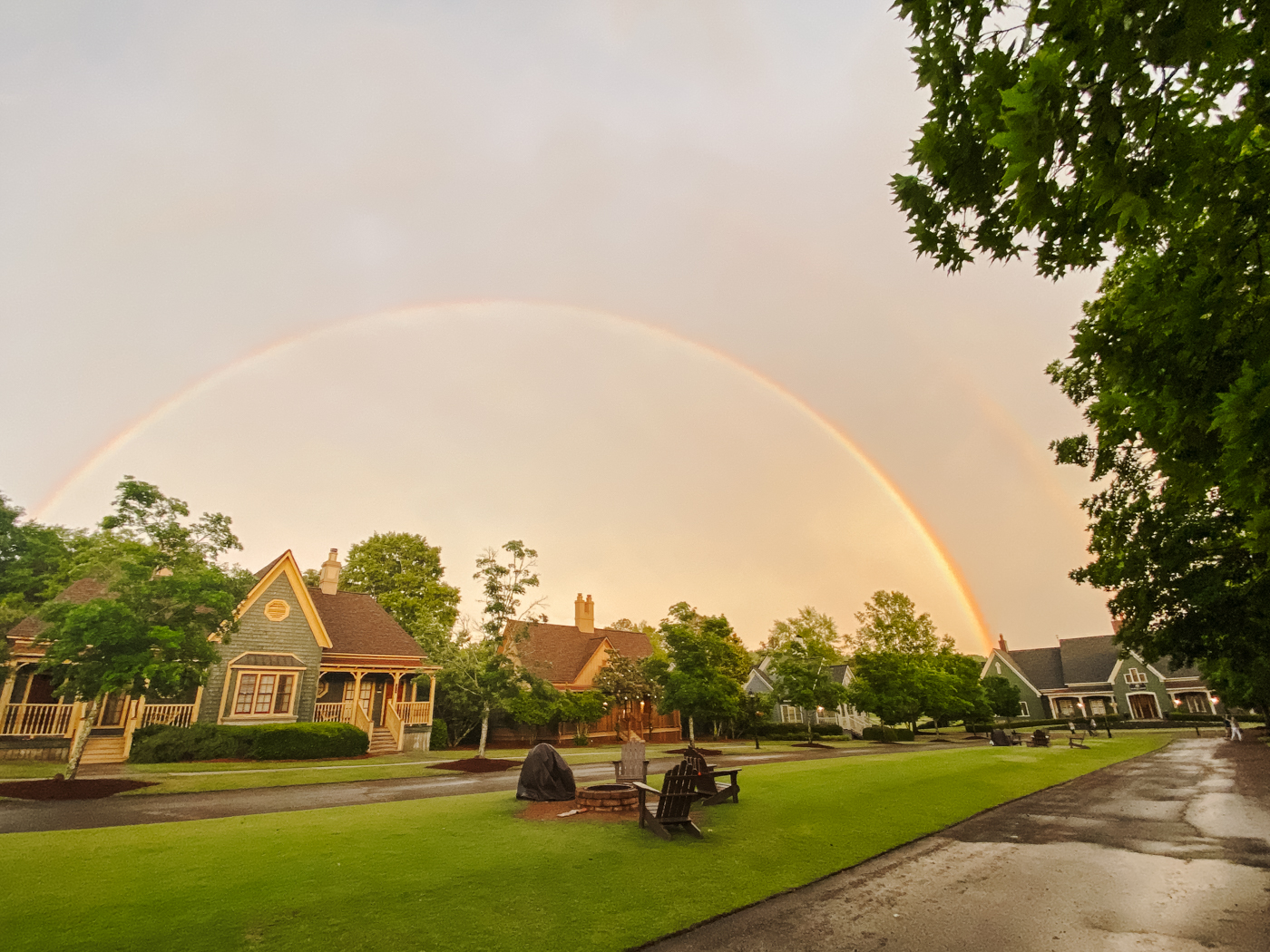 Step into an English-Inspired Village
Barnsley boasts a three-story inn with gorgeous guest rooms (I stayed here during a conference in 2019.) But the real stunners are their Estate and Manor Cottages sprinkled about Barnsley's English-inspired village. These precious colorful cottages line an inviting pedestrian walkway that encourages guests to get out and about and even connect with other families visiting from near and far.
Our little social butterfly, Annie, made the most friends of all! Before bed one evening, Barnsley was treated to the most beautiful rainbow! All of the kids staying that weekend ran around together at twilight for a game of tag. Patrick, Bennett and I watched from our front porch rocking chairs and honestly it was bliss! (Kinda felt like we were in a movie too – everything was just so perfect!)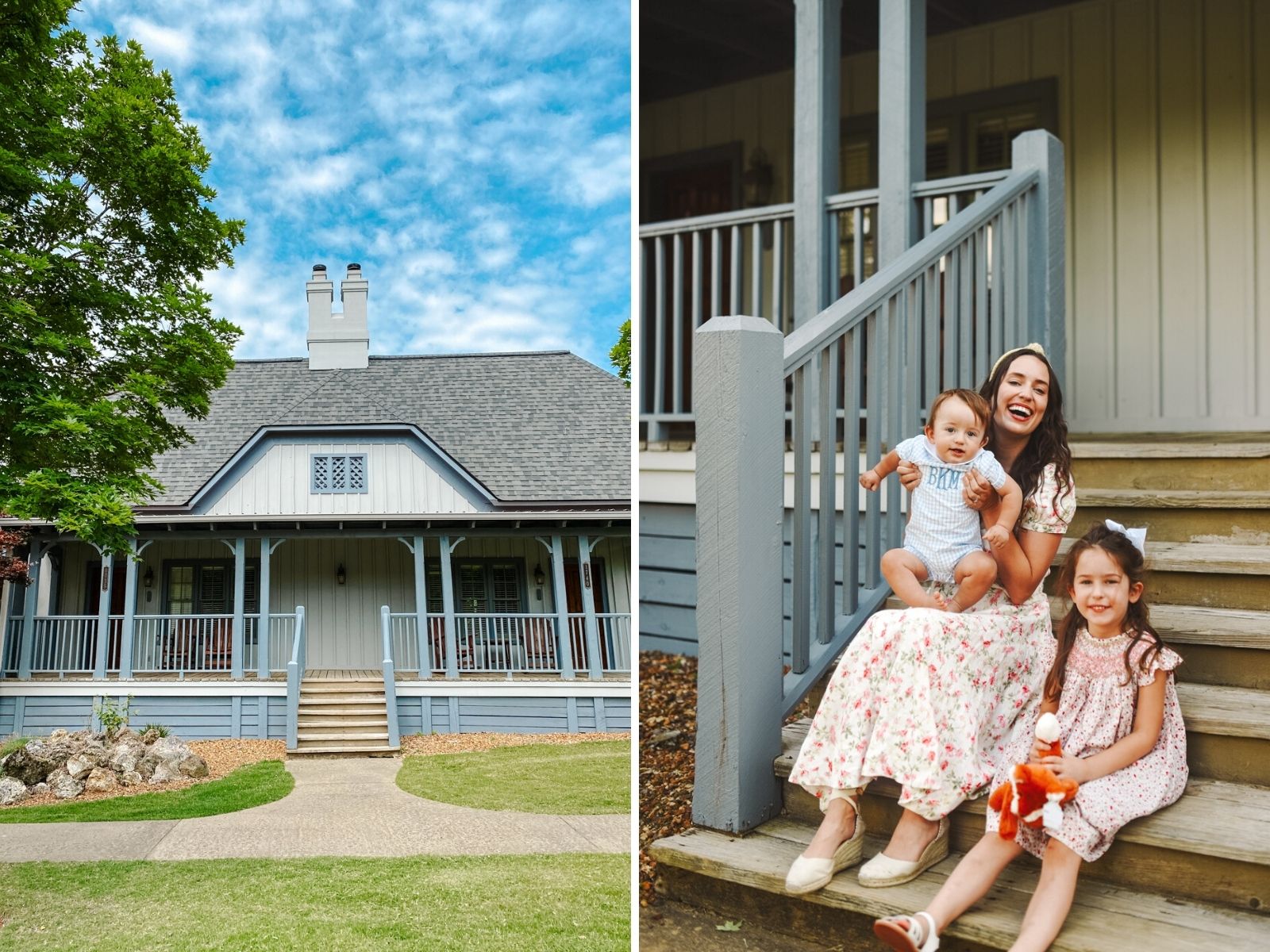 ps: my floral dress is by Ralph Lauren (love these similar styles!) Annie & Bennett are both in Cecil & Lou pieces 

Turn on your JavaScript to view content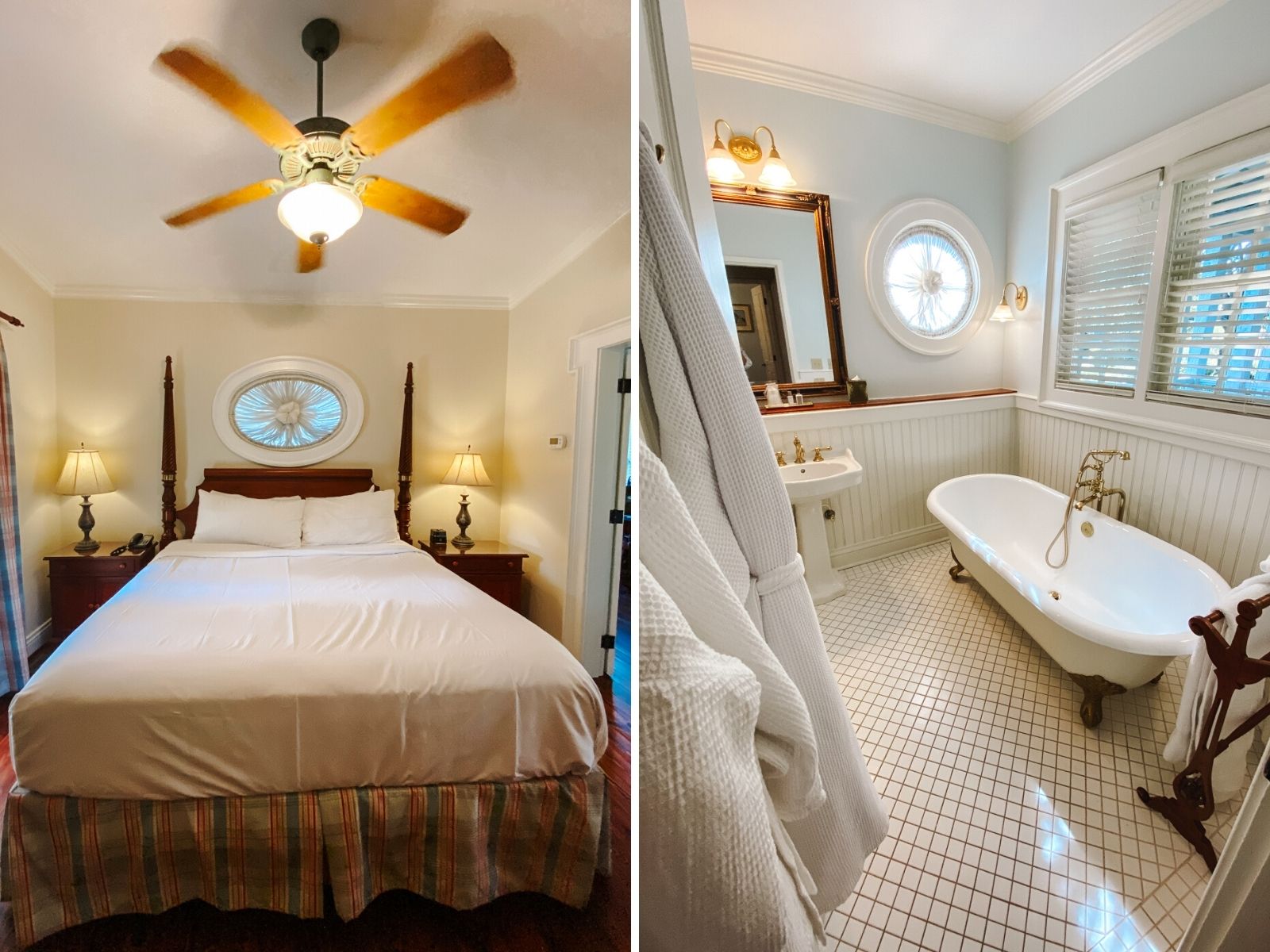 Stay the Night in a Quaint Cottage
If you're traveling with a family, or would like just a little bit more space, the Cottage Suites are the way to go! We stayed in a One Bedroom Suite complete with a spacious living area, an en-suite bathroom boasting a beautiful claw foot tub & two cozy porches to enjoy. The traditional decor had an English-inspired feel as well. If it weren't for the southern Summer heat, I could have easily pretended I was deep in the English countryside for our long weekend at Barnsley.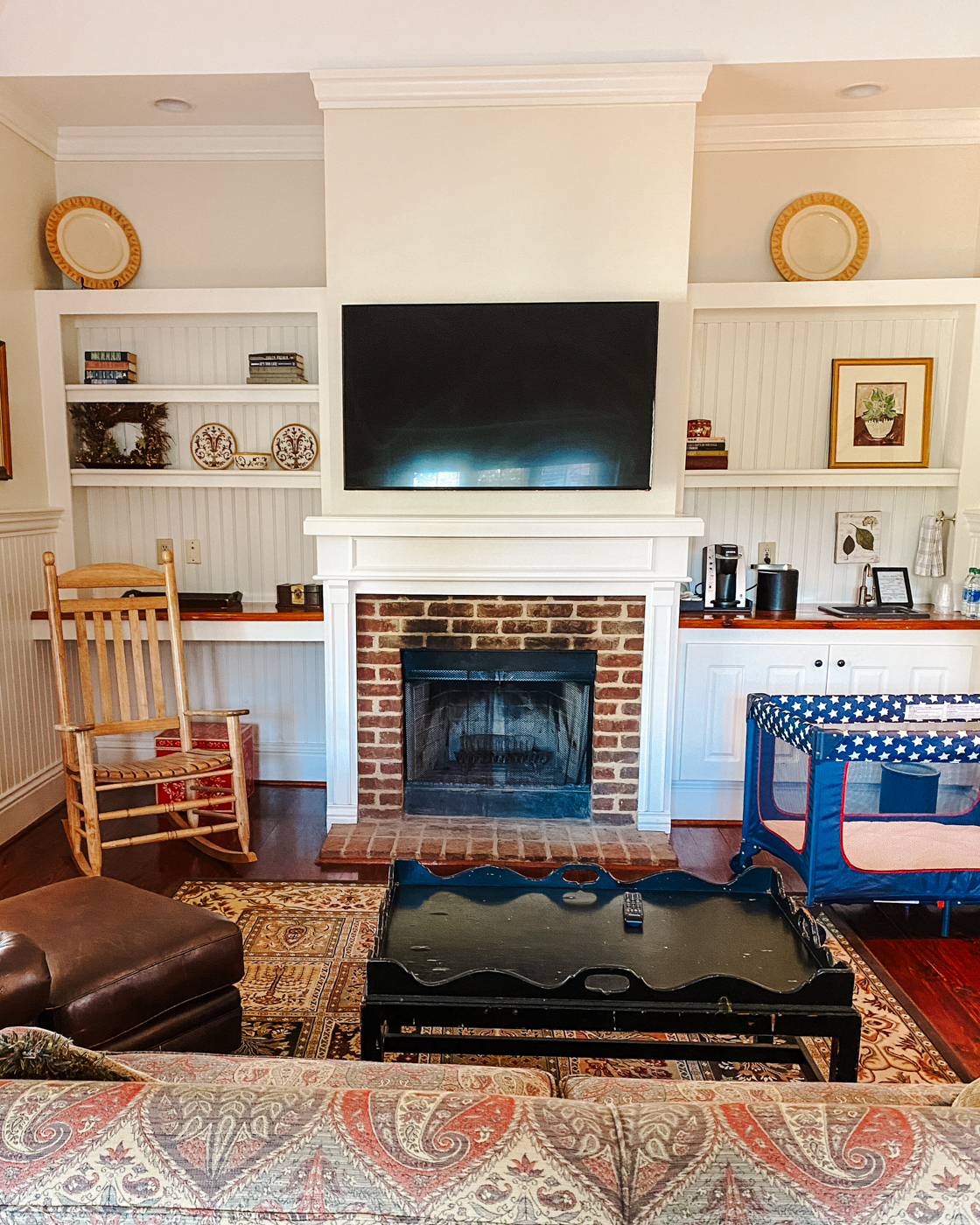 Our One-Bedroom Suite was just perfect for traveling with two little ones. The resort set up a pack and play for Bennett and Annie shared the bed with us … even though there was plenty of room on the living room couch. Four year old's sure love any opportunity to squeeze right next to Mom and Dad, don't they!?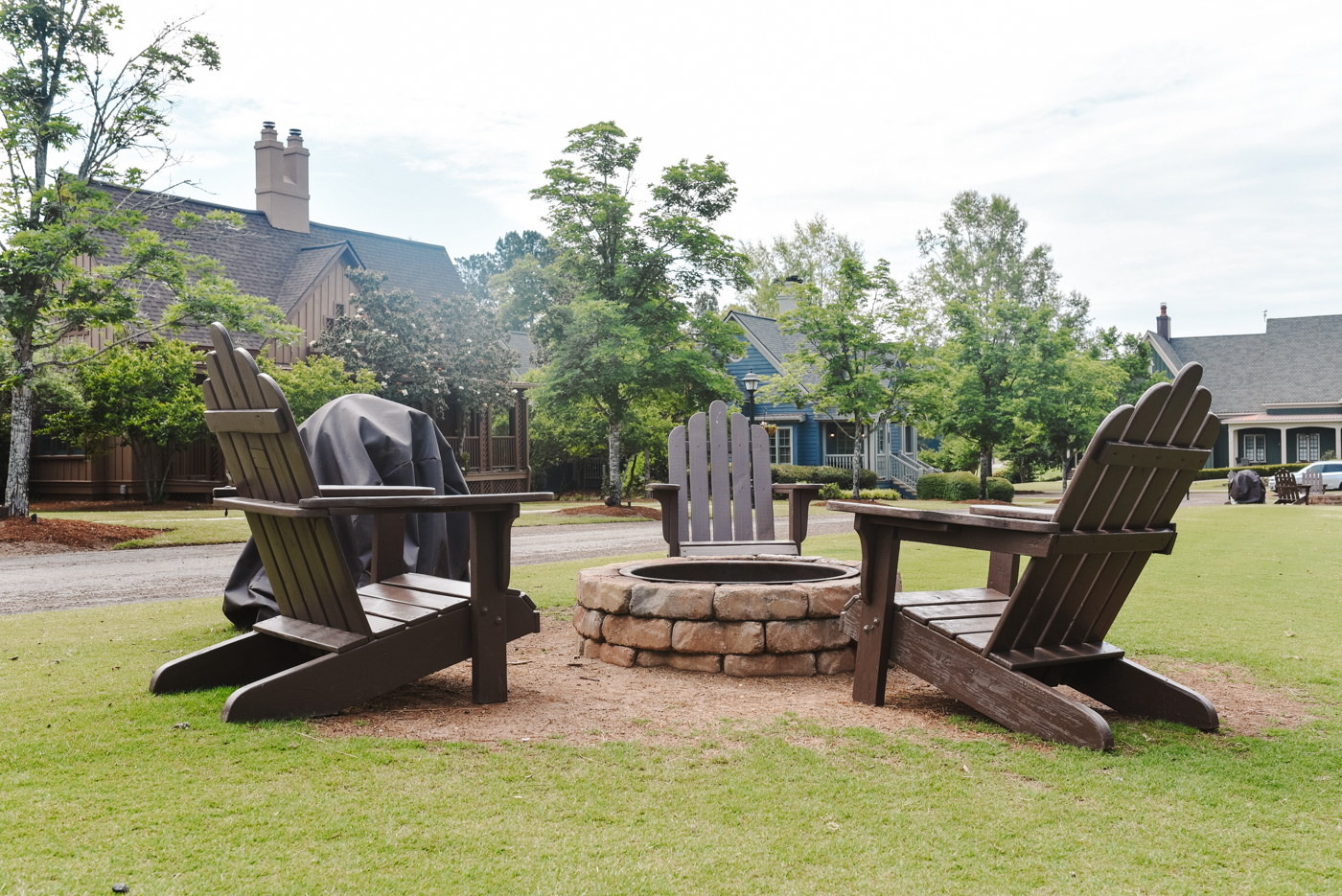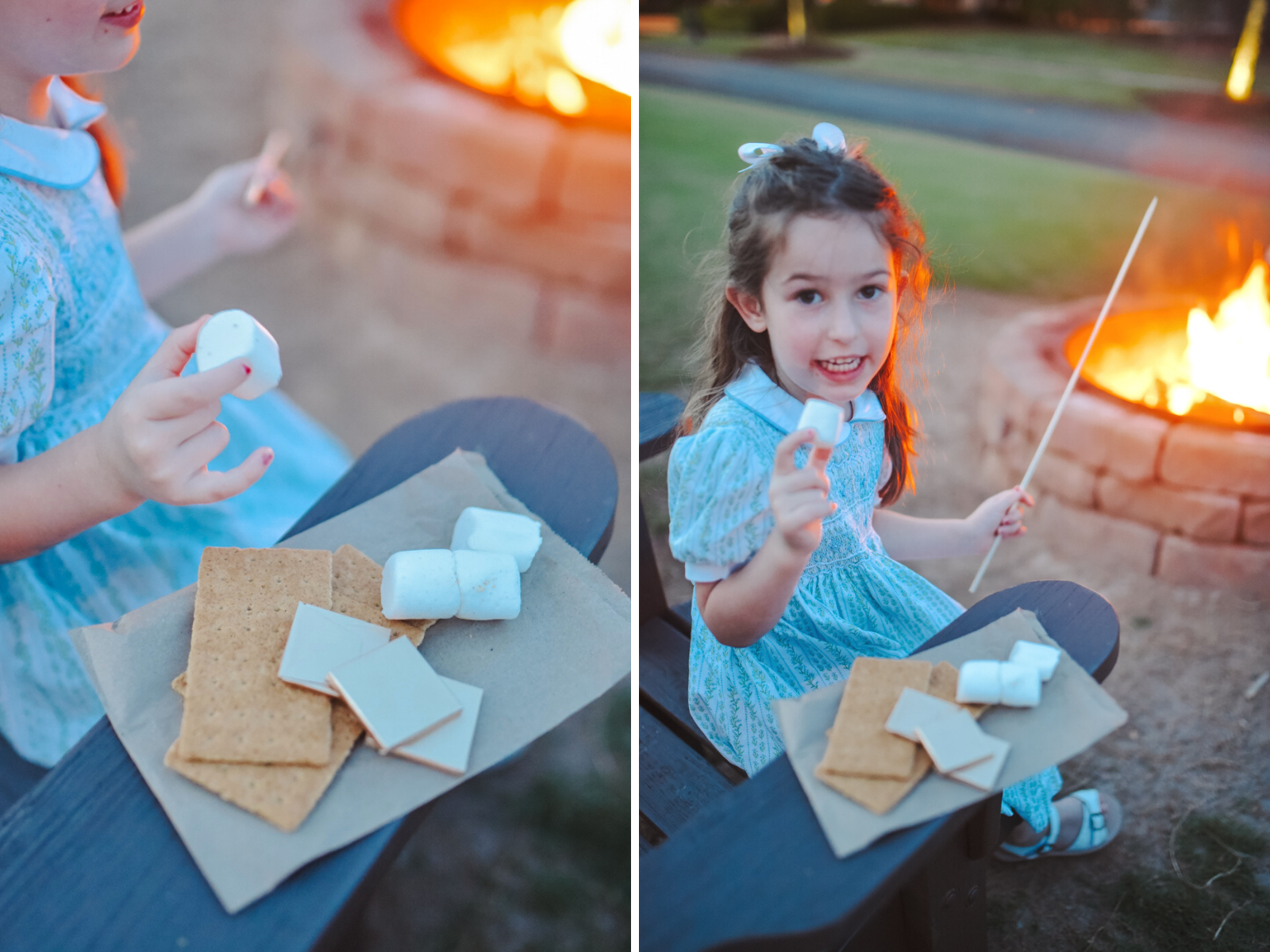 Nightly S'mores are Included in a Stay
Every evening, you will find complimentary grab and go s'mores supplies in the Living Room at the Inn. Ending our night's with s'mores by the fire was not only a treat for all of us, but a great little incentive to keep our tiny tots on their toes throughout the day!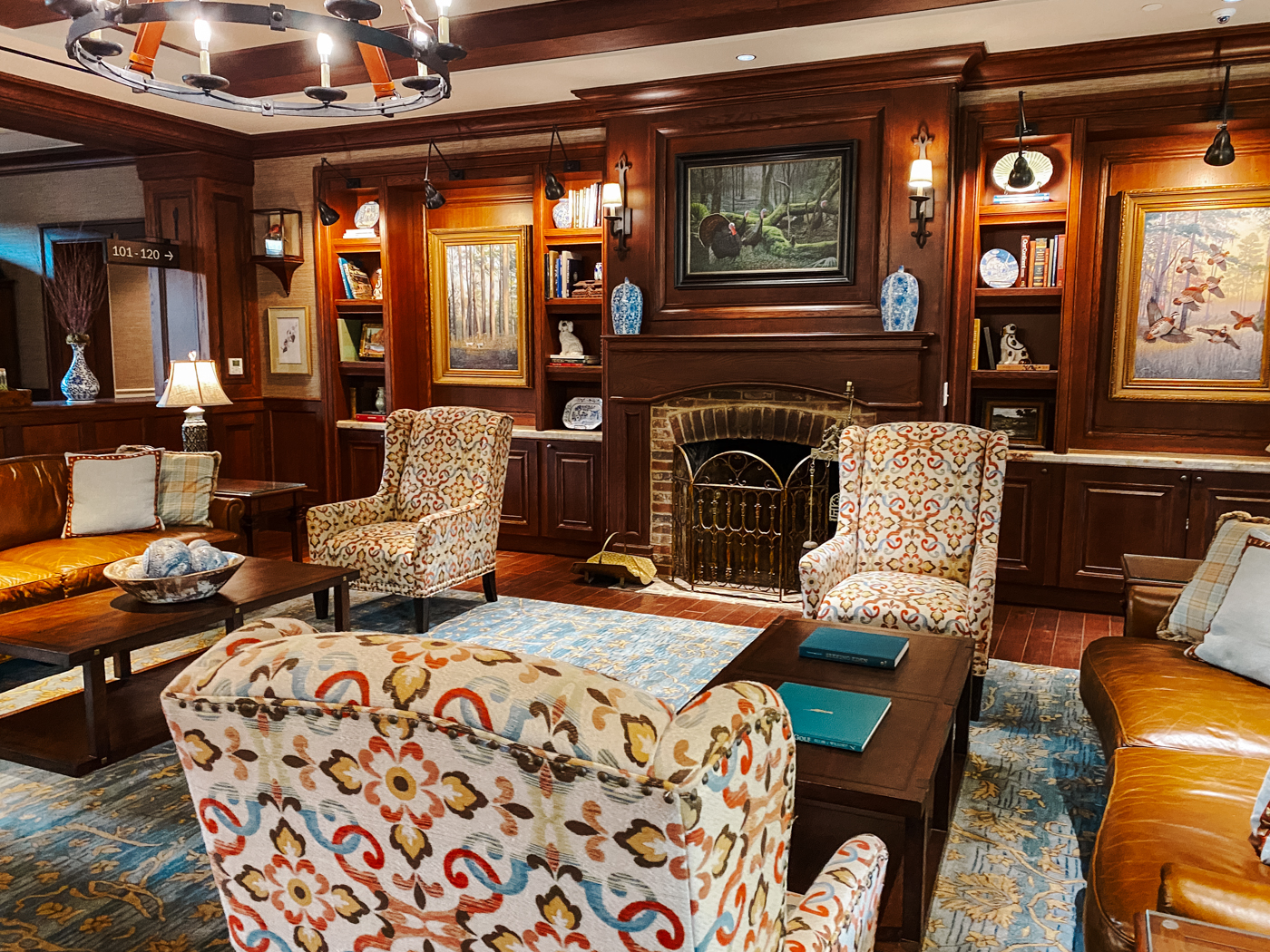 Speaking of the Living Room at the Inn, isn't this decor absolutely DREAMY!?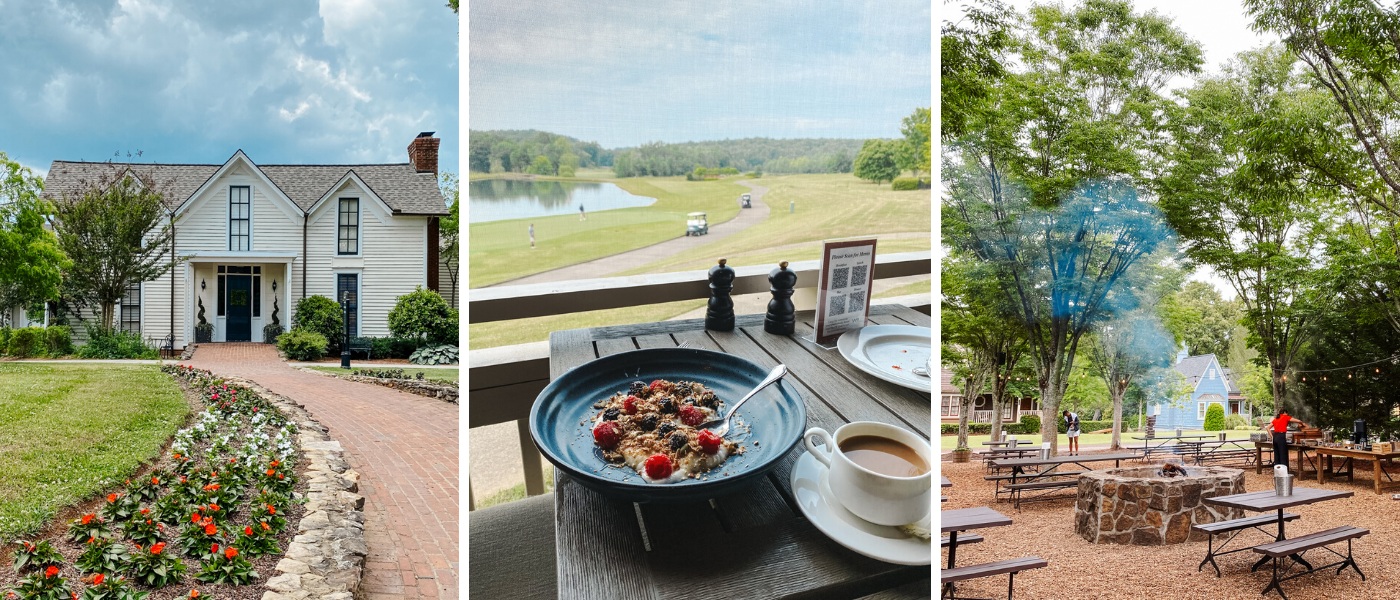 Delicious Dining Options from Casual to Upscale
You'll find fancy fine dining at Barnsley juxtaposed with laid back Beer Garden cuisine. I personally don't know which I prefer most! We ate every meal during our 3-night stay on site, sampling dishes from Woodlands Grill, the poolside menu and the breakfast buffet at the Beer Garden. One evening, we grabbed pizza under the Beer Garden's twinkling lights & listening to live music performing nearby too.
The Beer Garden was the perfect spot for laid back meals with the kids. Rice House is a more formal restaurant with an ever-changing curated multi-course menu. The spot we frequented most was Woodlands Grill. We dressed up for each meal here & enjoyed the relaxing upscale atmosphere. It was so nice but wasn't "too too fancy" that we weren't able to really relax with our very young children here as well.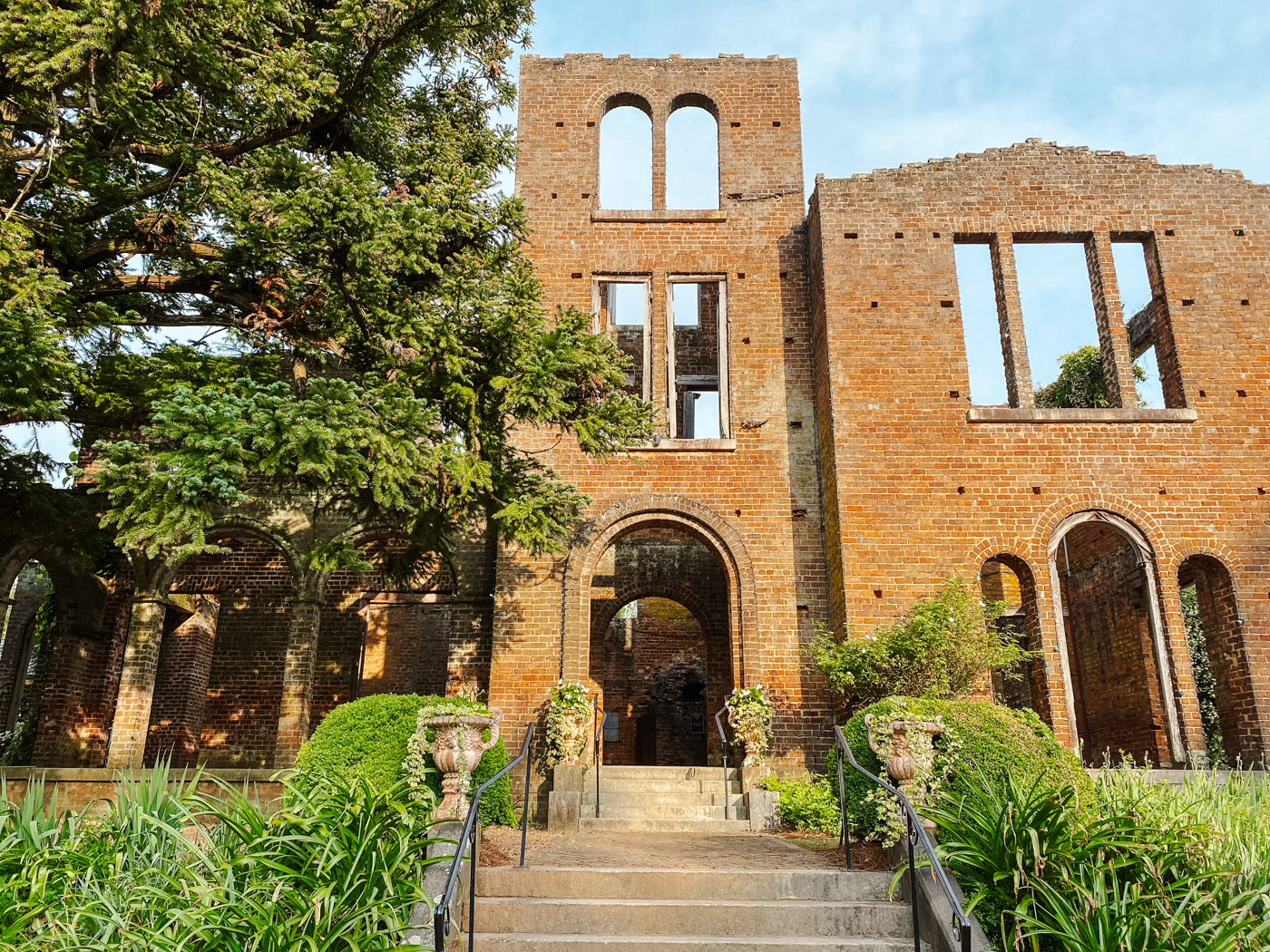 Explore the Manor House Ruins and Gardens
The history. The architecture. The gardens! Swooooon! Exploring the 19th century Manor House Ruins and Gardens of the Barnsley Family was one of the highlights of our entire stay here. The original estate was built by Godfred Barnsley as a gift to his wife.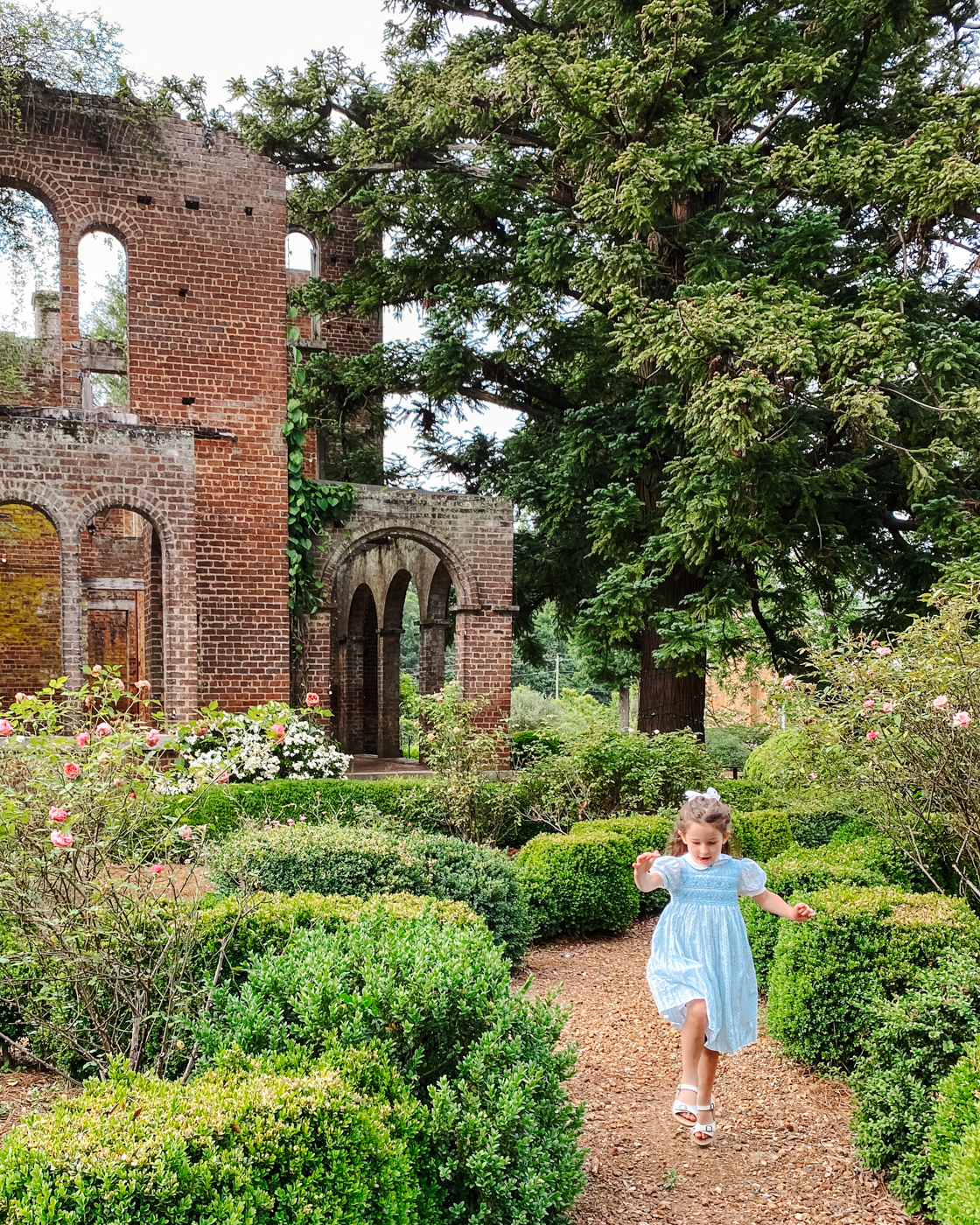 Guests staying at Barnsley can peruse the ruins & gardens whenever they please, as long as there isn't a private event at the time. (Oh and Annie pleased!!)
Speaking of private events, can you imagine having a wedding here?! I've seen photos of a few and they are simply breathtaking!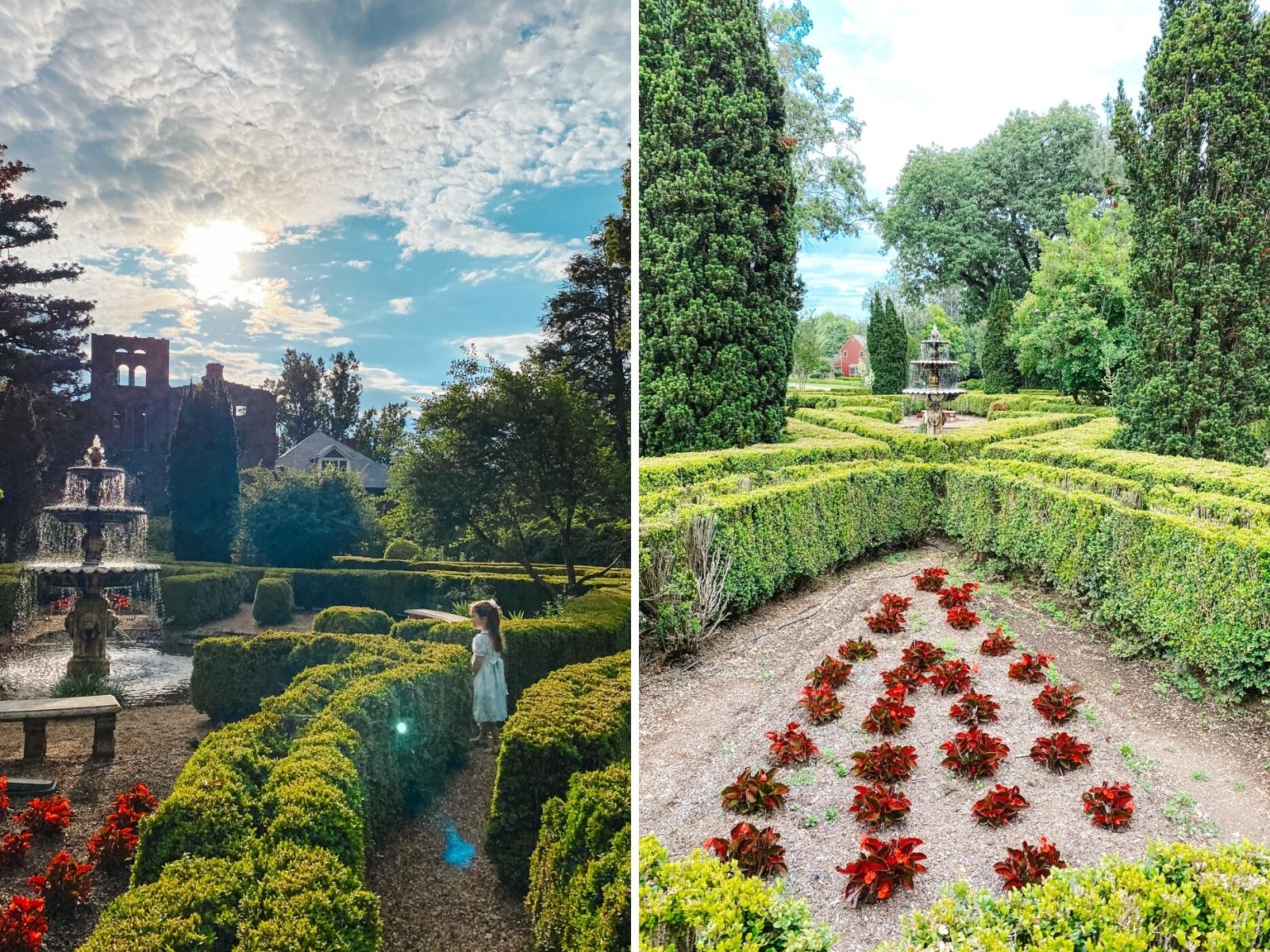 I'll say it again, our stay here truly felt like we were transported to somewhere in Europe!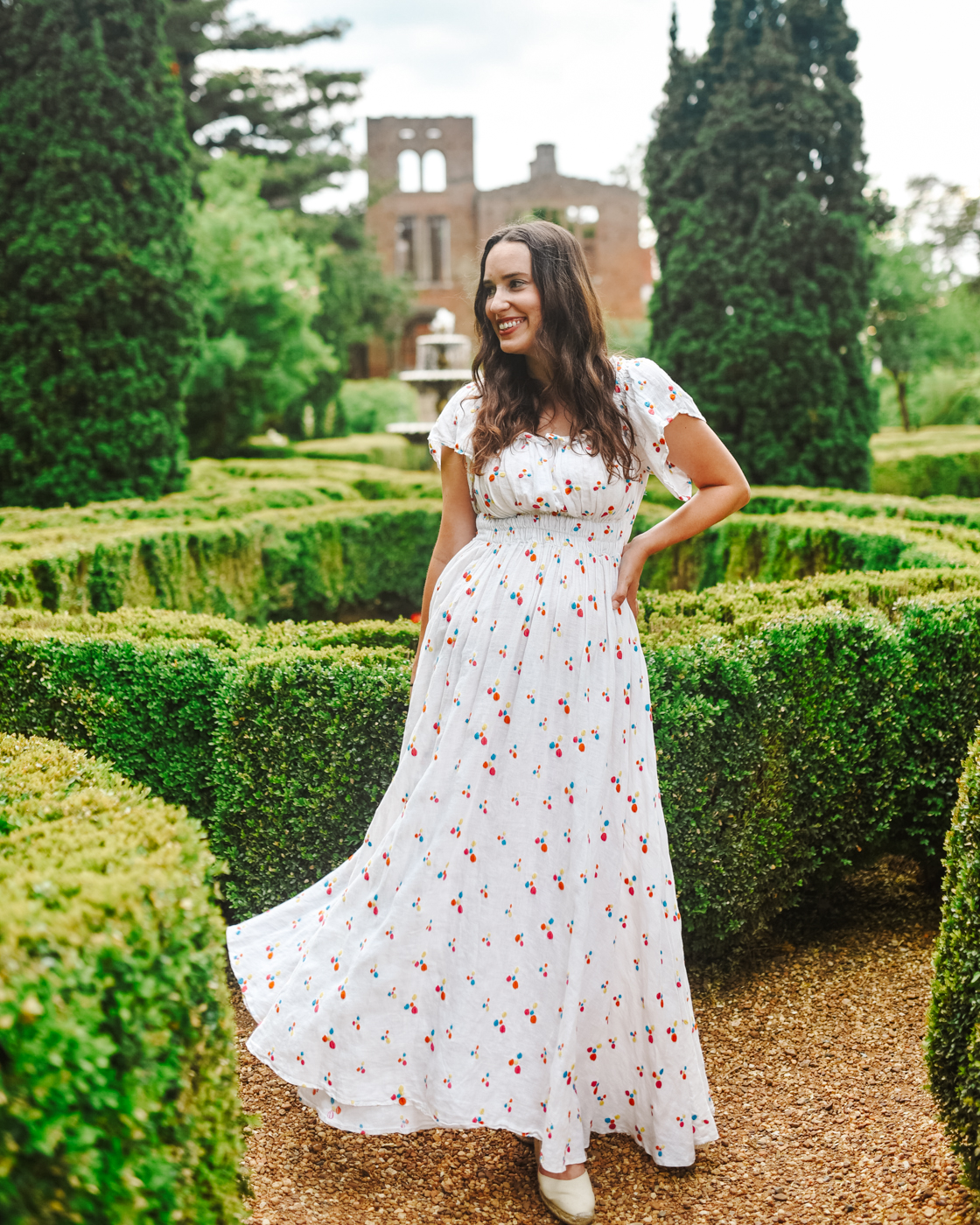 Naturally I had to dress for the part. I wore wedged espadrilles and breezy maxi dresses most evenings during our stay.

Turn on your JavaScript to view content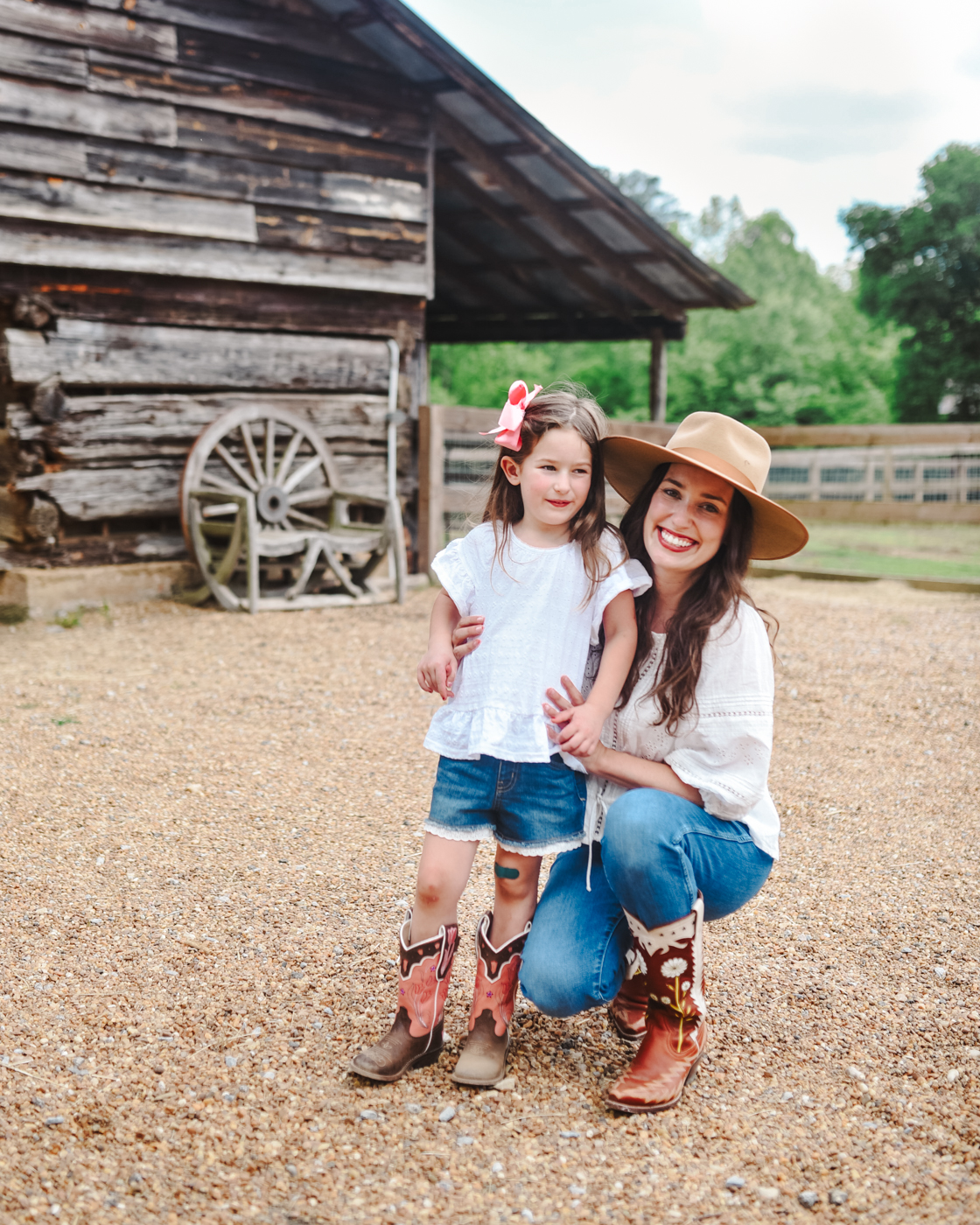 ps: linking my boots here. My jeans are mothers & my hat is Lack of Color.
Activities to Entice Even the Tiniest Guests
But of course, we all dressed down for our daytime activities.
The team at Barnsley invited us to experience Equestrian Canvasing. This was a great way to introduce and educate little ones on caring for and being close to horses before they are old enough to ride themselves. The ranch hands guided children with brushes and safe non-toxic paints for a colorful activity that not only encouraged a child's creativity but also relaxed the horses too! The strokes of the brush felt like a good back scratch and afterwords the horses were treated to a nice cool bath on a hot summer's day.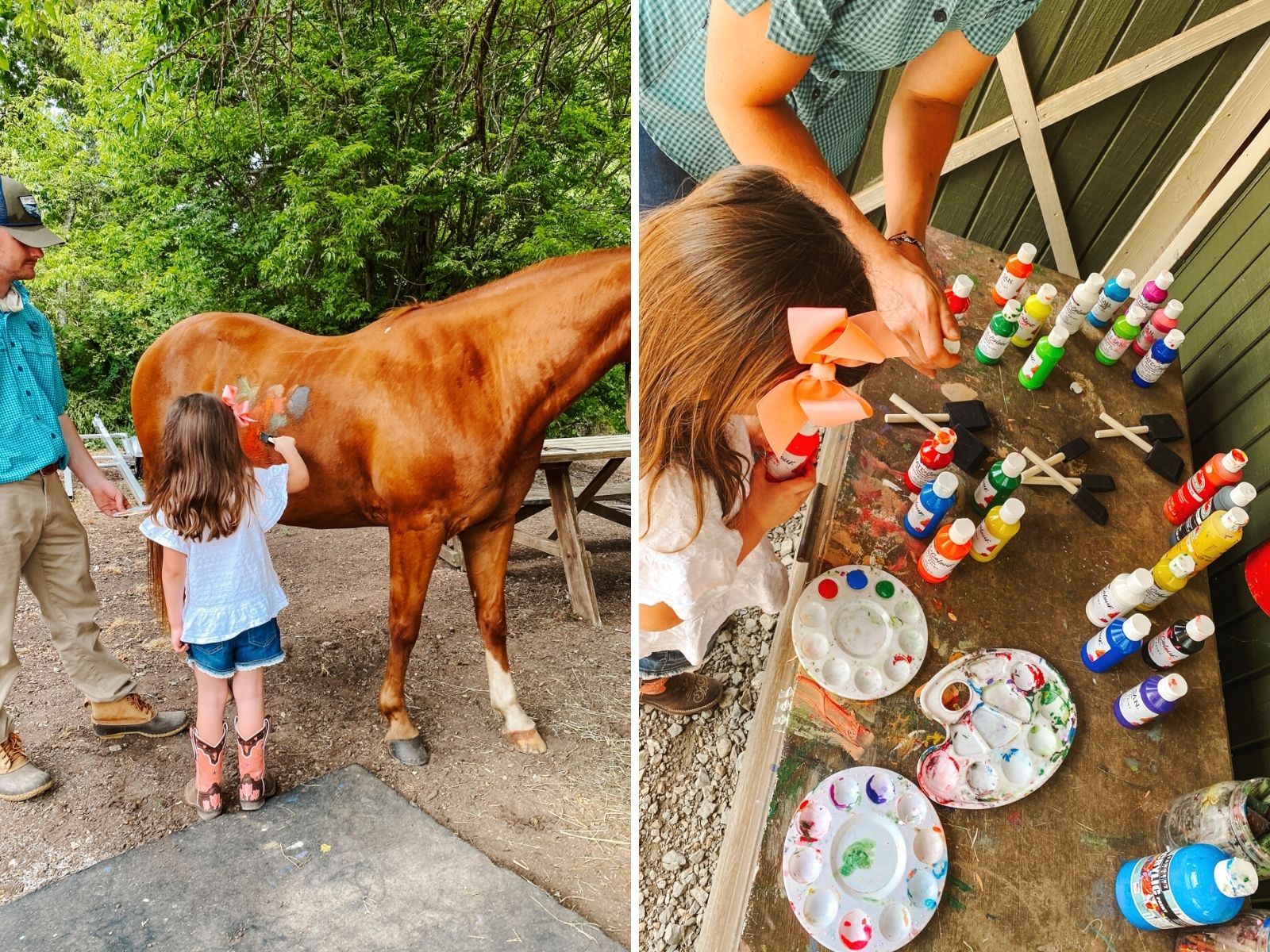 Annie had such a great time and learned about horse safety while she was at it. It will be so nice when she's able to learn to ride herself but I thought it was sweet they had a ranch activity even the smallest could get involved in.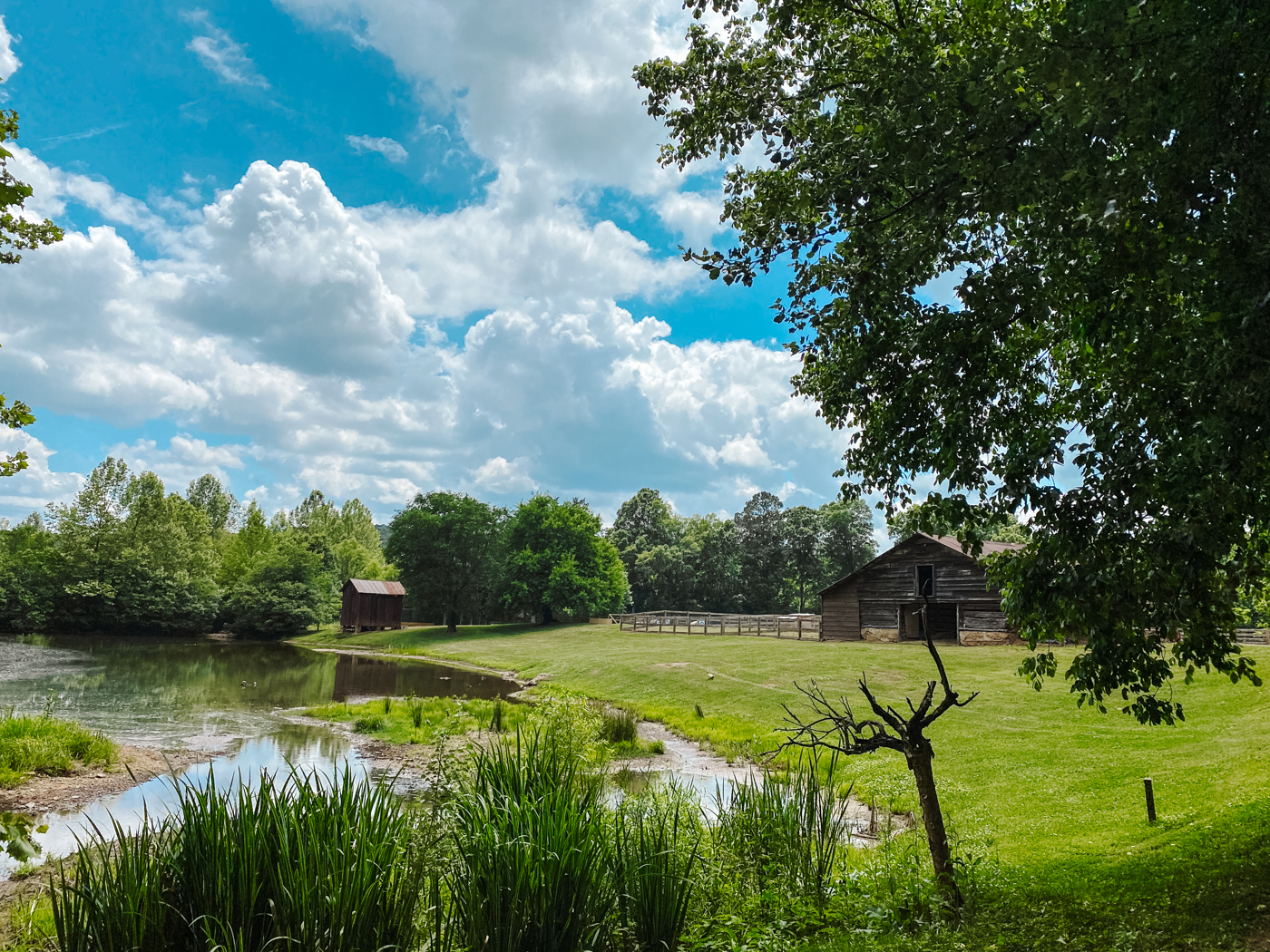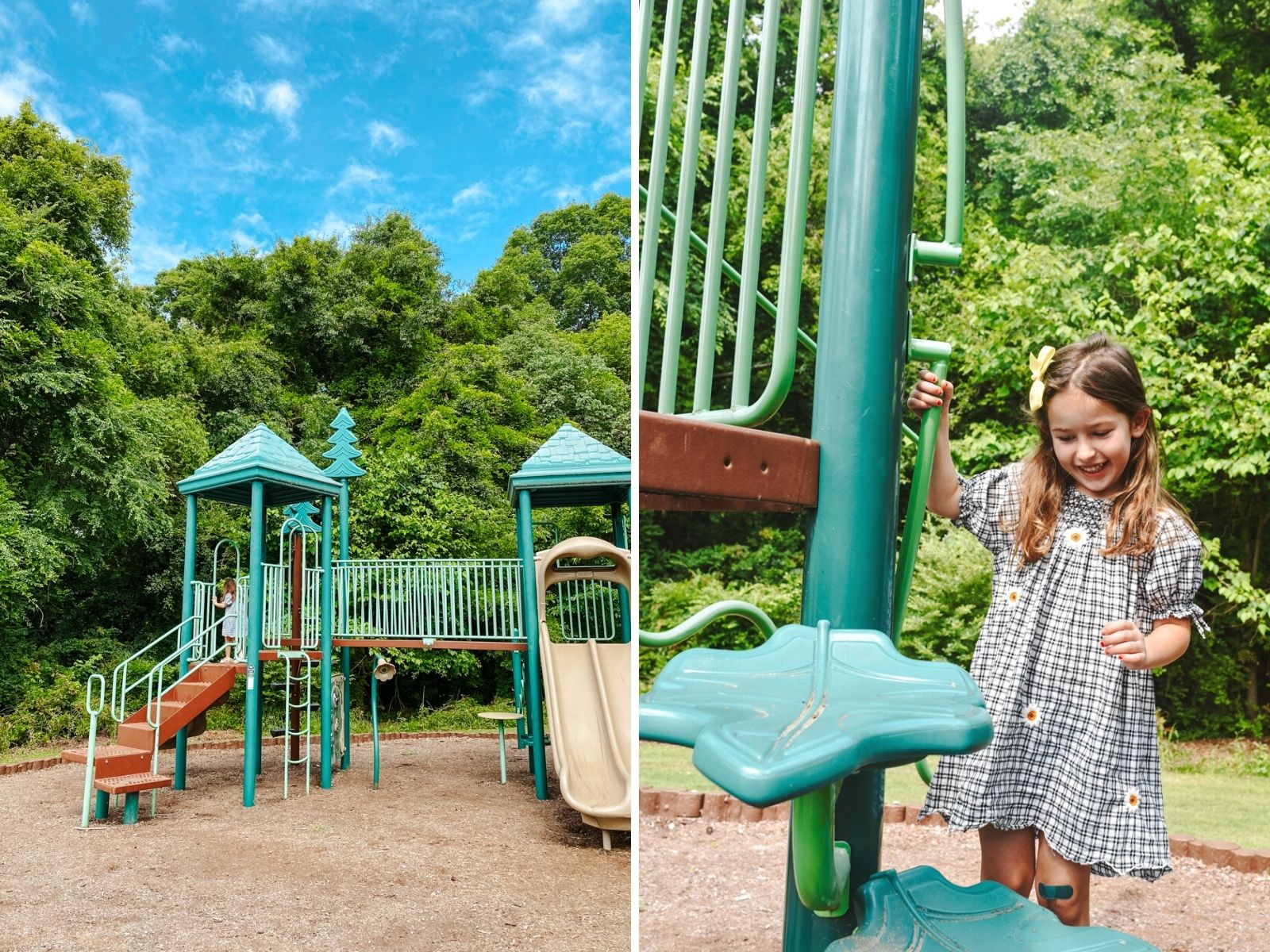 Kid-Friendly Details Make a Difference
Barnsley Resort caters to the sports enthusiast, the adventurer, the romantic couple, those who only want to relax, and thankfully the kids too. Each restaurant had a thoughtful kids menu complete with crayons, yard games are sprinkled throughout the property inviting children to play, and there is even a playground tucked away to inspire endless adventure.
The extra touches and attention to small children truly make the parents experience that much better. I feel like Patrick and I were able to relax so much more knowing our kids were welcomed and entertained too.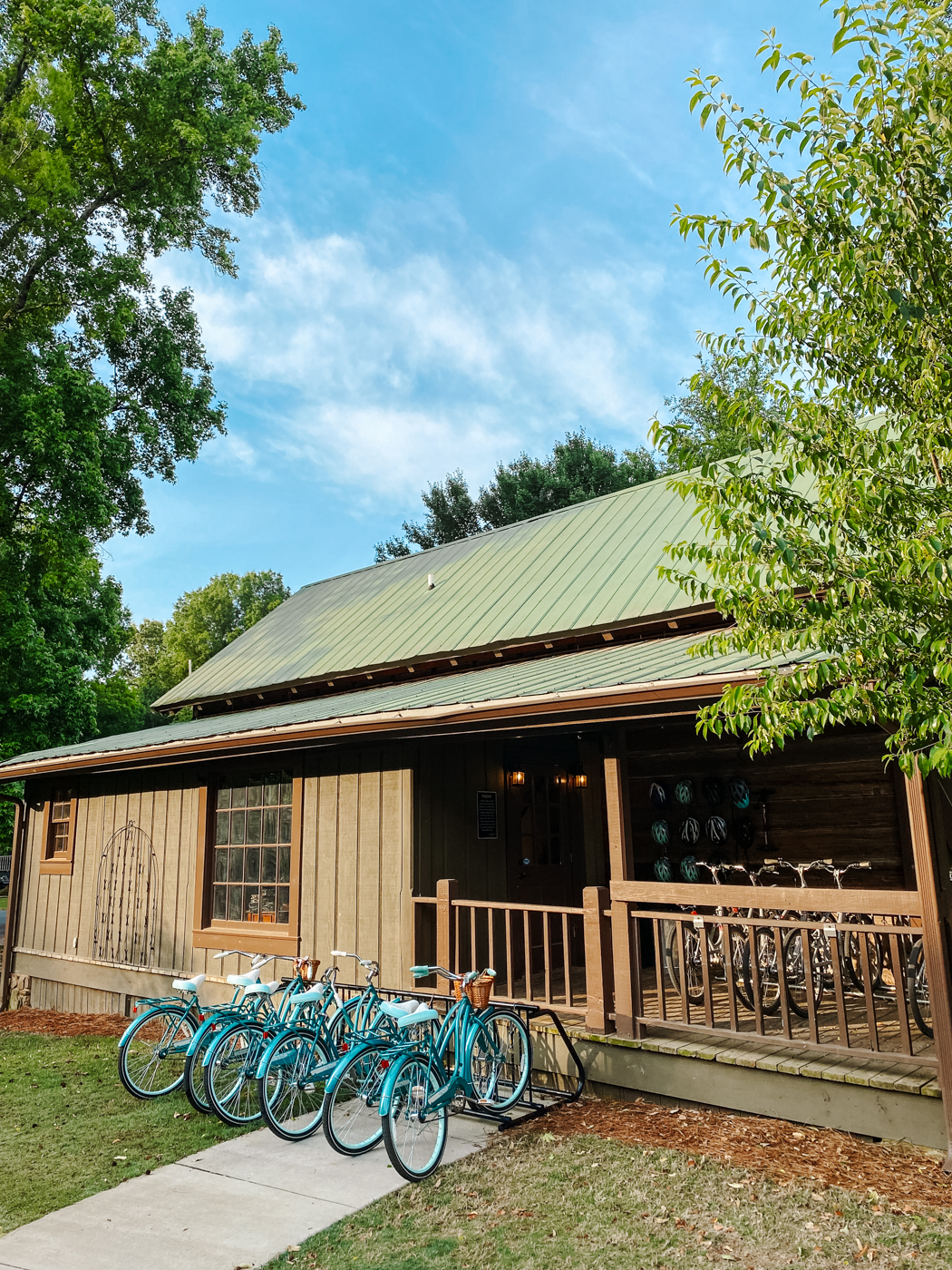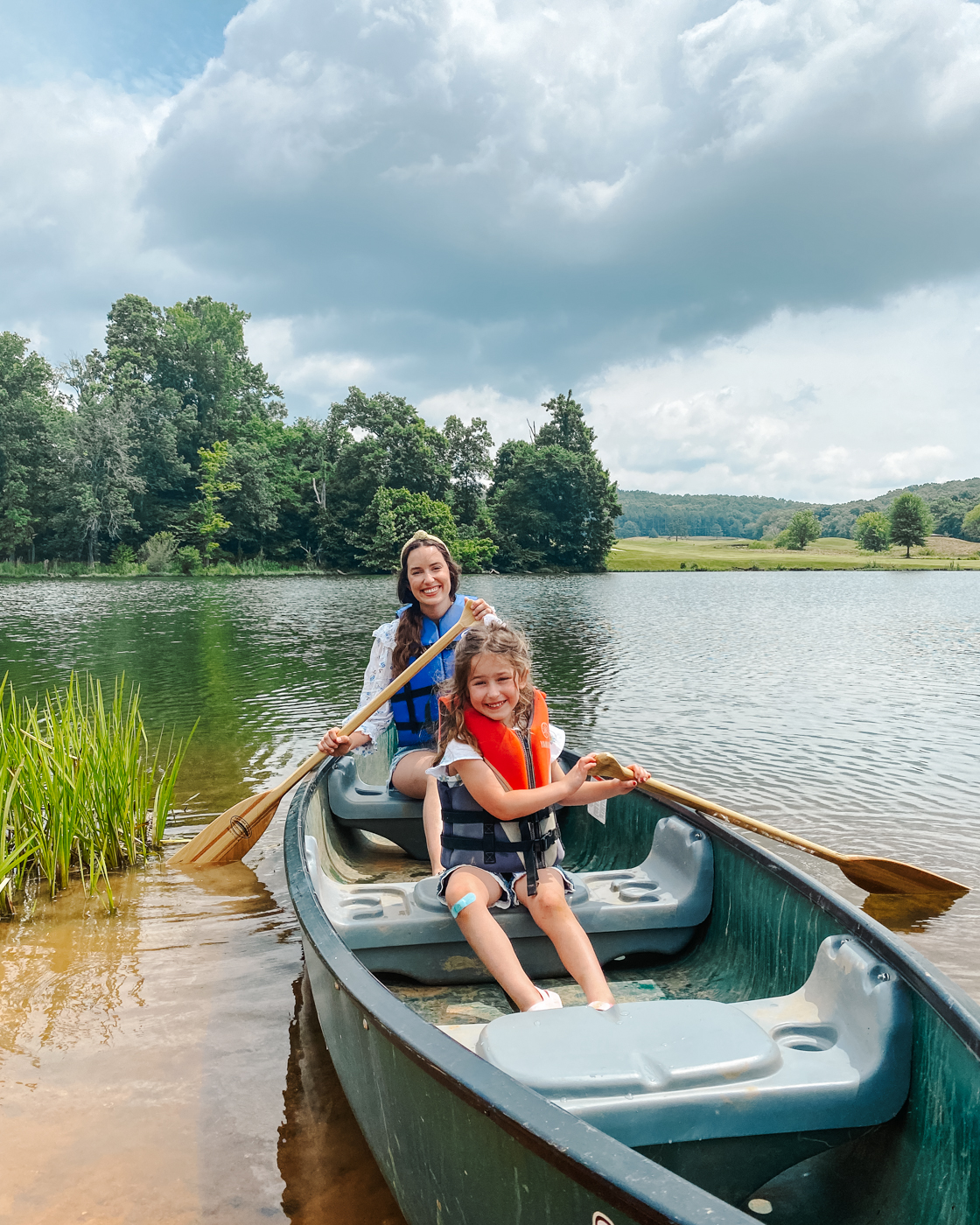 Get Out and Adventure
You will never be bored at Barnsley, that is for sure! There are oodles of hiking and biking trails, a pond for catch and release fishing, and even canoes and kayaks available to paddle out. Did I mention all of this is included in your stay too!?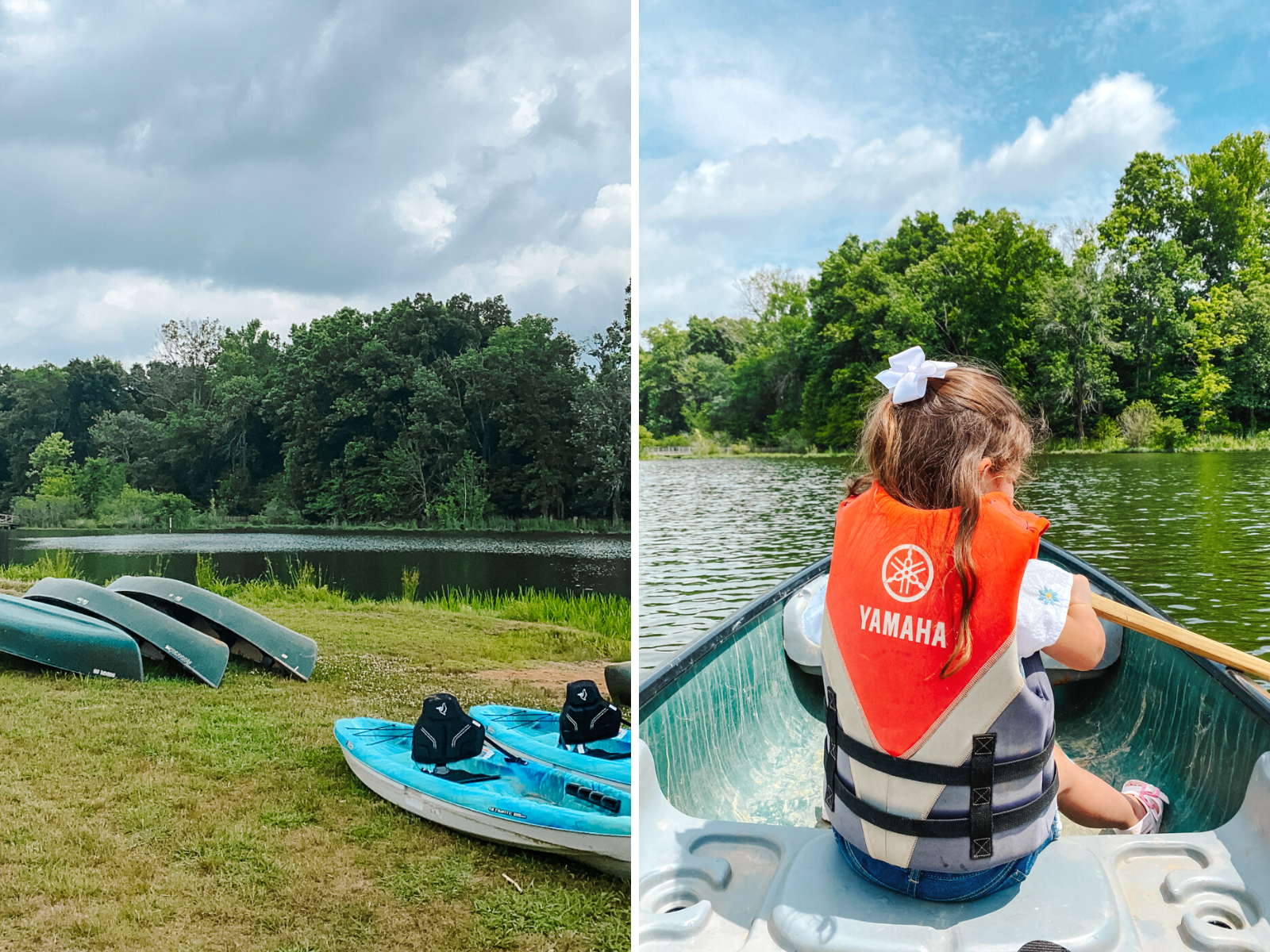 Canoeing is one of my favorite things to do and it made my heart SO happy to take Annie out paddling for the very first time while we were at Barnsley.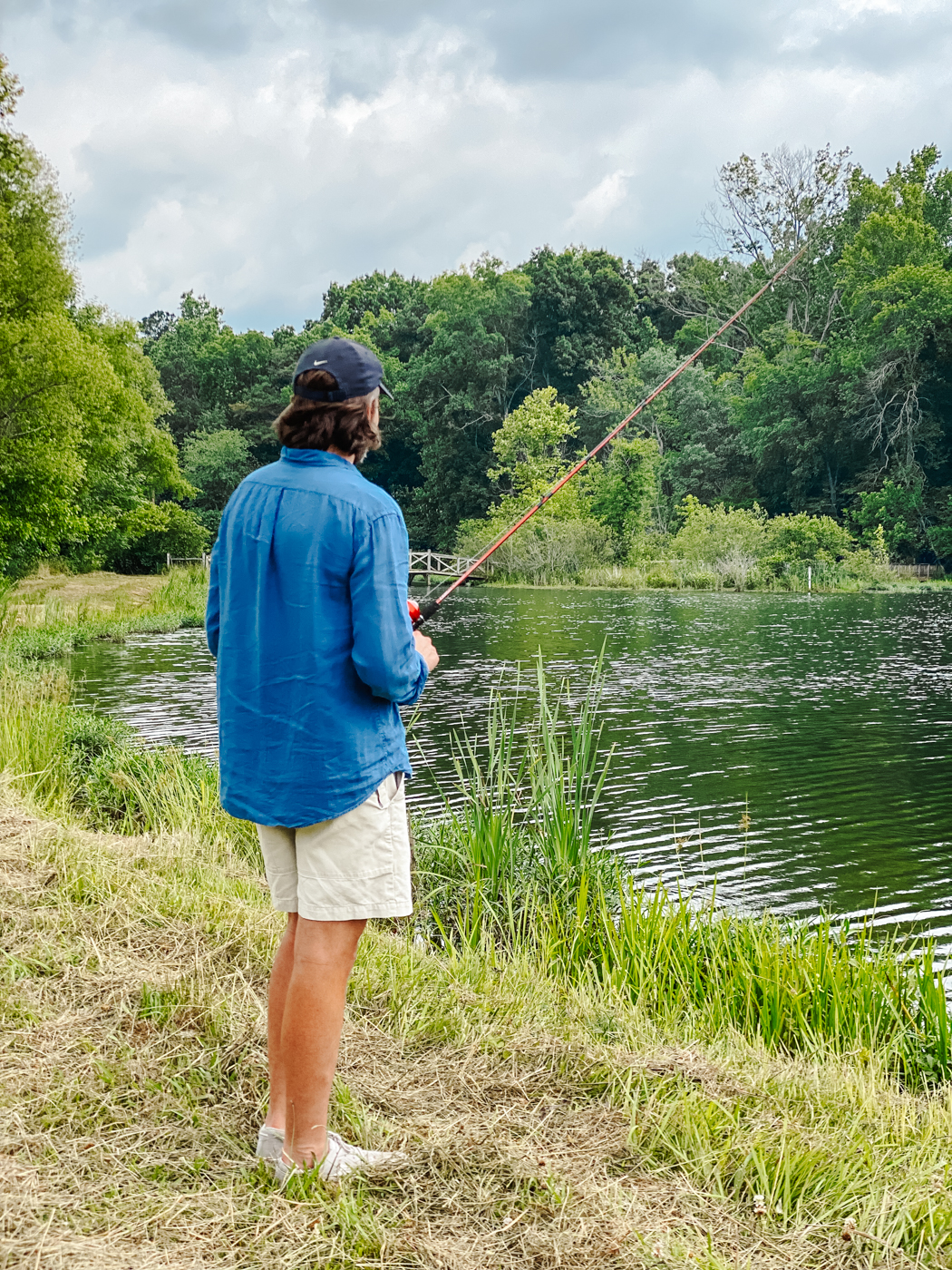 Patrick fished nearby and Bennett (not pictured) hung out with him in the stroller, watching the water & catching the breeze. I always imagined father-son fishing moments when we found out we were having a boy. Never thought they would start as early as 7-month's old, but we were here for it!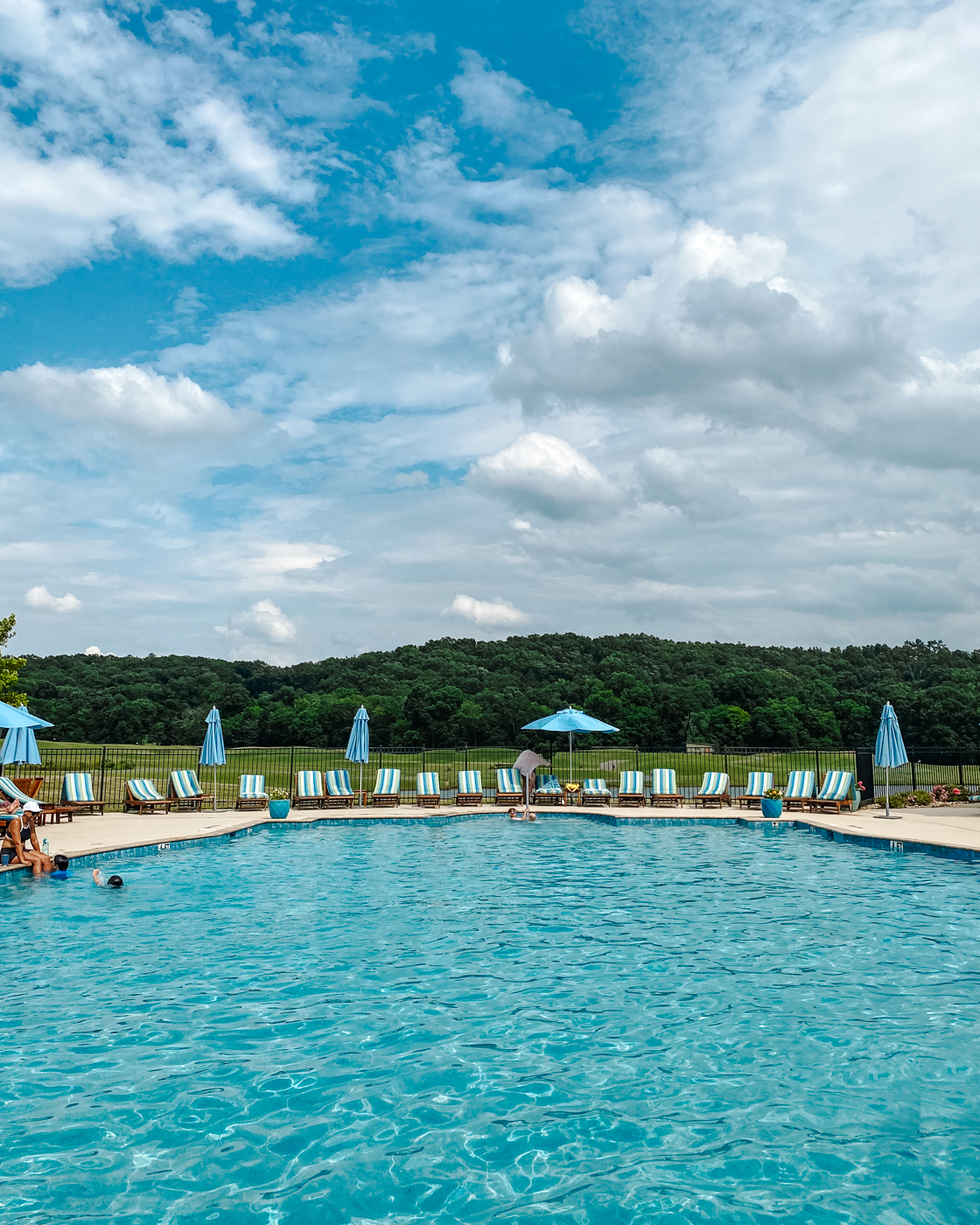 Cool Off at the Pool
Each afternoon during our visit, we went for a dip at the resort pool. I think this was always Annie's favorite part of the day. You can order cocktails, snacks and even lunch from the poolside bar. I can't recommend their Chicken Sandwich enough – it was so yummy!
—
We truly had the most marvelous time at Barnsley. I can definitely see my family coming back here again, and again, and again! I want to also thank Barnsley for partially hosting our stay. It was such a treat to partner with the Barnsley team to experience the resort. In all honesty, we loved our visit so much we didn't want to leave – so we extended it at the last minute. Now when to plan a trip back is the question!
—
For more information on booking a stay at Barnsley, head here.
—
xo, alice
The post 9 Reasons to Stay at Barnsley Resort appeared first on Lone Star Looking Glass.
What does naughty but nice mean
. xoxo.