It's been one hell of a week so far. Parts of Toronto back in lockdown and close friends and family are now out of work just around the holidays. It's stressful, to say the least, and I'm feeling sad and overwhelmed by the state of everything right now.
Yes, there's a pandemic and we have to control the spread, absolutely. However there has to be a better solution other than shutting down businesses and putting people out of work.
I digress.
This blog has always been light-hearted but these days many of us feeling anything but.
Anyway, this morning I was on Pinterest trying to distract myself for a bit when I realized that my eyes kept landing on photos of neutral fashions.
There's something so calming about a neutral color palette and maybe that's what I needed to calm my senses at that exact moment.
Even as I sit at my computer, writing this post, I'm wearing a camel colored cardigan from Revolve paired with a white t-shirt. Simple, clean, relaxing.
Never under estimate the power of fashion.
Below you'll find some of my favourite outfit ideas from Pinterest as well as similar pieces to shop if you want to get the look.
Happy shopping and stay safe everyone. And remember, it's okay to feel like shit right now. Reach out to a friend and talk it out. We're all in this together.
x, Nathalie
---
Plaid Paper Bag Waist Pants, Nordstrom $77 USD
Faux Patent Leather Trench Coat, Nordstrom $89.40 USD
Levi's Fishtail Jacket, Nordstrom $119 USD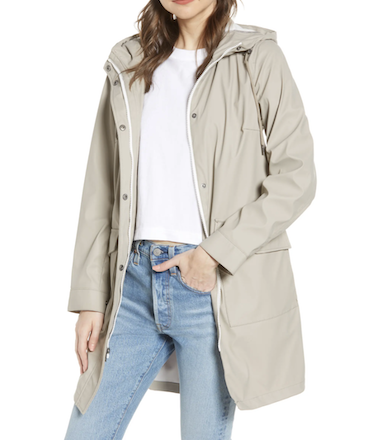 Levi's Water Repellent Hooded Parka, Nordstrom $78.00 USD
Knitted Heeled Bootie, Nordstrom $109.95 USD
Levi's Utility Jeans, Nordstrom $41.39 USD
Topshop Raw Hem Denim Jacket, Nordstrom $80 USD
Tia Cropped Denim Jacket, Nordstrom $59 USD
Sam Edelman Trench Coat, Nordstrom $99.90 USD
Superga Sneaker, Nordstrom $65
Disclaimer: This post contains affiliate links. If you choose to buy something, I will get a small commission from the sale. This doesn't impact the price you pay. Affiliate links are just another way to monetize my blog.

Photos via Pinterest.com
---
---
LATEST VIDEOS FROM WOAHSTYLE
---
---
LATEST VIDEOS FROM LIPSICK.ME
Thanks for reading
too chic and cute
post. xoxo.