3 Holiday Table Setting Ideas to Try This Season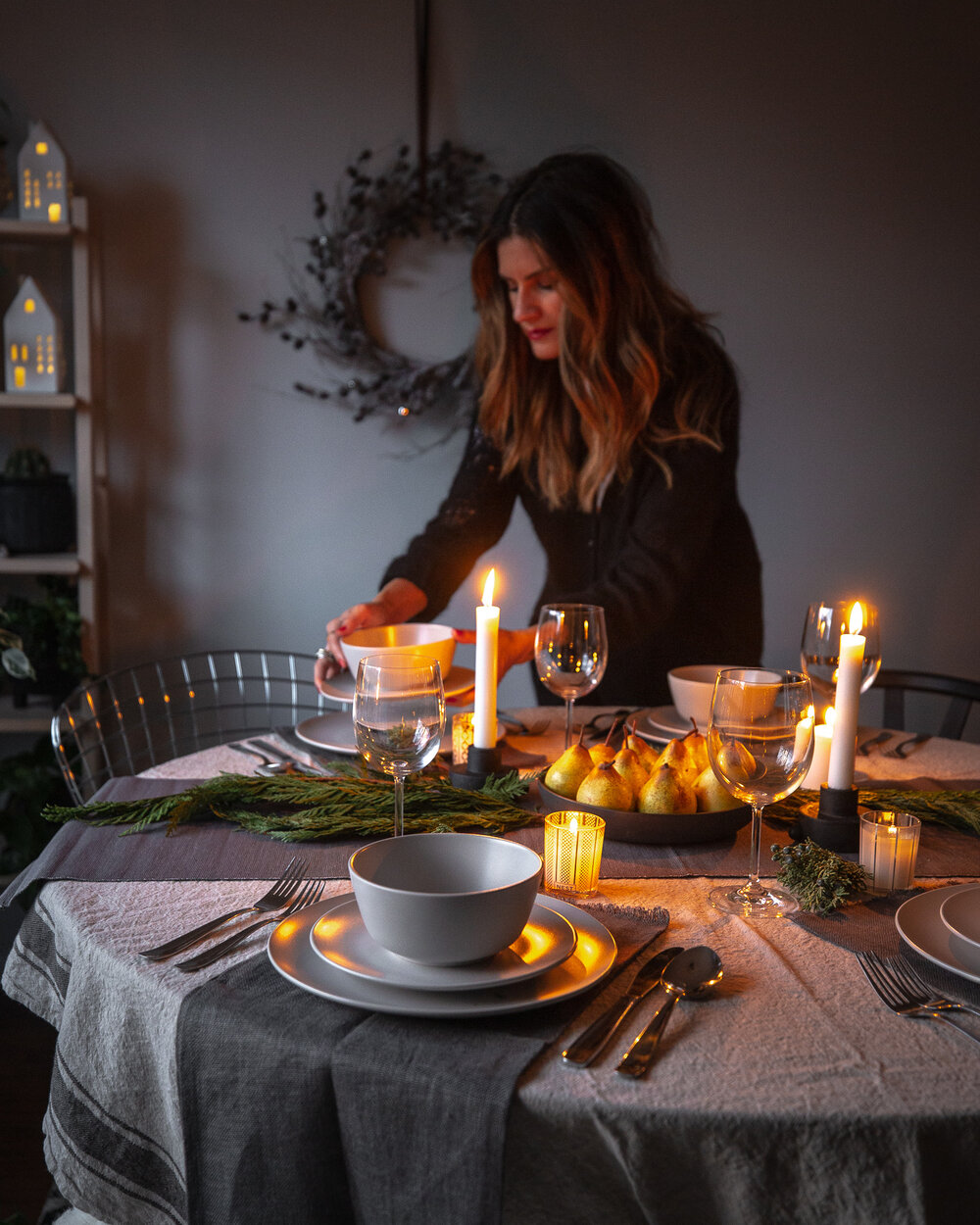 With the holidays just around the corner, I've been obsessed with the idea of creating fabulous table settings.
From minimal, monochromatic, and Nordic-inspired, to more elegant and chic, I tried three different settings to give you an idea of how to dress up your table for the holidays.
As per usual, I logged onto Pinterest and started pinning inspiration.
This is what I came up with.
Muted Greys & Minimal
This table setting featured a muted color palette of soft greys and beige.
For the centerpiece, I added a table runner from Ikea ($5) and decorated it with cedar and spruce branches to create a garland. Then I added a bowl of golden-colored Rocha Pears in the middle to make the natural elements pop against the muted table linens.
And because candlelit dinners set the ultimate cozy mood, I added a votive candle (from Nest New York) to each seat.
ELEGANT NATURE INSPIRED TABLE SETTING
This table setting is all about subtle elegance. I brought out my wedding china which so happens to have a soft silver trim around the edge. I love how the candlelight bounces off the metallic trim and almost looks sparkly.
I used grey linen napkins as place settings and did without the table cloth. Doing this put the focus on the garland centerpiece and the tall structured candleholders from Parisian designer, Sarah Levoine.
Nestled in the center are juicy red apples and a couple of large pine cones. I would have preferred red berries but apples are all I had on hand.
Finally, on each plate, I added the small votive holiday candles from Nest New York.
Scandinavian Inspired Table Settings
It's all about the black stoneware with this table setting so let that be the focus and kept the rest simple.
I added a beige linen tablecloth from Ikea and ditched the placemats and just simply put the dinner plates over top. I thought it would look a bit weird but I like how it came out! Also, knotting the linen napkins and placing them on top the of plates softens the overall look.
Finally, I kept the centerpiece minimal adding only spruce branches and a couple of candleholders.
This post features affiliate links. If you choose to buy something I will get a small commission from the sale. This doesn't impact the price you pay. Affiliate links are just another way to monetize my blog.
---
---
LATEST VIDEOS FROM WOAHSTYLE
---
---
LATEST VIDEOS FROM LIPSICK.ME
Thanks for reading
too chic and cute
post. xoxo.