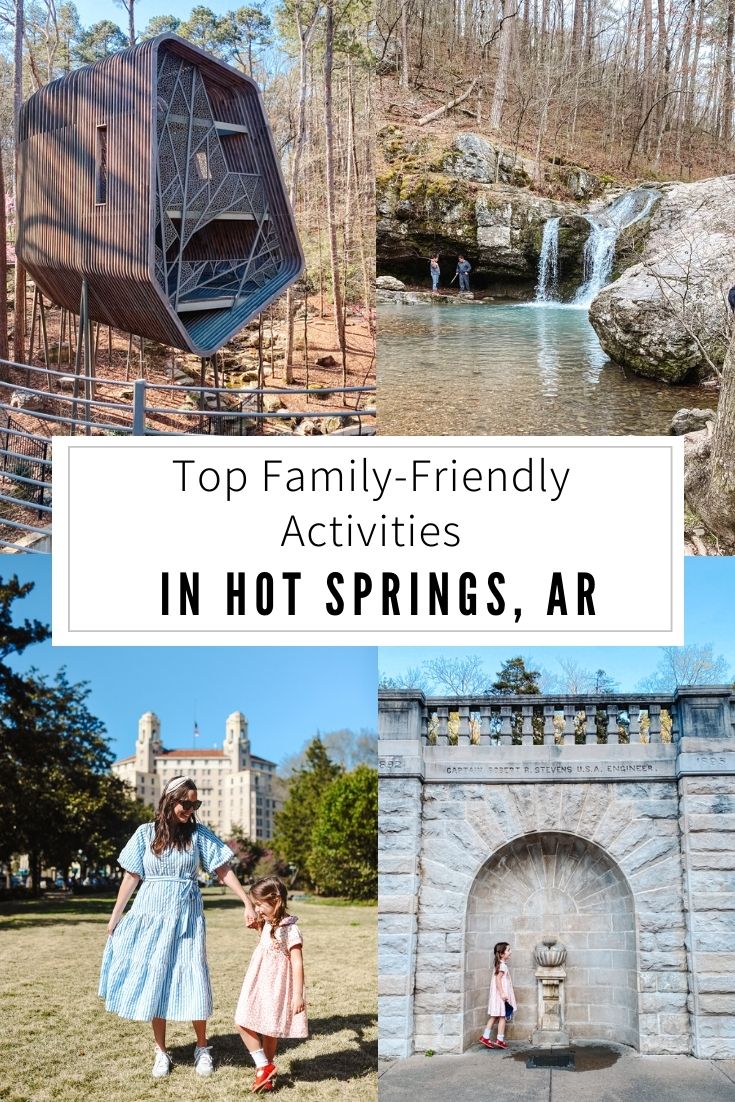 We just got back from our first little getaway in ages! And y'all, it felt so good for my soul! Our little family of four ventured to Hot Springs, Arkansas (only a 3 hour drive from Memphis) for a weekend filled with outdoor adventure, delicious food, a bit of history & a whole lot of fun.
I'm sharing a glimpse into our mini vacation & rounding up the best kid-friendly activities (that grown ups will love too!) that made our weekend in Hot Springs stand out. Head on down for more!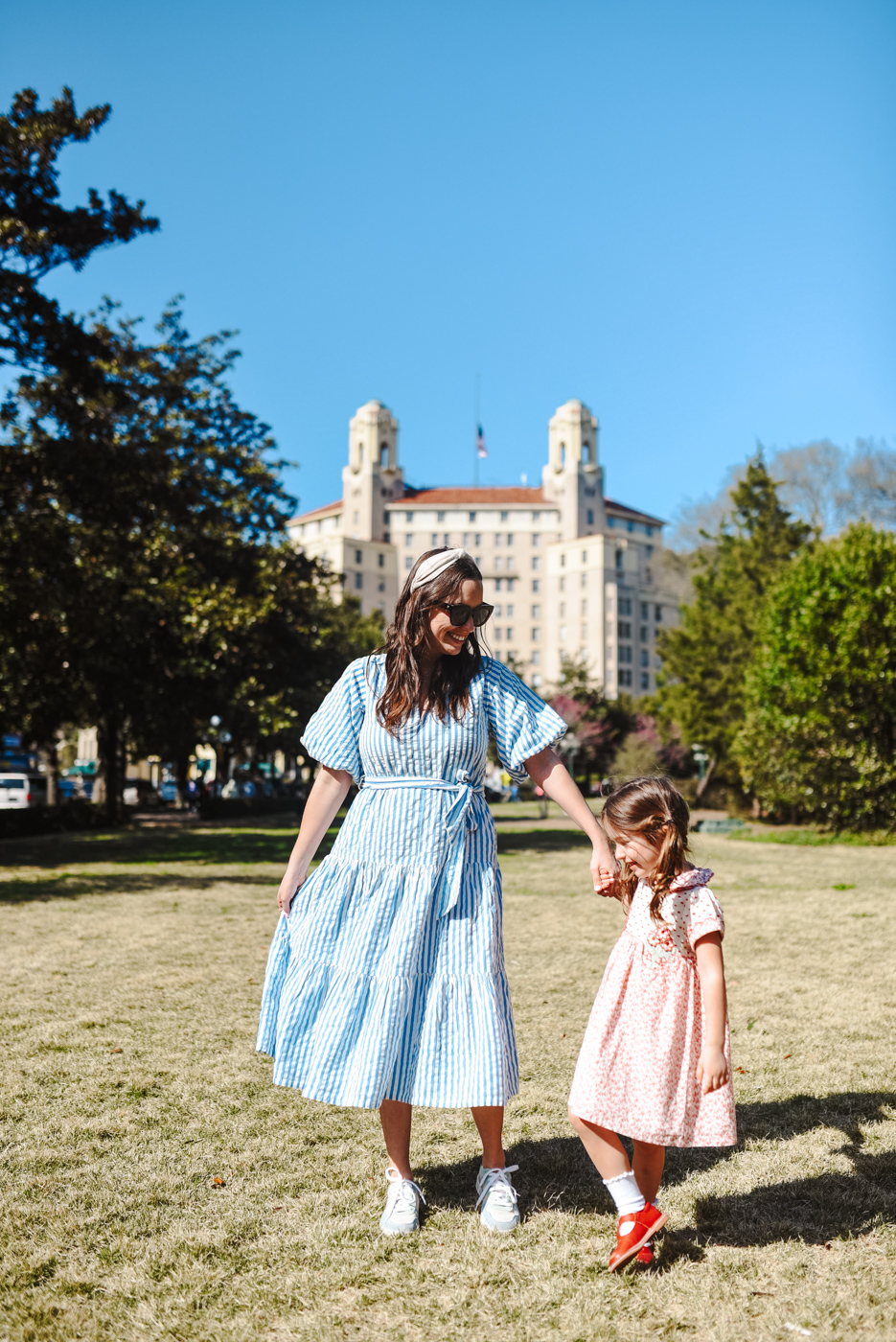 outfit details: my dress is a Roller Rabbit find // shoes are Vejas // Annie's dress is Dondolo Baby // Shoes are L'amour

Turn on your JavaScript to view content
1. Rest Your Head in Downtown Hot Springs
Staying right near the action makes such a big difference when you're traveling with little ones. Hot Springs has several hotels downtown within walking distance to a number of attractions, shops and delicious restaurants too.
The Arlington Resort & Spa is budget-friendly, has a swimming pool, a grand lobby perfect for people watching and is steeped in history too. The Waters is a more upscale and luxurious boutique hotel. Its modern amenities stand out in its historic setting on Bathhouse Row. Hotel Hot Springs is a contemporary hotel also within walking distance to downtown.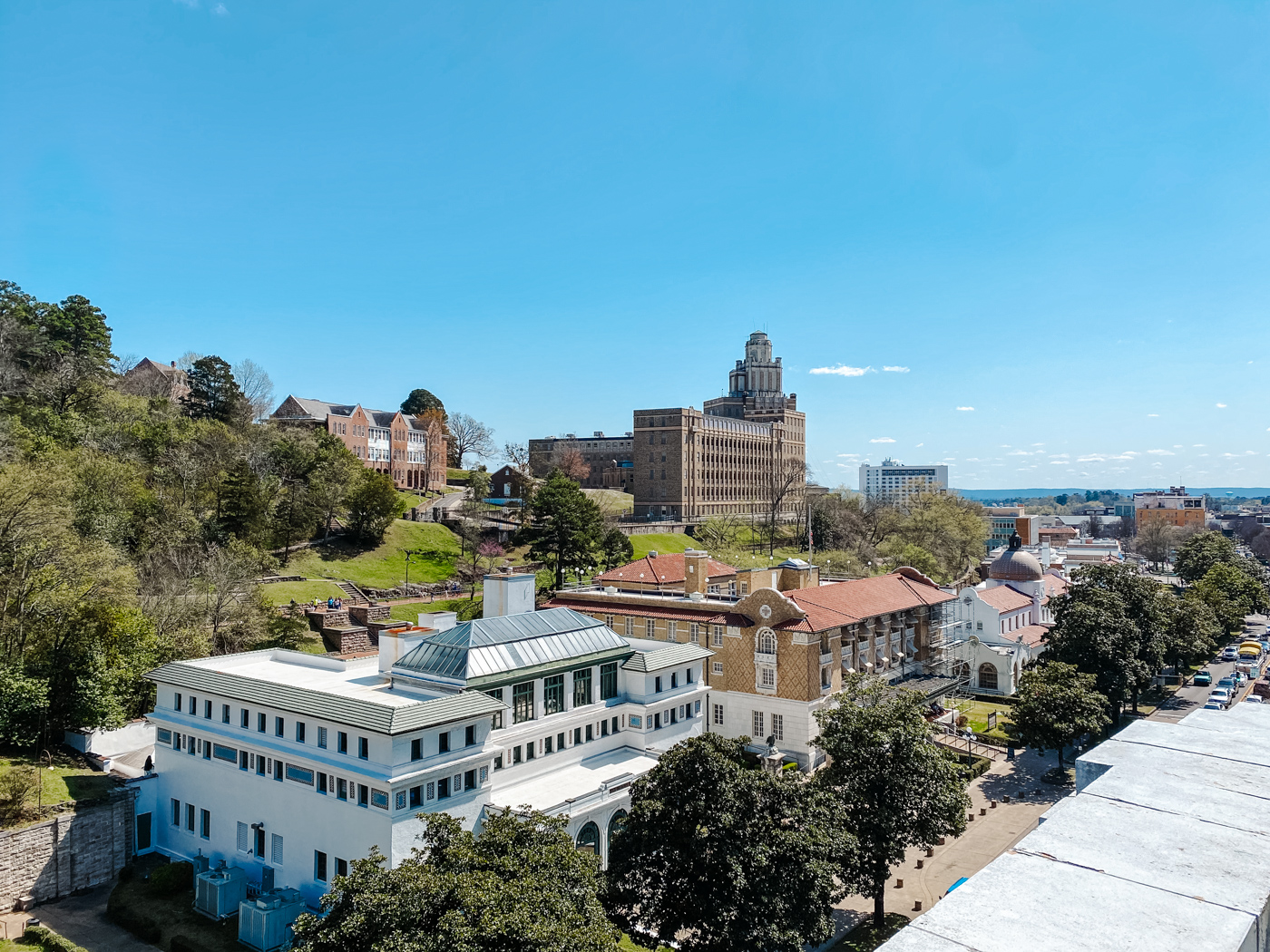 2. Catch a Glimpse of Hot Springs National Park from Above
The Waters Hotel's rooftop patio is the perfect place to soak in the sights of Hot Springs. Even if you aren't staying overnight, you can head on up for lunch, dinner or even happy hour. We had a long leisurely lunch up here and the restaurant had plenty of kid-friendly options on the menu too. Annie loved the Quesadillas and I couldn't get over how delicious their Balsamic Chicken Sandwich was! While the food was divine, the best part about our experience was the view from above.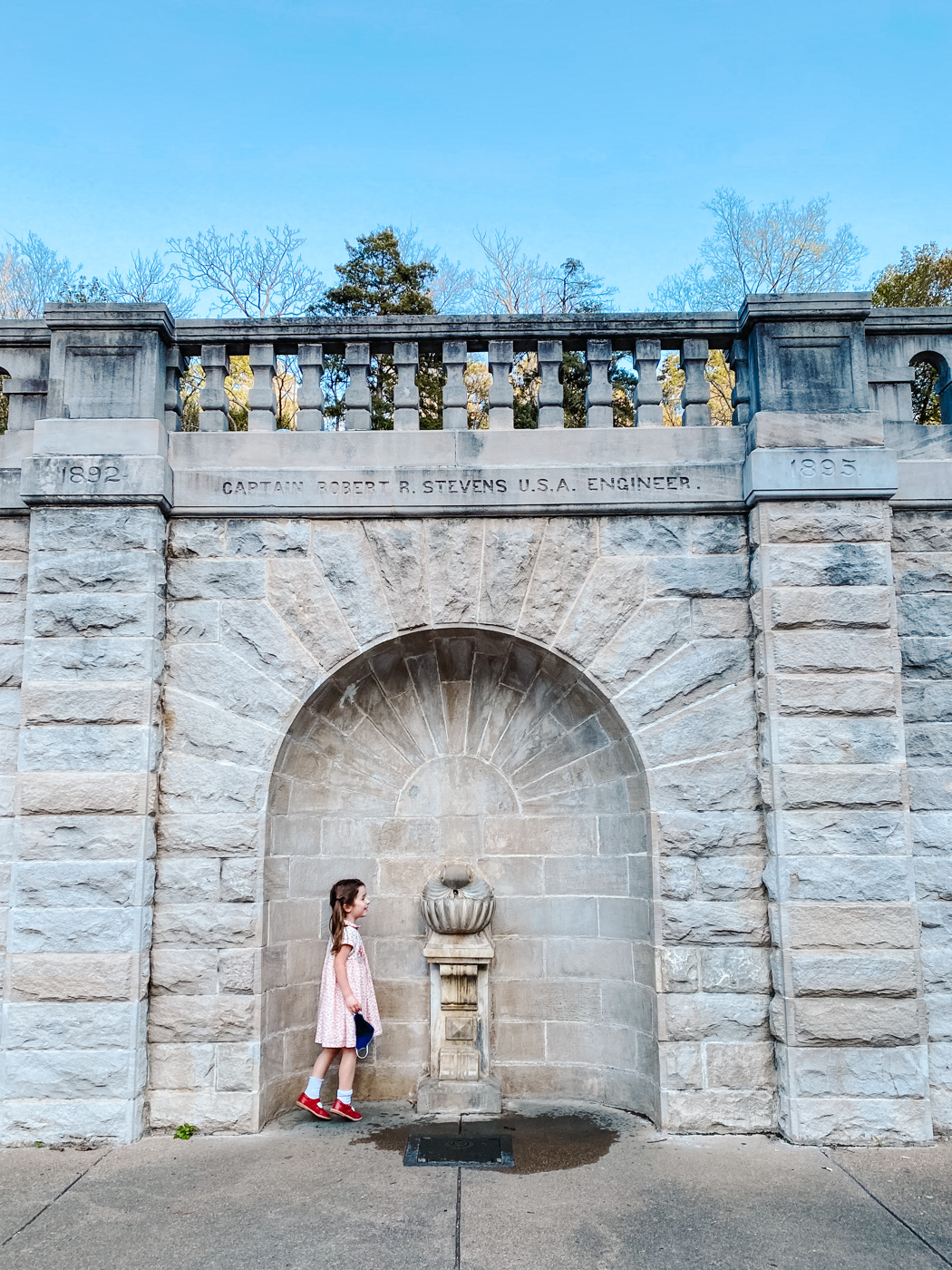 3. Stroll Along the Grand Promenade
Part of Hot Springs National Park, the Grand Promenade is an accessible half-mile walking trail sitting high above the city. We loved that it was stroller friendly! This short stroll boasts beautiful sights of the city below and a peek into the gurgling hot springs streaming along the hillside. You can find an access ramp directly behind Bathhouse Row.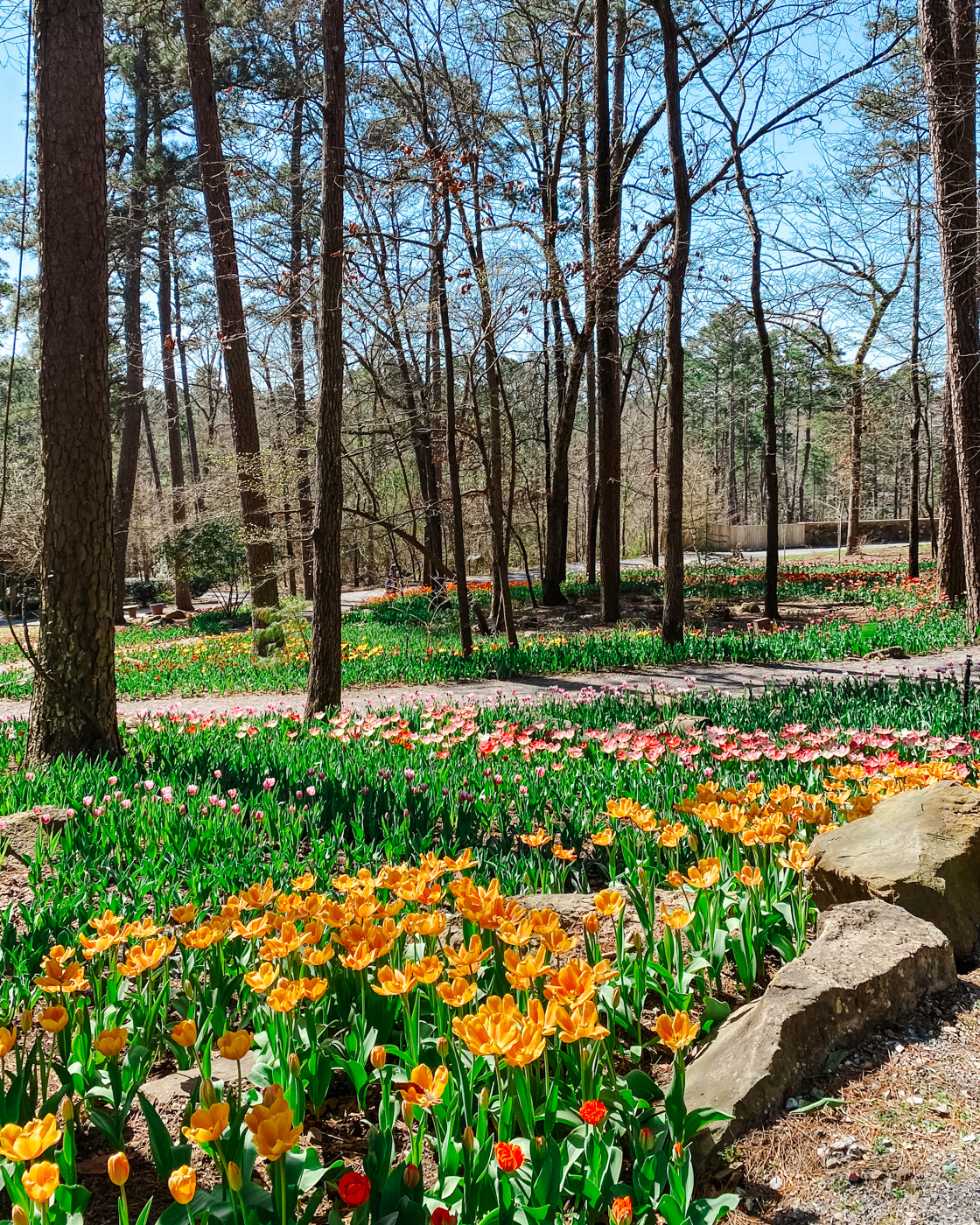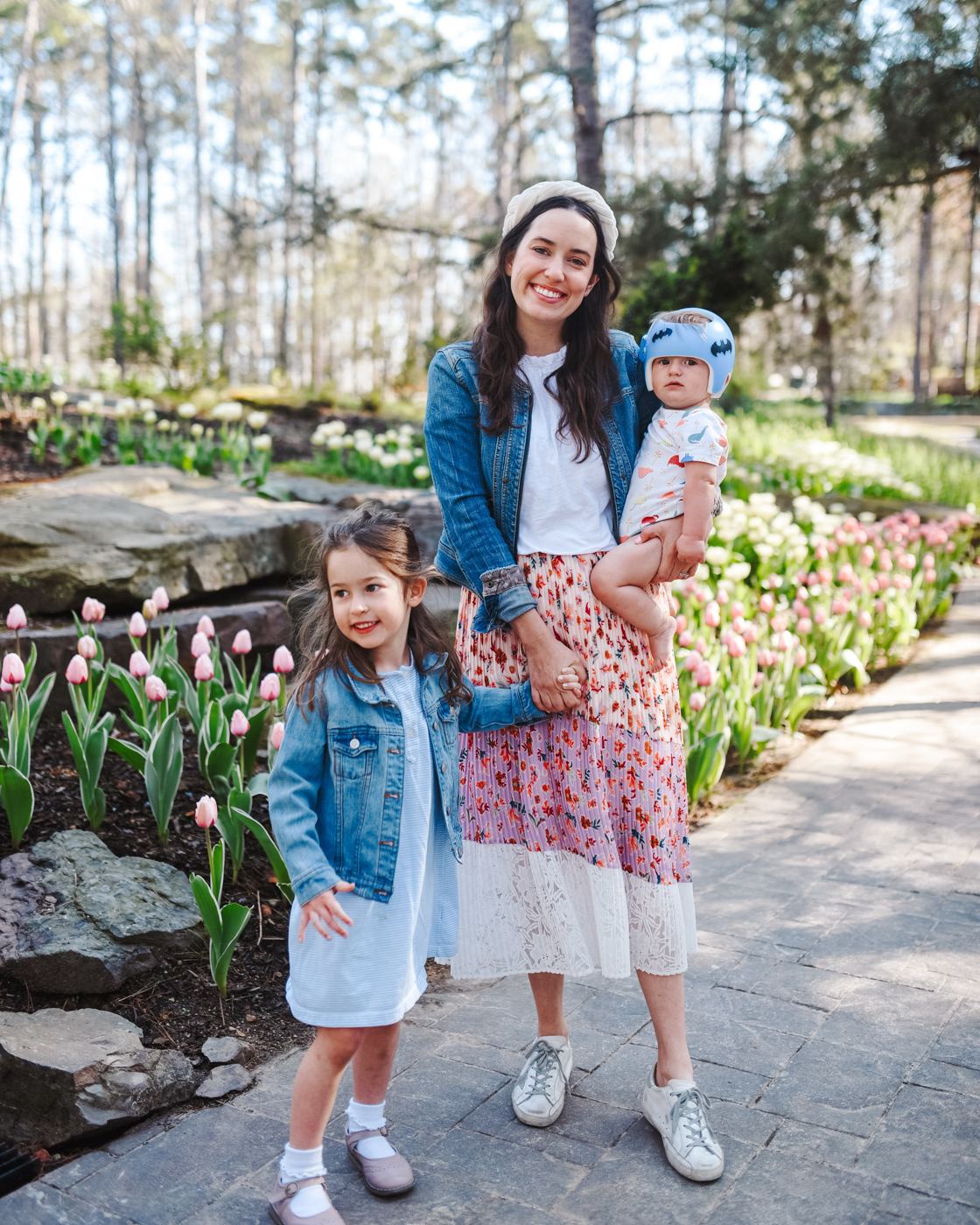 4. Visit Garvan Woodland Gardens
Spending the day at Garvan Woodland Gardens was one of my favorite parts of our trip! This botanical garden is nestled in the Ouachita Mountains and boasts some of the best flora and fauna you'll find in "The Natural State."
We didn't plan it this way, but our visit overlapped with the garden's "Spring Tulip Extravaganza." We could not have been more thrilled seeing thousands of colorful tulips at their peak bloom! If you're visiting the area in March or April, you can't miss seeing the tulips!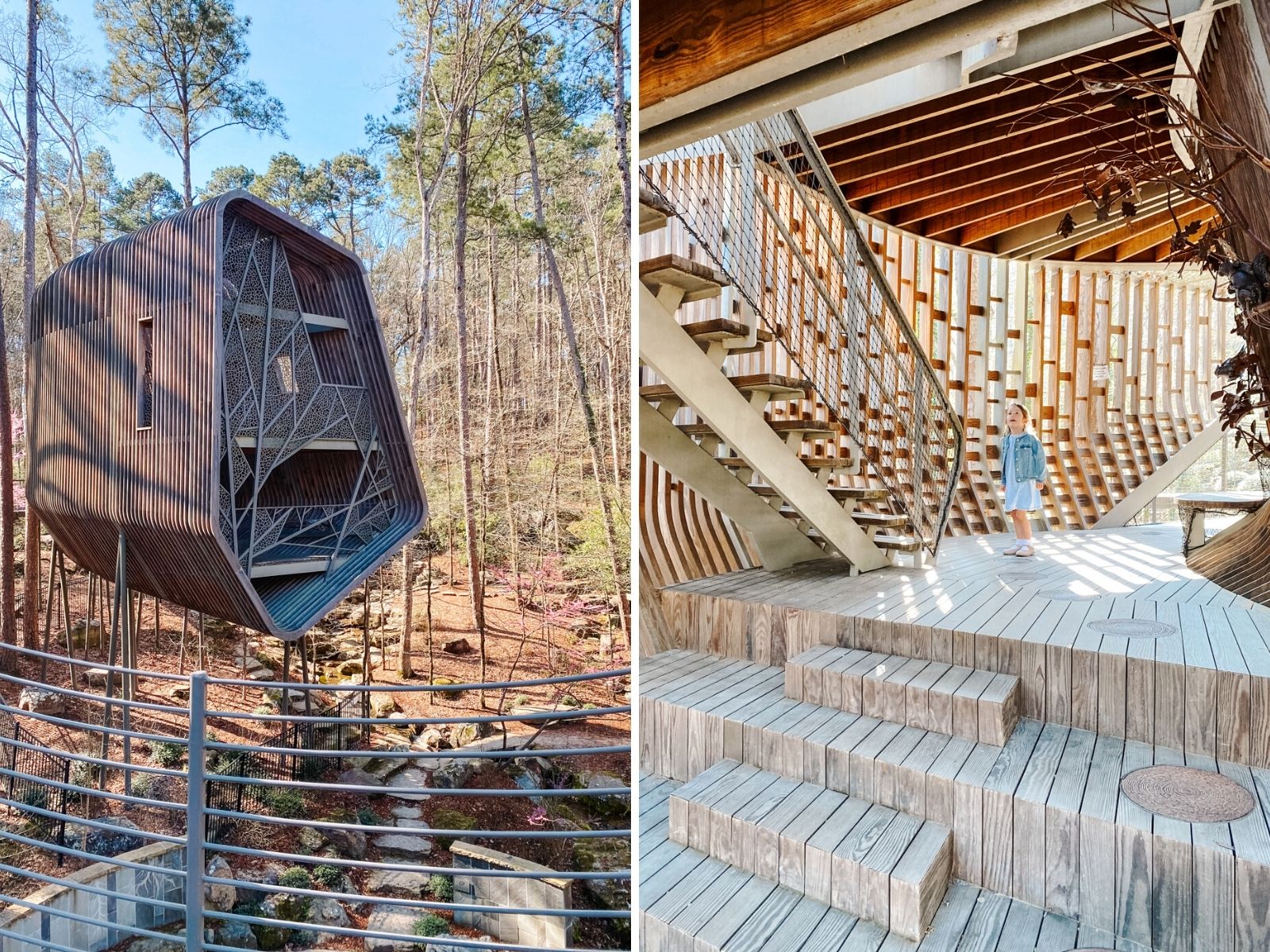 5. Explore a Four Story Tree House
Garvan Woodland Gardens has a children's adventure garden featuring windy rocky trails, a waterfall and even a small cave that little ones will love to explore. But the highlight of the children's garden is definitely the tree house!
It's designed to create a fun and educational experience for children to "bring them back into the woods." The architectural details are amazing and will stun not only tiny tots but parents alike. Annie had a blast running, jumping and climbing all over this innovative treehouse. We could have spent hours here. Thankfully there is a cozy bench for mom & dads nearby.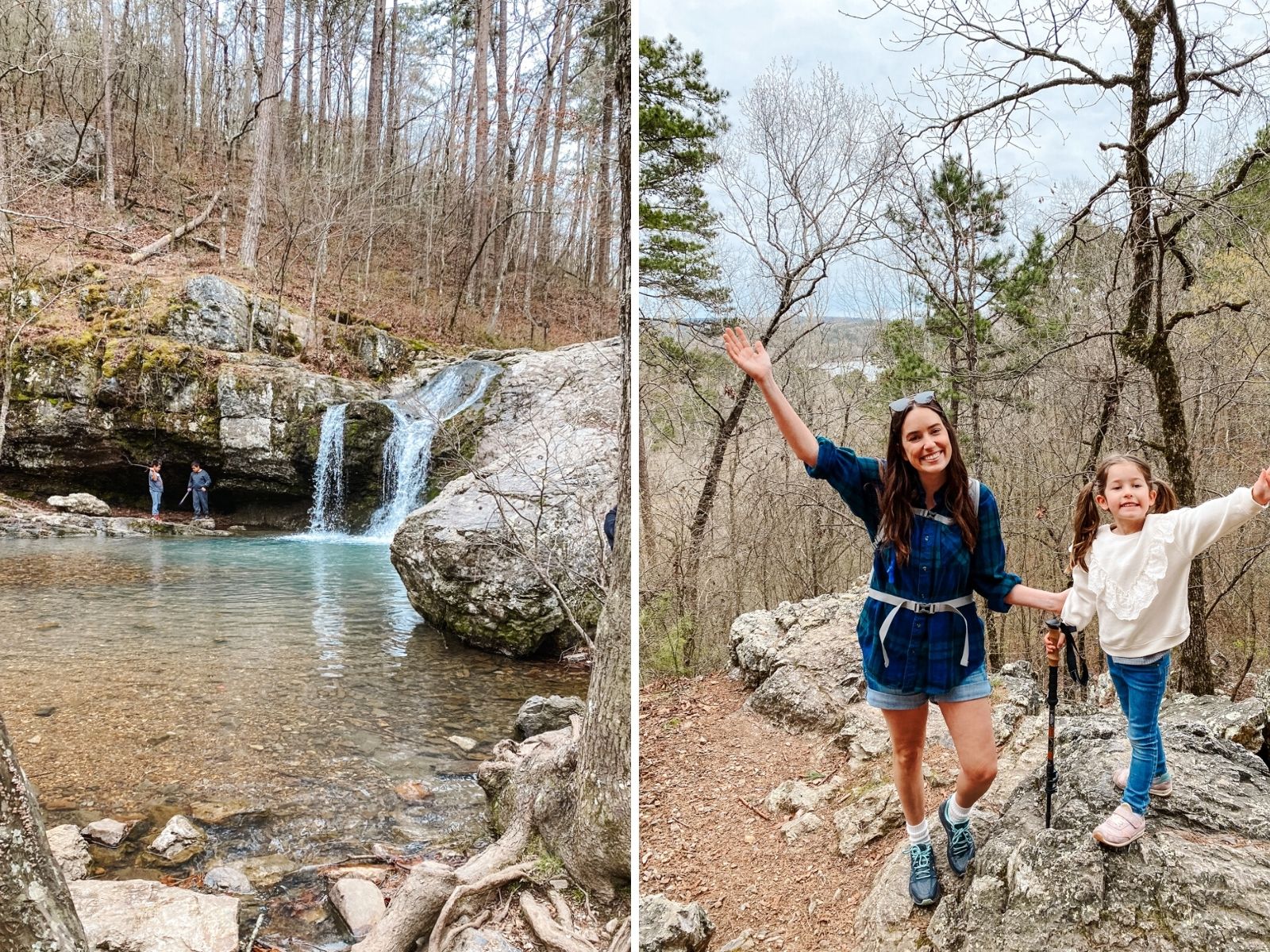 6. Hike to a Waterfall
You can't come to The Natural State and not experience some sort of nature, right?! We love to camp and hike and couldn't resist adding a morning hike to our weekend getaway. Lake Catherine State Park is less than a half hour from downtown and has some of the most beautiful scenery in the region.
We hiked the Falls Branch Trail which is about a 1.5 mile loop that crosses the Little Canyon Creek and winds through a beautiful pine forest. The highlight of the trail, without a doubt, is the cascading waterfall about 3/4 of the way into the hike. It made for the perfect place to stop for a snack and photos!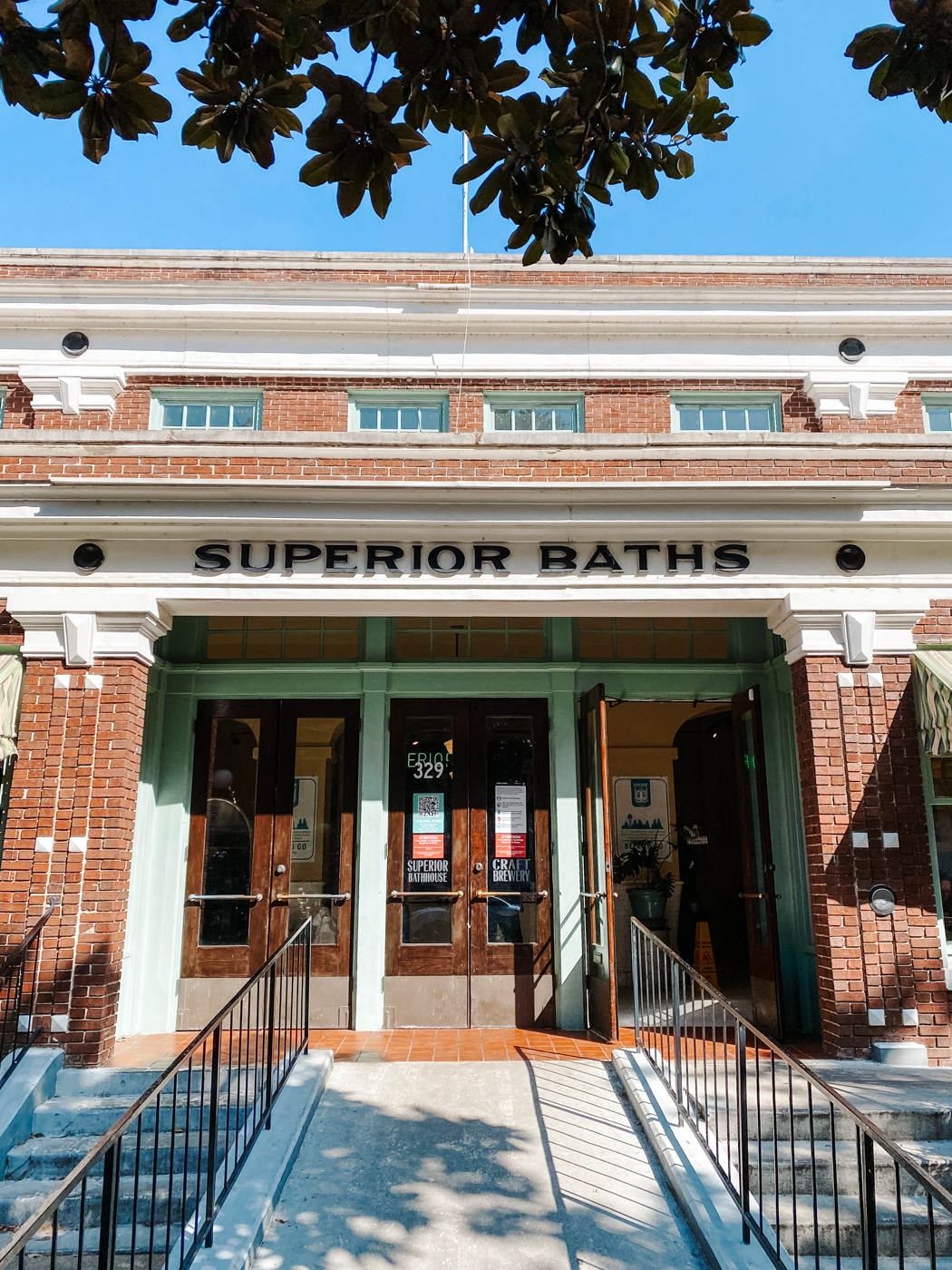 7. Grab a Bite (& a Parents – a Pint) at a Superior Baths
Superior Bathhouse Brewery utilizes the thermal waters straight from the hot springs to brew their beers and is the first brewery in to operate in a National Park. Grown ups can grab a flight to try each brew and kiddos can delight in burgers and bites too. Smack dab in the middle of town, the location is the perfect spot for lunch or dinner while out and about exploring Hot Springs.
8.  Play and Learn at the Mid America Science Museum
We didn't get to make it to this magnificent museum during our visit. It was on our list – but traveling with a baby can sometimes put a hiccup in plans. We definitely plan to check out it out next visit!
The Mid America Science Museum houses 21 wooded acres and over 100 interactive science exhibits itching to be explored by curious little minds. Friends of ours who recently visited raved about the Bob Wheeler Science Skywalk, which is a mini outdoor museum built up over 40 ft. off the ground.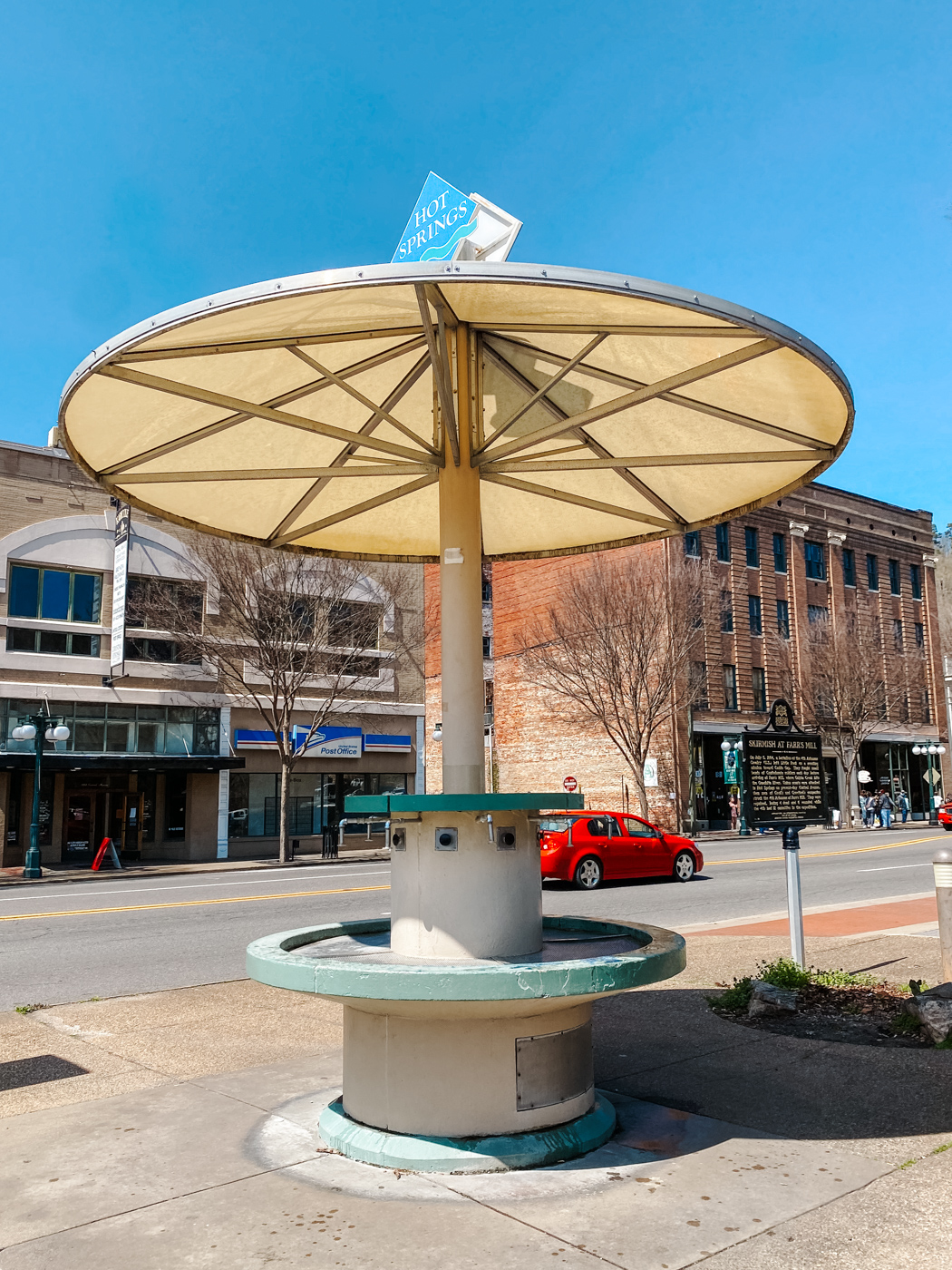 9. Fill up a Bottle with Thermal Water
There are public thermal water access points scattered all over downtown Hot Springs. This biggest one sits right next to the Visitors Center is the Jug Fountain with multiple spouts spewing hot thermal water at the touch of a button. We stopped by to fill our water bottles prior to our hike. The water was a bit warmer than we were used to drinking – but tasted just great!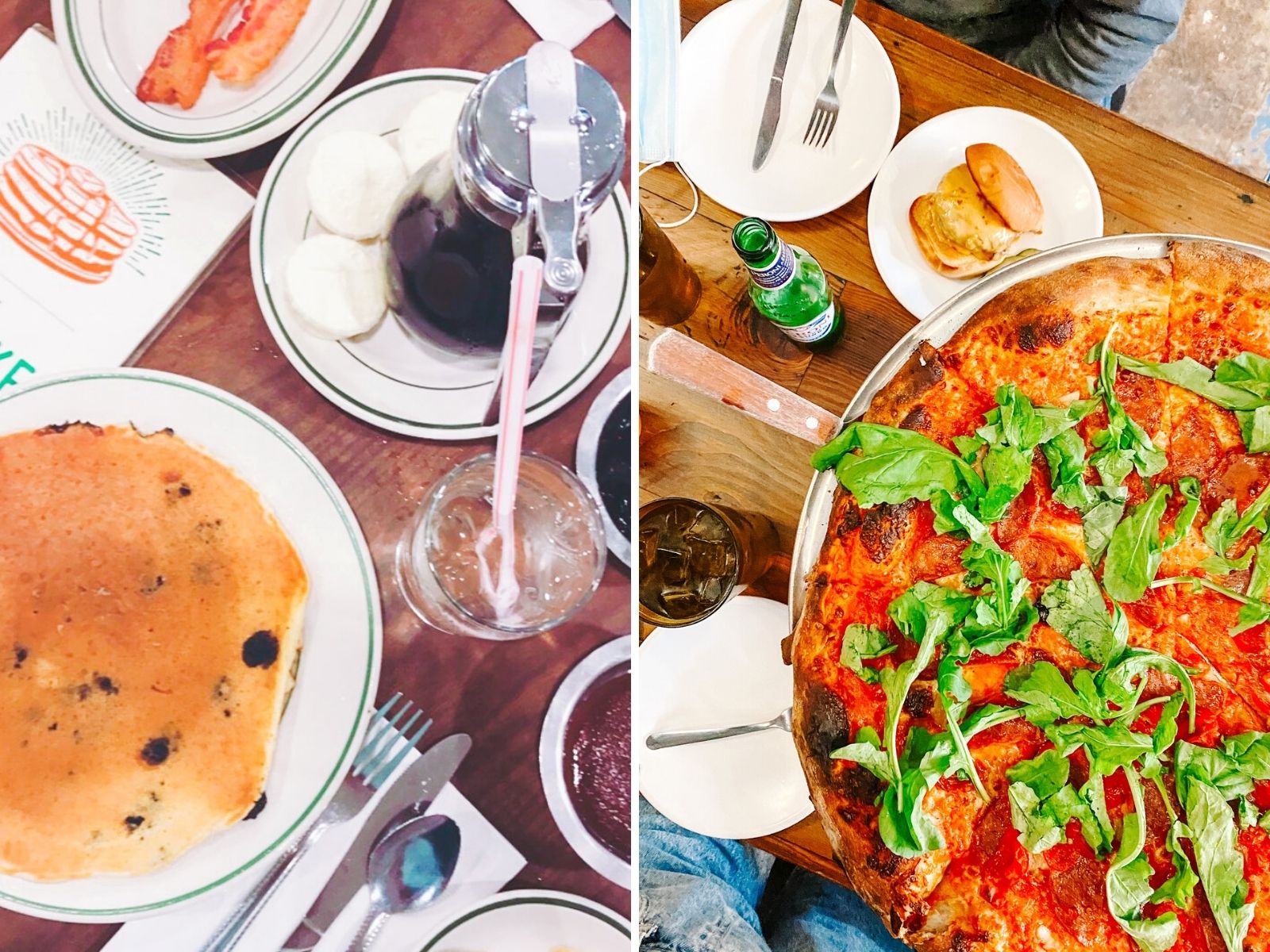 10. Pizza for Dinner and Pancakes for Breakfast
Picking family-friendly restaurants is key to having a good getaway, am I right?! Deluca's Pizza was absolutely divine (like I almost want to make the drive back just for another slice!)  The ambiance was loud & energetic – which in turn makes you feel a bit less bad if your kids are … loud and energetic too, ha. If you aren't in the mood for pizza, their burger is plain and simple but packs a tasty punch too.
For breakfast, the kiddos will love The Pancake Shop. It's been serving up pancakes and coffee since 1940. The old-school dinner vibe is charming and the eatery makes for the perfect place to fuel up for an adventurous day in Hot Springs.
—
As always thanks for following along on my adventures both near and far on Lone Star Looking Glass. It was a treat to share our Hot Springs getaway with y'all today. We felt very safe in the city and were pleased to see so many businesses and patrons alike wearing masks and keeping their distance. I'm excited to begin traveling again and glad that there are now opportunties to do so safely.
—
xo, alice
The post 10 Best Things to do with Kids in Hot Springs, AR appeared first on Lone Star Looking Glass.
What does naughty but nice mean
. xoxo.